Wine by the Eiffel tower, sunrises by La Maison Rose, and memories to last a lifetime.
Paris is widely known as one of the most romantic cities in the world, and food good reason. Even so much as an espresso at a cafe as the rain pours outside can suddenly seem romantic comedy-worthy.
Keep reading to discover 5 things to do in Pairs for couples.
---
---
This site is user-supported and that's why we use affiliate links. At no extra cost to you, we get a little bit of money when you purchase something through one of our links. Thank you for helping support ethical, sustainable, and plant-based travel! You can read more about our affiliate disclosure policy here.
---
Crêpe de la Joie
Possibly one of the most famous aspects of France is the humble crêpe which can be found on most large streets in Paris.
If you've ever imagined yourself in romantic Parisian movie, eating crepes and sipping espresso, head to Crepe de la Joie, and incredible vegetarian and vegan crepe restaurant. From delicious savory crêpes with vegan ham to mouth-watering sweet chocolate, banana and coconut flakes.
You and your partner can snuggle up in a corner to nibble on freshly made crepes, perfect on a rainy day. Sip hot chocolate and enjoy Paris from a spot only the locals know, although the lovely owner does speak English.

For about 35 Euros we got two savories (a galette), one sweet (sucre) and a hot chocolate. Not super cheap but to be fair, you don't have many options for vegan crêpes, so pick your battles. You can read their full menu here.
Read More: Best Airbnbs in Paris for Couples | Luxury to Budget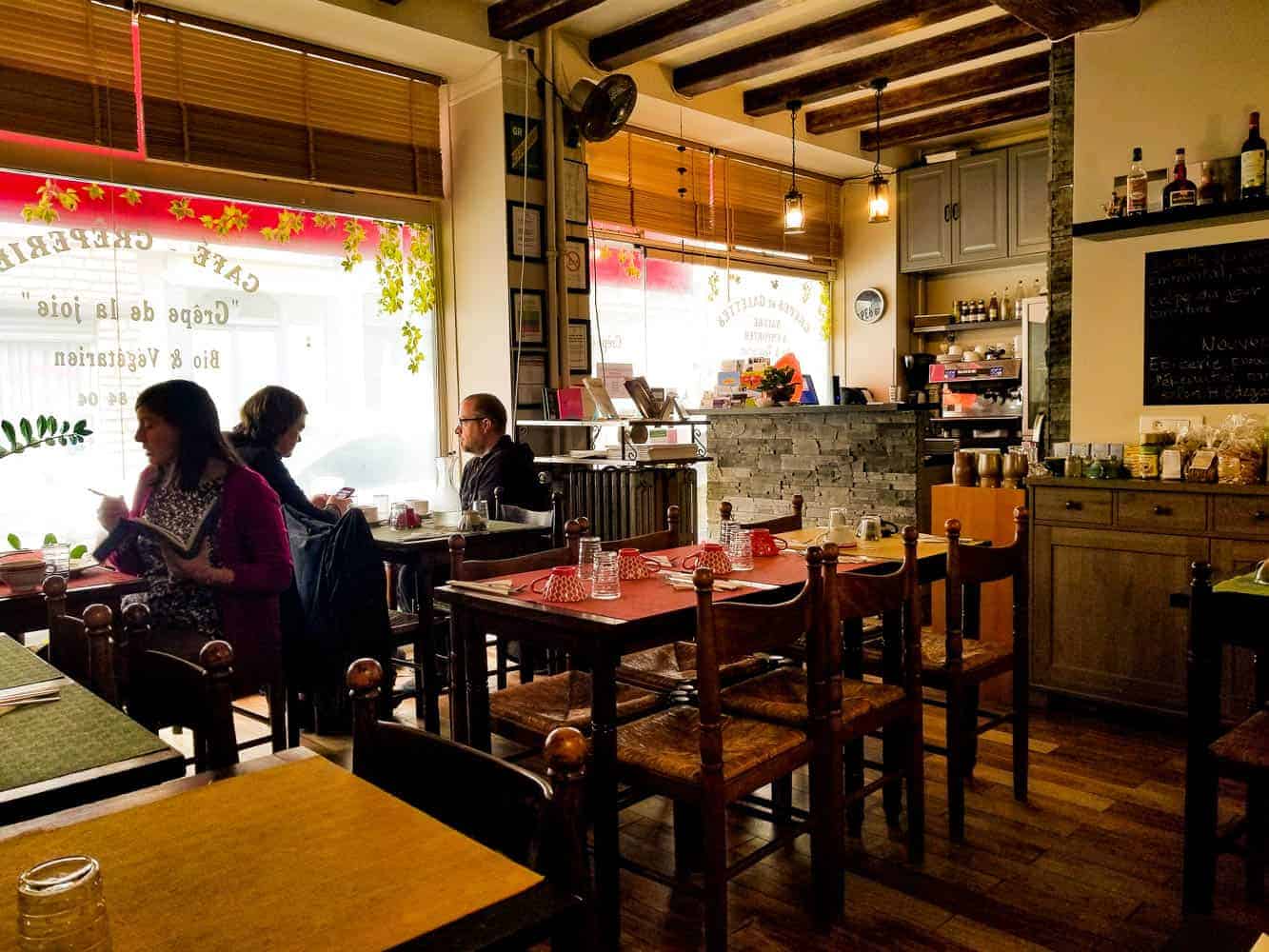 ---
Jah Jah By The Tricycle
Jah Jah by the Tricycle is located in a busy part of Paris where you'll find loads of bars and other munchies if you're still hungry. This is one of the best things to do in Paris for couples who are looking for local experiences. In true Parisian style, the tables are close and the dishes incredible.
The restaurant has a great vibe, great food, and of course, great people. The food is a real melting pot of cultures. From veggie sushi to vegan hot dogs, Jah Jah has it all.

It's not too expensive at about 20 euros for a mushroom burger and two decently sized sides. Not cheap but definitely not bad for central Paris. The feel of The Tricycle really suited it's self to nighttime eating in our option so this place would be great if you wanted to carry the night on afterward. Check them out on Instagram.
Read More: Vegan Guide to Paris
---
---
Rick Steves Audio Tour
This is certainly a very geeky thing to do in Paris for couples but for those who love to learn about the history and hidden gems of a city will appreciate this.
Rick Steves, a travel tour leader, book writer, and suitcase maker, also happens to have a podcast. The tours are downloaded so you can listen to them off line and are completely free. Plug in your headphones, find your starting point, and let Rick Steves lead you around the city. You'll learn facts that you would never know off otherwise such that vendors along the Seine pay about 100 Euros a year to rent the space.

The walking tours will take you to bars, cafes, bookshops, and lesser-known areas. All you need is a phone and some headphones. There are even audio tours for museums. No need to pay for the audio guide because Rick Steves has you covered! If you do decide to do this as a date, we recommend using two separate pairs of headphones unless you're willing to walk arm in arm with each other. You can find the download link here.
Rick Steves also has informational podcasts about a variety of locations around France. A romantic day trip from Paris could be the perfect date!
Read More: 18 Essential Apps for Travellers
---
---
Au Vieux Paris d'Arcole
Au Vieux Paris d'Arcole is an adorable and very photogenic cafe, located near Notre Dame. It's a great place to grab a coffee and watch as tourists stroll through.
It isn't a cheap date spot, with 2 espressos costing over 6 Euros, but the outdoor spot is a great place to rest your feet post Rick Steves tour!

For the fellow vegans out there, I don't want to get your hopes up too high. There are sadly no vegan options bar black coffees but hey. Every vegan knows the feeling of looking at a menu thinking, "I'll get some hummus and bread on the way home". So even if you just come for a caffeine top-up, we really recommend bringing the person you are sweet on to this quaint spot. You can check out their menu here.
Read More: Photography Guide to Paris or 15 Incredible Instagram Spots in Paris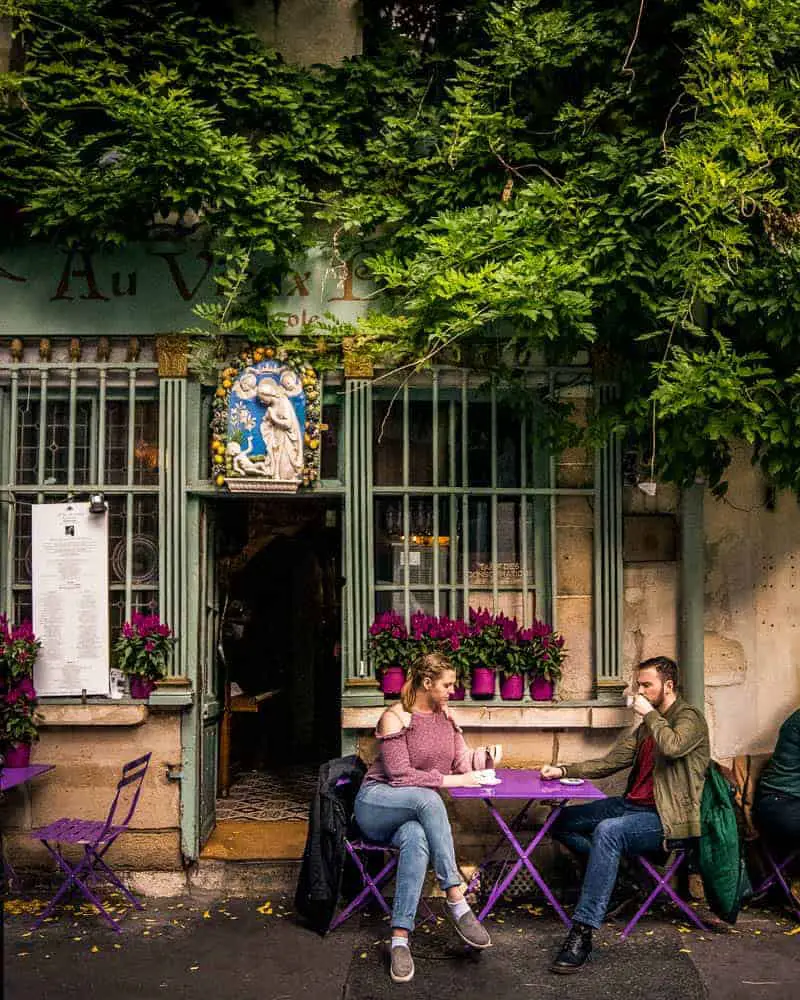 ---
---
Trocadero for Sunrise
If you're looking for things to do in Paris for couples, look no further than Trocadero, one of many incredible French landmarks, at sunrise. If you are bringing your significant other to Trocadero for sunrise then there's a good chance that this person means a whole lot to you, considering you have to get up quite early.
You'll find influencers, photographs, and people getting engaged and taking wedding shots at Trocadero year round, especially at sunrise and sunset.
You will be surrounded by lots of tourists (even at sunrise) but the Eiffel Tower view is worth it! Be sure to watch your bag because pickpockets frequent these spots.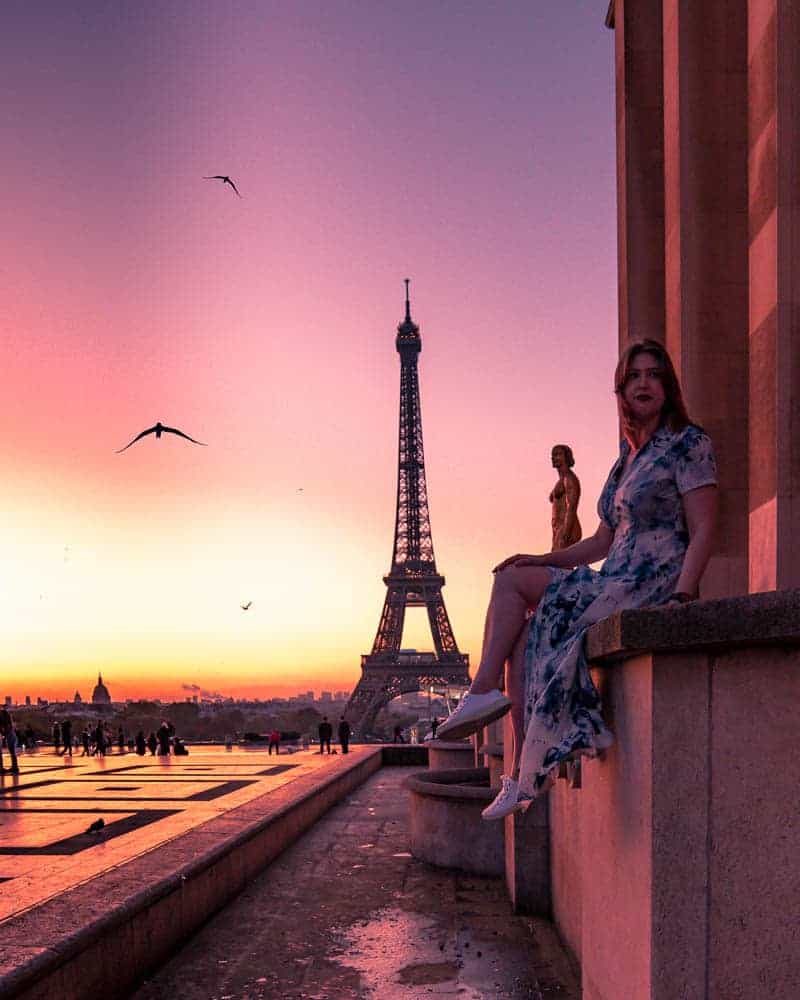 ---
Romantic Places to Stay in Paris
Paris is the perfect place to spend a romantic week and there are plenty of romantic hotels and incredible Airbnbs, like the Hotel Champs-Elysées Friedland, to match! You could also take a fun trip to Paris' Disney Land for a day of amusement.
Why not take a romantic train trip to Chamonix?
Read More: Best Airbnbs in Paris for Couples | Budget to Luxury
---
Discover More Things to Do in Paris
Now that you've got a few date ideas for Paris, why not check out some vegan Valentine's Day ideas? If romance is the reason for your trip to Paris, why not head to the south of France and explore the incredible things to do in Lyon! If you're lucky enough to be in Paris during Christmas, the Paris Christmas markets can be incredibly romantic, especially in the evening!
Check out the posts below for more Paris itinerary ideas! From where to stay in Paris, a vegan guide, tips for using the metro, and a guide to seeing the Paris Catacombs, you'll be ready for the most romantic trip to Paris!
---
More Paris Posts
---
What Camera Gear Do We Use?
If you want the full list of things we keep in our camera bag, check out the complete guide or browse our photography guides.
---
Free Resources
---
Pin 5 Things to Do in Paris for Couples
---
And as always, you can find more photos of our adventures on Instagram @VoyagingHerbivore, Youtube, and TikTok and to get updates straight to your inbox, enter your email below in the footer, or to the right on the sidebar. If you want to help us out even more, you can buy us a bit of fuel!