"I can't breathe."
You've seen it all over the internet, in your feeds and if you're in a major US city, you've probably heard or even participated in some of the protests.
But racial inequality and persisting white privilege is not just a problem in the United States, it's a problem worldwide.
Keep reading to learn what's going on and how you can help.
---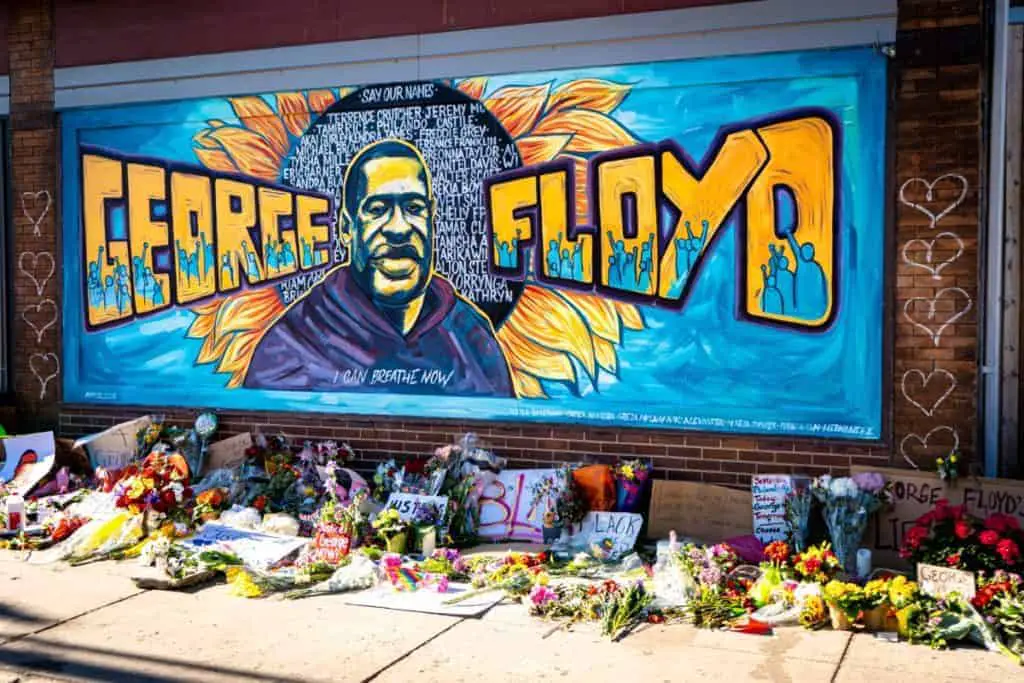 ---
The Facts
It's important to understand that racial inequality, particularly for black people, has long been a problem across the world. Let's dive into the facts of the specific George Floyd case.
---
Who is George Floyd?
George Floyd was a 46 year old black man who had recently moved to Minneapolis, Minnesota in pursuit of work.
He had recently been released from prison after serving five years for a home invasion.
He was known to his friends as a gentle giant who was trying to turn his life around and even spoke out against gun violence among younger generations. He was also an avid sports fan.
---
What Happened to George Floyd?
In May 2020, George Floyd was pushed to the ground and kneeled on by white officer Derek Chauvin, who was arresting him for allegedly using a fake $20 note in a shop.
You can view the play by play of the incident in this video from the Washington Post. Please be advised that it does contain graphic material.
---
Why Did George Floyd's Death Spark So Many Protests?
Black Americans are 2.5 times as likely as white Americans to be shot and killed by police officers.

Aljazeera
This number is conservative compared to other databases but no matter which way you read it, there is significant evidence showing police brutality against unarmed black people (and children) who weren't doing anything illegal nor were they acting suspiciously.
You can learn more about police brutality and see a map at Mapping Police Violence.
But the question remains, why did this death, out of all of the deaths against unarmed black people cause so much chaos and demand for change?
This article by the BBC is a great resource as is this article by USA Today, but the gist of it is this: police response matters. Police forces in cities where officers have received de-escalation training have been more successful in managing peaceful protests. When the police create an "us vs them" mentality, people feel justified in using violence as a method of expressing themselves.
In some cities, the police have joined the protests which have helped to create a sense of togetherness, "us vs racism", not "us vs the police".
It's likely that George Floyd's murder came during a perfect storm. Because of the coronavirus, people are already on edge and upset with the government. Add another case of police brutality, and it's the straw that broke the camel's back.
---
Protesting
Before you join a protest, do your research! You should be wearing proper attire, be prepared for the worst, and know who the organizer is.
---
How to Find a Protest
Protests are happening all over the world! The United States, New Zealand, the United Kingdom, Denmark, and Germany so far.
Protests are usually spread through word of mouth so it's good to start by asking your friends who are politically involved, check your local representative or state's website and socials. If you are part of a neighborhood website or Facebook group, you can always post in there to find out more.
In areas where protests have already been happening, they show no signs of stopping so if you want to join you'll likely just need to wander around a major downtown area or listen for yelling and chanting.
If you're in a different country (not the United States) and want to be a part of a protest, the most likely spot is going to be in front of the United States Embassy in a major city.
At the time of writing, protests have taken place in (source) :
London, England
Copenhagen, Denmark
New Zealand
Planned for Australia
United States Protest Locations ((source))
Anchorage, AK; Birmingham, AL; Hoover, AL; Montgomery, AL; Little Rock, AR; Phoenix, AZ; Bakersfield, CA; Beverly Hills, CA; Fontana, CA; Fresno, CA; La Mesa, CA; Los Angeles, CA; Oakland, CA; Sacramento, CA; San Diego, CA; San Francisco, CA; San Jose, CA; Colorado Springs, CO; Denver, CO; Fort Collins, CO; Washington, DC; Wilmington, DE; Jacksonville, FL; Miami, FL; Tallahassee, FL; Tampa, FL; Windermere, FL; Atlanta, GA; Augusta, GA; Savannah, GA; Honolulu, HI; Des Moines, IA; Iowa City, IA; Boise, ID; Idaho Falls, ID; Chicago, IL; Indianapolis, IN; Topeka, KS; Lexington, KY; Louisville, KY; Baton Rouge, LA; Lafayette, LA; Lake Charles, LA; New Orleans, LA; Springfield, MA; Baltimore, MD; Portland, ME; Bay City, MI; Detroit, MI; Grand Rapids, MI; Lansing, MI; Bemidji, MN; Duluth, MN; Minneapolis, MN; St. Paul, MN; Ferguson, MO; Kansas, MO; St. Louis, MO; Jackson, MS; Petal, MS; Billings, MT; Bozeman, MT; Great Falls, MT; Helena, MT; Missoula, MT; Charlotte, NC; Raleigh, NC; Bismarck, ND; Fargo, ND; Lincoln, NE; Omaha, NE; Manchester, NH; Jersey City, NJ; Newark, NJ; Trenton, NJ; Willingboro, NJ; Albuquerque, NM; Santa Fe, NM; Las Vegas, NV; Reno, NV; Albany, NY; Buffalo, NY; New York City, NY; Rochester, NY; Cincinnati, OH; Cleveland, OH; Columbus, OH; Dayton, OH; Toledo, OH; Oklahoma, OK; Tulsa, OK; Eugene, OR; Portland, OR; Salem, OR; Philadelphia, PA; Pittsburgh, PA; Charleston, SC; Columbia, SC; Sioux Falls, SD; Memphis, TN; Nashville, TN; Austin, TX; Corpus Christi, TX; Dallas, TX; Fort Worth, TX; Houston, TX; Laredo, TX; Lubbock, TX; San Antonio, TX; Salt Lake City, UT; Charlottesville, VA; Hampton, VA; Norfolk, VA; Richmond, VA; Burlington, VT; Montpelier, VT; Seattle, WA; Tacoma, WA; Green Bay, WI; Madison, WI; Milwaukee, WI; Fairmont, WV; Huntington, WV; Cheyenne, WY.
---
How to Protest Safely
If it doesn't feel right, it probably isn't. There have been reports of white supremacists acting as agitators at protests. Their intent is to cause harm and make the protests become violent. If you see something that feels wrong, get out of the way, and contact the authorities at the protest. Make sure that you document it.
Check who is organizing. Protests will generally have some form of organization. Follow the directions of the grassroots black organizers. They'll know what the rules about organizing and demonstrating are and shouldn't just show up. Their goal should be justice and equality!
Use the buddy system. Make sure that you go with someone and that you both keep an eye on each other. If you're going with a big group of people, designate buddies within the group. Protests can get chaotic and dangerous, so constantly check up on your buddy.
Stay safe and love. We're in this together. Whatever the color of your skin, we need to support one another and work together for this to be successful.
---
What To Wear and Bring to a Protest
This list is courtesy of AOC via Instagram.
---
How to Protest Safely During Covid-19
Covid-19 is still an incredibly dangerous beast and it disproportionately affects minorities. You should absolutely wear a mask during the protests and make sure that you wear it properly. This means wearing it over your nose AND mouth and not touching it. Read more about how to properly wear a mask here.
---
Vandalism and Looting During Protests
Protesting does not always equal vandalism and looting, but in some cases vandalism and looting can be very targeted.
While there have been many cases of people simply taking advantage of the protests to break into shops and steal items, looting is often directed at large enterprises that are though to help promote systematic racism.
Read more about it here under the header "Looting and vandalism can be more targeted than you think".
---
Cleaning Up After Protests
People are coming together to help clean up after nights of protests and vandalism. From Omaha, Nebraska to Atlanta, Georgia, Buffalo, New York and more, people are coming together to help put cities back together.
Whether or not you're participating, help clean up! If you're located in a city where this are nightly protests (to purposefully break curfew), head downtown the next morning and you're sure to find a large group of people helping. Remember to wear a mask!
---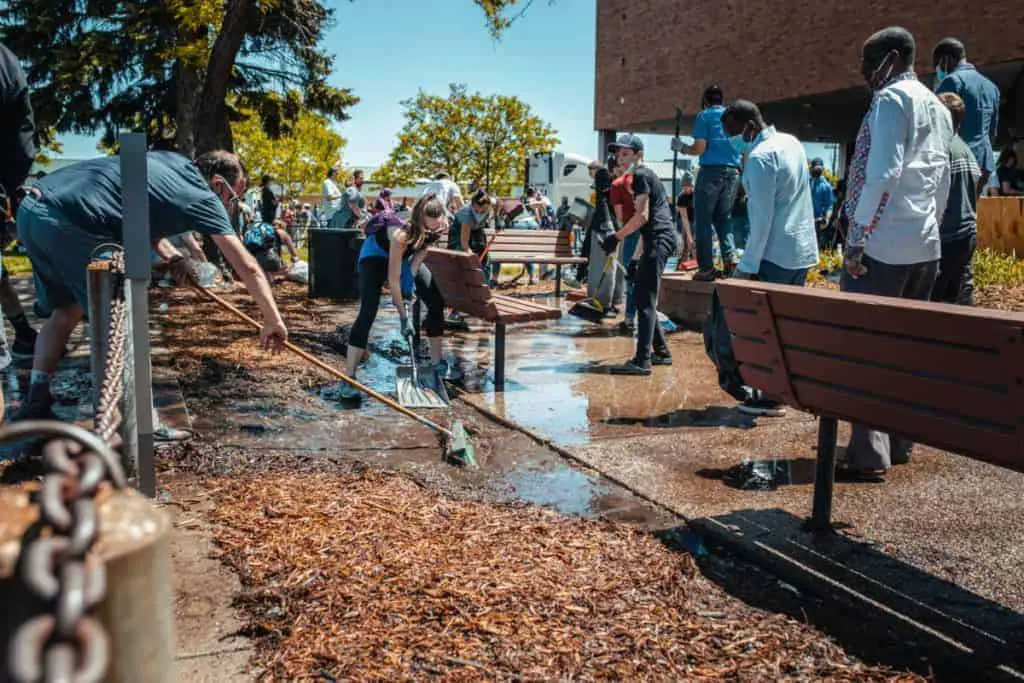 ---
How You Can Help
If you can't get out and protest, there are plenty of other ways to help! From petitions and donations to lifestyle changes, keep reading to discover ways to help.
Have other suggestions? We would love to hear them! Drop us a comment.
---
Petitions and Donations
In the United States, if a petition gathers 100,000 signatures within the first 30 days, the government will review it and give an official response (source).
So take some time to sign a few petitions that support #BlackLivesMatter. You don't even need to leave your couch or make a donation, but one signature can be the difference between the demands seeing the White House or not.
Petitions to Sign
This is the main petition: Justice for George Floyd, which already has over 10,000,000 signatures.
Donate to:
---
Donate to Black and Minority-Owned Business Affected by Protests
Small businesses are greatly affected by the vandalism that happens during protests. While protesting is and should be powerful, vandalism and looting don't help.
Here is a list of black and minority-owned businesses that have been affected by protests and that you can donate or reach out to in order to provide help. This list is sourced from this Twitter thread and from general searched on GoFundMe.
This is not a comprehensive list! If you're aware of more places to help, please link to them in the comments and we will add them to the list.
Donate to BLM Without Giving Money
Creator Zoe Amira put together a Youtube video that's about an hour long and features a variety of black musicians. The video has loads of ads and by watching it you help generate money, all of which is donated to organizations supporting Black Lives Matter and protester bail funds.
Turn off your ad blockers, click play, mute the video or tab, and let it run in the background if you have work that you need to do elsewhere. Put it on repeat and let it run throughout your work day. This is a fantastic way to donate with absolutely NO EFFORT or money!
---
Support Black Businesses All the Time
We can't make donations today and forget to actively support black businesses once all of this stops popping up on our news feed.
Here are a few resources to find black owned businesses near you:
If you have other resourced, leave us a comment and we'll add it here.
---
What About #AllLivesMatter
If you're not familiar, #AllLivesMatter originated shortly after #BlackLivesMatter in the early 2000s.
While people who defend this "movement" state that all lives should matter, and this is true, it's important to remember that #BlackLivesMatter doesn't mean that other lives don't matter, it simply means that right now, the lives of black people need a bigger push for equality. It's the idea that the color of our skin shouldn't affect access to resources. The video below helps explain this and inequality today can be seen with the unbelievable number of innocents who have been victims of police brutality.
So if you're considering using #AllLivesMatter instead of #BlackLivesMatter, remember that it's a big slap in the face to everyone who does face discrimination.
This is a very oversimplified version of understanding #AllLivesMatter vs #BlackLivesMatter so check out this article for a more in depth explanation.
---
Stay Up to Date on News
One of the most important things that you can do is to stay up to date on news. Follow hashtags like #BlackLivesMatter #GeorgeFloyd #ICantBreathe, #WeCantBreathe #JusticeforFloyd #JusticeforGeorgeFloyd #EndPoliceBrutality and more.
Remember to get your information from reputable news sources and remember that some news sources lean more conservatively while others lean more liberally. Try to stay in the middle to get unbiased information. More details on this can be found here.
Here are some news sources to learn more. Download their apps on your phone to receive push notifications about live and important news.
---
Help Us Learn
Do you have more resources that we can add to these lists? Share them below!
Let's start a conversation. We want to know your thoughts on how we can all work together to support those who face discrimination and police brutality daily.
---