UPDATE: As of Sept. 2019, The Green Vic has finished it's 3 month run in Shoreditch, London. From talking with the owner we know that he hopes to try the same principle again, but is unsure of the locations. Be sure to follow them on Instagram to stay up to date.
England is known for it's amazing variety of pubs, bars, and eateries, but the The Green Vic in London stands out for its commitment to sustainability and ethicality, both things we wholeheartedly support here at Voyaging Herbivore!
The Green Vic
Jack and I headed down to the pop up pub, located in Shoreditch, to check out the extensive drink menu and vegan junk food, which is made by The Green Grill. Every choice is intentional, such as the wheat straws available which are more sustainable than paper and plastic.
Read more about the sustainability and environmental impact of plastic, paper, and wheat straws.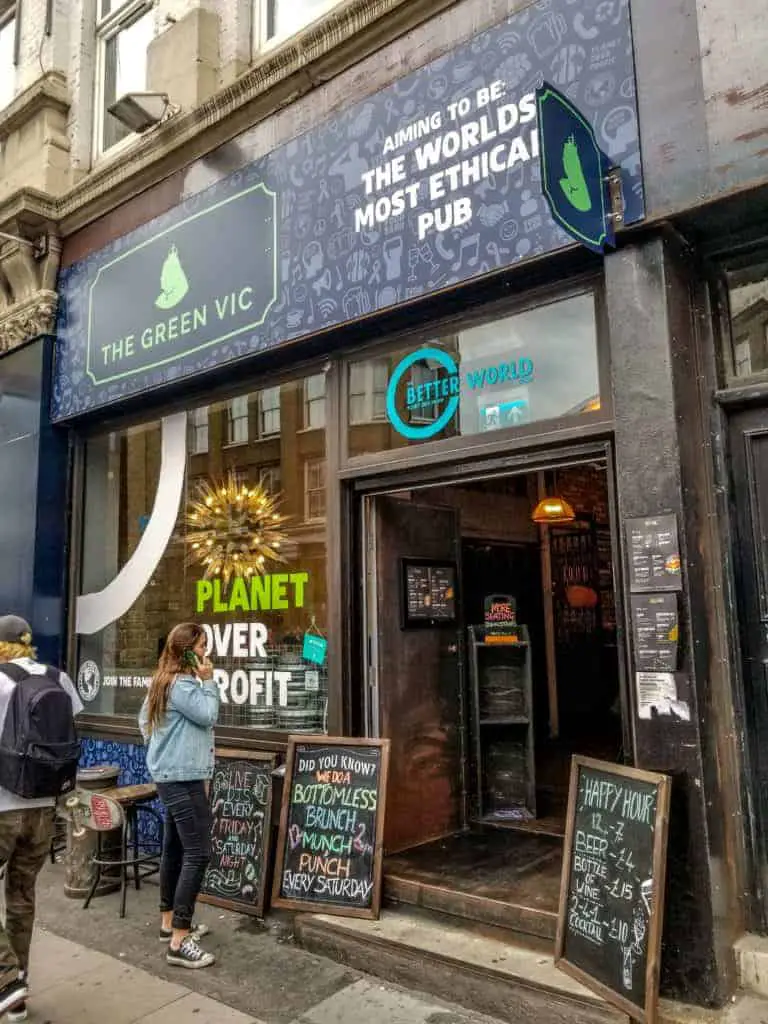 With a welcoming entry and friendly staff, you know you're in for a treat at The Green Vic! We headed over during happy hour and opted for their two drinks with a mixer which is 10 pounds total. They also have a cocktail of the evening of which 100% of the profits go to charity. When you browse through the extensive drinks menu you'll notice that each drink is gives back in some way. You can see below how just the beer and cider selection at the Green Vic is quite extensive for a pop-up, and their liquor selection is even larger!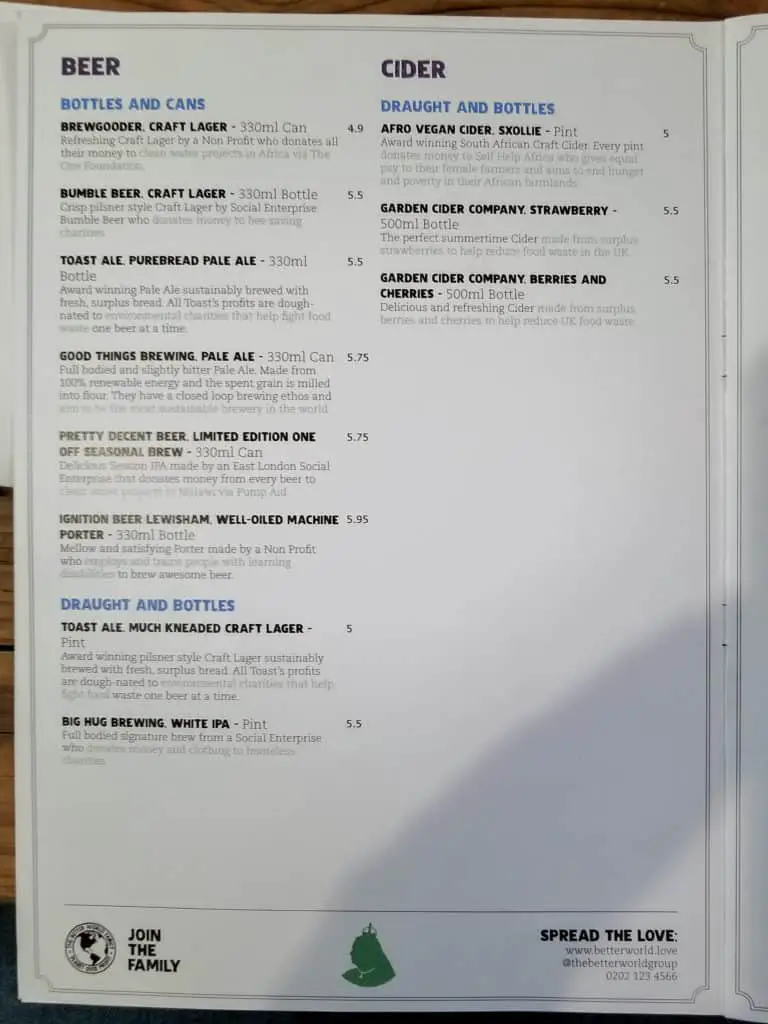 We tried the South African cider on tap and loved it! Not quite as dry as expected, it's definitely not a cider you can chug down, so it pairs quite nicely with a meal. And speaking of food… when in the all vegan pub, one must try something!
---
---
The Food
The food at The Green Vic does not disappoint. You can view their full menu which is created by The Green Grill. We opted for:
Chkn Bites with garlic sauce (5 pounds)
Cajun Chipz (3 pounds)
The Mighty Meaty (8.50 pounds)
Chkn Shish Wrap (8 pounds)
Cheez Cake (6 pounds)
The entire place is reasonably priced for location and food and knowing that everything we purchased had a deeper cause made it all the better.
---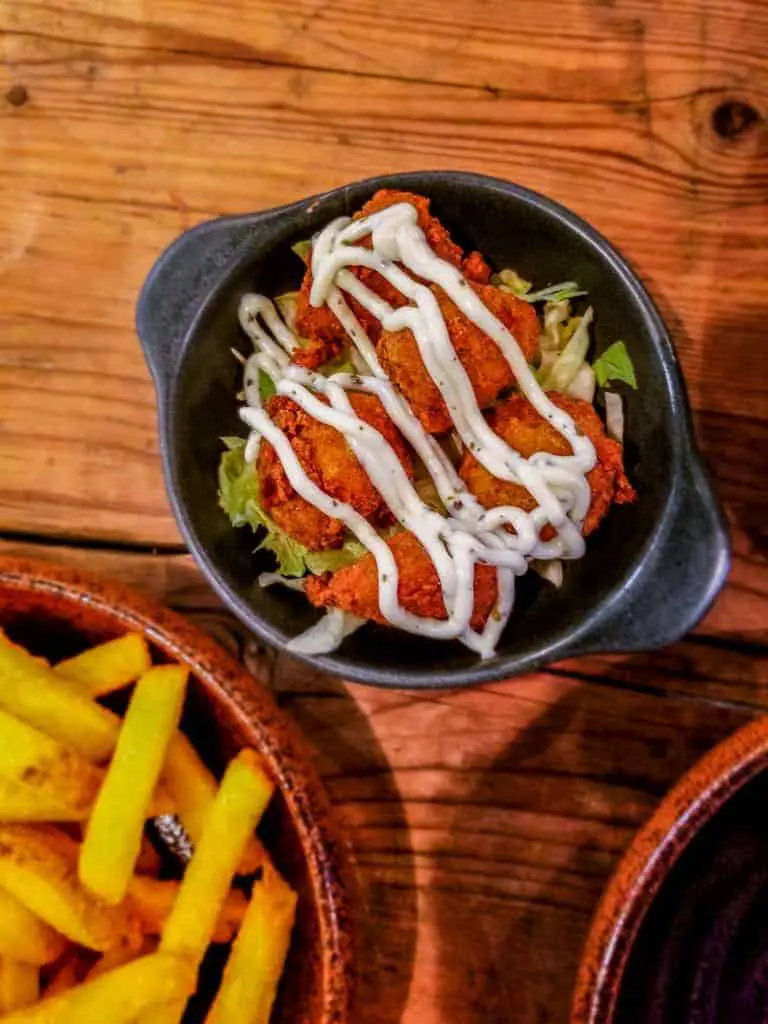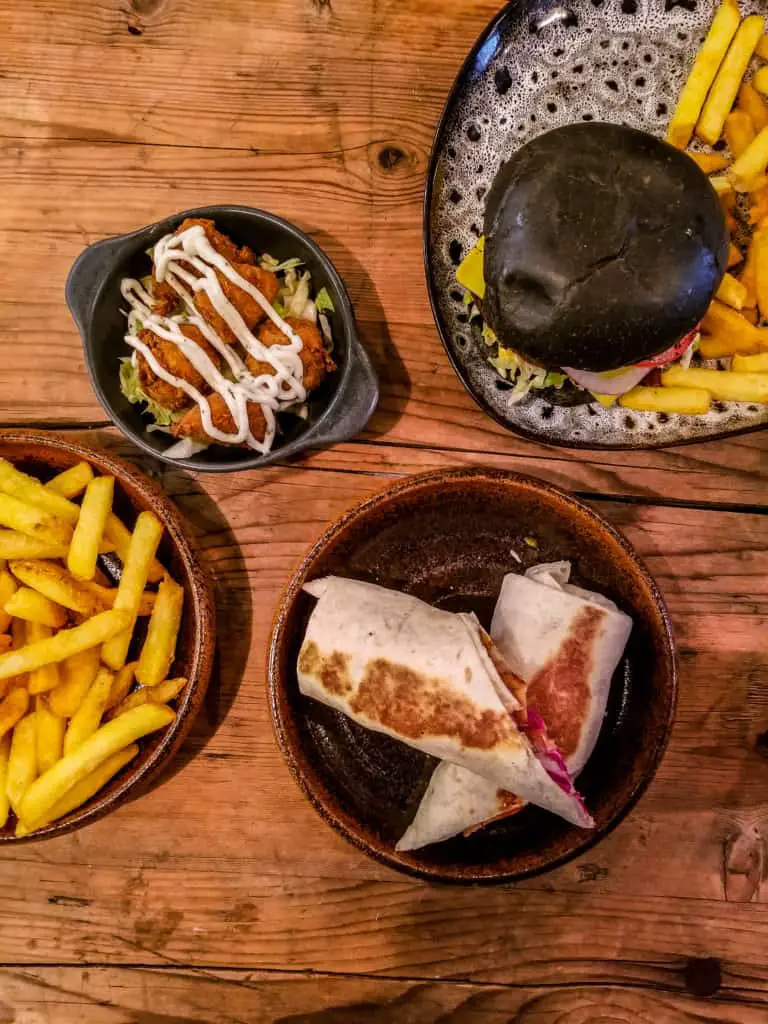 We absolutely loved how light the chkn bites were. I would have preferred a dipping sauce (but this is coming from someone who could probably drink ketchup). The cajun fries were absolutely phenomenal, so much so that I didn't actually drown them in sauce – which as you can clearly see, means a lot.
---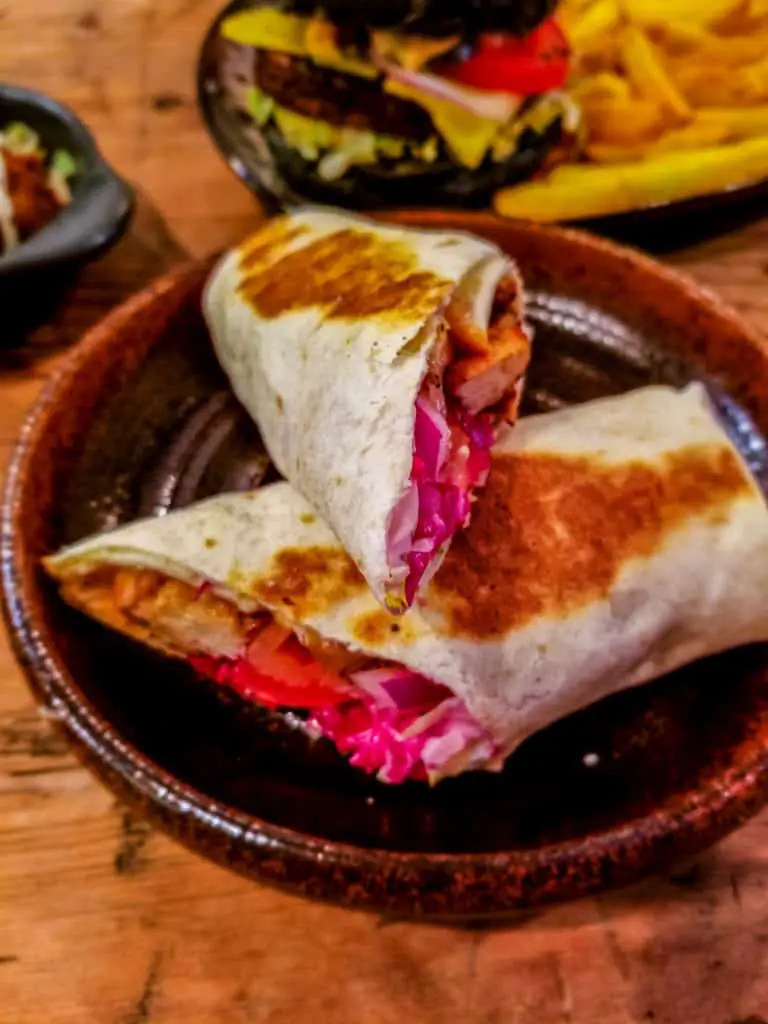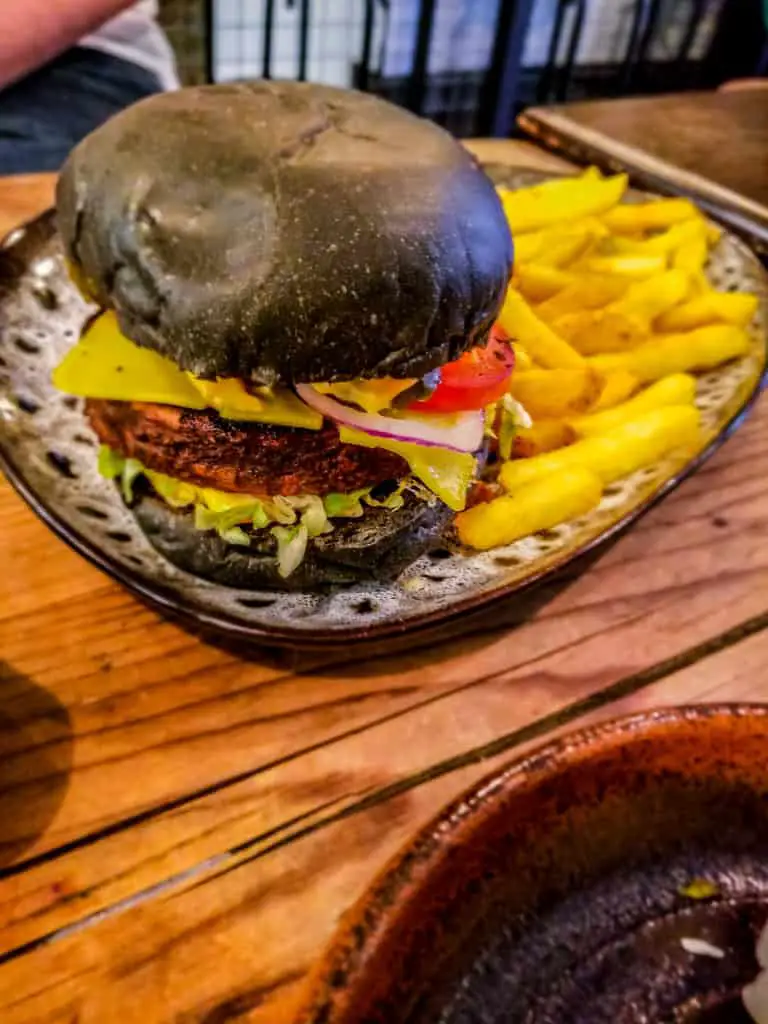 The mains that we opted for at The Green Vic were lovely. The wrap was spicier than anticipated but between the crunch and subtleness from the veggies and the chkn, it was a fabulous combo. I loved that it wasn't too saucy. I hate when wraps drip liquid but this one did not! The burger that Jack got was also a treat. While fairly standard for a burger, the black bun does add a nice visual factor. And of course… you can't go to The Green Vic without dessert!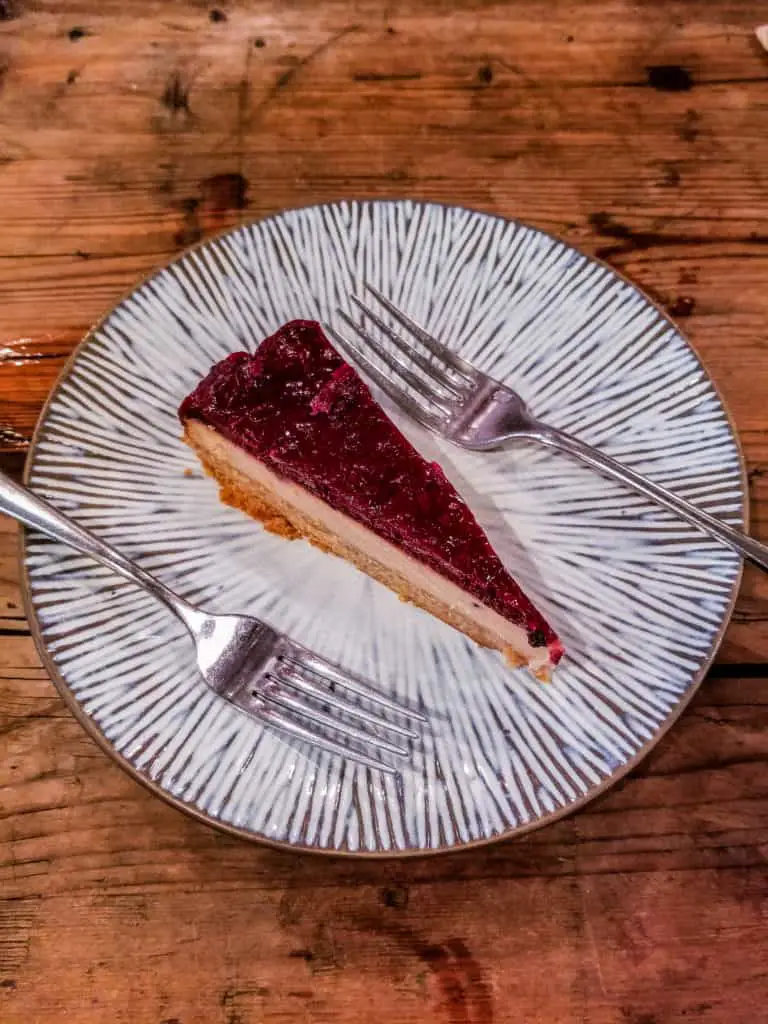 The Green Vic has succeeded in giving me some of the best vegan cheese cake that I have ever tasted. Although I'm vegan, that doesn't necessarily mean I'm all that healthy, and when it comes to cheesecake, I would much rather have a traditional graham cracker crust than the walnut and date approach. The Green Grill has succeeded in making a phenomenal cheesecake that holds together when cut and delights the taste buds. I really can't recommend it enough. I only with the slices were bigger!
---
We also got to chat with the owner and brains behind the operation while we were there. It was such a pleasure to congratulate him on all of his hard work and the amazing place he has put together. Just imagine if every restaurant and pub had even one drink and food item with a good cause behind it!
The Green Vic is open through mid September, so please go and support the work it does! You won't be disappointed and the epic music they play (with some great throwbacks) is enough to make me want to stay and dance the night away.
Have you been to The Green Vic? Let us know what you though in the comments below!
---
Pin It For Later!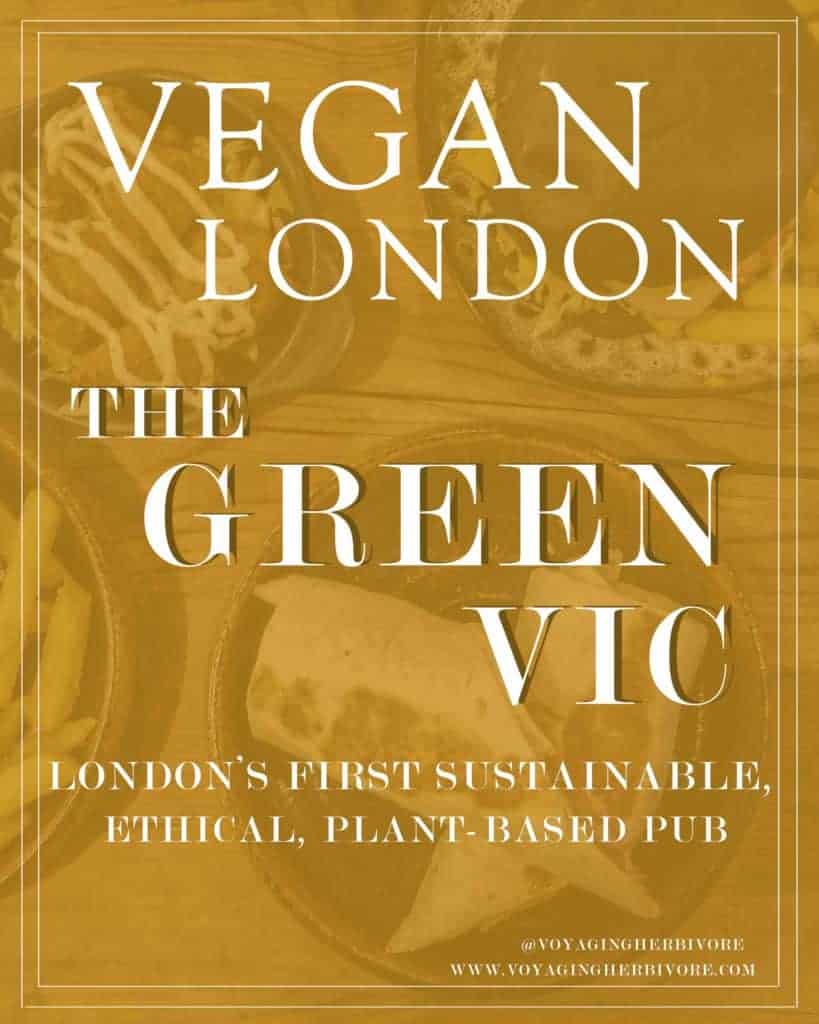 And as always, you can find more sustainable travel content on Instagram @VoyagingHerbivore, Youtube, and TikTok and to get updates straight to your inbox, enter your email below in the footer, or to the right on the sidebar.

If you found this guide helpful and want to help us keep these resources free,
please consider making your next Amazon, Expedia, Hostel World, Etsy, and Booking.com purchase through our links (just click right on those words – you can do it right now and unless you clear your cookies before your next purchase, it will remember). It costs you no extra and gives us a small commission. Thank you!