We all know that there is no better relaxation with your friends than visiting beer gardens in Edinburgh. Even if you are just a visitor to the city this should be your sign to head over to the nearest one of Edinburgh pubs with beer gardens and have a pint of a delicious beer.
Read More: 15 MAGICAL Cocktail Bars in Edinburgh
---
This site is user-supported and that's why we use affiliate links. At no extra cost to you, we get a little bit of money when you purchase something through one of our links. Thank you for helping support ethical, sustainable, and plant-based travel! You can read more about our affiliate disclosure policy here.
---
Is Edinburgh a Good Place for Beer Tasting?
Although many recognize Edinburgh by its whisky, beer is another trendy drink in this beautiful city. At the beginning of the 20th century, there were around 35 breweries in Edinburgh, and nowadays some very tasty and pretty famous beers come from the city. This includes Tennent's Lager, which is the Scottish most popular beer that was first brewed in 1885.
Here are a couple of tours you can take in the city if you do not want to explore the pub scene alone:
For all of those who are ready to dive into the list of best beer gardens Edinburgh has to offer, here it is:
---
---
1. Cold Town House
This beautiful beer garden is located in the historic Grassmarket and aside from the amazing beer selection it also offers a delicious stone-fired Neapolitan pizza. Vegans can choose between Meadows pizza and a fantastic vegan burger. You can drink their own freshly brewed Cold Town House beer on the terrace with a view of Edinburgh castle, and this might become your favourite place in the city.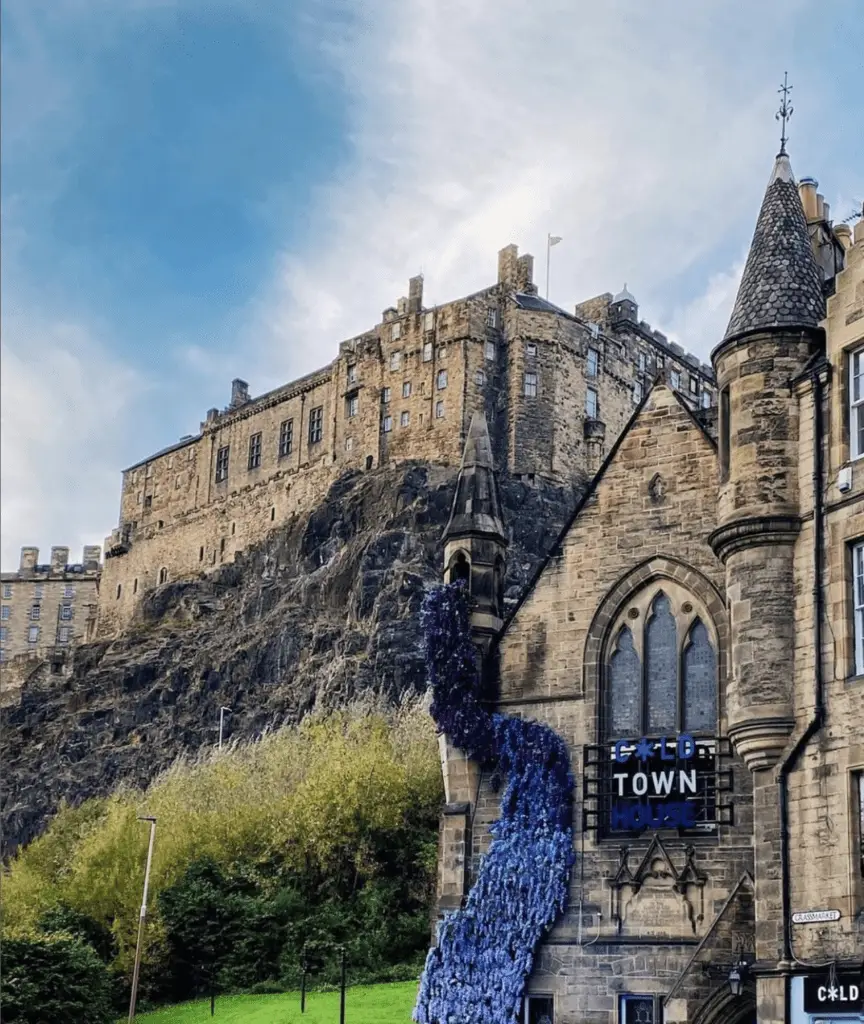 ---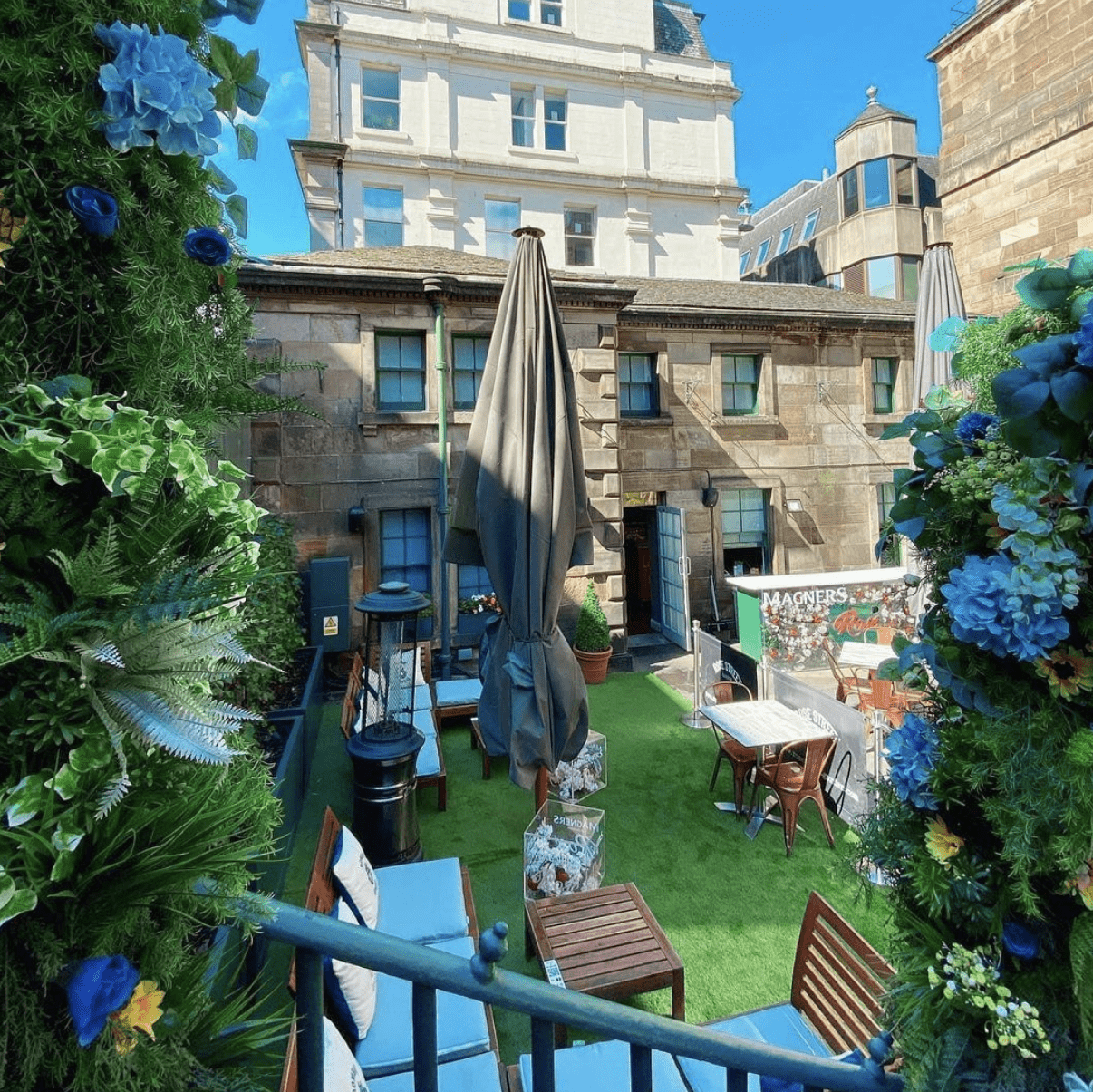 2. Rose Street Garden
If you want to have a pint in a cosy place with seat heaters, head over to Rose Street Garden. Hidden like a secret garden and surrounded by flower beds, this beer garden will not disappoint. If you are exploring the city centre and you need a break, visit this comfy place.
---
3. Pear Tree
The Pear Tree is a popular beer garden which quickly fills up on sunny days and during festival season. It is located close to George Square, just down the street from Summerhall. There is a platform for live bands to perform in the courtyard. The lovely garden is outside a building from the 18th century that is close to Edinburgh University's main site, which is why there are always many students here.
---
4. Royal Dick
The Royal Dick, formerly the Small Animal Hospital of the Dick Vet School and now a distinctive bar in the centre of Newington, is tucked away in the middle of Summerhall. It also benefits from sharing a building with the famous Barney's Beer brewery and Pickering's Gin distillery. It has an outdoor courtyard out front, where you can relax with a pint of Edinburgh's best beer.
---
5. Teuchters Landing
Teuchters Landing, a floating waterfront bar, offers not only a fine variety of beverages and snacks but also a distinctive beer garden that, in good weather, is accessible via a pontoon bridge. The structure that now houses this well-liked bar once was the bathroom for passengers taking the steamboat ferry from Leith to Aberdeen. This place has an excellent menu that includes several vegan dishes, like vegan haggis stovies and vegan chilli.
---
6. Three Sisters
The Three Sisters, one of Cowgate's most well-liked hangouts, has a sizable outdoor courtyard with a large outdoor screen for watching sporting events on the weekends. You won't go famished here either because food vendors frequently set up shop for events like the Wimbledon Final and the Festival Fringe, which typically fill the space to the brim. It was the proud location of the previous Old Town Street Food Festival.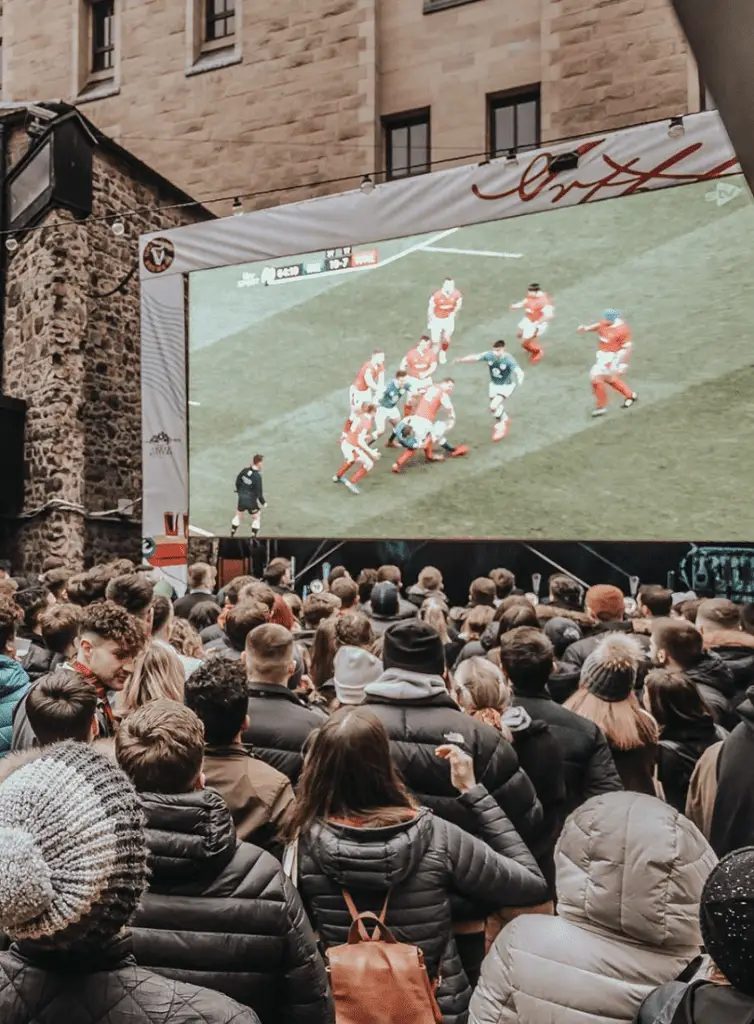 ---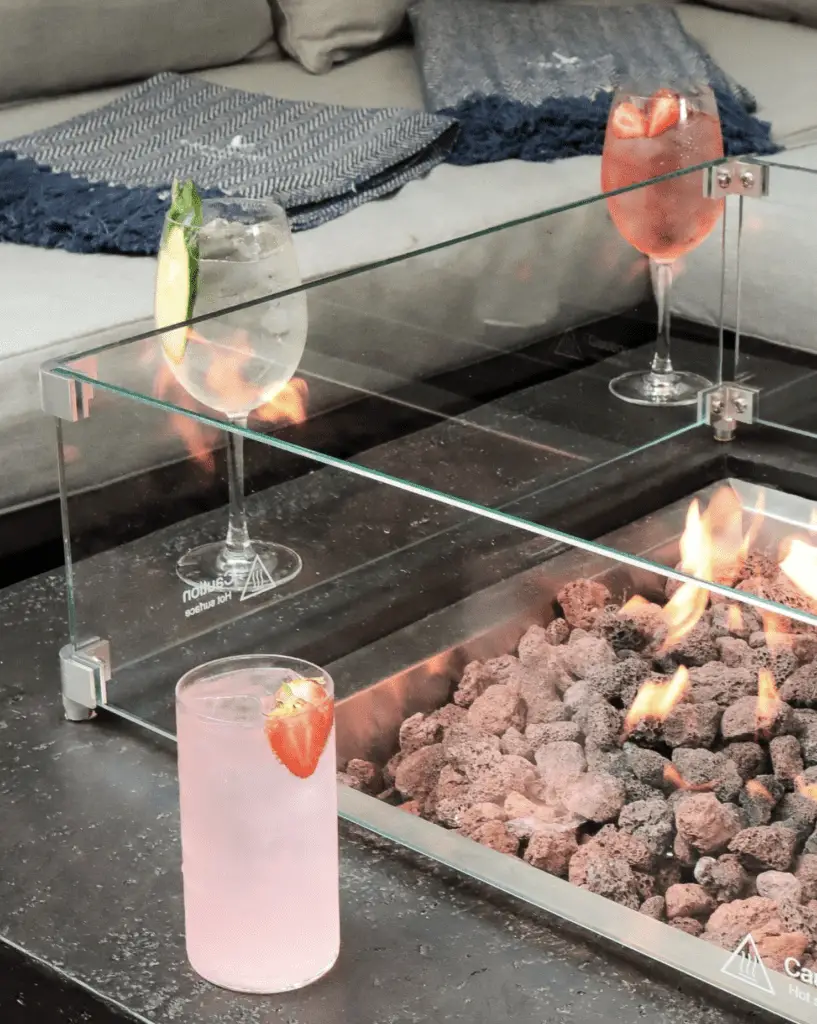 7. Indigo Yard
Make a beeline for Indigo Yard, which is tucked away on Charlotte Lane, if you find yourself in the West End on a sunny day. Although its location gives it the appearance of being a hidden gem, on a nice day it is readily accessible and bustles with beer lovers. Foodies will be delighted to discover a menu packed with an enormous variety of dishes made with excellent local ingredients, with an entire list of vegan options.
---
8. Beehive Inn
Another one of the fantastic beer gardens in Edinburgh with a view of Edinburgh Castle. The Beehive Inn is a small pub in The Grassmarket that appears unassuming from the outside. However, if you navigate through the maze of tables to the back door, you'll find a sizable garden spread across three levels. If the weather turns bad, you can always go inside their dining area, which opens for lunch service at noon and has a stunning view of the Grassmarket.
---
9. Blackbird
The Blackbird is a must-visit for beer lovers in Edinburgh. Beer tastes wonderful in the sunshine at this cosy location. On a bright day, the vibrant beer garden at The Blackbird is humming with positive energy. If you want to take advantage of the summer days by leaving as early as possible, it is available on weekends for brunch. The fairy lights turn on when the sun sets, allowing you to continue taking in the ambience well into the early morning. Both brunch and regular menus have amazing vegan dishes like burgers, rice bowls, and more.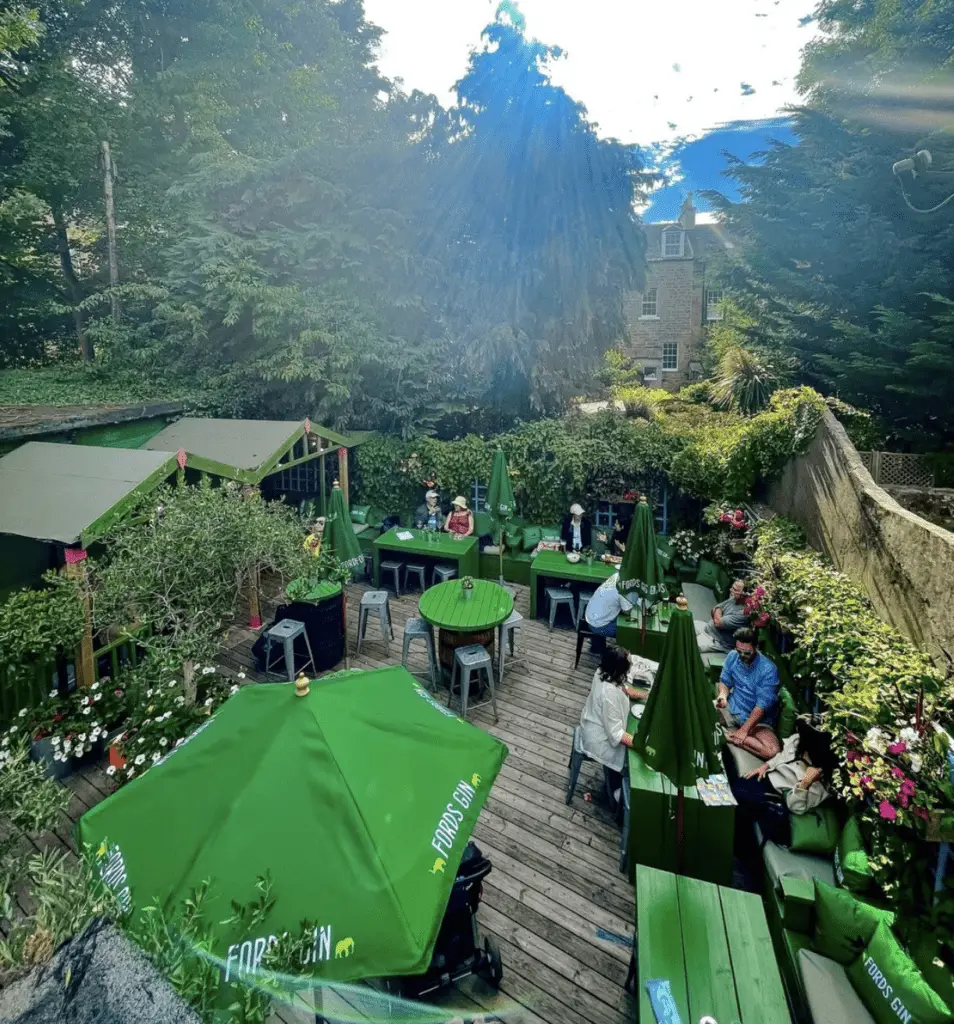 ---
10. Cumberland Bar
The Cumberland Bar, hidden in the New Town's Georgian splendour, is a serene area that locals frequently choose to hang out in. With a cold beer in hand, you can enjoy the long summer evenings in one of the most beautiful beer gardens in Edinburgh. The bar offers a wide selection of beers and ales, including a wonderful selection of brands produced in Scotland. 
---
11. Devil's Advocate
If you walk down Advocate's Close from the Royal Mile, you'll find The Devil's Advocate, a chic bar and restaurant located in a former Victorian pump house, in addition to an excellent viewpoint. The outdoor decking area is small and tucked away among the historic Old Town buildings, but they have award-winning bartenders and a huge selection of beer and whisky, along with a great menu that has vegan options available.
Read More: 15 STUNNING Rooftop Bars in Edinburgh With Gorgeous Views
---
12. Raeburn
Anyone looking to have a fun night out or eat outside in style must stay at this chic boutique hotel in Stockbridge, Edinburgh. The various outdoor areas, which are well-liked by both hotel guests and locals, are modern in design and suitable for a wide range of events, from group drinks on the larger ground floor terrace to a more private dinner on the balcony terrace.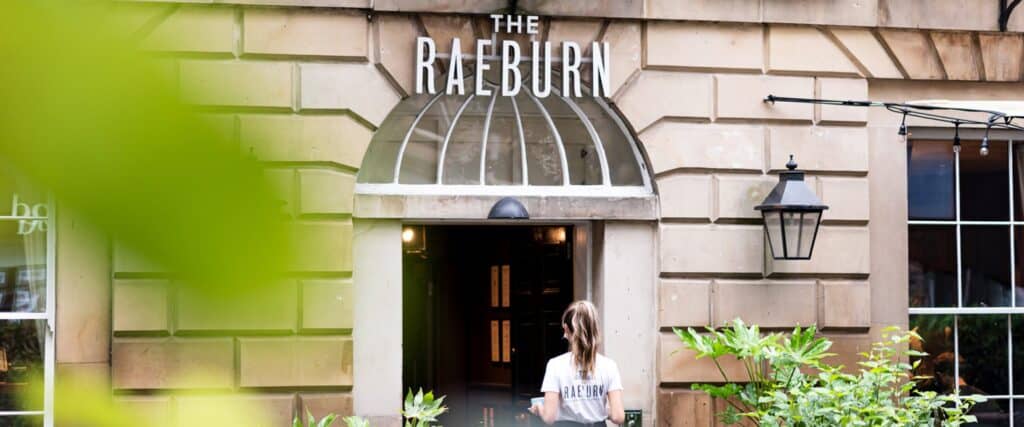 ---
13. Last Drop
There are a few tables and chairs in front of The Last Drop, a traditional bar on Grassmarket Square, but if you are lucky you will get a table for your group. The Last Drop's name alludes to the executions of criminals, which happened right in front of the bar. From local craft beers and whiskys to internationally known drinks, they have a large drinks menu. When it comes to food, you should try their famous vegan lentil and vegetable cottage pie.
---
14. Mariachis
Mariachis is one of the beer gardens in Edbinrugh's Old Town. It is a well-known Mexican eatery with its improvised beer garden, which is housed beneath a roof decorated with vibrant flags. Additionally, they have a few tables on Victoria Street, where you can enjoy the sun. If you love fresh guacamole with your beer, this is a perfect place to visit while in Edinburgh.
---
15. Salt Horse
The artisan beer scene loves Salt Horse. This bar offers more than ten taps that feature craft beer from Scotland and other international brands. Additionally, there are more than 300 distinct types of bottled beer. Salt Horse's rustic rear garden features plants and fairy lights that make this place extra cosy and romantic.
---
Beer Gardens In Edinburgh FAQs
Is Beer Vegan?
Beer is frequently brewed with barley grain, water, hops, and yeast, making it a vegan and vegetarian food. When racking beer into a cask, some brewers add finings to make the beer clearer. Irish moss and animal-derived materials like gelatin can be used in the process.

Which Beer Brands Are Vegan?
If the server cannot tell you if the beer is vegan, it is good to remember these few brands so you are set wherever you go: Amstel, Bavaria, Beck's, Budweiser, Carlsberg, Heineken, Hoegaarden, San Miguel, Staropramen, Stella Artois, Tuborg, and more.

What Alcohol Is Not Vegan?
All alcoholic drinks can be vegan if their filtration process or artificial flavouring doesn't include animal products, but unfortunately, many alcoholic drinks do. Some beer, wine, and cider brands are not vegan, and it is important to check the ingredients list or websites like Peta to confirm.

---
More Scotland Posts
---
Free Resources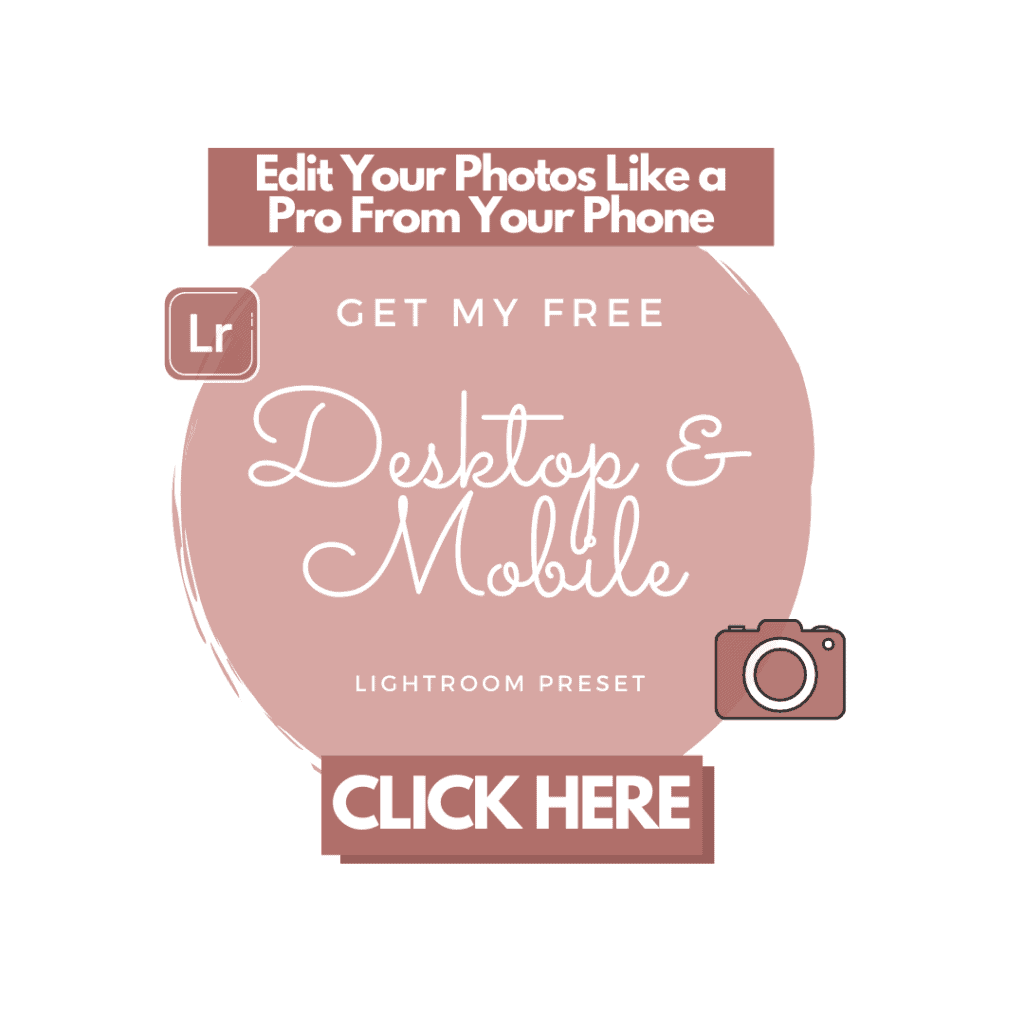 ---
And as always, you can find more sustainable travel content on Instagram @VoyagingHerbivore, Youtube, and TikTok and to get updates straight to your inbox, enter your email below in the footer, or to the right on the sidebar.

If you found this guide helpful and want to help us keep these resources free,
please consider making your next Amazon, Expedia, Hostel World, Etsy, and Booking.com purchase through our links (just click right on those words – you can do it right now and unless you clear your cookies before your next purchase, it will remember). It costs you no extra and gives us a small commission. Thank you!
---
Pin Beer Gardens In Edinburgh