When you finish exploring the city for the day it is best to find places to drink in Edinburgh and share your impressions of the day with your travel companions. If you search for the most fantastic cocktail bars Edinburgh has a bunch of them. See our list below for the most popular locations you should include on your itinerary.
Read More: 15 STUNNING Rooftop Bars in Edinburgh With Gorgeous Views
---
This site is user-supported and that's why we use affiliate links. At no extra cost to you, we get a little bit of money when you purchase something through one of our links. Thank you for helping support ethical, sustainable, and plant-based travel! You can read more about our affiliate disclosure policy here.
---
Edinburgh Cocktail Bars Map
---
1. Panda and Sons, Edinburgh
Panda and Sons, Edinburgh's hidden gem, is hiding in the basement of a barbershop. The wooden paneling and traditional look of an American bar are what sets this place apart. On the menu, you will find exceptional cocktails, but also cheese boards, bread and dips, and more.
You will go back in time when you enter this world-famous bar on Queen Street. Drink like in the prohibition era, but in the heart of Edinburgh. This speakeasy-style bar has won many awards and was listed as one of the top bars in the World multiple times.
Read More: 20 Jaw-Dropping Speakeasies in Edinburgh (+ Underrated Bars)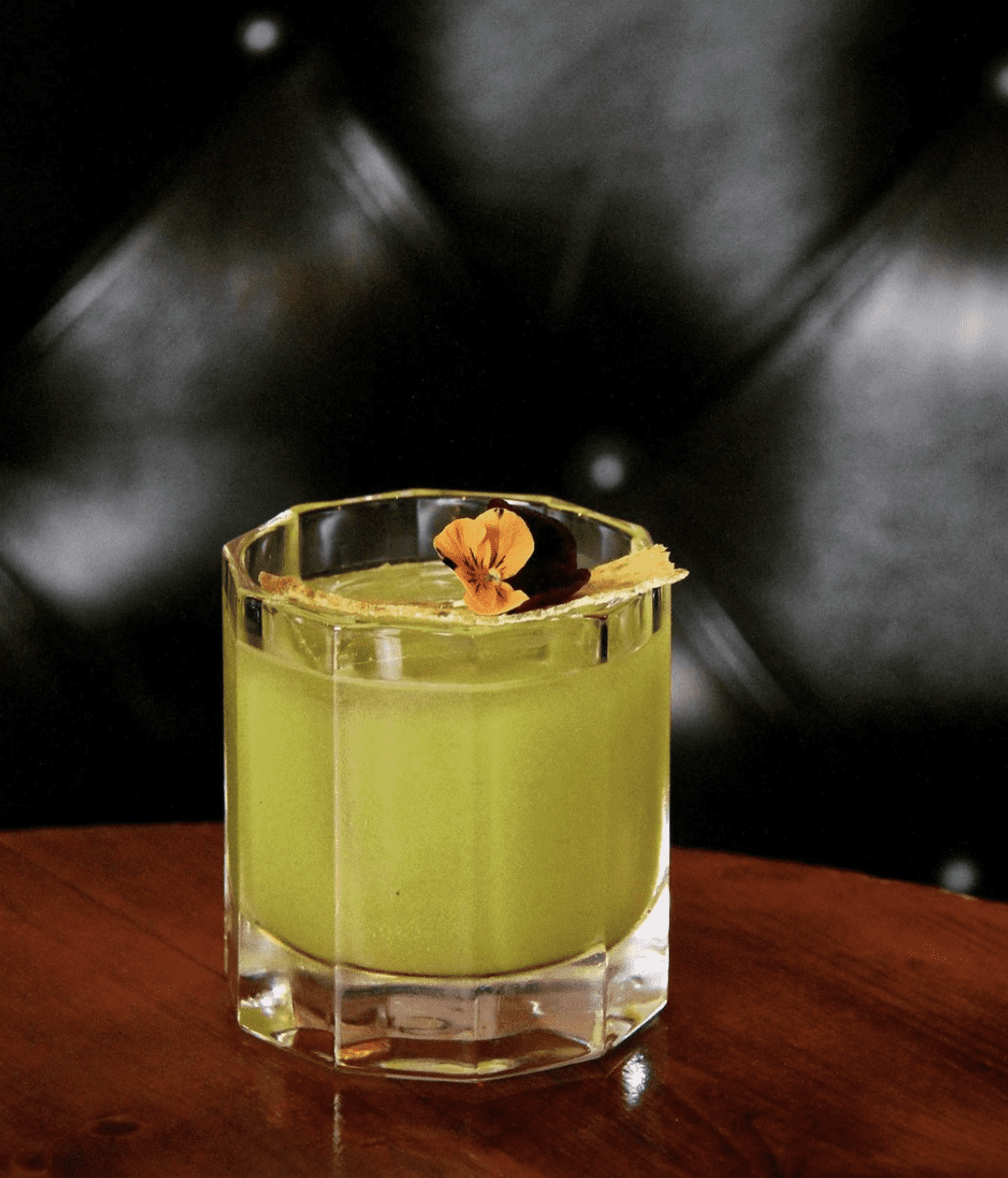 ---
2. House of Gods, Edinburgh
This excellent bar is found inside the House of Gods, Edinburgh hotel. They have three bars, but this one is the oldest and one that attracts the most visitors. You don't have to be a guest of a hotel to enjoy these amazing cocktails. These nice bars in Edinburgh you can book 7 days a week, so make sure to reserve your table on time.
---
3. Lilith's Lounge
Lilith's Lounge is another popular bar inside the House of Gods Hotel in the city centre. This is the newest edition to their offer of incredible bars, with an incredible decor dedicated to Queen of the Damned. For those who like late-night cocktails, it is a place to try Garden and Eternal Melody, Song for the Night, Cazcabel Coffee Liqueur, and so much more.
Upon arrival, the staff will present you with a wax-sealed envelope that contains tarot-like cards. The cards are fanned out and you then pick the one you feel the most connection to, flip it over, and voila – your unique cocktail! Of course, you can choose any, but what a fun way to start the evening.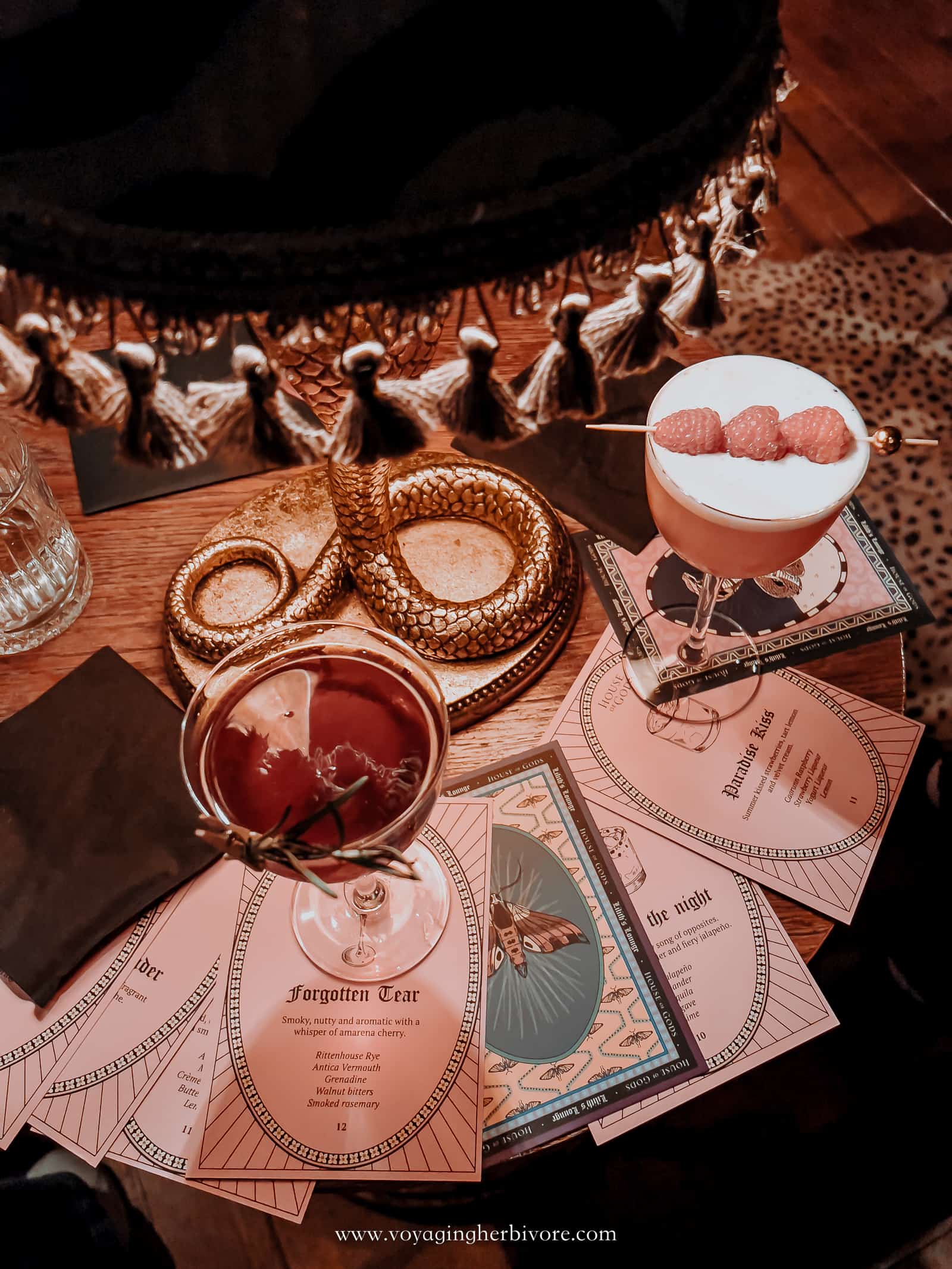 ---
4. The Bon Vivant
Address: 55 Thistle St, Edinburgh EH2 1DY, United Kingdom
Opening Hours: 4:00 PM – 11:00 PM
The Bon Vivant is located in New Town. It has the appearance of a casual restaurant and an interior decorated primarily with warm, softwood and candlelight. The atmosphere is cosy, the bistro-style cuisine is a big part of the experience. It is nothing like commonly seen modern bars, but more of a romantic place for a drink and dinner.
---
5. Paradise Palms
Address: 41 Lothian St, Edinburgh EH1 1HB, United Kingdom
Opening Hours: 4:00 PM – 1:00 AM
Paradise Palms is one of the best places for vegan or vegetarian food combined with drinks in Edinburgh. Off all the cocktail bars Edinburgh has this is the only one that advertises its menu as vegetarian, which is great for us veggie travellers. You will enjoy local and international beer, cocktails, wine, and great food while listening to some nice live music.
---
6. The Devil's Advocate
Address: 9 Advocate's Cl, Edinburgh EH1 1ND, United Kingdom
Opening Hours: 12:00 PM – 12:00 AM
A venue that belongs to the Bon Vivant family is located on Advocate's Close in the Old Town. It is housed inside a grand old Victorian pump station with plenty of space inside and only exposed brick, beams, and wood for decoration. 
It doesn't look like a regular cocktail bar, but more like a bistro where you can enjoy an excellent food menu together with amazing cocktails and Scotch whiskeys. Here you can try the award-winning Ardbeg Uigeadail and over 300 other whiskeys they have on the menu.
---
7. Juniper, Edinburgh
Address: 20 Princes Street, Edinburgh EH2 2AN Scotland
Opening Hours: 12:00 PM – 11:00 PM
If you find yourself on Princess Street in Edinburgh stop by Juniper for unique cocktails. They have a menu of famous cocktails but are introduced with a twist so you don't know what to expect by simply reading the name on the menu. The bar has a prime location in the centre of Edinburgh with breathtaking views of the entire city.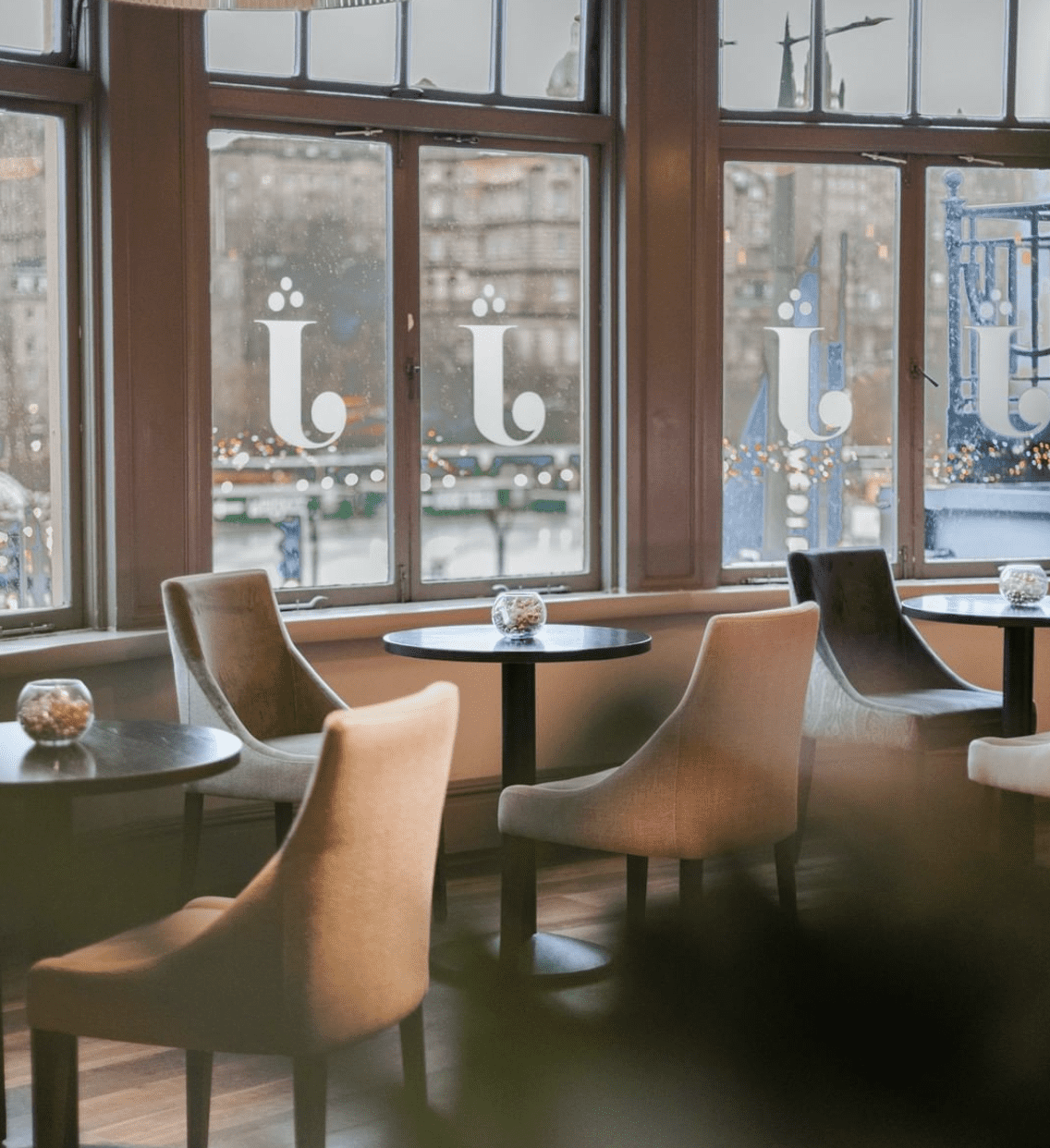 ---
8. Copper Blossom
Address: 9 Advocate's Cl, Edinburgh EH1 1ND, United Kingdom
Opening Hours: 12:00 PM – 11:00 PM
Try the finest food and drinks in this stylish bar on George street. It is a great place to snap some selfies and relax after a long walk around the city centre. Aside from the all-day menu, they also have brunch, bites, and dessert menus which all include gluten-free, vegetarian, and vegan options.
---
9. Dragonfly
Address: 52 West Port, Edinburgh EH1 2LD, United Kingdom
Opening Hours: 4:00 PM – 1:00 AM
This elegant speakeasy cocktail bar is famous for its 20s decor with lots of plants, chandeliers, and weekend DJ sessions. Dragonfly was one of the bars that contributed to the local cocktail scene and since then it has been the place loved by locals and tourists. 
Dragonfly is located just a short stroll from the famous Grassmarket, and here you can order from the wine or cocktail menus. Some of the cocktails they are famous for are Shakes on the Plane, Yankee Delta, Peach Please, and more.
---
10. Heads & Tales
Address: 1a Rutland St, Edinburgh EH1 2AD, United Kingdom
Opening Hours: 5:00 PM – 3:00 AM
Heads & Tales is a gin bar located in the basement of the Rutland Hotel at the western end of Princes Street. There is a gin micro-distillery on the property that produces the Edinburgh Gin brand. Gin seminars are offered, and with the help of the bar staff, you can create your own cocktail. 
Additionally, distillery tours are offered in the morning before the bar opens. If you are a fan of gin this is among the must-visit places to drink in Edinburgh. When you find a gin you like you can pair it with food from the menu, like vegan buffalo cauliflower wings.
---
11. Under the Stairs
Address: 3A Merchant St, Edinburgh EH1 2QD, United Kingdom
Opening Hours: 4:00 PM – 12:00 AM
From Merchant Street, a winding flight of stone stairs descends past planters and holiday lights to this basement pub. A cosy, darkly lighted hiding place, the interior features soft furniture dangling from worn-out sofas and antique clocks ticking over the brilliant fish tank. 
It's open at midday for espressos, herbal teas, or liqueur-infused coffees and hot chocolates. On the food menu, they have several vegan and vegetarian options, like vegan haggis, hash browns, and many more.
---
12. The Alchemist
Address: 401 – 403 St James Square, Quarter, Edinburgh EH1 3AE, United Kingdom
Opening Hours: 10:00 AM – 12:00 AM
This cocktail bar is situated on the fourth floor of St James Quarter, the city's newest shopping area, and is referred to as "a mysterious pharmacy." And as the name implies, you can try numerous inventive compositions that the bar's mixologists come up with. 
Try their popular Mad Hatters or Cherry Poppins and discover why they say that their drinks are theatre served. This St James Centre pub serves up alcoholic beverages that smoke, pop, and change colour, making it the ideal spot to sip on some seriously Instagrammable drinks.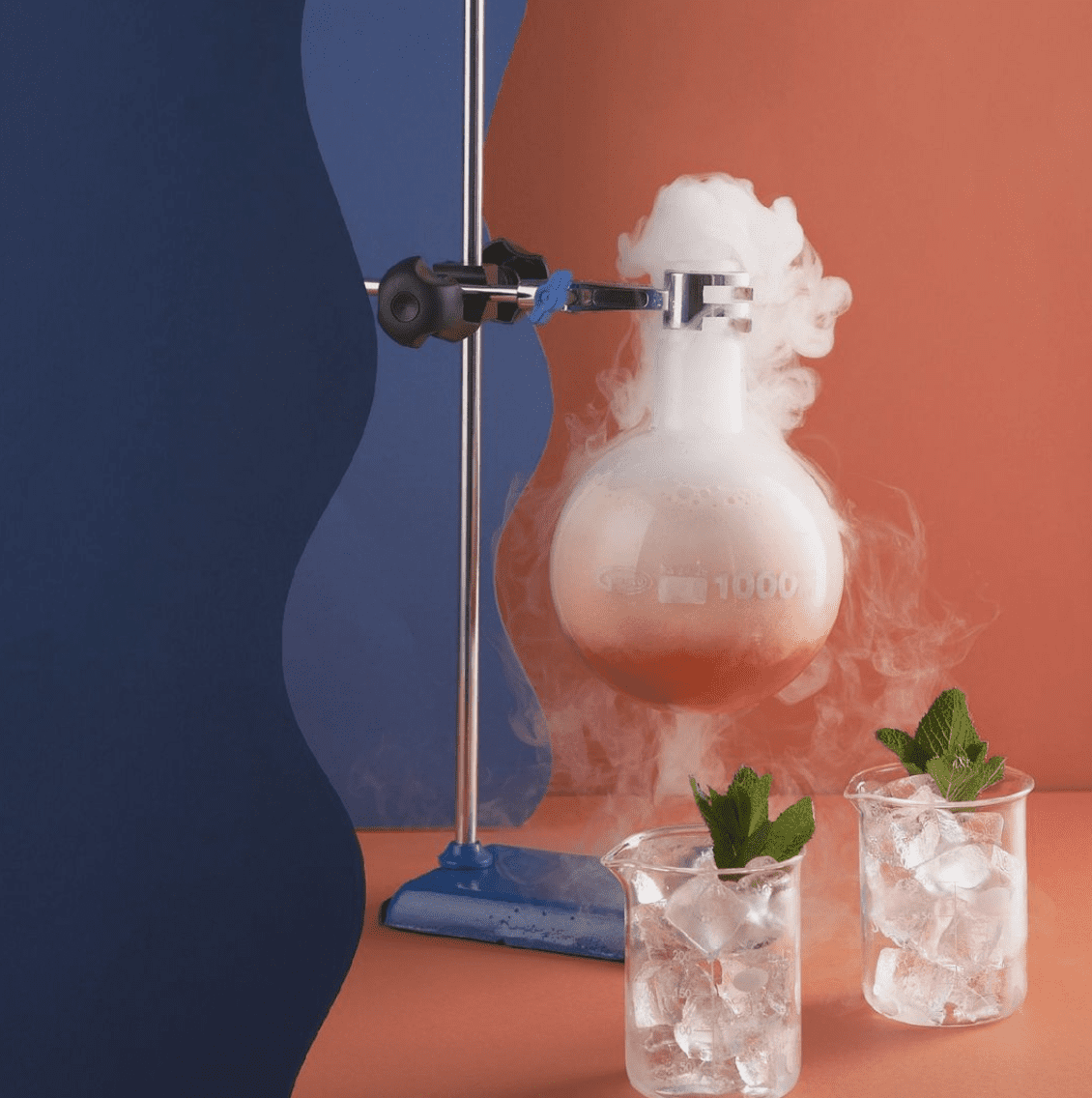 ---
13. Nightcap
Address: 3 York Pl, Edinburgh EH1 3EB, United Kingdom
Opening Hours: 5:00 PM – 3:00 AM
Nightcap, a cosy and chic bar on York Place, is a nice spot to stop in for a quick drink after dinner, which is where the name comes from. It is among the most laid-back cocktail bars Edinburgh has to offer, and you will feel at home as soon as you enter. 
Choose a drink from the cocktail, wine, or beer menu which includes seaside Gibson, Turbo Paloma, or one of the altered cocktails which are the traditional cocktails you are used to but with a special Nightcap twist to it.
---
14. The Lucky Liquor Co
Address: 39A Queen St, Edinburgh EH2 3NH, United Kingdom
Opening Hours: 4:00 PM – 1:00 AM
One of Edinburgh's hippest cocktail bars, this laid-back establishment on Queen Street turns up the heat with a very distinctive drink menu. Some of the phenomenal drinks here include ingredients like red onion or popcorn. They call it a liquid lunch and if you like to experiment with food and drinks don't skip this bar.
They have an experimental approach and their menus change with the seasons. If you don't visit often you will most probably try drinks from a completely different menu every time.
---
15. Bramble Bar & Lounge
Address: 16A Queen St, Edinburgh EH2 1JE, United Kingdom
Opening Hours: 4:00 PM – 1:00 AM
Bramble, the most celebrated cocktail bar in New Town, has been voted among the world's best bars many times and is a must-see location for every cocktail lover visiting Edinburgh. The beverages on offer go beyond the classics to bring flavours and ingredients in perfect harmony.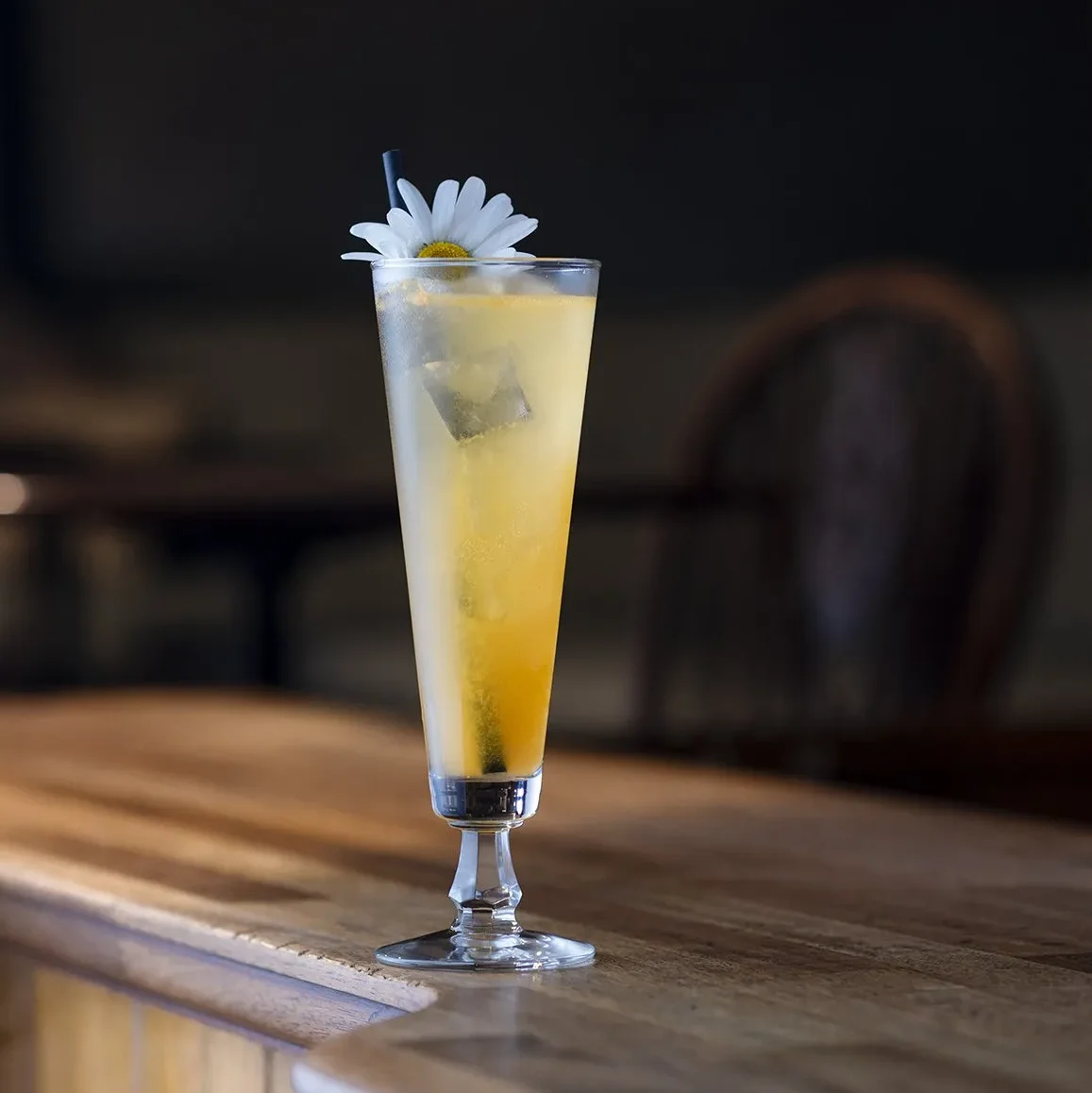 ---
FAQ Cocktail Bars, Edinburgh
Where can you find the best cocktail bars in Edinburgh?
Edinburgh is home to many incredible cocktail bars, located all over the city, but if you are visiting for the first time you can stick to the city centre and streets like Princess street and George street.

What to drink when you visit Edinburgh?
Among the cocktails, beers, and gin, don't forget to try the Scotch whiskey Edinburgh is famous for. There are many distilleries you can visit, as well as bars that offer a whiskey experience.
Are cocktail bars in Edinburgh vegan-friendly?
Since Edinburgh is one of the most vegan-friendly city in the UK according to PETA, it is no surprise that cocktail bars are vegan-friendly too with their drinks and food menus. Not all alcohol is vegan, but a quick search will give you an answer fairly quickly.
---
Keep exploring Edinburgh
---
Free Resources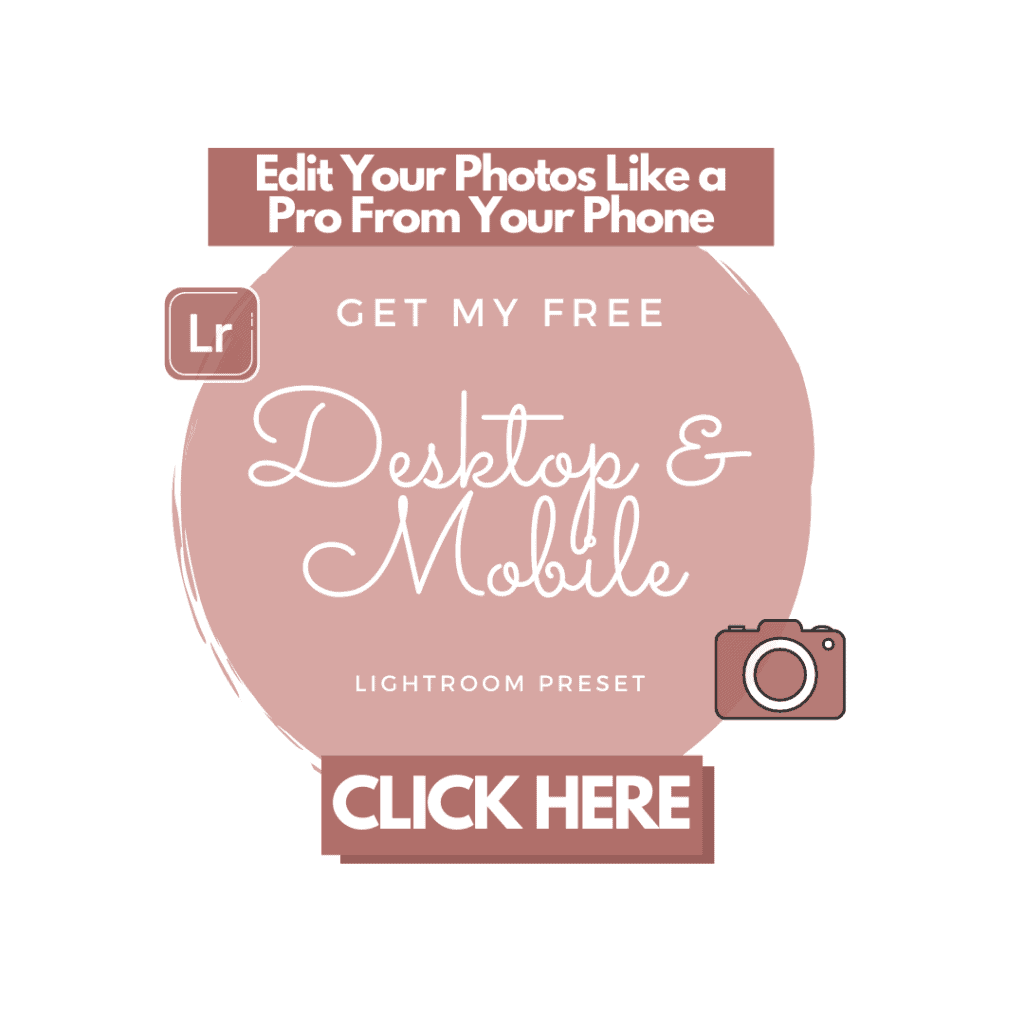 ---
And as always, you can find more sustainable travel content on Instagram @VoyagingHerbivore, Youtube, and TikTok and to get updates straight to your inbox, enter your email below in the footer, or to the right on the sidebar.

If you found this guide helpful and want to help us keep these resources free,
please consider making your next Amazon, Expedia, Hostel World, Etsy, and Booking.com purchase through our links (just click right on those words – you can do it right now and unless you clear your cookies before your next purchase, it will remember). It costs you no extra and gives us a small commission. Thank you!
---
Pin Cocktail Bars in Edinburgh