Bungee jumping is among those extreme sports that most people can try. There are no significant restrictions, it is affordable, widely available, and very safe. You can release a ton of energy and stress with just one jump, and go out of your comfort zone for a moment. That is why many people are interested in bungee jumping. If you decide to bungee jump in Scotland we have excellent locations for you.
What Is Bungee Jumping?
Many people jump off high platforms, cranes, buildings, skyscrapers, and bridges. Their ankles are fastened to a strong rope, enabling the jumper to land on their feet first. This is called bungee jumping and it is one of the favourite extreme sports around the world.
The string stretches when you jump from the height, and when the line bounces back, you are lifted upward. Until the electricity runs out, the elastic cord bounces up and down which is a thrilling and adrenaline-filled experience that makes your heart run much faster.
Most bungee operations across the world are run by competent, seasoned professionals who make use of the best, most reliable equipment. They also follow tight safety guidelines. Although jumping from such high altitudes can be intimidating, bungee jumping is a risk-free activity with an excellent safety record.
---
History of Bungee Jumping
The birthplace of bungee jumping is said to be Pentecost Island in the Pacific. According to a legend, a woman ran away from her abusive husband and climbed a tree to hide, but her husband followed her. She tied vines around her ankles and jumped as her husband reached for her. The woman was saved by the vines when her husband also leapt, but he hit the ground and perished.
The males of the island have been practising jumping from trees while wearing vines tied around their ankles ever since this legend first appeared. On Pentecost Island, this practice is called Naghol, and it has developed into a custom. Every year between April and June on Saturdays, they perform those traditional jumps.
The Oxford Dangerous Sports Club attempted to leap off Bristol's Clifton Bridge in England in 1979 on April Fool's Day. A few members of this club, acting rather erratically and unpreparedly, tied elastic bungee cords to themselves before jumping. The following year, they repeated the act at the Golden Gate Bridge in San Francisco.
Along with other jumps, this helped the sport gain popularity. In Queenstown, New Zealand, the first commercial bungee jumping facility was established in 1989 by the now-famous New Zealander A.J. Hackett. Since then this sport has spread through the world with amazing jumping spots that offer great views and experience.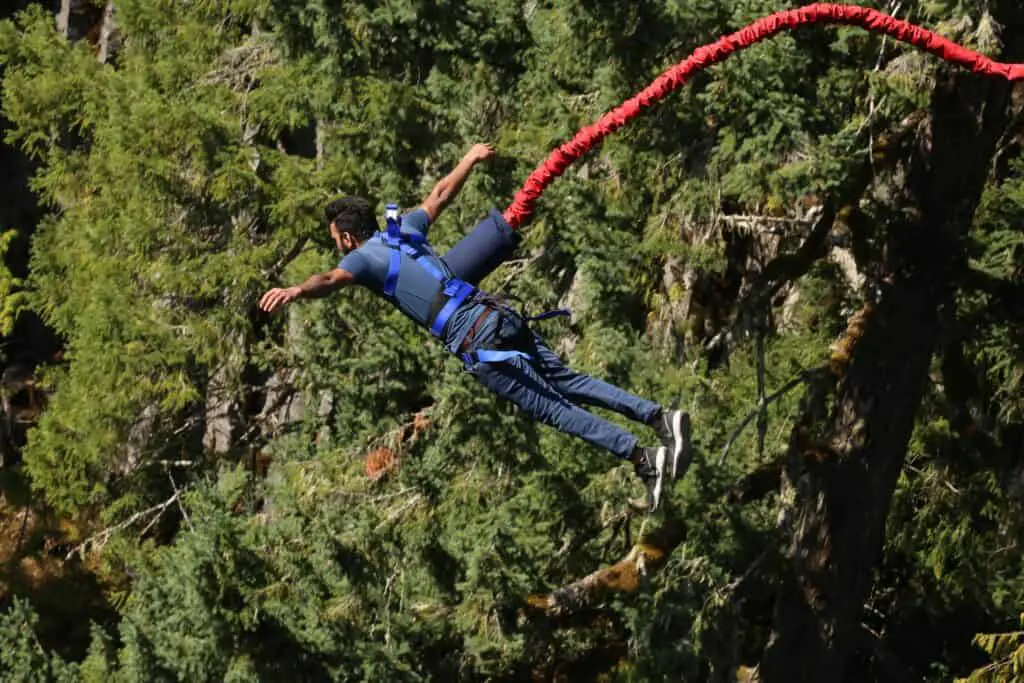 ---
How Safe Is Bungee Jumping?
Bungee jumping is only one of several exhilarating extreme activities that any thrill seeker desires to attempt. If you enjoy taking big risks, bungee jumping might be for you. However, you have to question how risky bungee jumping is. If you are planning a bungee jump in Scotland, here is some information for you.
The bungee cord must be tied off in a safe place that won't be impacted by the added weight for a jump to be considered safe. Frequently, safety fences or steel railings make excellent anchor points. Experts will tie the bungee cord in weight-bearing knots so that it will remain secure even when gravity is pulling the jumpers downward.
To ensure the safety of jumpers, some businesses may install slings, airbags, or webbing, just beneath the jump spot. The initial jump for newbies could be safer if the location has airbags or webbing.
---
Weather Conditions 
Certain companies might need to delay jumps in unfavourable weather conditions like rain and snow. Additionally, injuries are more likely to occur in areas with poor visibility and erratic wind conditions. If there is a risk it is better to wait or delay the jump than for injuries to occur. Work with professionals and take every safety precaution you can.
---
Appropriate Clothes
There isn't specific clothing for this activity, however, certain types of clothes can help maintain safety. Wearing clothes that are too loose could impede the cord. Before jumping, take off any jewellery or other objects that could be harmful if they came free or fell off. Among them are phones, jewellery, and eyeglasses.
---
Proper Training
There are three-part programmes that teach abilities including the maintenance, inspection, and testing of bungee equipment as well as how to use it, regardless of whether you are a beginner, someone with some experience, or a professional bungee jumper. The training includes an apprenticeship phase, bungee training, and rescue training.
---
Medical Fitness
Conditions affecting blood pressure, your back and legs, respiratory system, or circulation, as well as pregnant women, those with irregular heartbeats, and people who have just undergone surgery, are recommended against bungee jumping. They can still do it if they get a green light from their doctor. Same as the elderly who would need doctors' approval before a jump.
---
Where to Bungee Jump in Scotland?
There are three impressive locations in Scotland where you can try bungee jumping. Each of them offers the highest safety regulations and phenomenal views. Here are the places where you can bungee jump in Scotland:
---
1. Pitlochry Bungee Jump, Scotland
Price: £107
Location: The Pass of Killiecrankie National Trust Visitor Centre, Killiecrankie Visitor Centre, B8079, Killiecrankie, Pitlochry PH16 5LG, United Kingdom
Height: 40 metres
Age restriction: 14+
Duration: 1 hour
The Highland Fling Bungee Jump blends the expertise and vision of professionals with the famous Scottish beauty of Highland Perthshire. It creates something completely original in a location known for adventure sports. 
The creators of the Highland Fling Bungee intended for the jumper to connect with an inspiring scenery via excitement and adventure. This is the nation's first permanently constructed platform for bungee jumping from a bridge. 
Jump from 40 metres high River Garry Bridge into the most amazing natural landscape. You can also give this incredible experience to someone and go together to support each other in this new adventure. The meeting point for the tour is at Killiecrankie visitor centre, where you will also return at the end of your experience.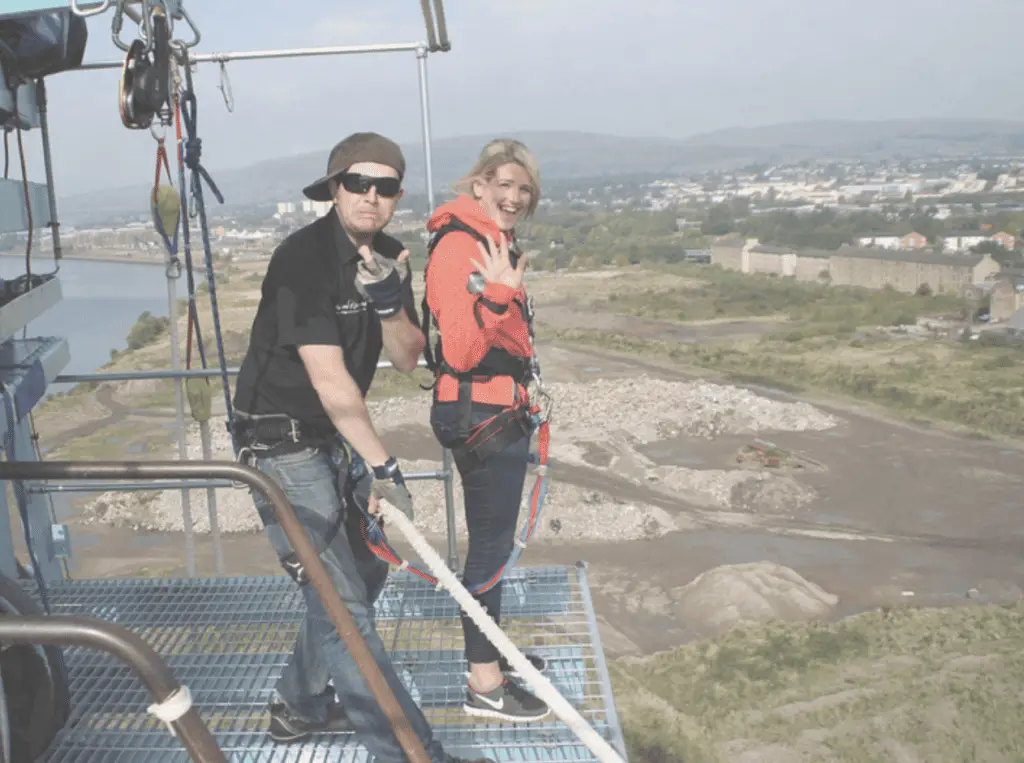 ---
2. Bungee Jumping in Glasgow, Riverside Museum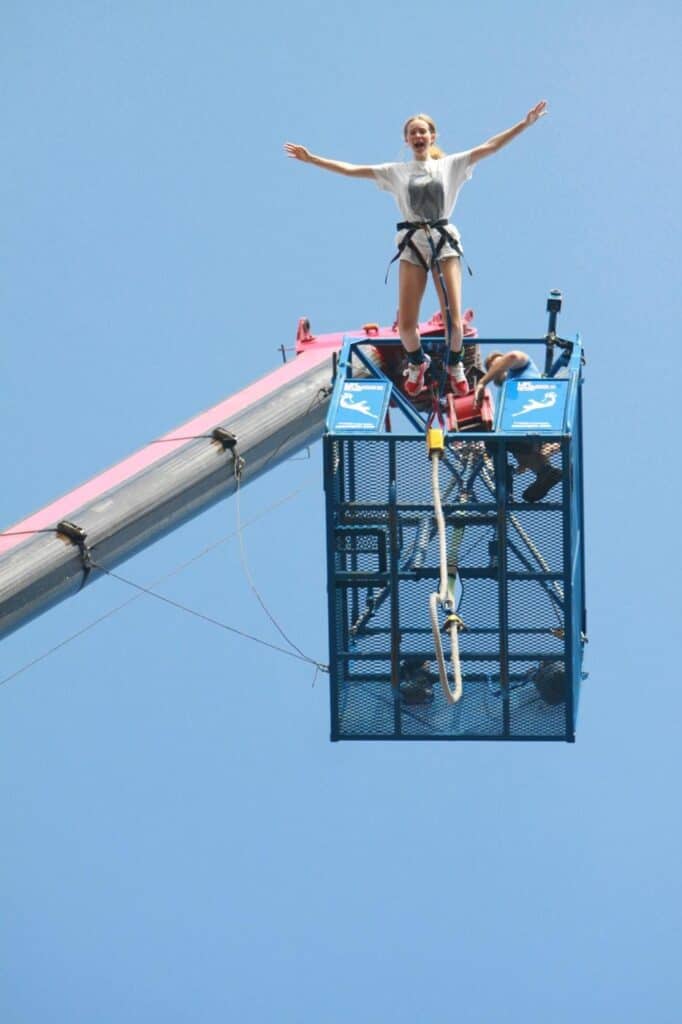 Price: £75
Location: Riverside Museum, 100 Pointhouse Rd, Govan, Glasgow G3 8RS, United Kingdom
Height: 48 metres
Age restriction: 14+
Duration: 3 hours
The Riverside Museum is the location with a 48 metres high bungee jump in Glasgow. It is an exciting activity to try if you are travelling to Glasgow, especially because the platform is just a 10-minute drive from Glasgow city centre. You will enjoy views of the surroundings, including Glasgow Harbour, as you ascend the 48-metre height.  
Every bungee jump in Scotland is an exciting idea, but if you can choose which one you want to try, think of the surroundings. This is a unique opportunity to try jumping off the platform that has a view of the city, nature, and the river. They also offer tandem jumps, so you and your friend or a loved one can jump together, which is a unique experience on its own.
---
3. Titan Crane Bungee Jump, Glasgow
Price: £89
Location: Queens Quay, 1 Aurora Ave, Clydebank G81 1BF, United Kingdom
Height: 45 metres
Age restriction: 14+
Duration: 1 hour
Bungee jumping is one of the sports that bring up the highest adrenalin rush. You can enjoy this adventure on the River Clyde, where you will see breathtaking views of Glasgow to your east and the Erskine Bridge to your west, but only for a short while, before you jump from the 45 metres high crane.
When you arrive, knowledgeable instructors will welcome you and help you get harnessed up while going through everything you need to know. In addition to jumping, participants and their companions will have access to the visitor centre and ground-floor cafe as well as the exhibitions at the crane summit, where you can learn more about the crane and shipbuilding on the Clyde.
---
Bungee Jumping FAQs
Can You Bungee Jump in Scotland?
Yes, but some restrictions may apply, like age for example. If you have health problems or are older than 65 most locations will ask for your doctor's letter of approval. For teenagers 14 and 15 years old a parent or a guardian must be present for a jump.
How High Is the Highland Fling Bungee?
The Highland Fling Bungee jump is 40 metres high and is one of Scotland's best bungee jump experiences. You get the view of incredible nature just moments before your jump. The entire experience is unique and filled with adrenalin.
Where Is the Best Bungee Jump in the UK?
The O2 bungee jump in London is among the most popular bungee jumps in the country. You get to see the beautiful skyline of London before your jump.
Can You Bungee Jump in the UK?
Yes, bungee jumping in the UK is allowed and it is a popular sport for adrenaline seekers. The UK is considered one of the first countries where this sport is practised, and some even consider the UK to be the birthplace of bungee jumping.

Is There Bungee Jumping in Edinburgh?
Edinburgh does not have any bungee jumping experiences at the moment, but just a little over an hour's drive from Edinburgh you can experience bungee jumping in Glasgow.
---
More Scotland Posts
---
Free Resources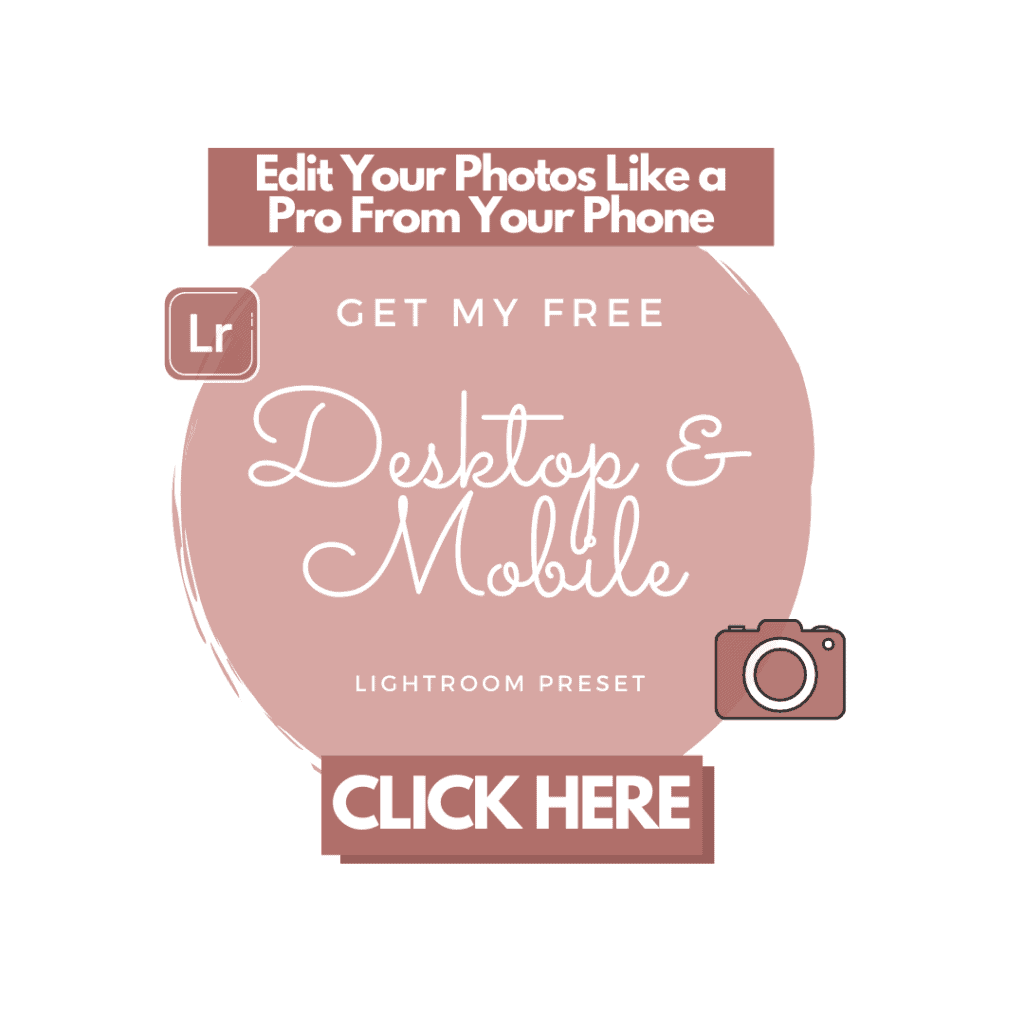 ---
And as always, you can find more sustainable travel content on Instagram @VoyagingHerbivore, Youtube, and TikTok and to get updates straight to your inbox, enter your email below in the footer, or to the right on the sidebar.

If you found this guide helpful and want to help us keep these resources free,
please consider making your next Amazon, Expedia, Hostel World, Etsy, and Booking.com purchase through our links (just click right on those words – you can do it right now and unless you clear your cookies before your next purchase, it will remember). It costs you no extra and gives us a small commission. Thank you!
---
Pin Bungee Jumping in Scotland