Edinburgh's historical Royal Mile is known as one of the city's best-loved areas and is teeming with wonderful local shops, boutiques, bars, museums, and, of course, is the home of the Scottish crown jewels!
But one of its most magical elements, which is often overlooked by unaware visitors, is its many fabulous closes (an old-school term meaning 'small alley'), which are home to some of the city's most delightful hidden treasures.
One such example is Dunbar's Close. If you're planning a trip to Edinburgh, Scotland, or have recently moved to the area, here's why you need to pay a visit to this local hotspot.
Where is Dunbar's Close?
Dunbar's Close can be found on the left-hand side of the Canongate area of the Royal Mile in the city's Old Town. 
Edinburgh's closes can be easy to miss if you're distracted, as they're not always overly obvious (although they are pavement-marked), and Dubar's Close is no exception. 
Unlike many famous city tourist attractions, the closes of Old Town are modestly signed, which is perhaps why many of them are hidden gems – despite being some of the oldest locations in Edinburgh.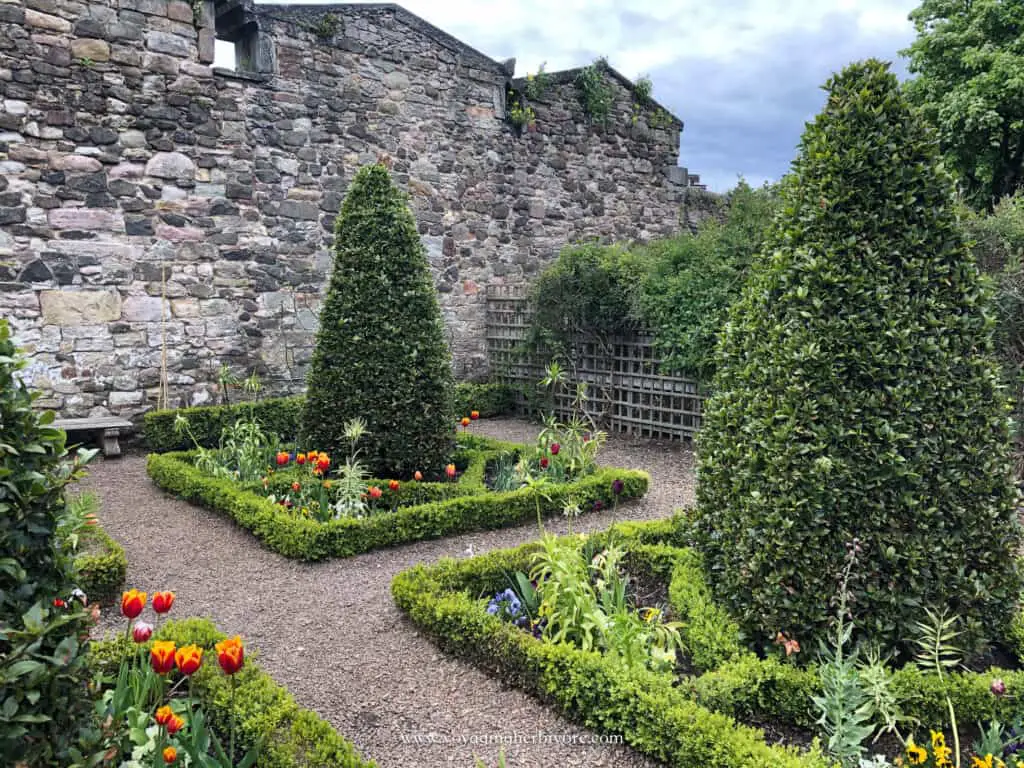 ---
What is a Close?
Edinburgh natives will likely already be familiar with what a 'close' is, but for those coming from out of town or country, a close is simply a small alley or narrow street, tucked away behind a gate (usually).
Oftentimes, they are centuries-old areas with interesting backstories relating to each individual name of the close (of which was typically named after the key resident or profession associated with that area).
Closes get their unusual name from days of yore when occupants struggled to station their horse and cart within the narrow streets of the area, the walls being – you guessed it – too close.
---
What is Dunbar's Close?
What makes Dunbar's Close such a special little area is that is a rural retreat tucked away in the heart of the busy city. 
Unlike other closes, which may be predominantly made of brick and mortar, Dunbar's Close is a fairytale-esque botanical garden area that has been preserved to resemble that of its 17th-century heyday.
The inside of the garden is home to a canopy of yew trees, knot gardens, wild gardens, a clipped and manicured patch of grass, a cobblestone pathway, and a host of wooden benches to rest your bones away from the hustle and bustle of touristy Edinburgh.
Irrespective of the time of year you visit, the fairy garden of Dunbar's Close has a certain charm and magic to it, which is embodied throughout the changing colours of each season. It can be a perfect spot for a picnic, coffee date, 20-minute time-out, or even a wedding proposal.
Surrounding this beautiful patch of urban nature are the historical and culture-rich tenement buildings of the Royal Mile, making your little botanical retreat feel like a journey back in time.
---
Dunbar's Close Edinburgh: A Guide
This particular area of the Royal Mile dates back to the 17th century, and like many of the other city closes, has a rich history and quaint beauty about it, making it well worth a visit. 
---
Dunbar's Close History
Despite its age, only a relatively small amount is known about Dunbar's Close's origin. 
Although there's no documentation backing it up, the close is thought to be named after David Dunbar, a 17th-century Edinburgh writer, who owned two of the tenement buildings adjacent to the garden. 
Although the close itself is one of the oldest parts of the city, the garden itself wasn't designed and put into place until the 1970s and was the work of landscape architect, Seamus Filor, the idea being that the space would be a 'pocket garden' for anyone to enjoy.
---
Dunbar's Close Opening Times
Although Dunbar's Close is a public space, it is preserved and protected by the Mushroom Trust, and its opening times are 7 a.m. – 4.30 p.m. 
---
Dunbar's Close Wedding
We mentioned earlier that this little slice of heaven is an ideal location to pop the question, but did you know you can also tie the knot there too?!
Every year, copious happy couples flock to the city of Edinburgh to say "I do" in one of the numerous beautiful, plush, or historical locations, and while many like the convenience of an urban wedding, having a ceremony in a rural retreat can make the affair peaceful, photogenic, and seriously gorgeous.
---
Dunbar's Close Tickets
Tickets are not required to visit Dunbar's Close and entry is free. Visitors are asked to treat the space respectfully and allow the site to be enjoyed by others.
---
Where to Stay Near Dunbar's Close
The Royal Mile has no shortage of fabulous accommodation options to suit all tastes, preferences, and budgets. Some of these include:
All of these accommodation options are part of Booking.com's travel sustainable programme.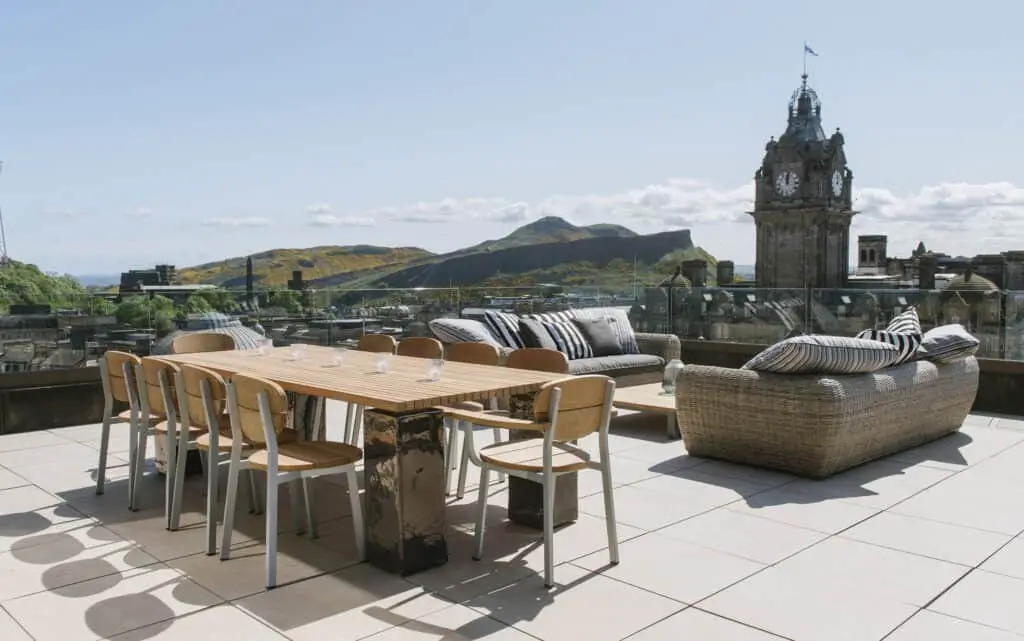 ---
Dunbar's Close Tours
Edinburgh is famous for its guided tours, which are often one of the best ways to explore like a local. Some Dunbar's Close tours that we love include:
---
White Horse Close & Other Areas to Explore
If Dunbar's Close whets your appetite to get a taste of all the famous closes of Edinburgh's Old Town, why not dig your heels in and enjoy a few of the other options?
White Horse Close
Anyone familiar with Edinburgh iconography may well have seen the quintessentially Scottish imagery of White Horse Close, perhaps on a postcard or in a Pinterest moodboard. 
This historical close is less of a 'hidden gem' than Dunbar's Close. So much so that you may find gaggles of tourists present throughout the day and may need to wait for a spell to get a photo opportunity.
What makes White Horse Close so sought-after is its witchy moss-covered cottages which are complete with pointed roofs and 17th-century windows. There is also a stone staircase that leads up to two of the main buildings, giving it a mysterious and old-fashioned romantic feel to it. An ideal hotspot for lovers of gothic architecture.
Other Edinburgh Closes Worth a Visit:
The Real Mary King's Close (Ideal for those who love a good ghost story and other tales of the macabre!).
Advocate's Close (Ideal for those who love a pretty view!).
Riddle's Court (Ideal for those looking for a pretty wedding venue to celebrate their nuptials in).
Brodie's Close (Stop here to learn all about Mr. Brodie himself, and enjoy a bite to eat in the café).
Anchor's Close (Get a close-up view of yester-year Edinburgh with this pokey and slightly eerie alley!).
Bakehouse Close (Lovers of TV's Outlander will already be familiar with this scenic location that has quite the colourful past).
Paisley Close (Learn all about the urban 'miracle' that happened here on November 24th, 1861…).
Read More: Edinburgh Closes: Top 10 Historical Closes (Plus Map!)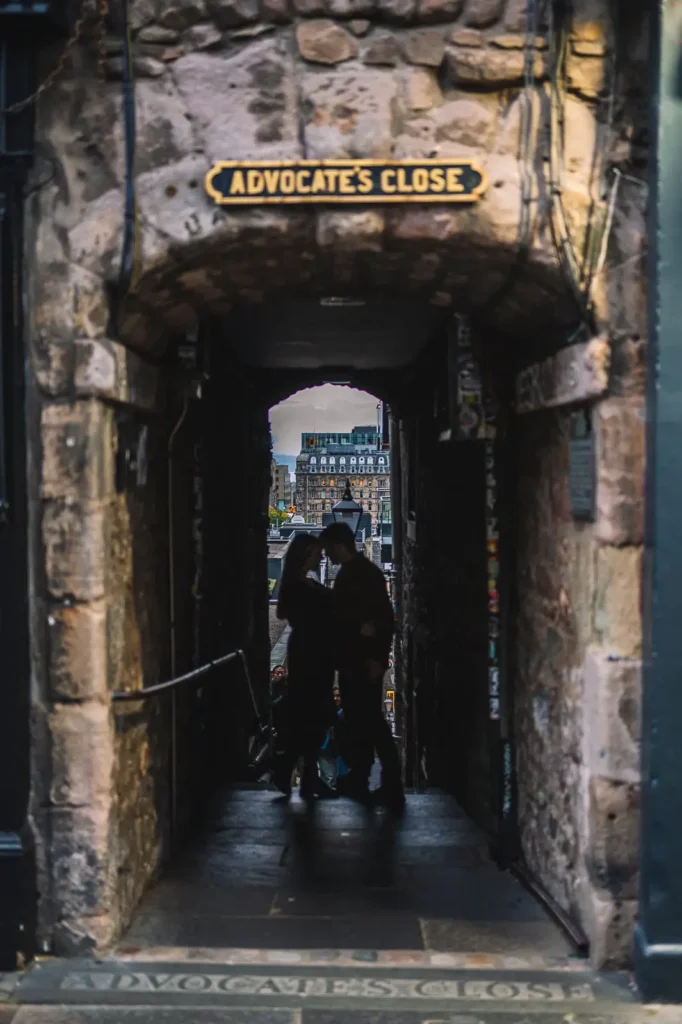 Couple's Photoshoot in Edinburgh at Advocate's Close and Lady Stair's Close –
Book an Edinburgh Portrait Shoot Here
---
Where to Eat Near Dunbar's Close
Dunbar's Close is a fantastic option for a picnic. However, Scotland's notorious weather can often make al fresco dining a no-go. Luckily, as with accommodation, the Royal Mile has plenty to offer by way of fabulous eateries.
MaRobert's
Café Vivo
The Pakora Bar
Clarinda's Tea Room
The Black Grape
Tolbooth Tavern
The Kilderkin
Loudon's New Waverley
Let Me Eat
Dean Banks at the Pompadour
Canongate Coffee Company
Dangal
The Canons' Gate
---
Other Royal Mile Adventures to Enjoy
Once you've spent the morning perusing the closes of Edinburgh and have tucked into some local cuisine, here are some of the other things to enjoy on (or near) the Royal Mile.
Visit the Palace of Holyrood
Take in the stunning architecture of St. Giles' Cathedral
Warm those bones with a dram or two at the Scotch Whisky Experience
Traipse the ancient corridors of Edinburgh Castle
Buff up on your city history at the National Museum of Scotland
Enjoy an aquatic spot of lunch on the Royal Brittania (or spend the night in one of their sister ships' luxurious cabins!).
Get some fresh air (and incredible views) by hiking up to Arthur's Seat
Indulge in a ghost tour (fun fact: Edinburgh is one of the most haunted cities in the UK!).
---
Dunbar's Close FAQs
What are the closes off the Royal Mile?
These private alleyways were intended for private access and use by the local residents during the earlier centuries. However, they are now open for public viewing and enjoyment. 
That said, some contain local businesses, and tourists need to be mindful of not infringing on their custom.
What is the most famous close in Edinburgh?
The Real Mary King's Close is undoubtedly the most famous close in Edinburgh. As well as being the oldest of all 70 closes, it is also considered to be very haunted and rife with urban legends, owing to its dark and sordid past.
---
More Scotland Posts
---
Free Resources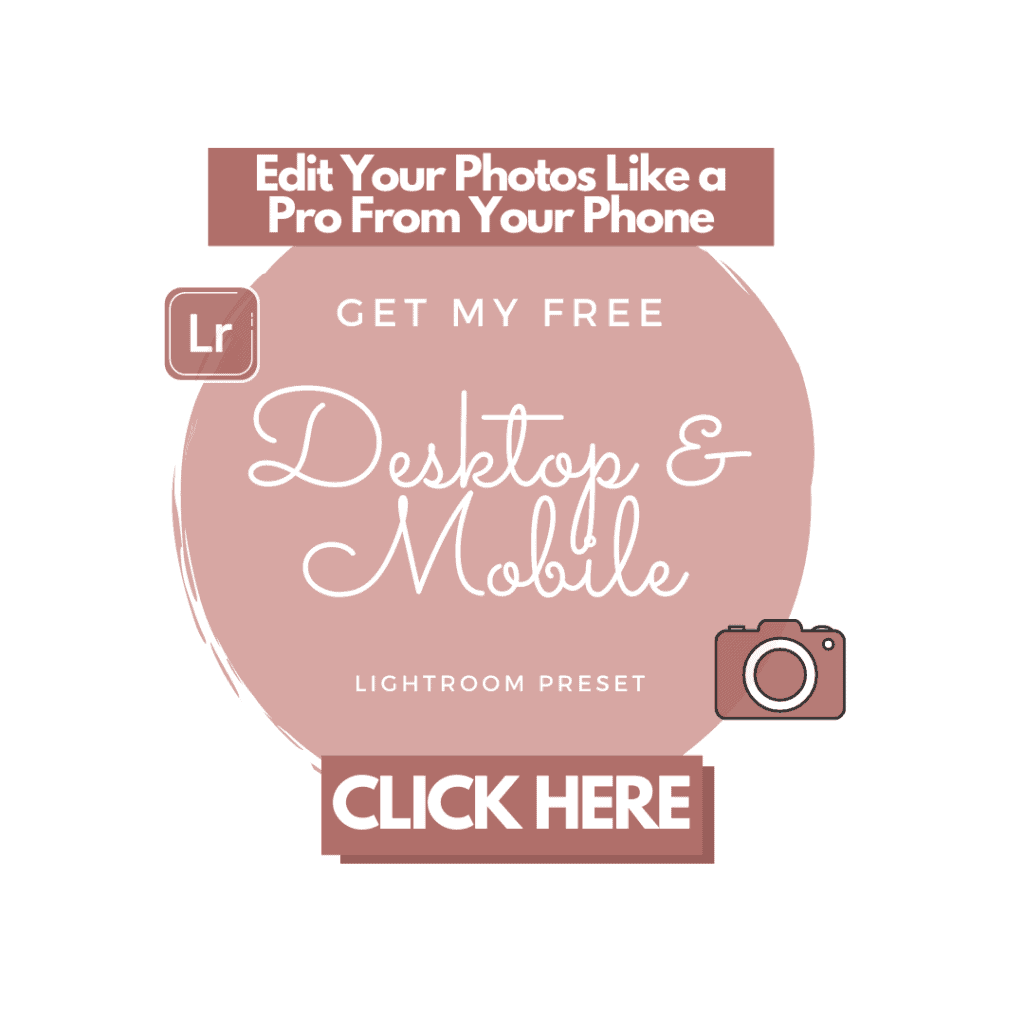 ---
And as always, you can find more sustainable travel content on Instagram @VoyagingHerbivore, Youtube, and TikTok and to get updates straight to your inbox, enter your email below.

If you found this guide helpful and want to help us keep these resources free,
please consider making your next Amazon, Expedia, Hostel World, Etsy, Trivago, and Booking.com purchase through our links (just click right on those words – you can do it right now and unless you clear your cookies before your next purchase, it will remember). It costs you no extra and gives us a small commission. Thank you!