Many cities around the world have inspired literary masterpieces, but no other place is so scenic and charming like Edinburgh which has inspired J. K. Rowling to write Harry Potter. If you love Harry Potter and want to see the world in which he was created, going on a Harry Potter tour in Edinburgh is the right choice for you.
---
This site is user-supported and that's why we use affiliate links. At no extra cost to you, we get a little bit of money when you purchase something through one of our links. Thank you for helping support ethical, sustainable, and plant-based travel! You can read more about our affiliate disclosure policy here.
---
Why Does Edinburgh Have a Connection to Harry Potter?
Edinburgh is the city that has inspired Harry Potter books and where famous author J. K. Rowling wrote most of the books from the series. Many locations throughout the city will remind you of some scenes in the book or the movie. 
When you see the city you will understand with your own eyes how she got her inspiration. Some people travel to Edinburgh solely to see locations connected to the books. Certain places like Victoria Street or Edinburgh Castle were never confirmed to be a direct inspiration to the author of the books, but the resemblance is uncanny.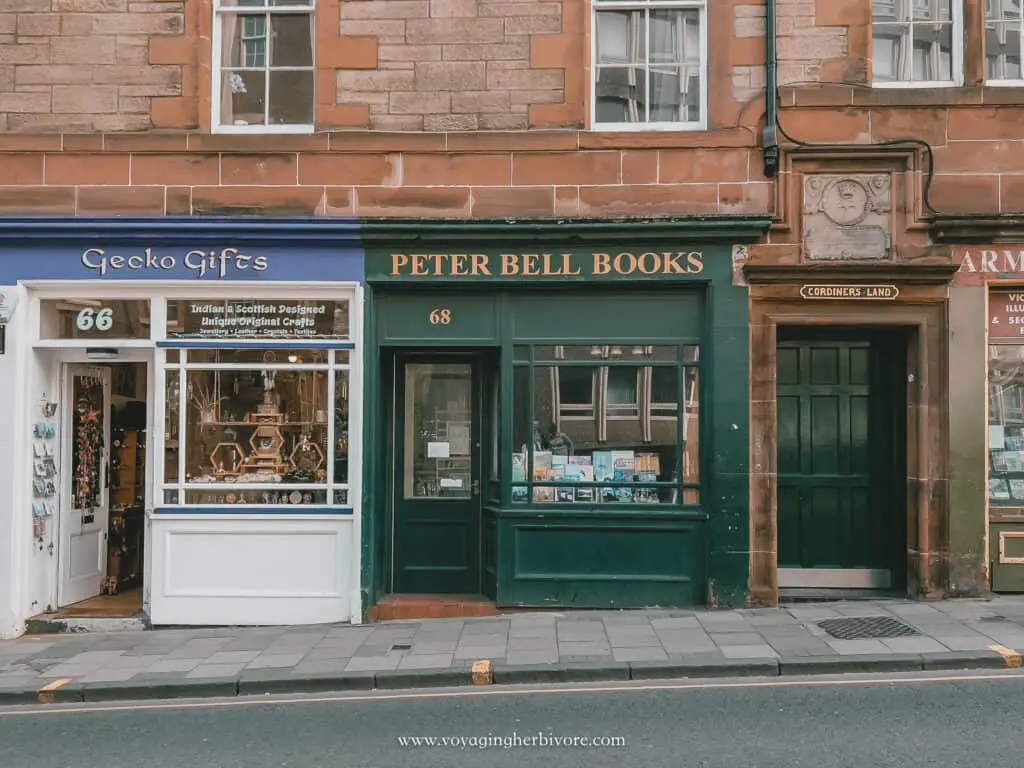 ---
What Are the Famous Locations in Edinburgh That Inspired Harry Potter Books?
Potterheads come to Edinburgh from around the world to see some of the streets, houses, castles, and landscapes that have inspired their favourite books. Edinburgh is full of these popular places, and here is a list of the most popular ones, if you want to go on a Harry Potter Edinburgh tour:
Victoria Street – Although it was never verified, there is a theory that Victoria Street is actually Diagon Alley. 
Museum Context – This is the best-known Harry Potter shop in Edinburgh every fan must know about and visit once in the city.
Candlemaker Row – Also known as Diagon Alley, it even houses shops like Black Moon Botanica where you can turn into a real-life wizard and buy crystals, herbs, candles, and more.
Greyfriars Kirkyard – One of the most famous Harry Potter locations in Edinburgh, it is known as the Harry Potter graveyard. If you want to have some fun, try to find Tom Riddle's gravestone here.
George Heriot's School – Although J. K. Rowling denied it, this 17th-century school is considered to be an inspiration for Hogwarts School of Witchcraft and Wizardry.
The Elephant House Cafe – Many call this cafe the birthplace of Harry Potter because J. K. Rowling has written her first book here.
Black Medicine Coffee – This is another place where the author loved to sit and write, so several of the chapters have been written here.
The Balmoral – In room 552 of The Balmoral the entire Harry Potter and the Deathly Hallows was written. Perfect for all the fans to visit and try to get a glimpse of what was her connection to the place.
Potterrow Port – Also known as Potterrow Street which is located near the University of Edinburgh is considered to be the inspiration for Harry Potter's name.
Edinburgh Castle – Even if it was never confirmed, many fans believe that Edinburgh Castle was the main inspiration for Hogwarts Castle.
---
---
What Harry Potter Tours in Edinburgh Are Worth Taking?
Plenty of walking tours in Edinburgh will take you to the best places that have inspired Harry Potter books, but we have selected the ones we think are worth your time and money. See the list below for the inspiration for your next trip to Edinburgh:
---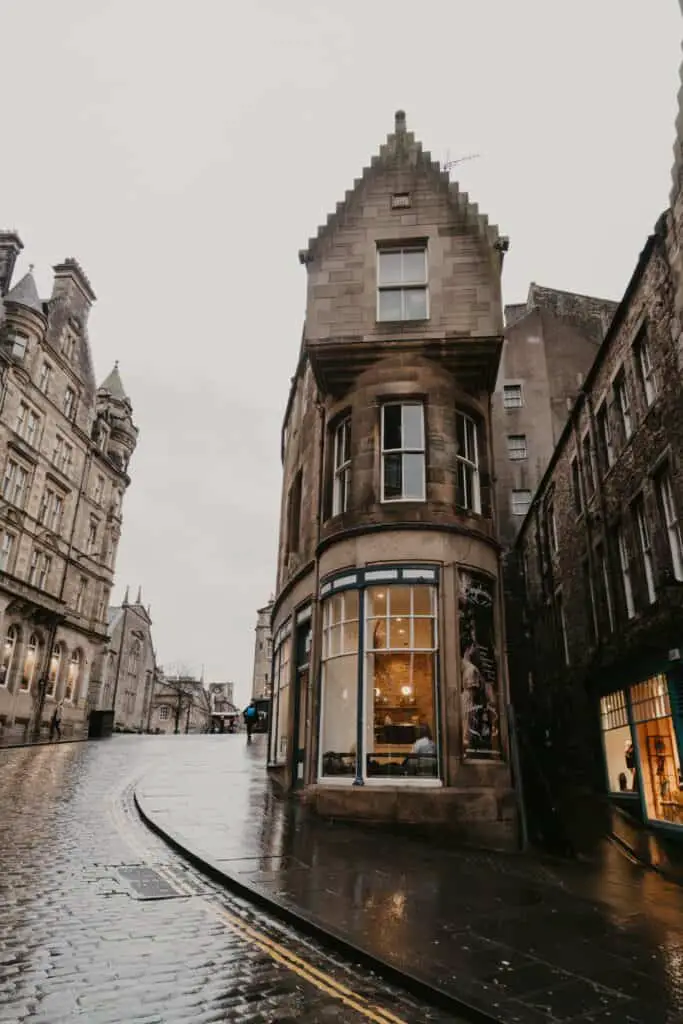 Private Tour Inspired by Harry Potter's Wizarding World
This three-hour-long private tour will give you a great insight into the Harry Potter world hidden through Edinburgh. You will go to places where J. K. Rowling used to drink coffee and write down her ideas, and also to areas that have directly inspired her for the books. Some of the places you will visit on this tour are Grassmarket, Greyfriars Kirkyard, and more. 
The advantage of taking a private tour is that your guide will be concentrated just on you and they will answer all of your questions. Also, you get as much time as you need to take photos and explore areas.
---
Original Harry Potter Locations Tour
If the Harry Potter tour in Edinburgh that involves a lot of walking doesn't scare you, then this might be exactly what you need. On this tour, you will visit every single location that is known to be connected to the books. This tour takes approximately two hours and it is a group tour where you can bring kids. In two hours you will learn a lot about the literary masterpiece and enjoy your guide's stories.
---
Holy Island, Alnwick Castle and the Kingdom of Northumbria
For all literary and history buffs this tour is a must. You will see the ancient Kingdom of Northumbria, the incredible Holy Island and the colourful village of Lindisfarne, Flodden Field where Scotts and English have battles in the past, and stunning Alnwick Castle which was used as a filming location in Harry Potter movies. This is a full-day tour that will allow you to immerse yourself in the gorgeous Scottish landscape.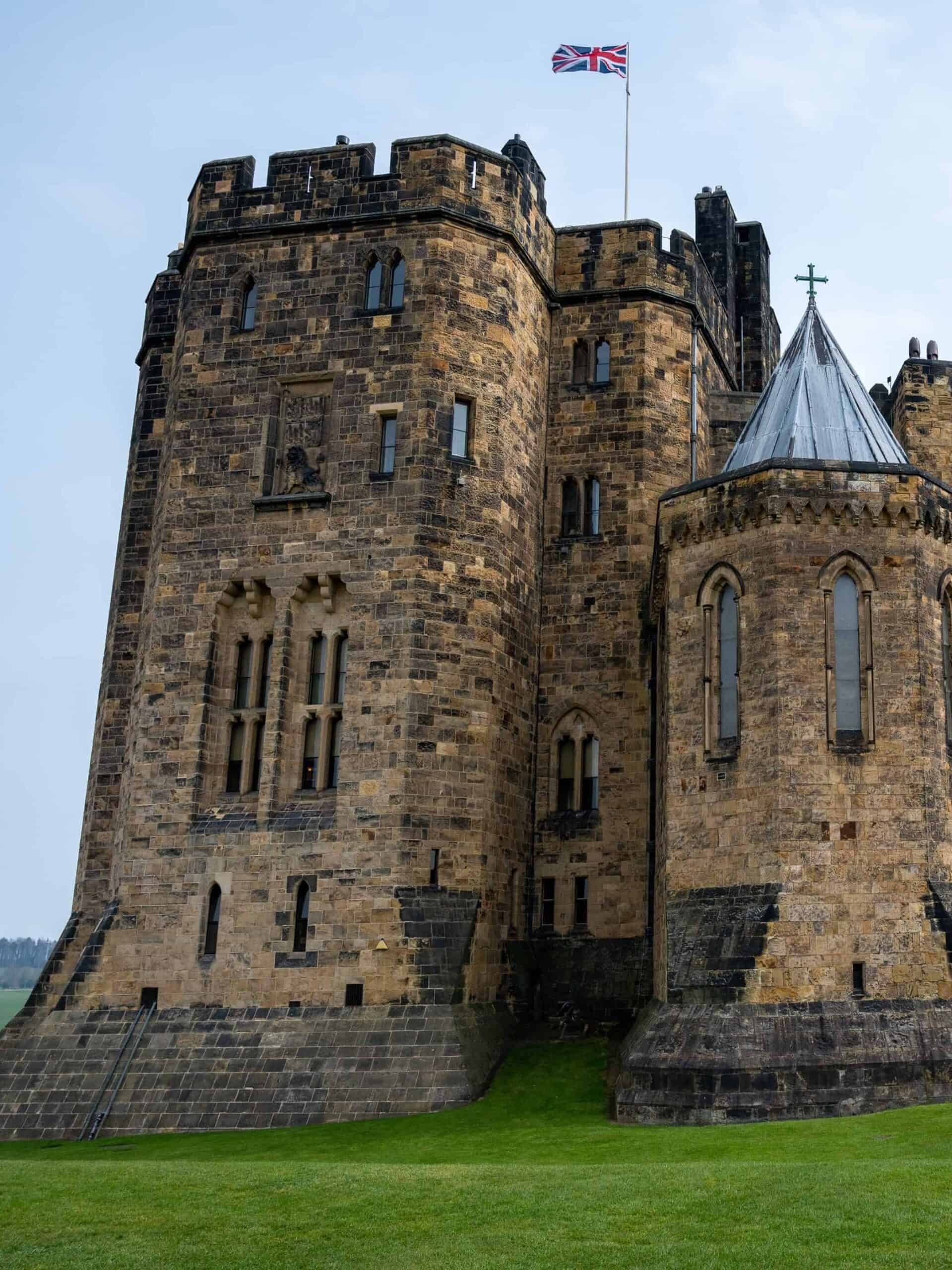 ---
Scottish Highlands and Hogwarts Express Tour
Every Harry Potter fan wants to take Hogwarts Express. The Jacobite Steam Train is the exact replica of the one used in the films, and the highlight of the tour is you travelling on the train over the Glenfinnan Viaduct, which you have seen in the movies. Other amazing locations you will see while on the tour are Glencoe and Mallaig, along with the beautiful scenery of the Scottish Highlands.
Read More: The 7 Best Harry Potter Tours in Scotland To Add To Your Bucket List in 2023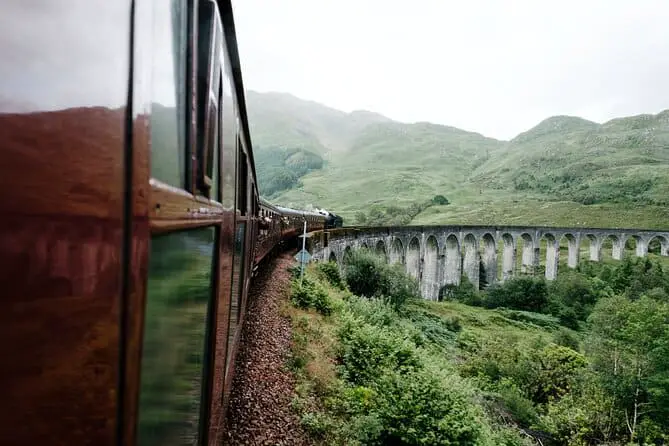 ---
J. K. Rowling's Edinburgh and the Writing of Harry Potter
Are you an aspiring writer or just a big fan of J. K. Rowling? On this tour you will learn a lot about her, including her biography, and what inspired her to write world-famous book series. You will see all of her favourite locations in the city, and all the places she has indirectly included in the books. This is the best tour for everyone interested in her as a writer and her books, more than in Harry Potter movies.
---
Harry Potter's Edinburgh: A Self-Guided Tour
For those who prefer walking on their own and stopping by famous locations, a self-guided tour is the best choice. With this tour, you will learn every possible connection between Edinburgh and Harry Potter and also see the city's gorgeous landmarks. The tour narration is very interesting and engaging and it is easy to follow.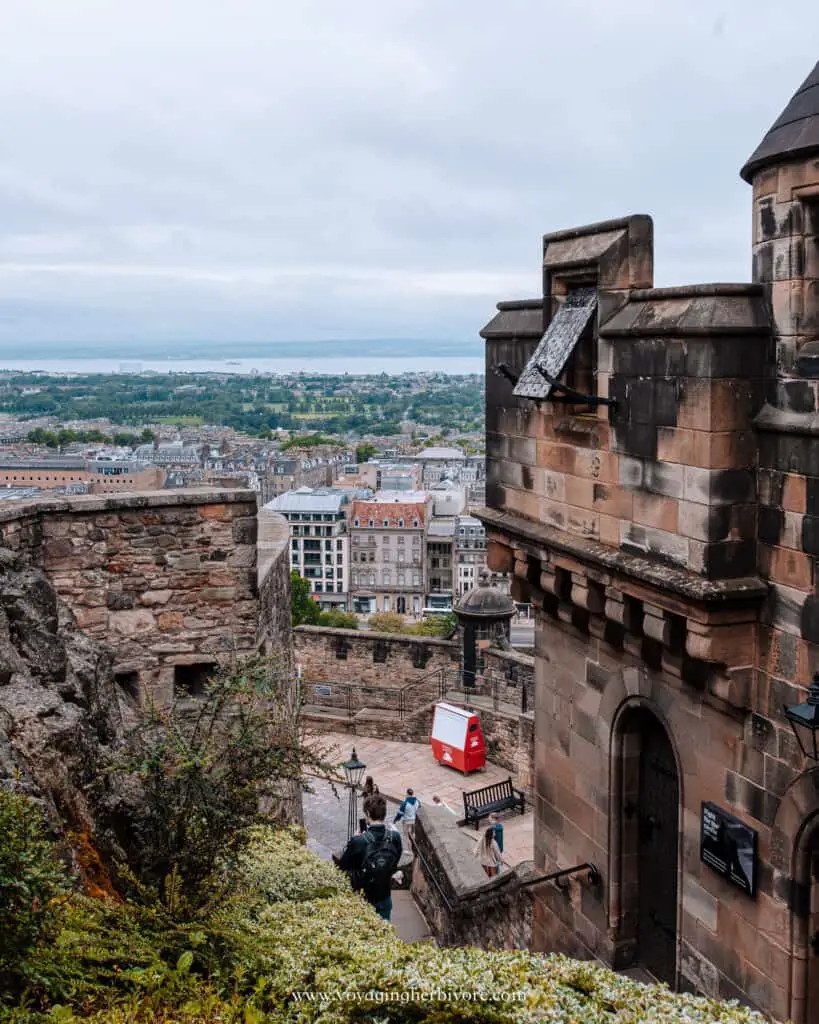 ---
Edinburgh's Amazing Harry Potter Walking Tour Free for Kids
Many of us that were kids when Harry Potter books came out are adults now but still want to see where their favourite character came from. Some adults already have their own kids and want to show them everything they loved as little. This is why this walking tour is amazing for families, especially because kids get to enjoy it for free. You will discover who is the bigger fan of Harry Potter, you or your kids.
---
Harry Potter Tours FAQs
Is There a Harry Potter Walking Tour in Edinburgh?
There are many Harry Potter walking tours in Edinburgh, including guides and self-guided tours. You can also just grab a map and walk around the city on your own, spending as much time as you need at every location.

Which Edinburgh Harry Potter Walking Tour Is Best?
One of the best-rated Harry Potter tours in Edinburgh is JK Rowling's Harry Potter Walking Tour. You will visit key locations, learn about the author, and get a new understanding of the books. Although, you can go around the city on your own and see these locations, having a guide changes things because you will learn new information and enjoy your walk.

Is there a Harry Potter tour in Scotland? 
There are many Harry Potter tours in Scotland. Some of them are located in Edinburgh, but others also involve Hogwarts Express and visits to Alnwick Castle and other locations that were used for the filming of Harry Potter movies.

Is Harry Potter Filmed in Edinburgh?
Although Harry Potter books were inspired by Edinburgh none of the movies were filmed in the city. There are other locations in Scotland which were used as a setting for movies, like Hogwarts Express for example, but Edinburgh didn't make a cut.

How Much Time Do You Need to See All Harry Potter Locations in Edinburgh?
Most tours take between two and four hours but if you go to explore on your own it may take shorter or longer than that. For those willing to take out-of-city trips and see filming locations, the entire trip to Scotland may be dedicated to Harry Potter. Also, keep in mind that Harry Potter is a world-famous character and that all of these locations may be crowded if you come during a busy time of the year to Edinburgh, which will take longer for you to access all the locations and take photos.

---
More Scotland Posts
---
Free Resources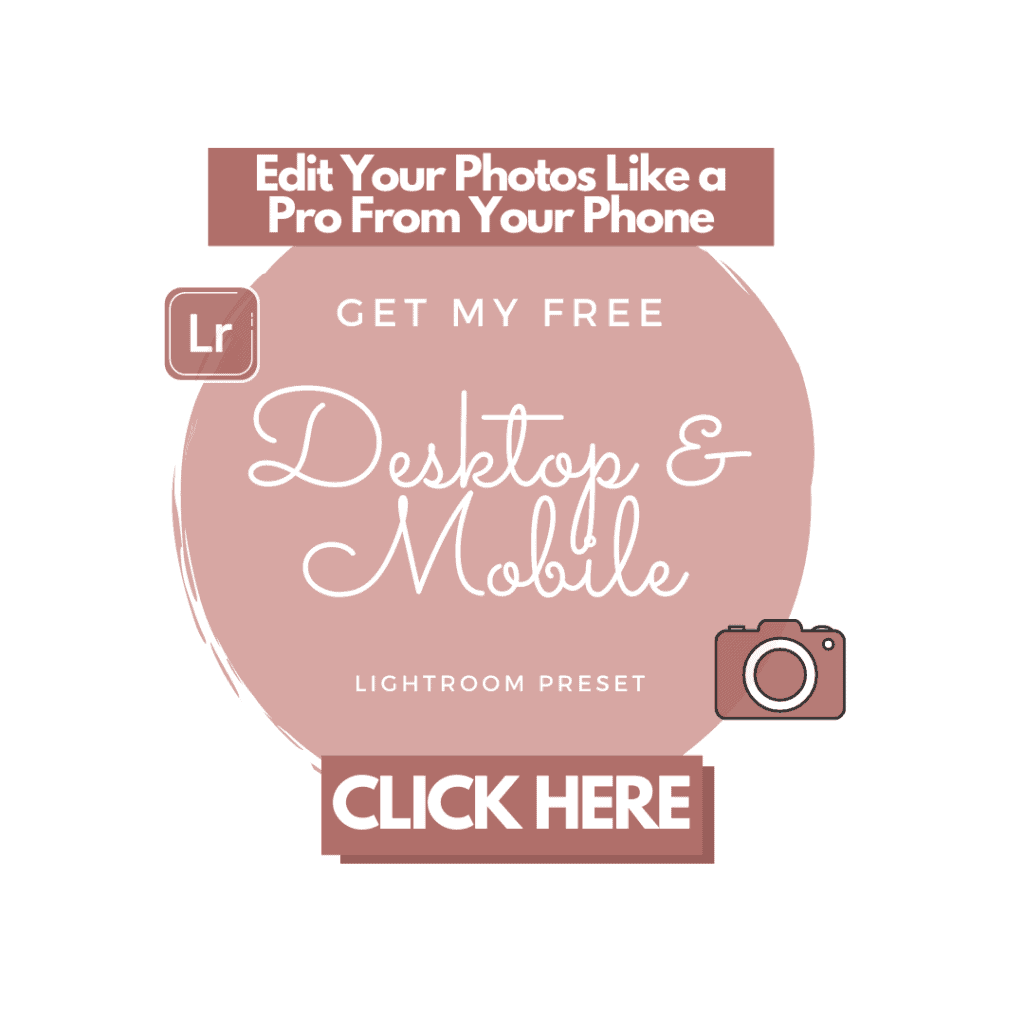 ---
And as always, you can find more sustainable travel content on Instagram @VoyagingHerbivore, Youtube, and TikTok and to get updates straight to your inbox, enter your email below in the footer, or to the right on the sidebar.

If you found this guide helpful and want to help us keep these resources free,
please consider making your next Amazon, Expedia, Hostel World, Etsy, and Booking.com purchase through our links (just click right on those words – you can do it right now and unless you clear your cookies before your next purchase, it will remember). It costs you no extra and gives us a small commission. Thank you!
---
Pin Harry Potter Tours in Edinburgh