Imagine this: you and your beloved, away on an adventure of love in a setting that's straight out of a fairy tale. That's what you get when you choose a romantic destination for your honeymoon, in an environment that screams intimacy and relaxation, designed to let love flourish. 
Choosing a romantic destination for your honeymoon is like choosing love, intimacy, and companionship wrapped in an unforgettable adventure. Above all, a romantic destination promises an escape from your daily routine, giving you a breath of fresh air to shut out the noise of day-to-day life and focus solely on each other.
If you still have not decided where to go, you might want to consider a Scotland honeymoon because the place is guaranteed to sweep you off your feet in every imaginable way! With its dazzling landscapes that seem straight out of a dream, historic and enchanting castles, and a plethora of unique experiences, Scotland is undoubtedly a testament to love and romance. 
Scotland As The Perfect Honeymoon Destination
While each romantic destination has its unique flavor, there's something special in Scotland that you probably wouldn't find anywhere else. Every corner of Scotland's breathtaking landscapes is a slice of serenity and romance just waiting for you to enjoy, and you get to wander hand in hand with your partner, surrounded by majestic mountains and tranquil lochs depending on your itinerary which can range anywhere from 3 to 10 days.
But the unique experiences aren't just limited to awe-inspiring natural vistas. Scotland's also the perfect place to make unforgettable memories, from whisky-tasting tours in the picturesque Highlands to an adventurous island-hopping journey in the Hebrides. 
At the end of an exciting day, retreat to your choice of romantic accommodations that range from plush castle hotels oozing with historical charm and stylish city lodgings, to quaint little cottages tucked away in the countryside. Each offers privacy, comfort, and, more often than not, awe-inspiring views that can easily ignite some romantic sparks. 
Fancy a lavish dinner date? Scottish cuisine is world-renowned for its flavor and texture. You can have a taste of traditional haggis, indulge in freshly caught seafood, savor prime Scottish beef, and then top it all off with a glass of world-renowned Scottish whisky. If you don't have the time to do all the planning and booking of individual activities, you could opt for a Scotland honeymoon all-inclusive package and get a reputable travel agency to prepare everything for you.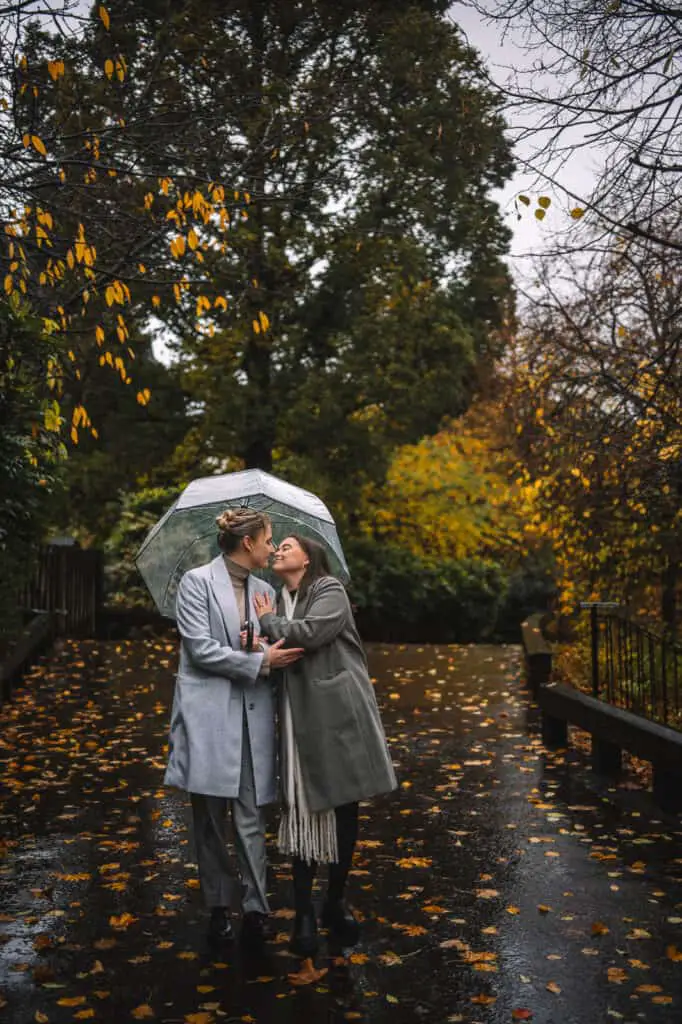 ---
Top Honeymoon Destinations In Scotland
Scotland is a country that's popular for its rugged scenery and natural beauty. With so many areas to explore, it might be tough to narrow down the best spots for honeymooning couples. The truth is that you can't go wrong with Scotland! And while you explore all these beautiful places, it would be a good idea to bring a professional photographer with you to capture all these priceless moments. 
But whichever location you choose, remember that the heart of the honeymoon is about enjoying each other's company, so choose a destination that mirrors your shared passions, and you'll be sure to create cherished memories. To help you out with your planning, here is a short list of some of our favorite Scotland honeymoon places for you to explore:
---
1. Perthshire
Ready to explore enchanting castles that seem to have leaped straight out of a fairy tale? Perthshire, Scotland, is the perfect destination for honeymooners who are out looking for a magical adventure plus a taste of the rich Scottish heritage. Nature lovers are also in for a thrill as they can unearth the secrets and charms of the Hermitage woodland walk or indulge in the mesmerizing beauty of Queen's View, famed for its irresistible panoramic views. 
After a day of exploration, there's nothing quite like winding down with a relaxing stay at any of the popular Scotland honeymoon hotels in the area. If you want to step into the pages of history or time travel into an era of elegance and grandeur, try to book a room at the Dunkeld House Hotel. Nestled amid a 280-acre enchanting woodland, this enchanting accommodation has played host to royals and nobles many times – including Queen Victoria herself and even got a nod in her cherished journals. 
---
2. Argyll And The Isles 
A memorable Scottish highlands honeymoon and thrilling coastal escapades await you at Argyll and the Isles. The place is simply love dipped in the air of excitement and wrapped in Scotland's raw beauty: this stunning piece of paradise is nestled right on the waves-kissed west coast of Scotland, stretching across an expansive territory of 2667 square miles. But that's not all! It's home to 23 stunning islands, each an inhabited gem sprinkled over the Scottish mainland.
Adventure and romance intertwine beautifully in Argyll and the Isles, with exciting activities ranging from exciting water sports, cycling, island-hopping, and hiking to the tranquility of stunning landscapes. Get ready to explore thousands of miles of trails and sail to enchanting islands, and for the thrill-seekers, mountain biking through forests and mountains will bond you like never before. You can also check out the Inveraray Jail for an interactive learning experience about the 19th-century justice system and visit the magnificent ruins of Kilchurn Castle on the shores of Loch Awe to appreciate its grandeur and the surrounding natural beauty.
---
3. Edinburgh
Think of a honeymoon in Edinburgh, Scotland, as the ultimate romantic getaway because Scotland's capital is a city that skillfully weaves stories of the past with the vibrant beat of the present. The cobbled roads of the Old Town lead you to treasures like the awe-inspiring Edinburgh Castle and the verdant Princes Street Gardens. As you explore, you'll be captivated by a city that blends history and culture.
And have you heard of the enchanting Dean Village? It's a hidden gem accessible via a picturesque walk along the Water of Leith, where you'll find serenity amidst the bubbling sounds of the river. Then, as day turns to night, the magic continues: Edinburgh's theater scene comes alive and dazzles with ground-breaking plays and fabulous performances. Afterward, you can share a romantic dinner in a world-class restaurant, with Scottish flavors and local delights tantalizing your tastebuds.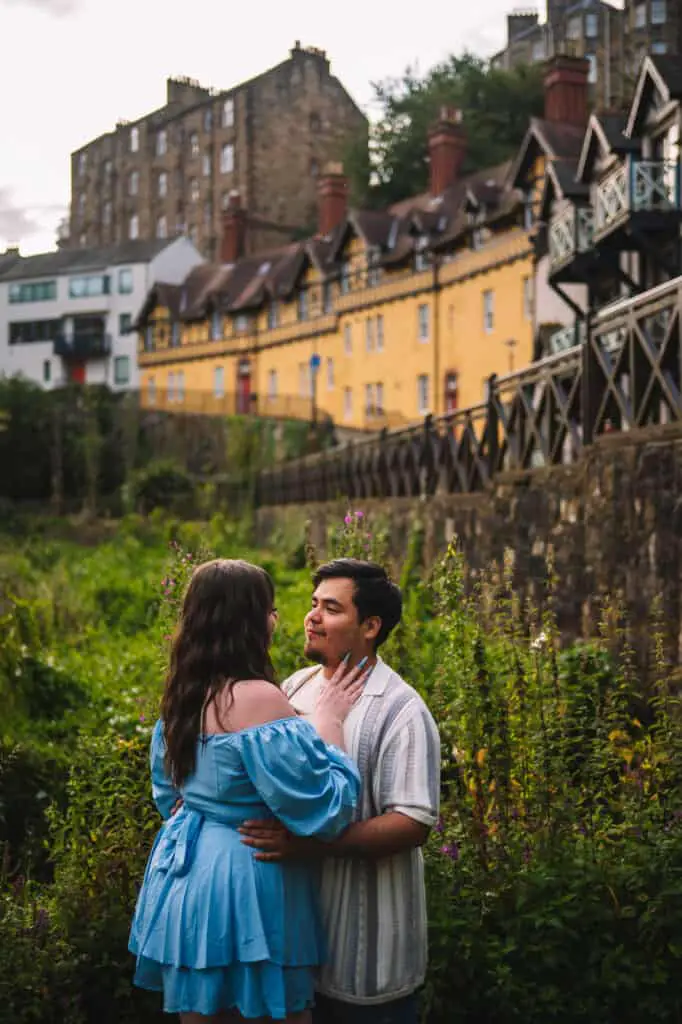 ---
4. Aviemore
If you are looking for a more adventurous Scotland honeymoon option, Aviemore is a fantastic choice. Sitting within the Cairngorms National Park, the town offers newlyweds the opportunity to explore the wilderness through hiking, biking, and skiing. There are also plenty of choices for romantic accommodation, and you could rent a whole house for yourself or even go glamping!
A visit to Aviemore won't be complete without taking a magical train ride through the spectacular highland scenery with the Strathspey Steam Railway. Then, for an adrenaline boost, you and your sweetheart can hit the slopes together at Cairngorm Mountain. But if you prefer a tranquil way to connect with nature, you can arrange a peaceful hike and a picnic around the serene Loch an Eilein or explore the ancient and mystical Rothiemurchus Forest hand-in-hand.
---
5. Glasgow
For couples who thrive in the hustle and bustle of city life, Glasgow is the perfect Scotland honeymoon haven. Known for its thriving art scene, the city houses galleries, hosts music festivals, and features tantalizing cuisine, resulting in a delightful mix of old-world charm and modern vibrancy. 
Spend a day getting lost in the art at the Kelvingrove Gallery or soak in the city's charm during a romantic walk along the River Clyde. You could also wander through the mesmerizing architecture of the Glasgow Cathedral or the grandeur of the City Chambers in George Square, your hands intertwined with your partner. If you want a fun and easy way to see all the city highlights, the hop-on, hop-off tour bus is just the ticket! Get onboard an open-top, double-decker bus for the ultimate sightseeing experience with panoramic city views and explore the place in style. 
---
6. Inverness
Another romantic Scotland highlands honeymoon destination is Inverness, a charming city with picturesque green parklands and historic architecture framing the tranquil River Ness. This perfect blend of urban convenience and natural tranquility makes it ideal for more laid-back honeymooners. You could take a whimsical walk through the serene beauty of the Caledonian Canal, explore the town's quaint streets hand-in-hand, or book a private tour of the city, including a visit to Lochness and the Ness islands.
For a dash of history and a hint of romance, visiting the atmospheric and awe-inspiring Clava Cairns would be an experience to share, or you could shop for unique Scottish souvenirs at Victorian Market. Aside from these, the fairytale-like Inverness Castle perched overlooking the River Ness, is undeniably enchanting and is the perfect spot to take heart-fluttering photos with your loved one. 
---
Scotland Honeymoon Guide FAQs
When planning your honeymoon, you shouldn't worry about anything other than your significant other. But with so many details to take care of, there may be some questions that make you lose sleep at night or make it more difficult for you to make those travel choices. To help you out, here are some of the most commonly asked questions and answers about Scotland honeymoon destinations and activities:
Is Scotland Good For A Honeymoon?
Scotland is a real-life fairy tale waiting to unfold on your honeymoon! Bursting with enchanting castles steeped in folklore and history, this country promises romance in every nook and corner. To top it off, Scotland's stunning landscapes are like a love letter written by nature itself, and it's so easy to fall in love with the majesty of towering mountains, mysterious forests, glittering lochs, and superb coastlines. 
Scotland honeymoon hotels are just as unique – from adorable bothies tucked away in nature's heart to luxurious city-center hotels in Edinburgh, you'll start and end each day in a place that's simply special. Above all, expect heartwarming Scottish hospitality because the charm and friendliness of the locals will make you feel right at home.
Can We Go On A Honeymoon In Scotland And Ireland?
A honeymoon in Scotland and Ireland is an excellent choice, offering a mix of stunning landscapes, rich history, culture, and warm hospitality. Stunning Scottish locations like the Inverness, Argyll, and Edinburgh provide enchanting romance, while Irish coastlines, verdant landscapes, and vibrant Dublin offer further memorable experiences. 
You can also indulge in traditional Scottish and Irish foods, drinks, and dances for a taste of cultural richness. As for your travels, there are convenient options like short flights or ferry rides that connect the two countries, but unpredictable weather is expected in both locations, so pack accordingly. 
Is Edinburgh Good For A Honeymoon?
A honeymoon in Edinburgh offers an ideal mix of history, culture, scenic beauty, culinary delights, and shopping for a memorable experience. The city is brimming with historic charm thanks to its medieval Old Town, elegant Georgian New Town, and striking landmarks like the Edinburgh Castle. 
Gastronomically, it caters to every taste with Michelin-star restaurants and cosy bistros, while the city's landscapes offer perfect getaways, with beautiful gardens and panoramic views from Arthur's Seat. It also houses some of the best whisky-tasting lounges, plus the shopping scene ranges from chic designer stores to charming independent boutiques.
What To Prepare For A Honeymoon In Scotland?
There are a few things to remember when preparing for Scotland's honeymoon, and the priority, of course, is to ensure your documentation, including passports and travel insurance, is up to date. Moreover, given Scotland's temperate and often changing weather, you should pack layered clothing, including waterproof jackets and sturdy shoes, but don't forget to include fancy attire for fine dining and traditional events. 
When planning your itinerary, mix famous and lesser-known attractions and leave time to appreciate the stunning scenery. Alternatively, you could get a Scotland honeymoon all-inclusive package, so you have less stuff to think about. Scotland operates on pound sterling, so prepare some local currency, and if you're driving, remember they drive on the left side. Lastly, try to interact with the friendly locals and learn some basic Scottish phrases for a fuller experience!
Is Scotland Romantic?
Absolutely, Scotland oozes romance from every corner! It's like a love poem inscribed across rugged landscapes, charming oddities, and magnetic attractions. The accommodation is as breathtaking as the landscape, with cozy cabins offering seclusion and intimacy, as well as luxurious castle hotels exuding an old-world charm conducive to fanning the sparks of love. 
Scotland's gastronomic delights add another layer to the amorous adventure, allowing you to indulge in intimate dinners with delicacies like Scottish seafood, tender Highland game, and world-class whiskies with your beloved. Plus, remember the warm-hearted Scots, their vibrant culture, and distinct traditions like Ceilidh dancing, which add color to your memories that you'd both cherish forever. 
What Are Unique Honeymoon Activities In Scotland?
Scotland offers a wealth of unique and unforgettable honeymoon activities! Couples can explore breathtaking landscapes in Argyll and Inverness, walk through history and soak in the local culture in Perthshire and Edinburgh, pump up the city energy in Glasgow, or go for an adrenaline rush in Aviemore, among other things. 
Gastronomic experiences await at haggis-making classes, romantic restaurants, and whisky distilleries. And make sure to attend authentic cultural events like Ceilidhs, and, of course, try searching for the Loch Ness Monster! After all, Scotland's enchantment lies in the beauty, warmth, and sense of adventure it adds to your journey of love.

---
More Scotland Posts
---
Free Resources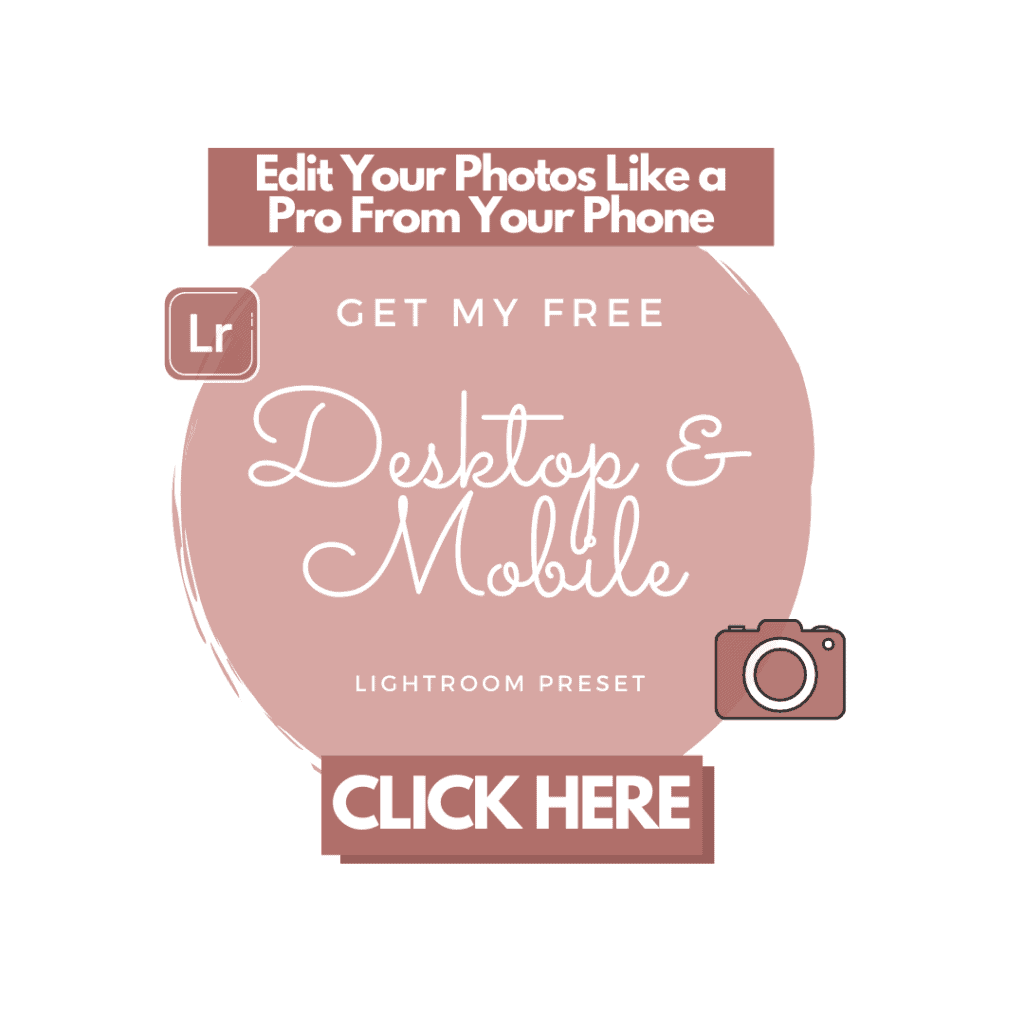 ---
And as always, you can find more sustainable travel content on Instagram @VoyagingHerbivore, Youtube, and TikTok and to get updates straight to your inbox, enter your email below.

If you found this guide helpful and want to help us keep these resources free,
please consider making your next Amazon, Expedia, Hostel World, Etsy, Trivago, and Booking.com purchase through our links (just click right on those words – you can do it right now and unless you clear your cookies before your next purchase, it will remember). It costs you no extra and gives us a small commission. Thank you!
---
Pin Scotland Honeymoon