Scotland is the motherland of all things whisky-related – there's no doubt about that.
While Ireland holds its own in the whisky game, and of course, Tennessee is the birthplace of Bourbon, few places hold a dram-drenched candle to Scotland.
There's so much to see and do in Scotland, but to truly get a taste for the country (and in this case – literally), you'd be foolish not to factor in a sample or two of its most famous export. For those planning a trip to the Isle of Skye within the delectable Hebridean Isles – you're about to hit a whisky goldmine! 
We've put together the ultimate guide to Isle of Skye whisky, including tours, tastes, distilleries, maps, and more.
Read More: Fairy Glen Skye: A Full Guide to This Isle of Skye Hidden Gem
The History of Isle of Skye Whisky
As an island quite literally forged from fire and ice over three million years ago, the Isle of Skye is arguably one of the moodiest, atmospheric, and downright jaw-droppingly beautiful islands of the Hebrides – and it's one of the birthplaces of Scotch Whisky.
Isle of Skye whisky dates back to 1830, with the first distillery, Talisker (more on them later!) opening up in the little fishing village of Carbost. 
Since then, the Isle of Skye has become something of a Mecca for whisky lovers, and there are now several distinguished breweries and distilleries for you to explore while perusing this stunning island.
Known as 'the Misty Isle', Skye is home to several distilleries and whisky tours that open their doors to whisky lovers such as yourself to learn all about this quintessential Scottish beverage – and of course sample a dram or two in the process!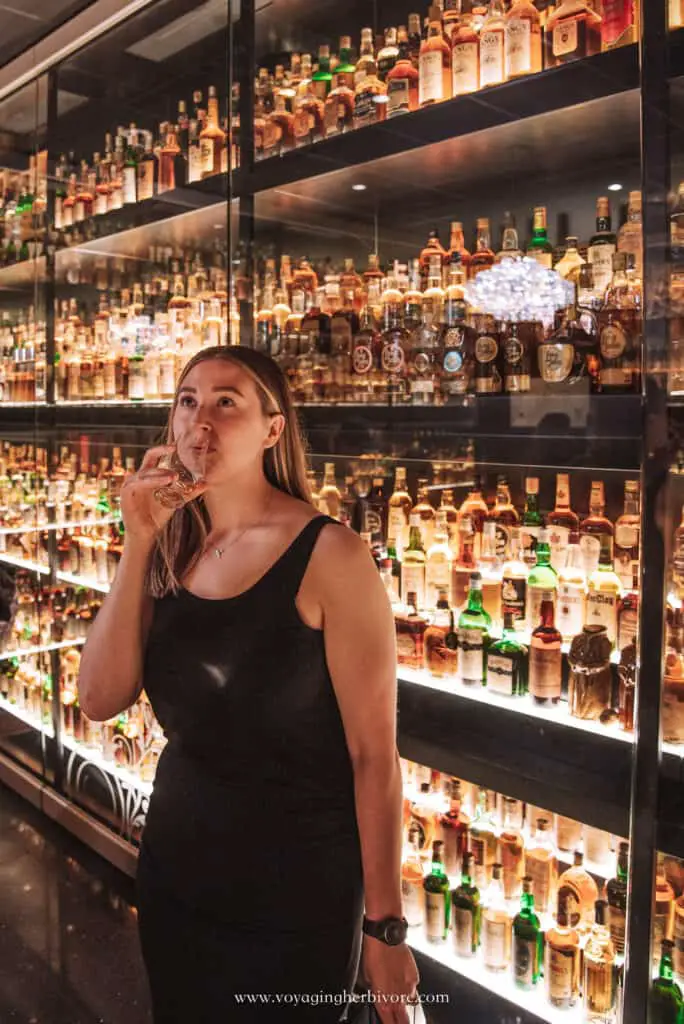 ---
Understanding Scotch Whisky
Okay, so we know that whisky is something of an acquired taste and isn't for everyone. However, being as it's such an integral part of Scottish culture, those visiting are advised to get acquainted with this cockle-warming drink – if nothing else but to understand why it's such a key part of Scottish life.
The reason whisky is such a big deal in Scotland is because it's one of the oldest and most valuable exports, and is known for the meticulous craftsmanship that goes into every bottle. 
Also, one of the reasons why Scotch whisky is so favoured is because of the natural spring water that goes into it – Scotland's springs are second to none when it comes to fresh drinking water.
The other aspect that any whisky enthusiast who knows his/her stuff will tell you is that Scotland's geography in general plays a part in the power and precision of Scotch whisky.
Each location in Scotland produces a different flavour of whisky, owing to the climate and geography, which is why a dram from the smoky Isle of Islay will be dramatically different from that of Speyside.
Read More: Whisky Tasting in Edinburgh: Our Top 6 Picks
---
Isle of Skye Distilleries Map
Skye is the biggest of the Hebridean Isles, so this Isle of Skye distilleries map should help you navigate your way to tour the island by way of its distilleries.
But before you embark on your epic Isle of Skye whisky tour, let's break down the distilleries waiting to be explored to whet that appetite, so to speak.
---
Talisker Whisky
First and foremost is the island's oldest distillery, Talisker Whisky. As well as being the OG whisky distillery on the island, Talisker also offers an array of seriously cool tours within its ultra-swanky premises. Oh, and they even have their own annual whisky festival.
The Hebridean Whisky Festival allows you to step onboard an awaiting boat on the Carbost Pier and be spirited away (so to speak) to Loch Harport while enjoying a dram or two of Talisker's own produce.
As for the distillery itself, the tours cater to whisky novices and seasoned fans alike, and include the standard Talisker distillery tour, the 'Made by the Sea' tasting experience, and the 'Cask Draw & Tasting Experience'. 
And finally, as for the taste of Talisker produce, their award-winning single malt Scotch whisky is soft and sweet, with a light finish – perfect for whisky newbies. 
---
Torabhaig Distillery
Next up is Talisker's island rival, Torabhaig Distillery, which can be found in a fully restored farmhouse that dates back to circa 1760.
Despite the long and vast history of the building, the distillery itself was only launched in 2017, making it one of the newest Scotch whisky distilleries in the country.
Although Torabhaig Distillery is still in its infantry, it still has a lot to offer – and that includes whisky tasting tours – some of which include the 'regular' distillery, the whisky and chocolate pairing tour (er, yes please!), and the warehouse tour (which allows you to dip a glass into a cask!).
But what about the taste of the goods? Well, Torabhaig whisky is known for its Allt Gleann Scotch whisky, which is smoky and heavily-peated. Its aftertaste includes hints of blossom honey, sweet spices, and vanilla cream.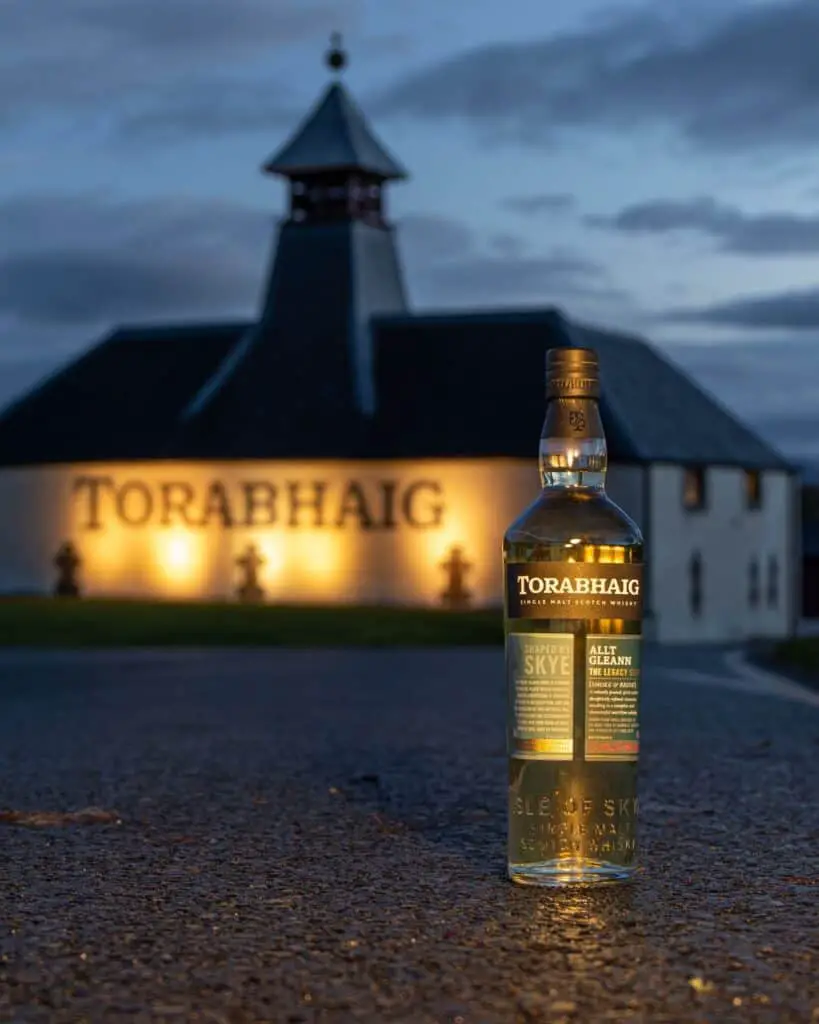 ---
Other Whisky Tours Around Skye
If you've already indulged in the aforementioned distillery tours but aren't done with the whisky-soaked action just yet, some of the other island tours include:
Isle of Raasay Distillery Tour
Okay, so the Isle of Raasay may not be on Skye itself, but what's a quick hop on a water taxi to stop you from enjoying this fabulous experience?!
The best part? The Isle of Raasay Distillery also boasts 4-star accommodation for you to truly indulge in without having to hustle off anytime soon. This also includes a restaurant, and, of course, a bar.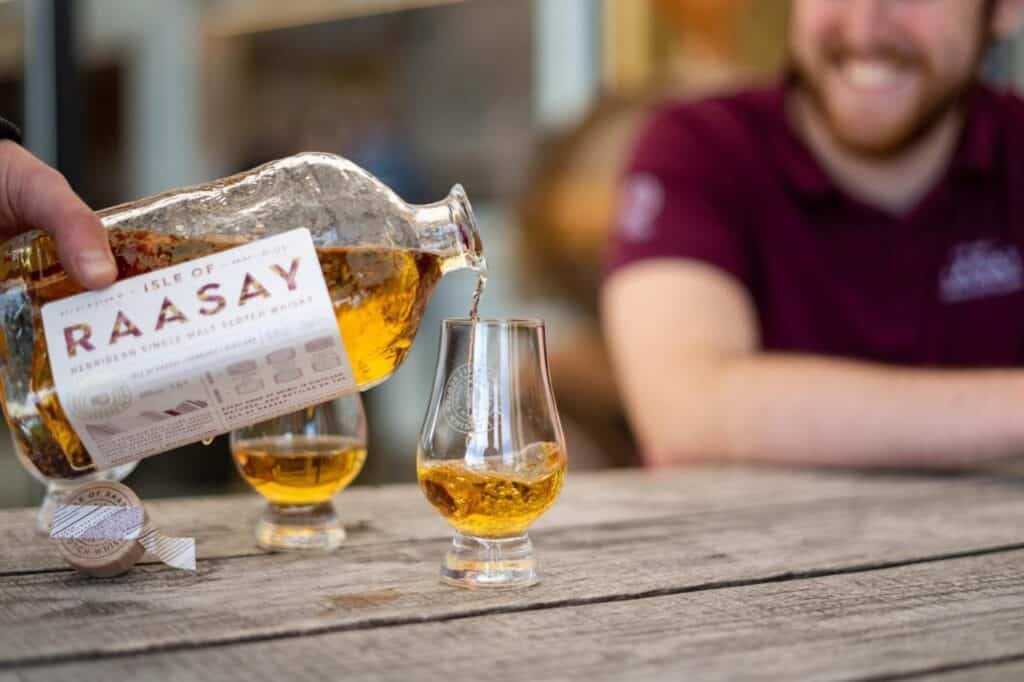 Isle of Skye Private Tour
Why not treat yourself to a tour that covers the whole island to fully understand the landscape and elements that go into the island's most famous (and delicious) beverage?
Skye isn't the easiest of islands to navigate and public tours can be crammed and impersonal, which makes a private tour most useful. This tour starts off in Inverness and includes all the top spots in Skye, such as the Fairy Pools, Sligachan Old Bridge, and Kilt Rock.
Edinburgh: Loch Ness, Isle of Skye, & the Highlands 5-Day Tour
Planning on a trip to Edinburgh but are adamant you want to include some of Scotland's other best-loved gems, including the Isle of Skye and Loch Ness!?
This incredible tour allows you to enjoy these quintessential Scottish landscapes over a span of five days to really take in the experience.
As well as Skye, Loch Ness, and the Highlands' own capital, Inverness, you'll get to witness other hotspots including Eilean Donan Castle, the scenic village of Glencoe, and the standing stones of Clava Cairns (to name but a few).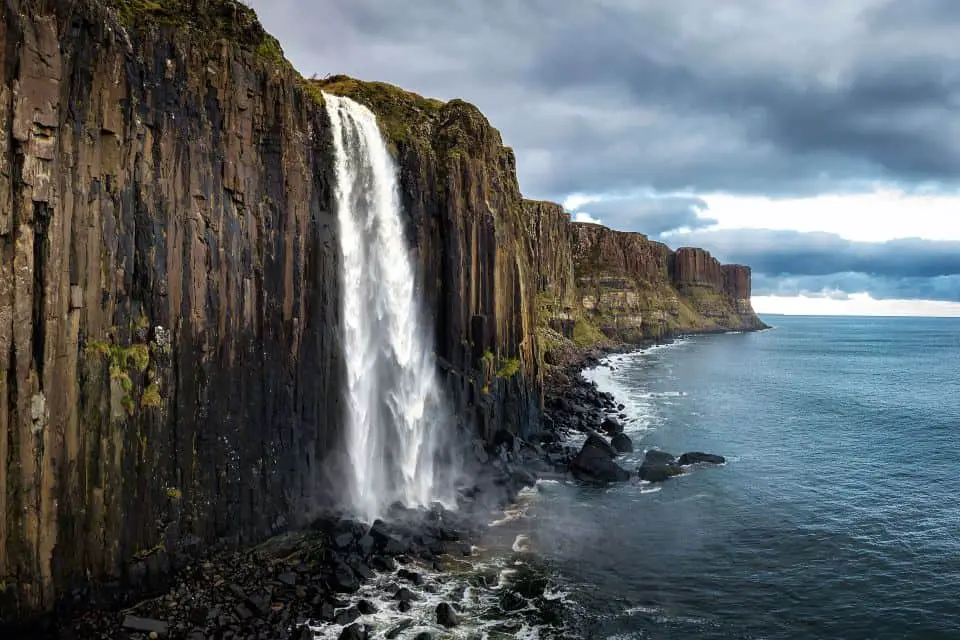 ---
Staying in Skye
There's no shortage of accommodation on the Isle of Skye, but do bear in mind that the island is a favoured location by tourists every year, so booking in advance is advised. 
Here are just a few examples of what's up for grabs, accommodation-wise:
---
Fun Facts About Scottish Whisky
Before booking a distillery experience, why not buff up on some Scotch whisky trivia to really impress your tour guide?!
Scotch whisky is the country's most profitable export, whipping out roughly 99 million cases of the good stuff every year.
The reason why the Scots refer to whisky as 'the water of life' is because the word 'whisky' in Gaelic translates to 'Uisge Beathe', which means – you guessed it – the water of life.
As well as being a serious economy booster, there are plenty of employment opportunities within the Scotch whisky industry.
There are strict rules around what qualifies as 'Scotch' whisky. One is it must come from Scotland (duh!) and two is that it must have been aged in a cask for a minimum of three years.
If you see a cat in a Scotch whisky distillery, this is a good thing! They're on duty! Mice are famously attracted to barley, so cats are often 'hired' to keep them at bay.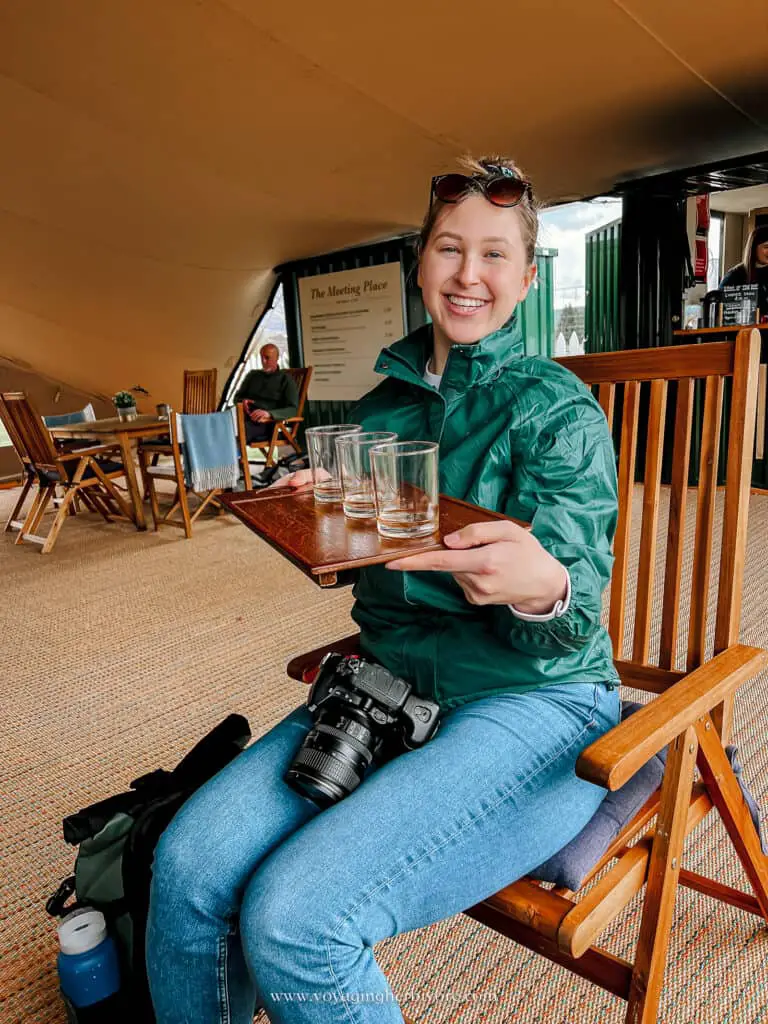 ---
Isle of Skye Whisky: FAQs
What whisky is made on the Isle of Skye?
The Isle of Skye is known as one of the key whisky regions in Scotland and its most well-known export is the aforementioned Talisker Whisky, which is known for its rich, peaty, full-bodied, and slightly spicy taste.
How many whisky distilleries are on the Isle of Skye?
The Isle of Skye is home to the two distilleries we've mentioned in this article: the Talisker Distillery and the Torabhaig Distillery. It is also the unofficial home of the neighbouring Raasay Distillery, which can be located on the nearby Isle of Raasay.
Although it isn't technically on Skye, it is still included within the Skye & Raasay Whisky Trail, which is one of the world's most scenic whisky trails in the world.

What is the number-one whisky in Scotland?
Scotland is known for its plethora of delicious whisky brands – many of which are household names – but we'd have to say that The Famous Grouse is probably the most well-known and best-loved Scotch whisky.
---
More Scotland Posts
---
Free Resources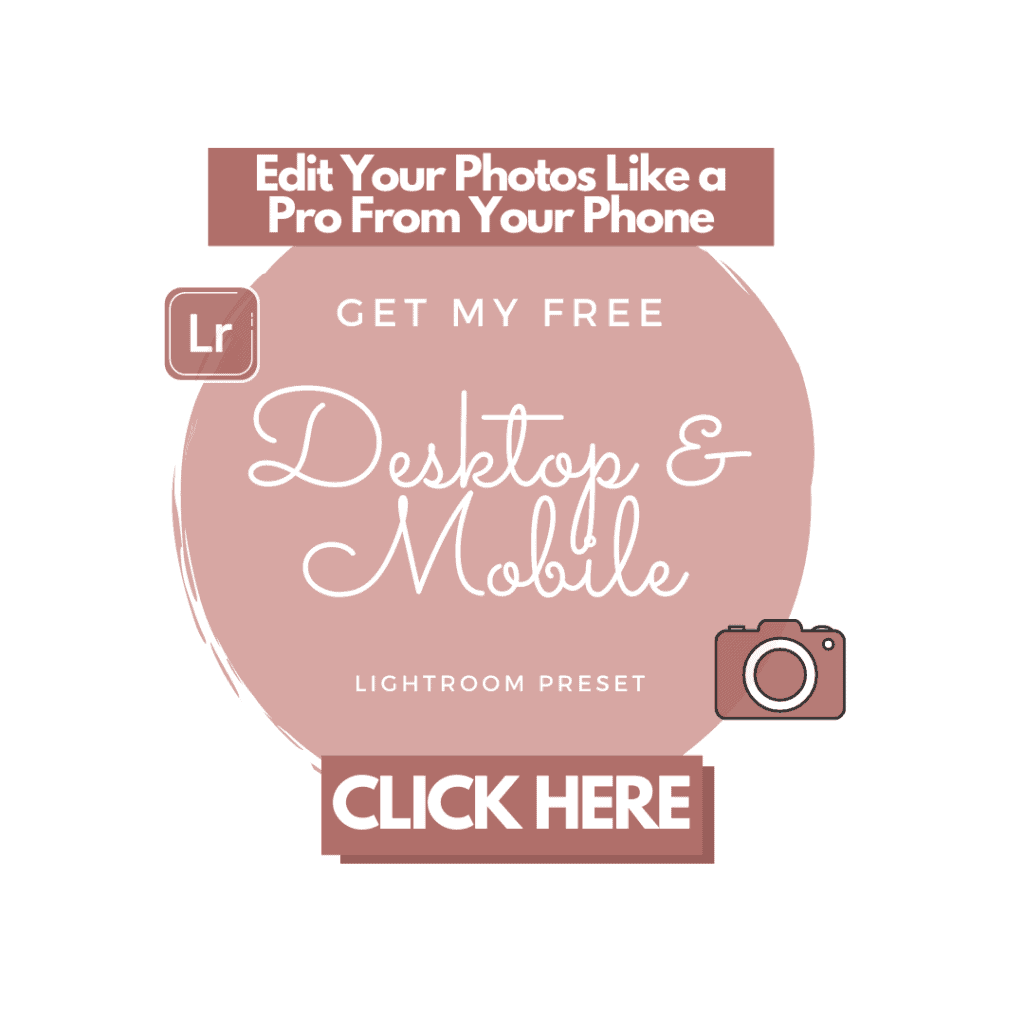 ---
And as always, you can find more sustainable travel content on Instagram @VoyagingHerbivore, Youtube, and TikTok and to get updates straight to your inbox, enter your email below.

If you found this guide helpful and want to help us keep these resources free,
please consider making your next Amazon, Expedia, Hostel World, Etsy, Trivago, and Booking.com purchase through our links (just click right on those words – you can do it right now and unless you clear your cookies before your next purchase, it will remember). It costs you no extra and gives us a small commission. Thank you!
---
Pin Isle of Skye Whisky Guide