Scotland is a magical country that offers plenty to see and do, whether you're a city person, or you prefer something a little more off the beaten track.
For those who love the more rural aspects of Scotland, there is so much more than just Loch Ness waiting to be explored. And the great news is, if you're staying in one of the main cities, such as Edinburgh or Glasgow, so much of the magic and mystery of the Highlands can be explored in a mere quick car journey.
One such mystical place is the Devil's Pulpit, Scotland, which is technically known as Finnich Glen. This article explores what the Devil's Pulpit is and how to get there.
---
This site is user-supported and that's why we use affiliate links. At no extra cost to you, we get a little bit of money when you purchase something through one of our links. Thank you for helping support ethical, sustainable, and plant-based travel! You can read more about our affiliate disclosure policy here.
---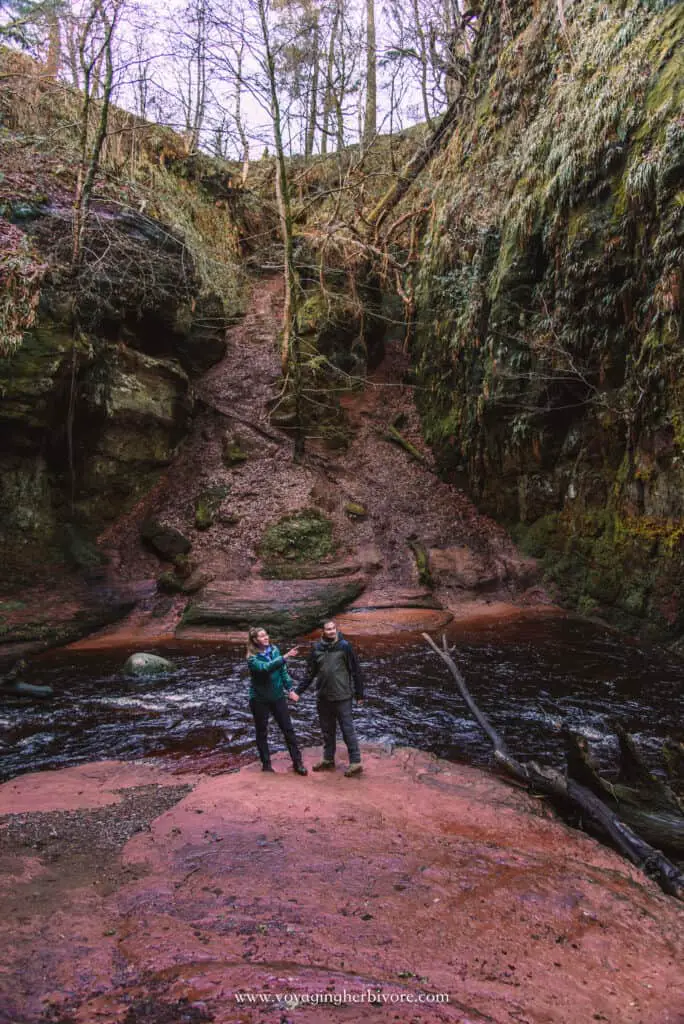 What is the Devil's Pulpit Scotland?
Sometimes known as the Blood River, Scotland, the Devil's Pulpit is a stunning moss-covered gorge in Finnich Glen, Stirlingshire, which is just east of the Finnich bridge. 
The mossy gorge is circa 70-feet deep and is carved out of red sandstone by the Carnock Burn (a stream). The spring at the bottom of the glen is so clear, and because of the colour of the sandstone, it gives an appearance of blood red water, which is particularly striking against the mossy backdrop of the gorge.
Every year photography and nature-lovers alike flock to this magnificent location to take in its natural beauty. It's even been used as a filming location for Sony Pictures' Outlander and the BBC's The Nest.
---
---
Why Visit the Devil's Pulpit Scotland?
As we mentioned earlier, the Devil's Pulpit is a photographer's and nature-lover's dream. It has an ethereal, otherworldly beauty that harkens to fantasy novels like Tolkien's Lord of the Rings, and is completely unspoiled by modern civilisation.
Those who are enchanted by the rural parts of Scotland would be foolish not to tick Finnich Glen off their bucket lists!
---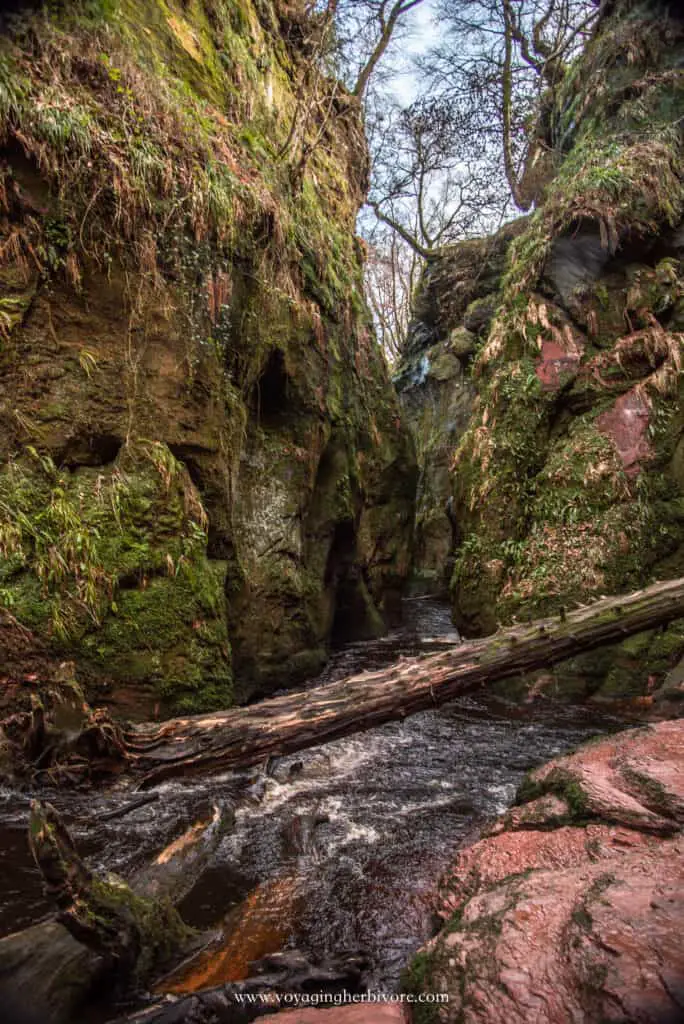 ---
How to Visit the Devil's Pulpit in Scotland
Getting There
Finnich Glen is located in the mainland of Scotland and the easiest way to visit is by car (there are some great local car rental companies). However, as we mentioned it earlier, it is a tad off the beaten track, so it perhaps isn't as accessible as other historical Scottish landmarks – but it is absolutely worth the effort.
Here's a quick lowdown on where Finnich Glen is, depending on where you're staying:
Edinburgh: Circa 90 minutes' car journey west of the city.
Glasgow: Circa 30 minutes' car journey north of the city.
Loch Lomond: Circa 15 minutes' car journey south.
---
Public Transport
So, as we mentioned a minute ago, your best bet when visiting the Devil's Pulpit is to drive, but that said, public transport is an option too. 
There are bus services that run pretty close by to the glen, but they're not super-regular like they are in cities, so it's worth being mindful of that.
---
Parking
So, good news: there is nearby parking, but (and it's a fairly big 'but') neither the glen or the nearby parking area is signposted, and both can be easily missed. 
Also, the parking area isn't overly abundant, and the glen can get pretty busy (particularly in the summer months), so parking isn't guaranteed. The parking area isn't on-site of the actual glen itself, so there's that to bear in mind too.
At present, the only parking available is the small parking area on the A809, which is next to the footpath (which is just south of where the A809 crosses the glen).
Resist the urge to park at the side of the A809 – it is a main road with double yellow lines, therefore parking is prohibited and unsafe, and fines from the council are issued for those caught not complying.
---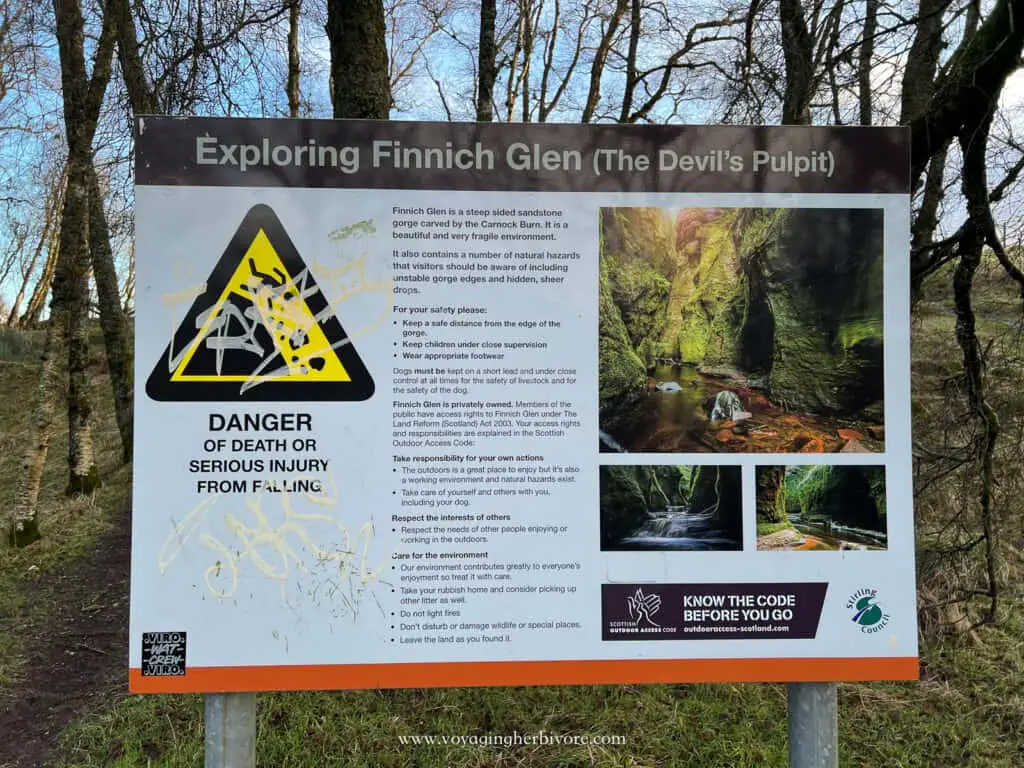 ---
Getting Down to the Pulpit 
Because the Devil's Pulpit is a glen (a valley) there are a few things to bear in mind when accessing it, including safety. 
Here's how to get to the Pulpit once you've safely parked, and what to keep in mind.
Near the parking area is a gate which leads to a little path which skirts along the gorge itself. Sometimes the gate is locked, in which case, you will need to climb the little wall, which isn't as taxing as it sounds!
The path that skirts through the gorge leads you through a forest, which will then take you to what's known as Jacob's Ladder – the steps that lead down to the gorge. Please be mindful that there isn't a fence that separates the path from the gorge top, and the drop is rather steep (ergo, this trip isn't recommended for small children).
Jacob's Ladder is the only way to get into the gorge (unless you happen to have some abseiling kit handy), and the steps are quite steep and not in the best of shape, so appropriate footwear is recommended. It can also be rather muddy and slippery, so caution is required.
Please note: visiting the Devil's Pulpit is not recommended for those with mobility issues, a fear of heights, or sufferers of vertigo.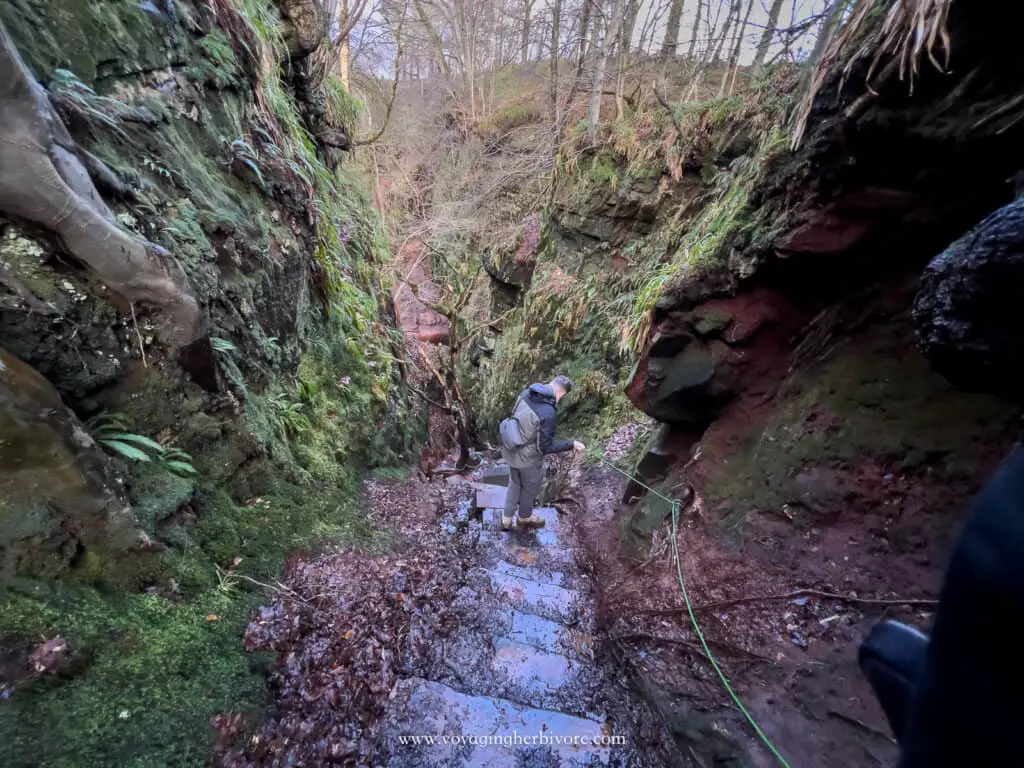 ---
A Word of Warning
As well as the above issues regarding safety upon entering the gorge, it is imperative to be aware that once you're in the gorge itself, you are in a waterfall zone, and rapid rainfall can cause the spring water levels within the glen to rise quickly. 
Do not visit on days when heavy rainfall is predicted, and pay attention to the water levels whilst exploring.
---
Devil's Pulpit Scotland FAQs
Why is it called the Devil's Pulpit?
Because the stream in the gorge looks like bloody water, coupled with the large rock protruding it looking like a church altar, it got its name purely by that aesthetic. However, this is just technically a nickname. The location's real name is Finnich Glen.

Archaic religious natives also believed this area was where Satan addressed his minions.

How long does it take to do the Devil's Pulpit
The gorge can be explored in under an hour (the length of the glen floor is 0.2 miles), so if you're travelling far, it could be worth visiting local areas (like Loch Lomond, which has a beautiful national park) to make the journey wholly worth your while.

Can you swim in the Devil's Pulpit?
The Pulpit isn't a quarry, so it's not an ideal for those looking to get their laps in, but wading a frollicking is certainly doable!

It can definitely be worth wearing your bathing suit/trunks under your clothing – particularly on warm days – to have a cheeky dip!

Can I take a picnic to the Devil's Pulpit?
Yes, there are no rules about taking picnics and disposable barbecues to the glen, but please bear in mind, there aren't any man-made features in the location – including rubbish bins or toilets – so please leave the area as unsoiled and unsullied as you found it.

Do I need any special gear to visit the Devil's Pulpit?
No, you won't need any hiking or mountaineering gear to visit the glen. However, as we mentioned earlier, a good pair of practical and waterproof shoes are recommended. Wellies are fine; anything with good grip and that keeps you dry is wise.

Also, because Scotland's weather can be unpredictable (and cold, no matter what time of year), having a jacket or raincoat handy doesn't hurt! Being inside the gorge – you will get wet! So avoid wearing anything fancy or impractical.

Where to stay near the Devil's Pulpit?
Depending on your travel plans, you can stay in the nearby cities of Glasgow and Edinburgh and travel to and from the glen for a day trip without spending hours in transit.

Conversely, if you're looking for something a little more quiet, there is ample accommodation nearby, including rental cottages, B&Bs, and even a campsite.

What to take when visiting the Devil's Pulpit?
Because the glen isn't a full-on hike or lengthy excursion, your itinerary need not be OTT. However, it is wise to bring the following (no matter what time of year):

-Practical footwear
-A raincoat
-A towel
-Swimwear
–Hiking poles (this are entirely optional but may help you with tackling Jacob's Ladder)
–Reusable water bottle (it's not recommended to drink the spring water)
-Bug repellent (midges are one of Scotland's biggest banes during the summer!)
-Snacks/a picnic to take in the view in style
-A camera and tripod
When is the best time to visit the Devil's Pulpit?
Owing to Scotland's weather being, ah, somewhat unruly and bone-chilling, all outdoor excursions are recommended for the summer months.

Bear in mind though that this location is a sought-after not-so-hidden treasure, and parking can be a nightmare. 

To enjoy this serene gem, it's wise to avoid visiting on weekends or bank holidays. Mid-week is quieter; particularly earlier or later in the day. The midday/mid-afternoon is usually peak tourist time.

Is the Devil's Pulpit dog-friendly?
Dogs are certainly welcome, but must be kept on a lead at all times. Please ensure responsibility and clean up after your dog.

---
More Scotland Posts
---
What Camera Gear Do We Use?
If you want the full list of things we keep in our camera bag, check out the complete guide or browse our photography guides.
---
Free Resources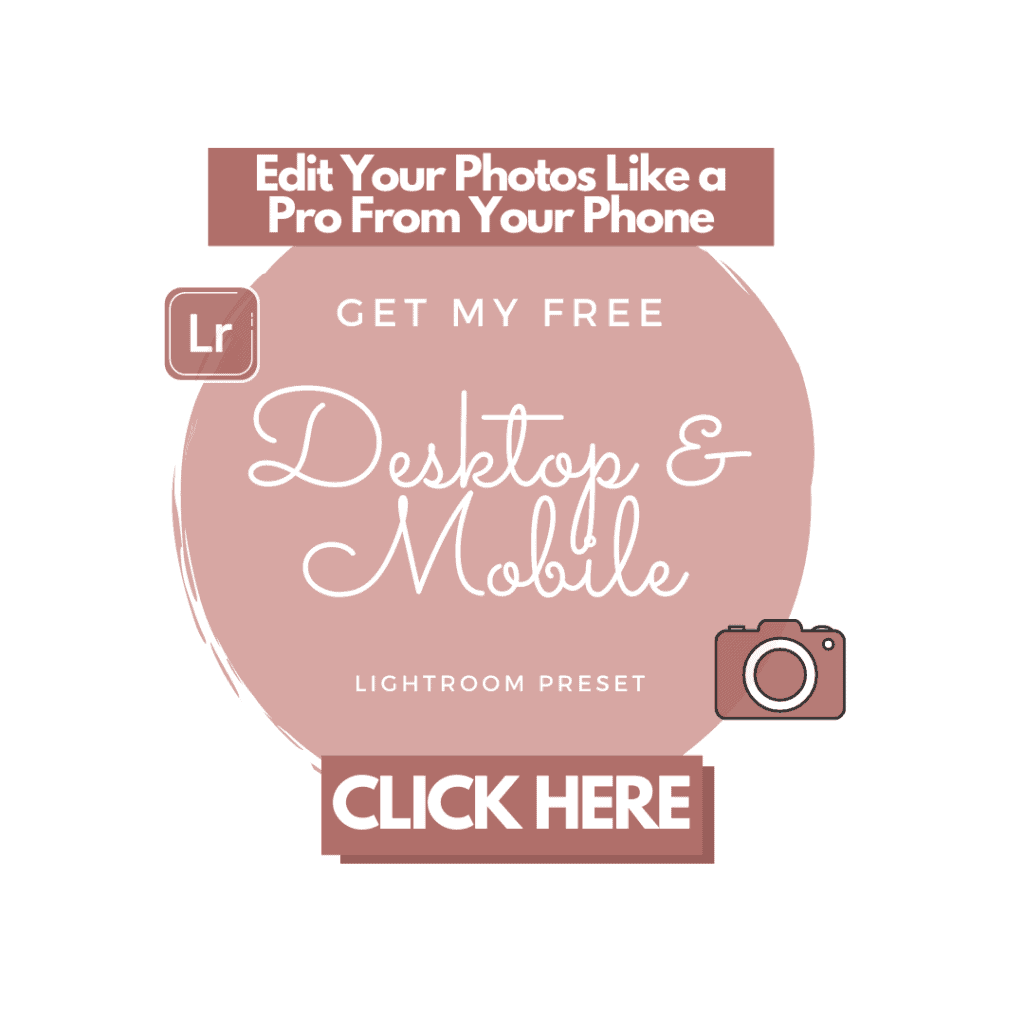 ---
And as always, you can find more sustainable travel content on Instagram @VoyagingHerbivore, Youtube, and TikTok and to get updates straight to your inbox, enter your email below in the footer, or to the right on the sidebar.

If you found this guide helpful and want to help us keep these resources free,
please consider making your next Amazon, Expedia, Hostel World, Etsy, and Booking.com purchase through our links (just click right on those words – you can do it right now and unless you clear your cookies before your next purchase, it will remember). It costs you no extra and gives us a small commission. Thank you!
---
Pin The Devil's Pulpit Scotland