The digital era is here and thriving. If something, these last years have shown us that we no longer need to be stuck in an office. More and more people are taking the step to go fully remote, for the benefits of working from anywhere, have more control over their time and get more freedom.  
But how do you do it, how do you go from the office job to location independence? 
Intrigued? Keep reading to find out if The Freedom Lab is your way to freedom!
---
This site is user-supported and that's why we use affiliate links. At no extra cost to you, we get a little bit of money when you purchase something through one of our links. Thank you for helping support ethical, sustainable, and plant-based travel! You can read more about our affiliate disclosure policy here.
---
The Freedom Lab Quick Guide
Price: 699 € but currently discounted 50% to 349 €
Best for: Freedom seekers. The course is for anyone who is looking for more freedom independence and is thinking about leaving the 9-17 job. The course is for the one who wants to learn what a remote working life is or how to earn money online but do not know where to start. 
Free trial/Money back guarantee: CLD offers a 30 day money back guarantee, you just need to submit proof that you have followed the course but it did not work for you.
Discount: Right now CLD offers a 50% discount: 349 € (normally 699 €) or the CLD offers a payment plan of 4 x 99 €. The Club Life Design every now and then arrange free webinars to introduce the course and do sometimes offer discounts on the course. 
---
What is the Club Life Design's Freedom lab?
What is Club Life Design?
Club Life Design, or CLD is an online academy created by the two influencer couples @mariefeandjakesnow and @explorerssaurus. They have made it their mission to help you find the tools to create the life of your dreams. Take a look at the reviews of their other courses The Power of Instagram and the Mobile Editing Masterclass.
Read More: CLD Mobile Editing Masterclass Review – Should You Invest?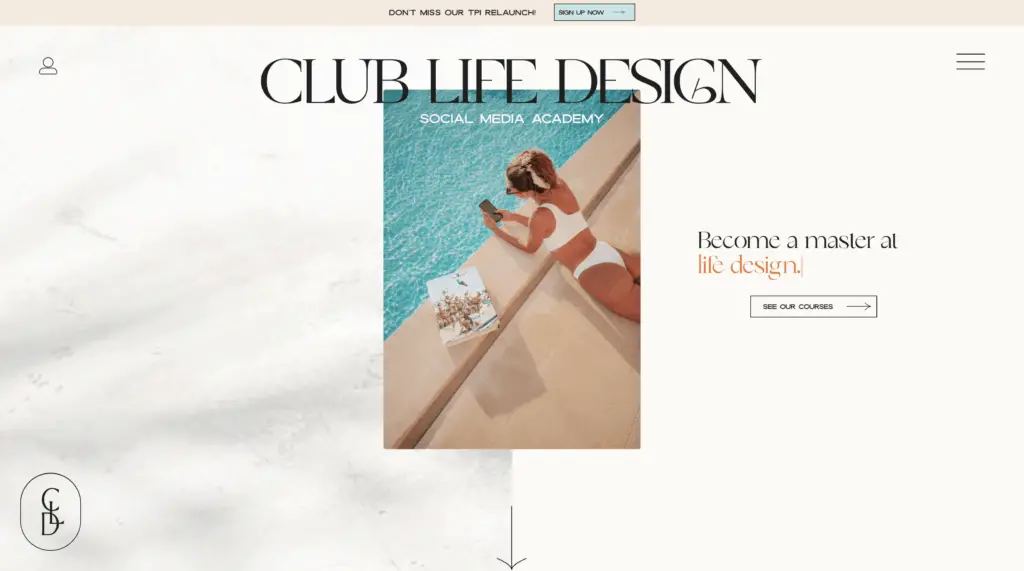 ---
The Freedom Lab
CLD created The Freedom Lab to help you design your dream of a location independent life, make money online and work from anywhere. With the Freedom Lab, CLD wants to give you the tools to explore the world outside the 9-17.
This course starts from the basics and offers you opportunities to really investigate what you could do outside of the 9-17 work. The course includes 20 different ways to earn money online and the skills needed to get them. So if you have no idea on where to start or what you actually want to do, this is a good way to find out. 
Virtual Assistant
Online Project, Account and Team Management
Copywriter
Translation
Tutor/Coach
Social Media Manager
Content Creation/Influencer
Blogging
Selling Physical Products
Selling Digital Products
Dropshipping
Affiliate Marketing
Design Jobs
Photography Services
Web Development
Online Courses
Ads Management
Seasonal work
The course is built in a way where you can test your skills but also try out what you actually enjoy doing through exercises provided in the chapters. You get support on how to apply for jobs and/or create your own work with the business start up kit. The course also provides you with everything from templates to Step-to-Step guides, for example:
CV templates
Media kit templates 
Guides on taxes
Guides to WordPress
Online business tools
Checklists for freelancers
eBooks
Step-to-step guides to for example Youtube, Tutor hunt and Shopify (to mention a few).
---
Who is the Freedom Lab for?
The Freedom Lab course is for everyone who wants to start making money online but do not know how or where to begin. The course is also It is for you who wants more location freedom and the option to work from anywhere in the world. The course is for you who want to explore what is out there besides the 9-17 jobs, how to start your own business, or learn how to create and sell products online.
---
What is included in the CLD course?
Expert interviews
This course includes expert interviews with experienced and active people within each field. The experts share their stories and the process they went through to get to where they are today. They share their tips, tricks and useful tools on how to start and excel in their field. 
Tina Schnell –  Virtual assistant and Pinterest (for CLD)
Max Palmer – Entrepreneur, business owner and project manager
Cam Cruz – Copywriter
Leonie – Online translation
Jace – Coach
Camila Lusso – Tutoring
Brad Snowden – Selling products via Facebook
Candy and the King – TikTok
Benjamin Ortega – Youtube
Leshea Lewis – Content creator
Salt In Our Hair – Blogging
Moritz Bauer – Selling physical products
Theresa Hoffmann – Selling physical products
Laura Askani – Dropshipping
Pili and Dano – Design jobs and Web development
Ruben Beeris – Photographer 
Jacqueline Giltrow – Photographer
Lucas Pinhel – Online courses
Mariah Steen and Tray Vondre – Ads Management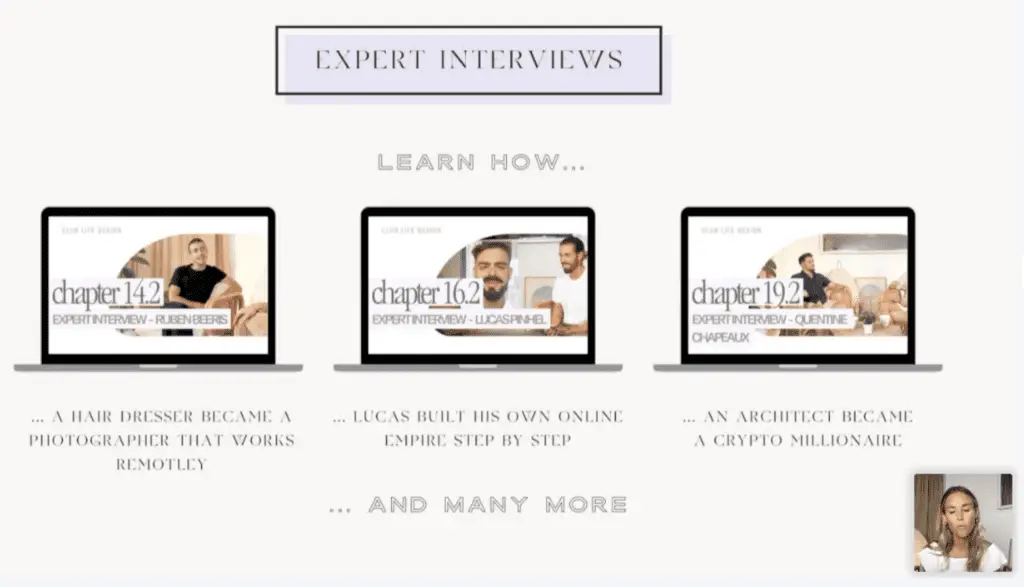 ---
Club Life Design Community
It is important to surround yourself with like minded people for inspiration and support. When taking this course you will get life time access to Club Life Design's community group on Facebook. There the CLD students can support each other, share experiences, and ask questions to the CLD team.
---
Course Overview
The Freedom Lab
Lessons
Material
Review
Module 1 – Welcome
Ch 1 – Welcome to the course
Ch 2 – Meet Your Instructors/Our story
Ch 3 – How Do I Get the Most out of this Course

– FAQ
– Business online glossary
Easy intro into how to use the course and everything that comes with it.

If you are new to CLD you also get to know your instructors and about their backgrounds.

Module 2 – Setting the Foundation
Ch 1 – Ultimate Vision of Yourself
Ch 2 – How to Set Smart Goals
Ch 3 – The Right Mindset
Ch 4 – Defining Your Online Skills to Find the Perfect Sector for You
Ch 5 – IKIGAI – Finding Your Niche
Ch 6 – Setting your Work and Life Balance

– Ultimate Self Vision
– What's your personality type
– Personality Quiz
– Wheel of Life
– How to set smart goals
– Risk Reward
– Holland Code RIASEC
– Finding Your IKIGAI
– Leave your job Guide
If you are considering this course you might already have ideas or visions of what you would like your life to look like. 

Here you get help to clarify your goals and your vision which I think is a great way to start this journey and to get the most out of this course. Also for the one who does not really know what you want or can do, it really gives you the tools sort out your strengths and skills. 

Module 3 – Over 20 Ways to Make Money Online
Introduction
Ch 1 – Virtual Assistance + Tina Schnell
Ch 2 – Into Online Project, Account and Team management + Max Palmer
Ch 3 – Online Copywrite + Cam Cruz
Ch 4 – Online Translation / Languages / Subtitles + Leonie
Ch 5 – Tutor / Coach + Camila Lusso
Ch 6 – Intro Social Media Manager
  – Social Media Manager Crash Course
– Intro Into Instagram
Instagram Q&A with Raquel
Intro Into Facebook + Brad Snowden
Intro Into TikTok + Candy & the King
Intro Into Pinterest + Tina Schnell
Intro Into YouTube + Benjamin Ortega
Ch 7 – Content Creation/Influencer + Leshea Lewis
Ch 8 – Blogging + Salt In Our Hair
Ch 9 – Selling Physical Products + Moritz Bauer + Therese Hoffmann
Ch 10 – Selling Digital Products
Selling Digital Products – Tutorial 
Ch 11 – Dropshipping + Laura Askani
Ch 12 – Affiliate Marketing
Affiliate Marketing Crash Course
Ch 13 – Design Jobs + Pili & Dano
Ch 14 – Photography Services + Ruben Beeris + Jacqueline Giltrow 
Ch 15 – Web Development + Pili & Dano
Ch 16 – Creating Online Courses + Lucas Pinhel
Ch 17 – Ads Management + Mariah Steen & Tray
Ch 18 – Seasonal Work + Jake

Every chapter includes relevant information sheets such as Set-up-guides, e-books, checklists and information forms. 

The chapters also include exercise sheets for you to try out and test your skills.

This is the heavy module, that is going through all of these different opportunities online. 

This module provides you with a great deal of information about the different ways to make money online. I really appreciate the introduction chapter that informs you about the topic and what the job could look like. 

However, the real interesting parts are all of the expert interviews. The interviews really give you an idea of what it is like to perform the specific work and a lot of real life tips on how to start or develop your own business within that field. 

What is great above that, are all the exercises that give you the opportunity to try the job and see if it is actually something that you would enjoy doing.

Module 4 – Applying for a Remote Job Position
Ch 1 – Finding Jobs
Ch 2 – Company Research
Ch 3 – Figuring Out Your Ideal Client
Ch 4 – Creating a Resume, Portfolio & Media Kit
Ch 5 – The Pitch: Presenting Your Skillset
Ch 6 – Most Common Interview Questions
Ch 7 – Job Offer Negotiation & Proving Your Worth
Ch 8 – Pricing Your Services 
Ch 9 Why You Are Not Getting Any Replies

– Step by Step guides to: LinkedIn, HubPages, Freelancer, Toptal, Indeed, Guru, Fiverr, Upwork and ZipRecruiter
– Finding Landing Clients
– Lists of Companies that Hire Remotely
– Avatar Worksheet
– How to write a Resume, Portfolio-, Media Kit-, Email Pitch Templates
– How to create an Email signature/ killer proposals
– Pitching Brands Do's and Dont's
– Interview guide
– Typical prices for the most common freelance services
– Income expenses overview
– Hourly Rate Calculator
– Job Application Checklist
This is a more hands on module. Here you can find all you need about where to find jobs, applying for them and negotiating deals. 

To get the most out of this module is it good if you have done the job in the previous modules and now have an idea about what you want to do. 

If you are like me and not used to pitching your ideas or selling your products this module covers it all. It provides you with a solid base on how to get started and how to think. 

The guides and templates are a huge help and time saver when starting creating pitches and creating your resume and media kit.
Module 5 – Steps to Build & Launch your Business
Ch 1 – Structure it, Research & Refine
Ch 2 – Name
Ch 3 – Brand
Ch 4 – Logo
Ch 5 – Marketing Plan
Ch 6 – Website Foundation
Ch 7 – Website Plugins
Ch 8 – Budgeting and Funding

– Launch your business starter kit
– Business plan step by step
– Income statement 
– Cashflow Forecast
– Balance Sheet
– Rules to come up with a brand name
– Principles of designing a logo
– Color Psychology
– How to download and install fonts
– Logo Design Templates
– Key elements of a successful website
– Essential components of a successful landing page
– WordPress guide
Shopify guide
If you want to start your own business this chapter is for you. 

As a beginner entrepreneur you will get the perfect foundations to how to set up your business, including marketing, website and fundings. 

If you are really at the beginning you can gain a lot of useful information in this module. CLD helps you in the process of coming up with your business name and how to create your logo and brand.

If you already have your business going, the part of creating your brand might not be that interesting, but maybe you can have more use of the marketing and budget chapters.

Module 6 – Tools & Tech
Ch 1 – Best Tools for Remote Workers
1.1 – Communication
1.2 – Video Conference
1.3 – Whiteboard Tools
1.4 – Document Sharing
1.5 – Team Boards
1.6 – Project Management
1.7 – Calendars & Scheduling
1.8 – Time Tracking
1.9 – Note Taking
1.10 – Survey tools

– Best Tools for remote Workers
– NOTION step by step guide
Tools and tech, in the growing online work sphere there are a bunch of different tools available and the best way to find what you like is to try them out. 

CLD gives you their opinions of useful tools for different areas. The module is easily divided by chapters of the different areas and you can easily access the ones that are interesting for you.

Module 7 – How to Optimize Your Sale?
Ch 1 – Overcoming the Fear of Selling
Ch 2 – Human Psychology in Sales 
Ch 3 – Email list (Basics and Optimization)
Ch 4 – Webinars
Ch 5 – Sales Page
Ch 6 – Intro Into Advertising
Ch 7 – Tracking your Ads
Ch 8 – Funnels

– List of email providers
– List of our favorite CTAs
– List of potential freebie products for different niches
– List of payment systems and their pros and cons
– Setting up a Google Ad step by step
– Setting up a Facebook Ad step by step
– Checklist is Facebook Ads management for me
– FB Ads management Exercises
– Sales Funnels
This module is full of information to get you started with your sales. 
CLD chose to break it down to get all new starters a good foundation from creating a "sales mind" to the practicals such as email lists and sales page.  

They share their own feelings and experiences when getting into sales which makes it easy to relate. For the ones, me included for sure the sales part feels a lot scary and this module definitely gives you hands on tips on how you can overcome whatever fears you might have. 

Really valuable are the parts that cover the psychology of sales, both for the buyer and for you as the seller.

Module 8 – How to Deal With Your Clients?
Ch 1 – How to Deal with Your Clients?
– Customer Care
This is a short module but so important to learn from the beginning of your brand how to create loyal clients. 

I really appreciate that CLD is thinking long term and that this is a course that wants to create sustainable businesses for you.

Module 9 – Finances
Ch 1 – Getting Paid Online
Ch 2 – Manage Your Finances
Ch 3 – Paying Taxes as a Remote Worker + Kathleen Di Paolo

– What to do if a client doesn't pay message options
– List of payment systems and their pros and cons
– Invoice Templates
The expert interview with Kathleen makes this module worth itself. There are a lot of things to consider when starting an online business from getting paid to taxes to where to set up your business. In the interview Kathleen provides a lot of useful and important things to consider with online businesses.
Outro
Outro
Some final cheering from the Marie, Jake, Raquel and Miguel!
Bonus Modules
Live sessions:
– Welcome to the Freedom Lab
– Social Media Manager Crash Course
– How to Create and Sell Preset w/ Jake
– Instagram Q&A with Raquel
– How to Create a Unique and Powerful Personal Brand
– Pinterest Crash Course
– Affiliate Marketing Crash Course
– How to Become a Translator
– How to Make Sales by Using Facebook Groups
– Bali Hacks
– Q&A Session
In this Module – Bonus Chapter the CLD adds new chapters every now and then to provide you with new and useful information. This to help you stay updated and on top of your game. An amazing thing with CLD is that they always try to meet their students' wishes. For example if they see that a lot of students ask for information in a particular area, they look for opportunities to provide that. 

Since you get lifetime access don't forget to check for updates to see if there are some new materials to check out.

---
What languages is the course available in?
The videos is recorded in English but all the information and material is also available in Portuguese and German. Sometime the team provides live webinars in Portuguese and German as well.
Subtitles
English
Portuguese
German
---
Access and certificate
When purchasing the course you receive lifetime access and access to all the new updates and live sessions that CLD will arrange throughout time. After you are done you can ask for a certificate of the completed course.
---
Pros and Cons of the Freedom Lab
Pros
The course covers many areas of what it means and what it takes to become local independent and the whole course could be used as a guide to get started to receive the first payment from online work. 
You can use the course as a library for whenever you need to look up a certain thing or when it is time for you to for example launch your business. 
Provides you with a lot of tips for further research if you want to advance in a certain area. 
Lifetime of access
Access to The Freedom Lab Community
Cons
This course is not for you if you already know what you want to do and are looking for deeper knowledge about a particular area. 
The videos are not accessible in audio files only. 
Not able to preview the document before download
Even though there is a module about finance, it is impossible to cover information about every country. Remember to check the rules applied in your country though it does differ from country to country.
---
Freedom Lab Review: Is it worth it?
For the price and all the content within this course I would definitely say that the Freedom Lab is worth the money. For anyone interested in getting an income online, as a sidegig or full-time, this course is well structured to get you started. The expert interviews are by themselves amazing and together with all guides and how-tos the value of this course exceeds the cost by far, especially with the current discount. To make sure you get what you pay for, have a close look at the module to understand the course content. This is not an educational course for you to learn a particular profession but how to get started earning money online and ways to do that. The lifetime access adds to the value as well, though you always will have access to all of the updates the CLD create to help you stay on top of your game. It also gives you the possibility to look over the modules whenever you are ready for that particular skill. The Freedom Lab can be seen as a library to search in when needed. 
Are you ready to start your journey to location independence with Club Life Design?
---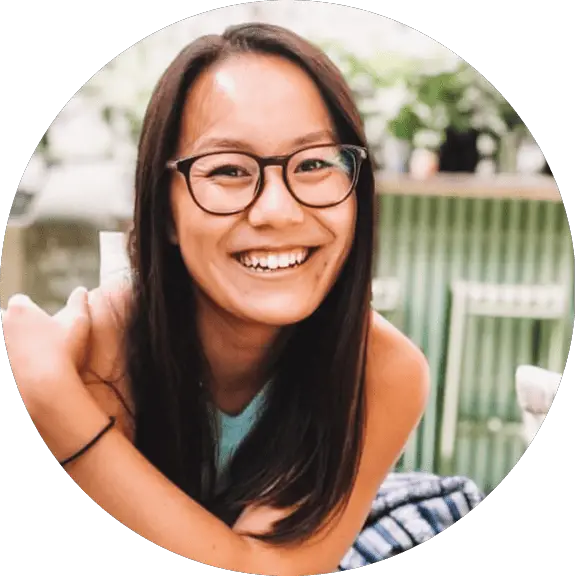 Meet the Author: Veronica
Hi there, I am Veronica!
I am an aspiring writer from Sweden. Words to describe me could be, part-time traveler and full time learner. The greatest thanks to Alysa, who shared her knowledge and gave me the opportunity to work on these pieces.
You can find me at lookforsmultron.com (bare with me it is still in process) where you can find travel inspiration and tips on how to make travel a bigger part of your every day. All the best!
Check out lookforsmultron.com
---
More Resources for Creators
---
Free Resources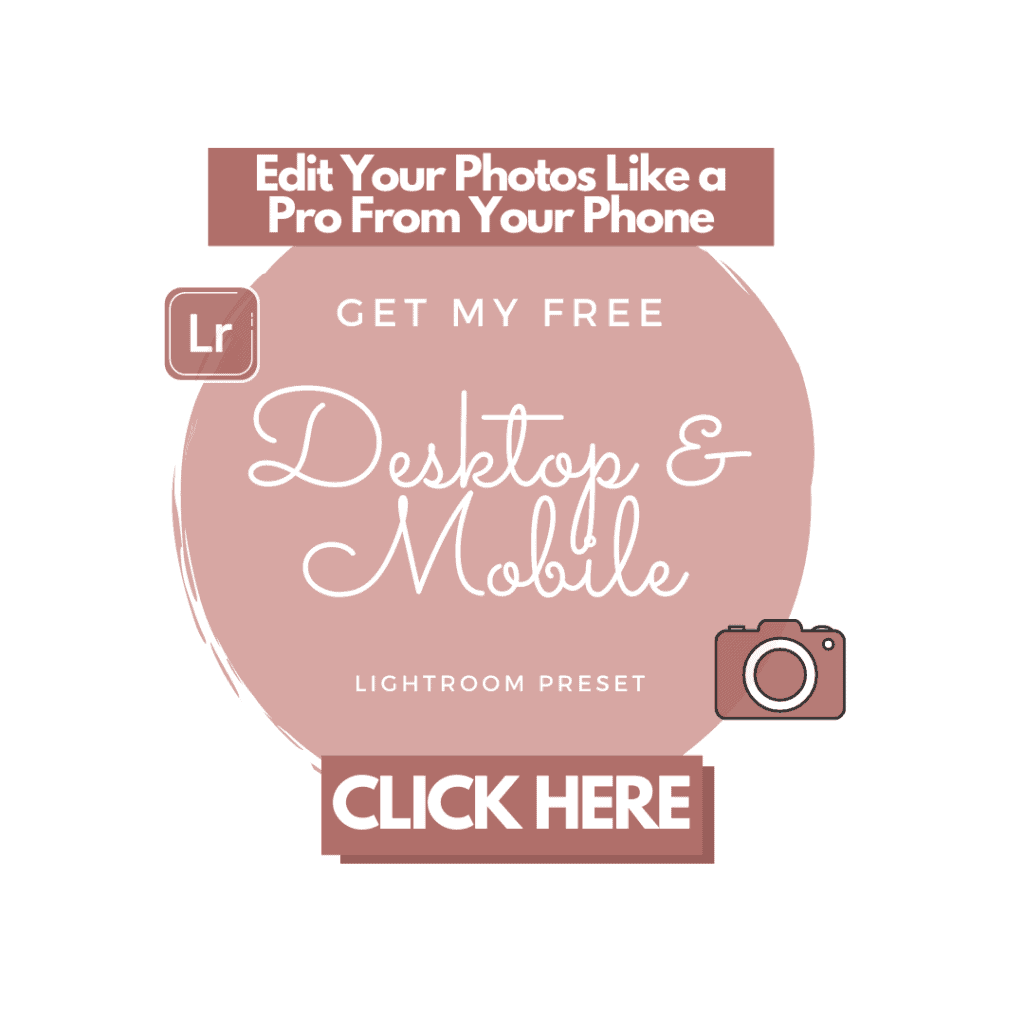 ---
And as always, you can find more sustainable travel content on Instagram @VoyagingHerbivore, Youtube, and TikTok and to get updates straight to your inbox, enter your email below in the footer, or to the right on the sidebar.

If you found this guide helpful and want to help us keep these resources free,
please consider making your next Amazon, Expedia, Hostel World, Etsy, and Booking.com purchase through our links (just click right on those words – you can do it right now and unless you clear your cookies before your next purchase, it will remember). It costs you no extra and gives us a small commission. Thank you!