GoPro, DSLR, mirrorless, action cam, camera bag, tripod, drone? Do you really need all of these for travel photography?
There are hundreds if not thousands of brands and tech options to choose from, and it's often incredibly overwhelming!
Whether you're off on your next photography adventure or you're a traveler looking to add some great photo gear to your luggage, keep reading to learn about essential travel photography gear.
---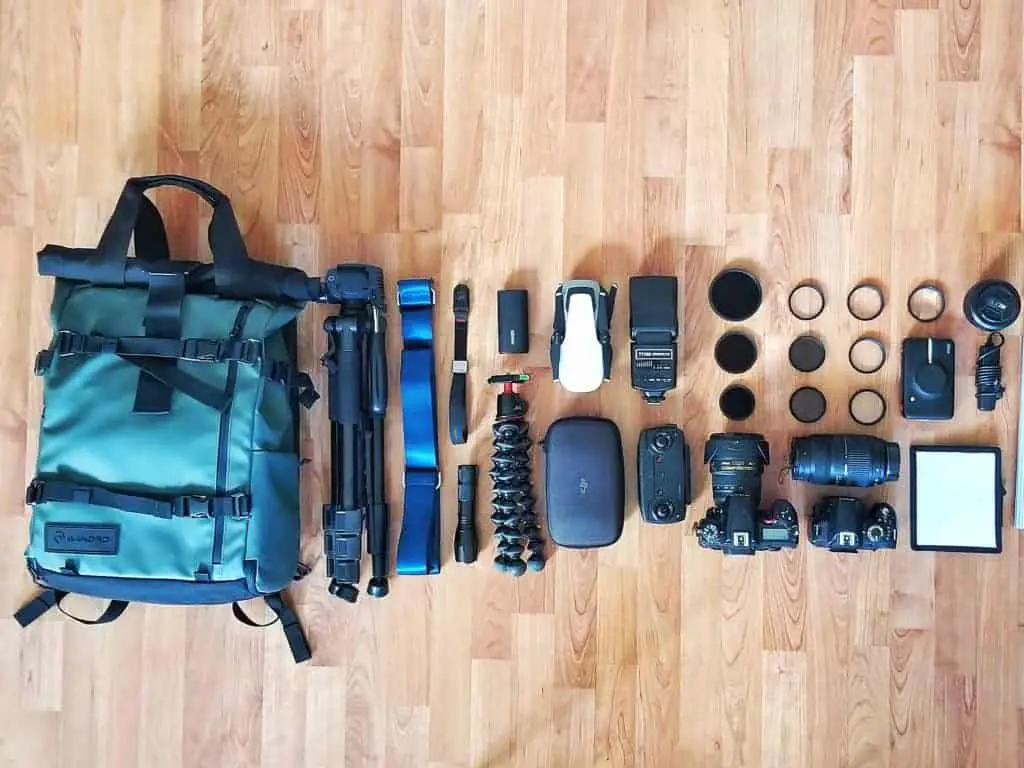 ---
This site is user-supported and that's why we use affiliate links. At no extra cost to you, we get a little bit of money when you purchase something. Thank you for helping support ethical, sustainable, and plant-based travel! You can read more about our affiliate disclosure policy here.
---
All of the travel photography gear listed below fits into one camera bag. We're all about budget travel which means that we have to lug our gear around while hiking, city trekking, riding public transportation, and squeezing into tiny airplanes. We rarely check luggage!
Additionally, all of the prices listed below are new. We almost never purchase new products. Not only is it cheaper, refurbished and reused products are better for the environment!
Read More: How to Sustainably Photograph Amsterdam
---
Wandrd Prvke Photography Bundle 31L Camera Bag
After much deliberation, we decided to go with the Wandrd pack because of its customizability. The 31 L rolltop makes it perfect for the plane (fits under the seat), and the removable straps mean you can keep your tripod underneath or attached to the back if you're also lugging a sleeping bag, jacket, etc.
We can keep two camera bodies, a drone, two laptops, and three lenses in here. And pockets, pockets galore! Not to mention it's water-resistant with special zippers to boot. It's not cheap but with a lifetime guarantee, it's hard to go wrong. This bag is truly a must-have for travel photography.
The company itself is also very focused on sustainability and their customer service is great! I missed a big sale and they gave me a discount code to get the same sale price a few days later.
Customizable
Lots of pockets and straps
Secure camera compartment
Secure document pocket lies against your back
Water-resistant
Can access camera without taking off the bag
Lifetime warranty
---
Veer Packable Bag
This little bag is a magical beast that can collapse into a small space, making it ideal for day trips. The Prvke (see above) is amazing for when you need all of your gear or are packing up and traveling to the next location, but sometimes you don't need 2 camera bodies and three lenses, so it's nice to have a small bag that offers protection and takes up minimal space.
Collapsible
Ideal for day trips
Blow up back panel for support
Blow up camera compartment
---
Camera Bodies
The d750 is our go-to. It's always at the ready to whip out at a moment's notice and the d3100 is there should something go wrong, or should we need to shoot in a more precarious situation. We'd rather have the older cheaper one go missing or fall into the water than our d750.
Note: The d750 is an FX camera and the d3100 is a DX. Essentially, this means that we need to be careful when buying new lenses, as they won't always work on both cameras.
All of the photos in this post were shot with the Nikon d3100 and in this post with the d750. Remember that there are two added years of experience between the photos though. Skill and practice are much more important to travel photography than gear is!
Nikon d750
High quality
Two SD card slots
Better low light shots
Movable screen
Wifi (can shoot from your phone)
Ideal for more advanced photographers
Expensive
Nikon d3100
Cheap ($79 at the time of writing)
Much older model
Great to learn on
Manual and automatic modes
---
---
GoPro Hero 8
The GoPro Hero 8 is a top-quality action camera. With built-in stabilization and addons like lighting and microphones, this is becoming the all in one camera.
This probably isn't what you traditionally think of as essential travel photography gear, but a big part of travel is getting yourself into unusual situations. The GoPro is the perfect solution to wanting to capture a moment but keeping your expensive DSLR safe.
Built-in stabilization
Can be used underwater
Used for photo or video
Lighting, microphone, and screen flipping add-ons that are perfect for vloggers
---
Lenses
Lenses are so incredibly dependent on the situation. We've found that for travel photography, having a prime lens that creates a beautiful depth of field (that nice blurry background) and a wide-angle lens that allows us to capture a huge amount of the beauty we're seeing (without having to set up our tripod too far away from us – always scary when out in public) works perfectly.
Keep in mind that if you're shooting wildlife, you'll want to pick up gear more specific to wildlife photography.
Note: The lenses below are marked as DX and FX. DX lenses will work on FX cameras and vice versa, but the image sensor cropping will be different. In short, the biggest differences are price and quality. FX lenses are much more expensive but you do get a higher quality.
---
Nikon 35mm Prime Lens f/1.8 DX
An absolutely beautiful lens that is worth its weight in gold. I've been using this lens for several years now for travel photography and still use it when shooting clients and portraits. If you've got the money and the FX camera body, give a more expensive FX lens a shot, but if you're just starting out or looking for something budget-friendly, don't hesitate to invest in this DX lens.
Every travel (and portrait) photographer should have one
Creates a beautiful depth of field
Affordable
---
Nikon Wide Angle 18-35mm f/3.5-4.5 FX
This absolute beauty has become our go-to lens. It offers us so much versatility from great close-ups to fantastic landscapes. Additionally, the wide-angle allows us to get great shots when we don't have a lot of space to play with.
Unfortunately, this lens is not cheap but it is well worth the expense. From Covent Garden to Lake Windermere, this lens has not disappointed us yet. If you are looking to step up your travel photography game then we couldn't recommend this lens more.
Expensive
Versatile
Allows you to stay close to your subject
Perfect for cities and architecture
Not much depth of field
---
Tripods
Fairly self-explanatory this one but there is something to be said about having options. We carry two tripods as we often encounter different environments when we shoot meaning we need versatility.
---
ESDDI Aluminum Tripod
If you read this post in 2019, you might have seen that we didn't believe in spending a lot on a tripod. However, the more that we used the plastic tripod, the more that we realized that a cheap plastic clip holding a very expensive camera and lens was a terrible idea. So we upgraded! The camera is now much more secure on an aluminum tripod.
Pricier than a basic tripod
Durable
Twist to expand
Secure camera plate
Convertible monopod
---
GorillaPod
When you're looking for a low shot or if the terrain is a bit uneven, the GorillaPod by Joby is there to give you the helping hand you need. Super easy to use and ideal for travel photography, you just need to bend the legs to fit your environment. We chose the 3K kit as it offered a lot of support for the weight of cameras we use.
Lightweight
Small
Able to grip almost any surface
Affordable
---
Accessories
The accessories are so unique to you as a photographer and the gear that you use. Here are a few things that we have found helpful for travel photography.
---
Lens Filters
There are so many different lens filters out there, but the main ones we like to have on hand are UV filters (which we have on our lenses at all times) and polarizing filters. We also like to have a variety of ND filters in case we decide to do some long exposure shots and need to filter the amount of light we let into the camera. Keep in mind that you will need a different size (mm) of filter depending on what lens you have.
We love using the brand Gobe because of their commitment to sustainability and the quality of their products.
Range of affordable or high-end options
Lens protection
Wide range of options for every lighting scenario
---
Remote Switch
We often use the remote release for D3100 as it doesn't have the option for interval timer shooting. For instance, we can set the D750 to shoot 50 shots at 1-second intervals. The remote switch is also for long exposure shots as don't have to worry about accidentally moving the camera. A remote switch is a must-have for travel photography!
Inexpensive
Practically weightless
Useful in a variety of situations.
---
Portable Phone Charger
When we are out and about we can both get through our phone batteries pretty quickly. With both Instagram (updating the stories) and the drone remote (see below) draining the phones, it has become imperative that we bring at least one external charger. A true necessity for travel photography. We highly recommend the brand Anker.
Small
Recharge your phone quickly
Needs recharging infrequently
---
Peak Design Wrist and Body Straps
The Peak Design Wrist and Body Straps are an absolute wonder team. The quick detach system is super slick and easy to use.
They are on the expensive side for camera straps but considering the value of the camera they are holding, the price is more than worth it. Both are super durable and supposedly can carry up to 200 pounds! That being said, we felt it was best not to put that to the test.
Expensive
Incredibly durable
Integrates with other Peak Design products
Allows for cross body camera carry (better for your neck!)
---
SD Cards and Case
SD Cards are vital! You never know when you might run out of space, or when one might just decide to fail you. For the drone, we need a micro SD, but for the camera, we need the full-size deal.
We use SanDisk in a variety of different sizes, usually purchasing 32GB or 16GB. These come with adapters so they'll be able to fit a micro or standard size. So far they've been good quality for a decent price.
I also highly suggest investing in an SD card case in order to protect the SD cards and keep them organized. You don't want to be rummaging around in your bag while something amazing is happening!
Affordable
You really can't do photography without them
Good to have a variety of sizes on hand
---
Drone – DJI Mavic Air
We chose the DJI Mavic Air because it's small enough to easily fit in any camera bag and it's very user-friendly while still offering a lot of the features standard to bigger more expensive drones. For instance, the Mavic Air has many different tracking features that make it very easy for Jack to record both of us without having to constantly stare at the remote. We would both strongly recommend this drone to first-timers.
Read More: DJI Mavic Air – A Review That You Can Actually Understand
Expensive
Small and compact
User-friendly
Beginner-friendly
Controlled with your phone and an attachment
---
Adobe Software
Adobe Lightroom and Photoshop are probably the most widely used photo editing software. If you're going to all the effort of taking these gorgeous shots, you want to edit them!
Taking a photo but not editing it is like making cake batter and not baking it!
Do yourself a favor and invest in Adobe's photography plan which is $10 per month, the same as your Netflix subscription! 😉
If you like our preset and want to try more shop our preset collections!
---
Generally Useful Travel Items
Snacks – We love Cliff Bars and Lara Bars as opposed to unhealthy airport food but we would love to start making our own to take with us in reusable bags – link to your favorite vegan protein bar recipes below!
Stain stick – For obvious reasons. I swear these things are magical.
Chapstick – I can't go anywhere without it!
Collapsible Water Bottle – I've raved about these in other posts. They're perfect for travel!
Dramamine – The ultimate nausea medicine!
Read More – Eco Travel Products: 12 Sustainable Must-Have Items
---
Ready to Improve Your Travel Photography?
Now that you have a better idea of products to invest in, keep learning! Check out the posts below to improve your travel photography or explore the rest of the site to find your next destination.
---
Free Resources
---
Liked "Travel Photography Gear: The Essentials"? Pin it for later!
---
---