Given that Edinburgh is considered one of the most haunted cities in the world, it's perhaps no surprise that there are many ghost tours and excursions to enjoy when in town.
Whether or not you're a paranormal enthusiast, or even just a believer – Edinburgh haunted tours are a great way to get into the spooky spirit and learn much about the city's colourful history.
Whatever your budget, there will be a ghost tour waiting to chill you to your bones! And to help you on your way, we have put together a guide detailing the 8 best ghost tours in Edinburgh that are bound to make you squeal in terror and delight!
Read More: 10 FANTASTIC Edinburgh Walking Tours
---
This site is user-supported and that's why we use affiliate links. At no extra cost to you, we get a little bit of money when you purchase something through one of our links. Thank you for helping support ethical, sustainable, and plant-based travel! You can read more about our affiliate disclosure policy here.
---
Edinburgh's Haunted Past
The fact that there are so many ghost tours in Edinburgh isn't a coincidence. In fact, Auld Reekie is the haunted capital of the UK, owing to its dark, macabre past that involved many grisly tales of bloodshed, grave-robbing, deadly plagues, executions, blood-thirsty monarchs, and other sordid incidents of murder and mayhem.
Today's Edinburgh may be a chic, hip hotspot for tourist trade, adventures, wedding locations, gin joint crawls, and delicious places to eat to suit all palates, but yesterday's Edinburgh was a different story.
For starters, like many ancient cities, Edinburgh is a mass graveyard in which the bones of yesteryear's folks are present just a mere few feet below many of the streets which tourists and residents alike walk every day. 
Princes Street Gardens is one example of a "haunted hotspot". Before it was the scenic and romantic spot it is now, it was a lake which was used to dump bodies, as well as an execution site, where convicts were drowned in the filthy waters, many of whom were women accused of witchcraft.
On the subject of witchcraft, Scotland – and in particular, Edinburgh – was rife with witch trials, and in Edinburgh alone, it's said that as many as 4000 people were executed as "witches" between the 16th and 17th century.
Then there was the Great Plague of 1645, where it is estimated that as much as half of the city's population perished in under a year. With the mortality rate in the city being so high during these dark times, locations like Greyfriars Kirk became mass dumping grounds, with bodies being piled on top of one another, owing to the city's burial grounds being finite in space and already full up with deceased occupants.
So. 
With all of that, plus more, it's no surprise that Edinburgh is known for its ghostly goings-ons. 
---
8 Best Ghost Tours in Edinburgh
There is no shortage of Edinburgh ghost walks to enjoy, and these are our top 8 favourites.
---
1. Haunted Edinburgh Underground Vaults & Graveyard Tour
From £20 pp
Duration: 1.5 hours
This Edinburgh ghost walk takes you along the cobbled streets of Edinburgh to the most iconic ghostly spot of all – Greyfriars Kirk.
This tour will teach you all about the legend of Greyfriars Bobby – the cemetery's famous four-legged resident – as well as learning all about some of the city's most notorious criminals from yester-year, such as the likes of Burke and Hare.
Once you've finished here, you'll head towards the Underground Vaults in the city's South Bridge – also a paranormal hotspot with a vast and disturbing history. 
Please note, this tour is not suitable for:
Wheelchair users
People with mobility impairments
Children under the age of 5.
No dogs, except support/guide dogs.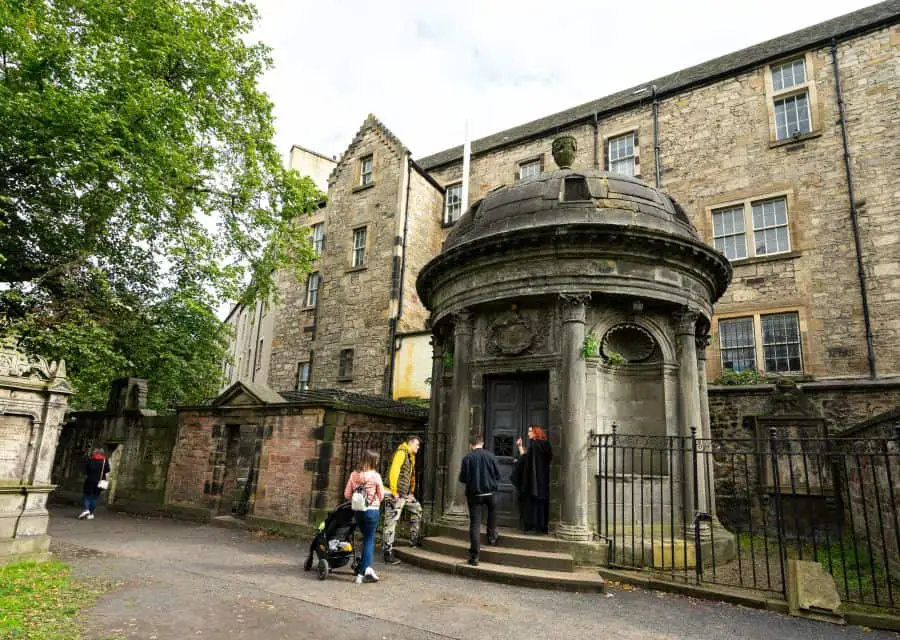 ---
2. Edinburgh Underground Vaults Tour
From £18 pp
Duration: 1 hour
Because of the Vaults' extensive and sordid history of ghosts, witches, and murder most foul, they warrant a tour dedicated exclusively to them.
Perhaps you've already meandered through the likes of Greyfriars Kirk and traipsed the grounds of Edinburgh Castle, but still thirst for some ghoulish goodness? If so, this tour is for you.
These dark and dreary underground rooms are considered to be very haunted (so much so, they have even been mentioned on an episode of Most Haunted Live) and were a hotbed of plague victims in the 1700s, as they were the cramped quarters of the poor and homeless, who were the first to succumb to the virus; the spirits of whom are said to still be very present.
This tour features an optional add-on of the Torture Exhibition.
Please note, this tour is not suitable for:
Wheelchair users
People with mobility impairments
Children under the age of 5.
No dogs, except support/guide dogs.
---
3. Late-Night Edinburgh Underground Vaults Terror Tour
From £22 pp
Duration: 75 mins
If you really want to get into the – ah – spirit of the Underground Vaults, the late-night terror tour is a must.
This Edinburgh ghost walk also features a tour above ground of the city's Royal Mile, while perusing the other wynds and closes of the city's most haunted area and learning all about tales of gruesome murders, body-snatching, the Scratching Hauntress, and the devices within the Torture Exhibition – and why they were used – and finally, visiting the stone circle: the home of The Watcher ghost.
Please note: this tour is not suitable for:
Sufferers of claustrophobia
Wheelchair users
People with mobility impairments
Children under the age of 18
---
4. The Dark Side Walking Tour
From £20 pp
Duration: 2 hours
As a visitor of Edinburgh, you'll likely already be somewhat familiar with the serials killers, Burke and Hare, which you will learn all about their morbid ways, as well as other dark aspects of Edinburgh's history, such as witch burnings, grave robbings, body snatching, the murder of Mary Queen of Scots' lover, and much more.
Your tour guide will take you to the most infamous haunted sites, including the Canongate Kirkyard, while telling you all about the goose-pimpling tales of vampires, cannibalism, and the mass graves that make up this city.
Please note: this tour is not suitable for:
Wheelchair users
People with mobility impairments.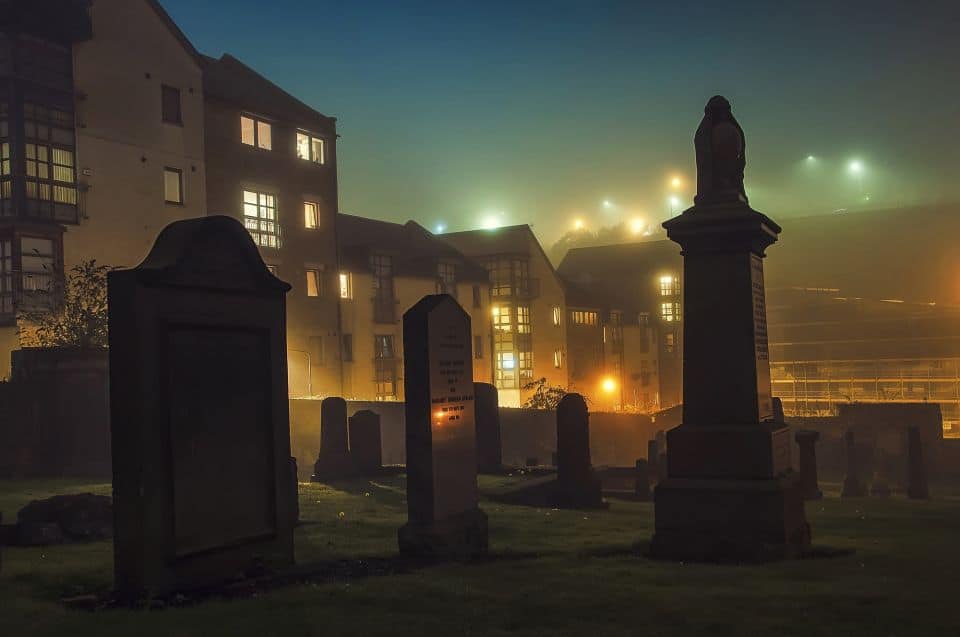 ---
5. Comedy Horror Ghost Bus Tour
From £21 pp
Duration: 1 hour
If you would like to learn all about Edinburgh's dark past in a more lighthearted manner (and from the comfort of a warm bus), we highly recommend hopping aboard the infamous Ghost Bus.
This beautifully refurbished vintage double-decker bus features a spooky conductor (as well as atmospheric lamps and curtains), who will dazzle you with tales of the macabre, while visiting some of the city's landmark spots where restless spirits are known to wander. 
The bus is the last-surviving of its kind – in fact, it was part of the infamous Necropolis Bus Company, which lost all but one bus to a mysterious fire in 1967.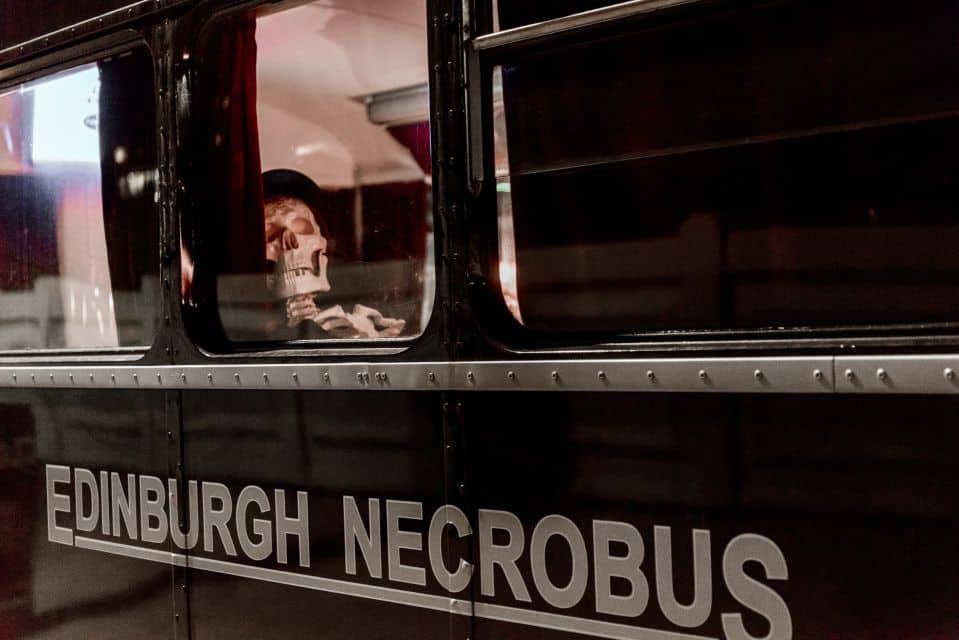 ---
6. Witches & History Old Town Walking Tour
From: £12 pp
Duration: 70 minutes
The witch trials – as dark as they were – are an integral part of Scotland's history, and this themed walking tour is a great way to see the city, while learning all about this unfortunate period of history.
Your witchy guide (complete with cloak, hat, and broom) will captivate you with stories of Old Town's spooky past and the history of Scotland's "witches".
The tour also covers some of Old Town's best loved attributes, such as Candlemaker Row, St. Giles Cathedral, and the Writers' Museum. 
Please note: this tour is not suitable for people with mobility issues.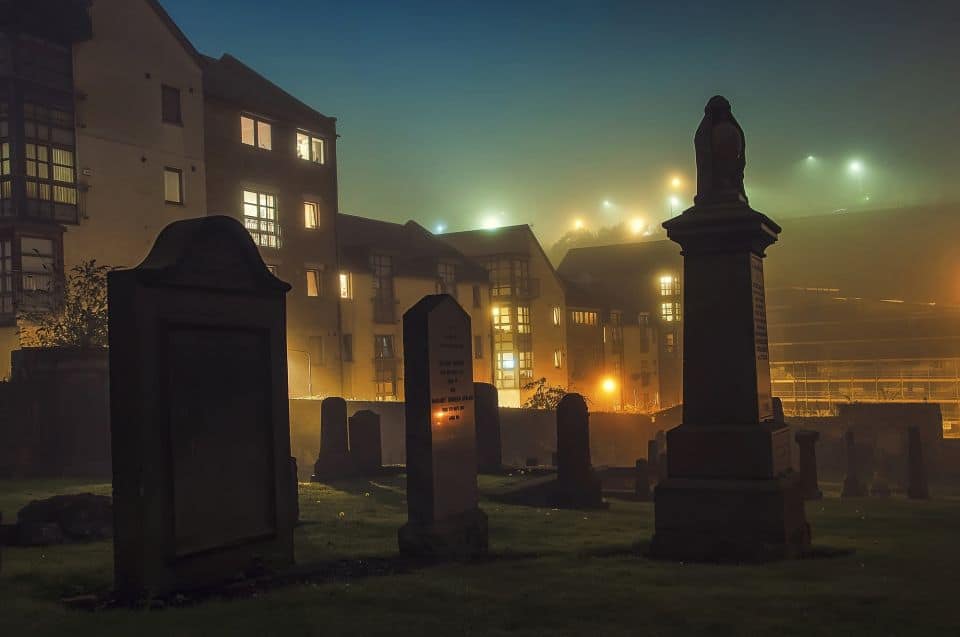 ---
7. The Edinburgh Dungeon
From £20.50 pp
Duration: 80 minutes
Those who enjoy a more immersive experience than the average Edinburgh ghost walk tour can provide will squeal in terror and delight at the frightfully fun Edinburgh Dungeon.
This underground journey features live actors, theatrical sets, and even a thrilling drop ride, all of which teach you all about the sordid past of the underground while you enjoy the thrilling state-of-the-art sets and special effects.
This 80-minute tour will teach you approximately one thousand years of Scotland's past, and how the underground areas of Edinburgh became known as a hotbed of paranormal activity.
Please note: this tour is not suitable for children under the age of 4, or unaccompanied minors.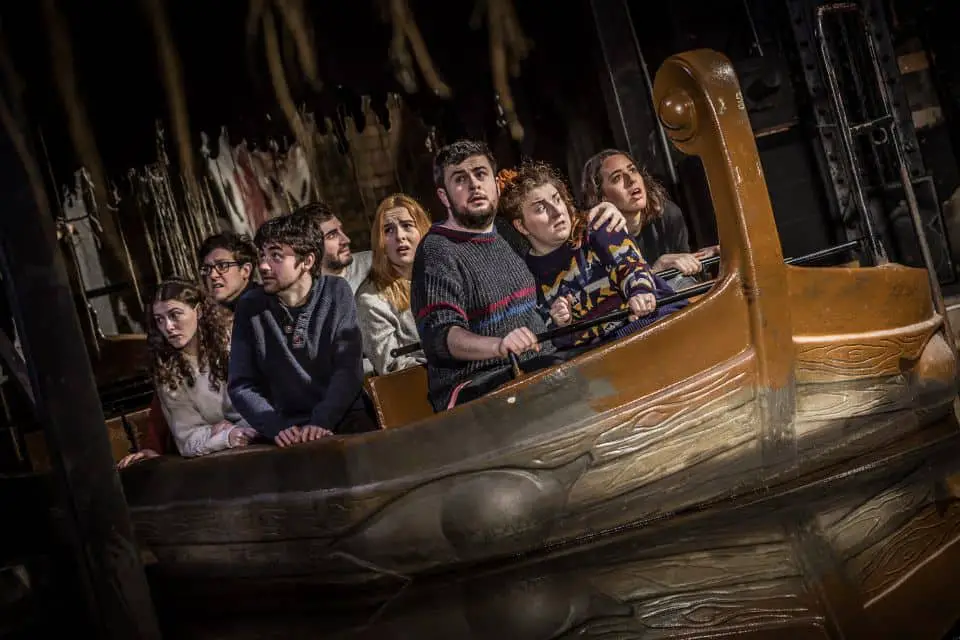 ---
8. 2-Hour Night-Time Ghost Tour
From: £15 pp
Duration: 2 hours
Paranormal enthusiasts and lovers of all things spooky hellbent on not leaving the city without at least one ghostly sighting under their belt will most likely be in luck with this bone-chilling 2-hour night-time tour.
Day-time ghost tours are all well and good, but it's the night-time ones that give a real authentic feel to them – as well as a much higher chance of seeing something unexplainable.
You will visit the city's cemeteries, alleys/wynds, and enjoy spooky visual projections, all while learning the history of the city. 
Please note: this tour isn't suitable for:
People with mobility issues
Children under the age of 5
---
Edinburgh Ghost Hunt: FAQs
What do we need to attend an Edinburgh ghost walk?
It is wise to make sure you have your ticket/eReceipt, as well as:
– Comfortable clothing and shoes
– A waterproof jacket
– Bottled water
---
More Scotland Posts
---
Free Resources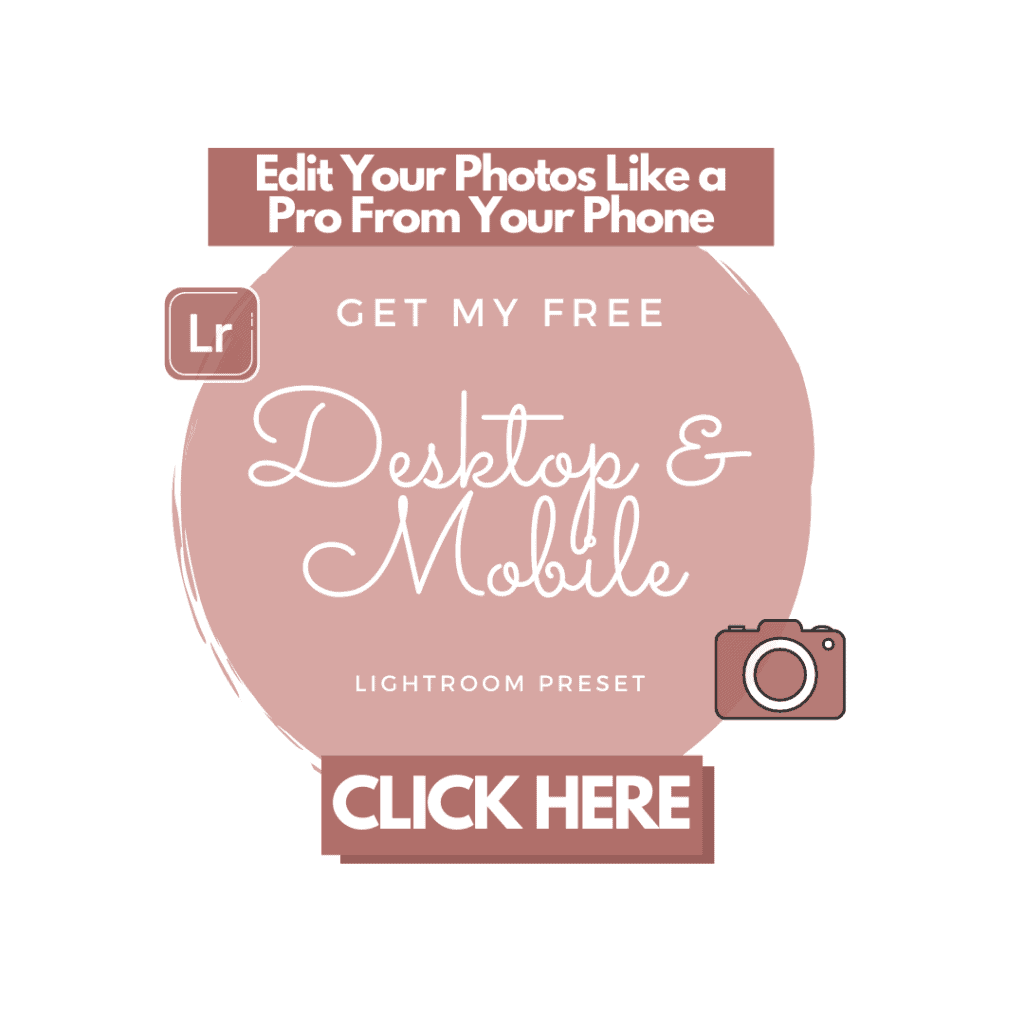 ---
And as always, you can find more sustainable travel content on Instagram @VoyagingHerbivore, Youtube, and TikTok and to get updates straight to your inbox, enter your email below in the footer, or to the right on the sidebar.

If you found this guide helpful and want to help us keep these resources free,
please consider making your next Amazon, Expedia, Hostel World, Etsy, and Booking.com purchase through our links (just click right on those words – you can do it right now and unless you clear your cookies before your next purchase, it will remember). It costs you no extra and gives us a small commission. Thank you!
---
Pin Ghost Tours in Edinburgh