Sip tea in the jungle tree tops or lounge on a beach outside of Los Angeles. Sleep in a hammock with no wallks
What could be better?
Doing it sustainably at an eco lodge or eco hotel! We asked 13 travel bloggers to recommend their favorite eco lodges. Keep reading to discover what they said!
---
This site is user-supported and that's why we use affiliate links. At no extra cost to you, we get a little bit of money when you purchase something through one of our links. Thank you for helping support ethical, sustainable, and plant-based travel! You can read more about our affiliate disclosure policy here.
---
---
What is an Eco Hotel?
An eco hotel or eco lodge, is a sustainably oriented accommodation that focuses on giving guests an experience, whether luxury, nature-oriented or anything in between, without harming the environment. These accommodations go above and beyond to demonstrate positive environmental initiatives.
---
Location: Yasawa Group of Islands, Fiji
Sustainability Aspect: Ocean conservation efforts, establishing a marine reserve, self-composting toilets, and wastewater treatment systems
Best Season to Visit: May to October
Best Activities: Swim with Manta Rays
Prices: Check Online
---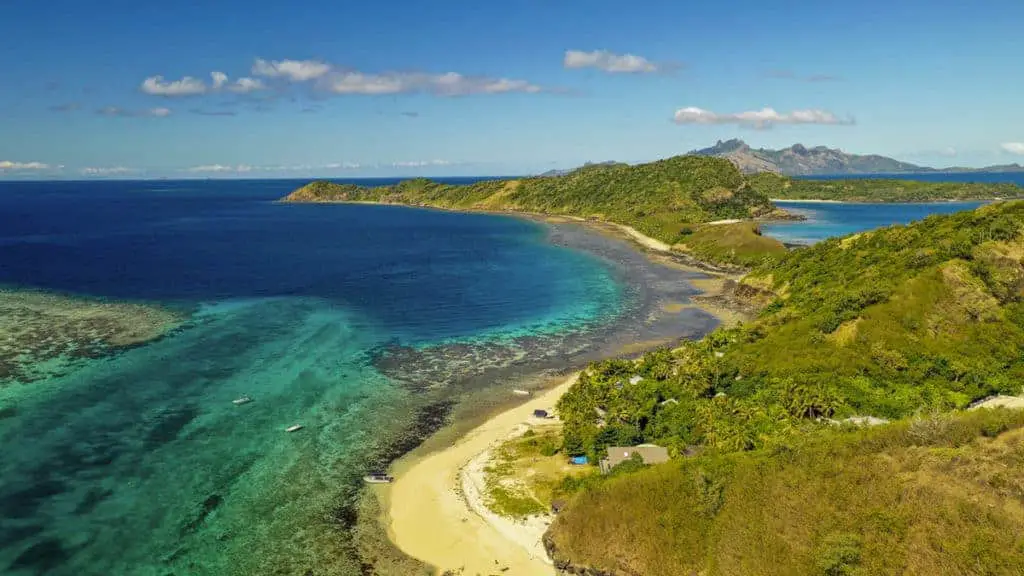 ---
If swimming with manta rays is on your bucket list then you must visit Mantaray Island Resort in Fiji. As an eco hotel that focuses on ocean conservation, you can be assured that interactions with the mantas are done properly and safely at the nearby channel.
Briefings are mandatory to ensure that the guests follow the strict rules of no touching, harassing, or riding the wildlife. Experienced guides are always present to ensure the safety of guests, as well as the mantas.
While many visit Mantaray Island Resort to swim with mantas, many go to the island for scuba diving as well. The surrounding reefs are absolutely breathtaking. This is partly because of the owners' careful planning when they were building the eco hotel.
As part of the lease agreement with the local landholding clan of Nanuya Balavu Island, the reef in front of Mantaray Island Resort was made into a voluntary marine reserve. This allowed the reef to flourish and is now one of the best places to dive and snorkel. Since protecting the ocean is important to Mantaray Island Resort, they have invested in technologies to reduce their environmental impact. They have odorless self-composting toilets to minimize the chances of septic tanks leaking into the ground. And they also have wastewater treatment systems so water from the kitchen, laundry, showers are processed and recycled to be used in their garden.
While walking on the beach you will find Eco-bin stations to encourage guests to pick up plastic trash they see. They have also gotten rid of plastic straws and styrofoam in their restaurants. These are some of the amazing things Mantaray Island Resort has done to reduce its negative impact on the ocean.
---
Submitted by Ara Juan of Diver Bliss. Find Ara on Instagram!
---
---
Location: Uttarakhand, India
Sustainability Aspect: Waste Management System and Water Conservation System
Best Season to Visit: Throughout the Year
Best Activities: Ayurvedic spa treatment here as they use organic herbs grown in their own garden
Prices: Check Online
---
---
Aahana Resort in Uttarakhand, India is an eco lodge that I visited in 2020 and was absolutely in love with. What I really loved about this eco hotel was that it was integrated with the local village and promotes eco-tourism. So, there were a lot of trees and plants planted here and they had even kept the pathway open for the villagers to cross and reach their destination while keeping the guests' security intact. In fact, a few of the staff members even told me that you can witness a leopard near the resort several times since it doesn't affect their habitat.
Since the entire place is integrated with nature, I really enjoyed taking walks around the property and to the nearby village fields. Also, I remember the relaxing Ayurvedic Spa Treatment where they used hot oil infused with herbs to give me a full body massage. That was so amazing and a hot steam bath and normal bath after that definitely made me feel fresh and rejuvenated. I was also amazed at the variety of dishes and desserts that they offered in the meals. From croissants to Poha, they had it all and I would always feel so full after my meals.
Honestly, spending three days here, away from the city hustle-bustle was my favorite part and I can never forget how amazingly relaxed I feel after that.
This eco hotel has taken several steps to make it sustainable and eco-friendly. They have their own waste management and water conservation systems that help them keep their carbon footprint low. They use the biggest water plant that recycles wastewater which is later used to water the gardens.
Their waste management system converts the biodegradable waste to manure that is later used and segregate non-biodegradable waste for recycling purpose. Moreover, the entire eco hotel has been constructed using repurposed wood from Gujarat and uses CFL and LED lights to reduce energy consumption. Finally, they use solar energy to heat the water and have a gobar gas plant that is used for cooking.
---
Submitted by Rachita Saxena of Meander Wander. Find Rachita on Instagram.
---
Location: Cabo Rojo, Dominican Republic
Sustainability Aspect: Integration of the surrounding nature and features such as outdoor showers or the restaurant using local ingredients, offering a source of income to the people from the next village Pedernales
Best Season to Visit: Year-round
Best Activities: Visit Bahía de las Águilas
Price: Check Online
---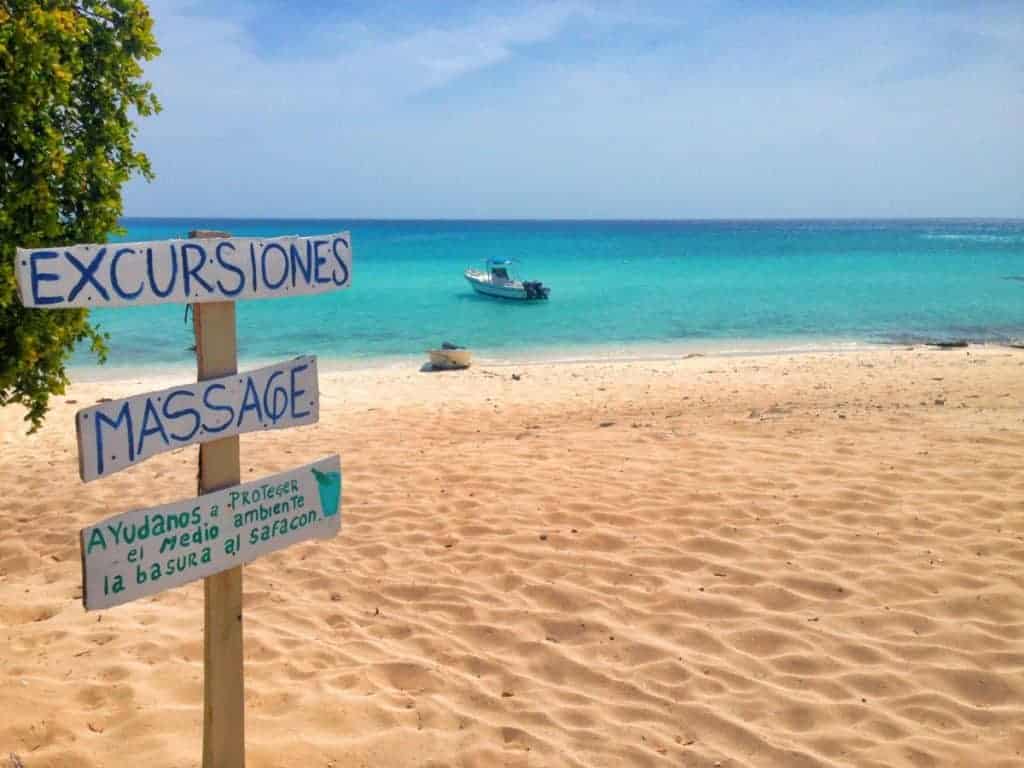 ---
One of the best eco-lodges in the Caribbean is located in the Dominican Republic. Eco del Mar is a glamping eco lodge on a pristine beach far away from all the tourist crowds. If you have ever dreamt of waking up right at a sandy white beach with turquoise ocean and nothing else around than untouched and plain nature, this is your spot to go.
The unique thing about Eco del Mar is that it's far away from everything, so you are completely connected with nature, as the next small town (Pedernales) is a 30-minute drive away, the next city (Barahona) even a 2-hour drive. Thanks to its natural materials, the integration of the surrounding nature, and features such as outdoor showers or the restaurant using local ingredients, the lodge emphasizes its eco-friendly approach.
When staying at Eco del Mar in the Dominican Republic, you can choose between glamping tents, wooden bungalows, or luxurious junior suites. This makes it affordable for every budget, while all of them are just steps away from the ocean.
During a stay at Eco del Mar, it is a must to visit Bahía de las Águilas, one of the most pristine beaches of the entire Dominican Republic and part of Jaragua National Park. You will find miles of white sand and turquoise ocean without any infrastructure nor visitors. Further highlights in this area (best visited when heading to or from Eco del Mar) include the Laguna Oviedo, Hoyo del Pelempito, Cueva de la Virgen, Rio La Plaza and Playa Los Patos.
As Eco del Mar is absolutely off-the-beaten-track, it takes some time to arrive at this hidden gem. The best is to rent a car and head from Santo Domingo or Punta Cana westward until you reach Barahona (3 respectively 6 hours). From there, it's another 2-hour drive through the amazing and untouched southwest until you reach the accommodation. Eco del Mar can be visited year-round.
Read More: How to Track and Offset Your Carbon Footprint
---
Submitted by Chris of Punta Cana Travel Blog. Find Chris on Facebook.
---
Location: Drake, Costa Rica
Sustainability Aspect: All huts are made of natural materials, e.g. wood, they are part open-air/part minimalistic design and all nestled inside a tropical garden where many different species continue to live without interruption.
Best Season to Visit: The dry season is best as you'll be able to do all the outdoors activities
Best Activities: A night walk in the tropical garden to observe wildlife – frogs, snakes, spiders, night-active mammals, and lizards.
Price: Check Online
---
---
Have you ever stayed in a room without walls? We have! The room of our hut in the tropical rainforest near Drake Bay in Costa was just having one wall and an improvised thatched roof to protect mainly from rain and other people's eyes. Our only protection from the outside world was the mosquito nets of our beds.
We've never felt so free to stay in the middle of a lush tropical garden, where our only neighbors were a few monkeys. They had no problems finding their bananas that owners provided so nobody would remain hungry!
We did a night walk starting from our hut, led by an experienced local guide who showed us all the nightly active wildlife in the area. We met many spiders, lizards, insects, and mammals, but we fell in love with the diversity of frogs in the area – the red-eyed stream frogs, the crystal frogs, the rain frogs. It was like a frog fiesta! Staying in Mohagine Hotel was one of our Costa Rica highlights.
The hotel is located just inside a tropical garden where they produce more than 60 different fruit and vegetable types, 50 different orchids, and 70 different sorts of tropical flowers to make it even more beautiful.
The garden is surrounded by primary rainforest with uncountable wild and natural species of trees and bushes. The owners never cut trees or plant something which is not coming out of this region.
We highly recommend Mohagine to everyone who wants to reconnect with nature, enjoy the wildlife around, experience the biodiversity of Costa Rica, relax and recharge!
---
Submitted by Bistra & Nace of The Magic of Traveling. Find them on Instagram!
---
Location: San Ignacio, Belize
Sustainability Aspect: Solar energy, rainwater collection, farm-to-table restaurant. limited electricity
Best Season to Visit: WInter
Best Activity: Canoeing the Macal River
Price: Check Online
---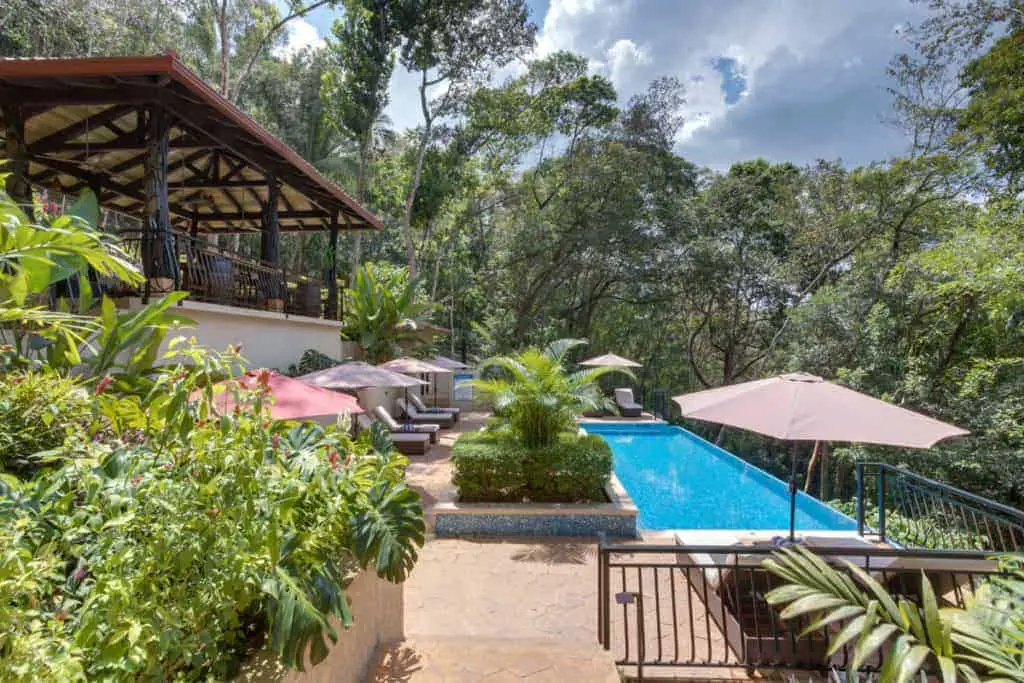 ---
Located in the dense jungle outside San Ignacio, Belize, Table Rock Jungle Lodge is a luxurious yet sustainable eco lodge. This beautiful relaxing eco hotel offers private cabanas and plenty of activities to keep guests entertained on the property. Table Rock utilizes solar energy to power everything from the commercial fans in the cabanas to the electricity and water heaters. For this reason, electricity, WiFi, and hot water are limited. In fact, you won't even find electrical outlets in the cabanas, only USB outlets for charging small devices like phones and tablets. The eco-lodge also utilizes collected rainwater for showering and irrigating the food that is grown on the property.
Although it may sound primitive, staying in a jungle lodge, like Table Rock, is one of the best things to do in San Ignacio, Belize. You can have a fun-filled vacation without ever having to leave the eco lodge. Situated on 105 acres of land and bordering the Macal River, Table Rock offers numerous on-site activities.
Canoes and tubes are available for guests to use for free. There are also well-marked hiking trails that take you through the jungle to see some of the Belizean wildlife up-close. Additionally, you can relax in the saltwater infinity pool, or meet the friendly donkeys, hens, and rabbits that live on the property. With a farm-to-table restaurant on site, and so much to do, Table Rock is definitely one of the world's best eco-lodges.
---
Submitted by Melissa of Parenthood and Passports. Find Melissa on Instagram.
---
---
Location: Danum Valley Conservation Area, Borneo, Malaysia
Sustainability Aspect: The lodge has multiple eco-friendly policies and practices including having a refill station for drinking water, using biodegradable bags and lunch boxes, waste recycling, and using zero-chemical detergents.
Best Season to Visit: During the dry season from late March to early December
Best Activity: The guided hikes are not to be missed. This is one of the best places in Borneo to see orangutans and the lodge has constructed a walkway in the canopy so that you can have a good chance of seeing orangutans and hornbills with ease, safety, and minimal impact to the environment.
Price: Check Online
---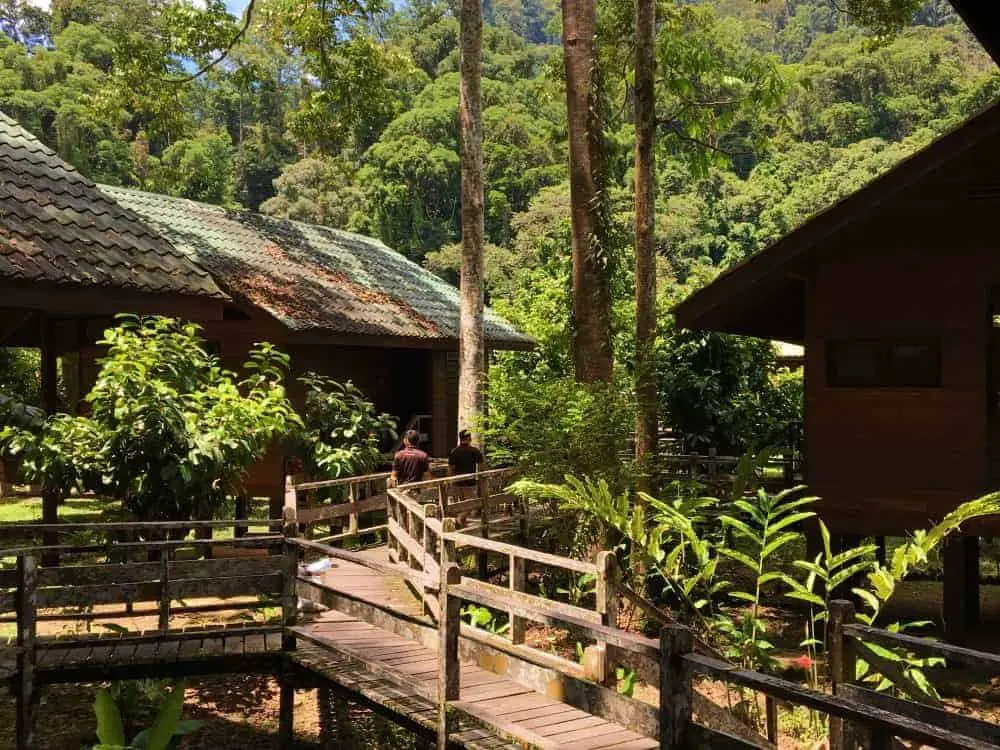 ---
We were picked up from the Borneo Rainforest Lodge's office in Lahad Datu and driven in a private jeep for the two-hour ride to the lodge. The road is dirt, but it was comfortable. We were greeted with leis made from leaves and had an orientation. We had some free time to relax in the lounge before a short guided hike on a boardwalk near the lodge. That night, after dinner, we had another guided hike around the area and saw some nocturnal animals including some amazing frogs.
The next day, after an amazing breakfast, we did a short hike across the canopy walkway, which takes you through the treetops. We saw an orangutan and some red leaf monkeys. Then we had a longer guided hike up the hill across from the lodge to a viewpoint looking over the lodge, the river, and the jungle. We ended up at a waterfall.
After a late lunch, we hiked to a spot in the river where small fish come and nibble the dead skin off your feet. It was kind of freaky, but fun. That night, a group of us were taken in the back of a truck on a night drive through the jungle where a powerful spotlight enabled us to see nocturnal animals such as a lemur, a giant flying squirrel, and a cloud leopard. The following morning, we did another hike and went back to the canopy walkways where we saw a baby orangutan and its mother in a nest, plus several hornbills. After lunch, we were driven back to Lahad Datu. The Borneo Rainforest eco lodge is an incredible place to discover amazing wildlife and nature!
Even though this is in the middle of the jungle, there are no AC units. Instead, ceiling fans are used. The chalets are all built according to passive design principles that include a ventilation system that is designed to circulate air using the thermal heat from the bathroom. Water is heated using solar panels and energy-saving lightbulbs are used. The restaurant serves local products wherever possible and some of the food is even grown in their on-site organic garden. The rates are all-inclusive and include guided hikes. It is not possible to hike without a guide, which helps preserve the trails and, since many of the guides and other staff are hired from nearby communities, gives employment opportunities to local people.
Read More: 16 Eco Travel Tips by Travel Bloggers
---
Submitted by James Ian of Travel Collecting. Find James on Pinterest.
---
Location: Tefe Brazil
Sustainability Aspect: Food is sourced locally, rainwater is recycled, the lodge is run on solar energy, and the tiles used for construction are made of recycled plastic bottles
Best Season to Visit: June and July
Best Activities: Glide through the flooded forest on a paddle canoe
Price: Check Online
---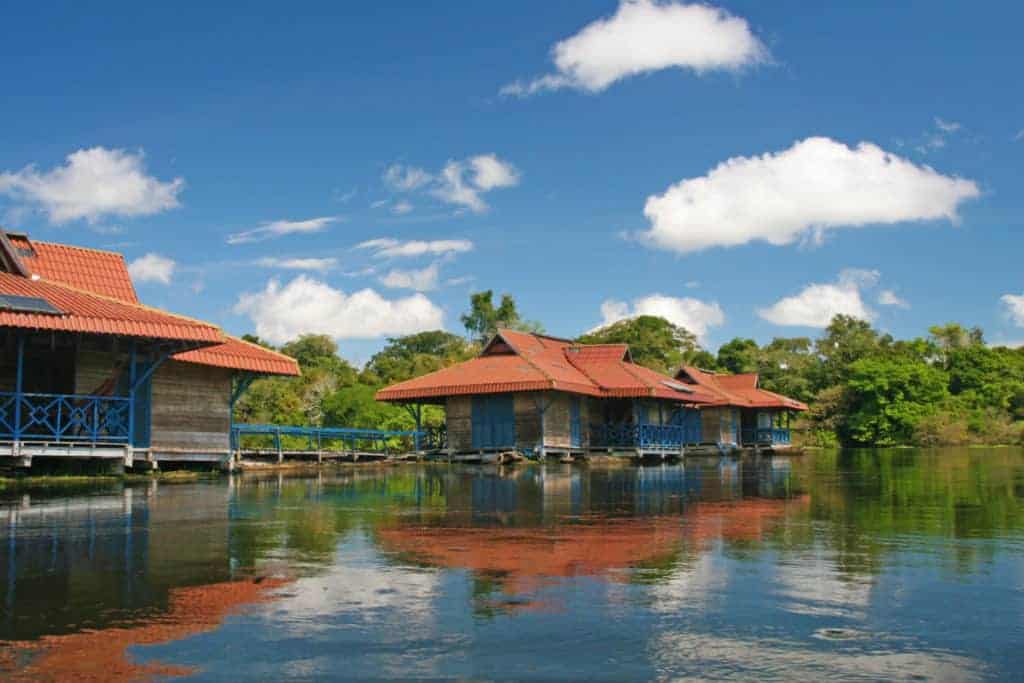 ---
The Amazon is the size of the lower 48 US states and stretches across 9 countries – Brazil, Bolivia, Peru, Ecuador, Colombia, Venezuela, Guyana, Suriname, and French Guiana.
60% of the rainforest is in Brazil. Ukari Lodge is situated close to the small village of Tefe, which is located in the middle of the Brazilian Amazon.
Eight local communities are involved in the running of the lodge and the Mamiraua Reserve surrounding it. The reserve was set up to protect the Amazon rainforest. The lodge provides employment and uses local produce, helping to support village life in an area where paid work is difficult to find.
Profits from the lodge are used to fund the reserve as well as improve the life of the local communities. Both the reserve and lodge were established to help reconcile conservation and sustainable development which would also benefit the local population. The success of this project is partly what makes it such a special place to visit. Another reason is this is a true off the beaten path rainforest experience. Gliding through the forest on a paddle canoe, listening to the monkeys and birds high above you, is an experience you will never forget.
As the name indicates the rainforest sees a lot of rain. The wettest month is February and the driest is September. The best time to visit depends on whether or not you want to see the flooded forest which the area is so famous for. The flooded season is normally during June and July, but it can start earlier or last longer. During the flooded season, you will not set foot on land until you get back to Tefe – an experience offered nowhere else in the world.
---
Submitted by Kristin of Adventures with Ensuite. Find Kristin on Instagram.
---
---
Location: Ankazoberavina Island, Madagascar
Sustainability Aspect: The lodge is built to blend in with nature with only eco friendly material, built by locals and giving work to locals. There is a green turtle hatching beach in front of the lodge. The owner and staff teach guests about the hatching in the season so the animals are respected and not interfered with. No lights at night to not disturb wildlife. Guests are briefed on leave no trace when they arrive. The eco lodge only uses rainwater.
Best Season to Visit: November is whale shark season and turtles start hatching throughout the winter months.
Best Activities: Visit the nearby islands, snorkel, or scuba diving.
Price: Check Online
---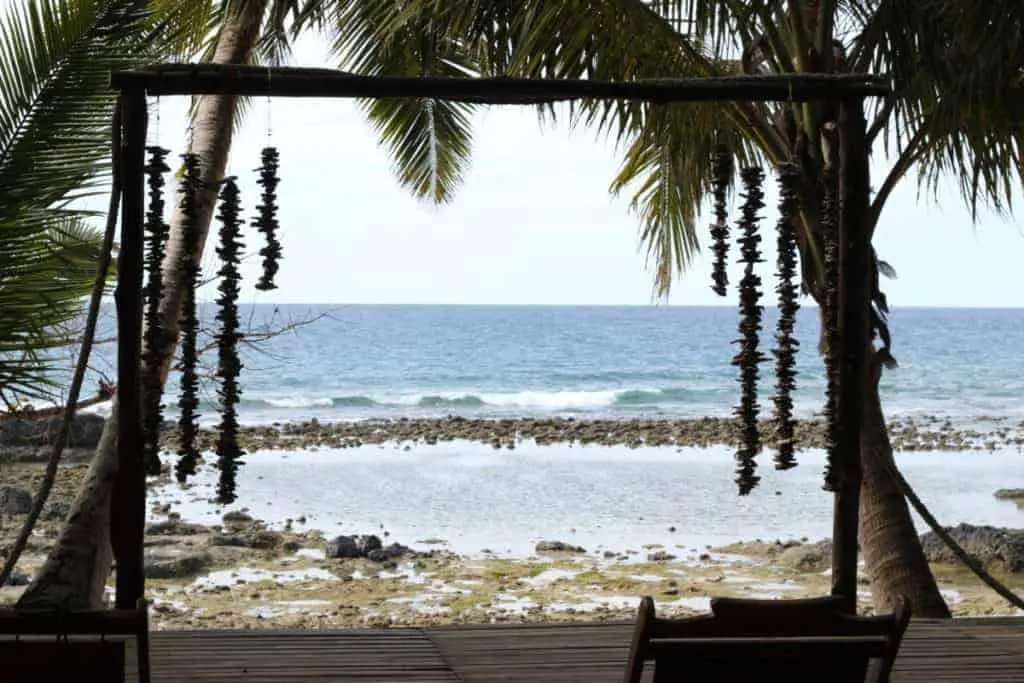 ---
This is a beautiful ecolodge that truly works for preserving nature and wildlife on the island and the marine life surrounding it. It is owned and run by an Italian who has lived nearly 30 years in Madagascar and calls the place home. He is passionate about diving and take guests to all the best dive sites nearby.
I was there in November, solely to swim with whale sharks in a remote and ethical place. And I had the best time! We also observed a turtle lay her eggs on the beach one morning and learned so much about the species and what they do to protect them and their hatchlings. We also observed tiny baby sharks hiding out for predators in the mangroves and hunting tiny fish. On the other side of the island, you can snorkel with big green turtles.
There are also two lemur packs on the island that usually peak out when fruit is served after dinner. Guests are not allowed to feed them at the tables. There are also a couple of lemurs that don't belong to the packs that live on the island, that the owner has rescued from unethical animal tourism practices on other islands. These lemurs are comfortable around humans and will sometimes decide to get close to you. This eco hotel is amazing for animal lovers that want to see wildlife in an ethical way.
---
Submitted by Linn Haglund of Brainy Backpackers. Find Linn on Facebook.
---
---
Location: El Minia, Egypt
Sustainability Aspect: Solar energy, recycling, upcycling, community development projects
Best Season to Visit: Winter
Best Activity: Ancient Egyptian city of El Amarna
Price: Check Online
---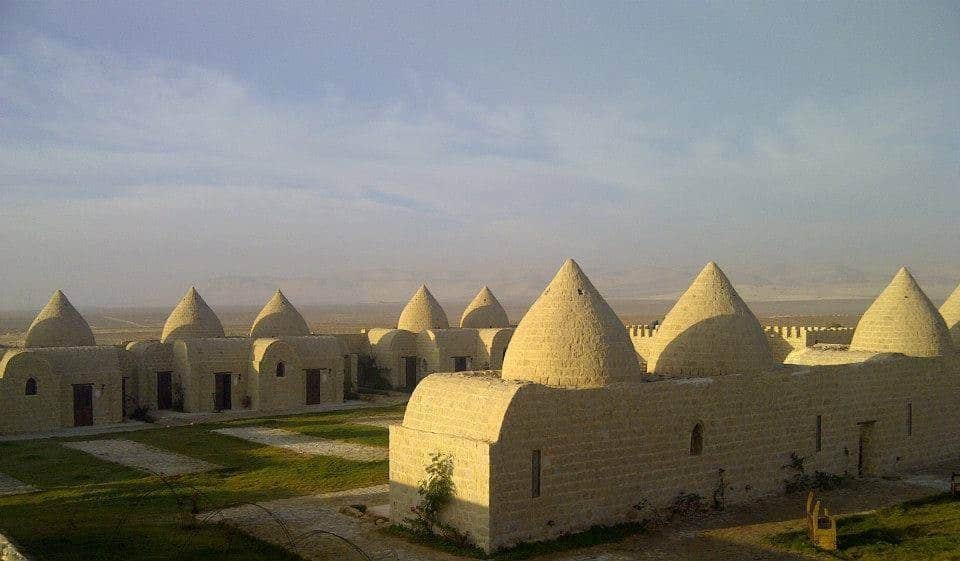 ---
New Hermopolis is an eco hotel in the heart of Egypt. Because of its location near the city of El Minia, the best seasons to visit would be autumn or winter. The complex includes a lodge, a cultural space and a farm complete with olive groves and a vineyard. Other facilities on site include a communal dining area, library, swimming pool and herbal garden.
Most visitors to New Hermopolis spend a few days in one of the 16 beautiful studios to attend a yoga retreat, company event or just get away from the stress of the city. Others, especially writers and artists, tend to stay longer and gather inspiration to work on their next project.
The founder of New Hermopolis, Dr Mervat Nasser, had a vision to capitalise on the area's cultural and historical heritage to develop the local community. Most of the profits from the lodge and farm fund activities such as Thoth's Festival, an annual art festival where local youth showcase their artwork.
The architecture is inspired by the local villages with the whole complex made out of locally sourced limestone. The doors, windows, domes and arches are built in a way to maximise ventilation and insulation. The lodge is a pioneer when it comes to recycling and upcycling, and it relies on solar energy for heating.
There is a lot to see there since the lodge is close to the ancient Egyptian city of "El Amarna," founded by the notorious Pharaoh Akhenaten, who together with his wife Nefertiti established a new religious cult worshipping the sun. There is another city dating back to Ptolemaic times called "El Bahnasa" and several ancient sites with temples and tombs such as "Deir El Bersha" and "Bani Hassan." Also, the nearby town of Mallawi has a museum worth visiting.
Read More: How to Have a Zero Waste Period
---
Submitted by Miriam Menkarius of Miro from Cairo. Find Miriam on Facebook.
---
Location: Los Angeles, United States
Sustainability Aspect: Hotel uses only paper straws, donates good condition/unused food and toiletries to charity, and offers several experiences for guests to experience that promote learning about the region's ecology and wildlife
Best Season to Visit: Year-round or winter for whale migration season
Best Activities: Paddleboarding through protected kelp forests and witnessing the area's unique marine life up close!
Price: Check Online
---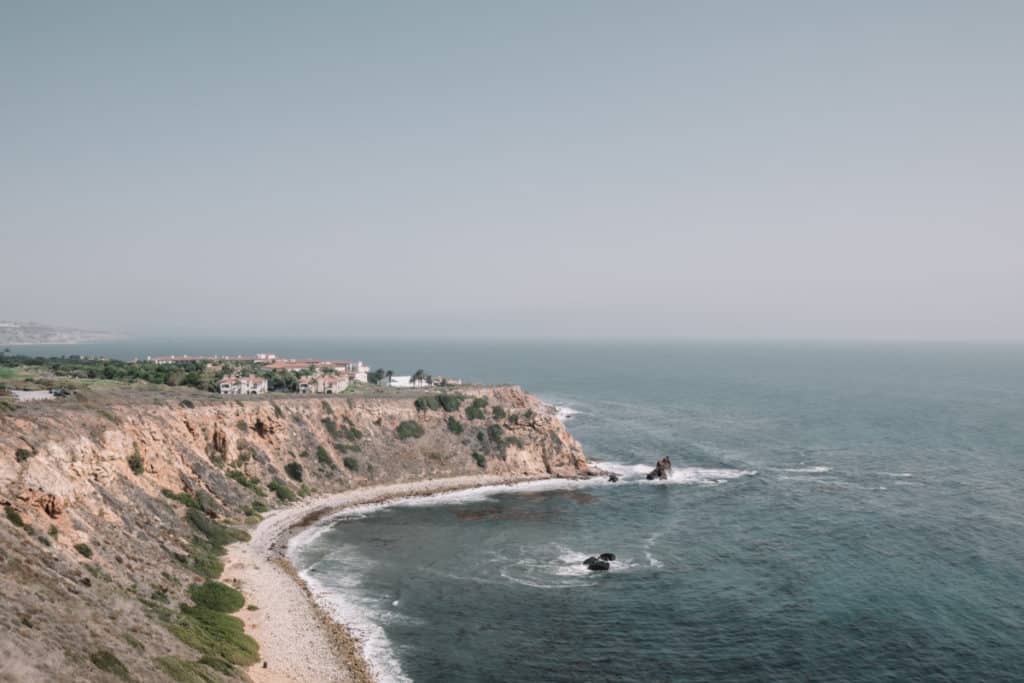 ---
Just outside of Los Angeles, situated at the tip of a dramatic peninsula overlooking Catalina Island, Terranea is an oceanfront eco resort as famous for its sustainable practices as it is for its coveted location. Opened in 2009, this eco hotel sought out not only to protect the environment it calls home, but to weave this eco-conscious effort into to every aesthetic, culinary, and logistical choice the property makes to run its operations.
Some of the ways Terranea Resort sets out to be an eco-friendly hotel include reserving 75% of its 102 acres as natural space for wildlife to flourish, donating good-condition or unused food and toiletries to local charities, utilizing sea salt harvested on site (along with farm-grown produce and olive oil) in all seasonal menus, providing only paper straws, and equipping staff with uniforms made of sustainable fabrics.
But it's not just the sustainable initiatives that make this hotel remarkable. The property itself is absolutely stunning, and there's so much you can do! One of the most unique activities to try when you're here is paddleboarding off of Terranea Beach, where you can float over protected kelp forests and possibly even encounter seals, dolphins, and fish along the way. You can also hike one of the dozens of coastal trails in the area, offering up incredible views of the hotel, the peninsula, and the Pacific Ocean beyond.
---
Submitted by Rachel-Jean Firchau of Rachel Off Duty. Find Rachel on Instagram.
---
---
Location: Beauly, Scotland
Sustainability Aspect: Self-sufficient utility and energy, sustainable building materials, tree planting scheme
Best Season to Visit: Year-round
Best Activity: Any of the hiking trails or outdoor activities
Price: Check Online
---
---
Sprawling over 8000 acres of land nestled in the highlands, Eagle Brae consists of 10 hand-cut giant cedar wood log cabins. Committed to sustainable tourism, Eagle Brae is self-sufficient in its utility and energy needs. Their micro-hydro scheme works with the local reservoir in generating the electricity and hot water for all their cabins. They have biomass wood-pellet burners that provide underfloor heating keeping the log cabins warm in the winter months. Every cabin is constructed with a turf roof adding sustainability to their existing design. They blend so well with the environment and keeps the cabins insulated all year round, and provide a habitat for small insects. They also encourage guests to partake in the tree planting scheme thus contributing to their journey towards sustainability.
Just like how Scotland is a year round destination, Eagle Brae can be visited any time of the year, and you will still be mesmerised by the charm and wilderness the entire region offers you. Autumn deer rut season, so you can catch a glimpse of nature's battle as they fight for the strongest! Winter with longer dark nights, enjoy the sky gazing. If you are lucky, you can witness Northern Lights too!
Eagle Brae Log Cabins are nestled between the valleys of Glen Affric and Glen Strathfarrar, only 30 minutes away from Inverness. There are plenty of walks one can choose from. Visit the Loch Affric, or hike to Plodda or Dog Falls. Grab your binoculars and go on wildlife spotting and bird watching. The glens that surround Eagle Brae are home to Golden eagles and red deers and otters. There are also an array of activities that Eagle Brae offers – Kayaking, camera stalking, black grouse safaris, clay pigeon shooting.
Eagle Brae is not a holiday cottage that we usually encounter. The log cabin and its setting transport you to a wilderness that Scotland is known for. We absolutely enjoyed staying in Eagle Brae, because it is fully equipped with modern amenities, kitchen, good internet, and cosy rooms – all at the lap of nature. During our stay, we saw birds chirping at our patio, and we spotted deers at our doorstep. The kitchen is fully equipped, but if we are not in the mood to cook, we could order the prep meals that Eagle Brae provides.
Read More: The Ultimate 10 Day Scotland Road Trip
---
Submitted by Anuradha of Country Hopping Couple. Find Anuradha on Instagram.
---
Location: Playa Avellenas, Costa Rica
Sustainability Aspect: Day to day operations and design
Best Season to Visit: During the shoulder seasons, between November-early December and May-July
Best Activity: Yoga and Surf
Price: Check Online
---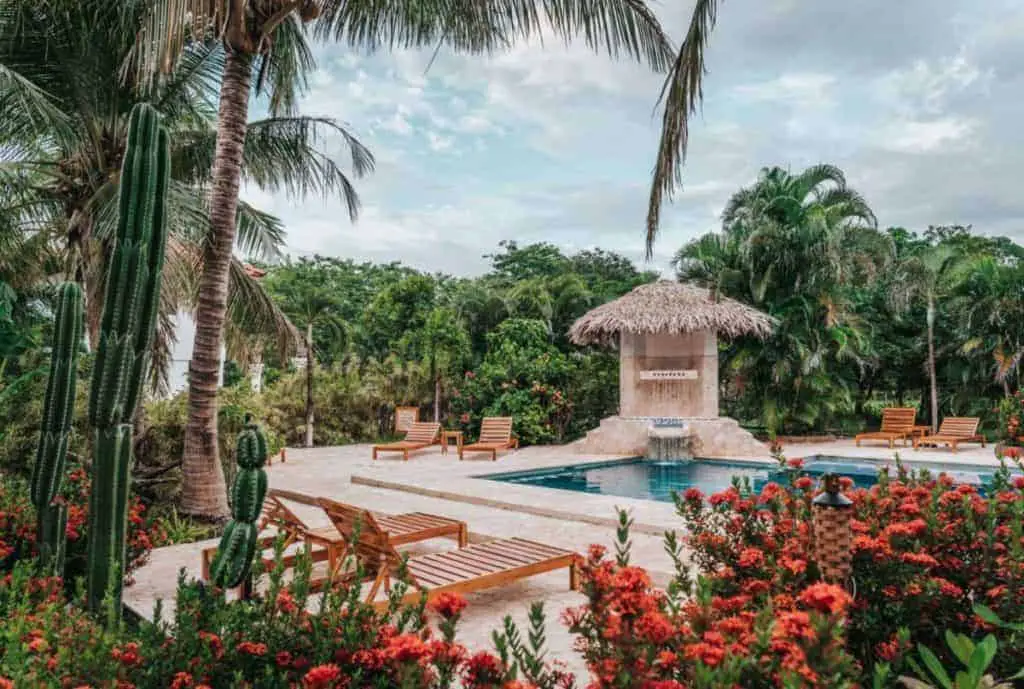 ---
Drift Away Eco Lodge in Costa Rica is our labour of love. Tucked away in the tropical paradise of Playa Avellanas in Guanacaste, Drift Away Eco Lodge is a great destination to unwind and reconnect with nature. The property was designed with an eco conscious mindset and aims to have a positive impact not only on the environment but also on the nearby community.
From an environmental point of view, the property features practices like "no single-use plastic" policy, biodegradable natural toiletries and cleaning products, and the use of UV and ionization pool cleaning and filtration process to minimize the use of harmful chemicals. To empower the local community, the eco-lodge works with local suppliers and producers, hires locally and provides training and support.
The best time to visit Drift Away Eco Lodge is during the shoulder seasons, between November-early December and May-July. The weather is still lovely but you won't experience the crowds in nearby tourist hotspots like Tamarindo. At Drift Away Eco Lodge you can partake in a yoga class in the shala, indulge in some self-care by getting a massage, or simply lay back on the beach or by the pool. Surfing is a popular pastime in Playa Avellanas. If you are an advanced surfer you will love Little Hawaii, a break which is located just minutes from the eco-lodge.
There is no charge for renting surfboards, bicycles, or boogie boards and the guests at the lodge are able to enjoy plenty of other nearby activities. Surf lessons, SUP tours, or estuary tours are a popular choice for those wanting to try something new!
---
Submitted by Oksana and Max of Drink Tea & Travel. Find them on Instagram.
---
Location: Lonavla, near Pune, India
Sustainability Aspect: Renewable energy sources, recycling water, LED lights, organic gardening
Best Season to Visit: Monsoons (June to Oct) is a resplendent time to visit the eco hotel, as the area comes alive in the lush greens.
Best Activity: The trekking trail, which is essentially a tour-around of the property, also giving a glimpse of the other Machans and the wild flora & fauna. There is one stretch where there is a bit of a climb, barring which it is a fairly doable trek, and the guide helps you along the way in identifying the different tree/plant species.
Price: Check Online
---
---
The eco hotel is a perfect short getaway, if you want to get spoiled in a luxurious property in the midst of nature. Stretching over an expanse of 25 acres, the Machan is quite sought after for its exquisitely designed rooms and the trails leading up to your 'finds'.
We stayed at their 'Woods' property, and the moment I stepped inside the room, it literally did feel like I was besotted in the middle of a jungle. The entire look lends it a rustic charm. There is a neat washroom with bathtub and shower, and a small balcony in the 'Woods'.
Their reception desk has a spacious lobby, where I could just sit for hours doing nothing. The audible chirping of birds and the calm view of the waters ahead was a delightful experience. We headed next for the trekking trail, which is essentially a tour-around of the property. The candlelit dinner-side, under the open sky, was a welcome surprise. The buffet menu was primarily Indian, and there was a separate counter for the south Indian delicacies like Kuli-Paniyaram. The staff was very friendly and helpful, & I must admit, had it not been for their coaxing I wouldn't have indulged in that extra bit of food.
We welcomed the day indulging in a hot cuppa tea sitting on the balcony, serenaded by trees all around. Our starved selves enjoyed the trail along the property to reach the breakfast place. It's interesting how the property is so spread-out, and there is a different trail that takes you to each destination, almost as if one is on an exploratory mission, all this while being besotted in the green forestry.
The Machan generates almost all the energy from renewable sources (wind and solar). They are big into recycling water, to water plants, using CFL and LED lights across the property, organically growing flora in the property, and sourcing fresh mountain water through borewell. The eco lodge cooks 50% of meals and 20% of guest meals on parabolic solar cookers. They have 4 km of private paths, on which guided trails are conducted which give a sneak peek into the natural environs. They also limit their accommodation at a time, in effort to reduce the carbon footprint.
---
Submitted by Aradhana of Nomadic Suitcase. Find Aradhana on Instagram.
---
---
Discover More Eco Travel Resources
Ready to continue your journey towards being an expert eco traveler? Check out the posts below to learn more!
---
And as always, you can find more sustainable travel content on Instagram @VoyagingHerbivore, Youtube, and TikTok and to get updates straight to your inbox, enter your email below in the footer, or to the right on the sidebar.

If you found this guide helpful and want to help us keep these resources free,
please consider making your next Amazon, Expedia, Hostel World, Etsy, and Booking.com purchase through our links (just click right on those words – you can do it right now and unless you clear your cookies before your next purchase, it will remember). It costs you no extra and gives us a small commission. Thank you!
---
Pin "13 Spectacular Eco Hotels You Need to Visit"