A night under the stars and off the grid while cozied up in your comfy king-sized bed with a fire keeping your toasty warm. 
Sound too good to be true? 
You might just love glamping in Norfolk at Round the Woods. Keep reading to learn more!
---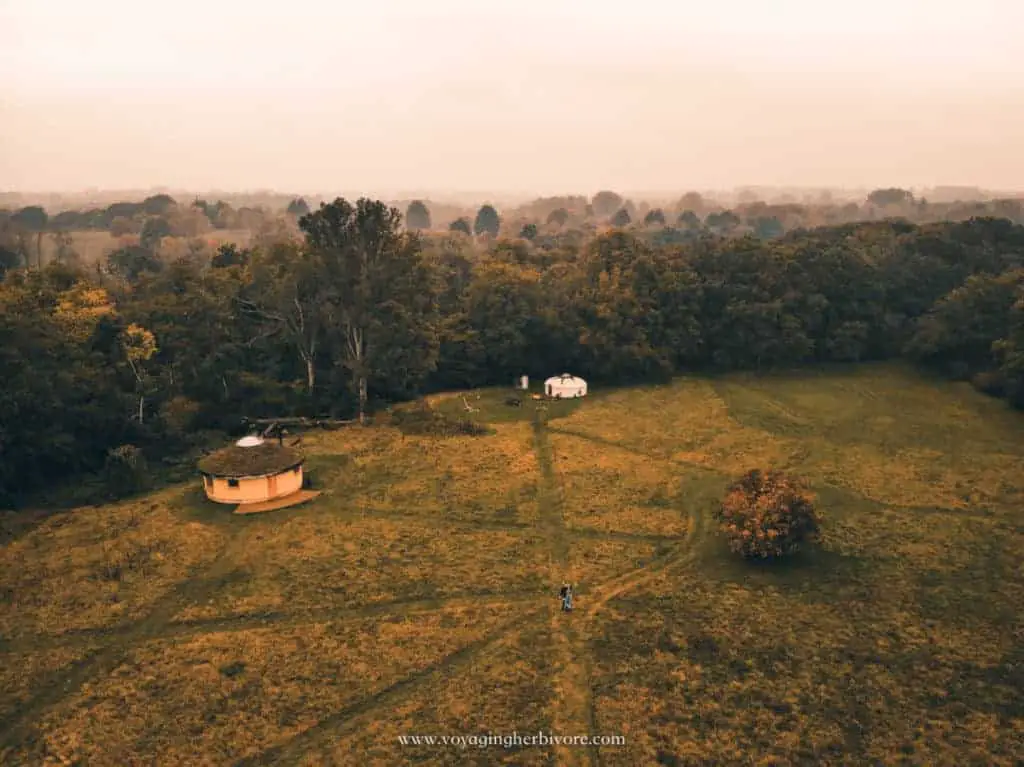 ---
Please note, in October 2020 we were invited to stay for free at Round the Woods but were not compensated in any other way. All views in this post reflect our own opinions. 
---
What is Glamping?
Like the idea of sleeping under the stars but worried about missing your memory foam mattress and creature comforts? Glamping is the perfect solution!
Glamping is a luxury camping experience and at Round the Woods, a glamping site in Norfolk, you'll stay in a cozy yurt, complete with wood flooring, a stove to keep you warm, a gorgeous mattress and warm duvet, and showers just a short walk away.
Whether you're new to camping or you're looking to slowly immerse yourself in nature overnight, glamping in Norfolk is a great place to start!
---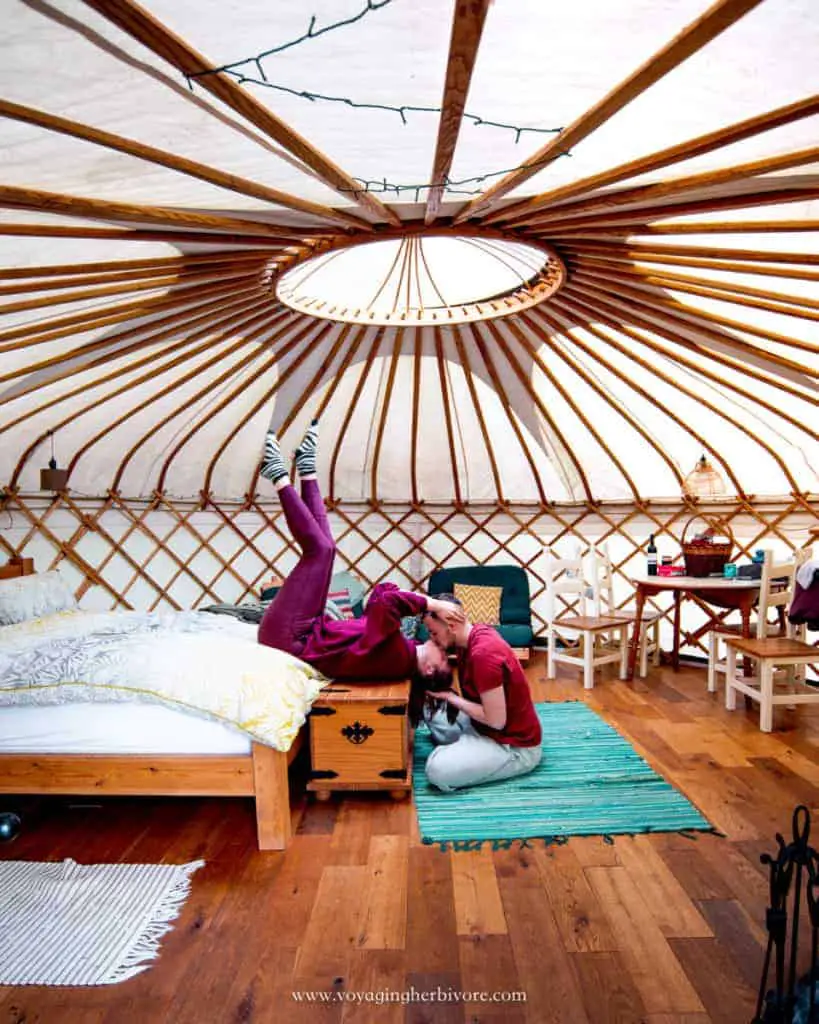 ---
Glamping in Norfolk at Round the Woods
Round the Woods is a luxury eco glamping site located in the UK's beautiful Norfolk, situated on a 20-acre nature reserve. With two yurts and the year-Round House, it's the perfect weekend or city break for couples, families, or those looking to take a step away from technology.
As you arrive, you'll be greeted by Kate and Seb, the owners of Round the Woods. The couple is absolutely lovely and are always happy to chat with guest and talk more about the property – and it really is worth chatting about!
Kate and Seb will escort you to your accommodation and given a brief overview of how things work and introduce you to the property.
---

---
Accommodation
Yurts: You'll find two yurts, the Oak Tree Yurt and the Hazelnut Yurt, on the property, with a decent distance and a large fire pit separating them. Both feature the same amenities in addition to a king-size bed (you can request a synthetic comforter instead of feather), comfy chairs, a table and chairs, and a kitchen. The yurts are a bit TARDIS-like in that although they don't appear to comfortably fit more than a few people when in reality, you could comfortably sleep at least four. The properties are gorgeous and even with wood flooring, they are completely removable and are taken down for the winter season.
The Roundhouse: As of October 2020, The Roundhouse is a new structure and will be ready to host visitors later in the year. It will be a year-round glamping experience in a year-round structure that features the same amenities as the yurts but with even more space and a compost toilet attached (in a separate room).
The Roundhouse is clearly a passion project of Kate and Seb and it shows in the beauty of the structure. Created to be environmentally friendly (living roof, reclaimed glass and wood, and less environmentally intrusive concrete pads instead of a full sheet of concrete), is absolutely stunning. Just check out our stories on Instagram to see it!
---
---
Amenities
Kitchen: In your yurt, you'll find a wood-burning stove that quickly warms up the space. It also has a small oven which (if you carefully watch your food – unlike us) you can cook small meals. You'll also find a gas camping stove and cooking utensils (knives, glasses, tea, cutting board, baking tray, kettle, etc) and a large drinking water container that can be easily refilled. There's a little basket of goodies available upon arival Kate and Seb were even so kind as to find us vegan marshmallows to roast!
---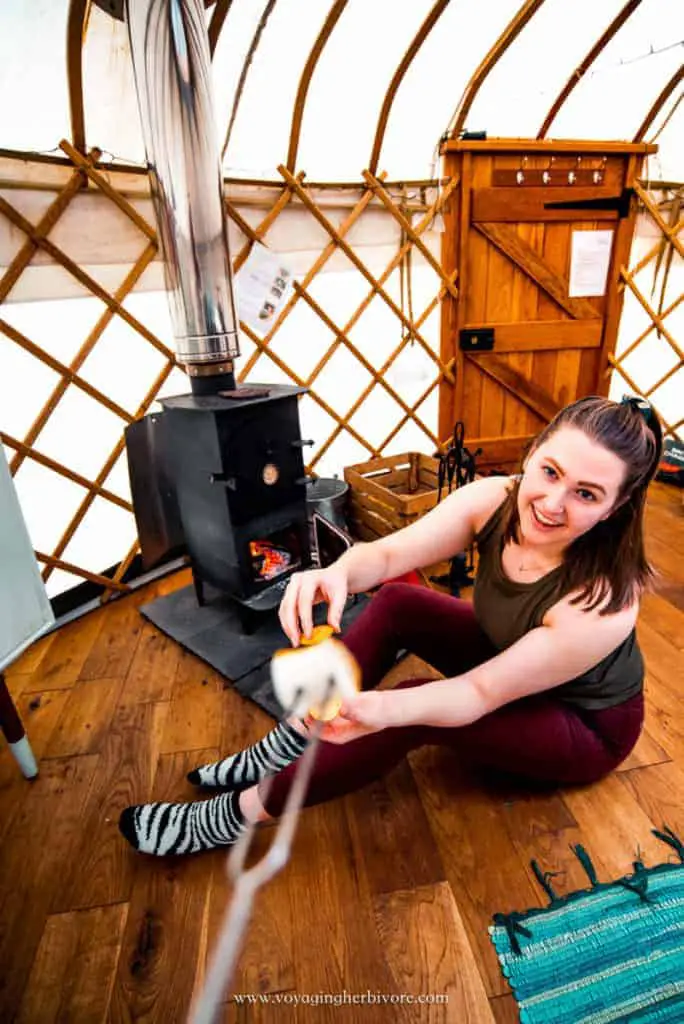 ---
Toilet: A private compost toilet is located just outside of your doorstep in its own little room. The toilet is very clean and uses sawdust to keep smells at bay. You'll also find soap and a hand pump to wash your hands. If you're staying in the Round House, you'll find your compost toilet attached so there's no need to step outside! Don't worry – they don't smell at all!
Shower and sink: Located in what is a completely remodeled shipping container, you'll find the shower block. Every guest has their own shower room complete with a sink. The building is heated and even has a heated towel rack so if the outdoors get to be a bit too much, it's easy to pop in to wash the day off before heading back to your comfy bed.
---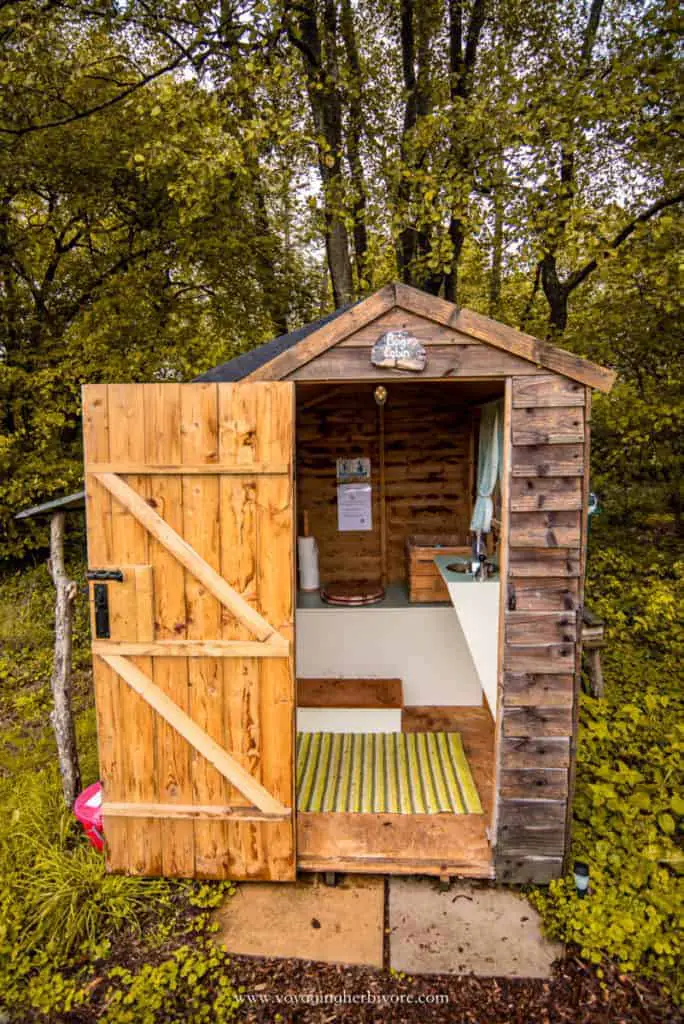 ---
Fridge/Freezer: In the shower block, you'll also find a fridge and freezer to use. In this area, there's also a microwave if you decide you want something quick to eat.
Honesty Shop: Although you're provided with dried wood, kindling, newspaper, and matches, if starting a fire still proves a bit tricky, you can always purchase some instant fire starters from the honesty shop, located in the shower block. You'll also find charcoal and ice-cream available to purchase!
Electronics Charging: Although your yurt is an electronics-free zone (no charging ports – you can bring your electronics in), you'll also find in the shower block a small locker to charge your electronics. No need to bring your own lock, they're provided!
Check out the full list of amenities here!
---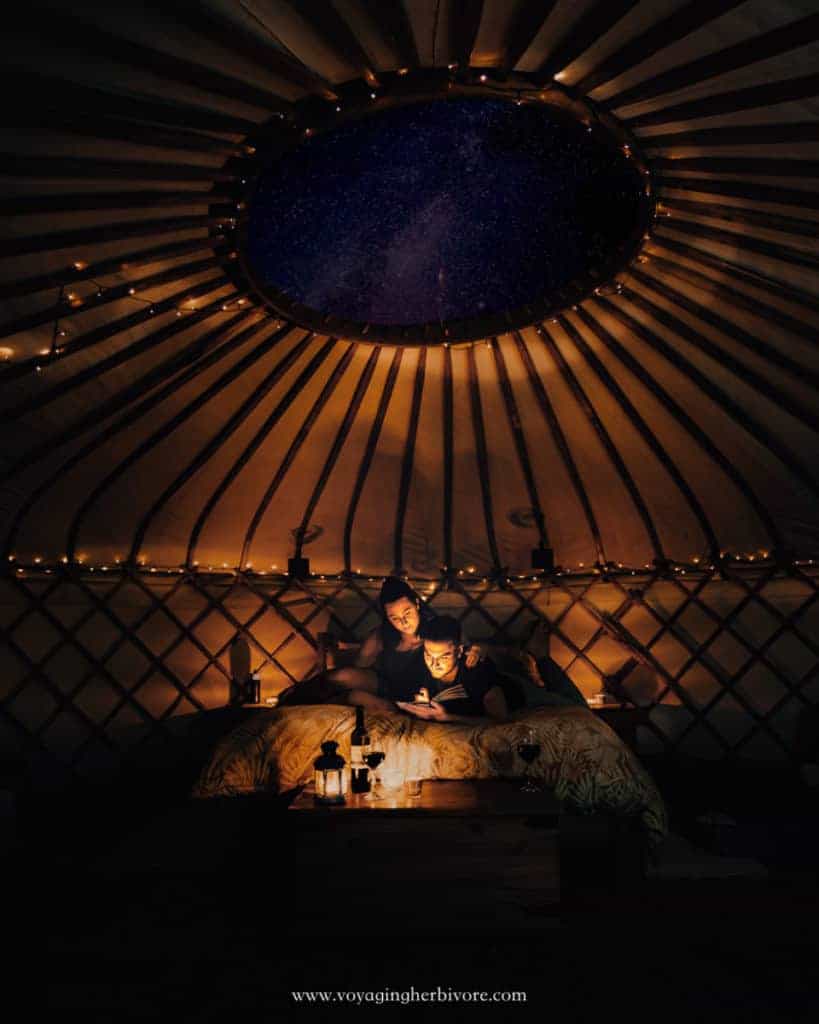 ---
Activities
There are wide variety of activities to do in the area, from hiking and canoeing to city trekking. If it happens to rain all weekend (as it did for us!), put on the fire, crack a bottle of wine, and snuggle up with a good book.
Your glamping in Norfolk hosts, Kate and Seb, can provide recommendations on the best places to explore. There are a variety of day out activities that are perfect for all ages, local walks, and secret nature spots that you won't want to miss!
Upon booking your stay at Round the Woods, you'll receive a guide with even more recommendations.
---

---
Sustainability
One of the best features of Round the Woods glamping in Norfolk is the dedication to sustainability. While solar panels, compost toilets, and reclaimed wood are all important features, what surprised us even more were the little things.
When we talked with Kate and Seb about the new Roundhouse, we learned just how much thought goes into every singe detail. They truly put the environment first, thinking critically about how they can offer sustainable glamping experiences. The yurts are completely removable and the Roundhouse uses small pads of concrete on raised legs instead of a complete concrete base. That means if Round the Woods ever has to shut down, the concrete pads would be much easier to remove and the land would still be mostly nature based.
Read more here about how Round the Woods promotes sustainable glamping in Norfolk!
---
Overall Impressions of Round the Woods
Despite the heavy rain for most of our stay, we had an absolutely lovely time at Round the Woods. As first time glampers, we both agreed that it was something we would love to do again and Round the Woods seems like the perfect place to start.
If you're trying to take a weekend break and get out and spend more time in nature, there's no better place than Round the Woods glamping in Norfolk!
---
Read More About Things to Do in the UK
Sustainable glamping in Norfolk is just one of the many amazing things to do in the UK. Check out the posts below for more unforgettable experiences or head straight to 16 INCREDIBLE Glamping Spots in Yorkshire to plan your next trip!
---
Pin "Round the Woods Review | Sustainable Glamping in Norfolk"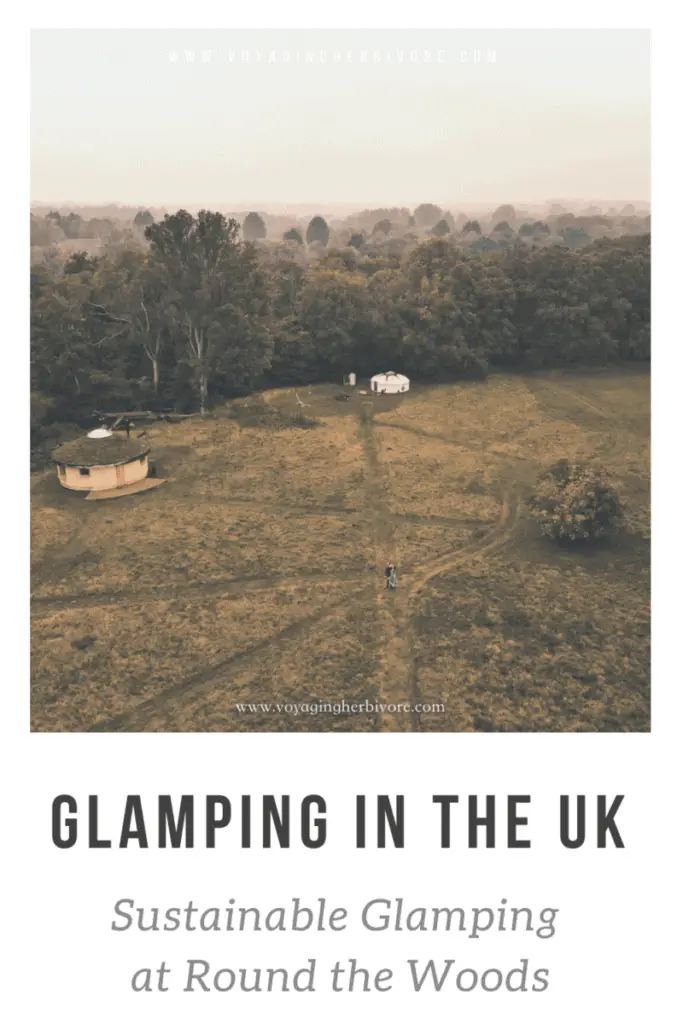 ---
And as always, you can find more sustainable travel content on Instagram @VoyagingHerbivore, Youtube, and TikTok and to get updates straight to your inbox, enter your email below in the footer, or to the right on the sidebar.

If you found this guide helpful and want to help us keep these resources free,
please consider making your next Amazon, Expedia, Hostel World, Etsy, and Booking.com purchase through our links (just click right on those words – you can do it right now and unless you clear your cookies before your next purchase, it will remember). It costs you no extra and gives us a small commission. Thank you!