Scotland is a particularly magical country for those who love adventure, architecture, mythology, geology, history, nature, and, er, whisky!
If you're visiting Scotland for the first time, you will be spoiled for choice as to where to go – namely, where to visit first!
For those who have perhaps toured the stunning cities of Edinburgh and Glasgow, and have explored the mainland areas of the Highlands, the natural next stop on the map is the Hebridean Islands.
Particularly Iona island. 
If you're planning on visiting Iona Island, Scotland, and are looking to brush up on what's in store, you've come to the right place!
Read More: What to Wear in Scotland: Clothing Itinerary Ideas for Your Scottish Trip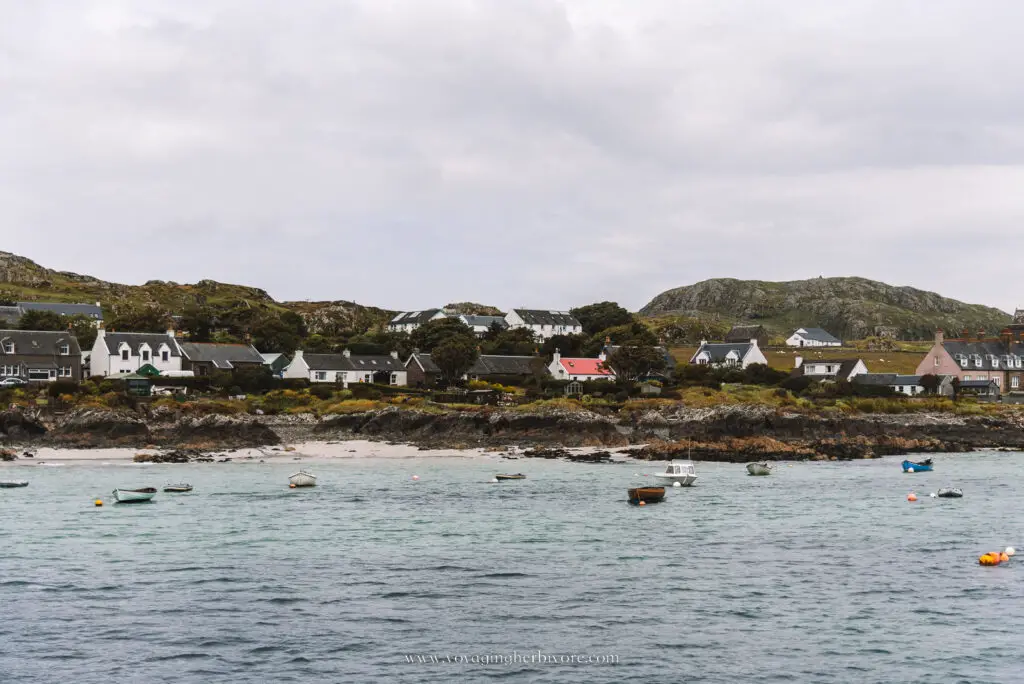 ---
This site is user-supported and that's why we use affiliate links. At no extra cost to you, we get a little bit of money when you purchase something through one of our links. Thank you for helping support ethical, sustainable, and plant-based travel! You can read more about our affiliate disclosure policy here.
---
Where is Iona Island in Scotland?
Iona Island can be located on the west coast of Scotland, dotted within the historical Hebridean Islands (known as the Inner Hebrides). Other islands within this colony include Skye, Mull, and Staffa, among others. 
While the island is inhabited, its population is roughly 170 (based on the last census), but is quite the well-loved tourist hotspot in the summer months.
Iona Island lies roughly one mile off the coast of Mull and is surrounded by several little islets. The island itself is prominent within the Christian community, owing to it being the location of the infamous Iona Abbey – a majestic building that can even be seen from the sea.
Because Iona is a sea island, visiting it requires a boat or ferry journey, typically from Mull. A regular ferry departs from Fionnphort. The journey from this dock is approximately 1.5 miles.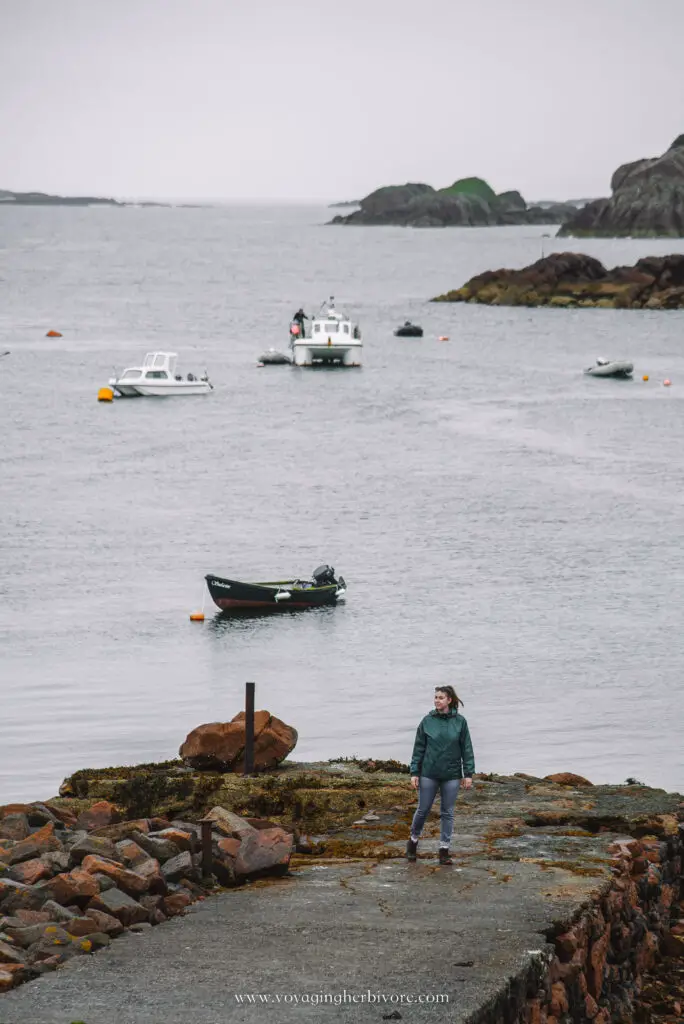 ---
---
Why Visit Iona Island, Scotland?
While Iona Island is rather small (1.5 miles long and 3 miles wide), there's plenty to do and you'll be glad you stopped by.
Let's look at some of the things to do when you visit Iona Island, Scotland.
---
Iona Abbey
As we mentioned earlier, perhaps the biggest selling point the island has to offer in terms of tourism is its abbey, which often draws in as many as 130, 000 visitors every year.
The abbey is one of the oldest features of the island and dates back to roughly 563 AD and was founded by St. Columba. At present, it stands as one of the oldest religious centres in western Europe. 
Initially built as a monastery, Iona abbey was inhabited by monks up until 1560, and survived several viking attacks prior to then. After the monks were finally pushed out by the Vikings, the abbey was largely abandoned as a place of worship until the end of the 17th century.
Fast-forward to the twentieth century, when the abbey was in the hands of the Cathedral Trust, who brought about a big restoration (the builders of whom were almost predominantly from the Iona community), a revival of religious practice began again.
As of 2023, the abbey is under the care of Historic Scotland and is open to the public all year round.
Bonus Tip: Purchase a month-long Historic Scotland membership before your trip to Scotland. It's less than a single entrance ticket and you can use it at attractions all across Scotland!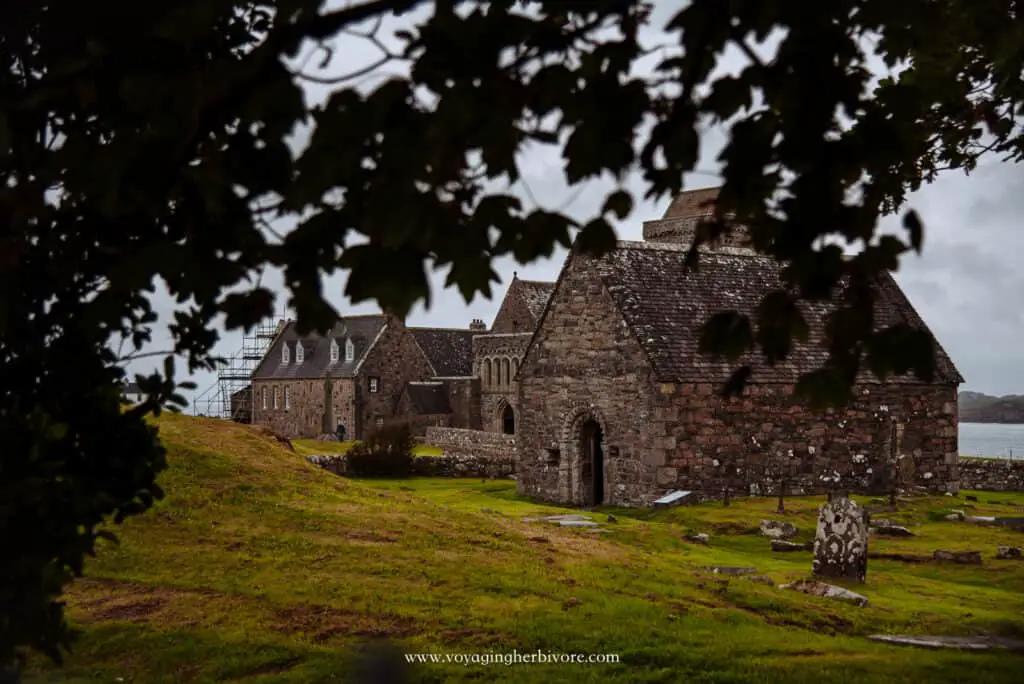 ---
Iona Nunnery
Iona nunnery dates back to circa Mediaeval times, and stands as one of the best-preserved nunneries in Britain of that time period.
Because Iona has a strong Christian heritage, and is known as 'The Cradle of Christianity' in religious circles, the nunnery, which also served as a burial ground for women for many years after the Reformation in 1560, is a popular tourist hotspot.
Many visitors to the nunnery comment on the peaceful atmosphere of the location, as well as its stunning sea view.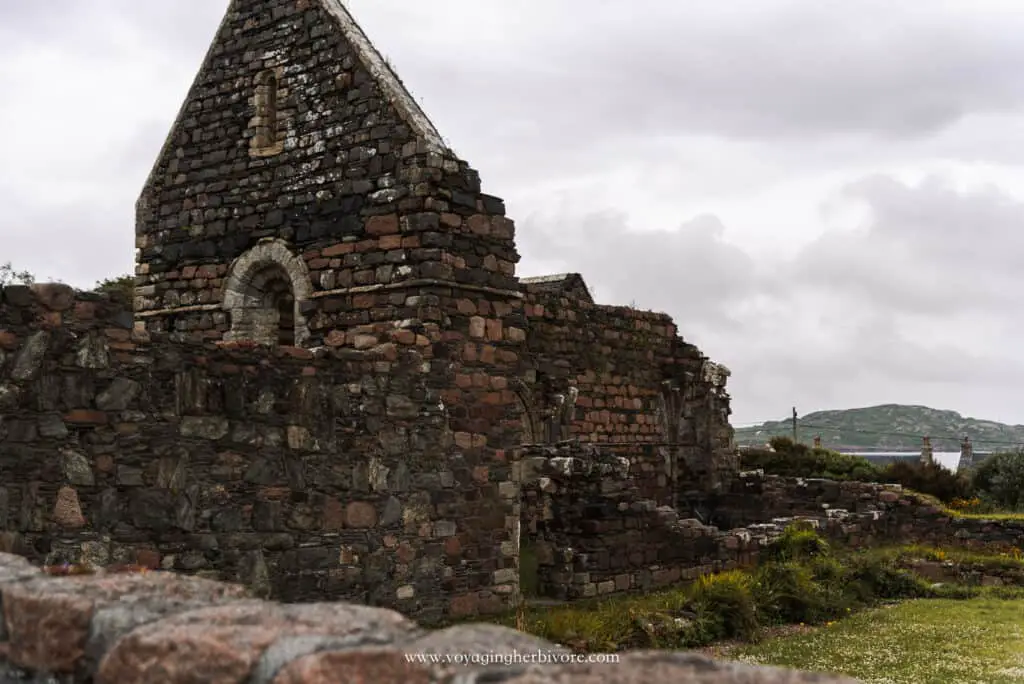 ---
Marble Quarry
Iona's Marble Quarry is situated on the south-east of the island and is absolutely worth a visit – particularly for lovers of history.
The Marble Quarry looks like something out of a movie, and was worked from as early as Mediaeval times, up until 1918. Some of the quarry's machinery still sits on the plot of land, standing the test of time.
The quarry makes for a perfect location to enjoy a picnic and watch the waves on a sunny afternoon.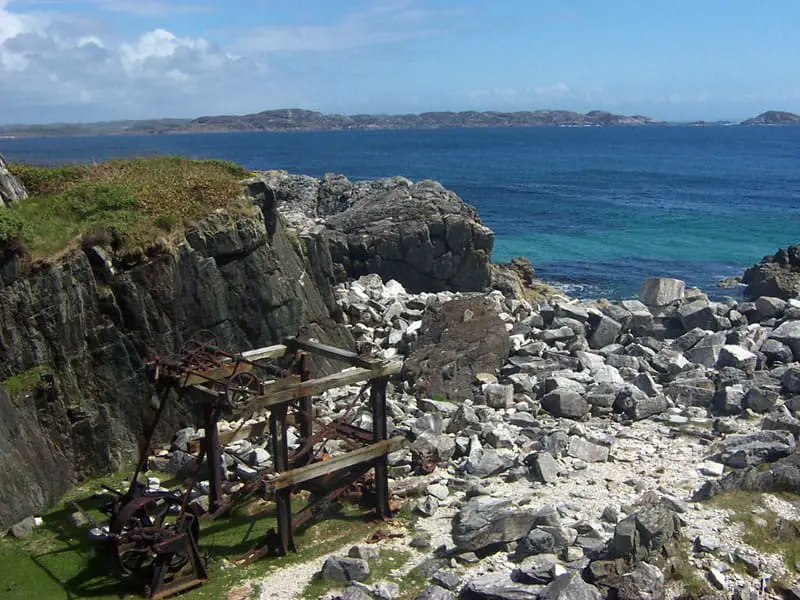 Image by Explore Isle of Iona
---
Dún I & the Well of Age
Those who are suckers for a stunning sea view – just like us – will need to take a trip up to the Dún I, which is Iona Island's highest elevation point. Standing at 333 ft above sea level, the Dún I allows you a panorama view of the St. Colomba's Bay – and on clear days, you can even see some of the other Hebridean islands.
The Dún (which translates to "hill" in Gaelic) is one of the many historical points on the island, and nearby is the famous rockpool, otherwise known as 'Tobar na h-Aoise' ('the Well of Age), which islanders affectionately refer to as the Wishing Well. 
Legend has it, the well is associated with "restoring youth", so it quite literally could be the fountain of youth!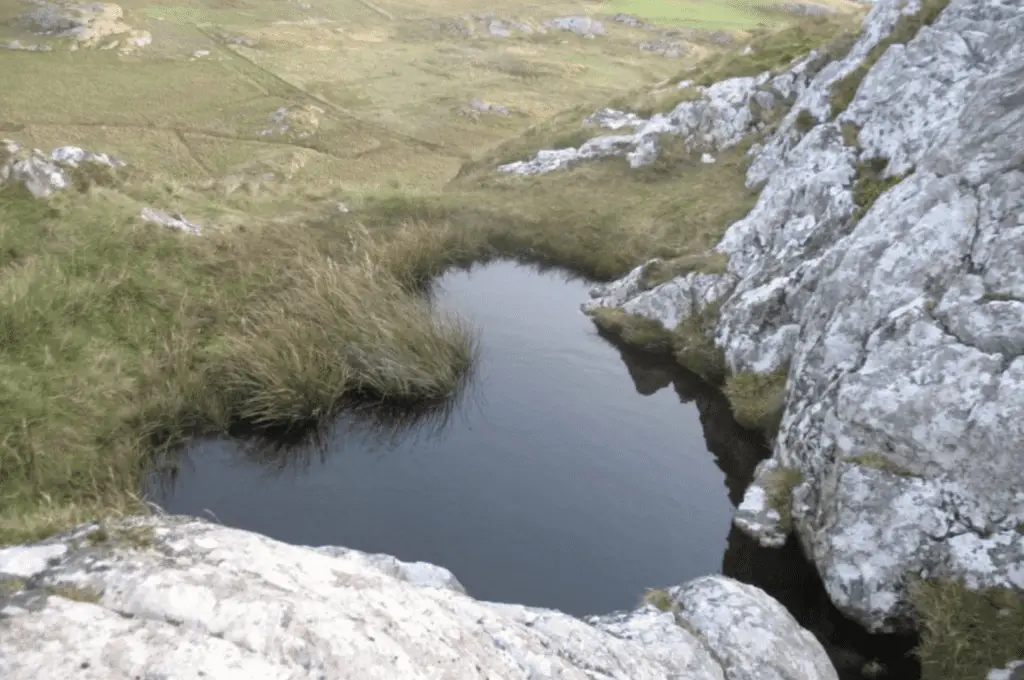 Image by Visit Iona and Mull
---
Sìthean Mòr
If there's one thing the rural areas of Scotland are known for – it's their hills!
"Sìthean Mòr" translates to "large fairy hill" in Gaelic, but is often referred to as "the Hill of the Angels" and is a grassy knoll that has a large and fanciful history as a place for rituals associated with both Paganism and Christianity. 
Sìthean Mòr is also a location particularly popular with folklorists and lovers of all things supernatural.
Legend has it that St. Columba himself loved to pray on this knoll during the sunrise and sunset of every day, and who, oftentimes was secretly followed by his younger brother, who attested that angels surrounded Columba whenever he prayed – hence the name.

Image by Isle of Iona
---
St. Columba's Bay
Speaking of St. Columba, the bay named after the man himself is well worth a visit. 
The bay is an excellent choice for day tours for those who love silent, tranquil beaches, and wish to indulge in a spot of nature-watching.
The Hebridean Isles are known for their incredible native wildlife, which includes puffins, sea otters, North Atlantic dolphins, basking sharks, Highland cows, and other beautiful creatures – and St. Columba's Bay is a perfect place to spot them!

Image by Isle of Iona
---
Reilig Òdhrain
Last but not least, Reilig Ódhrain is the island's burial ground. 
Known in English as St. Oran's Graveyard, which is still an active cemetery today, Reilig Ódhrain can be found on the Mediaeval Street of the Dead, on the way to the Abbey.
It is said that at least 48 Scottish kings are buried within these ancient grounds, as well as numerous notable Scottish generals. 
Situated next to the graveyard is a stunning little chapel, which is known for its natural acoustics and candlelight services, which are held by the Iona community.
Visiting in the springtime is recommended, as the grounds of the cemetery are bedecked in wildflowers, which makes for a particularly magical touch.
---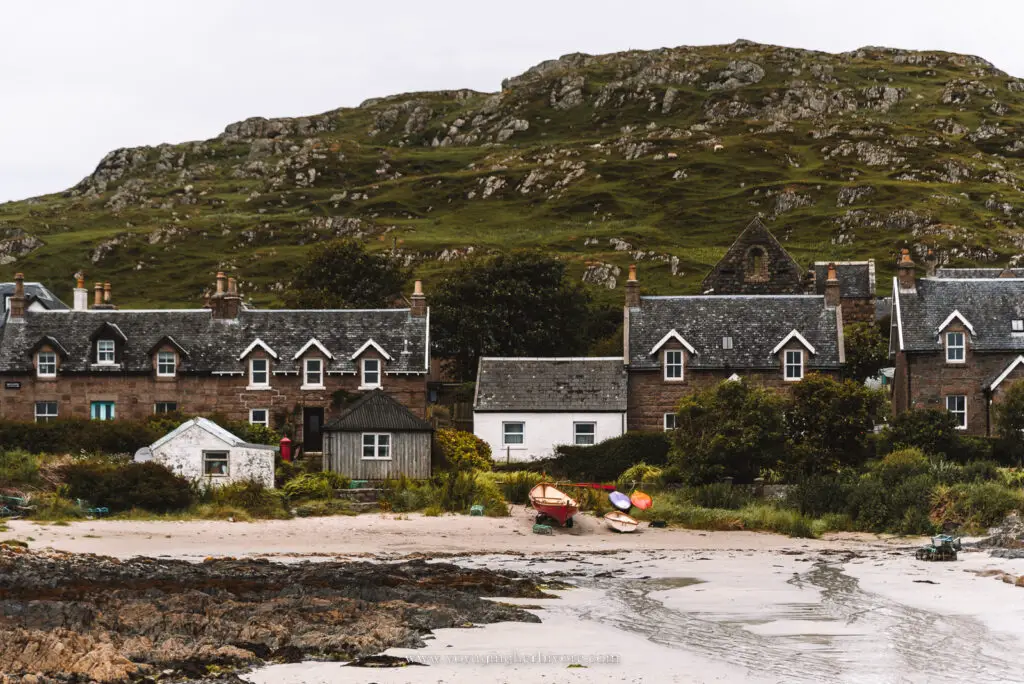 ---
Getting to Iona
Because Iona is a coastal island, there are a few things to consider before visiting – namely how to visit.
To get to Iona, you will first need to get to Mull. This can be done by one of three different ferry routes. The main route is via the Oban to Craignure service, which is connected via buses and trains to the main cities, such as Glasgow. 
From here, you will need to head to Fionnphort, in which you can jump on the ferry to Iona.
It is important to state that tourists are not permitted to bring their own vehicles to the island, unless you are a disabled 'Blue Badge' holder. More information on this can be found here. 
---
Iona Island, Scotland FAQs
---
More Scotland Posts
---
What Camera Gear Do We Use?
If you want the full list of things we keep in our camera bag, check out the complete guide or browse our photography guides.
---
Free Resources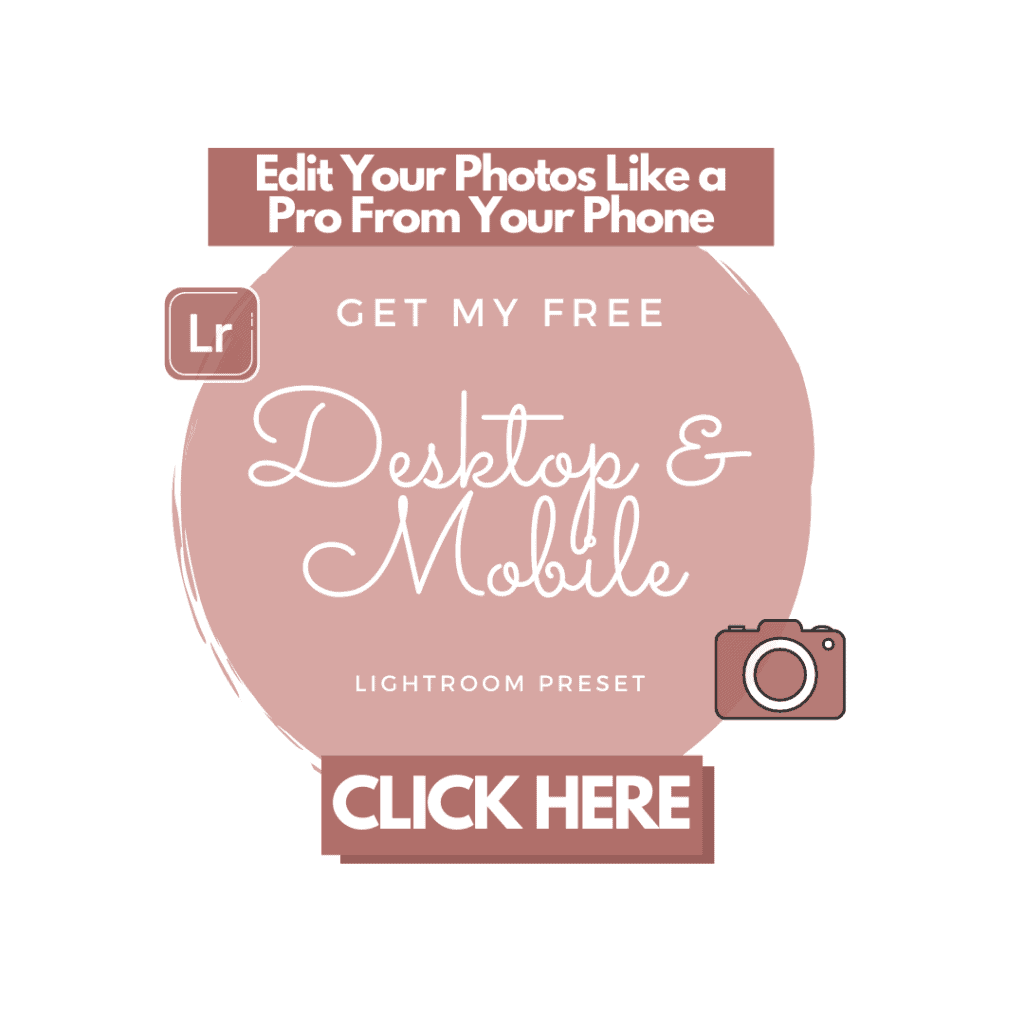 ---
And as always, you can find more sustainable travel content on Instagram @VoyagingHerbivore, Youtube, and TikTok and to get updates straight to your inbox, enter your email below in the footer, or to the right on the sidebar.

If you found this guide helpful and want to help us keep these resources free,
please consider making your next Amazon, Expedia, Hostel World, Etsy, and Booking.com purchase through our links (just click right on those words – you can do it right now and unless you clear your cookies before your next purchase, it will remember). It costs you no extra and gives us a small commission. Thank you!
---
Pin Iona Island Guide