If quaint villages, beautiful countryside, and delicious artisan eateries are high on your list of vacation priorities, South Queensferry is the ideal holiday spot for you.
Read More: Abbotsford Scotland: A Visitor's Guide
South Queensferry (known by the locals as 'The Ferry') is a seaside town in Scotland that can be found ten miles north-west of the city of Edinburgh, and offers plenty to see and do for those visiting this neck of the woods. 
Let's dive deeper into the magic that South Queensferry & the Three Bridges have to offer.
---
This site is user-supported and that's why we use affiliate links. At no extra cost to you, we get a little bit of money when you purchase something through one of our links. Thank you for helping support ethical, sustainable, and plant-based travel! You can read more about our affiliate disclosure policy here.
---
History of the Three Bridges
South Queensferry is perhaps most well-known for its famous Three Bridge structure, which looks similar to San Francisco's Golden Gate Bridge.
The Three Bridges are quite literally that – three separate cantilever bridges that oversee the Queensferry Crossing (AKA, the River Forth), in which the town acquired its name. 
The Three Bridges – often referred to as the Forth Bridge – is famous in its own right for being the first major steel structure to be built in the UK. The first of the three bridges dates back to 1878, and began construction after designs by the Forth Bridge Railway Company were approved by the council for the purpose of British freight needing to cross the channel between Fife and Edinburgh.
The fascinating construction was officially opened in 1890 and currently holds the world record of the longest cantilever bridge in the world, and is UNESCO-inscribed as the sixth World Heritage Site in Scotland, as of 2015.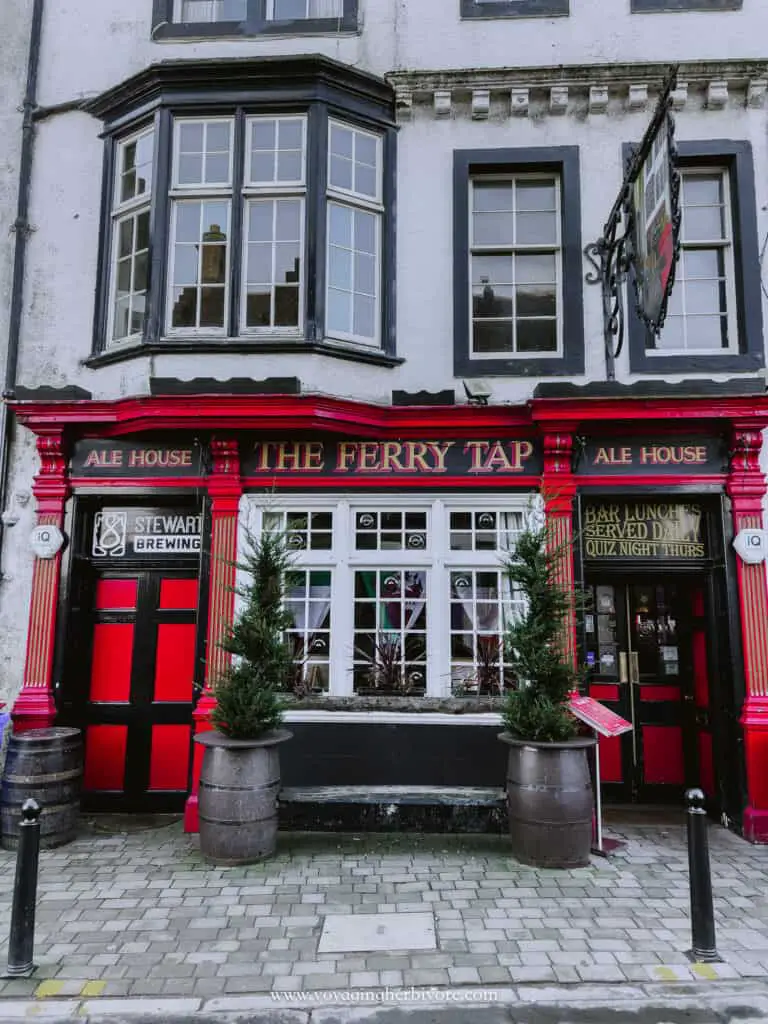 ---
History of the Town
Queensferry gets its name from Queen Margaret of Malcolm Canmore, as she was said to have used the crossway for her many charitable endeavours (hence why she is now known as 'St. Margaret'), including establishing a ferry for travelling pilgrims heading north to St. Andrews.
Initially the town belonged to the West Lothian royal borough, but now belongs to Edinburgh. Naturally because of its prefix as 'south', there is a North Queensferry, which can be located on the other side of the River Forth.
The town of South Queensferry is relatively small and boasts no more than ten thousand residents, and is known for its community spirit and old-fashioned Scottish hospitality.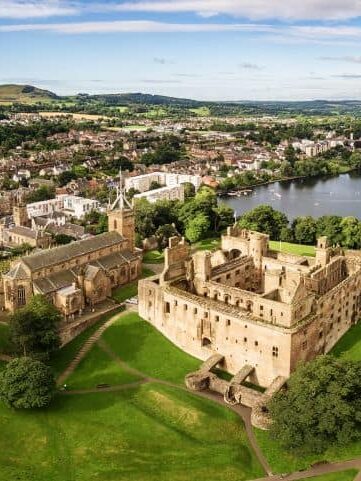 ---
Things to Do in Town
As well as marvelling at the incredible Three Bridges, there is much to do in the lovely town of South Queensferry, including annual traditions for residents and tourists alike to enjoy. Some of these include:
---
The Ferry Fair
As one of the town's oldest traditions (dating back to the 1930s), the Ferry Fair takes place annually in August and includes floats, music from local pipe bands, games and other competitive events, and the crowning of a local schoolgirl as 'The Ferry Fair Queen'.
---
The Burry Man
This takes place during the Ferry Fair and is a centuries-old fanciful procession said to stem from pagan tradition.
It entails covering a local man in the fruits of the burdock plants (the burrs) leaving only his hands, feet, and eyes unadorned. He is then given two staves and a sash, while being tended to by locals to help him eat and drink. Local children will then collect money for charity on behalf of the man's flowery ordeal!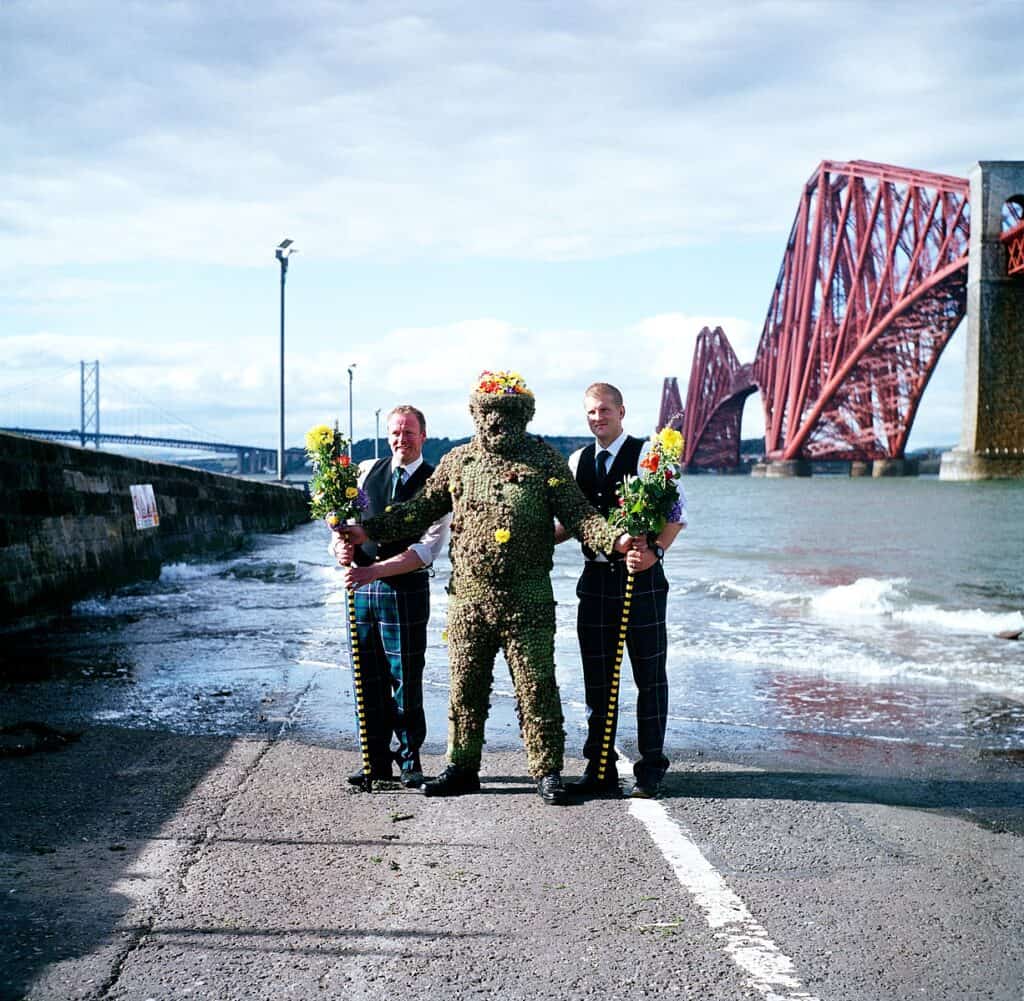 ---
Christmastime 
Although winter isn't the best time of the year to visit Scotland, owing to the coldness and unpredictability of the weather, Christmas in South Queensferry can be quite special.
One example of this is every year locals put on a display of local talent (actors, musicians, artists, etc) to showcase their gifts in celebration of the upcoming festivities. The evening is then finished off with the town's Christmas lights switch-on and a firework display.
---
Sightseeing
South Queensferry has many local gems to visit and enjoy, including:
St. Mary's Episcopal Church, which dates back to the 1450s, and is the town's oldest building.
Ferry Brewer, which specialises in creating locally-brewed ale.
Inchcolm Abbey & island. This includes touring a group of well-preserved monastic buildings, which date back roughly to 1235.
Firth of Forth sightseeing and boat trips.
South Queensferry museum, which allows you to buff up on the town's extensive history.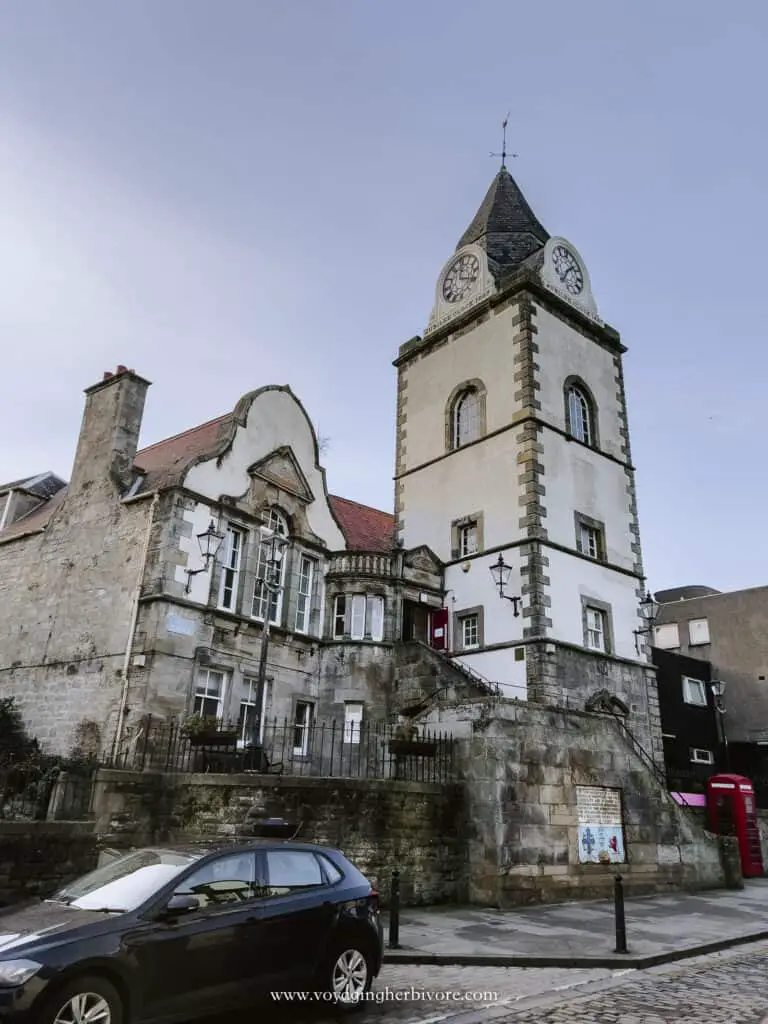 ---
The Loony Dook
And the operative word here is definitely "loony"!
This crazy event takes place every New Year's Day and involves locals (usually adorned in various fancy dress costumes) diving into the freezing waters of the River Forth. This event dates back to 1986 and was jokingly suggested to be a great hangover cure from the previous night's festivities, and has since gone on to generate money for charity, as well as draw in droves of tourists also celebrating Hogmanay. 
---
Recommended Tours
Edinburgh Three Bridges & Inchcolm Island Cruise
Enjoy an hour and a half boat cruise that takes you to Inchcolm Island (home to both a mediaeval abbey and a colony of sea lions and seals), as well as allowing you to enjoy the sight of the Three Bridges in all their glory.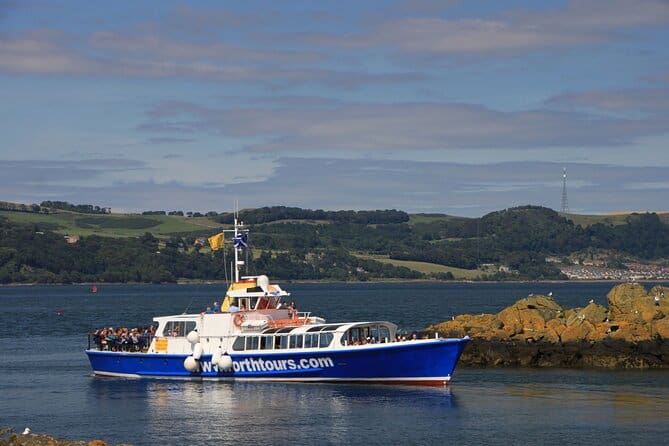 ---
The Outlander 1 Day Experience from Edinburgh
Price: From £50 pp
Outlander and architecture fans alike will love this day trip that explores some of the most scenic locations and formidable buildings as seen on the silver screen. This includes Midhope Castle, Blackness Castle, and Linlithgow Palace.
Read More: Blackness Castle: History (and Outlander Facts) Explained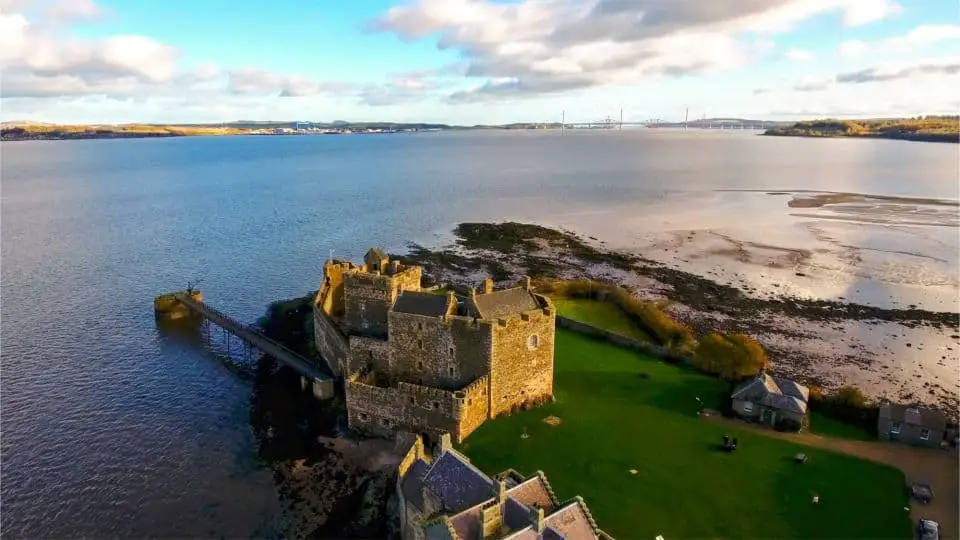 ---
Queensferry: Private History Guided Walking Tour
Price: From £100 per group
Enjoy learning about this beautiful location by taking it all in on foot, and in the privacy of an intimate group of up to six friends.
You will get to view and learn all about some of the town's most well-known and best-loved landmarks, such as the Jubilee Clock Tower and the Hawes Inn with a guided tour.
---
Vegan Places Where to Eat
If, like us, eating delicious food is a BIG part of your holiday/travelling plans, then you're in luck because South Queensferry has many a delectable eatery to indulge in.
---
The Railbridge Bistro
The Railbridge Bistro is arguably one of South Queensferry's best-known restaurants and is located on the scenic banks of the River Forth.
Although the Railbridge Bistro isn't a predominantly vegan restaurant, it does have a vegan menu that includes freshly made delights such as vegan fajitas, spicy macaroni, and vegetable stir-fry.
---
Scotts Bar & Restaurant
The chilly north-westerly winds of Scotland can leave an outsider craving some warm comfort food and a good brew of something that'll warm the cockles.
Scotts can be found at the Port Edgar Marina and has a vast menu and lots of delicious wines to choose from. Some of the vegan dishes available include a plant-based Scottish breakfast and their homemade plant-based burger.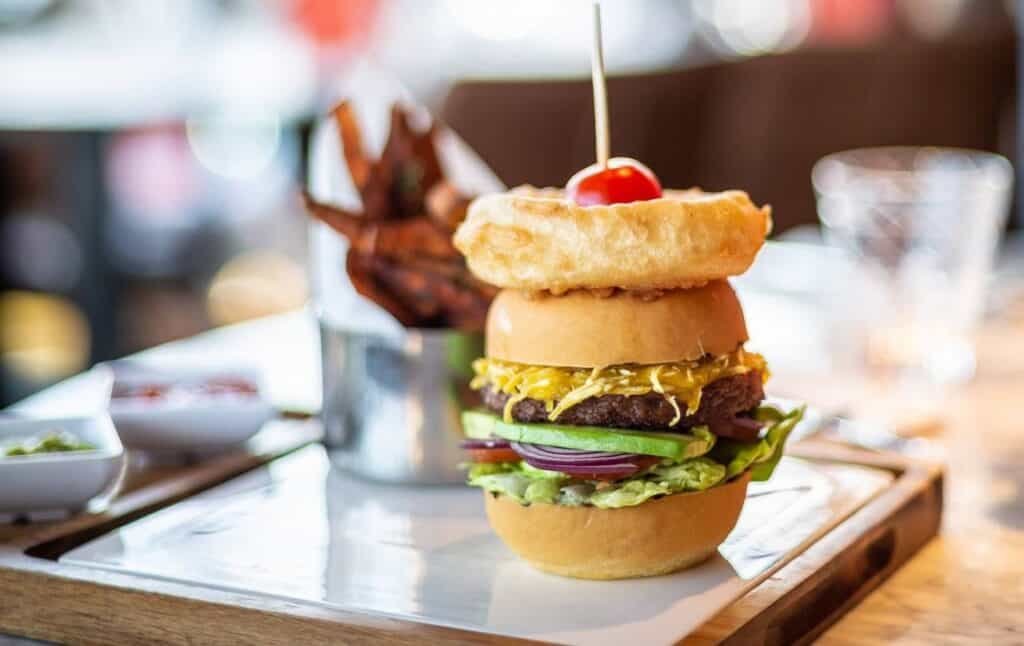 ---
The Hawes Inn
This traditional British country pub has its claim to fame when esteemed author Robert Louis Stevenson stayed at the inn and is said to have written some of his novel 'Kidnapped' while there.
Enjoy brunch, all-day food, cocktails, pizza, and traditional Sunday dinner at the famous Hawes Inn. Vegan meals include puy lentil, sage, and red wine lasagne, the 'nourish' bowl, and vanilla and coconut panna cotta. 
---
South Queensferry & the Three Bridges FAQs
Why is South Queensferry Worth Visiting?
As well as the awe-inspiring Three Bridges and the loonies "swimming off their hangovers" on New Year's Day, South Queensferry makes for a lovely short stay visit – whether it's for a few days when travelling through the country, or as a day-trip when staying in nearby Edinburgh.

As well as the many beautiful places to eat, and historic buildings, visitors can also enjoy taking in the pastel-coloured houses while doing a bit of light shopping in the town.

Can I Go Seal Spotting in South Queensferry?
Scotland is known for its vast and interesting wildlife, including seals, puffins, North Atlantic dolphins, otters, golden eagles, wildcats, and of course – the Loch Ness Monster!

And yes – seal spotting on the Firth of Forth is a popular activity amongst tourists. The river is home to two types of seal: the Atlantic seal and the Harbour seal (sometimes known as the Common seal). The former being very common in the area, and spotters can often see them lounging in droves in the harbour or while sailing on the Forth.

Seals can often be spotted on the beaches and the local council requests that you keep a respectful distance – do not try to take selfies with them, and if you have a dog with you, please keep it on a lead.

Is it Safe to Swim on Portobello Beach?
Many visitors to South Queensferry and Edinburgh alike often opt to visit Portobello beach, which is circa seven miles east of Queensferry heading towards Edinburgh. The beach faces the Firth of Forth and is known for its wide promenade.

While there aren't any lifeguards on the beach, swimming in the summer months is common. If that doesn't appeal, but you fancy a quick dip nonetheless, there is the nearby Portobello Swimming Centre.

Where Can I Stay in South Queensferry?
Those looking to stay overnight in South Queensferry have a range of hotels and B&Bs to choose from, including Orocco Pier, Parkhead House, and The Queen's Bed & Breakfast.
---
More Scotland Posts
---
Free Resources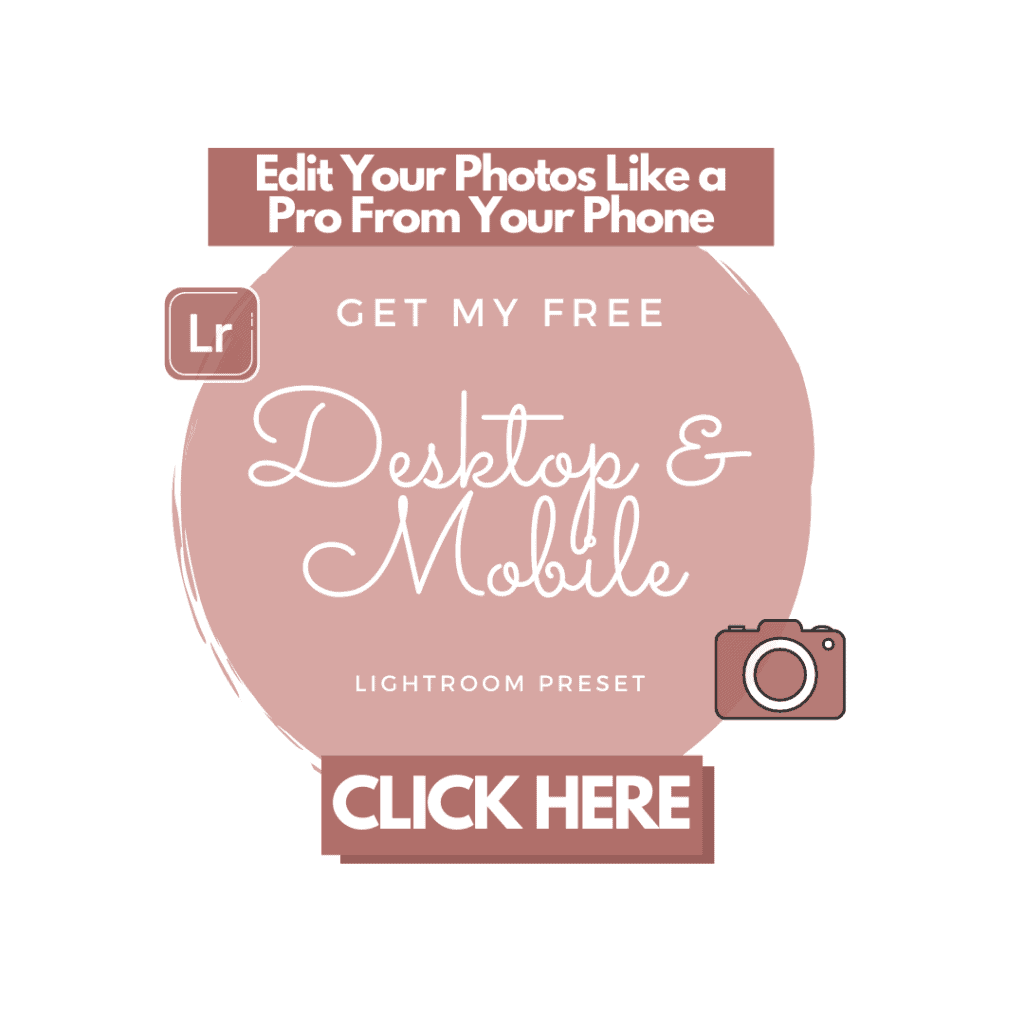 ---
And as always, you can find more sustainable travel content on Instagram @VoyagingHerbivore, Youtube, and TikTok and to get updates straight to your inbox, enter your email below in the footer, or to the right on the sidebar.

If you found this guide helpful and want to help us keep these resources free,
please consider making your next Amazon, Expedia, Hostel World, Etsy, and Booking.com purchase through our links (just click right on those words – you can do it right now and unless you clear your cookies before your next purchase, it will remember). It costs you no extra and gives us a small commission. Thank you!
---
Pin South Queensferry & the Three Bridges