Hidden in the forest still stands Lennox Castle Hospital. It was horribly damaged by fire, which adds to the dramatic look of this infamous place. If you like exploring places not many people have seen, then visit to Lennox Castle ruins is a trip you must take.
Lennox Castle was abandoned more than 20 years ago when it closed for good. It was Scotland's biggest institution for people with learning disabilities and its shameful history is still remembered. 
People with autism or other learning disabilities have been placed here to live in horrible conditions by local authorities for decades. Now it is a place that reminds us of the setting of a horror movie or dark tourism destination.
---
This site is user-supported and that's why we use affiliate links. At no extra cost to you, we get a little bit of money when you purchase something through one of our links. Thank you for helping support ethical, sustainable, and plant-based travel! You can read more about our affiliate disclosure policy here.
---
Brief History of Lennox Castle
Lennox Castle Hospital is located In Lennoxtown, about 19 km north of Glasgow. It was built by David Hamilton, an architect who created the substantial three-story structure in 1837. It was built as a castle and not a hospital. The castle took four years and was built in a neo-Norman style. 
Up until the First World War, when it briefly served as a military hospital, the structure was a residence. This must have been successful because Lennox Castle was selected as the site for a new psychiatric hospital by Glasgow City Council in 1925, and two years later, they paid £25,000 to purchase the estate. To create a cutting-edge hospital, the location cost over £1 million to renovate and add new ancillary structures.
Forty additional dwellings for the personnel, as well as kitchens, workshops, and even a tearoom for guests, were built; sadly, the bulk of them was destroyed, and now, very little is left. Singer Lulu was born there in 1948 after certain hospital wards were repurposed for maternity use during the Second World War.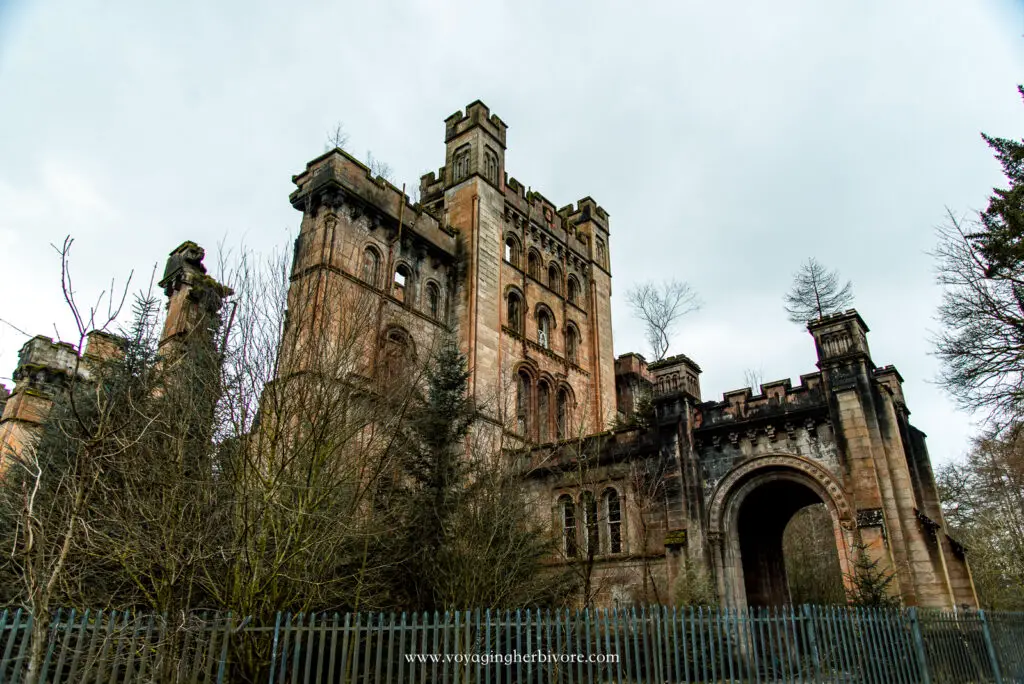 Due to overpopulation at the hospital, maternity services were moved from the location in the 1950s, and in the 1960s, the location once more served as a hospital only for people with mental illnesses. The hospital was under duress in the 1970s since the facility had surpassed its 1,700-patient limit and was having trouble with staffing and funding. 
Alasdair Sim, the hospital director in the 1980s, declared that he had never worked in "a deeper pit" and that the predicament of these impoverished people made him "sick to his stomach." At Lennox Castle Hospital, one-fourth of the patients were underweight or malnourished, and patients were given punishments ranging from dietary restrictions to baseball bat blows.
Patients and employees started slowly departing the castle in 1987 and transferring to neighbouring hospitals. Except for the castle, all of the buildings were demolished by 2004 when the hospital finalised its closure in 2002. The castle continued to deteriorate despite being listed on the Buildings At Risk Registry since 1992, and a fire in 2008 left the inside in ruins with only the stone shell of the structure remaining.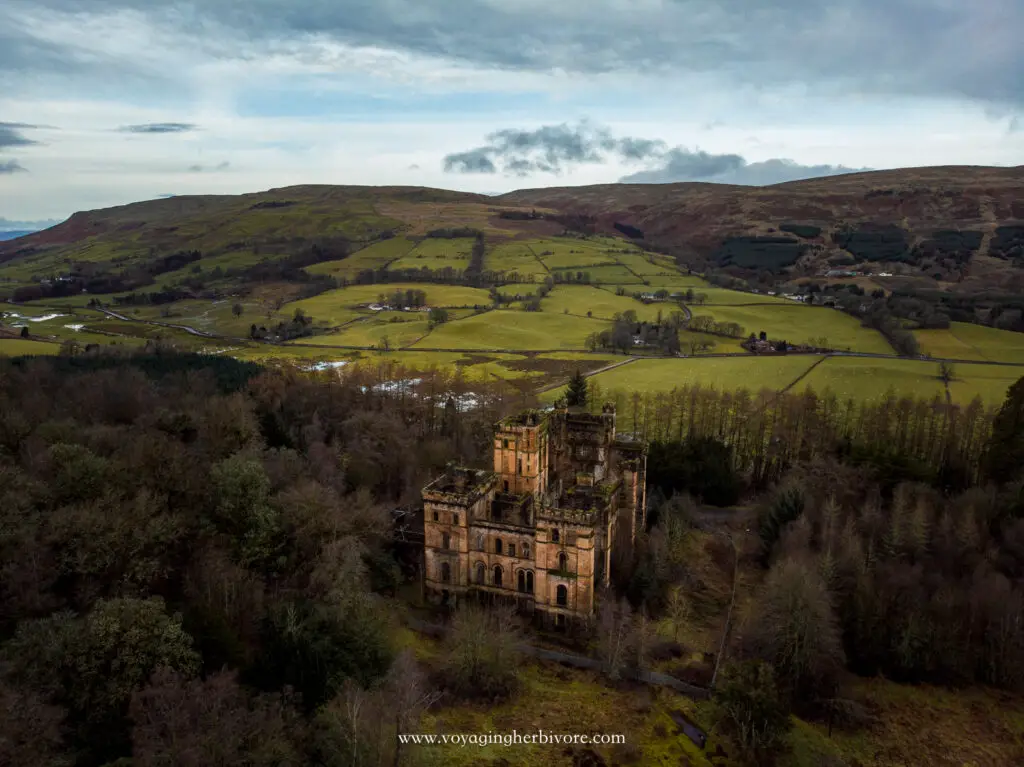 ---
What Happened to Lennox Castle Hospital?
The Lennox Castle fire destroyed the building even though local organisations have worked to prevent the castle from falling into disrepair since it was added to the list of endangered buildings in 2002 when the hospital was closed. 
Just before six o'clock in the evening, someone noticed a fire at Lennox Castle in East Dunbartonshire. 30 firefighters worked all night to put out the flames. A significant portion of the tower of the 19th-century structure has been lost and the rest of the building looks horrific now with bricks all over the place, and dangerous structures still standing.
---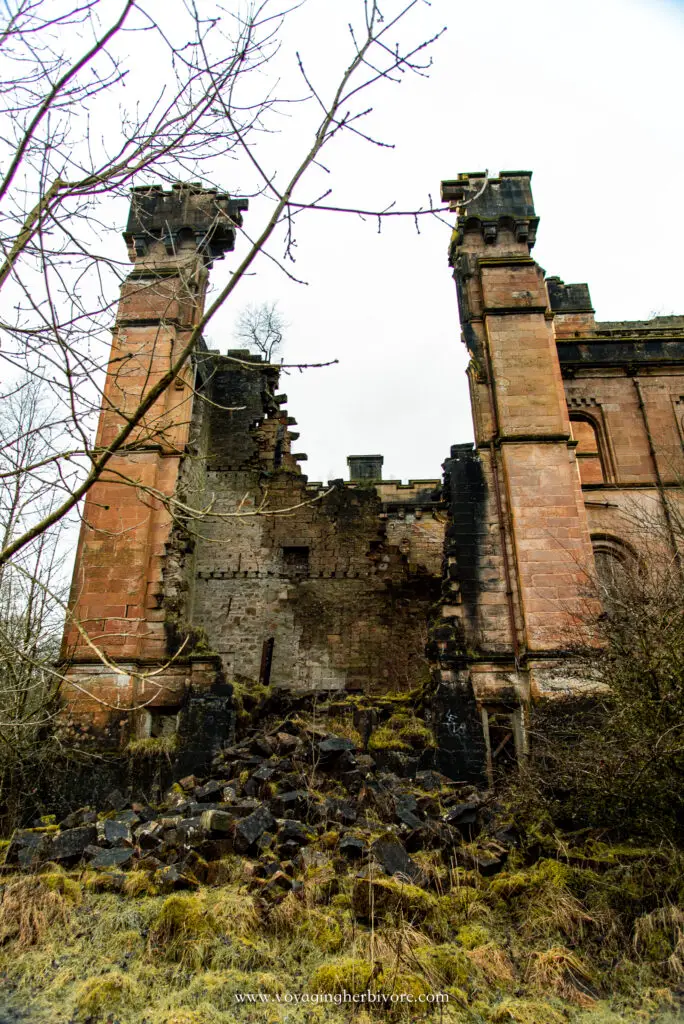 ---
How to Get to Lennox Castle?
When you get to Lennoxtown, go along Glen Road until you reach Newbridge Road. After crossing a small bridge, there are two parking places and a trailhead immediately to your right (See photos). A park with a paved walking trail can be found on the opposite side of the street. Avoid using the paved trail.
Once you reach the first right turn off, continue on the trail. A river will be seen. You are moving in the proper direction if you stay on this side of the river and are going uphill.
You will reach a partially paved walkway if you continue on the trail. You may see the castle by continuing up that path. The distance is less than a mile.
---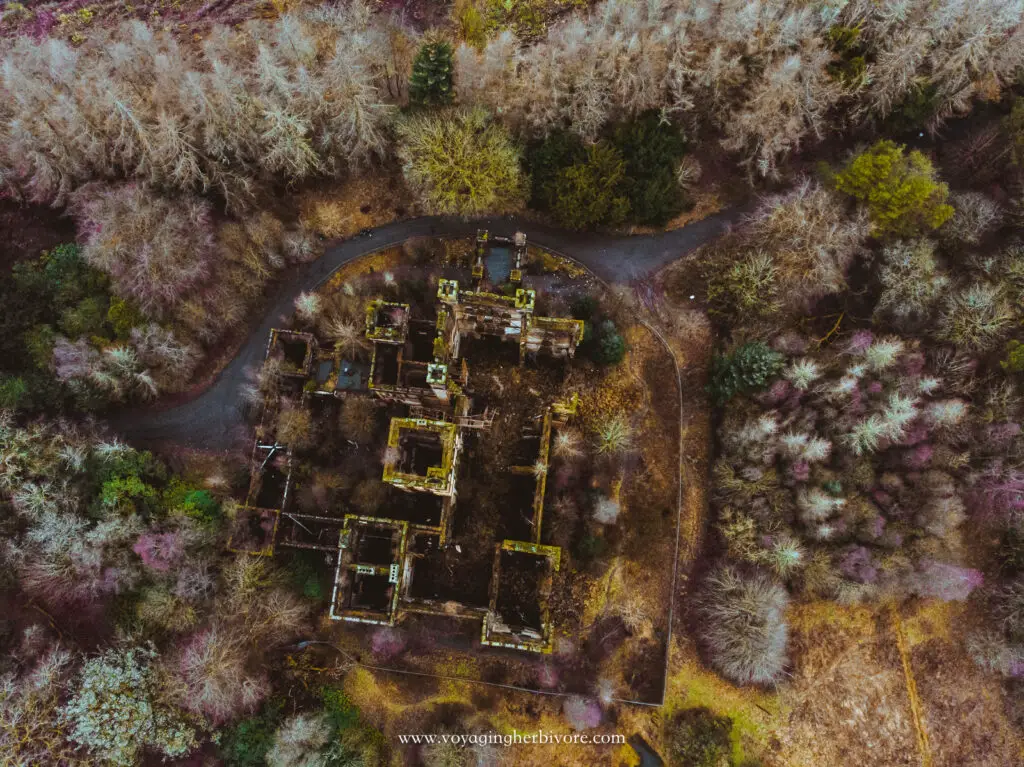 ---
How to Rent a Car for Your Trip to Lennox Castle Hospital?
Visiting Lennox Castle Hospital is the easiest if you drive your car. For those who are visiting the Glasgow area from other parts of the country or the world, it is the best option to rent a car for a road trip to the Scottish countryside. 
Renting a car in Scotland will give you the greatest freedom to see these stunning landscapes quickly. Also, it means you won't need to rely on other forms of transportation like cabs, buses, or trains. 
Renting a car for a day can be around £50 or even less, but keep in mind that if you rent a car for a longer period, the price per day may be reduced. Some car companies allow picking up the car in one location and leaving it in the other location, so there are good options for every kind of itinerary.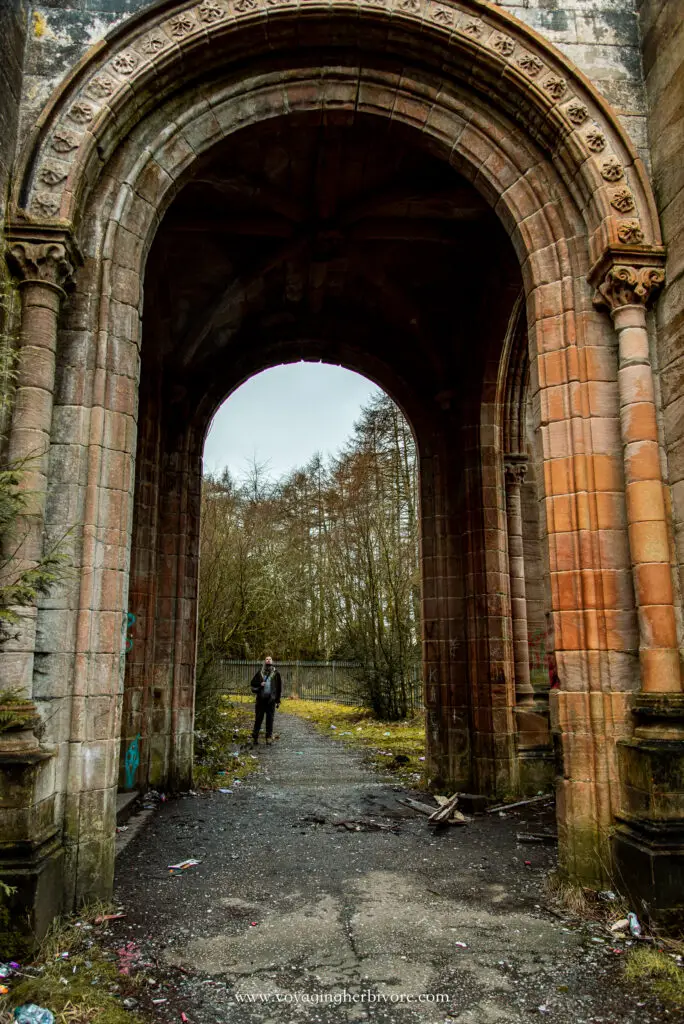 ---
What Other Attractions Are Close to Lennox Castle?
Your road trip outside of Glasgow can include several lovely locations. If you are travelling to Loch Lomond, or you want to hike in beautiful Scottish nature, you may include some of these stops along the way:
---
Campsie Waterfall
You can see a beautiful Campsie Waterfall if you go on a Clachan of Campsie hike. This fairly short and very popular hike into Campsie Glen can be extended to include a difficult ascent and a waterfall walk. At the beginning of the trail, you will find restrooms and bike rentals. You can get there by car or on a bus.
---
Lovers Leap
If you want to visit Lennox Castle ruins on foot, this trail is the best choice. Lovers Leap is a 7.4-km loop path close to Glasgow, and it takes an average of two hours to complete. The route is typically regarded as moderately challenging but very scenic.
---
Mugdock Castle
This abandoned castle is situated in the middle of a nicely kept public park. The place still has some of its old, untamed, and rural spirit left. Interior areas are unexpected like a cooking stove was discovered in one of the castle's interior rooms, and the building is impressive and beautiful.
---
Dumgoyach Standing Stones
One of the most fascinating discoveries in the area is the Dumgoyach Standing Stones. They belong to the Neolithic era and only one of them is still standing, while others are leaning or laying on the ground. 
This structure is thought to be a short stone row that was used to measure solar events, but it has also been proposed that the long cairns are all that is left of the facade of a chambered tomb. It is aligned with a notch in the hills to the northeast through which the sun rises at the spring and autumn equinoxes.
---
The Devil's Pulpit
To find Devil's Pulpit you have to go on a hike to Finnich Glen. Through a narrow crevice in the sandstone, a river can be seen flowing below. The journey to the base is known as Jacob's Ladder or the Devil's Steps, but either name warns that they can be treacherous; therefore, this walk should only be undertaken on dry days and with good footwear.
Read the Full Guide Here: The Devil's Pulpit Scotland: Directions & Warnings
The first thing you'll notice when you get to the bottom is that the stream is blood red. The colour of the river is due to the red sandstone over which it flows. The Devil's Pulpit itself is the next item to search for. The pulpit is a grassy stone that protrudes out of the rock by the river, even though some people refer to the entire gorge by this term. When the water is low, it is easiest to see.
According to legend, the devil would appear atop this boulder and speak to his followers as the red waters roiled beneath him. Others claim that Druids would visit this location to preach and have fun, possibly under the direction of evil powers.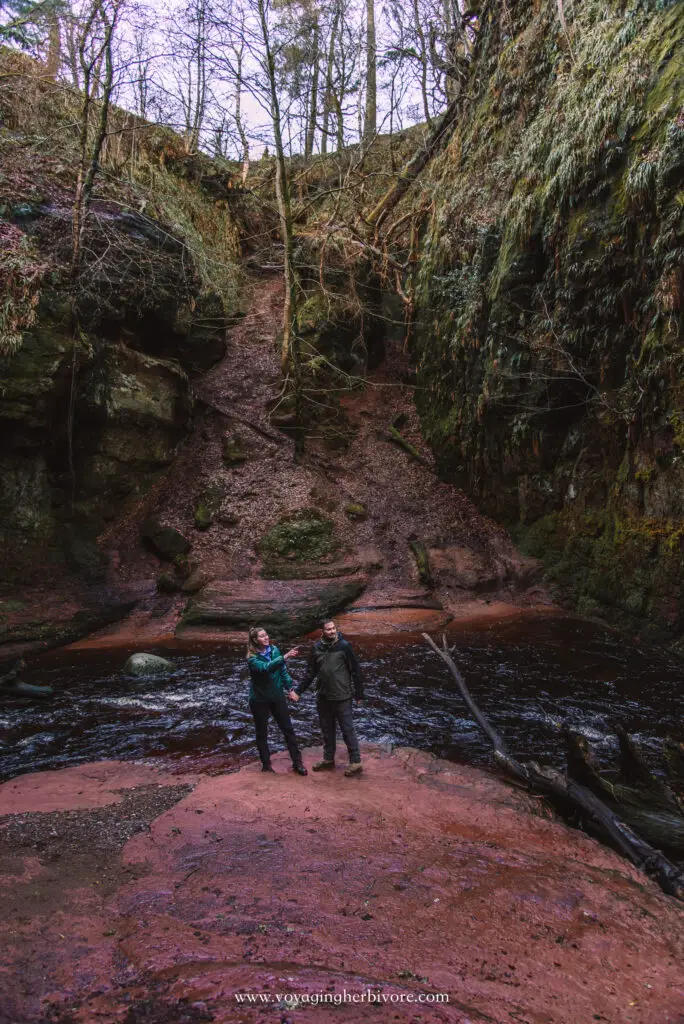 ---
More things to do in Scotland
---
Lennox Castle Hospital FAQs
Was Lennox Castle Ever a Maternity Hospital?
As part of the Emergency Medical Plan during the Second World War, it was converted into a maternity facility in 1941, and it remained that way until 1964. To create room for a housing development for which planning approval was given in 2006, all of the structures were demolished.
What Was Lennox Castle Before It Was a Hospital?
Lennox Castle was a residential castle since the 19th century, architect David Hamilton constructed it for John Lennox Kincaid, replacing Kincaid House. The Glasgow Corporation purchased the castle and its surrounding property in 1927 intending to convert it into a hospital for persons with learning difficulties. The institution opened its doors in 1936.
Where Was Lennox Castle Hospital?
The castle is located in Lennoxtown, East Dunbartonshire, the suburbs of Glasgow. The beautiful castle was home to a crowded hospital.
Is Lennox Castle Still Standing?
The castle has been in ruins since the fire in 2008. You can still visit it but be careful if you come close or want to enter ruins because it seems like it might fall apart at any minute.
---
More Scotland Posts
---
What Camera Gear Do We Use?
If you want the full list of things we keep in our camera bag, check out the complete guide or browse our photography guides.
---
Free Resources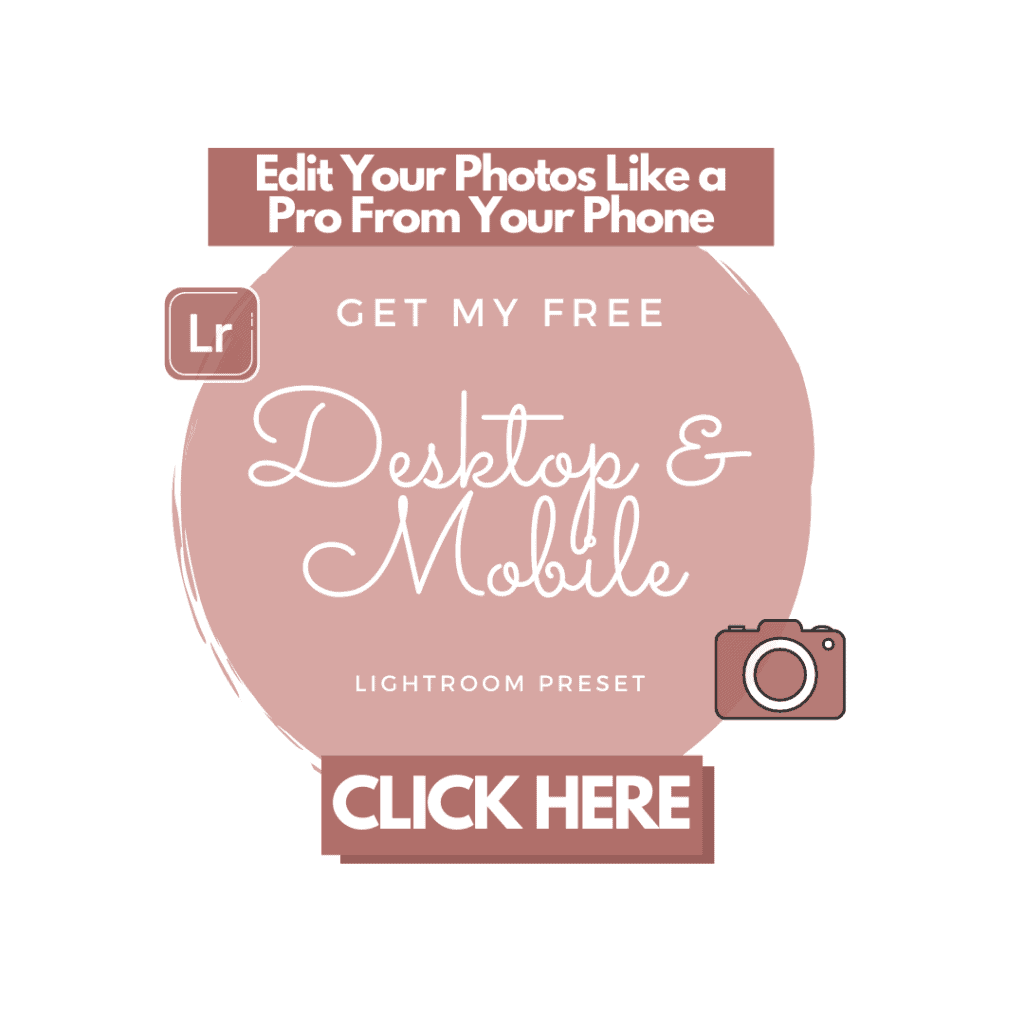 ---
And as always, you can find more sustainable travel content on Instagram @VoyagingHerbivore, Youtube, and TikTok and to get updates straight to your inbox, enter your email below in the footer, or to the right on the sidebar.

If you found this guide helpful and want to help us keep these resources free,
please consider making your next Amazon, Expedia, Hostel World, Etsy, and Booking.com purchase through our links (just click right on those words – you can do it right now and unless you clear your cookies before your next purchase, it will remember). It costs you no extra and gives us a small commission. Thank you!
---
Pin Lennox Castle Hospital