Blackness Castle, one of Scotland's most magnificent fortresses, was constructed in the 15th century by the Crichtons, one of Scotland's most illustrious families. In recent years, the Blackness Castle Outlander's filming location has become more recognizable by the general public because of its stunning scenery.
From filming settings for Ivanhoe and Hamlet to Scottish landmarks, this fortress has seen a wide variety of uses through the years. Blackness Castle was an artillery stronghold that was built in the 15th century and significantly reinforced in the 16th as an artillery fortress. It has served as a royal castle, armaments depot, and prison.
Due to its magnificent stone ship appearance, Blackness Castle is frequently referred to as "the ship that never sailed". The Firth of Forth and Fife can be seen majestically from the fortress. Gravel pathways surround the lawn, and the grounds have some lovely shrubbery.
The parking lot has a restricted number of spaces and will be under surveillance. Only those who have purchased tickets to tour the castle and its grounds are eligible to use them. This legendary fortress is located close to the historic village of Linlithgow on the Firth of Forth's shore. 
---
---
A Brief History of Blackness Castle
The Crichtons, one of Scotland's most affluent families, constructed Blackness Castle in 1440. Blackness functioned as the primary port at the time for Linlithgow, a nearby royal burg and residence.
Scottish lords known as the Crichtons, George Crichton was knighted in 1438 and elevated to the position of Lord High Admiral of Scotland in 1448. The palace doubled as a residence for a family and a jail. 
When George Crichton placed his assets in a trust, including Blackness Castle, things were not well in the Crichton family, and James Crichton imprisoned his father in the very castle he had constructed. Fortunately, George was saved, and when he passed away, the crown received his inheritance.
In 1453, Blackness Castle passed into the possession of James II of Scotland. The Sheriff of Linlithgow kept watch over the castle as it began its existence as a royal fortress.
The first half of the 16th century saw the castle undergo major fortification work, which was later put to the test during the civil war when Mary, Queen of Scots was compelled to abdicate the throne. Blackness Castle was passed from one owner to another several times during the conflict.
The castle would later experience another assault in 1650. This time, the fortress was under siege by Oliver Cromwell's troops. The castle was ultimately abandoned due to constant land and sea attacks and its outdated defences being at the mercy of Cromwell's heavy artillery.
Blackness Castle was restored and used as a prison once more in 1667, so that was not the end of it. The British Army moved in to maintain the fortress after Scotland and England's union in 1707, and in later centuries, it would house French POWs. The fortress was then used as a base during World War I and as an ammunition depot in the late 19th and early 20th centuries.
Many of the castle's medieval-style elements have been restored in the present, and because of its history and panoramic views of the Firth of Forth, it makes for an interesting location to explore.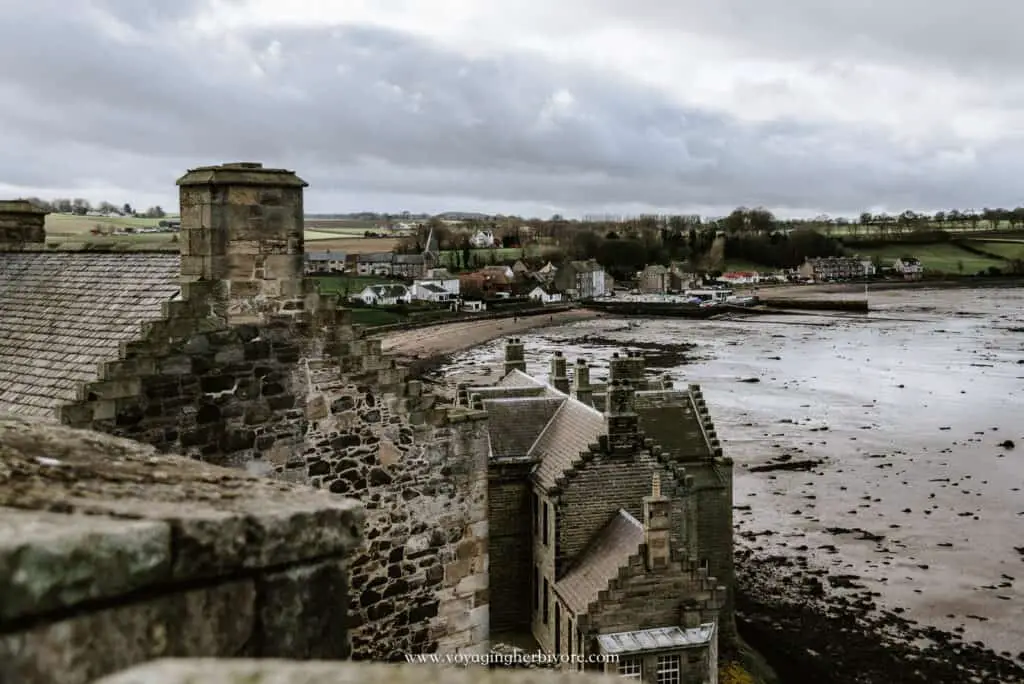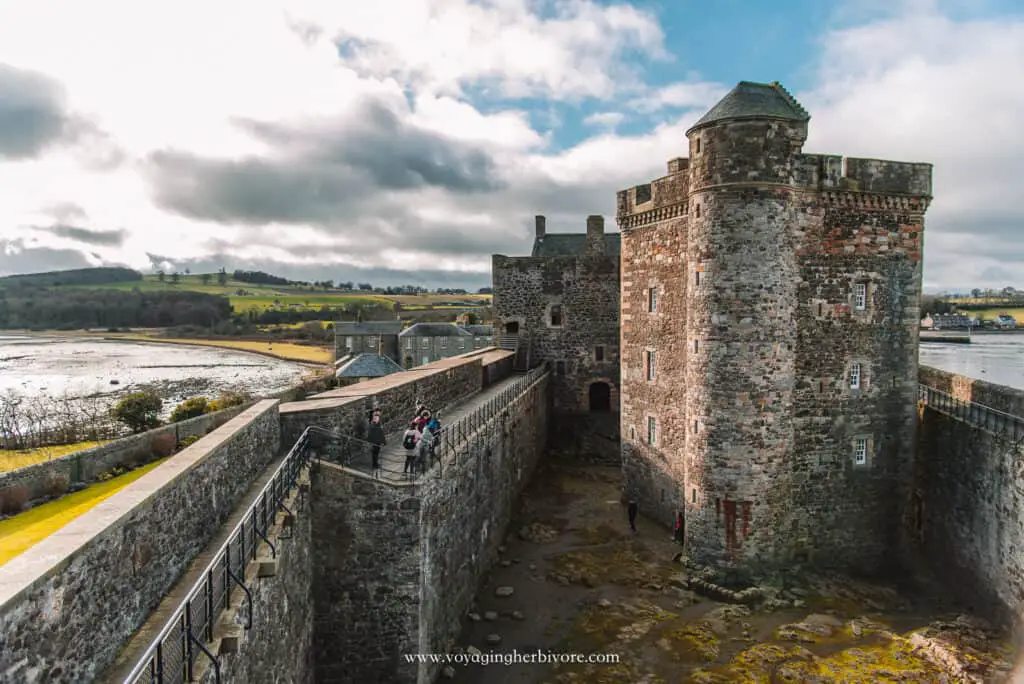 ---
Why Should You Visit Blackness Castle?
The extremely unusual shape of Blackness Castle is one of its major attractions. Blackness Castle's north tower projects out to sea like the stern of a big ship that has washed ashore on the Firth's shores. Visitors enter Blackness Castle through the courtyard, and despite 600 years of use, the natural granite foundation here is still uneven.
The breathtaking view of the River Forth and the bridges that span it Blackness Castle offers is another reason to visit. A Site of Special Scientific Interest and a protected avian feeding area, the foreshore and mudflats around the castle are home to many different species of birds. The rare plant Glasswort, which is used to make soap and glass, thrives there as well.
Blackness Castle is a must-see portion of Scotland's past if you appreciate military history. Also, Blackness Castle as an Outlander setting for Seasons 1 and 2 is a popular stop on many tours that include Outlander filming locations in Scotland.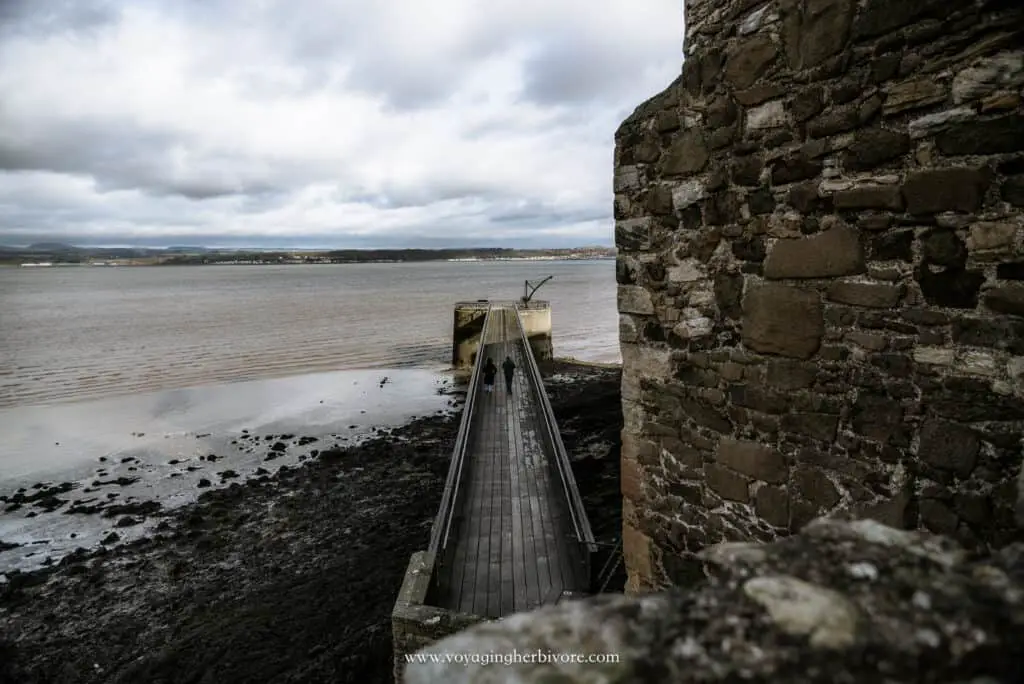 ---
How to Get To Blackness Castle?
Edinburgh is considerably close to Blackness Castle, and it takes around 40 minutes of driving to get here. Along the way you can stop at other Outlander filming locations, making this road trip extremely interesting and exciting for TV show fans.
You can also go by bus if you take the Bo'ness Community Service C19 from Waterloo to the Square. From there, it is a two-minute stroll, after approximately a 45 minutes ride.
---
Blackness Castle in Outlander
Numerous Outlander filming sites are also actual places that you can visit on a road trip in Scotland. Outlander is a famous TV show and book series that is primarily set in Scotland, near Edinburgh. Fans of the TV show frequently make a trip to these filming sites, including Blackness Castle, so they can see the real-life settings that inspired the show.
Specifically, Black Jack Randall lashing Jamie in the courtyard and Jamie and Claire escaping later in the season were both shot at Blackness Castle. The stunning castle returns to play a part when Brianna and Roger explore Fort William in Season 2.
See those three rust marks on the wall on the right in the photo below? Those can be seen in Blackness Castle today – scroll up and see if you can find them in the top photo!
The castle is a remarkable architectural achievement. With a towering triangular-shaped wall enclosing the imposing central keep, it resembles a ship in many ways. There is a small entrance charge for visitors to Blackness Castle, which is run by Historic Scotland. Members of English Heritage and Ancient Scotland are exempt from payment.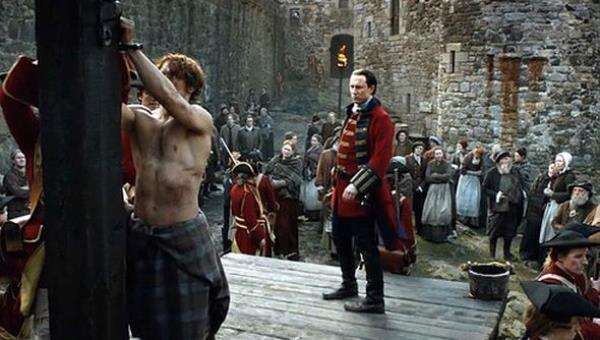 Photo by Sceen It
---
Why Is Outlander So Popular?
The 20th-century British nurse Claire Randall who time travels to 18th-century Scotland and discovers romance and adventure with the handsome Highland warrior Jamie Fraser is the main character of the Outlander television series. Before the TV show was filmed, Outlander was a very popular book series by Diana Gabaldon.
This particular genre mashup, a love tale with a sci-fi twist and a dash of historical fiction, had never been seen on television before. The first book alone had more than 600 pages and was filled with action, funny characters, and descriptive passages from various historical eras. It was going to be a challenge to transfer it effectively from the page to the screen.
Outlander is a very bingable show, and once you start you won't stop watching until the early morning hours. Every single episode is jam-packed with significant events. And even if the episode is a little quieter and doesn't even contain any fight scenes, this is still accurate. 
Sometimes the plot revolves solely around the characters travelling to great lengths to discover crucial information that they either need now or will need in the future. One episode will frequently have so many significant events occur that when you view it again, you won't remember how much happened in that hour.
Another reason why Outlander is so popular is the fantastic scenery in every episode. This show is stunning, whether it's the Caribbean beaches, the stormy ocean, or the undulating Scottish Highland. Aside from that you can enjoy amazing costumes in every episode, making this a real treat for show fans.
Want to visit more Outlander filming location in Scotland? Check out the Devil's Pulpit!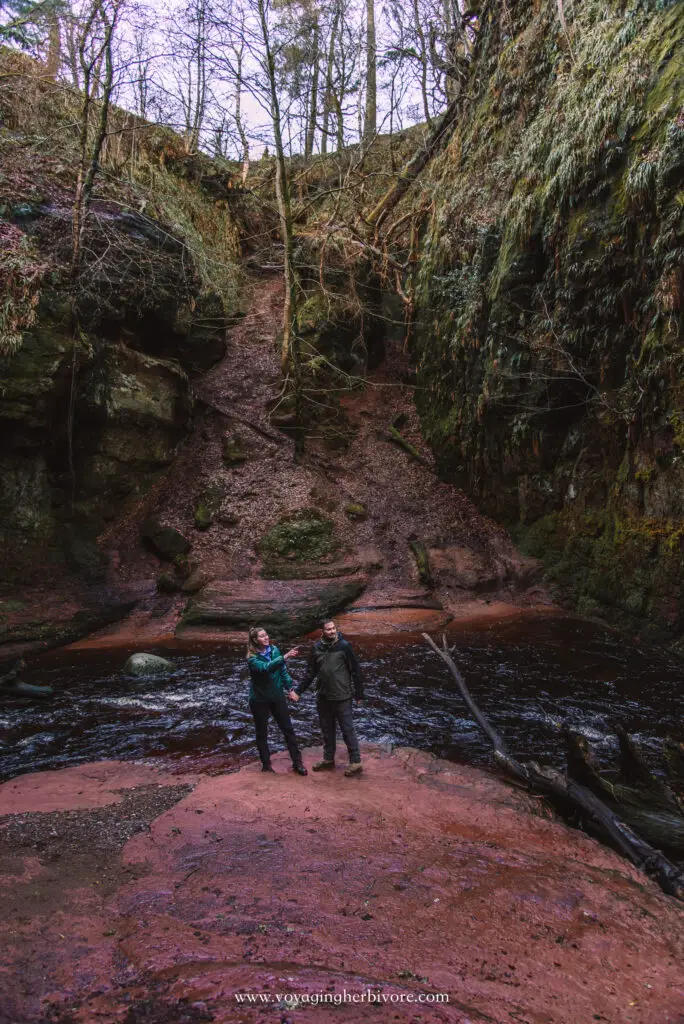 The Devil's Pulpit – another Scotland Outlander filming location
---
What Is Historic Scotland?
You can spend fantastic days out at abbeys, castles, churches, and other locations throughout Scotland if you have a Historic Scotland membership. By becoming a member, you support the preservation of Scottish attractions as well as the growth of our collections, research, and records. 
Historic Environment Scotland's responsibility is to help everyone appreciate, safeguard, and have access to Scotland's cultural legacy. A heritage that consists of a vast array of prehistoric and historic structures as well as artifacts that span roughly 5,000 years of Scottish history.
---
Blackness Castle FAQs
Was Blackness Castle Used in Outlander?
On the shore of the Firth of Forth, close to the Scottish hamlet of Blackness, is a fortress from the fifteenth century. Due to its use in Outlander as Fort William, it is now a component of our tour of the locations where the show was filmed. Blackness is a magnificent illustration of a fort constructed solely for military purposes, a castle.
What Has Been Filmed at Blackness Castle?
On the banks of the Forth is an impressive fortification called Blackness Castle. It has gained popularity as a filming site in recent years and has hosted several high-profile productions, including the 2019 film Mary Queen of Scots, starring Saoirse Ronan and Margot Robbie.

Here, in 1990, Mel Gibson and Glen Close shot the movie, Hamlet. In addition, it appeared in the 1996 movie The Bruce with Oliver Reed and Brian Blessed. It has been a background for the BBC production of Ivanhoe, and it served as Outlander filming locations in Seasons 1 and 2 of this popular show.
Who Has Lived in Blackness Castle?
The idea behind Blackness was to provide a nobleman with an appropriate place to live. However, the ruling monarch used it primarily as a state prison and garrison stronghold. Later mediaeval periods saw a large number of high-status prisoners being held here. Cardinal David Beaton, the Archbishop of St. Andrews in 1543, is the most well-known prisoner of this castle.
---
More Scotland Posts
---
What Camera Gear Do We Use?
If you want the full list of things we keep in our camera bag, check out the complete guide or browse our photography guides.
---
Free Resources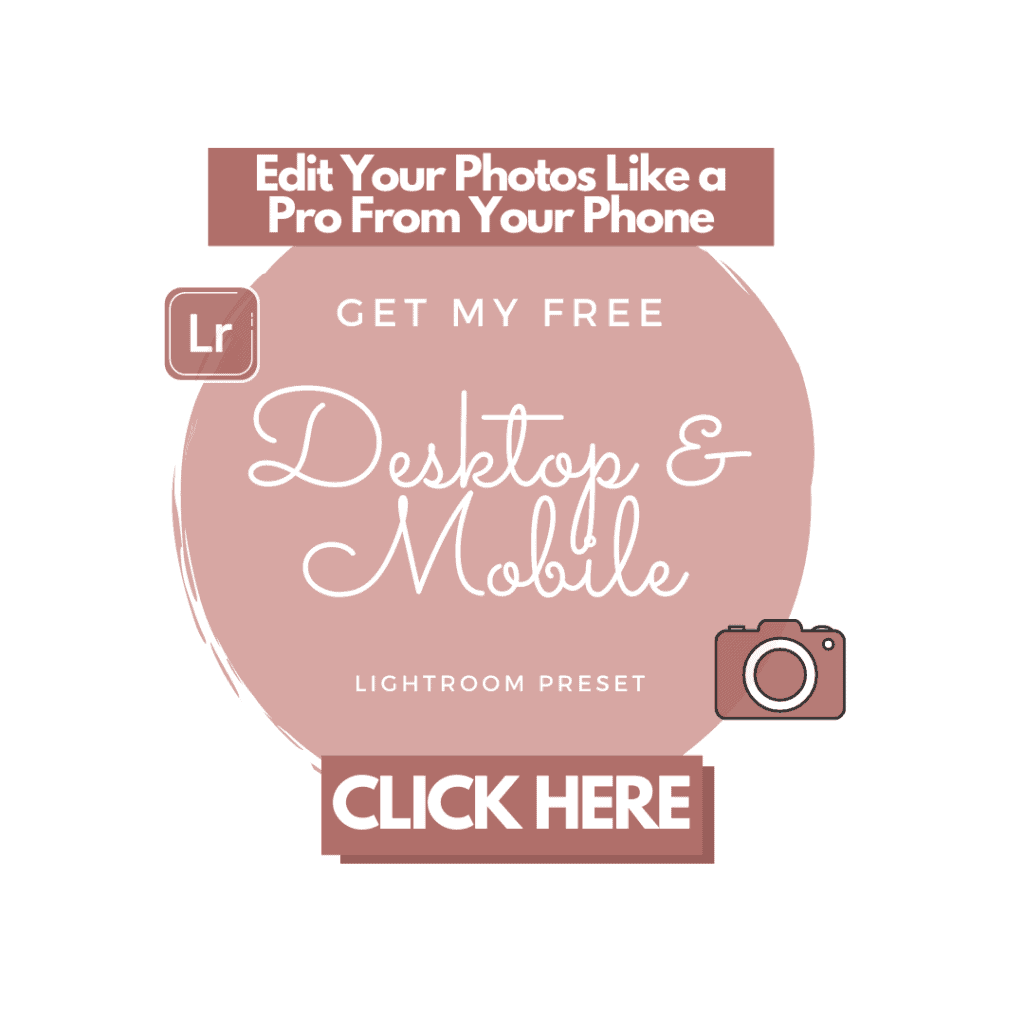 ---
And as always, you can find more sustainable travel content on Instagram @VoyagingHerbivore, Youtube, and TikTok and to get updates straight to your inbox, enter your email below.

If you found this guide helpful and want to help us keep these resources free,
please consider making your next Amazon, Expedia, Hostel World, Etsy, Trivago, and Booking.com purchase through our links (just click right on those words – you can do it right now and unless you clear your cookies before your next purchase, it will remember). It costs you no extra and gives us a small commission. Thank you!
---
Pin Blackness Castle