There are several ways to travel in London without having to use your pounds for an Uber or a Black Cab, or even having to handle cash money at all!

Google Maps (App Store or Play Store) and City Mapper (App Store or Play Store) are two great apps for traveling in London. Both will tell you how to get around by bus, tube, and train.

Note: City Mapper does seem to eat up phone battery life faster than Google Maps.
---
Before You Arrive in London
Add your credit cards (use one without any foreign transaction fees) to your phone wallet. Contactless pay is huge in London and it means you'll be able to pay for almost everything without having to pull out our wallet and sign a receipt every time you purchase something. Contactless pay will work, even if you don't have data..

Download Google Maps offline. While it's easy to find free wifi in the city, it's always nice to have the peace of mind of a map at your fingertips.
Open Google Maps
Search for "London"
Tap on the bar at the bottom of the screen where it says "London"
Click the "Download" Button
Zoom in until you are satisfied with the area that will be downloaded. If you are staying in central London I recommend keeping the main yellow circle (roads) in the frame.
Click Download
At the time of writing, the max you will be charged in a day is 8 pounds when using contactless pay. So even if you spend the day hopping buses and tubes, you will never be charged more than 8 pounds.
---
Bus
Bus is a great way to travel in London and see the sights from the top of one of the iconic, red, double decker buses. Buses are 1.50 pound for the ride (no matter where it goes), except at peak times (morning and evening rush hours) and if you ride two buses within the same 30 minutes you will only be charged for one. Buses are slightly slower than the tube and are subject to traffic delays.

You can only ride buses with a ticket purchased at a tube station or with a contactless payment. Cash payment is not accepted.

Don't panic if your bus goes off route or ends early. Drivers are very helpful as long as you are respectful to them.
---
Read More about Where to Stay in London
---
Tube
The tube is a quick and efficient way to travel in London, but it is more expensive than buses. Prices vary based on which zones you enter and leave through, and the time at which you ride. Around rush hours, tubes get extremely busy. Always be sure to take your backpack off on a busy tube to be polite and to protect your valuables.

You can purchase a ticket for the bus, tube, or train at any tube station. If you purchase a ticket, you will need to insert it into the machine instead of tapping with contactless pay as you will likely see many locals doing.

Whether you purchased a ticket or used contactless, you absolutely must tap in and out. So insert your ticket/tap to pay when you enter a station, and when you leave, even if there isn't a barrier. You should be able to find a small contactless pay/ticket area (it is just a small pole). You need to tap out or you will be charged the max fee for the day. If you can't find where to tap out, just ask a station attendent. They're all incredibly helpful and kind.
---
Trains and Overground
If you're only in London to sightsee, it's unlikely that you will be using the overground or the trains as they tend to take people further outside of London and are mainly used by commuters.

If you do need to use either to travel in or around London, it's the same method as the tube or the bus. You can either tap to pay, or purchase a ticket. And be sure to tap out when you exit the station.

If you're looking to take trains around the UK, I recommend downloading Trainline (App Store or Play Store) to find the best fares.
---
Check out the rest of my London Guides or head to the Global Eats Map to see my favorite London restaurants.
---
Stay in London
---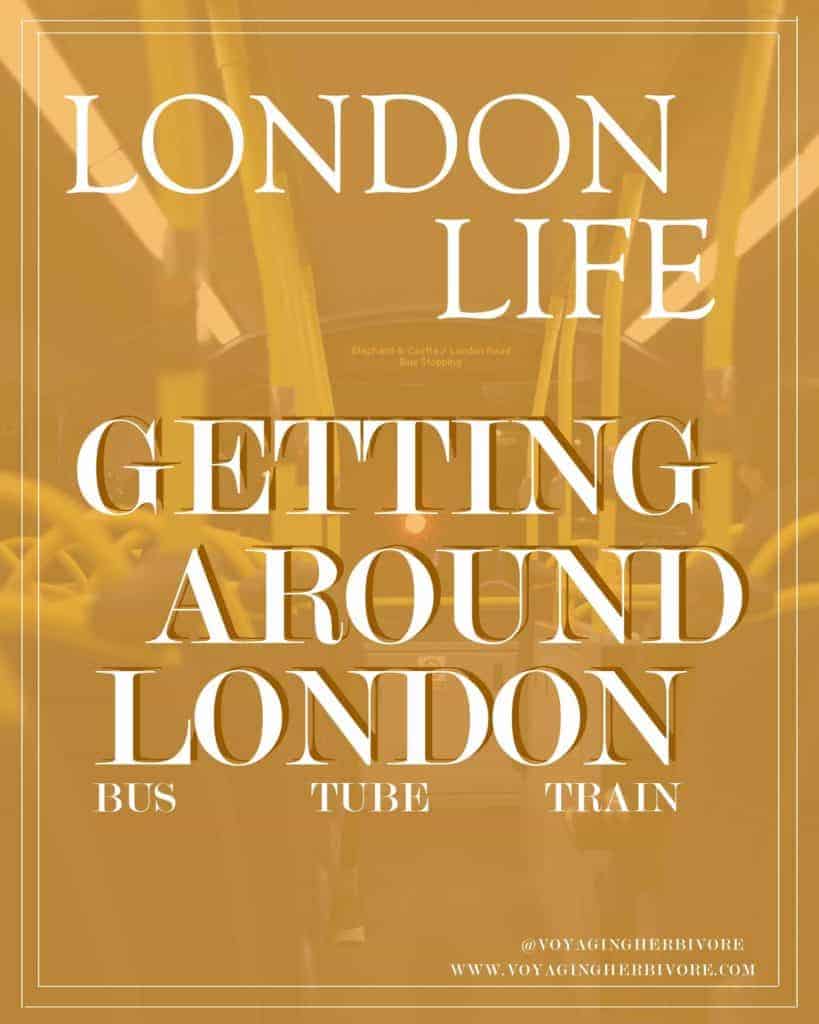 And as always, you can find more sustainable travel content on Instagram @VoyagingHerbivore, Youtube, and TikTok and to get updates straight to your inbox, enter your email below.

If you found this guide helpful and want to help us keep these resources free,
please consider making your next Amazon, Expedia, Hostel World, Etsy, Trivago, and Booking.com purchase through our links (just click right on those words – you can do it right now and unless you clear your cookies before your next purchase, it will remember). It costs you no extra and gives us a small commission. Thank you!