Your friends have given up pretending that they want to see photos from your most recent trip. Your partner isn't as keen on that three-week mountain trek as you are. Your family isn't as excited about blog monetization options as you are.
If any of these sound familiar, it's probably time to find a community that is excited to hear about your adventures and can support you and can help you grow as a traveler and creator.
If you're considering investing in the Wanderful Women Who Travel membership, keep reading for the full Wanderful review!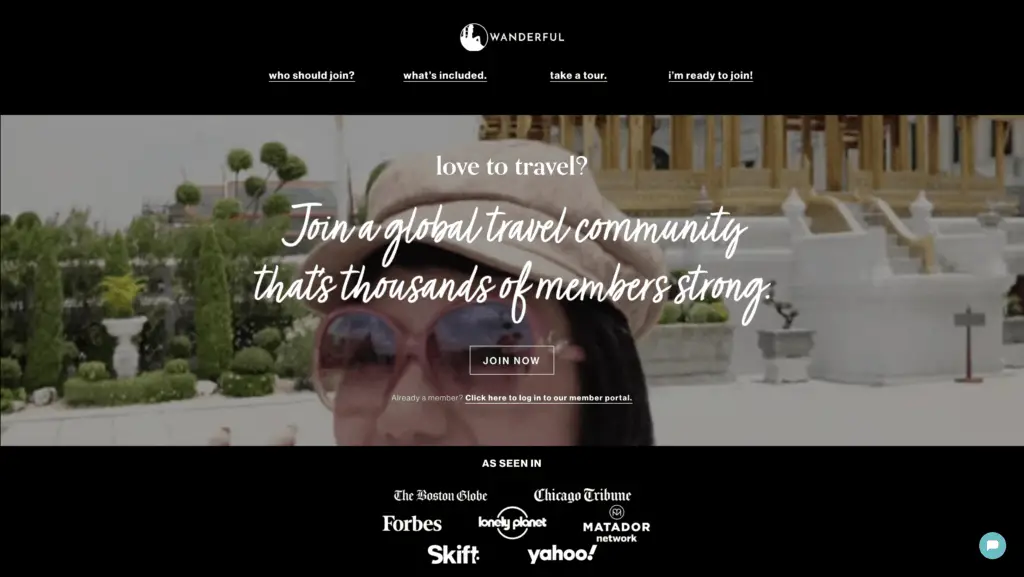 ---
---
Wanderful Quick Overview
Price: $299/year or $449/year
Best For: Bloggers and content creators who are serious about making content creation their full time job and connecting with a likeminded community. Also great for those looking for opportunities for collaboration and content creator related work
Free Trial: Yes, 1 week free trial
Discounts: Click here to check for Wanderful discounts
Worth It?: The benefits of the Wanderful membership come from regularly attending useful sessions (unique workshops available daily) and connecting with community members. You need to be active to get the most of it, but if you do, it's a great place to be. I've had several paid collaborations come from Wanderful via the Creator membership.
---
What is Wanderful?
Let's start off with the basics. What is Wanderful?
Wanderful is a community built for women who love to travel. The online community has thousands of members that you can connect with virtually and in-person through the different events hosted online daily and in-person throughout the year (more on this below!).
You might be wondering, what makes the Wanderful community different than one of the hundreds of Facebook groups for women who like to travel?
Wanderful has two different memberships, both of which are paid. Unlike a Facebook group that just anyone can join, one of the biggest benefits of the Wanderful community is that the people who are in there, really want to be there. If they didn't, they would cancel their membership. Because of this, the community is very active and you're sure to connect with amazing people from around the world.
Additionally, dependent on the Wanderful membership that you choose, you'll get access to:
Exclusive membership app and community
Chapter events
Daily virtual events
Webinars
Learning modules
Masterclasses from industry experts
Community deals and discounts
Group trips (a recent trip saw the Wanderful community in Antarctica!)
Dream job board
Perks at global events like WITS and Wanderfest
Global hosting network
Small group coaching for creators
Monthly blogger mastermind circle (my favorite feature!)
Invitations to brand collabs (this has paid for the membership itself)
Creator gig board
And more! Check out the Wanderful Membership Options section below to learn more.
As much as your friends and family might try and pretend to be excited to hear about your latest travels, having a community that's ready not just to hear about your travels, but to ask questions and plan your next adventure with you is an incredible feeling!
Is the Wanderful Community Just for Women?
No! Wanderful is for people of all identities but is primarily aimed at supporting women and gender-diverse people of all ages and all backgrounds who are united by their love of travel.
---
Wanderful Membership Options
To properly dive into this Wanderful review, you need to know about the two types of memberships: the Traveler and the Creator.
Regardless of which membership you choose, you get a 7-day free trial so you can test out the membership before committing.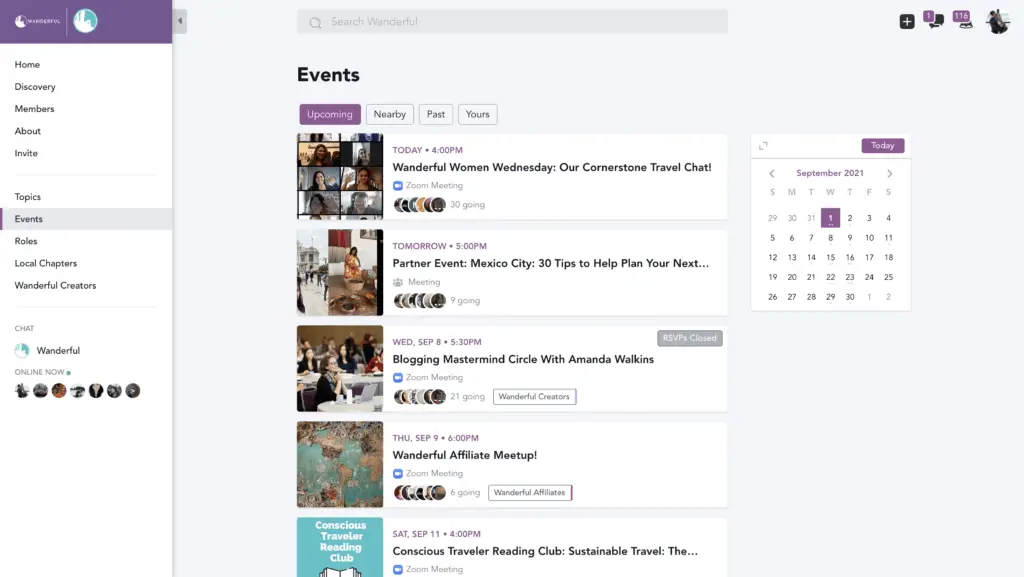 Traveler Membership
The Traveler membership is ideal for those who are looking for a community of people to talk travel and to travel with. The membership is beneficial in that you'll have access to exclusive discounts, group tours, and a network of women whose homes are open for you to stay in – just to name a few.
Exclusive Member App and Community: The Wanderful community runs on the Mighty Networks platform which is well equipped to manage communities of a large size. The platform is a lot like Facebook in that you can message people, join different groups, and register for events. There's also a resource library where you can access the hundreds of sessions, a job board, and plenty more to explore.
Chapter & Virtual Events: You'll find daily events (see the screenshot above – keep in mind that this is with the Creator membership so the Traveler membership may not have access to all of the events that you see) that you can register for and you can even set up the platform to sync with your calendar so all you have to do is mark the events that you want to attend. Different cities have their own chapter groups that you can join and in-person events that you can attend. You'll have access to book clubs, grief circles, mindfulness masterclasses, and more.
Community Deals and Discount: As part of the Wanderful membership, you get access to the Deals and Discounts board. This ever-growing list offers discounts on courses, books, luggage, travel products, self-care products, tours, and more.
Dream Job Board: As travelers, one of the best things that we can do for ourselves is to find a remote job. Wanderful's dream job board is updated with new amazing jobs that are usually remote. This includes everything from writing and photography opportunities to adventure leaders and trip planning specialists.
Global Hosting Network: Finding somewhere to stay is often one of the most expensive parts of traveling. With the Traveler membership, you'll get access to the global hosting network where fellow travelers may offer a spare bedroom or to show you around the city. As of 2021, this feature is still relatively new and is growing!
---
Creator Membership
The Wanderful Creator membership is ideal for those who are content creators (bloggers, photographers, Instagrammers, Youtubers, TikTokers, you name it!). It's also great for people running their own business who are looking to learn more about creating successful websites and social media, attracting new customers, and creating beautiful content to promote their products.
The Creator membership has all of the features of the Traveler membership, and so much more.
Resource Library: Perhaps the most valuable part of the Wanderful Creator membership are the learning opportunities. The resource library is filled with what seems like hundreds of insightful sessions from industry leaders on topics that all creators need to know. The list is ever-growing but at the time of writing this includes:
Branding and marketing
Legal
Monetiation
Partnerships, collabs, and pitching
Social media
WITS workshops
Writing, photography, and productivity
Webinars, Small Group Coaching, and Mastermind Circles: One of the hardest parts of being a full-time content creator is that it can get lonely. As useful as a resource library full of important topics is, sometimes you just want to chat and bounce ideas off of someone and your partner or friends are probably not as excited to talk about affiliate income or pitching to brands as you are! That's where the Wanderful live webinars and small group coaching sessions come in. Sit down virtually (and connect in person) with other creators to discuss different topics every month. I've personally found the monthly blogging mastermind circle to be worth its weight in gold and it's something that I look forward to every month. Can't make it? Everything is recorded and can be accessed later in the resource library.
Brand Opportunities: Creators have to make money somehow and brand partnerships are a great way to do this. Wanderful is a large organization that works with brands from all over the world to bring creator members paid and unpaid opportunities to promote and review products and services. Some brand partners that you'll be able to connect with include Grayl, Waypoint Goods, and Moon Travel Guides.
---
Pros of the Wanderful Membership
7 Day Free Trial: From your time of purchase you'll immediately gain access to the community and all that it offers. You have seven days to explore and decide if it's right for you and if not you'll get a full refund. No risk!
Fantastic and Active Community: The Wanderful community is incredibly active and during live sessions (where everyone has their camera on) you'll find yourself in the middle of what feels like a family that's ready to accept you and help you grow. I've met some absolutely incredible people who are so inspirational! I've even met a few people in person!
More than just travel: One of my favorite parts of the membership is that it's so much more than just travel resources. You'll find cooking classes, book clubs, grief circles, and more. I've been attending the monthly mindfulness sessions where we start with 15 to 20 minutes of guided meditation followed by a discussion on the month's topic. The sessions are typically small and usually include the same group of 5 to 10 people, making them quite intimate. You can share as much or as little as you like, and the same goes for all sessions.
---
Cons of the Wanderful Membership
So many notifications: With such an active community that has so many new events, recordings, and general updates happening the notifications can get a bit overwhelming. The Wanderful team provides a great "Getting Started" guide that helps you turn off notifications or reduce them to a weekly or daily email.
Pricey: Of course, one of the biggest deterrents of the Wanderful membership (whether you choose creator or traveler) is the price. Unlike other content creation courses which have a one-time fee (like Lost Creator Academy), Wanderful has a subscription model. This is understandable because of the number of resources added throughout the year, however, it's not always ideal.
Easy to miss messages: One of the features of the platform is messaging to individuals. I'm not quite sure what it is, but I am constantly missing messages. This is likely my own fault just because I'm not in the habit of checking these messages the way I am on Facebook or Instagram, but it's another platform to add to your list of things. tocheck.
Learning a new platform: Wanderful is hosted on the Mighty Networks platform and while it's nice to have everything in one place and not add to the pile of Facebook notifications you already have, learning the new platform can be a bit tricky. There are plenty of guides and live sessions to learn how to navigate Mighty Networks though, so don't worry too much about this!
---
Wanderful Events: What is WITS (Women in Travel Summit)?
WITS, or the Women in Travel Summit is "The premier event for women and gender diverse travel influencers and creators, and the brands that want to work with them."
Basically, WITS is a chance for creators to connect with brands and secure brand deals and contacts. Plus, there are speakers from different fields related to travel and content creation. Previous WITS summits have seen sessions on:
Achieving Success on a Global Scale: Pitching Brands for Products, Payments, and Press Trips
The Ethics of Sponsored Content
Legal Issues that Could Hiccup Your Content Creation and How to Avoid Them
Building Travel Campaigns that Reflect the Diversity of the World We Live In
Gender Equality in Travel
Building Lasting Local Brand Partnerships That Go Beyond the Blog
Mentor meetings
Networking sessions
Location specific information
City tours
With each different WITS event sessions change, but you can be assured that there are plenty of incredible speakers to learn from.
WITS summits take place all over the world with one in the US and in Europe each year. If you're heading to the Poland 2022 summit, I'll see you there! Wanderful also offers a WITS online summit. I attended this summit in 2021 and absolutely loved it. I was able to get two paid campaigns with brands and connect with a third. If you're a creator (whether that's your blog, Instagram, Youtube, TikTok or anything else) WITS is 100% worth it!
When I purchased my WITS Creator ticket, a year of the Wanderful Creator membership was included. There is no mention of this bonus on the WITS website at this time, but keep an eye out as they may bring it back. This is a fantastic way to try out Wanderful for a year and to get connections with other creators and brands.
In 2022, after being delayed for a few years, I attended the WITS summit in Gdansk, Poland. Despite completely losing my voice from talking so much, I enjoyed the summit and have a to-do list a mile long from everything that I learned. Alongside the fantastic speakers, Visit Gdansk also sponsored a large number of activities including tours, food and drink events, shopping, and spa experiences. These alone make the price of the ticket worth it!
---
Wanderful Events: What is Wanderfest?
WITS is for creators, but if you're a traveler who loves the idea of community, Wanderfest is where you want to be! Wanderfest is the first outdoor travel festival for women and is a weekend filled with incredible speakers, live music, and the chance to connect with like-minded female and gender-diverse travelers.
Wanderfest 2022 is scheduled for New Orleans and the lineup consists of:
Meet Emmy-nominated journalist & TV host Oneika Raymond
AfroBeat Yoga with Adrianne "Ajax" Jackson and DJ Ojay
Cooking demo with Indigenous chef Crystal Wahpepah as seen on Food Network's Chopped
Indian-inspired dance class with Sarina Jain, founder of Masala Bhangra®
Live discussion with Patricia Schultz, author of #1 NYTimes bestseller 1,000 Places to See Before You Die
Jazz music with singer Robin Barnes, the "Songbird of New Orleans"
Bounce Fitness dance class with Marissa "MoeJoe" Joseph
There's also a global marketplace where you can purchase products from women business owners or set up your own tent (prior approval needed).
If you're looking for a fun-filled weekend and a chance to make memories and friendships that will last a lifetime (that sounds so cheesy but it's so true!), get your ticket to Wanderfest.
If you're already a Wanderful member, you get 20% off via the Early Bird Discount. Plus, if you're already a member you'll likely be meeting people you've gotten to know online, so it really is worth having both.
---
Conclusion: Is a Wanderful Membership Worth the Price?
So to sum up this Wanderful review: is the Wanderful membership worth the price? In my opinion, the creator membership is 100% worth the price, but I don't know if I could justify just the traveler membership.
As someone who spends a lot of money on courses and webinars to improve the creator side of the business, it's nice to have a community to talk to about all sorts of topics and to have a place where professionals from all different industries share their knowledge.
Keep in mind that the creator membership isn't just for bloggers or influencers. If you have a business that involves digital elements like running a blog (which all businesses should do for SEO purposes), managing social media, working with influencers, or creating beautiful content to showcase your products, the creator membership is 100% worth the price!
---
Free Resources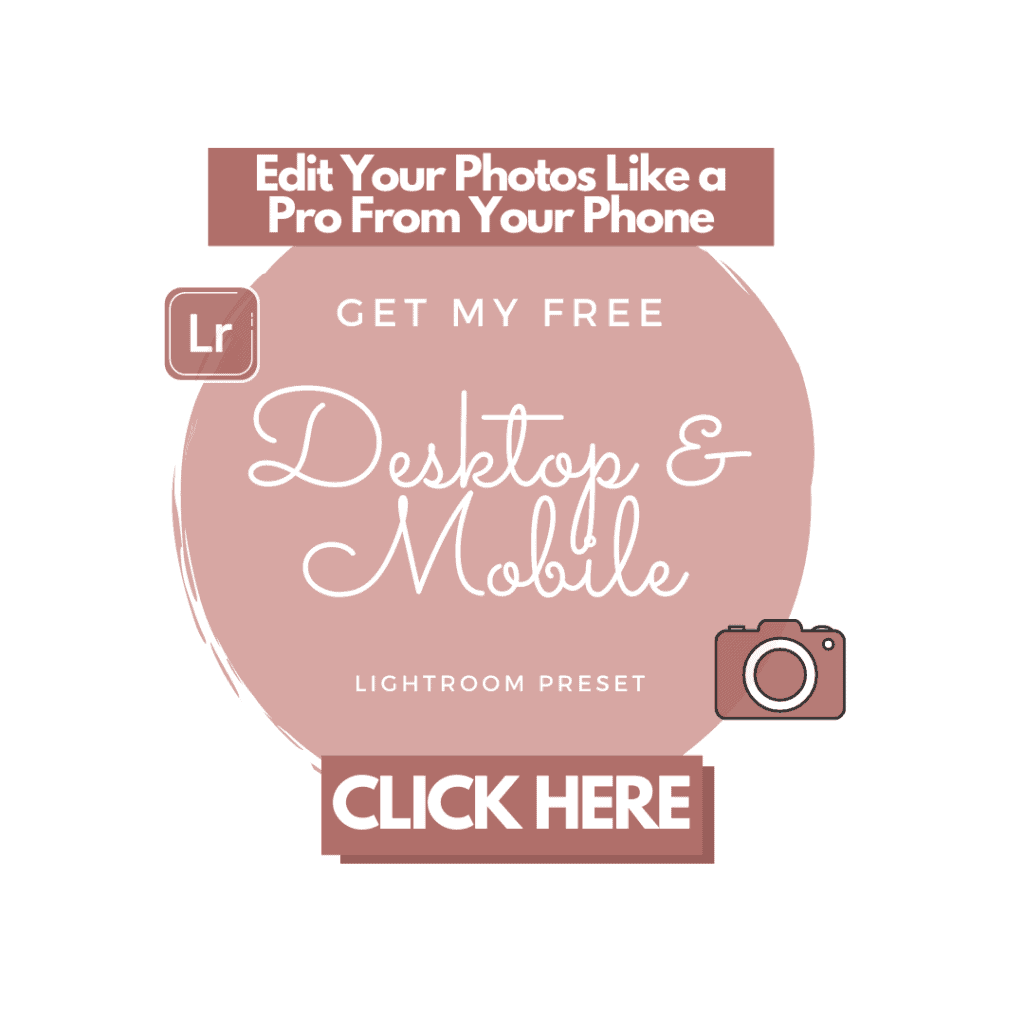 ---
Keep Reading
---
And as always, you can find more sustainable travel content on Instagram @VoyagingHerbivore, Youtube, and TikTok and to get updates straight to your inbox, enter your email below.

If you found this guide helpful and want to help us keep these resources free,
please consider making your next Amazon, Expedia, Hostel World, Etsy, Trivago, and Booking.com purchase through our links (just click right on those words – you can do it right now and unless you clear your cookies before your next purchase, it will remember). It costs you no extra and gives us a small commission. Thank you!
And as always, you can find more photos of our adventures on Instagram @VoyagingHerbivore, Youtube, and TikTok and to get updates straight to your inbox, enter your email below in the footer, or to the right on the sidebar. If you want to help us out even more, you can buy us a bit of fuel!
---
Pin Our Wanderful Review for Later