If you're a native or an expat living in Scotland, chances are you'll already be more than familiar with the subject of bothies, but for those not (fully) in the know, let us acquaint you with this quintessential part of Scottish culture.
Bothies can be an absolute godsend for campers and hikers in Scotland by providing shelter and respite from the sometimes harsh country terrains and even harsher weather conditions. 
For lovers of the great outdoors, spending the night in a Scottish bothy should absolutely be on your bucket list – and here are our top 12.
Read More: Day Hiking Essentials List – Everything You Need for a Day Hike
---
What is a bothy in Scotland?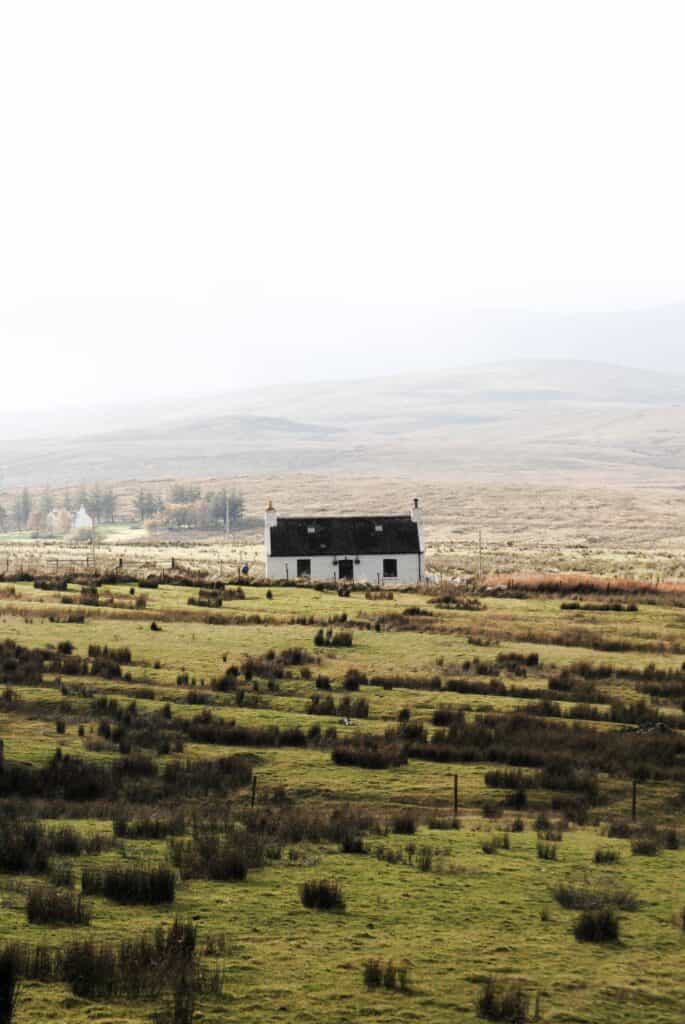 A bothy is a mountain shelter, which, from the outside resembles a cottage, but inside is rather basic, often meaning there isn't any furnishings, plumbing, or electricity. They were created in the olden days for farm workers or grounds workers in country estates or manors and are typically found in remote mountaintop or glen locations.
Nowadays, they are uninhibited by lodgers and instead are owned by the Mountain Bothies Association. They provide free temporary shelter for walkers, mountain climbers, hikers, and nature lovers needing a break from the cold or rainy weather.
If luxury and opulence are your thing, bothies probably won't suffice! They're not designed to provide lavish accommodation – just a temporary shelter from the elements. 
As we mentioned earlier, most bothies in Scotland are free to use, but the Mountain Bothies Association requests that you treat them with respect and leave them exactly as you found them. This is known as the Bothy Code:
To prevent overcrowding, walking/hiking groups are requested to remain 6 or under.
Be respectful and welcoming of other users who may show up. Bothies are not exclusive to one group of users – they are for everyone.
Do not leave anything behind. This includes litter, food, clothing, tents, or anything else non-perishable.
Be mindful of leaving perishable foods lying around, as this will attract rats.
---
12 Best Bothies in Scotland
So, without further ado, let's look at the top 12 best bothies in Scotland.
---
1. Suileag Bothy
Many flock to the Highlands every year to drink in the delicious mountain air, stare in awe at the incredible rural scenery, and just become one with nature again – and owing to Scotland's often tempestuous weather, a bothy can come in handy!
Hikers and campers heading to the Sandstone Pillar in Suilven will relish the Suileag bothy during bouts of harsh weather. As bothies go, this one isn't too hard to get to and it can be found on the cusp of the UNESCO geopark of Assynt, circa two miles away from Lochinver.
The bothy contains sleeping platforms and a fireplace. Unless you have equipment and resources to light a fire, you're well-advised to bundle up as the bothy is rather exposed and can be very cold at night. 
---
2. Knockdamp Bothy
This delectable bothy can be found in the north-western part of The Highlands, near Loch an Daimh and roughly dates back to the 1800s. Despite its age, it's one of the few bothies that actually has beds. You will still need a sleeping bag and pillow, however. Remember – these aren't 5-star hotels we're talking about!
It has two rooms, both of which contain fireplaces, and again, much like Suileag, is very exposed to the elements, so do bundle up!
---
3. Barrisdale Bothy
Barrissdale bothy is something of a luxury in comparison with most other bothies, as it features three rooms, running water, and even a toilet. The catch? Well, there's no fireplace, so be mindful of the cold – and as bothies go, this one is definitely more on the remote side.
Recommended for more experienced hikers only, Barissdale bothy can be found on the Knoydart peninsula and is very much off the beaten track. The good news is if you reach the bothy after a long hard day of hiking and there's no room at the inn, so to speak, there is a campsite nearby.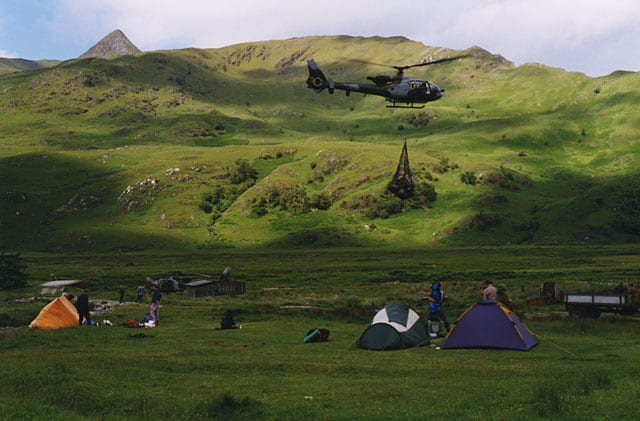 ---
4. Maol Bhuidhe Bothy
Another super-remote Scottish bothy is the Maol Bhuidhe bothy, which is in the northwestern part of the Highlands and can be found by hikers traversing the Cape Wrath Trail, although the bothy is surrounded by three rivers, which in certain weather conditions can make it challenging to reach.
However, despite these potential obstacles, this bothy can be a real treat to spend a night in and the location boasts some seriously stunning sunrises.
---
5. The Lookout
This Isle of Skye bothy is recommended for hiking/bothy newbies, as it's one of the more accessible bothies on our list. It is, however, rather sought-after in the warmer months, as it is a much-loved spot for bird and whale watchers.
As facilities go, this one is pretty basic and offers only sleeping plinths and a fireplace, and only sleeps 7 people. However, the stunning cliffside sea views make up for any shortcomings.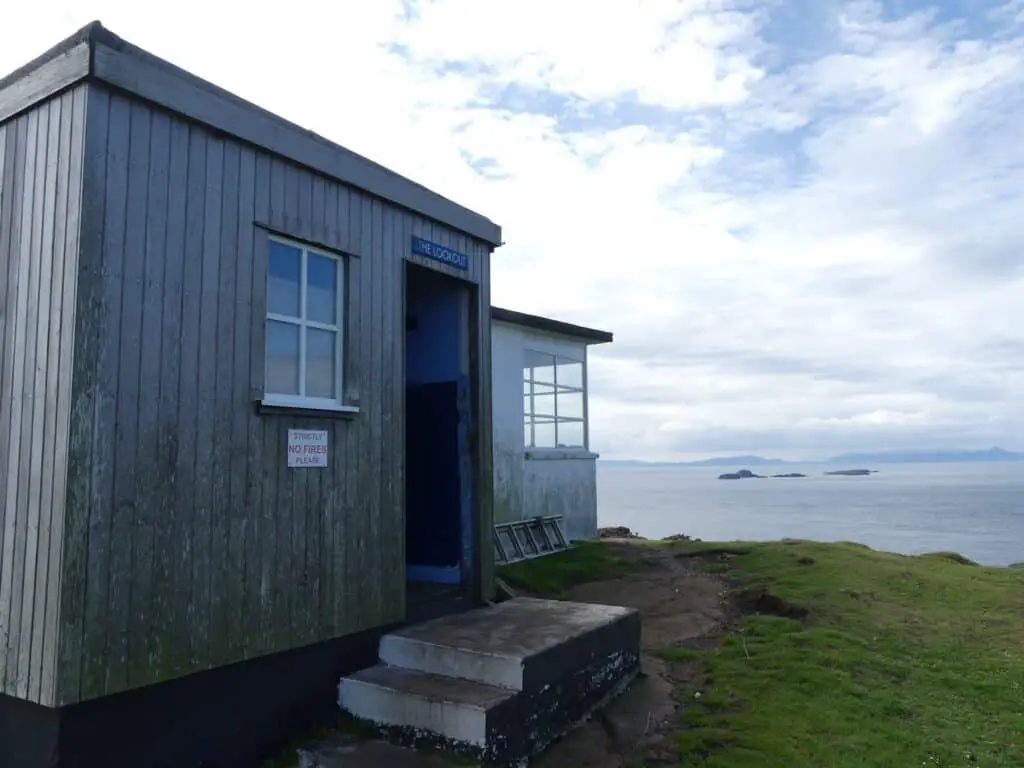 ---
6. Camban Bothy
Sticking with the Cape Wrath Trail for a second, if Maol Bhuidhe bothy is full, you may find luck with the Camban. 
Tucked away on the green pastures of the Kintail mountains, this bothy is nestled into a seriously serene area of rural Scotland and dates back to the early 1800s, for true bothy authenticity!
---
7. Ruigh Aiteachain Bothy
Ruigh Aiteachain is rather fancy as bothies go and stands out with its chalk-white bricks and skylight windows. The reason this one is rather modern and fresh-looking is that it was rebuilt in 2019. 
Located in the beautiful and wild Glen Feshie within the famous Cairngorms National Park, the bothy features a compostable toilet, fireplace, and even heated showers, and the inside sleeps 10. However, the exterior is a popular and much-loved campsite.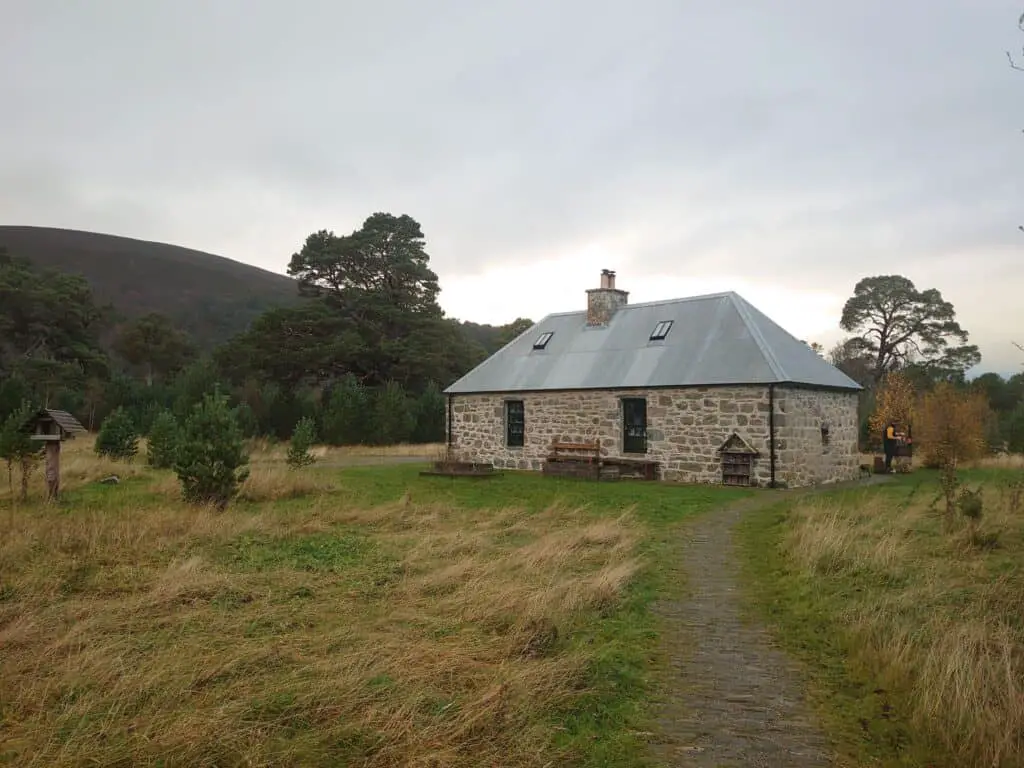 ---
8. Kearvaig Bothy
If you're anything like us, you're a total sucker for a stunning view, and the area which features Kearvaig bothy certainly doesn't disappoint.
Located on Kearvaig Bay, with its pristine sandy beaches and turquoise waves, this bothy boasts views of the mystical sea stacks, which poke out from the shallows, as well as nearby clifftops which, depending on the season, can be bustling with puffin activity!
---
9. Glencoul Bothy
Glencoul bothy looks like it came straight out of an oil painting and offers some seriously incredible views of mountains and Loch Glencoul, which is worth a visit in itself. It is also located near the stunning Eas a Chual Aluinn waterfall (AKA, the UK's tallest waterfall).
Formerly a schoolhouse up until the 1960s, Glencoul bothy features a fireplace (obviously you will need to bring your own supplies) and a bedroom that sleeps 5. 
---
10. The Schoolhouse Bothy
Speaking of schoolhouses, this bothy once allowed for as many as 20 students to get their education under its roof (up until the 1920s). It has since been renovated but still features many namesake artifacts, including a chalkboard, old-school wooden desks, and even the complete collection of Shakespeare's works.
Getting to the bothy is super-easy (you can even drive to it, although it's not overly recommended), and nearby is a serene, clear river, which sees many hikers indulging in a summertime swim.
Read More: Scotland Driving: What You Need To Know
---

---
11. Shenavall Bothy
This Scottish bothy is located in one of the most remote parts of the country (Wester Ross), so bear that in mind if you're a fairly inexperienced hiker. But for those who wish to tackle this trail, it's a gem. 
Don't be fooled into thinking that its remoteness means it's a safe bet upon visiting in terms of space. On the contrary, it's often bustling with hikers needing some respite, so be sure to bring a tent with you just in case.
---
12. Glendhu Bothy
Last but not least is the Glendhu bothy, which sits on the lip of Loch Glendhu and is surrounded by some humbling and jaw-dropping views of the Sutherland mountains. This bothy has been renovated by the Mountain Bothies Association, making it more modern in comparison to its more untouched counterparts.
Lovers of animals and wildlife will relish this location, which is home to playful seals in the loch and some seriously cute Highland ponies!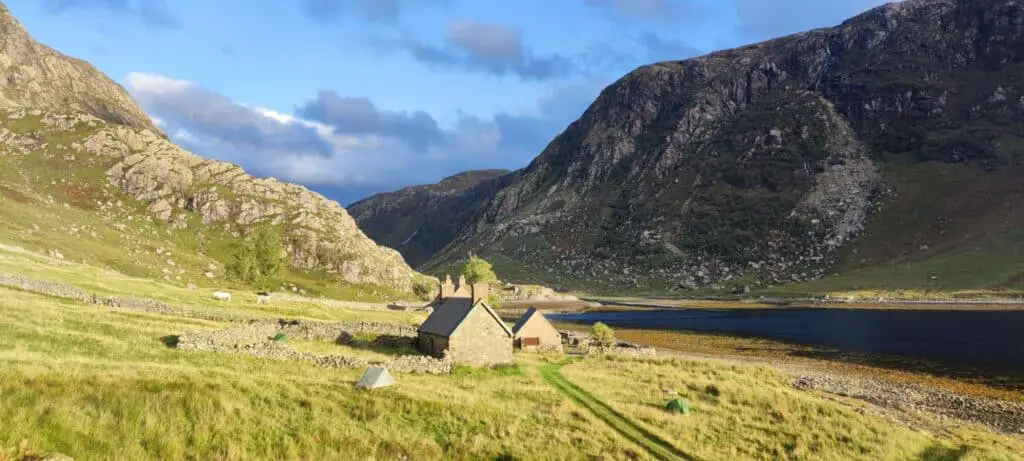 ---
Bothies in Scotland: FAQs
How many bothies are in Scotland?
According to the Scottish Bothy Bible, a published book on the subject, as of 2023 there are 104 bothies in Scotland.
How to pronounce bothy?
Bothy is pronounced, "both (which would rhyme with 'goth') ee".
Do bothies have toilets?
Scottish bothies are rather basic and therefore do not have toilet facilities. However, some do, but it is worth doing your homework when scouting bothies (or coming prepared with alternative solutions!).
Why is a bothy called a bothy?
'Bothy' stems from the Gaelic word 'bothan', which translates to 'hut', and was largely used in old rural Scotland to describe the homes of estate/manor workers, which were simple basic huts or cottages on the property of the wealthy landowner.
Are Scottish bothies free?
Generally, bothies in Scotland are free to use and kept unlocked for easy access/use. 
Be mindful though that they have become rather popular in the past few years and tourists, hikers, and nature-lovers often use them.
---
More Scotland Posts
---
Free Resources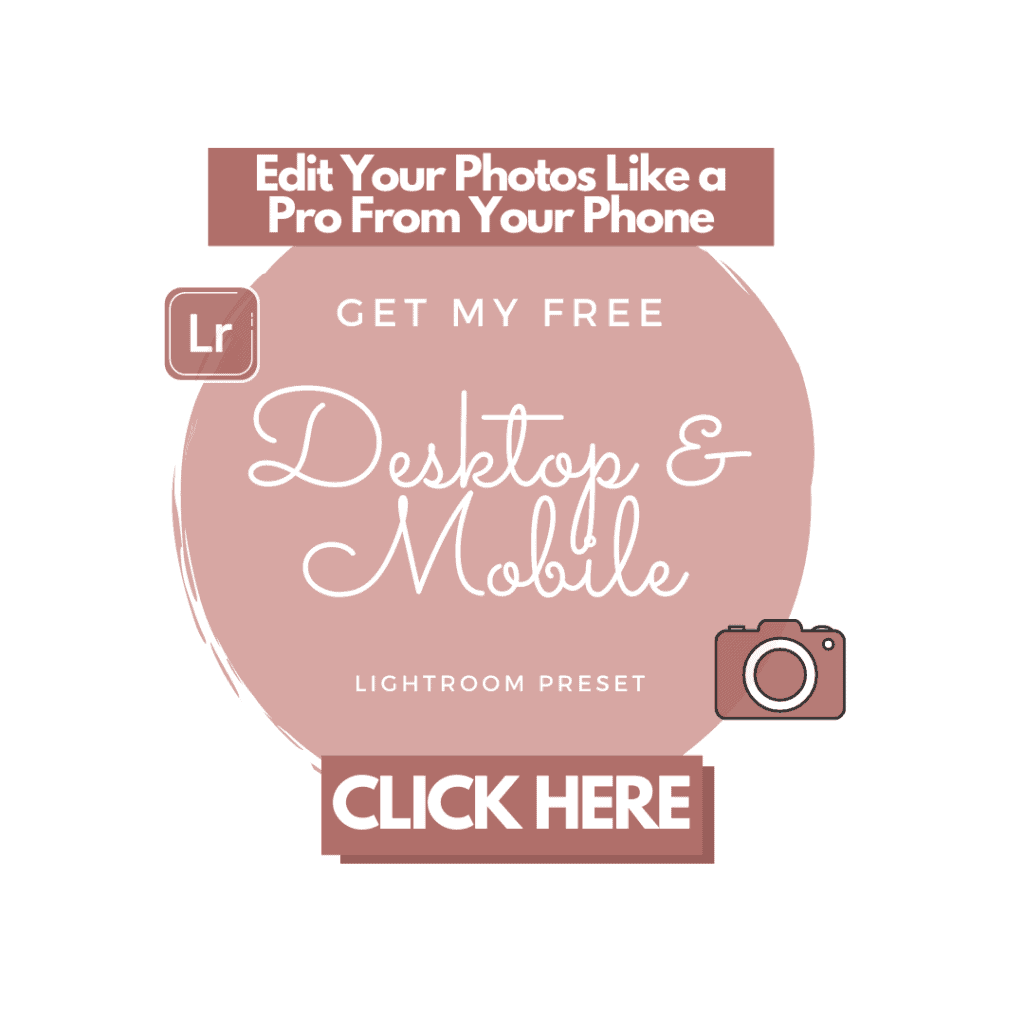 ---
And as always, you can find more sustainable travel content on Instagram @VoyagingHerbivore, Youtube, and TikTok and to get updates straight to your inbox, enter your email below in the footer, or to the right on the sidebar.

If you found this guide helpful and want to help us keep these resources free,
please consider making your next Amazon, Expedia, Hostel World, Etsy, and Booking.com purchase through our links (just click right on those words – you can do it right now and unless you clear your cookies before your next purchase, it will remember). It costs you no extra and gives us a small commission. Thank you!
---
Pin Bothies in Scotland