Spending Christmas in Edinburgh is a wonderful idea. This cosy city with its historical buildings, beautiful architecture, and world-class hotels is just a perfect place for your next Christmas destination. Edinburgh Christmas market is full of wonderful treats, souvenirs, and hot drinks to keep you warm on cold winter days. Edinburgh in December is wonderfully decorated and an ideal place to be if you love Christmas fairytale-like cities. 
Read More: What to Wear in Scotland: Clothing Itinerary Ideas for Your Scottish Trip
Things to Do for Christmas in Edinburgh
There are so many things to do in Edinburgh at Christmas time, starting with indoor parties, Christmas markets, museums, and shopping. We have selected the best things for Christmas in Edinburgh for anyone who likes holidays:
---
1. Ice Skating in Edinburgh
You can try ice skating in Edinburgh at the George Street ice rink. Even if you do not have any experience this is a fun activity to do with your friends and family. When you purchase the ticket it also includes skate rentals which start at child size 9 and up.
The Christmas ice rink in Edinburgh on your skates and take a stroll down memory lane. An alpine ice rink may be found between Castle Street and Charlotte Square on West George St. You can end the event with a mulled wine if you're exhausted from the effort of skating.
---
2. Edinburgh Christmas Market at Princes Street Gardens
Prepare for sensory overload as you begin at the top of the renowned Princes Street Gardens. Here, you will encounter scents, tastes, and noises from all around Europe. Every area of the park is taken up by the market, which then begins again across from the railroad tracks. 
Some stalls provide a "rent-a-cup" service for mulled wine and hot cider to reduce plastic waste.
Drinks are served in a festive mug that is great for photos, and you get your deposit back if you return the mug. Street food is also sold with a Scottish twist on the classics like burgers and fries. You can eat, drink, and be merry at this beautiful market.
If you head over to the National Galleries cafe you can enjoy wonderful views of the market. In the evening it can get crowded, like any other Christmas market, but fun and good spirit is all around and you will enjoy Christmas in Edinburgh.
Read More: The Ultimate Guide to Edinburgh Christmas Markets
---
3. Hogmanay Street Party
The legendary Hogmanay Street Party in Edinburgh welcomes the New Year over three days, beginning with the Torchlight Procession and ending with the Loony Dook on January 1st. In the mesmerising shadow of Edinburgh Castle, there is traditional Scottish music, as well as a lavish fireworks display that you can view from Princes Street Gardens. 
Read More: Edinburgh Hogmanay: What You Need to Know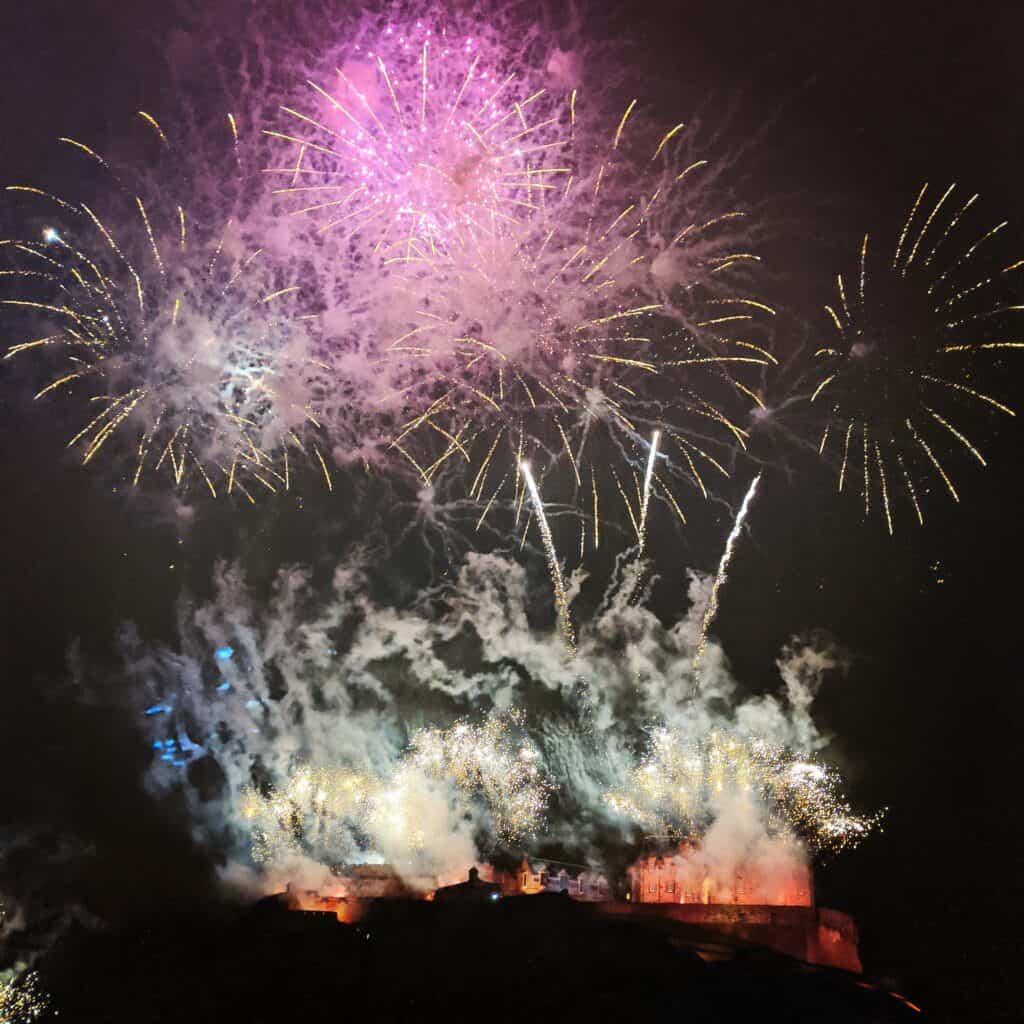 ---
4. Join Santa Fun Run and Walk
Participate in the Santa Fun Run and Walk this holiday season to support the organisation When You Wish Upon A Star, which helps children with serious illnesses. Numerous individuals dressed as Santa Claus run or walk a 2.5-kilometre loop. This is a wonderful way to spend time with loved ones and friends while supporting a worthwhile charity. You can still take part in this fun and charity event even if you are not a runner.
---
5. Explore Royal Botanical Gardens
Visit Edinburgh's Royal Botanic Garden at Christmastime to explore one of the city's most breathtaking and wonderful locations. Enjoy beautiful sights including the Tunnel of Light, Festive Finale, Scented Fire Garden, and Laser Garden. At Laser Garden, watch in awe as light beams dart between tree branches. At the Festive Finale, colourful projections will dance to popular Christmas songs. With the help of these magnificent lit displays, get into the Christmas spirit.
---
6. Have Dinner at Dome
The Edinburgh Dome is the centre of the holiday season. A glass of wine, a cocktail or a hot chocolate can all be enjoyed here while also enjoying wonderful Christmas decor around you. The Dome is where you should be and is unquestionably a landmark in Edinburgh. 
The Christmas decorations and lights will astound you. It's where we always go to formally usher in the holiday season in Edinburgh. It must be on your bucket list for Edinburgh, without a doubt. Make sure to reserve your spot for dinner or drinks in advance because it gets very busy.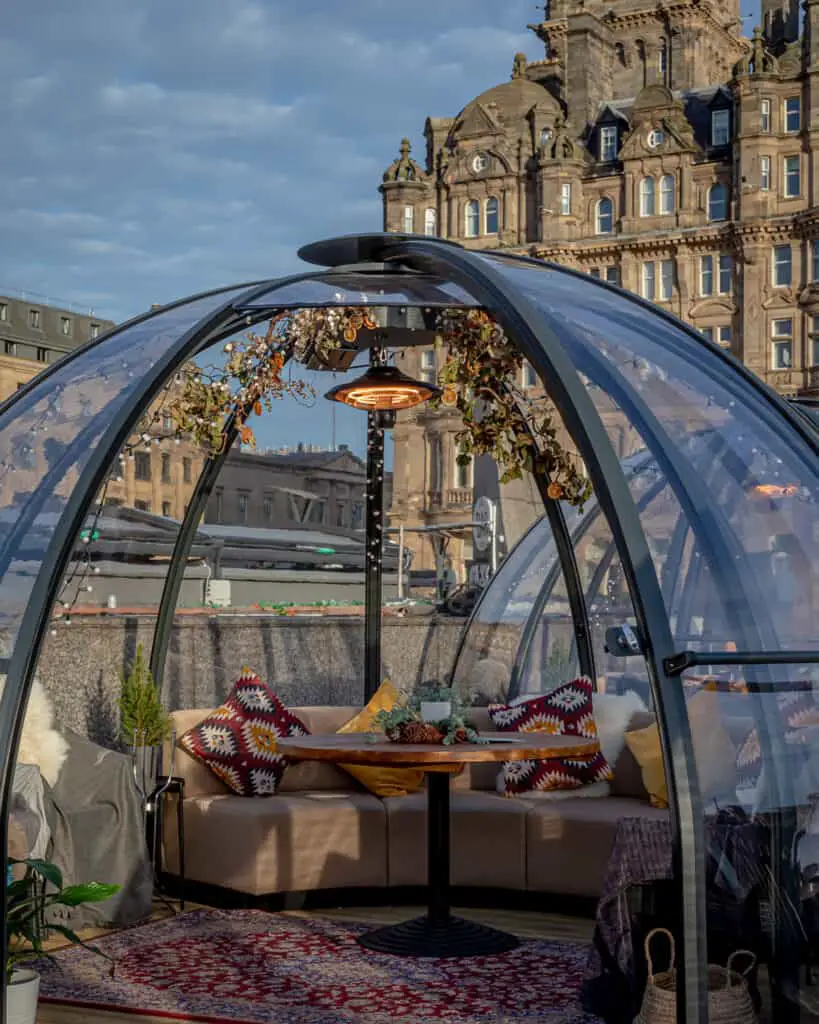 ---
7. Watch Pantomime
A trip to the pantomime show is necessary for Christmas to be complete. Regardless of whether you have children or not, everyone should see a pantomime at least once in their lifetime. This is what many locals will do during the Christmas season, and you as a visitor can also enjoy the Christmas spirit in Edinburgh by going to the show.
---
8. Try Food at Stockbridge Market
Sunday food cravings should be satisfied by visiting Stockbridge, a city village located 10 minutes on foot from Edinburgh's city centre. Many of Scotland's top artisan food and drink vendors set up shop every week, and starting in November, they sell a variety of holiday treats including mince pies and warm spiced cider. 
After you've had your fill, explore the independent stores and used bookstores that line the main street. There are several excellent charity shops there as well, where you might be able to get some fantastic stocking stuffers at a discount. 
---
9. Attend the Christmas Concert
Carols by Candlelight at St. Mary's Cathedral in the West End will help you ring in the holiday season. A variety of performances are being held all during December at St Giles' Cathedral, which is located in the centre of the Royal Mile. Christmas carols can be sung along with the cathedral choir, or you can relax and take in the Piccadilly Sinfonietta's performance of Vivaldi's Four Seasons, which features some of the best soloists and chamber musicians in the UK.
Read More: 12 Things to do in Edinburgh in December [Holiday Vibes!]
---
10. Visit Santa's Grotto
Without going to Santa's Grotto, your holiday in Edinburgh won't be complete. Meet Santa Claus, take in his fascinating, enchanted stories, enjoy the holiday cheer, and receive a present. Ride the Helter Skelter and indulge in some delectable hot chocolate. 
---
Where to Stay for Christmas in Edinburgh
Edinburgh has many great stays, from Airbnb's to gorgeous hotels. Here are the top options when it comes to Christmas in Edinburgh:
---
1. Royal Mile Balconies by the Castle
Cosy rooms with stone walls at one of the best locations in the city make this our top choice for Christmas in Edinburgh. You can book a room that overlooks a historic courtyard. Each room is uniquely decorated and offers all the amenities you need for a perfect vacation.
---
2. Cheval Old Town Chambers
Stylish and gorgeous, stay here if you want to be surrounded by luxurious decorations and fantastic views. These beautiful apartments have free wifi and all the facilities you need for a longer stay. Also, they are conveniently located only a couple of minutes from Edinburgh Castle and other city attractions.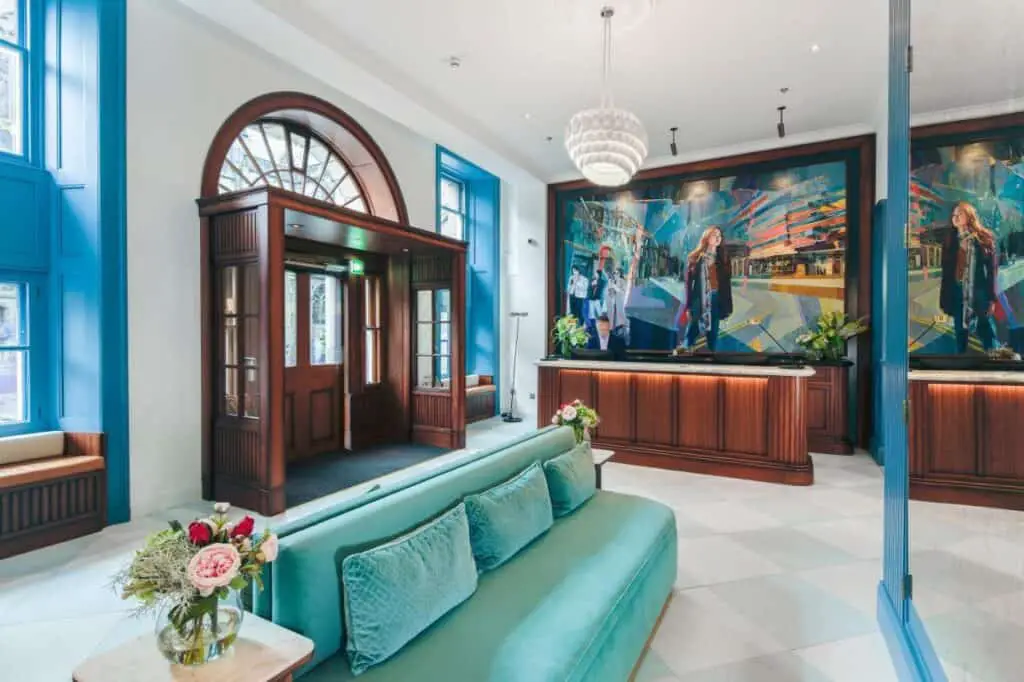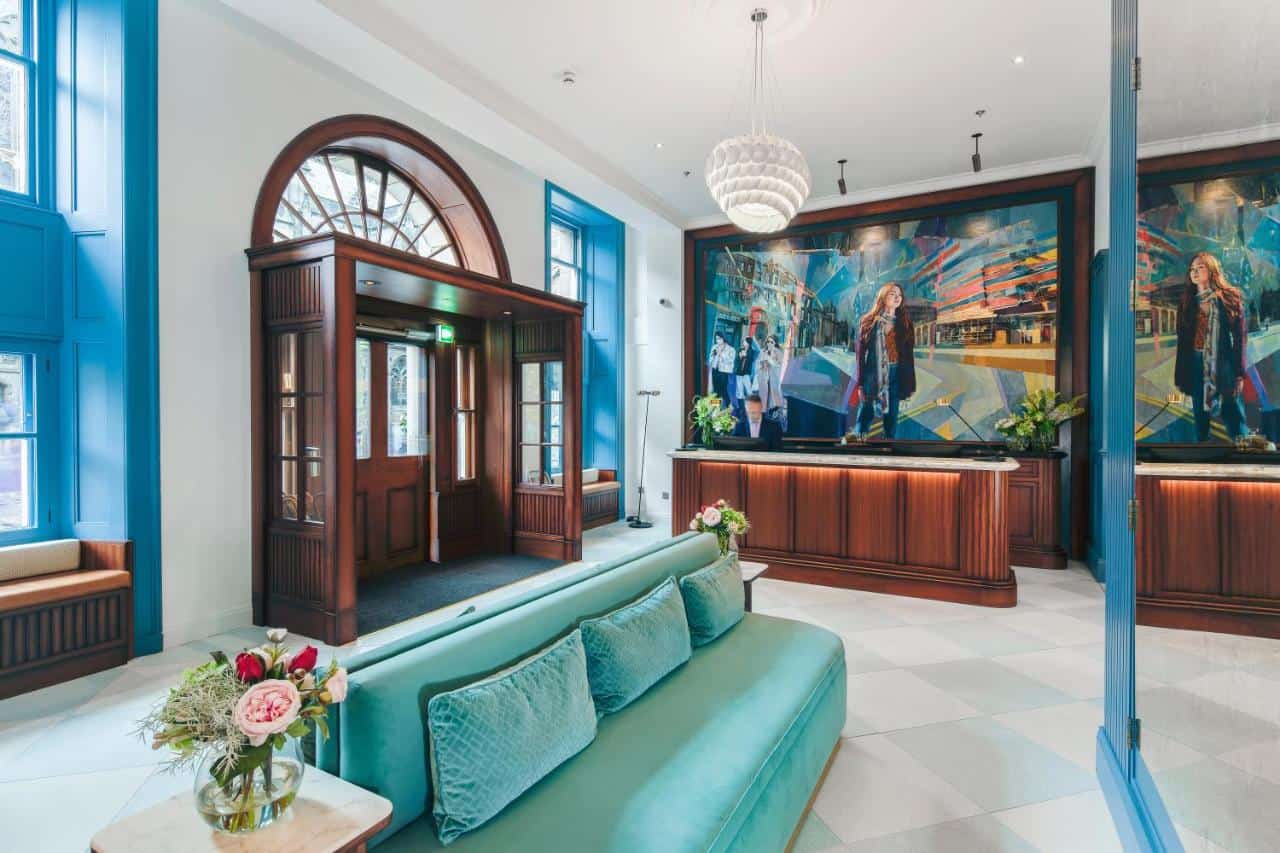 ---
3. Virgin Hotels Edinburgh
If you want to treat yourself to luxury and beauty, choose Virgin Hotels Edinburgh. Every single room in this 5-star hotel is gorgeous, and the service is top-notch. It is located in the city centre and you will have beautiful city views from your suite. Some rooms have a terrace, and the hotel has an amazing breakfast that includes vegan options.
This is a truly beautiful hotel and one that I'm excited to photograph a wedding at in just a few weeks.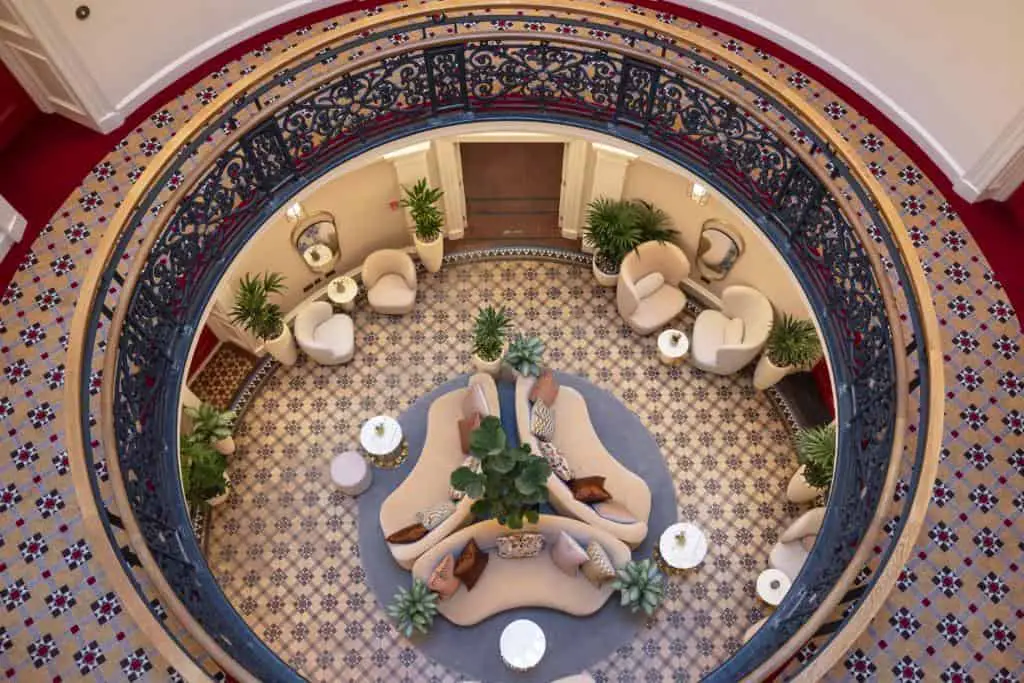 ---
4. The Bonham
Choose this hotel if you love traditional elegance. This hotel looks like a perfect movie set at Christmas time. Spacious rooms with wonderful views will feel so cosy you will wish you were living there. The hotel has a bar and a restaurant where you can try different European dishes or popular cocktails.
It really is a gorgeous and central place to stay – and I speak from experience. It's actually where I got married!
---
5. InterContinental Hotels Edinburgh
You will never make a mistake if you choose one of InterContinental Hotels, and the same goes for this one located in Edinburgh. Elegant and spacious rooms are ideal for vacation stays. The hall is always beautifully decorated and the location is perfect for first-time visitors to the city.
---
Spend Christmas in Edinburgh: FAQs
Is Edinburgh Worth Visiting at Christmas?
Although Edinburgh is beautiful all year long, the holiday season is when visitors should visit. Edinburgh is where the magic happens during the holiday season. 
What Is Christmas Like in Edinburgh?
Christmas in Edinburgh involves more than just the Christmas markets that line some of the city's squares. Edinburgh's seasonal events, beautiful decorations, and Scottish markets filled with the aroma of hot toddies and only locally made goods make it feel as though you've stepped into a holiday film.
Is Edinburgh or Glasgow Better for Christmas?
Both cities are gorgeous at Christmastime, but Edinburgh is famous for its Christmas market and it is attracting visitors from around the world. 
Are There Christmas Markets in Edinburgh?
The Christmas market in Edinburgh is throughout the city, but the main event is at East Princes Street Gardens where events are happening and there are many stalls where you can buy food or souvenirs.
What to Do in Edinburgh at Christmas?
Things to do in Edinburgh at Christmas time include walks through beautifully decorated Princes Street Gardens, trying out ice skating in Edinburgh ice rinks, stopping by Edinburgh Christmas market, and hanging out at Hogmanay street party. There is something for every taste at Christmas time in Edinburgh.
---
More Scotland Posts
---
Free Resources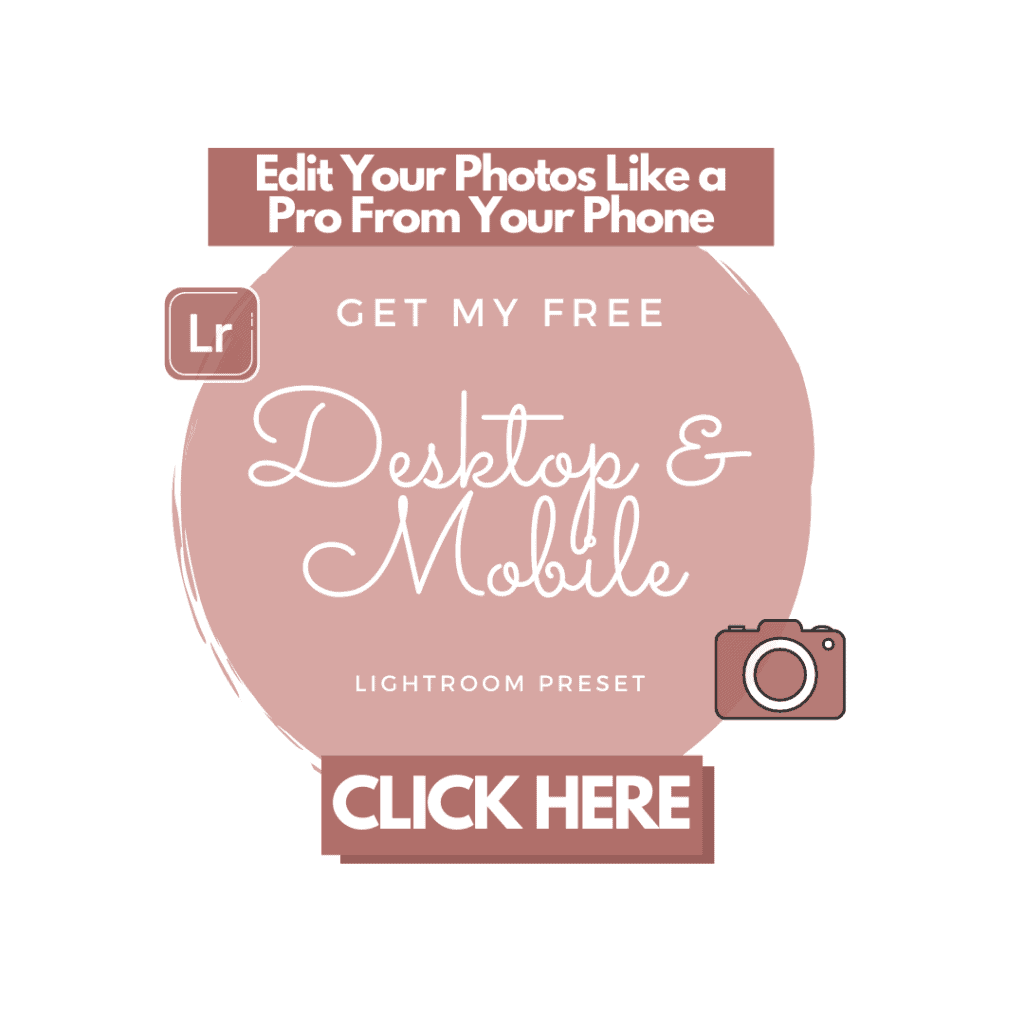 ---
And as always, you can find more sustainable travel content on Instagram @VoyagingHerbivore, Youtube, and TikTok and to get updates straight to your inbox, enter your email below in the footer, or to the right on the sidebar.

If you found this guide helpful and want to help us keep these resources free,
please consider making your next Amazon, Expedia, Hostel World, Etsy, and Booking.com purchase through our links (just click right on those words – you can do it right now and unless you clear your cookies before your next purchase, it will remember). It costs you no extra and gives us a small commission. Thank you!