"Ew. Vegan cheese."
I've heard it. You've heard. And yet despite the general consensus that vegan cheese is disgusting, I still gained a tremendous amount of weight during the summer where I worked in London for a vegan cheese company.
Now how can that be?
London is home to some of the best vegan cheeses in the world! With the Paris vegan scene being a surprisingly close second.
Keep reading to learn which vegan cheese brands are a must-try for your trip to London.
---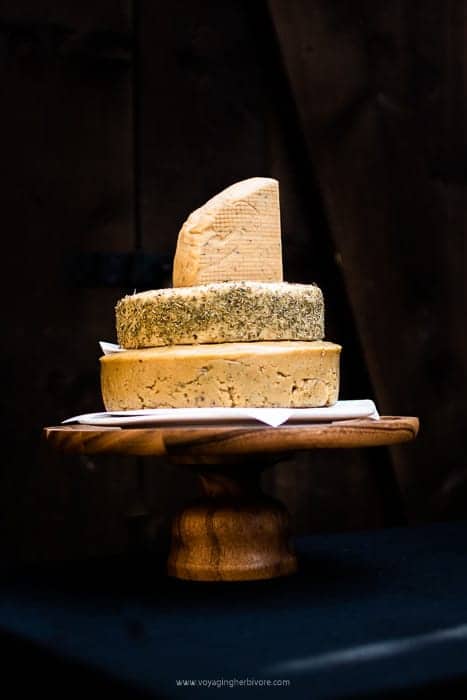 ---
This site is user-supported and that's why we use affiliate links. At no extra cost to you, we get a little bit of money when you purchase something through one of our links. Thank you for helping support ethical, sustainable, and plant-based travel! You can read more about our affiliate disclosure policy here.
---
I AM NUT OK
It's possible that I'm a bit biased because I spent a summer photographing and developing recipes for I AM NUT OK, but their vegan cheese really is amazing!
The majority of their cheese is fairly soft and ideal for spreading. However, I do believe that they are working on developing a new and slightly harder range.
One thing that I absolutely love about this cheese is that you can freeze it. Although not advertised as such, I've had great experiences sticking it in the freezer for several weeks and then letting it thaw in the fridge.
This is just one of the reasons that I AM NUT OK makes for some of the best vegan cheese in London! You need to try it for yourself to truly understand.
Allergens: Cashews, soy, mustard, garlic
Price: $8 – $10
Where to Buy: You can purchase this vegan cheese online, at Broadway Market on Saturdays, or at Victoria Park Market on Sundays.
Types: Soft cheeses, spreads, crumbly parmesan, foie gras, salami
Must-Try: Fauxgras (heavy truffle), MinerThreat, Pepahhh
Read More: The Best Vegan Restaurants in London
---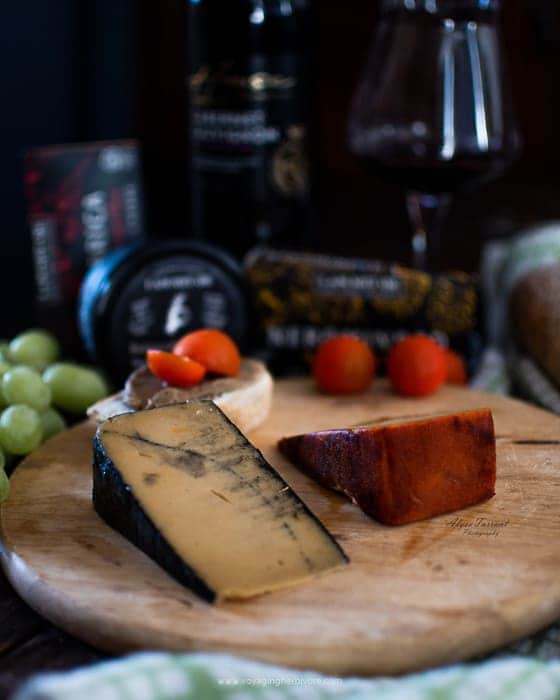 ---
NEW ROOTS
Have you ever had vegan camembert? Because once you have it, you can never go back. New Roots is a larger company with options to purchase all over Europe.
They have a wide selection of cheese, from camemberts to several different herb varieties.
New Roots is a company based in Switzerland, but you'll find them in a lot of vegan stores in London. You also might find them at Vegan Nights London from time to time or at different foodie events in the city.
Allergens: Cashews and a variety of herbs
Price: $10 – $12
Where to Buy: Green Bay Supermarket, New Roots online shop or at a variety of different stores around London
Types: Camembert, spreads, goat, fresh herb coatings
Must-Try: Soft White Camembert
Read More: Must-Try Vegan Street Food in London
---
MOUSE'S FAVORITE
When I die, I hope it's from an overdose of Mouse's Favorite camembert vegan cheese.
Not only is it slightly larger than many other vegan camembert wheels, but it's also the most amazing vegan cheese that I've ever had. Creamy, a bit sharp, and so good that I could just eat it like an apple.
Mouse's Favorite has a variety of different vegan cheese styles. From a beer washed to an apricot style, you'll want to try them all.
According to their website, you can also freeze many of the products and they'll last up to 6 weeks in the fridge.
Allergens: Cashews
Price: $8 – $12
Where to Buy: Green Bay Supermarket, Mouse's Favorite's online shop but they seem to be quite popular and are often out of stock. If you're in London, check out their store locator to see where you can purchase and immediately satisfy your cravings!
Types: Spreads, butter, camembert, beer washed, apricot, and more!
Must-Try: Camembert Style
Read More: Essential Tips for Visiting London
---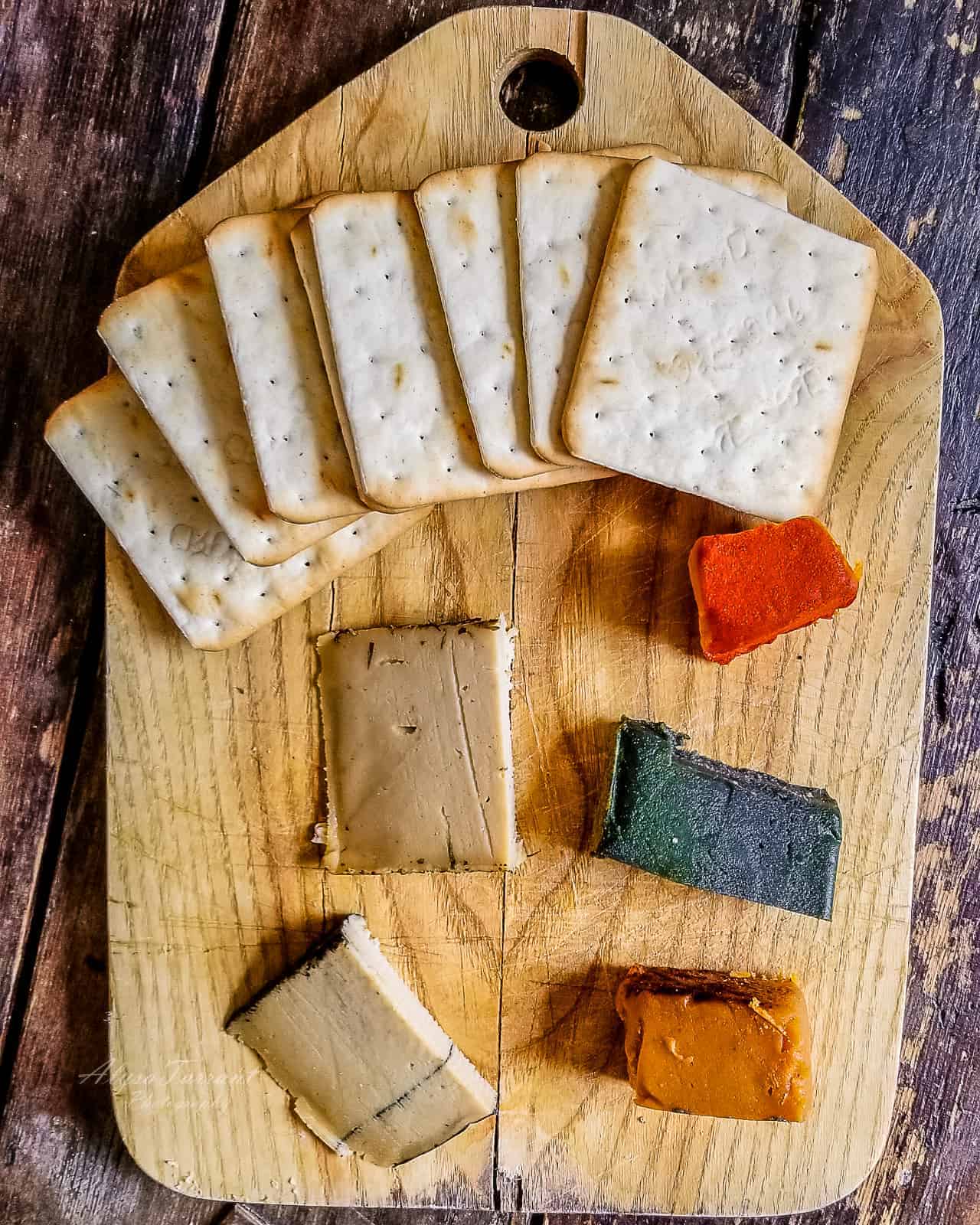 ---
HONESTLY TASTY
If you miss the sharpness of dairy cheese, you need to try Honestly Tasty.
Their Veganzola (pictured below), is the closest thing to dairy-based blue cheese that I've ever had. So much so, that I can only eat tiny portions at once because I never was a blue cheese lover.
If you're not usually a blue cheese addict, I would recommend a small portion of this so that it doesn't go bad as you eat it slowly.
This is easily some of the most realistic and best vegan cheese in London. You can't purchase online, but they can be found in three different stores across London.
Allergens: Coconut, almond, soy, cashew, mustard (varies by product)
Price: $5 – $10
Where to Buy: Online at Green Bay Vegan Supermark, You can find them in these stores in London: La Fauxmagerie, MacFarlane's Deli, and Karamel N22
Types: Blue cheese, Camembert, Cheddar, Spread
Must-Try: Veganzola Vegan Blue Cheese
---
---
KINDACO
KindaCo offers a great range of vegan cheese in London. With everything from a Valentine's themed vegan cheese board, to a limited edition chocolate cheese that I'm dying to try, you won't find a wider variety of strong flavors.
They also offer different supper clubs and classes to keep an eye out for.
Heads up that their Smoked Chili is uber spicy! Perfect if you love a great kick.
Allergens: Cashews, soy
Price: $7 – $8 + larger boards
Where to Buy: Green Bay Vegan Supermarket, Directly from their online shop, any of their stockists, and sometimes at different markets and vegan Nights London
Types: Spreads, dips, soft cheeses
Must-Try: Farmhouse creamy spread
Read More: Three Vegan Afternoon Tea Options in London ($ to $$$)
---
---
LA FAUXMAGERIE
If you want to get your hands on the best vegan cheese in London without hopping all over the city, you absolutely have to stop by La Fauxmagerie.
This vegan cheese shop is what vegans' dirty dreams are made of. As much cheese as you can make and samples galore. Besides cheese, they also have vegan charcuterie so you can really go all out with your cheese board!
They can also help you navigate any allergies and they sometimes have discounted cheese if it's about to expire. If you're anything like me and Jack, you'll eat it all in an hour easily so no need to worry about it going bad.
Vegan Tip: Did you know that not all wines are vegan? Many wines are strained through isinglass, which is "a kind of gelatin obtained from fish". Wines also may include eggs. Use Barnivore to see if the wine, beer, or other booze that you want to purchase is vegan.
---
GREENBAY ONLINE SUPERMARKET
Greenbay Online Supermarket is a completely vegan website that vegans around the UK surely know.
You can find most if not all of the vegan cheeses listed in this article as well as a great range of other vegan products.
Here's an overview of all of Greenbay Supermarket's products, all vegan of course:
Dry foods (pasta, cookies, chocolate, baking ingredients)
Seafood
Meat
Drinks
Makeup and Body Care
Cheese
---
Keep Eating – Beyond the Best Vegan Cheese in London
Now that we've explored the best vegan cheese in London, why not keep eating!
Check out the posts below to start eating your way around Europe and the UK with the best vegan and vegetarian restaurants.
New to veganism? Check out these vegan travel tips to see how easy it really is!
---
---
Please note that the allergens listed in this article where what I found at the time of writing. They will also vary by individual product. Please verify with individual brands.
---
Pin "The Best Vegan Cheese in London" For Later
---
And as always, you can find more sustainable travel content on Instagram @VoyagingHerbivore, Youtube, and TikTok and to get updates straight to your inbox, enter your email below in the footer, or to the right on the sidebar.

If you found this guide helpful and want to help us keep these resources free,
please consider making your next Amazon, Expedia, Hostel World, Etsy, and Booking.com purchase through our links (just click right on those words – you can do it right now and unless you clear your cookies before your next purchase, it will remember). It costs you no extra and gives us a small commission. Thank you!