London is already one of the most exciting cities in the world with its signature double decker busses, telephone booths, and royal family drama, but what's even better is its incredible range of vegan options!
In this guide, we'll dive into London's best street food – vegan edition!
Let's dive in!
---
---
This site is user-supported and that's why we use affiliate links. At no extra cost to you, we get a little bit of money when you purchase something through one of our links. Thank you for helping support ethical, sustainable, and plant-based travel! You can read more about our affiliate disclosure policy here.
---
Where to Find London's Best Vegan Street Food
London is heaven for vegans with so many incredible vegan and vegan-friendly restaurants that you'll never go hungry. That being said, sometimes when you're on the move, London's best street food is the only thing that will do!
Some of the best markets at which to find vegan street food in London include:
Greenwich Market: Greenwich Market is a bit far out of central London but is easily accessible by London's public transportation. Greenwich is home to many amazing London photo sites, like the Tulip Staircase in the Queen's House along with their large indoor market where you'll find a few different vegan street food options, in addition to plenty of shopping opportunities. Be sure to check out Goddards at Greenwich, a famous pie and mash shop with a vegan pie and mash option.
Broadway Market. Broadway Market (where I worked selling vegan cheese), is another fantastic place to discover local vendors selling both food, veggies, drinks, and different wares. I recommend heading there towards the end of the day to get some last-minute deals on bread and perishables that won't last (Crosstown Donuts always has some end-of-market deals).
Victoria Park Market. This little market is located in the beautiful Victoria Park, a fantastic London garden, and although there aren't a ton of vendors, it's a fantastic way to spend a morning. Grab some veggies for the week and then head to one of the many vegan street food stands to grab lunch. Sit in the park and enjoy!
Borough Market. Tourist or local, you've almost definitely heard of Borough Market. This famous indoor market has hundreds of vendors, many of which offer amazing vegan options. Most stands are permanent, but you'll occasionally find some rotating stands or even a vegan feature section on occasion.
Netil Market. Netil Market is just around the corner from Broadway Market and while it's very tiny, it is a great little gem where you'll find the incredible Get Dappa vegan icecream.
Old Spitalfields Market. Old Spitalfields Market is another amazing market with stalls absolutely full of vegan options (including some amazing Ethiopian dishes) as well as plenty of sit-down restaurants. The indoor market is well-loved by locals and is busy at lunch and on weekends, so head there in the early afternoon to have your pick of lunch spots!
Vegan Nights London. Vegan Nights London is THE vegan event to get your fill of the best street food in London, all vegan of course! Typically, Vegan Nights London happens each month throughout the summer in an outdoor venue (with a small indoor bar space). It really is a fantastic event, and worth the small ticket price. Be sure to keep an eye on their Instagram for a chance to win free entry!
---
Jake's Vegan Steaks
Location: Varies, Typically Broadway Market
Must-Try: Standard Philly Cheezesteak
Completely Vegan? Yes
Cheesy, meaty, and completely vegan – what's better than that? Jake's Vegan Steaks is a fantastic vegan food stand, frequently found at Broadway Market. The self-proclaimed "First Vegan Philly Cheezesteak" company in the UK is well worth a try, and as they branch out into other "meats" and dishes, Jake's Vegan Stakes should be on your radar!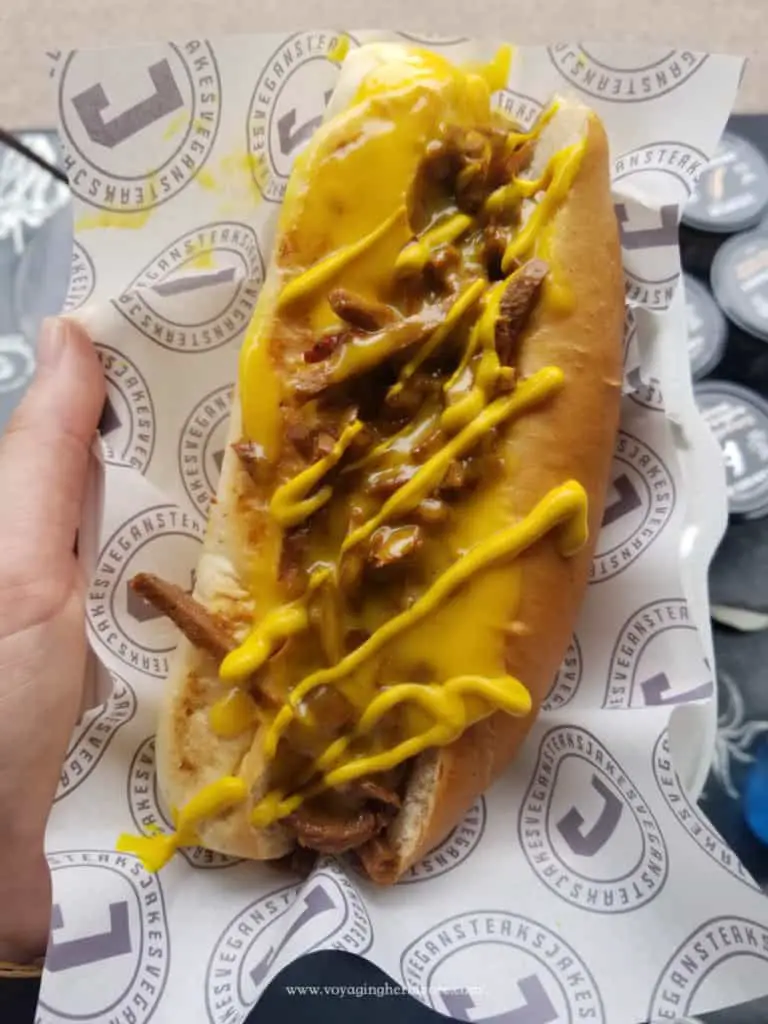 ---
Location: Borough Market
Must-Try: Vegan Falafel Wrap
Completely Vegan? No
This delicious Middle Eastern restaurant has a fantastic vegan offering in their Borough Market food stand, although I would not recommend sitting down because their tapas are pricy and not very vegan friendly (as of 2018). However, you can find vegan Turkish delight and the most amazing falafel wrap at the stands just outside their restaurant.
Read More: 15 Incredible Food Markets In Europe You NEED To Visit
---
Location: Greenwich Market
Must Try: Vegan cinnamon and sugar stuffed with chocolate sauce
Completely Vegan? No
This one is for my fellow sweet toothers! A fabulous Greenwich Market find is vegan Brazilian churros. These tasty donuts can be rolled in sugar or cinnamon and sugar (which I recommend) and stuffed with vegan chocolate sauce. They're absolutely delicious and not at all too greasy. Though I've never been to Brazil, I'm keen to go now simply for the churros!
Read More: 3 EPIC Vegan Afternoon Tea Experiences in London | Budget – Luxury
---
Location: Greenwich Market
Must Try: Whatever their vegan option is at the time
Completely Vegan? No
Panzerotto Blues is an Italian food stand that can be found at Greenwich Market. They serve the panzerotto, which is not a calzone. They are quoted as being "10 inch sourdough pizza pockets". Though not exclusively vegan, they do have a vegan option with tomato, aubergine, spinach, capers, black olives, mushrooms, and black pepper. Fried and filled with tasty vegetables, what's not to like!?
Read More: 7 AMAZING Summer Destinations to Visit in England by Train
---
Location: Camden Market
Must Try: Vegan Steak and Ale
Completely Vegan? Yes
Okay, so this one isn't necessarily without a permanent location. You can find the Young Vegans shop at the Camden Market, but they can also be found all over London with their food truck serving vegan pie and mash. Find them at Hackney Downs Vegan Market and on Deliveroo! Their food is absolutely incredible and I can not give it enough praise. A classic British meal that even the carnivores of your group will love.
Read More: 7 Outstanding London Gastropubs and Bars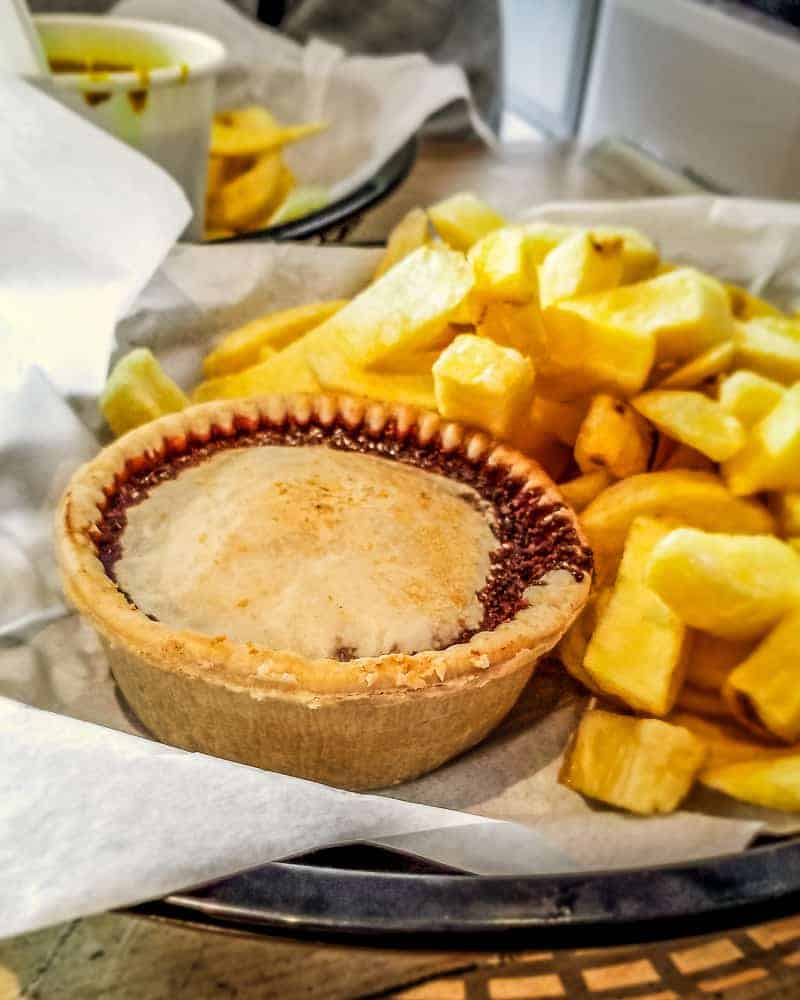 ---
Location: Vegan Nights London
Must-Try: Anything!
Completely Vegan? Yes
By the creators of Vegan Night's London, We Are Kind Burger features deliciously vegan meat products from Beyond Burger and This, and although the burgers aren't cheap, they do look scrumptious!
Read More: How to Get From London to Stonehenge
---
Pig Out
Location: Various, Vegan Nights London
Must-Try: Anything with truffle oil
Completely Vegan? Yes
Pig Out is probably one of London's best vegan street food that I've had the privilege to try! Their loaded hot dogs are absolutely phenomenal and anything with truffle oil is a win in my opinion! You can find them at events around London and frequently at Vegan Nights London.
Read More: Traveling in London by Bus, Tube, and Train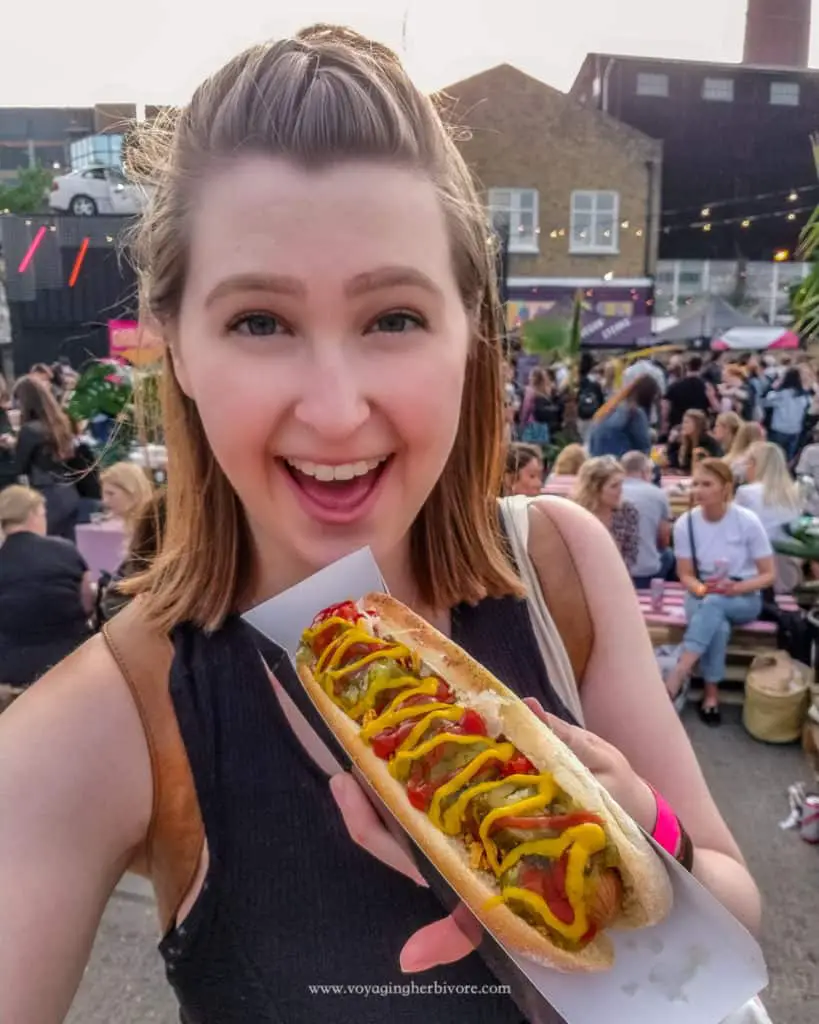 ---
Location: Hackney
Must-Try: Honeycomb and pine nut
Completely Vegan? Yes
Another of London's best street food has to be Black Milq, an absolutely incredible vegan ice cream shop. They can be a bit elusive, but if they don't make any appearances at the standard markets, you can always order online and collect from their Hackney kitchen.
Note: We are currently trying to verify that Black Milq is still in business.
---
Location: Varies
Must-Try: Anything
Completely Vegan: Yes
With scrumptious vegan pizzas and a passion to match, Plant Powered Pizza is what you've been dreaming of! They rotate pizza seasonly and usually have some amazing deals that you can find by checking out their Facebook page.
Read More: Ultimate Guide to the Best Vegan Cheese in London
---
Location: Check here
Must-Try: Anything with popcorn or a special
Completely Vegan? Yes
Get Dappa is one of the best vegan ice creams that London has to offer. At about £5 per cone, it's not cheap but really is worth the splurge every now and again, especially in one of their very Instagrammable charcoal cones. While Get Dappa doesn't have its own shop, you can generally find them at Netil Market and at various restaurants around London, including What the Pitta, one of my all-time favorite vegan restaurants in London.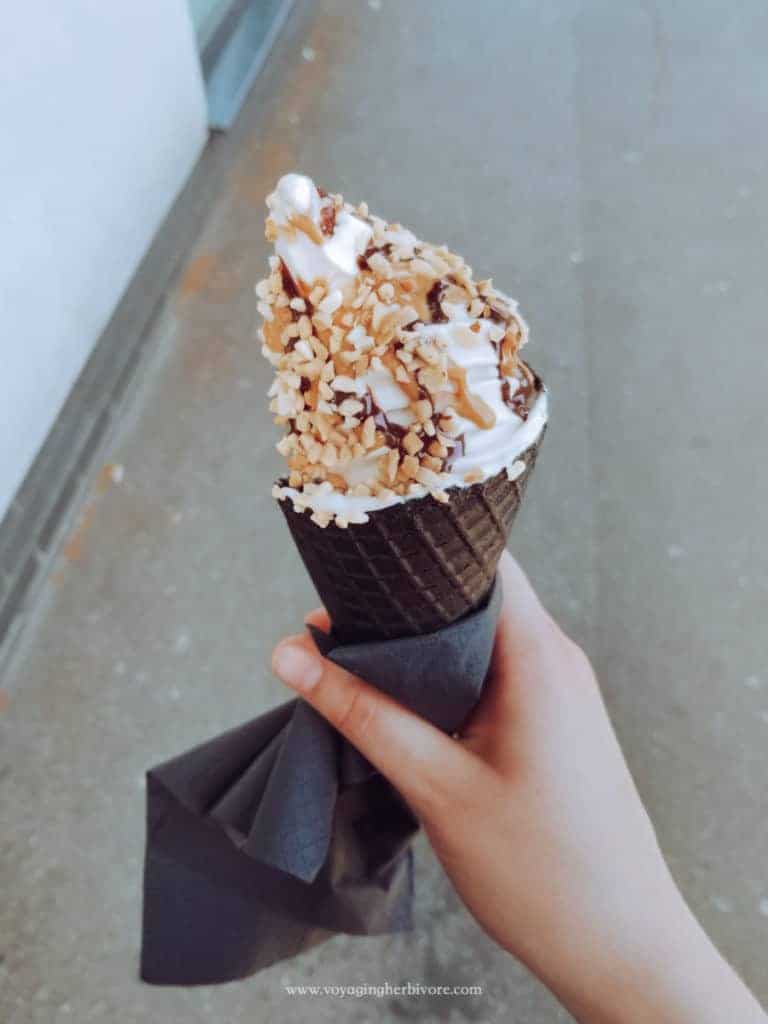 ---
Location: Varies
Must-Try: Wings
Completely Vegan: yes
"Vegan junk food gods" Biff's is primarily delivery only and found all over the UK, but they do still pop their heads up occasionally around London. Their wings are absolutely incredible and they truly bring a new level to junk food for vegans.
Read More: 9 Essential London Travel Tips
---
Shakey Shakey Vegan
Location: Markets vary, Shakey Shakey chippy in Ramsgate
Must-Try: Classic Tofuish and Shakey Shakey Chips
Completely Vegan: Yes
Last but certainly not least, is another of the best vegan street food options in London. Shakey Shakey vegan is a completely vegan fish and chip shop with absolutely delicious tartar sauce, and if you ask nicely, they might just give you extra.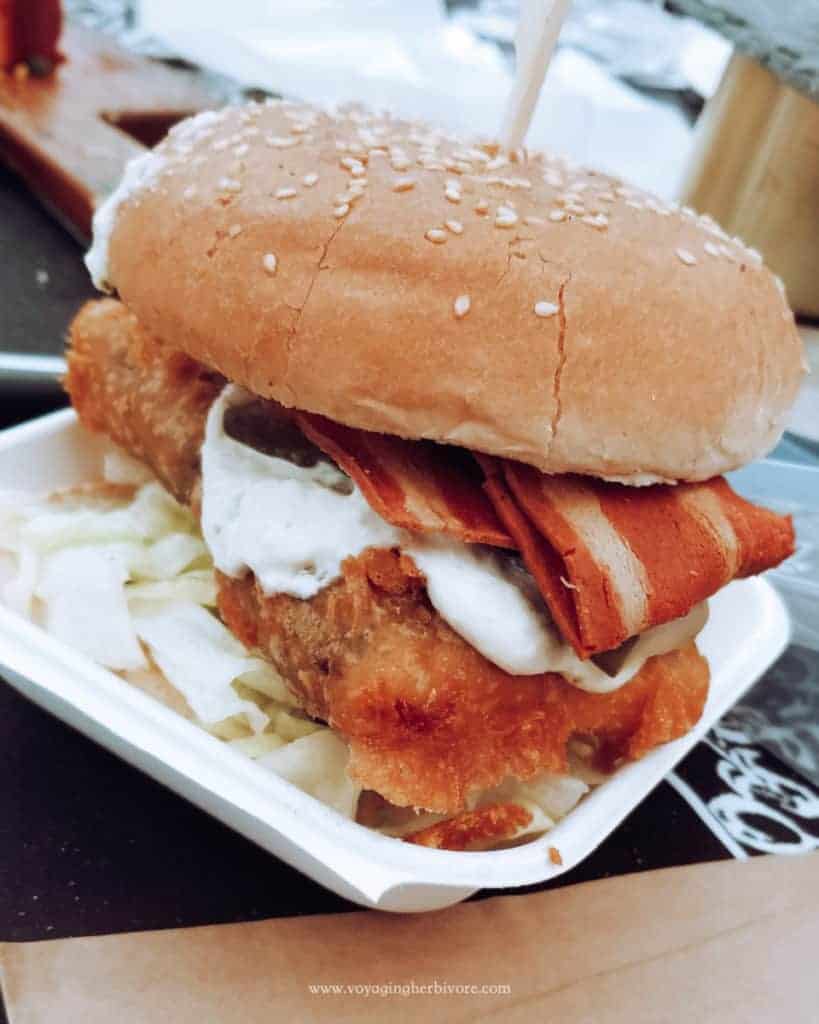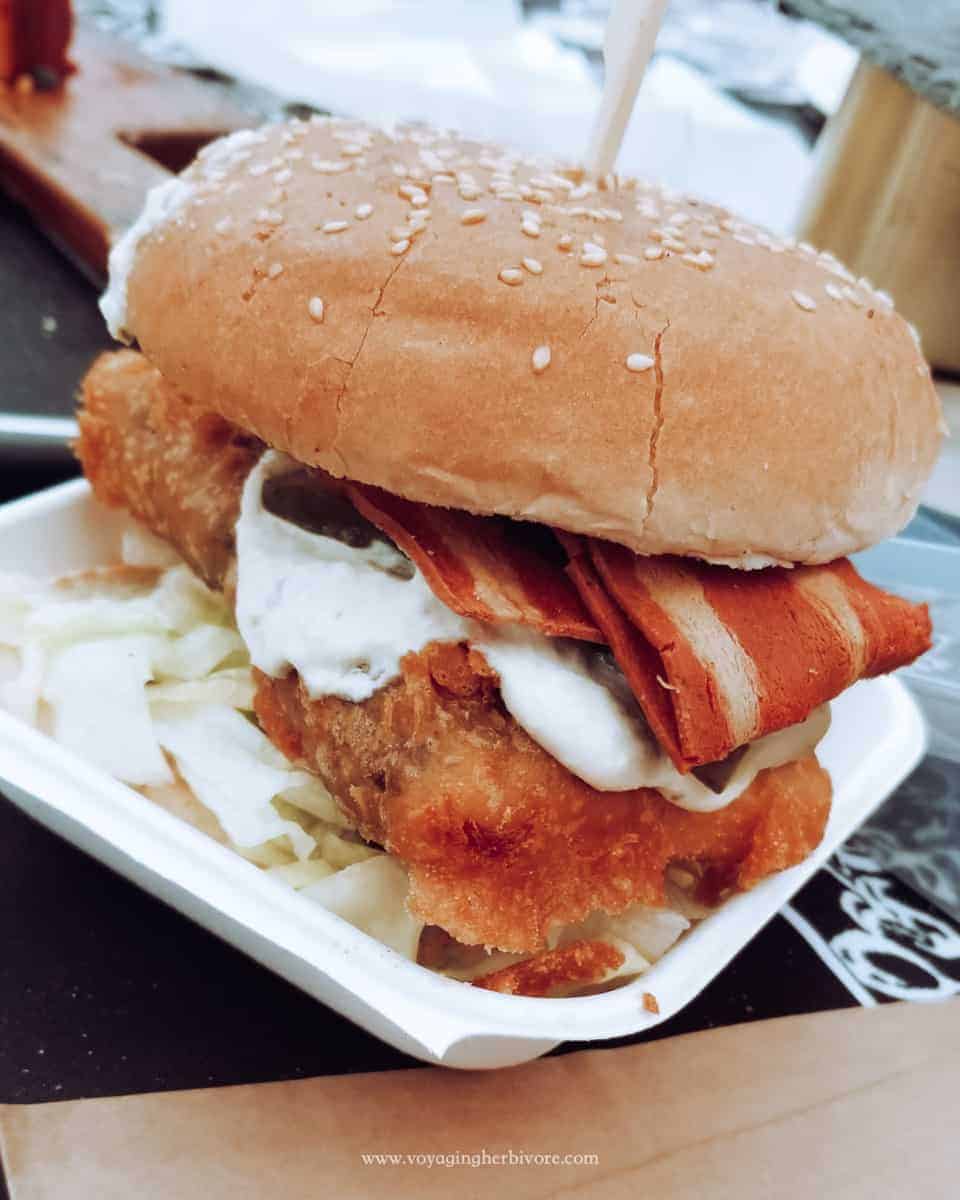 ---
More Things to Do in London
---
More London Guides
---
What Camera Gear Do We Use?
If you want the full list of things we keep in our camera bag, check out the complete guide or browse our photography guides.
---
Free Resources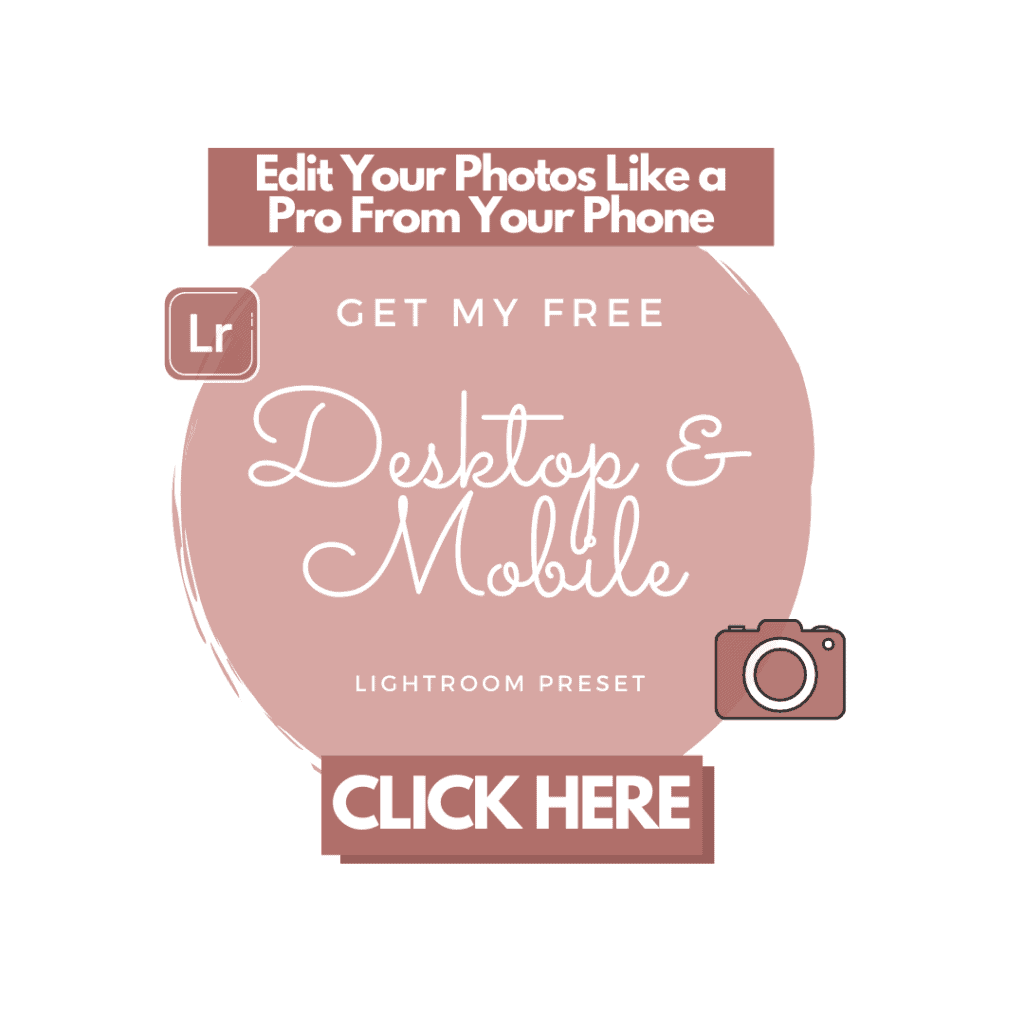 ---