So you're headed to Lisbon – hooray! Portugal is very vegan-friendly and there are plenty of independent vegan restaurants in Lisbon with traditional Portuguese and Brazilian food, not to mention vegan pastel de nata.
Keep reading to discover the best vegan restaurants in Cascais and Lisbon!
---
This site is user-supported and that's why we use affiliate links. At no extra cost to you, we get a little bit of money when you purchase something through one of our links. Thank you for helping support ethical, sustainable, and plant-based travel! You can read more about our affiliate disclosure policy here.
---
Vegan Restaurants in Lisbon & Cascais Map
If you're looking for affordable places to stay in central Lisbon, check out these recommendations. I also recommend keeping an eye on flights to Lisbon here for the best deals!
---
Vegan Restaurants in Lisbon
Lisbon has no shortage of incredible vegan restaurants with cuisine from around the world.
Vegan Nata
If you're headed to Portugal, you absolutely need to get yourself to Vegan Nata to try some traditional Portuguese pastel de nata – veganized! Vegan Nata specializes in pastel de nata and in fact, besides coffee, it's the only thing that you can purchase in the shop.
You can purchase individuals or boxes in a number of sizes. I recommend going for the pack of six fresh vegan pastel de nata for 7 euros. Get one at the start of your trip and another at the end to bring home. They really are delicious and it's worth going out of your way to find one of the three shops around Lisbon.
Upon visiting Vegan Nata, you'll see that they also have a unique edible coffee cup. Personally, I would skip the coffee here as it's nothing special and the cup doesn't taste of much and isn't particularly nice to eat. Stick to the vegan nata and you'll be grand!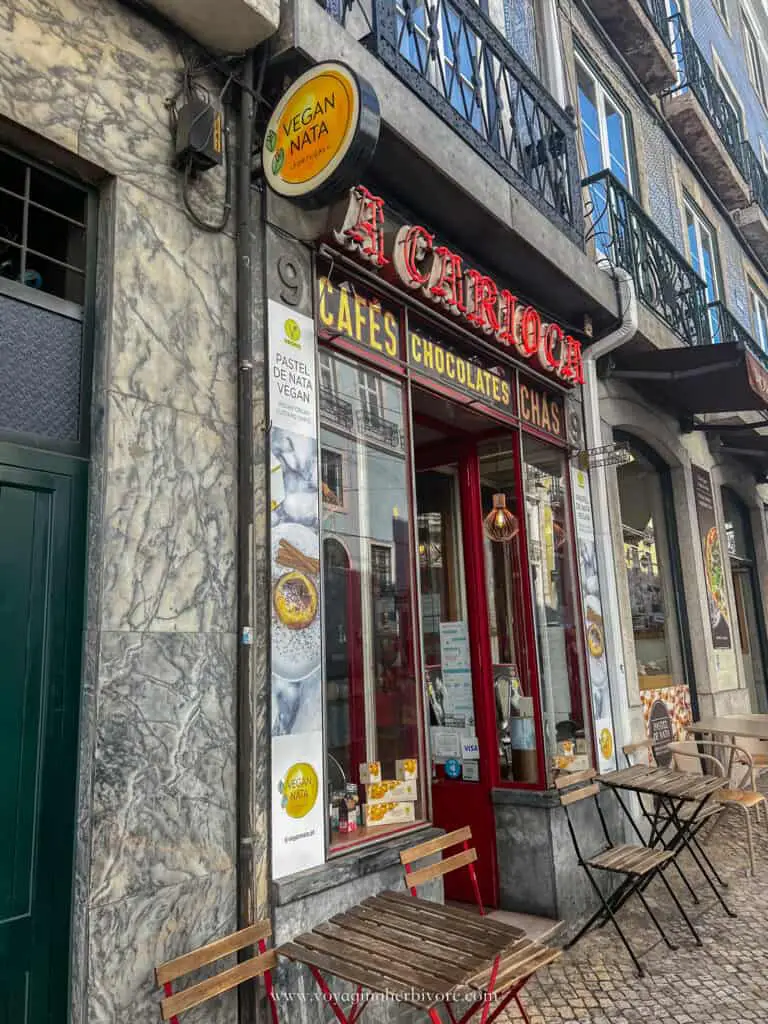 ---
Healthy V
Located just up the street from our accommodation, Healthy V was a lovely surprise. The cafe is fully vegetarian with a large number of vegan options. The bowls are absolutely delicious and the burgers are a close second. In the mornings, Healthy V is a great place to come for coffee and breakfast, but in the evenings you can have dinner and a drink (see the vegan alcohol section below).
The restaurant is cozy and casual with comfy booths in tables. It's easy to sit for a few hours while you eat, drink, and people-watch. I highly recommend Healthy V for vegans and vegetarians headed to Lisbon.
---
Kong – Food Made With Compassion
Kong is a fully vegan restaurant in central Lisbon specializing in Portuguese comfort food. If you're looking to try traditional Portuguese cuisine knowing that everything is fully vegan, there's no better place than Kong. Dishes include:
Tomato rice with fish
Cheese platter
Croquettes
Francesinha
Alfajor
I highly recommend trying the Francesinha, which is quite a heavy dish of bread, ham, steak, sausage, and cheese, all covered in tomato sauce. It's very good, but it's definitely not the best choice on a very hot day or unless you're quite hungry. Kong also has a number of local drinks available such as Ginginha, a cherry liquor that's worth trying at least once.
---
Ao 26: The Vegan Food Project
To be completely honest, I visited Ao 26 after a long day of drinks on the beach, so my memory of this vegan restaurant is somewhat fuzzy! That being said, I do remember really enjoying it. It's always nice to find a vegan option that's slightly finer dining, rather than a more unhealthy fast-food style restaurant. Ao 26 does this so incredibly well, with an absolutely fantastic menu and a delightful tasting board of Portuguese dishes – all veganized!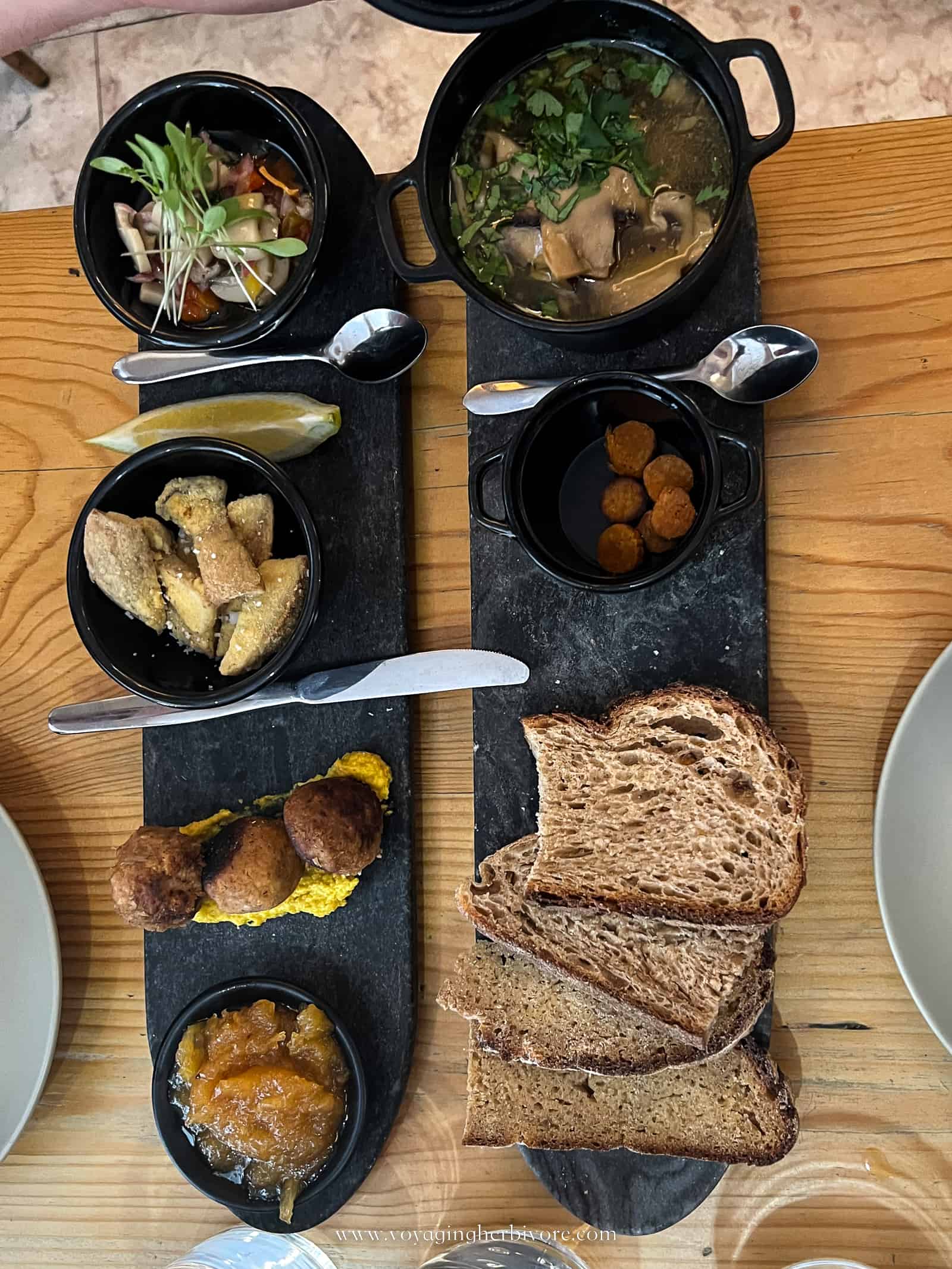 ---
Scoop 'n Dough
Pastel de nata is great, but for my fellow sweet tooth people, they aren't the most sugary dessert. For that, head to Scoop 'n Dough – a vegan donut and ice cream shop in central Lisbon. The shop has over 300 reviews and 5 stars on Happy Cow so the vegan world is clearly thrilled!
The shop owners are lovely and are happy to let you try all of the different ice cream flavors before you make your purchase. They have a number of incredibly unique flavors like pannacotta donuts and black sesame ice cream. Although both the donuts and ice cream were nice, I was expecting more of an American-style dessert with loads of sugar. If I were to go back with expectations reset, I think I would have enjoyed it more. Overall, Scoop 'n Dough is definitely worth a try if you like unexpected flavors!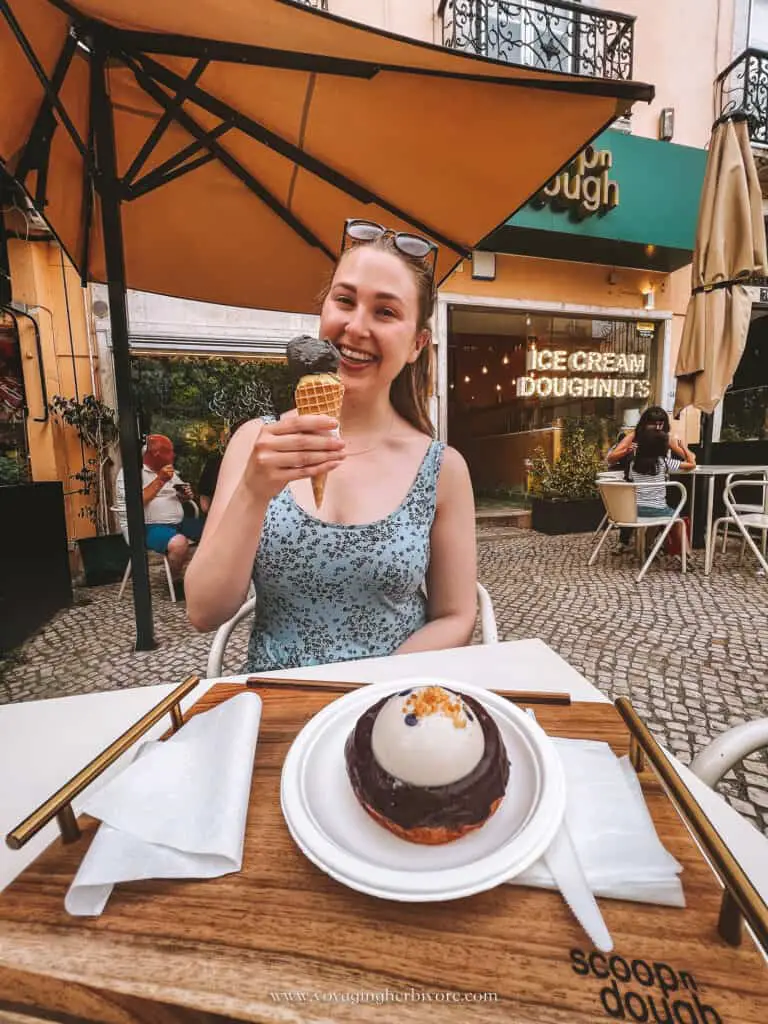 ---
The Food Temple
On our last night in Lisbon, we headed to The Food Temple, another fully vegan Lisbon restaurant located in one of Lisbon's oldest neighborhoods. The restaurant itself is incredibly picturesque with small tables balanced on the steps and pillows to sit on. There are also tables inside, but you'll definitely want to grab a seat outside if possible.
The menu is small but each item was tastier than the last! We opted for a variety of starters instead of mains so that we could try several different things. Our menu included a cheeseboard, alentejan pipi (absolutely incredible), tempeh and shiitake skewers, pera roscha bruchetta, and chocolate and miso caramel tart. The food was absolutely fantastic and of all of the restaurants in this guide, this was my favorite by far. It's best for two people dining out due to space.
You'll need to make a reservation for this one! Several people came and were turned away because all tables were booked for the next several hours. You can make a free reservation here.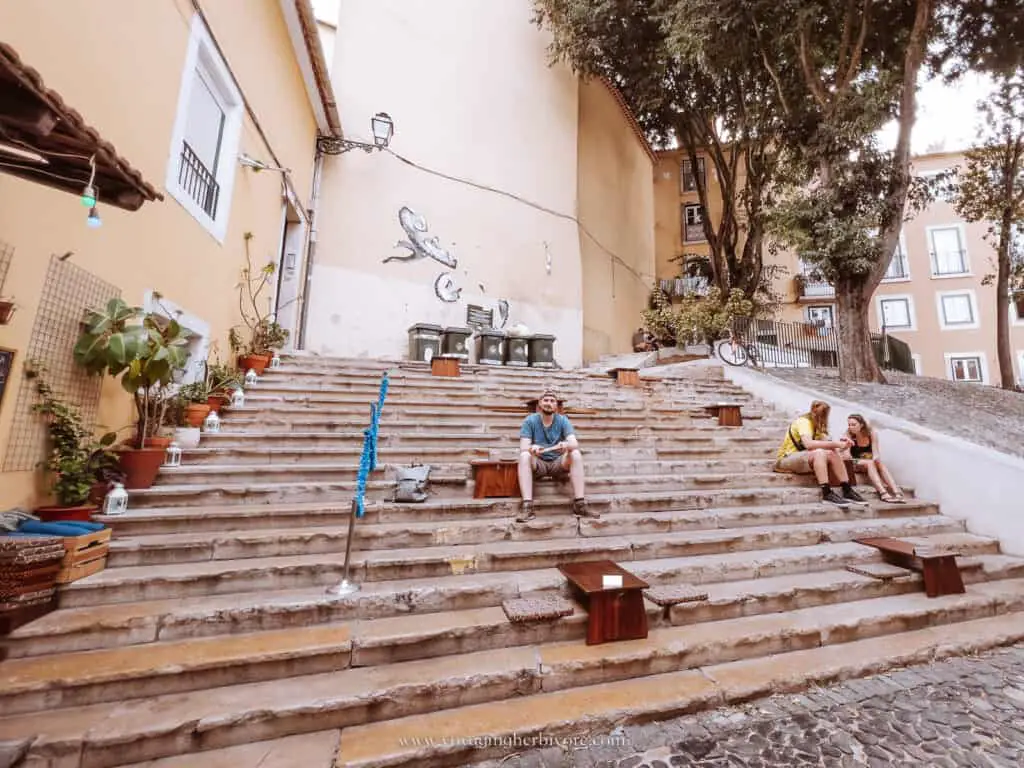 ---
Vegan Restaurants in Cascais
House of Wonders
If you're in Cascais and are looking for healthier vegan options, head to the House of Wonders. This colorful vegetarian restaurant and juice bar has quite a unique way of ordering. Their menu is fully visual, meaning that all of the food is laid out and you simply point and choose what you would like. While this is quite impressive upon arrival, it's not ideal for people with allergies or when determining what is vegetarian or vegan, or even knowing how much items cost as nothing is labeled.
Once you've made your choice you make your way to one of the many indoor or outdoor tables – the rooftop terrace is quite impressive, and wait for your food to be delivered. Overall, House of Wonders is a nice place to grab a bit, but it is quite expensive and it's easy to feel quite rushed when there is a long line of people behind waiting to order as well.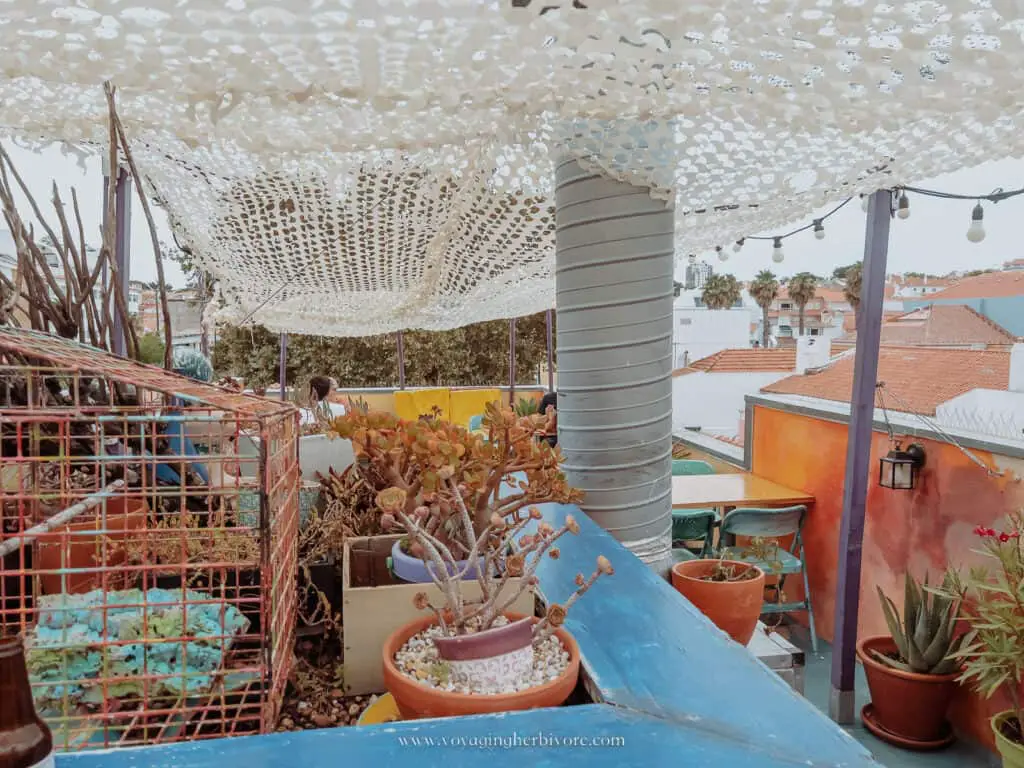 ---
Local
Local is another vegan-friendly restaurant in Cascais, located just a few minutes walk from the Cascais train station. I visited during the morning in the middle of the week and it was very quiet. Local's premise is that they provide healthy and locally sourced food. This particular location is housed in a larger building with a number of other shops.
While Local isn't fully vegan, they do have a number of vegan options, and it's a good place to head for a coffee or food before or after your train.
---
Tanah Vegan
Tanah Vegan is a fully vegan restaurant in Cascais with a fast food feel and a variety of traditional Portuguese and Brazilian bites. We tried a few different snack options including:
Coxinha de jaca – a famous Brazilian salty jackfruit snack
Kafta de cogumelos – mushroom kafta
Almôndegas de cogumelos – mushroom balls
Each came with a dipping sauce and it was a nice way to try three new foods. Overall, the food was nice but it was nothing super special. We also tried Tanah Vegan's pastel de nata and these were also tasty, but I preferred Vegan Nata.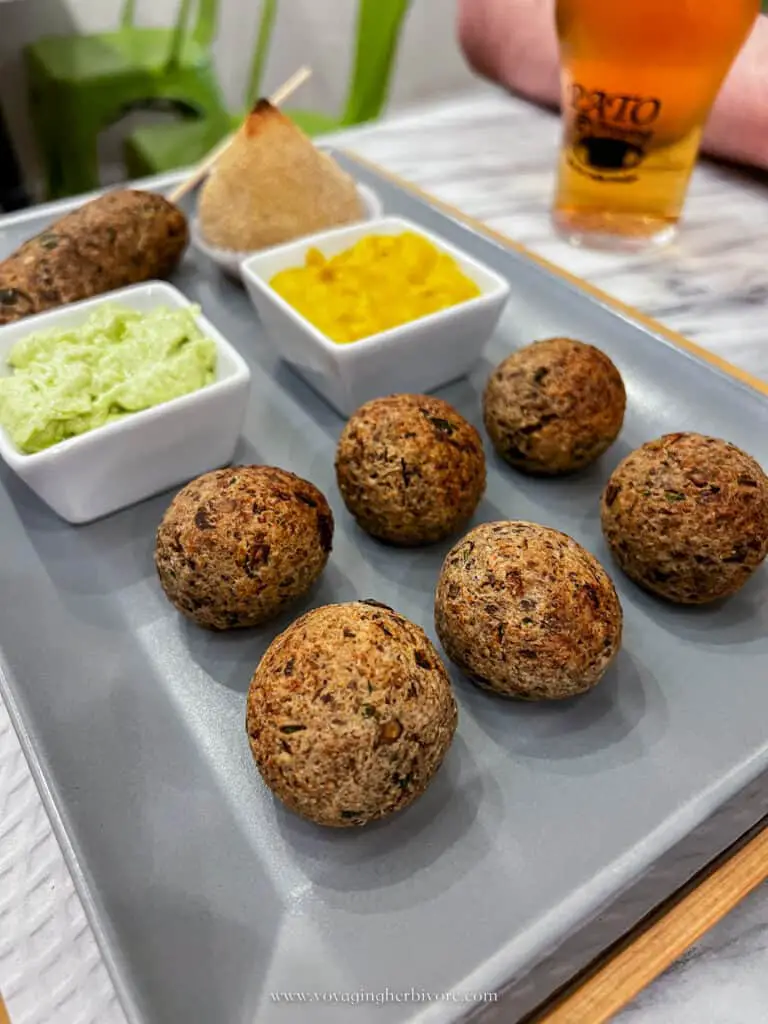 ---
Vegan Alcohol in Portugal
If you're headed on holiday to Lisbon, I'm sure that most of you will be looking for vegan alcohol options as well. The good news is, the popular and cheap Portuguese beer Super Boc, is vegan! You can also find a number of vegan Portuguese wines. 
---
Vegan in Lisbon
Overall, Portugal is a very vegan-friendly place and there are loads of vegan restaurants in Lisbon. Don't rely on fast food though because you won't find many, if any, vegan options there. It's better to stick to independent restaurants anyway!
If you're looking for affordable places to stay in central Lisbon, check out these recommendations. I also recommend keeping an eye on flights to Lisbon here for the best deals!
Finally, if you're staying in Lisbon for a few days, you'll want to check out this 3 day Lisbon itinerary.
---
Keep Reading
---
And as always, you can find more sustainable travel content on Instagram @VoyagingHerbivore, Youtube, and TikTok and to get updates straight to your inbox, enter your email below in the footer, or to the right on the sidebar.

If you found this guide helpful and want to help us keep these resources free,
please consider making your next Amazon, Expedia, Hostel World, Etsy, and Booking.com purchase through our links (just click right on those words – you can do it right now and unless you clear your cookies before your next purchase, it will remember). It costs you no extra and gives us a small commission. Thank you!
---
Pin Vegan Restaurants in Lisbon and Cascais