Getting around Paris by the metro is an easy and cheap way to see the beautiful city. Save your pennies and your feet by trying the metro, bus, or RER. 
Keep reading to learn how to use Paris public transport! 
---
More Paris Posts
---
---
---
This site is user-supported and that's why we use affiliate links. At no extra cost to you, we get a little bit of money when you purchase something through one of our links. Thank you for helping support ethical, sustainable, and plant-based travel! You can read more about our affiliate disclosure policy here.
---
Essential Paris Travel Tips
Currency: Euro. It's best to have cash money on hand as some places have a card minimum and many market vendors prefer cash.
Language: French, English
Price Range: $$$
Best Way to Get Around: Public Transport
Timeline: Plan to spend at least 3-4 days in Paris and 1-2 days further out exploring sites away from the city center
Key French Words
Arrondissement: Neighborhood
Carnet: Pack of public transport tickets
Metro: Metro
Sortie: Exit
Gare: Station (Example: Gare du Nord is a train station that can take you directly to the CDG airport)
---
Does Paris Have Public Transport?
Yes, Paris does have public transport most often referred to as the metro or the RER (two different forms of Paris transport – see below). It is easy to use and you can purchase tickets in the language of your choice (see photos below).
Paris is a city that is about 6 x 9 miles with a population of about 2.1 million people. Although you can walk to the major attractions, you'll be in for quite a long day as many of the major sites in Paris are several miles apart. Additionally, staying in Paris in the central arrondissements (neighborhoods) is very expensive, so you're better off staying somewhere further out and more affordable and using the Paris transport system to get around.
The Paris metro does not run 24/7. For this reason, you may need to do a bit of planning and look for alternative methods if you have a very early flight or plan on staying out all hours of the night.
5:30am to 00:40am – Sunday through Thursday
5:30am to 1:40am on Fridays, Saturdays, and days before holidays
Metro vs RER vs Bus
The Paris metro is more like your standard quick journey with seats lining the walls. The metro is identified by numbers (Lines 1 – 14) that run through the city center.
The RER is set up more train style with groups of seats and a middle aisle. The RER goes out into the Paris suburbs and airports. It is identified by letters A, B, and C.
Finally, Paris has also a bus system which runs all over the city and in some cases, will get you closer to your destination than the metro or RER will. There is a night bus system that runs from 00:30 (12:30 am) to 5:30 am which can help you get around the city at times when the metro isn't running.
Tickets purchased in metro stops can be used on the metro, RER, or bus however you need to check and see which limits/destinations you've selected. For example, a standard ticket (like what we purchase in the photos below) only works within the city limits. If you want to go to Versailles or the Charles de Gaulle airport (CDG), you'll need to purchase a different ticket (which can still be purchased in the metro).
---
How to Get From the Paris Airport (CDG) to the City Center
Landing in a new country and trying to get from the airport to your accommodation can be intimidating!
Thankfully, Paris makes it relatively easy. Here's what you need to do:
Determine which station (look for the word "Gare") is nearest to your accommodation. The main stations are Gare du Nord, Gare Musée d'Orsay, and Gare de Lyon.
Locate the public transport ticket machines in the airport. If you're not sure where they are, just follow the flow of people and wait your turn in line or ask a member of staff (most will speak English).
Follow the prompts on the screen and purchase a ticket on the RER from the airport to the nearest station. Trains run frequently to the center. Cost is about 10 euros.
Once you arrive at the station, you can use the metro or bus to get to your accommodation.
Alternatively, you can take the Roissy Bus Shuttle for 14 euros from the CDG airport to the Paris-Opéra if this gets you closer to your final destination.
---
Looking to offset your carbon footprint? We use Wren Carbon Offsetting to counter the emissions released when we have to travel by plane.
Wren also has a free Carbon calculator to help you measure your emissions.
---
How to Get From Paris City Center to Versailles
The best way to figure out how to get from your location in Paris to Versailles is to use Google Maps. You may need to walk, take a bus, or the metro to get to a major station where you can then purchase a ticket on the RER to Versailles.
When at Versailles, make sure to purchase your ticket in advance, but even so be prepared to wait an hour or so in line with everyone else who purchased ahead of time too.
---
How to Plan Your Journey with Paris Transport
The best way to plan your journey around Paris and figure out which bus, RER train, or metro line to take is simply to use Google Maps. I recommend purchasing a sim card when in Paris so you can use data, but if this is not an option, you can download Google Maps for offline use.
Keep in mind that although you will be able to do basic directions and see where you are, you will not be able to use Google Maps to find Paris public transport times. For this reason, if you don't have data in Paris, it's best to plan your routes ahead of time using the wifi at your accommodation.
---
Do I Need to Purchase Paris Transport Tickets in Advance?
No, you do not need to purchase Paris public transport tickets in advance. Tickets can be purchased from the station and are cheaper if done this way instead of in advance online.
---
How to Purchase Tickets for Paris Public Transport
The best way to get around Paris with public transport is by purchasing a packet of tickets called a carnet. This lowers the price of the individual ticket from 1.90 to 1.49, which saves you a bit in the long run! The tickets will also allow you to take the metro, train, RER, and bus in central Paris. At nearly all machines, you can pay by card, contactless, or euros.
Head to the nearest metro station and find the machines that look like the ones below. The large silver cylinder in the middle lets you scroll.
Follow the steps outlined in the pictures below.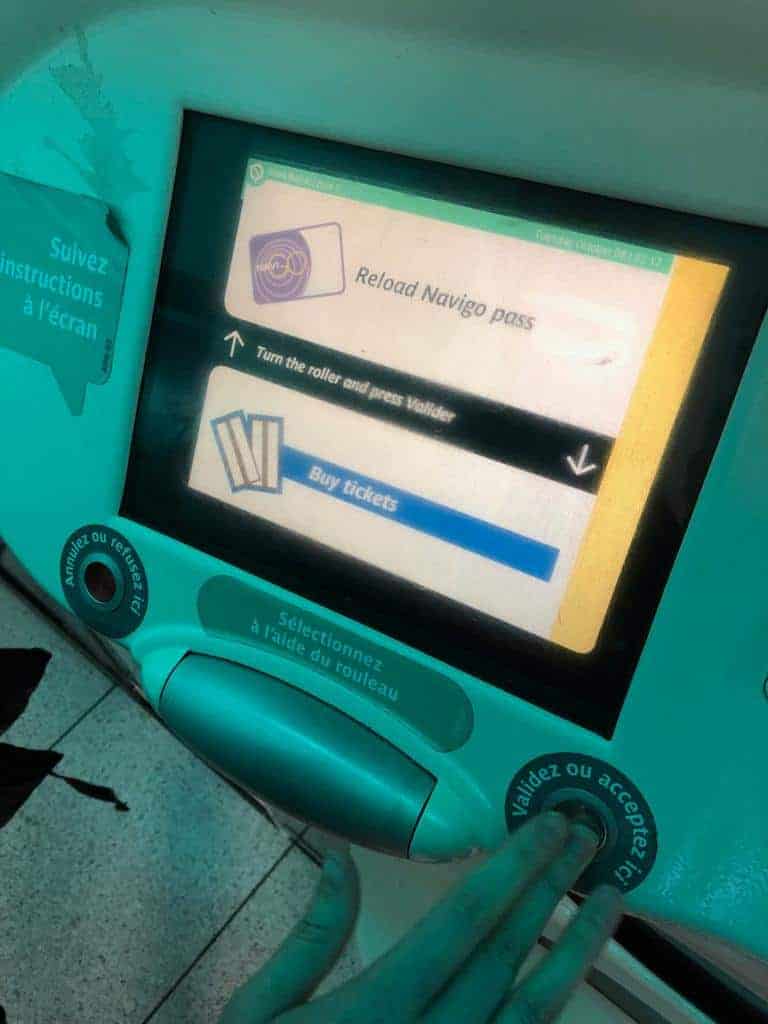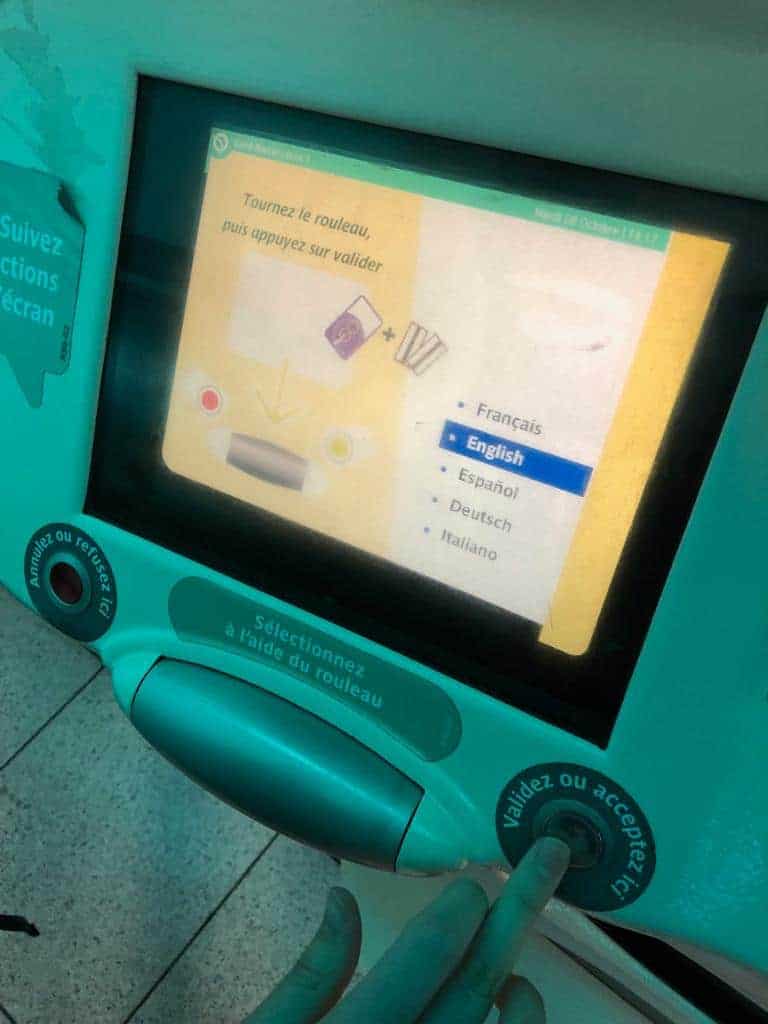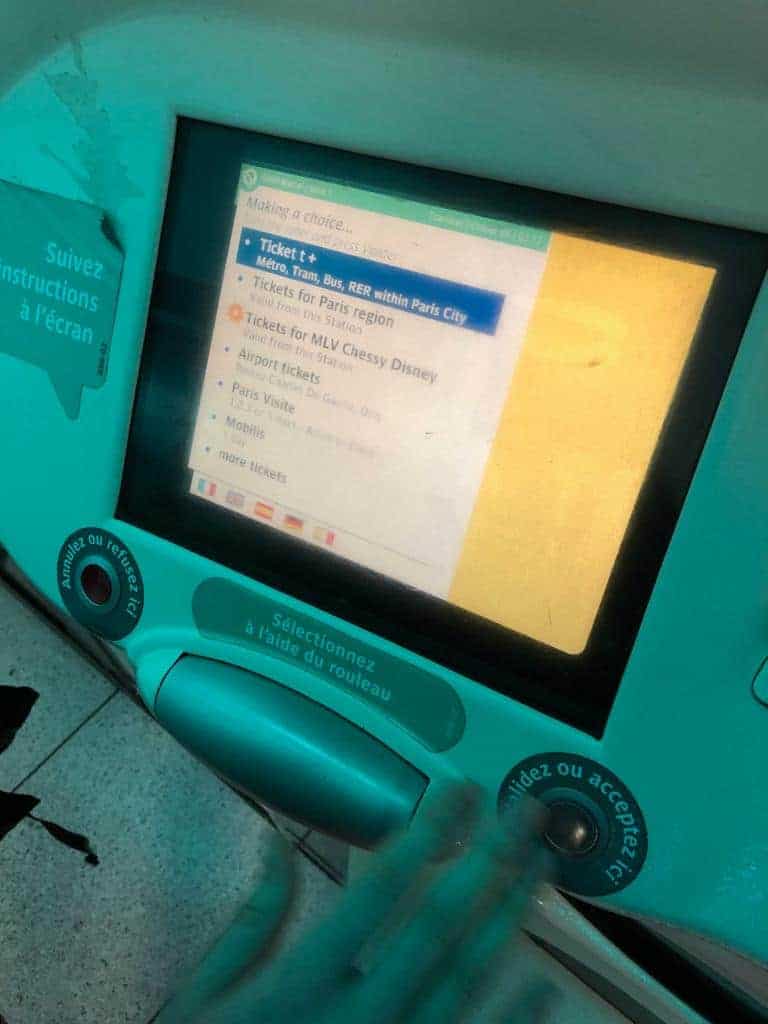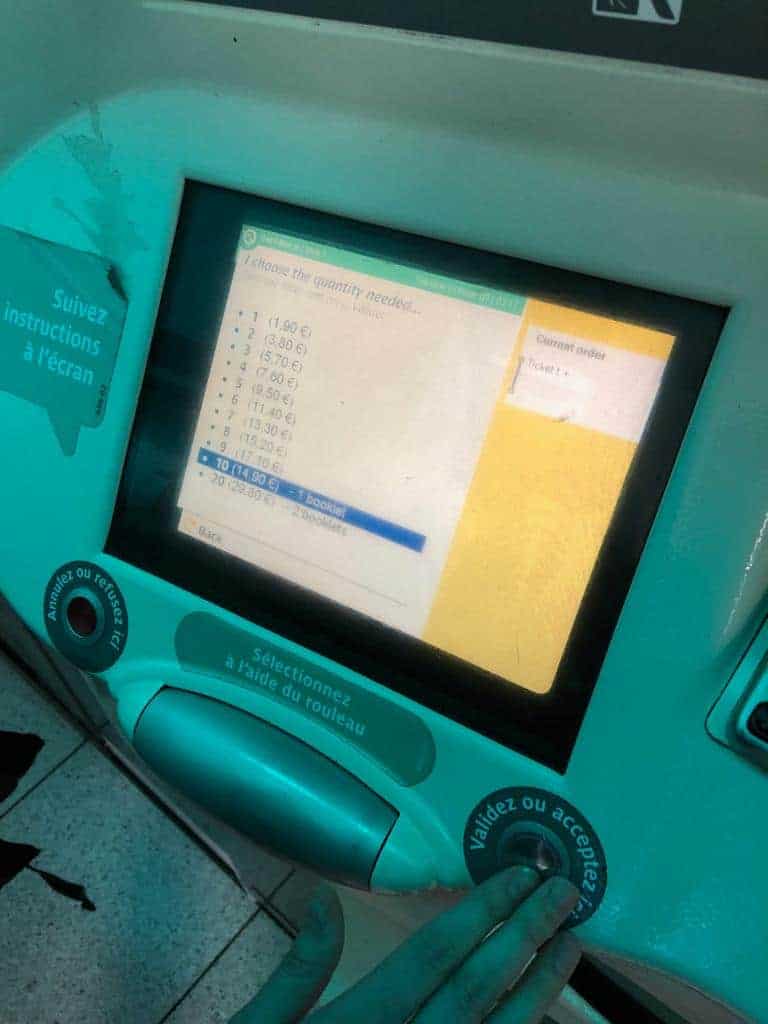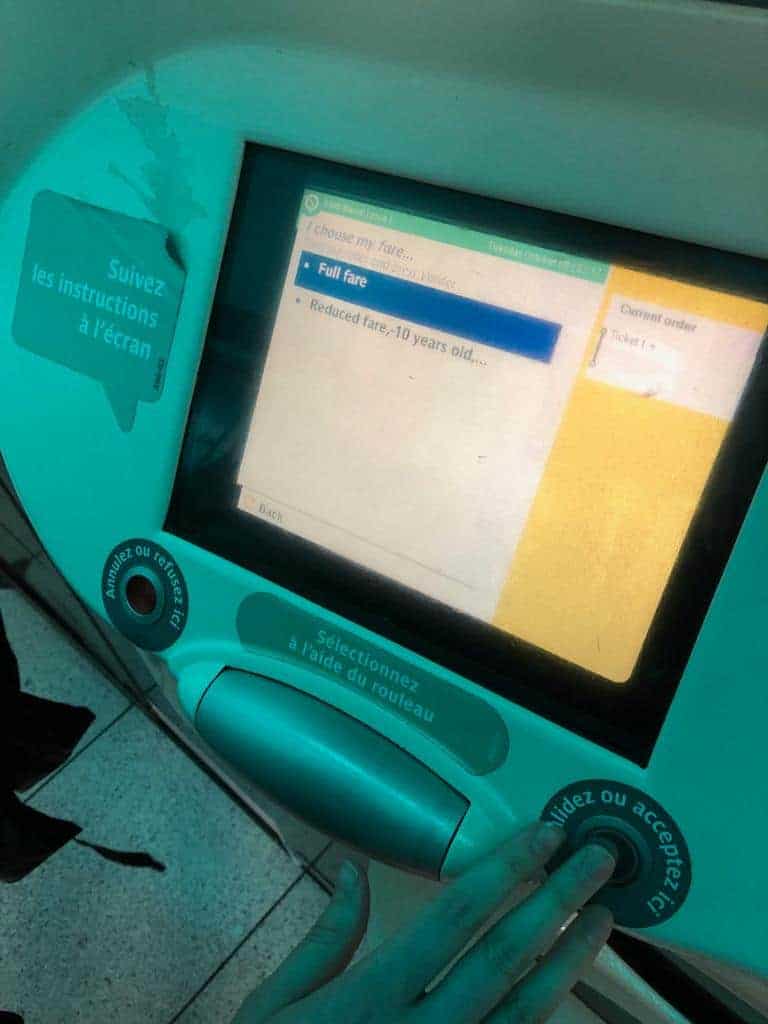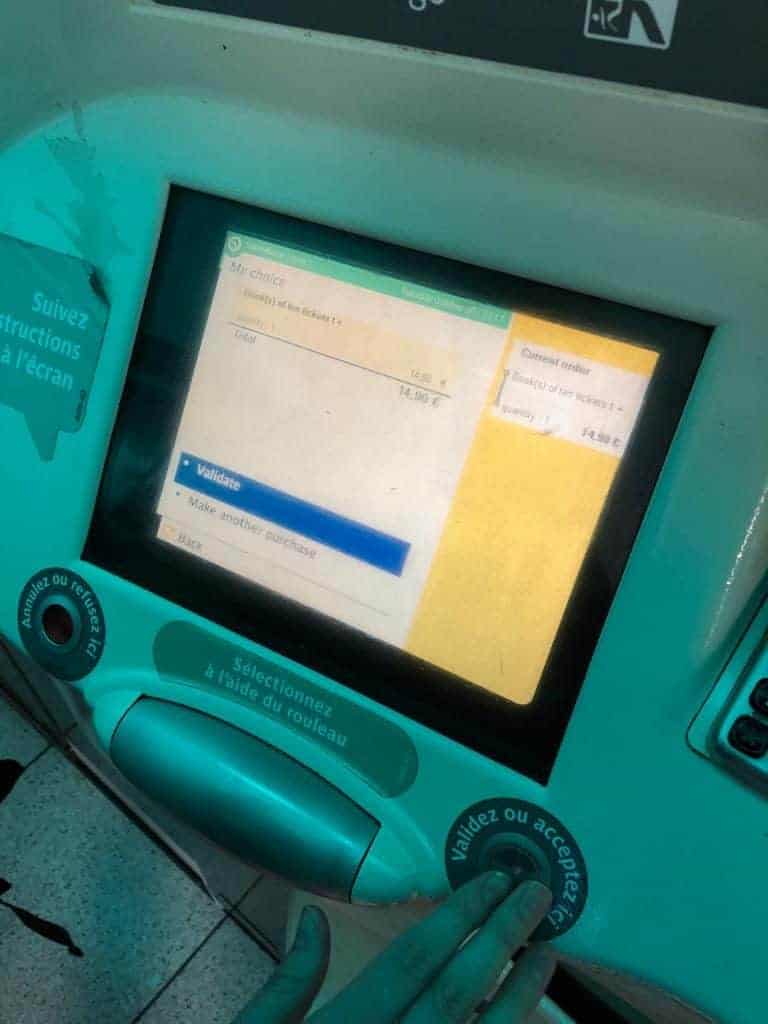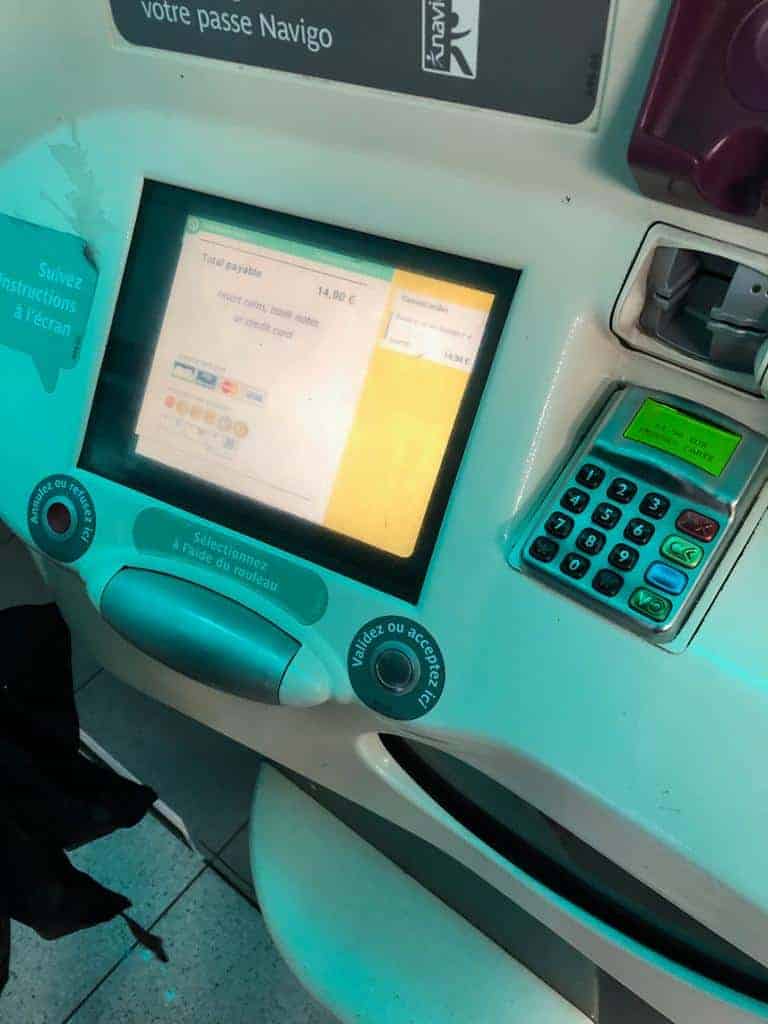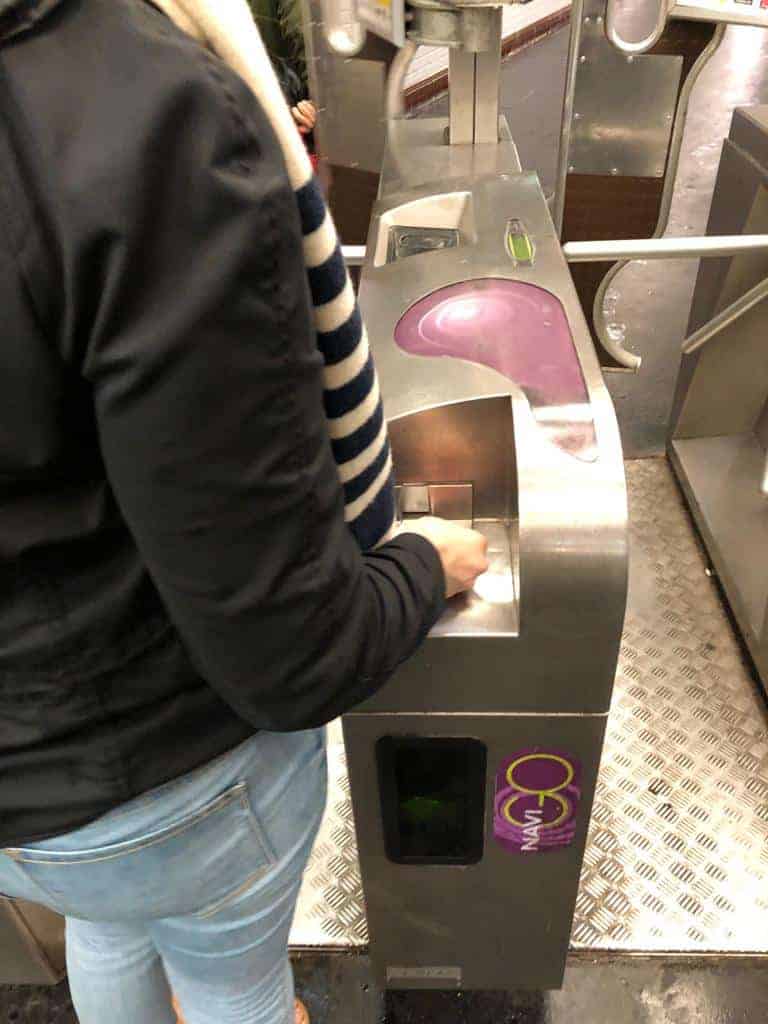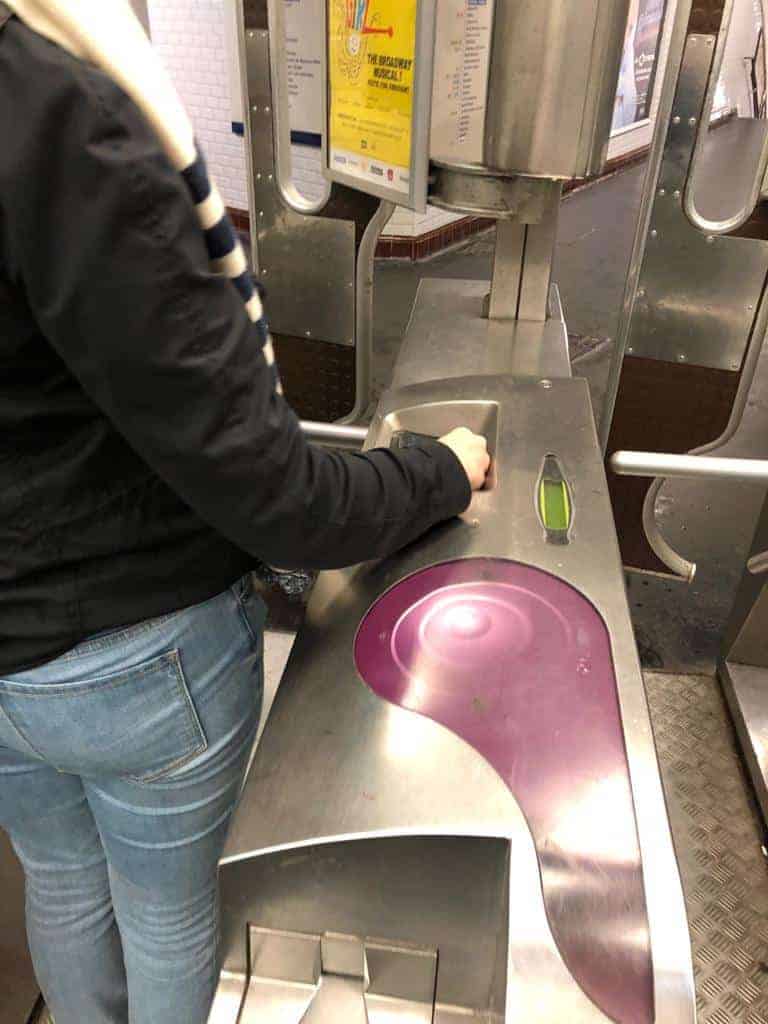 Be sure to keep your ticket with you! At some stops, you'll need to repeat the process of putting it in the ticket slot and withdrawing it to release the doors and exit the station.
And that's all it takes! The metro is easy to use and the signs are very easy to follow. Know that the word for "Exit" is "Sortie" and is on a green sign.
---
Free Resources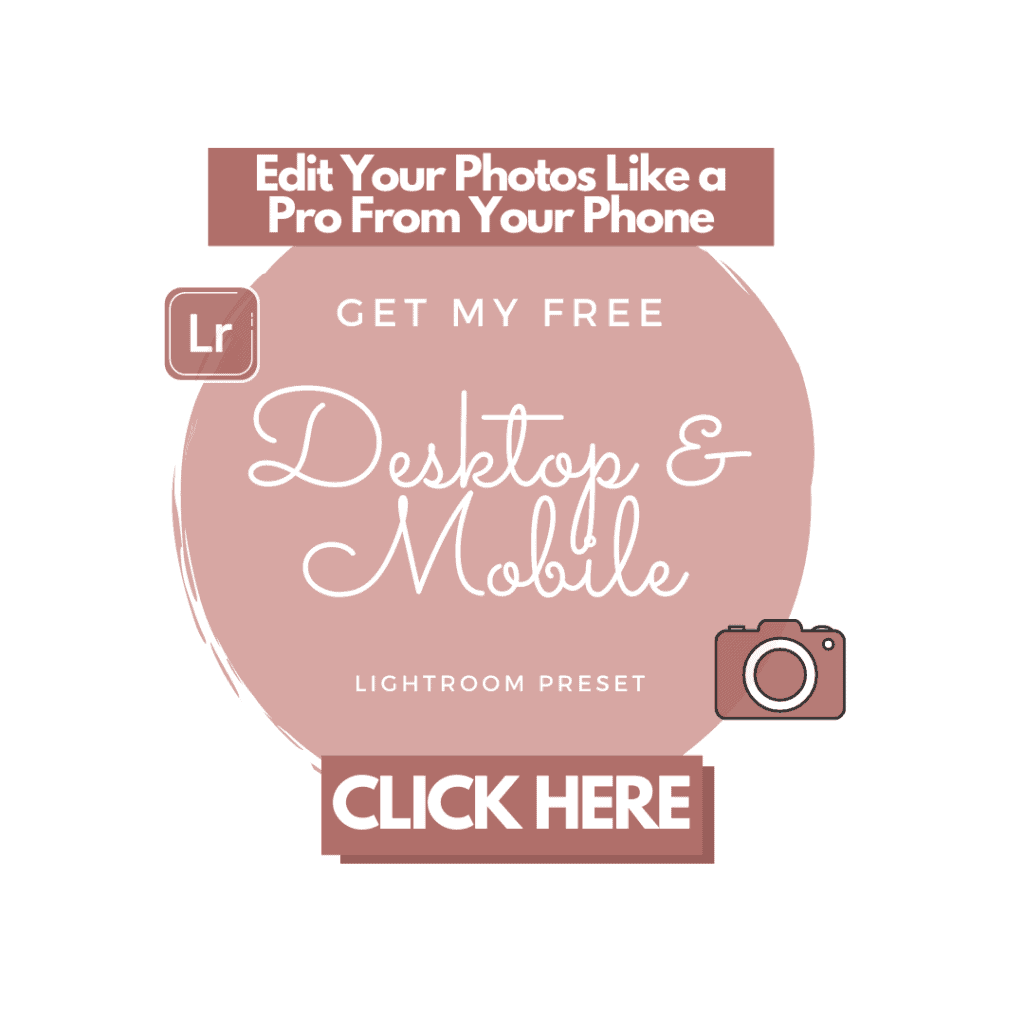 ---
What Camera Gear Do We Use?
If you want the full list of things we keep in our camera bag, check out the complete guide or browse our photography guides.
---
More Paris Posts
---
And as always, you can find more sustainable travel content on Instagram @VoyagingHerbivore, Youtube, and TikTok and to get updates straight to your inbox, enter your email below in the footer, or to the right on the sidebar.

If you found this guide helpful and want to help us keep these resources free,
please consider making your next Amazon, Expedia, Hostel World, Etsy, and Booking.com purchase through our links (just click right on those words – you can do it right now and unless you clear your cookies before your next purchase, it will remember). It costs you no extra and gives us a small commission. Thank you!
---