The Pentland Hills is the ideal location for having a picnic, strolling, or hiking if you want to get away from the city and reconnect with nature. Walks in the Pentlands provide breathtaking views of Edinburgh and South Queensferry.
Read More: Edinburgh to North Berwick: A Day Trip with Puffins & Castles
You can get to the Pentland Hills Regional Park in just over an hour from Edinburgh city centre. It's actually amazing how many hiking trails there are in this tiny range of hills, from short strolls for picnics to longer excursions for those seeking a challenge.
---
This site is user-supported and that's why we use affiliate links. At no extra cost to you, we get a little bit of money when you purchase something through one of our links. Thank you for helping support ethical, sustainable, and plant-based travel! You can read more about our affiliate disclosure policy here.
---
---
1. Harlaw Reservoir
Difficulty – Easy
Length – 5.5 km
Rise – 92 m
Type – Circular
An easy walk around the reservoir filled with amazing tranquillity and stunning landscapes is ideal for a family with kids or those who like easy trails. You can cycle around the lake and stop for a picnic at several spots. 
This trail starts near Balerno and you can park by the visitor centre. It takes approximately one hour to complete it if you don't stop along the way for photos or a picnic. It is a popular spot and you will probably see other people running or walking.
Read More: Day Hiking Essentials List – Everything You Need for a Day Hike
---
2. Balerno to Glencorse
Difficulty – Moderate
Length – 14.3 km
Rise – 677 m
Type – Point to point
If you want to have a longer walk and see some nice sights, this one is for you. Pentland Hills is filled with amazing routes, and this one although a little bit longer, is a great way to spend a day in nature. Since it is a longer route you won't see many people along the way, but it is a great place for running, walking, or cycling.
The trail is about five hours long and it begins by the Harlaw Reservoir, travels past the Threipmuir Reservoir, and then steadily ascends the Red Road. Along the reservoirs, you'll find breathtaking scenery, and the peaks provide breathtaking views of the neighbouring hills.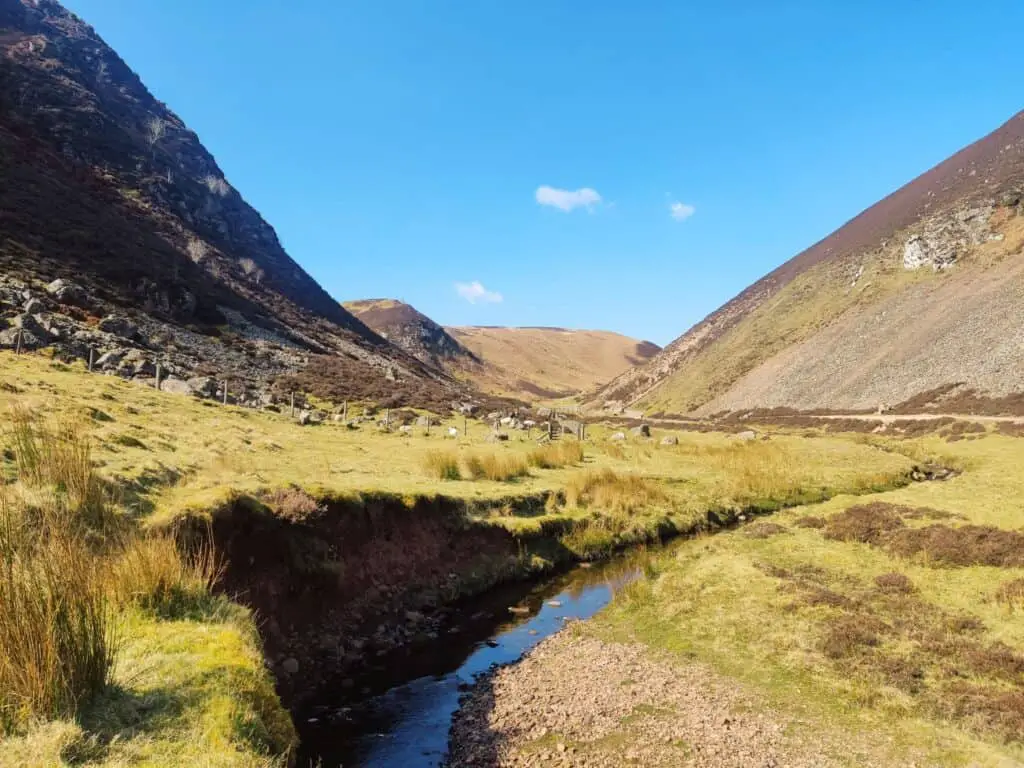 ---
3. Capital View Walk
Difficulty – Moderate
Length – 4.8 km
Rise – 207 m
Type – Circular
One of the best walks in the Pentlands if you want to enjoy spectacular views of the Edinburgh skyline. There are a few hilly sections on this course, but nothing too challenging. Consider bringing a camera because there are a few fantastic locations that offer panoramic views of the entire city.
You might even be able to see a few Highland cows if you're lucky. Near Swanston Farm, where this trail passes, would be the most likely location to view these. This circular trail takes about an hour and a half, and it is popular for hiking, walking, and running.
Read More: Abbotsford Scotland: A Visitor's Guide
---

---
4. Scald Law, South Black Hill, East Kip, West Kip and Hare Hill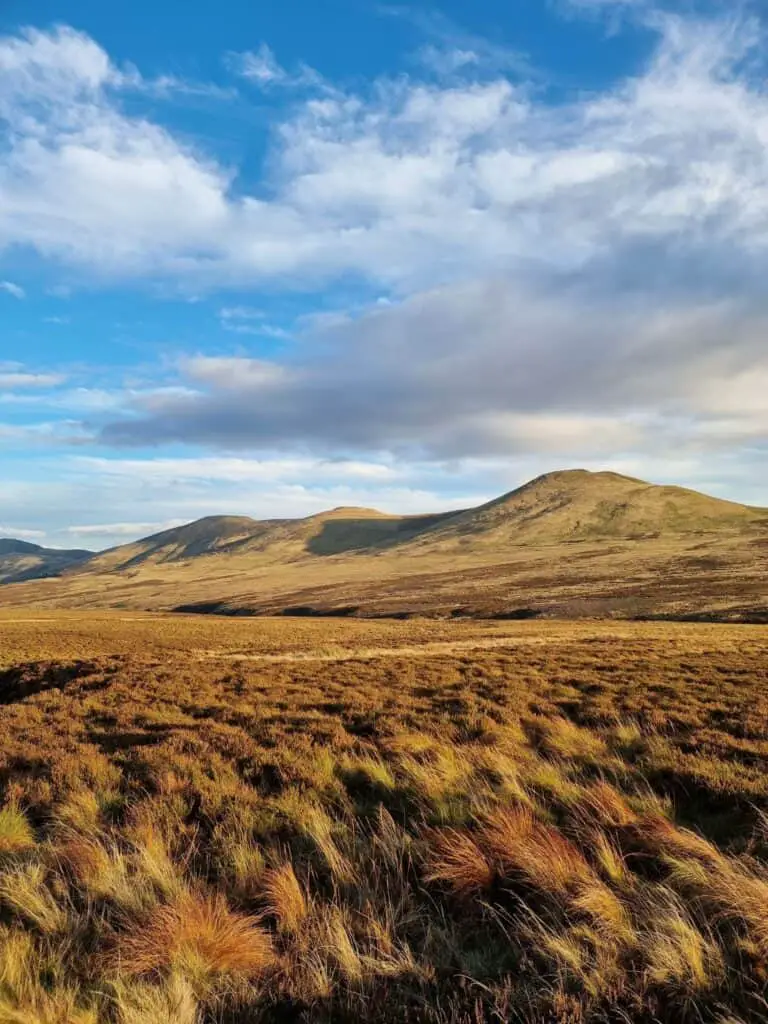 Difficulty – Moderate
Length – 12.2 km
Rise – 658 m
Type – Circular
Among the best routes in Pentlands is this moderate route that includes a visit to the highest point in Pentlands. Even though this is one of the longer hikes on our list, you won't get lost because you'll be primarily following well-maintained, grassy paths. 
Due to the increase in steepness along both the East and West Kip, you could find it a little more challenging, but nothing too challenging. You will travel to Scald Law, the Pentlands' highest point. At 579 metres above sea level, this hill's summit offers views of Livingston and South Queensferry.
---
5. Allermuir Hill and Castlelaw Hill
Difficulty – Moderate
Length – 10.1 km
Rise – 655 m
Type – Circular
When you go on this trail you will get to enjoy everything Pentland Hills have to offer, from wildflowers to hills and birdwatching to picnicking. Often people choose this trail for the great views of Edinburgh, and as a day trip to nature away from the city buzz.
This path includes several Pentlands summits. The beginning of this walk involves a steady, steep ascent from Hillend to the summit of Caerketton Hill. Walking alongside the fence should be done with extreme caution because there is barbed wire at the top of this steep, uneven slope. You will pass by remains of iron age Hillend Hill Fort on this trail.
---
6. North Esk Valley
Difficulty – Moderate
Length – 7.2 km
Rise – 272 m
Type – Circular
North Esk Valley circular route is among the walks in the Pentlands that people take for birdwatching and relaxation. You will not see many people on the trail and you can enjoy quiet time while looking for birds with your binoculars and cameras.
It is a little over two hours, and you will pass by the stunning North Esk Reservoir. This is a beautiful circular route for those who want to see the Scottish countryside. Be careful when you pass by the river because this walk can get quite muddy. A great picnicking location is by the lake, where you can spend some quality time in nature.
---
7. The Scottish National Trail: Carlops to Currie
Difficulty – Moderate
Length – 19.3 km
Rise – 315 m
Type – Point to point
This long trail is perfect if you want to spend a day in nature, as it takes over five hours to finish. It is excellent for mountain biking, bird watching, hiking, and other outdoor activities. This is a point-to-point trail and it can be done in whatever direction is better for you, with public transport being available at both ends.
This trail connects routes from Kirk Yetholm to Cape Wrath. This specific trail travels along a brief segment of the route between Carlops to Currie. It travels across fields while meandering across the Pentlands, mostly adhering to paved pathways and bridleways.
---
8. Pentland Hills North and West Peaks
Difficulty – Moderate
Length – 17.9 km
Rise – 886 m
Type – Circular
This six hours long route is ideal for hiking and walking in Pentland Hills Regional Park. Before coming to an end near Glencorse Reservoir, this lovely route travels just over 11 miles and passes through Castlelaw, Castlelaw Hillfort, Allermuir Hill, Castleknowe, Caerketton Hill, Capelaw Hill, and Black Hill. 
As you return to the trailhead, keep an eye out for Glencorse Waterfall. Although the trail is open to dogs, there may likely be livestock there. The ground is muddy and rough for this hike, so sturdy footwear is advised. There is a café and restrooms in the parking lot where the trail begins.
---
9. Nine Mile Burns to Swanston
Difficulty – Moderate
Length – 18 km
Rise – 863 m
Type – Point to point
Walks in the Pentlands that are most popular include Nine Mile Burns to Swanston route which takes six and a half hours to complete. There are a lot of people visiting the area, but it is still a relaxing and enjoyable trail that you can bring your dogs to, but be aware of the rule that dogs must be on a leash.
Take in the breathtaking views and several undulating hills. However, you won't get to see the sights if you don't undertake them on a clear day. It is strongly advised that hikers bring trekking poles, particularly in windy conditions and due to elevation changes.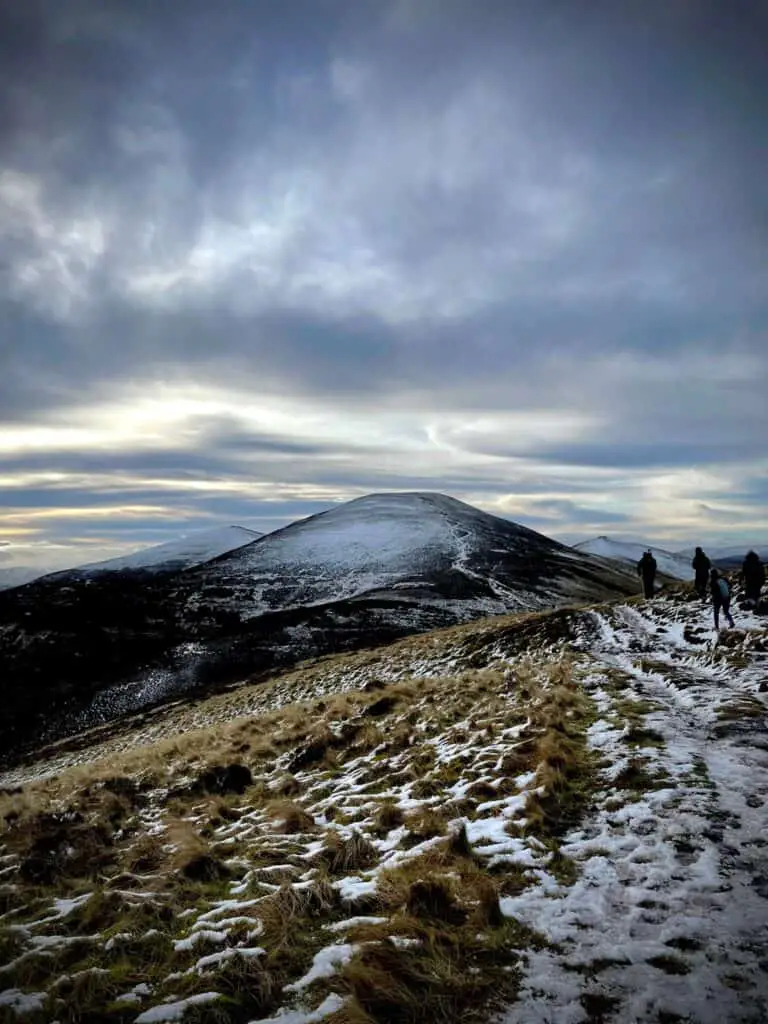 ---
10. Five Peaks
Difficulty – Moderate
Length – 10.5 km
Rise – 606 m
Type – Point to point
When it comes to busy trails, this one is one with the most hikers at peak times, and for all the right reasons. Taking this route means you will enjoy some of the most scenic views in the whole Pentland Hills Regional Park. The route takes approximately four hours to complete and it is open year-round.
The route starts at Nine Mile Burn. East Kip, West Kip, Carnethy Hill, Scald Law, and Turnhouse Hill are the five peaks you will pass. Although there are several steep ascents and descents, none of them is particularly risky. Trekking or sports shoes are perfectly acceptable in dry weather, and hiking boots are advised, especially in the case of damp conditions.
---
How Does Alltrails Pro Works?
AllTrails is well-known in the hiking community as a useful app. A feature-rich software with paid editions that is beginner-friendly and offers a better hiking experience. The AllTrails app can be used for free with limited features. For $35.99 a year ($2.99 a month), the Pro Membership is the best option for those who frequently venture outside. 
Benefits of Alltrails Pro:
It is ads free.
Everything offered as part of the free subscription is also accessible with Offline access, which includes printable offline maps.
Helpful overlays, including heat maps, pollen, satellite weather, air quality and pollution index, and more!
Off-route alerts that will help you find trailheads and stay on course.
For your protection, the Lifeline feature enables you to inform your loved ones of your whereabouts.
App alerts you when you are off the path.
Create maps that you like, then have them printed.
---
Walks in the Pentlands FAQs
Where Can I Walk in the Pentlands?
There are several paths you can take when choosing walks in the Pentlands. Some of the most popular ones are the City of Edinburgh Core Paths, Midlothian Core Paths, West Lothian Core Paths, and Scottish Borders Core Paths.

Where Do You Park to Climb the Pentlands?
You can park in several spots, depending on which route you want to take. For free you can park at Nine Mile Burn, Kirk Road End, Boghall, and Carlops. You can also park at Flotterstone Visitor Information Point and café, Hillend Upper, and Swanston if you donate £2.

Where to Go In Pentland Hills?
There are several starting points in Pentland Hills. Here are some to consider: Harlaw car park and visitors centre, Threipmuir car park, The Flotterstone car park, or Bonaly.

Can You Wild Camp in the Pentlands?
Camping and fire lighting are prohibited within one mile of a public road. This comprises the majority of Bonaly Country Park and Harlaw Reservoir.

---
More things to do in Scotland
---
Latest Scotland Posts
---
Free Resources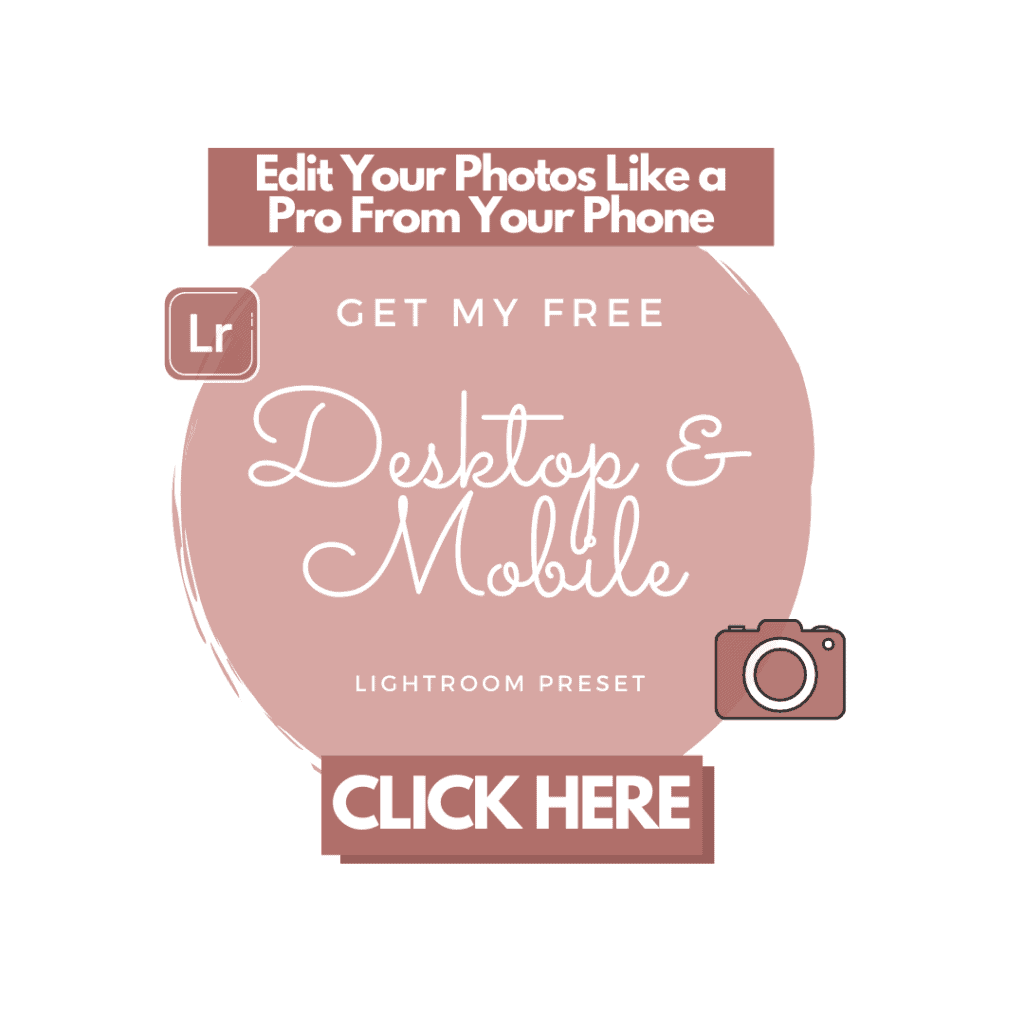 ---
And as always, you can find more sustainable travel content on Instagram @VoyagingHerbivore, Youtube, and TikTok and to get updates straight to your inbox, enter your email below in the footer, or to the right on the sidebar.

If you found this guide helpful and want to help us keep these resources free,
please consider making your next Amazon, Expedia, Hostel World, Etsy, and Booking.com purchase through our links (just click right on those words – you can do it right now and unless you clear your cookies before your next purchase, it will remember). It costs you no extra and gives us a small commission. Thank you!
---
Pin Walks in the Pentlands