You might not expect a city with only 537,000 people (2020) to have some of the best vegan scenes in the world.
Say hello to Edinburgh!
The incredible capital of Scotland is home to an endless number of vegan restaurants, so keep reading to discover the best vegan and vegan-friendly restaurants in Edinburgh and beyond!c
Currency: Pound, contactless payment (With your phone or a contactless card) is the norm but cash is generally accepted)
Language: English
Price Range: $$
Best Way to Get Around Edinburgh: Walking or public transport
Timeline: 2 to 3 full days to explore Edinburgh's sites; at least 10 days for a Scotland road trip
Click here for the best Café recommendations: 9 FANTASTIC Edinburgh Cafes (That You Can Also Work In)

---
---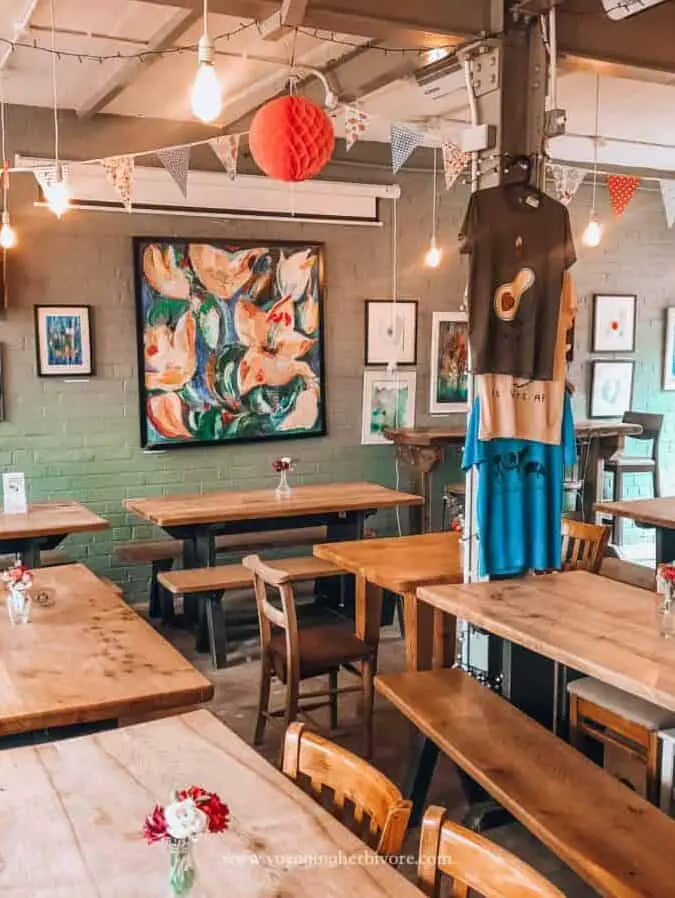 ---
This site is user-supported and that's why we use affiliate links. At no extra cost to you, we get a little bit of money when you purchase something through one of our links. Thank you for helping support ethical, sustainable, and plant-based travel! You can read more about our affiliate disclosure policy here.
---
Vegan Restaurants in Edinburgh
Easily one of the most photogenic cities in the United Kingdom, Edinburgh is not a place to be missed as you travel the United Kingdom. The vegan options are incredible, with everything from amazing vegan Thai food to vegan haggis, so you can try the local dishes too.
Below you can see the contents (except for delivery-only restaurants) of this post on a map. Filter by clicking on the categories at the top and click on each icon to see more details. The icons with a yellow ring around them are my favorite restaurants/cafes/pubs.
The Sly Fox
Price Range: £
Setting: Cafe vibes
Food Quality: 9/10
Tucked away near Leith, the Sly Fox is one of Edinburgh's best vegan restaurants. This little cafe has a varied menu with everything from burgers and fries to potato pancakes with kimchi. The food is some of the best I've had in Edinburgh. The portions are incredibly generous and the fries taste just like McDonald's – perfectly crunchy and salty. I highly recommend making the Sly Fox a top priority on your vegan Edinburgh bucketlist!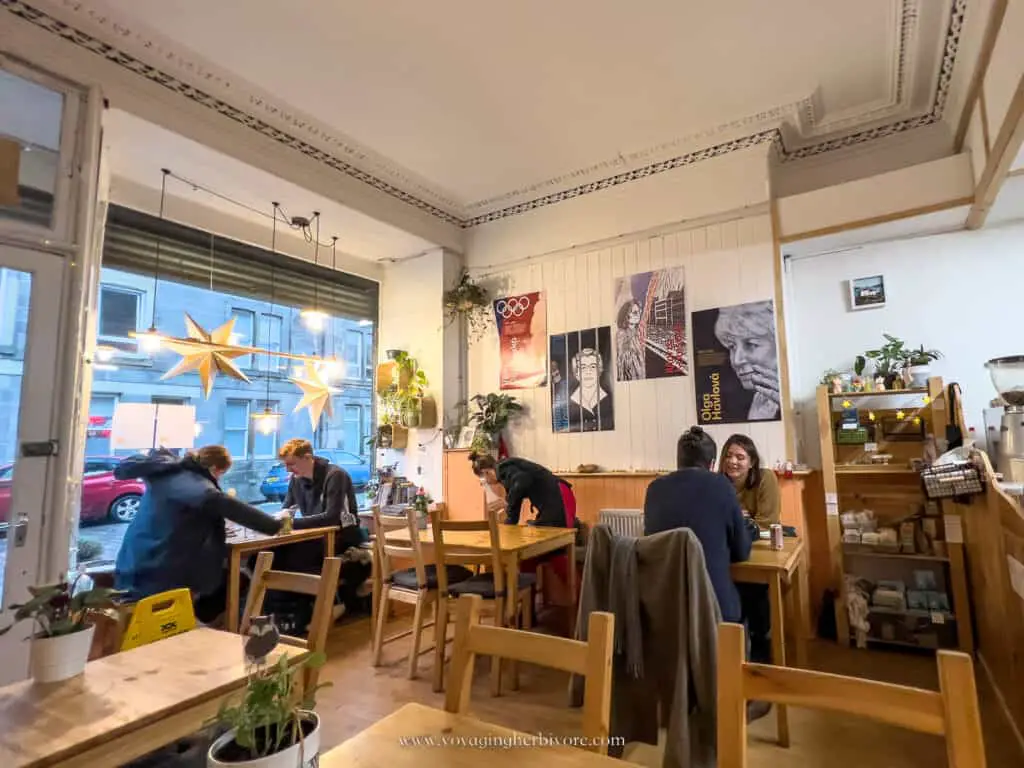 ---
Rose Leaf Cafe
The Rose Leaf Cafe is the perfect brunch spot if you're looking for comfort food and an off-the-beaten-path location. The pub is located near the Shore in Leith and from the front looks like a standard pub. Upon entering, you'll find a warm and friendly bar and standard pub area, but around the back is a more cafe-style area. The menus are situated in old National Geographic magazines, a great touch, and the vegan brunch menu is extensive and full of comfort food. The food isn't anything crazy, but it's filling and relatively tasty.
Price Range: ££
Setting: Cozy and casual pub
Food Quality: 7/10
---
Harmonium
Harmonium is a 100% vegan Edinburgh restaurant and pub with great food, drinks, and vibes! Their menu features classy comfort food that really is absolutely delicious. Because Harmonium is fully vegan, you don't have to worry about trying to figure out which drinks are vegan and instead try whatever looks interesting on tap and behind the bar. The venue is large and has pretty classic pub vibes which makes it a great place to spend a few hours chatting, eating, and drinking.
Price Range: ££
Setting: Upscale pub
Food Quality: 9/10
Dog Friendly: Yes!
Address: 7-11 East London Street, Edinburgh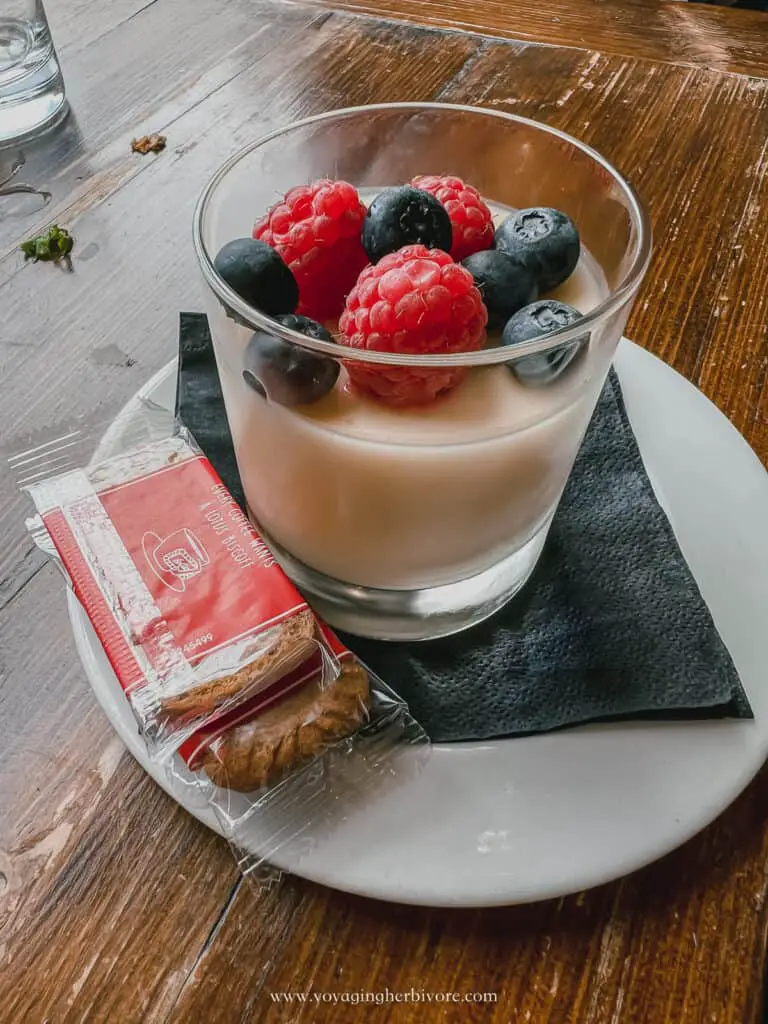 ---
Nova Pizza
Easily one of Edinburgh's best fully vegan restaurants, Nova Pizza is a great gem that you'll need to make a reservation for if you want a table for dinner. The restaurant is small and intimate with a large menu full of pasta, pizza, and drinks – all Italian! The red sauce pizza wins for flavor out of the food from Nova Pizza that I've tried, but that's not to say the other food isn't spectacular. It's a must-try when in Edinburgh!
As a note, the savory pizzas are more to my taste than the sweet ones. I wasn't a big fan of the pear and walnut pizza.
Price Range: ££
Setting: Cozy and intimate
Food Quality: 8/10
Address: Edinburgh Newtown, 42 Howe Street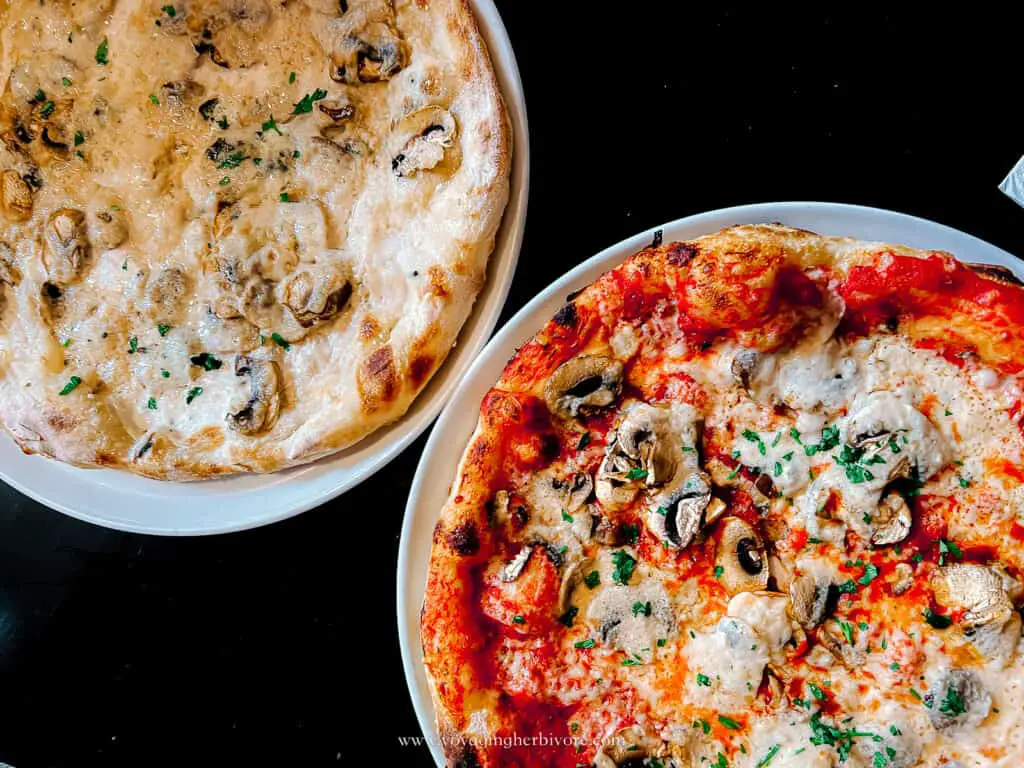 ---
Henderson's
After being closed for a few years, Henderson's is back and better than ever! The restaurant is fully vegetarian with mostly vegan options. The space is beautiful and cozy and dishes are comfort food dressed to impress.
Overall, the food is tasty and hearty. It's beautifully presented comfort food but don't expect crazy flavor.
Price Range: ££
Setting: Nice sit down venue
Food Quality: 8/10
Address: 7-13 Barclay Place, Edinburgh, EH10 4HW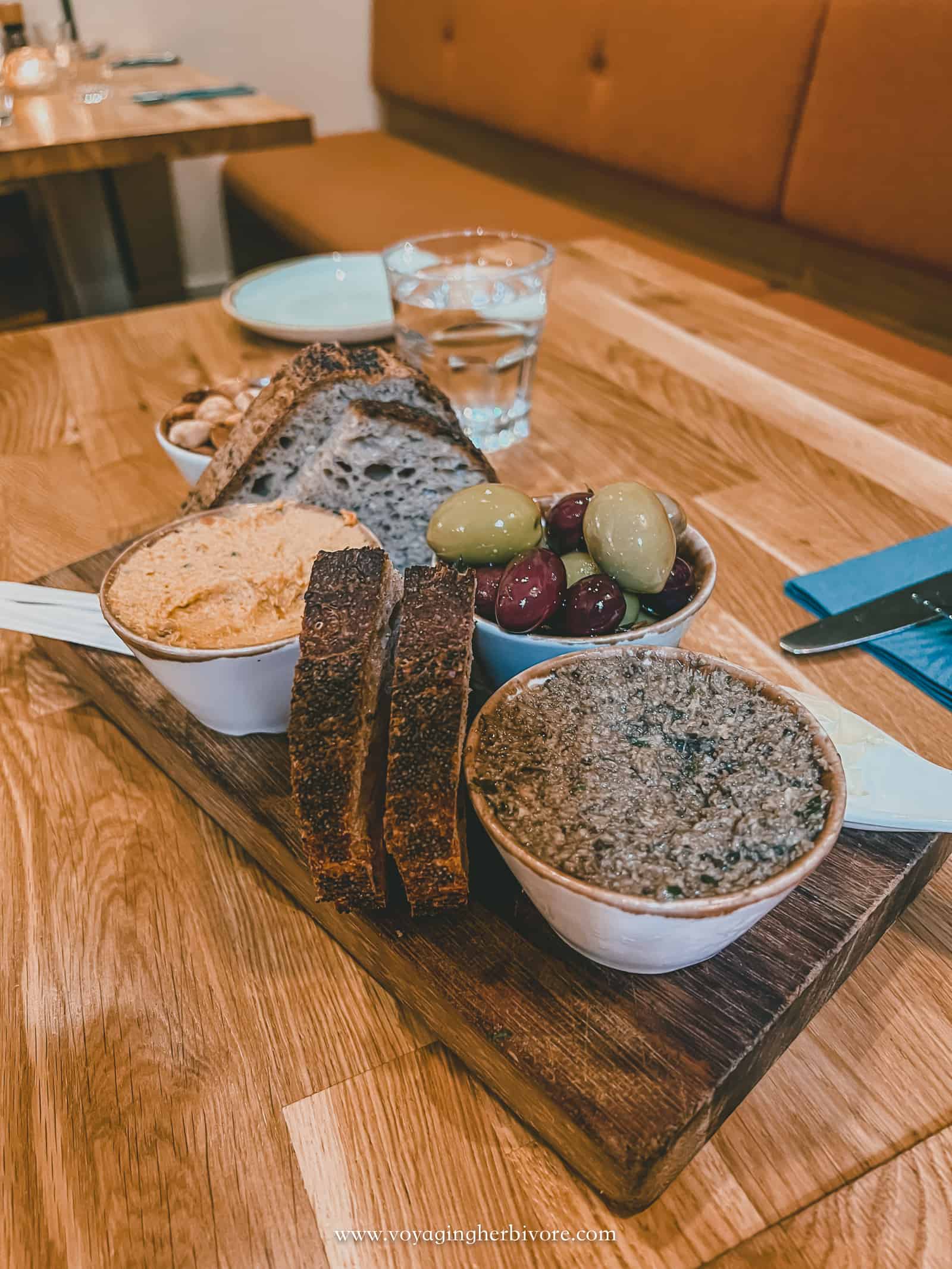 ---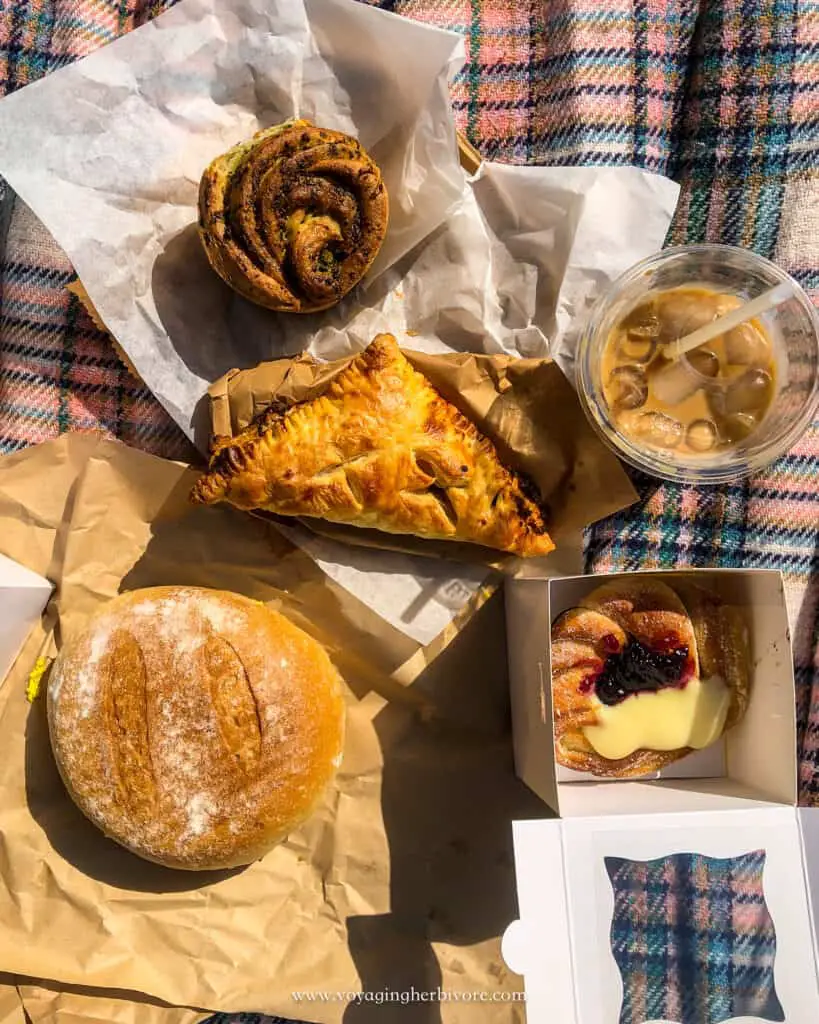 Black Rabbit
If you're looking for delicious and innovative baked goods, massive breakfast sandwiches, and fridges full of vegan cheeses and sweets, look no further than Black Rabbit in Edinburgh.
You absolutely need to try their cruffins (similar to a cronut but a muffin instead of a donut), both savory and sweet, and make sure to get your hands on one of their breakfast sandwiches. We opted for the egg and haggis with brown sauce and WOW was it fantastic and giant. Not only are they delicious, but the sandwiches and in general most products are decently priced.
Price Range: $$
Setting: Grab and go bakery
Food Quality: 10/10 Absolutely delicious. So sad not to have discovered it sooner!
Address: 33 Brougham St, Edinburgh EH3 9JT
---
Bross Bagels
Hungover from a night out exploring Edinburgh's cocktail bars or speakeasies? Head down to Bross Bagels (or order from Deliveroo because I know you don't want to get out of bed) and choose between several moorish vegan bagels loaded with vegan haggis, facon, brekkie potatoes, or even bbq cauliflower. These bagels aren't cheap but they are tasty and are a great grab and go or quick sit-down option in central Edinburgh.
Price Range: £££
Setting: Grab and go or a quick bite
Food Quality: 8/10
---
Grams
Grams is a unique restaurant with a majority vegan menu, although the restaurant itself is neither vegan nor vegetarian. It's an Instagrammer's dream with beautifully styled and decadent-looking food. The restaurant's slogan is "Eat Better, Not Less" as they make a variety of free-from options, including refined sugar-free. Overall, the food is decent but the effort is definitely put into appearance. You can also get drinks and coffee here but it's a lovely spot to come for lunch.
Price Range: ££
Setting: Bougie brunch vibes
Food Quality: 7/10
Address: 68 Hamilton Place, Edinburgh, EH3 5AZ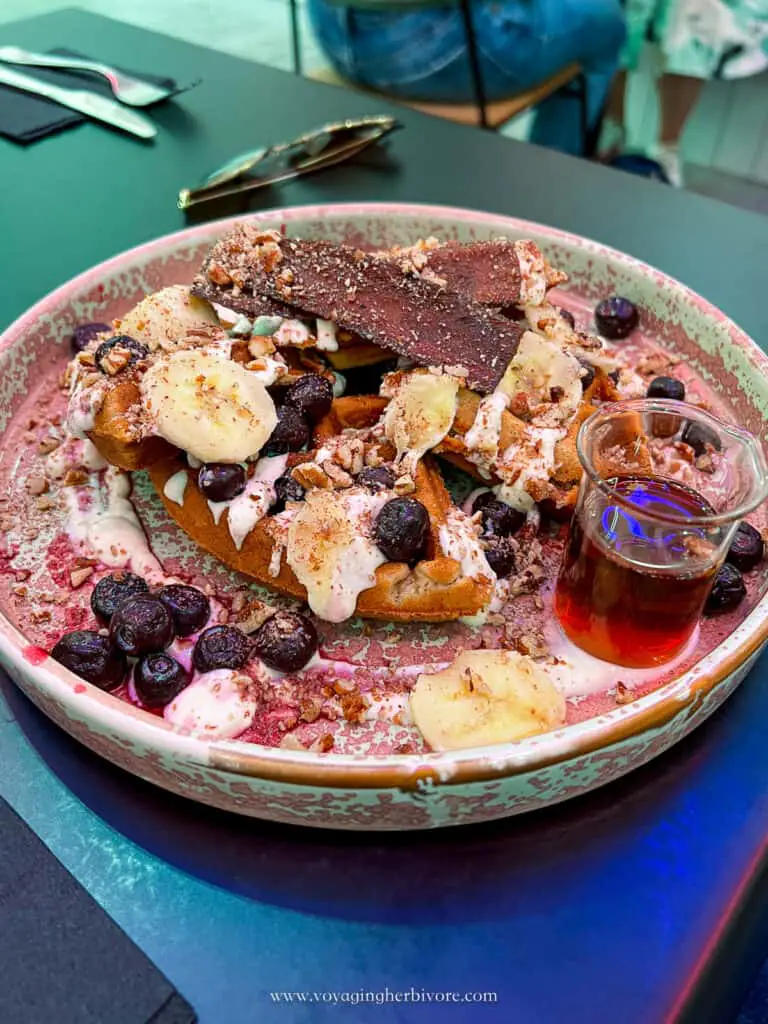 ---
Face Plant Foods
For a great vegan comfort food look no further than Face Plant Foods. Located in Leith, Face Plant Foods is a bit out of the way from central Edinburgh but it's a great stop if you're in the area. While the vegan mac and cheese can't compete with those found on the vegan London scene, the sandwiches are innovative and absolutely delicious!
Price Range: $$
Setting: Currently just takeaway window
Food Quality: 8/10 – classic comfort food flavors but I probably wouldn't go out of my way for the food
Address: 37 Duke St, Leith, Edinburgh EH6 8HH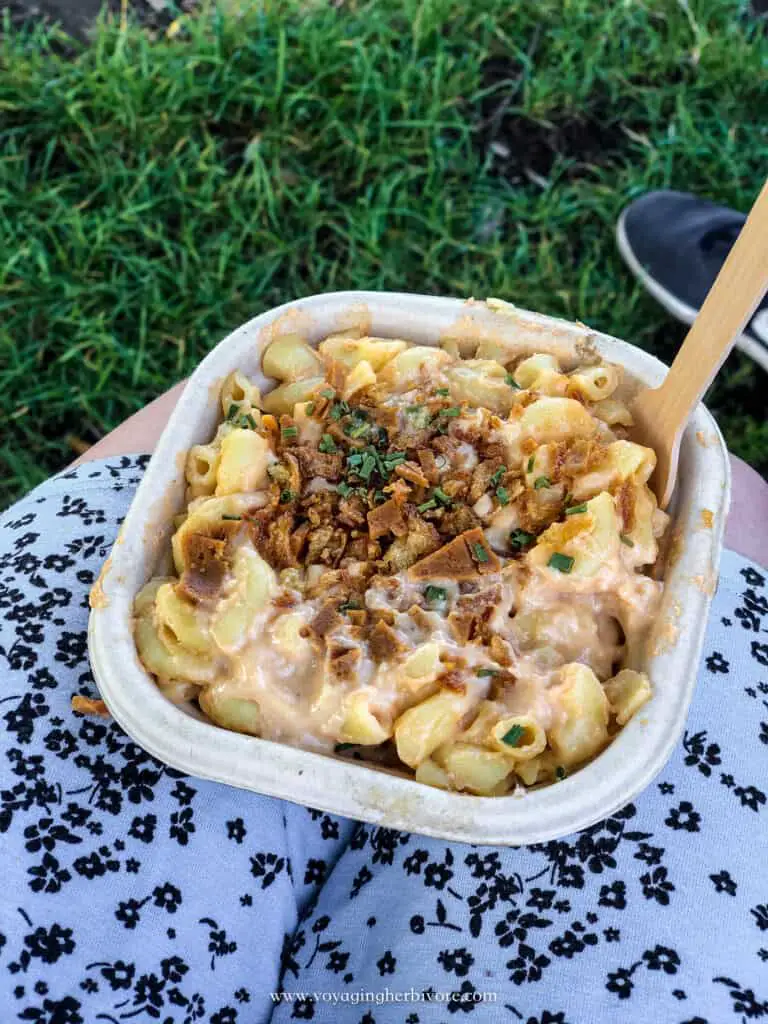 ---
Innis and Gunn Taproom
Ever since discovering that Innis and Gunn beers are not only delicious but are also vegan and brewed in Scotland, they've been a favorite of ours. The Innis and Gunn taproom in Edinburgh offers a wide range of delicious vegan options from burgers to fried pickles and desserts. If you're a beer lover, we recommend The Original beer with whatever delicious vegan meal you're having!
Read More: 15 Best Beer Gardens In Edinburgh in 2023
Price Range: $$
Setting: Casual sit down
Food Quality: 10/10 (Fried pickles are very hard to do right but these were full of flavor, weren't dry, and came with a perfect amount of dipping sauce!)
Address: 81-83 Lothian Road, Edinburgh, EH3 9AW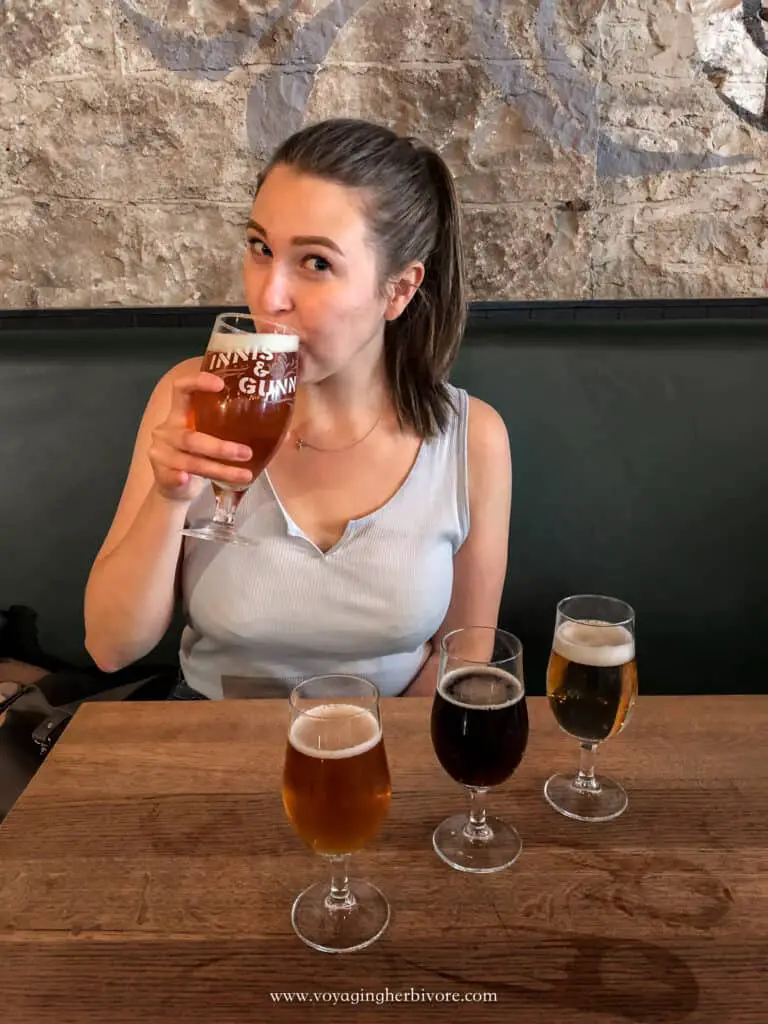 ---
Considerit Donuts
A fully vegan donut shop with unique sweet and savory flavors, and with the option to get your donut stuffed with ice cream!? Considerit Donuts is clearly a must-visit on your vegan Edinburgh itinerary. Be prepared to wait in line, because the rest of the vegan community in Edinburgh loves this little shop too, but it's well worth the wait.
Featured below is the vegan white chocolate and honeycomb donut. It deserved a full photoshoot.
Price Range: $$ (About 3 pounds for a donut)
Setting: Grab and go
Food Quality: 10/10
Address: 3, 5A Sciennes, Newington, Edinburgh EH9 1NH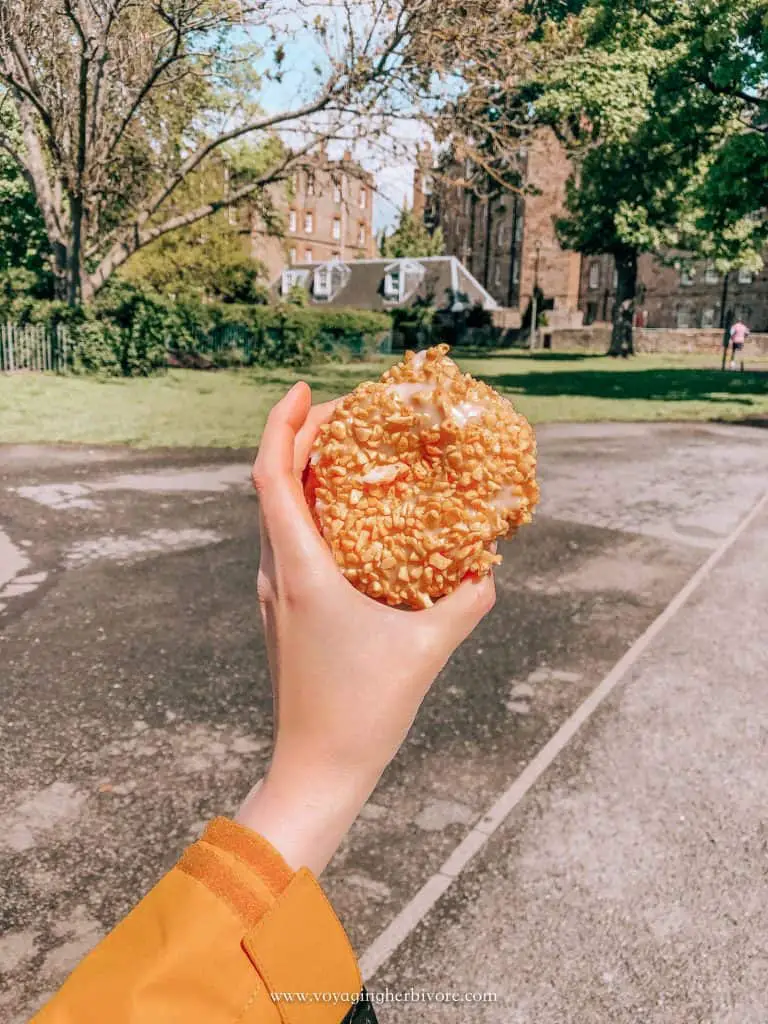 ---
---
Sabzi
These masala fries will change your life.
I'll say more, although the fries should be enough to convince you.
Sabzi is easily the best vegan Indian food, and probably some of the best food in general, that I've ever had. Must haves include the mango lassi, masala fries, and chloe bhature although all dishes are absolutely fantastic. I can't wait to head back for round two!
Price Range: $
Setting: Casual and lively
Food Quality: 10/10
Address: 162 Ferry RoadEdinburghEH6 4NX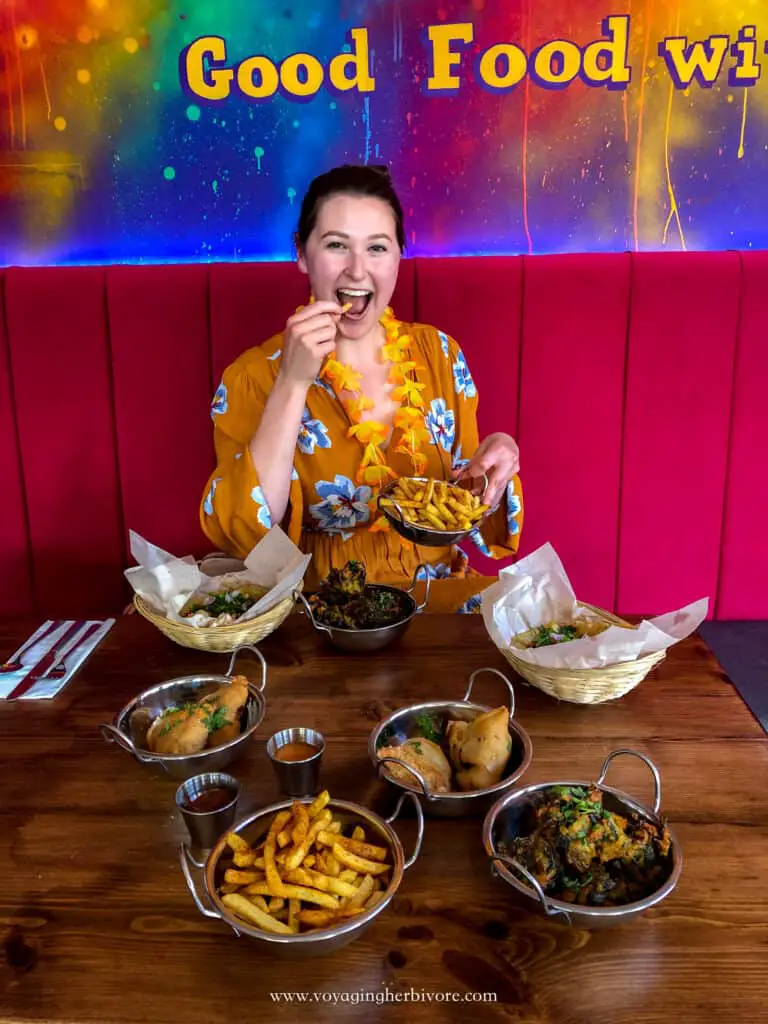 ---
The Sheep's Heid Inn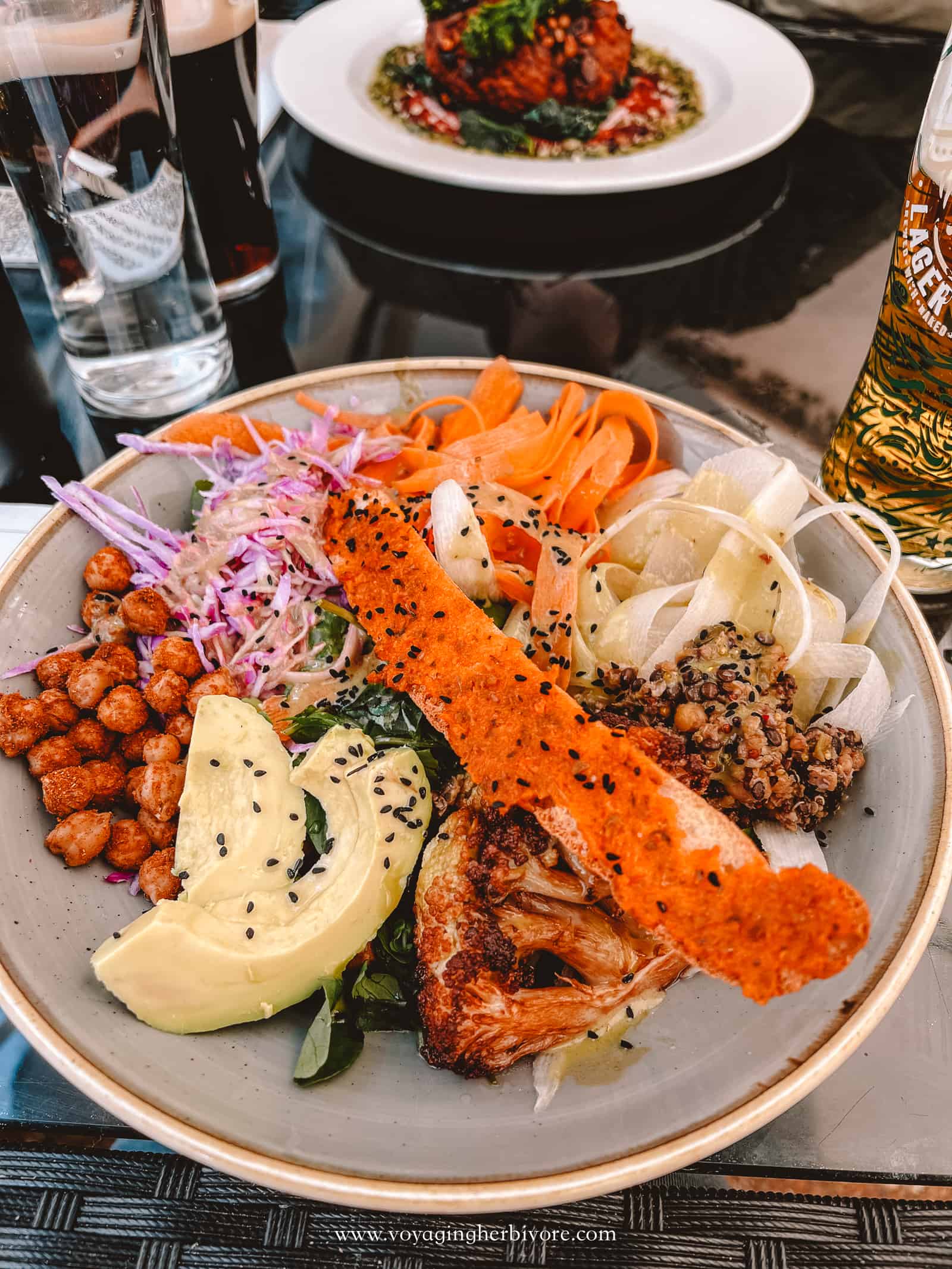 The Sheep Heid Inn is located in the lovely little village of Duddingston, a true hidden gem of Edinburgh. This is the oldest pub in Scotland, and the Queen herself dined there in 2016. Although you may be worried that this is just a tourist trap (I was) it does in fact have some nice vegan food in Edinburgh, lovely staff, and a general cozy atmosphere. Pair that with the local beers they have on tap, and you're in for a great afternoon!
Read More: Duddingston: Edinburgh's Hidden Loch & Village
Price Range: $$
Setting: Cozy but upscale pub
Food Quality: 10/10
Address: 43-45 The Causeway, Edinburgh EH15 3QA, United Kingdom
---
Sora Lella: Vegan Roman Food
Delicious pasta and loaded pizza might seem like a vegan staple that you've had many times before, but Sora Lella takes it to the next level! Run by a vegan Roman family, the restaurant is completely vegan and the servings large! The dishes are done well and are simple in a way that other vegan restaurants seem to have missed. We don't always want a burger loaded with 10 different ingredients. No, sometimes a simple truffle pasta dish with broccoli cream sauce hits the spot. Sora Lella is one of the best vegan restaurants in Edinburgh and should not be missed!
Price Range: $$$
Setting: Ordered via Just Eat
Food Quality: 9/10 (strong flavors but I thought the truffle pasta could have been a touch lighter – but it's also a large serving which is nice!)
Address: 13A Brougham St. Edinburgh EH3 9JS
---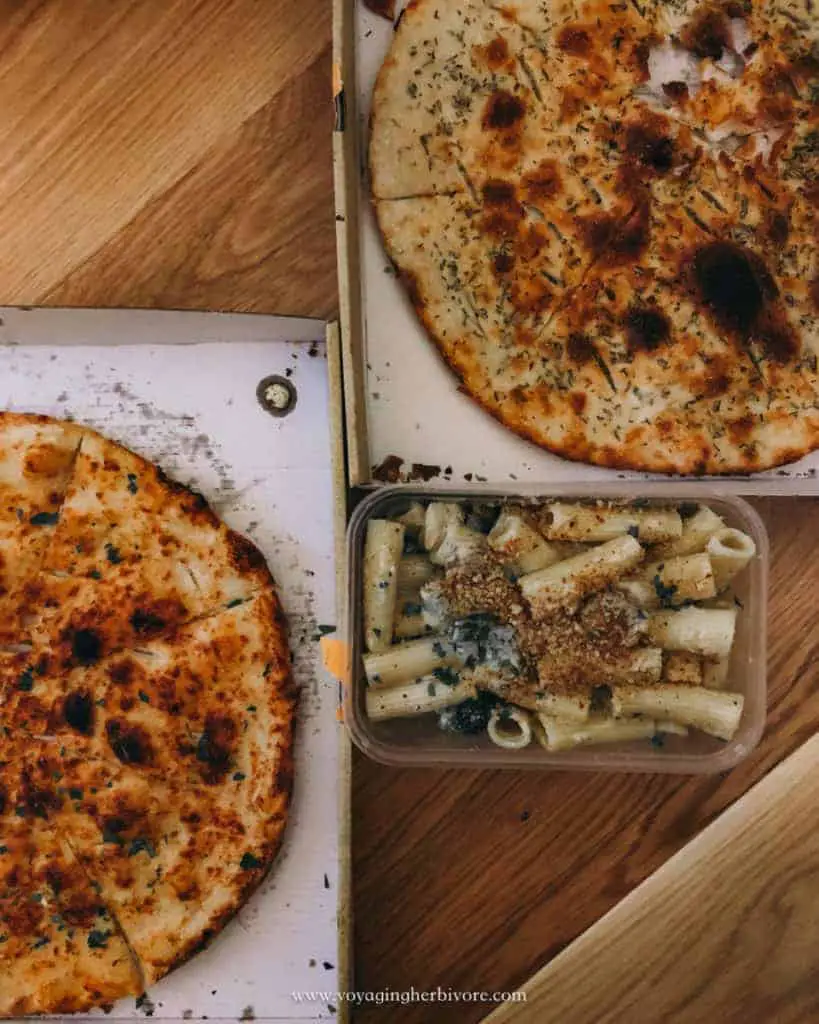 ---
---
The Baked Potato Shop – Now Closed
An absolute must-visit if you're in Edinburgh! The little shop is completely vegetarian with plenty of vegan options (including vegan butter). I highly recommend the fruity coleslaw, and if you're looking for an easy breakfast, grab a potato with baked beans and reheat it in the morning.
Price Range: $$
Setting: Grab and go (only one small table)
Food Quality: 6/10 (nothing fancy but delicious)
Address: 56 Cockburn St, Edinburgh EH1 1PB, United Kingdom
Stuck at home? Make your own vegan jacket potato!
Read More: Top 10 Things to Do in Edinburgh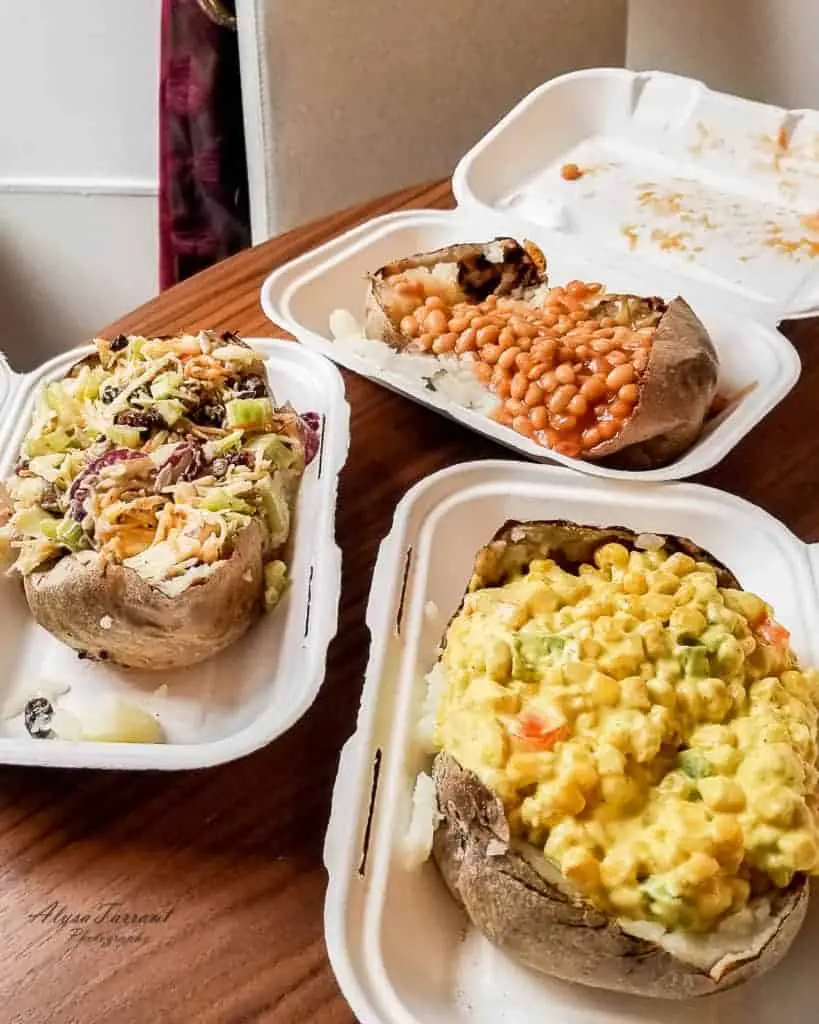 ---
Tantra
If you're looking for dinner and a show, look no further than Tantra. New to Edinburgh in early 2022, Tantra is an Indian restaurant with a decent range of vegan options and perhaps some of Edinburgh's most unique and beautifully presented cocktails.
Cocktails are relatively expensive at around 13-14 pounds each, but they are unique and beautiful so I think they're fairly priced. Tantra strives to present a multi-sensory experience, with sights, smells (Chanel perfume is sprayed on some of the cocktails!) and tastes all accounted for. The staff were absolutely lovely and so helpful. They even gifted us a cocktail that was part of their fashion week set and no longer available. Read about Edinburgh's most magical cocktail bars here.
The food was also reasonably priced and beautifully presented. I highly recommend trying the fuchka (Featured below). We also tried the vegan sizzler platter which was tasty, but after the amazing taste and presentation of the fuchka, it wasn't quite as exciting.
Price Range: $$
Setting: Classy
Food Quality: 9/10
Service Quality: 10/10 the staff were absolutely lovely and so helpful
Read the Full Review of Edinburgh's Tantra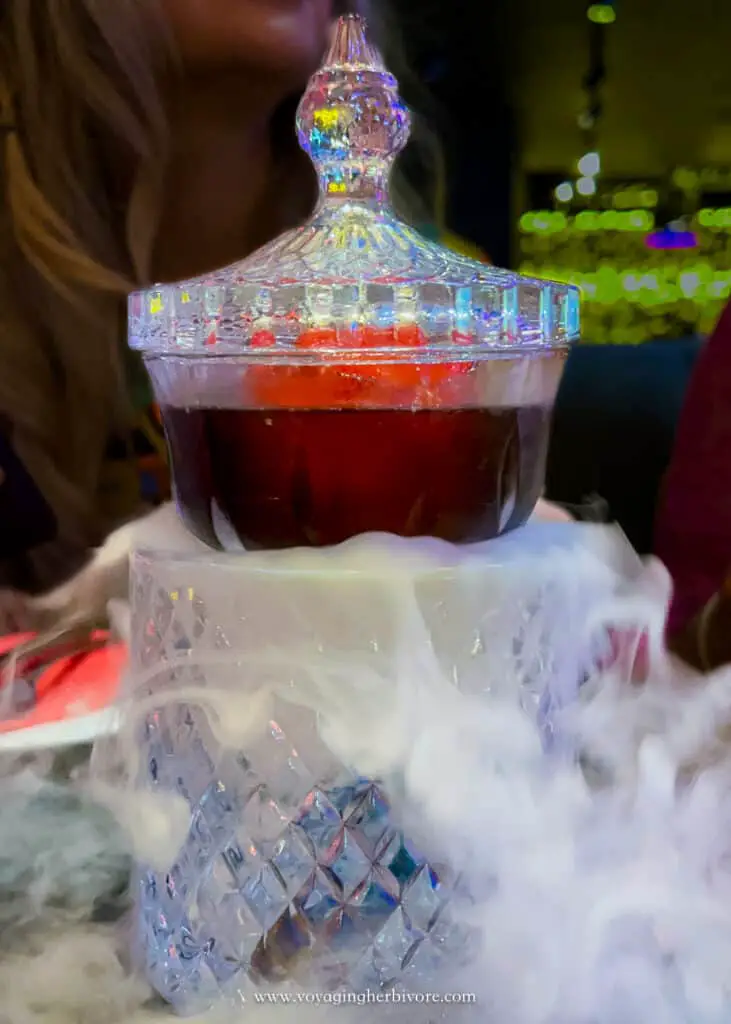 ---
Meze Meze
Mediterranean food lovers unite! Hummus, babaganoush, artichoke salad, stuffed vine leaves, and more are about to grace your table at Meze Meze.
Located just off of Prince's Street, this lovely cafe is the perfect place to spend an afternoon eating and drinking as you enjoy the sun. My only complaint is that they need to update their email as the special advertised in it is not available. Additionally, despite the size of the table, they seem to bring one large piece of pita and it's £2 for another piece (so overpriced!).
Price Range: $$
Setting: Casual
Food Quality: 8/10 (Pita was so so)
Service Quality: 8/10 (service was automatically added, food was delivered fast but it took ages to get my change)
Address: 71 Rose St, Edinburgh EH2 2NH
---
Kalpna: Vegan and Vegetarian Indian Food
If you're a curry lover, Kalpna is the place for you! This vegetarian restaurant in Edinburgh features vegan and vegetarian dishes (although there could be a few more vegan options) and if you're not sure what the try, I recommend the vegan tasting platter. At nearly 17 pounds per person, it doesn't come cheap, but it is a treat. Plant to sit for a while because service is slow. Check before ordering if it's cash only as we were only told that after we had finished eating. All in all, the food was delicious but I would like to see better service.
Price Range: $$
Setting: Standard Indian restaurant style; love their gorgeous tables!
Food Quality: 9/10
Service Quality: 5/10
Address: 2-3 St Patrick Sq Edinburgh – EH8 9EZ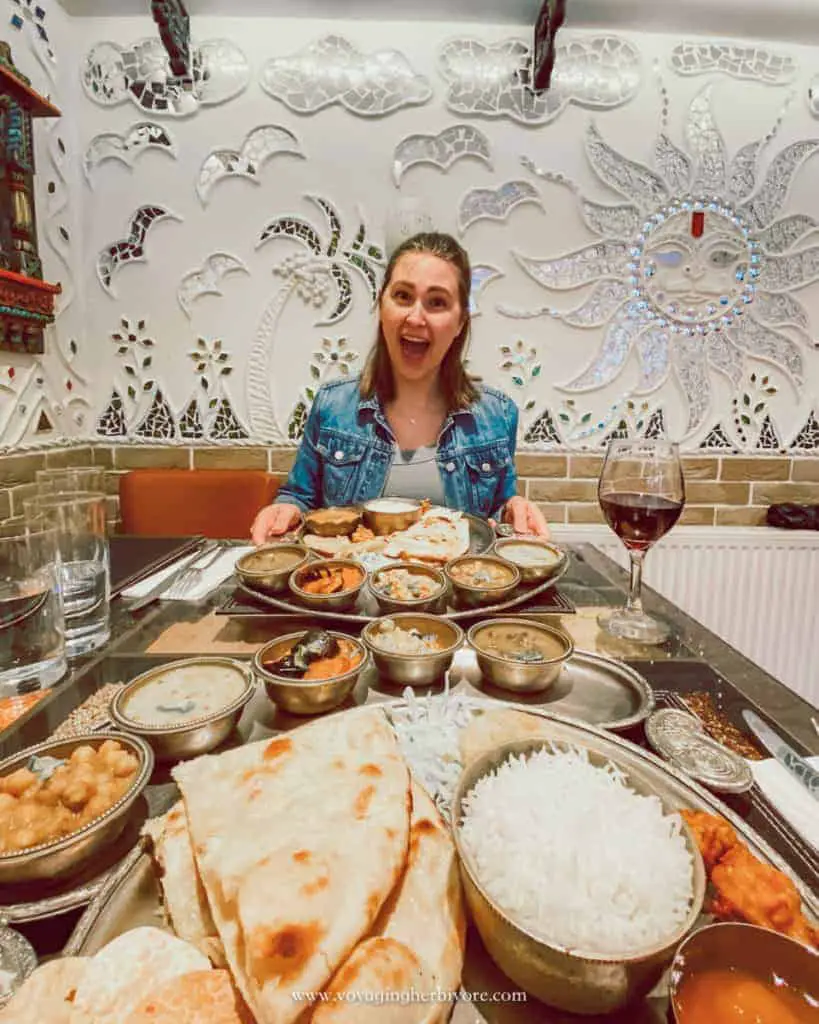 ---
David Bann
As vegetarians and vegans, we don't often find high-end restaurants that cater to just us! David Bann is easily one of the best vegetarian restaurants that I've been to in the UK and it's certainly one that's worth visiting. The best part is, for a nice night out, it's relatively affordable. You can get a three-course meal for £22 per person and the food genuinely is delicious – their menu doesn't do it justice!
Price Range: $$
Setting: Intimate
Food Quality: 10/10
Service Quality: 10/10 very attentive*
Address: 56-58 St Mary's St, Edinburgh EH1 1SX
*Not only were the servers fantastic, but we got a call a few days later that someone had tested positive for Covid-19 while we were there. They left a message and called again the next day to make sure that we had received it. The person I was speaking to genuinely sounded so relieved to hear that we both tested negative.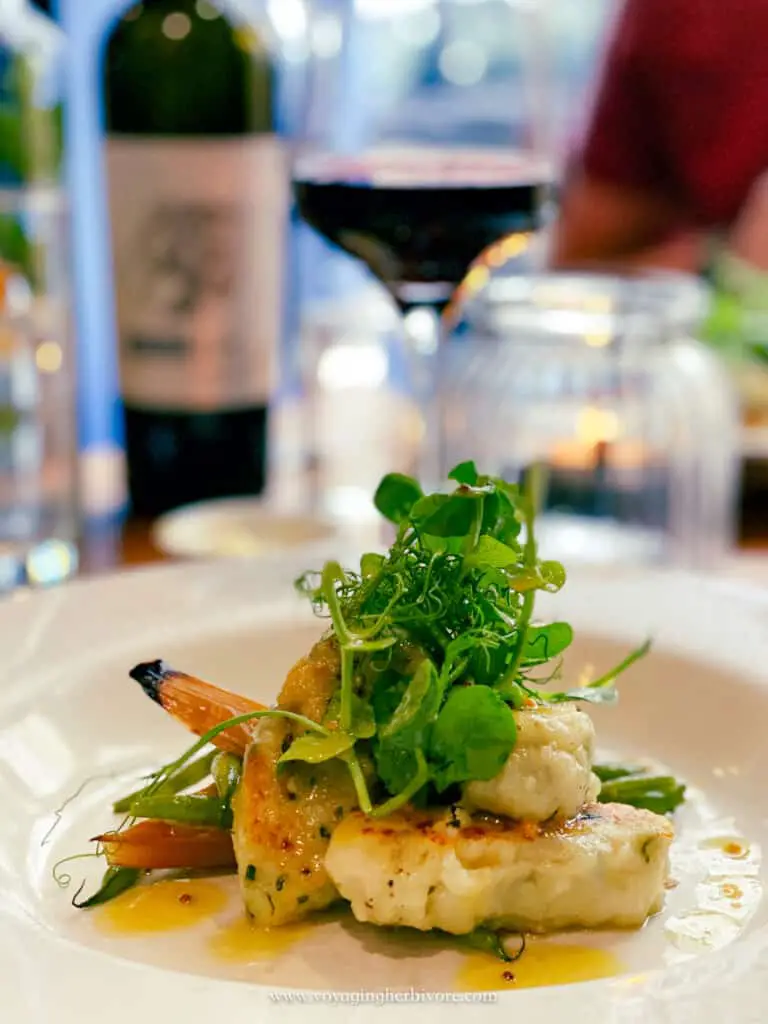 ---
Brewdog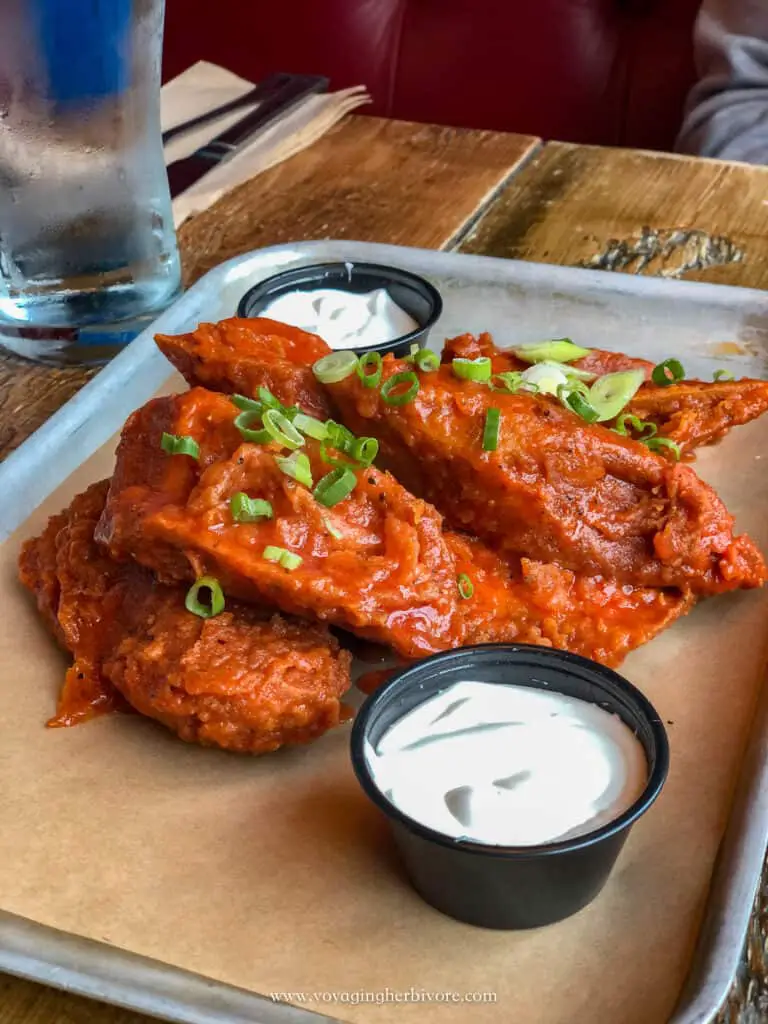 Incredible beer on tap, vegan options galore, and mountains of fries – what more could you ask for?
Brewdog has branched out from beer and is winning Edinburgh's vegan scene with its many vegan options, including these delicious wings (the sharing platter) from the Temple of Seitan, one of many incredible vegan restaurants in London.
Be sure to book a table at the Brewdog on Lothian Road as the other options do not have as much food or as many vegan options.
Price Range: $$
Setting: Casual
Food Quality: 10/10 (The sharing platter was a great size for two people and so so tasty!)
Service Quality: 10/10
Address: 50 Lothian Rd, Edinburgh EH3 9BY
---
Civerinos Slice
Need a quick pizza fix during your Edinburgh adventures? Civerinos has a few locations around the city and several fantastic vegan options with pizza and vegan meatballs. The slice I'm holding in the photo is one slice (basically half a pizza!) so you do get your money's worth!
The pizza crust leaves a little something to be desired and I would love to see a little more color on it, but overall for four pounds a slice I can't complain.
Price Range: $
Setting: Casual grab and go
Food Quality: 7/10
Service Quality: 9/10 (Not very fast but they were busy)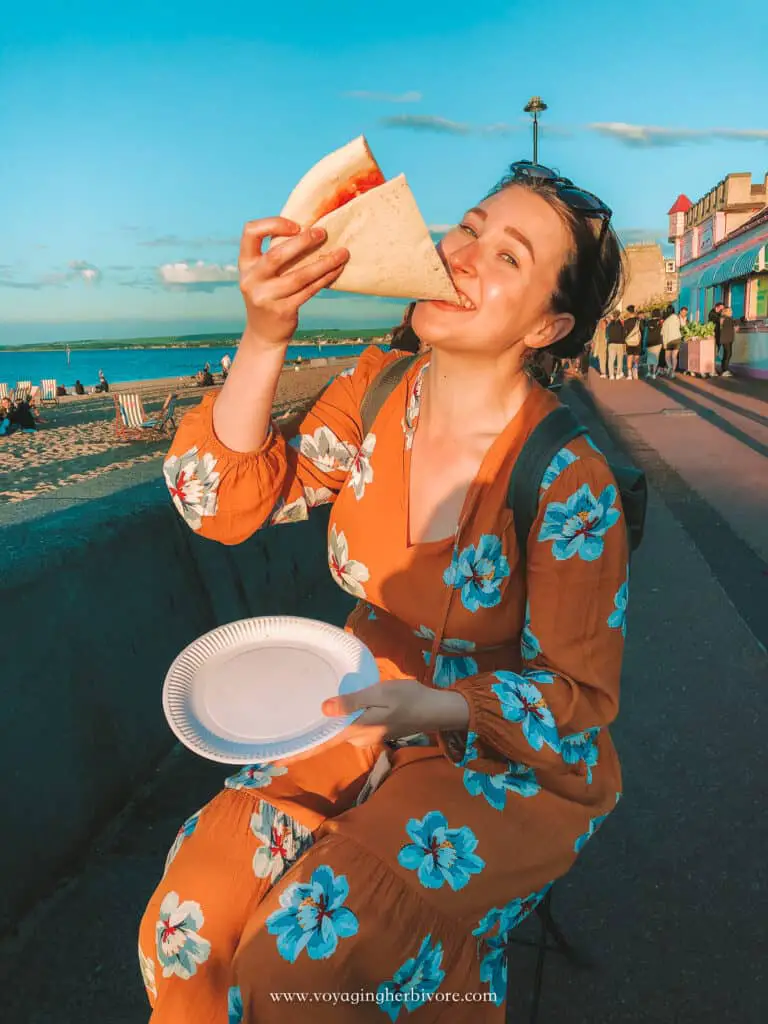 ---
Alandas Gelato
Alandas Gelato is located in North Berwick, which is definitely a journey from central Edinburgh. However, you can often find Alandas Gelato at street food events and they usually have a few vegan options. Although they do have the typical vegan sorbets (because vegans only eat fruit – read with heavy sarcasm) they also have a creamy vegan biscoff which is just incredible. Unfortunately, the waffle cones aren't vegan, but if enough of us ask, maybe they'll make that change!
Price Range: $$
Setting: Street food cart
Food Quality: 9/10 (The Biscoff Icecream was delicious, but I would have loved to see some crunchy Biscoff cookie bits)
Address: 1 Quality St, North Berwick
---
Things to do in Edinburgh
---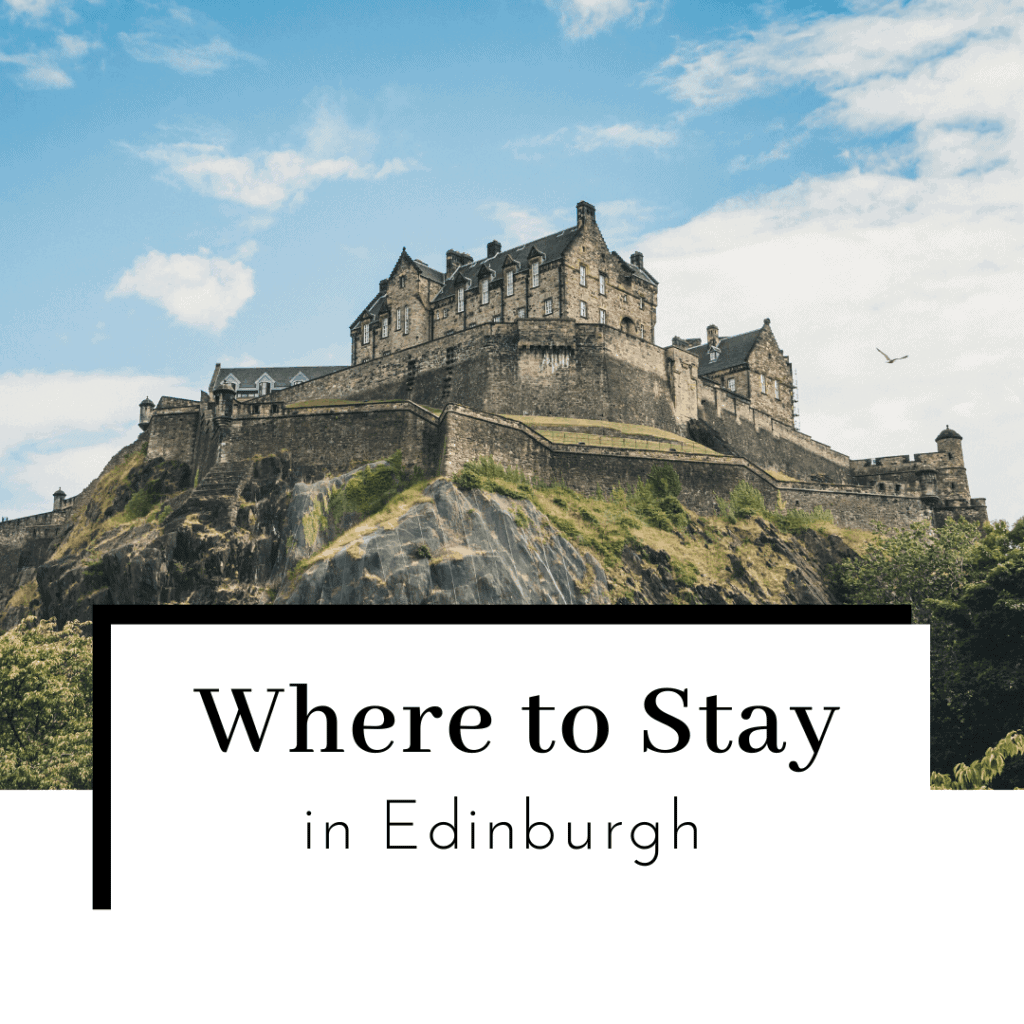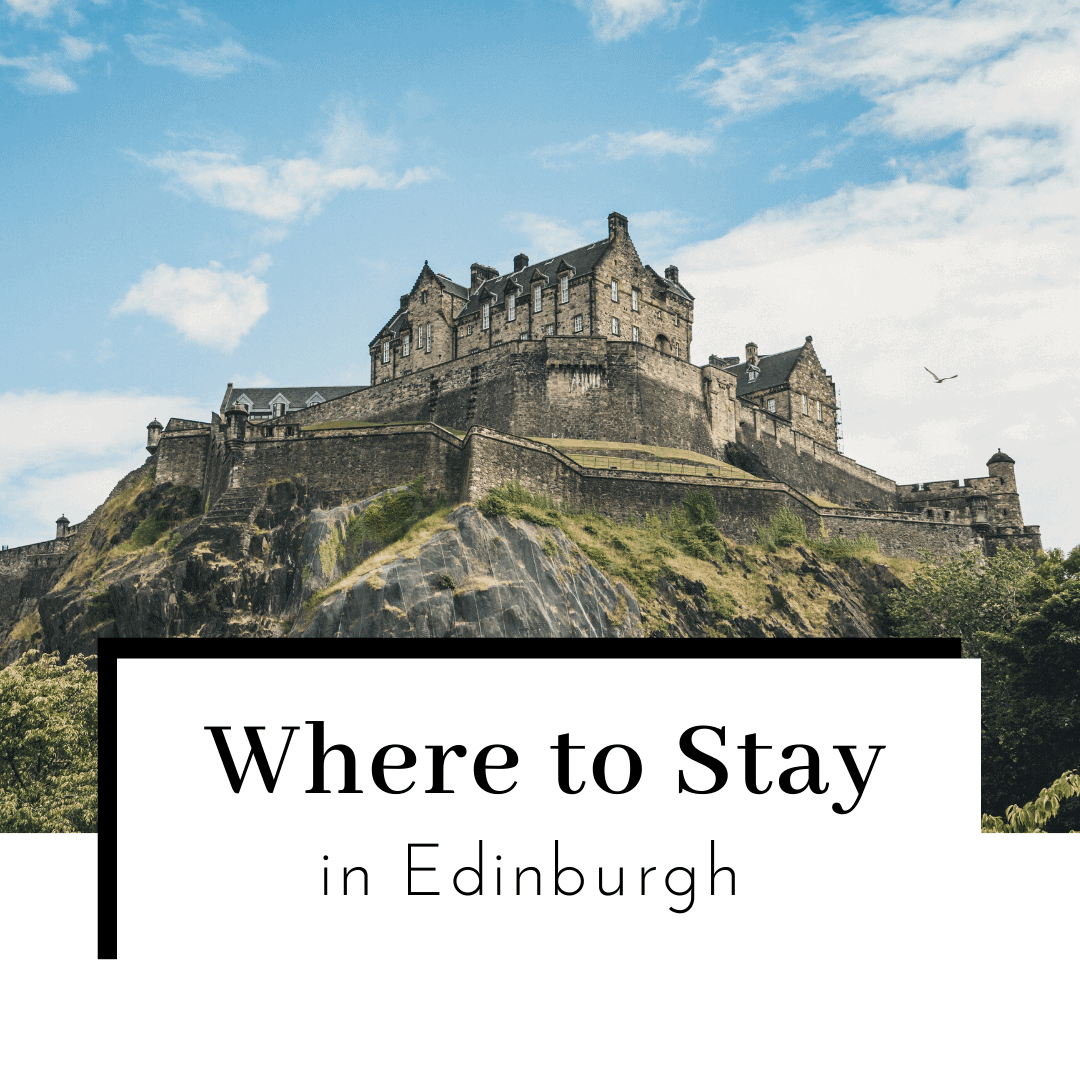 ---
Paradise Palms
If you're looking for a bit of unhealthy goodness, look no further than Paradise Palms. The vegetarian restaurant has almost all vegan options with several types of loaded fries, burgers, and sausages. When you order takeaway, your food comes with postcards, a sticker, and a piece of poetry! The servers are lovely and very chatty, sharing other great vegan Edinburgh spots! Paradise Palms is easily one of the best vegetarian restaurants in Edinburgh!
Price Range: $$
Setting: Lively
Food Quality: 7/10 (Not for lack of deliciousness but it's quite heavy in a good way!)
Service Quality: 10/10
Address: 41 Lothian Street, Edinburgh, EH1 1HB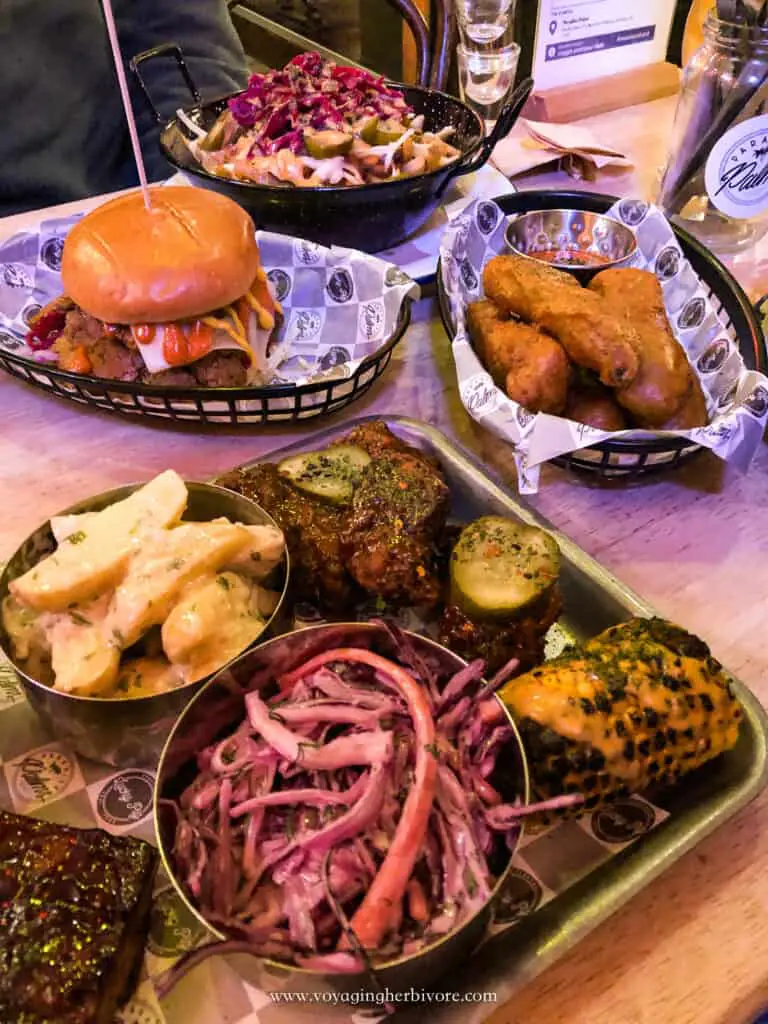 ---
Snax Cafe
If you're looking for a quick and filling breakfast before you discover many of the amazing things to do in Edinburgh, head to the Snax Cafe, located near the Meadows, where you can get a full English and a massive cup of tea for about seven pounds. While the food is nothing special, if you're out on the go, it's hard to complain about a hearty meal with Linda sausages, baked beans, hashbrowns, toast, tomatoes, and mushrooms.
Price Range: $
Setting: Very casual diner
Food Quality: 6/10
Service Quality: 7/10 (It was busy and the waitress seemed very stressed but was quite abrupt with patrons)
Address: 118 Buccleuch St, Newington, Edinburgh EH8 9NQ
---
Sugar Daddy's
Whatever your dietary restrictions are, there is something for you at Sugar Daddy's! This lovely little bakery has absolutely scrumptious cakes, cookies, tray bakes, donuts, bread, salads, and more. Sugar Daddy's in Edinburgh is also situated in the lovely area of Marchmont, so it's perfect to grab a treat and stroll!
A bit slow to serve but they seemed busy in the back so no complaints here!
Price Range: $$
Setting: Grab go goodness!
Food Quality: 10/10
Service Quality 9/10
Address: 8 Roseneath St, Marchmont Cres, Edinburgh EH9 1JH, United Kingdom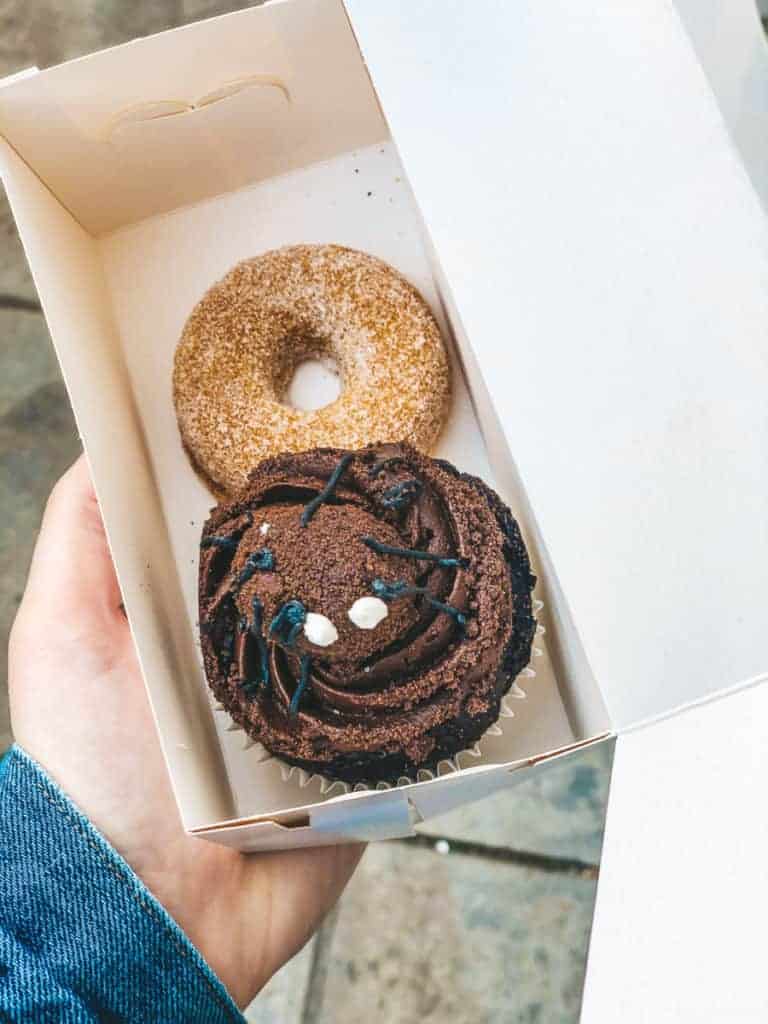 ---
Holy Cow
For homemade vegan deliciousness that's not just fried food, you absolutely need to visit Edinburgh's Holy Cow. Although the dessert was a little less sugary that my absolutely massive sugar tooth likes, the mains were outstanding! I truly cannot recommend this lovely cafe.
Be sure to try the lox, made from perfectly marinated carrot on a bed of lettuce, homemade cream cheese, and lovely chunky bread. The chips are also incredible!
Price Range: $$
Setting: Cozy cafe
Food Quality: 9/10 (just because I like more sugar in desserts :P)
Service Quality: 10/10
Address: 34 Elder St, Edinburgh EH1 3DX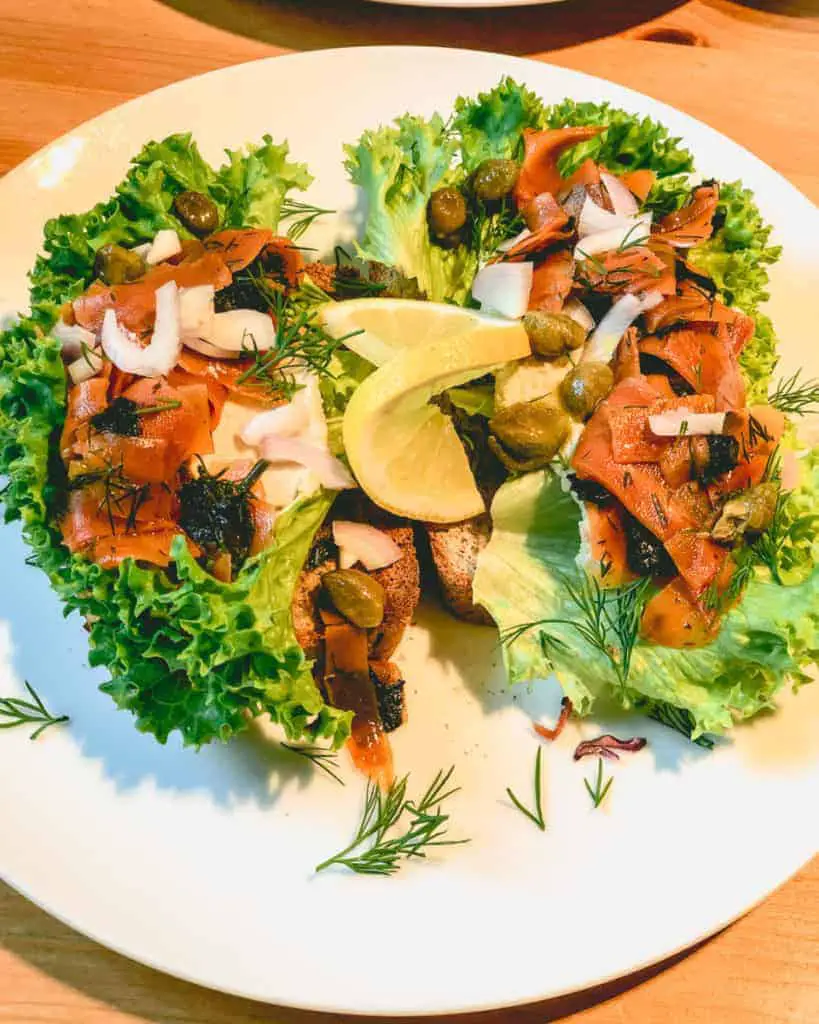 ---
# FISH
You can't visit the UK and not have fish and chips! Thankfully, there are plenty of great vegan options to try. # FISH is not exclusively vegan, but they do offer a range of vegan fish and chips and vegan doner wraps to choose from. Next time I'll order extra tartar sauce!
Price Range: $$
Setting: N/A ordered via Uber Eats
Food Quality: 7/10 – Nothing fancy but hits the spot when you're craving something a bit unhealthy
Service Quality: N/A ordered via Uber Eats
Address: 98 Marchmont Rd, Edinburgh EH9 1HR
---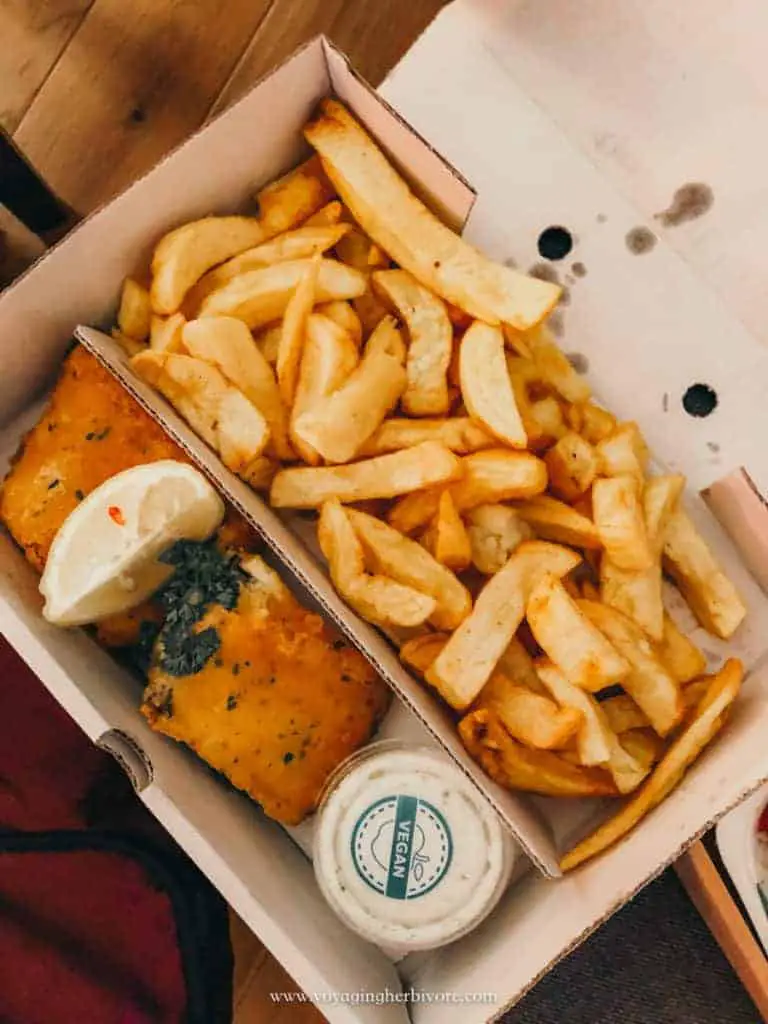 ---
Seeds For the Soul
Healthy CAN be delicious and Seeds for the Soul, a completely vegan restaurant in Edinburgh proves it! Their Asian salad bowl is filling and tasty and the vegan bacon is a real win – although I would love to see a little more added! Overall, Seeds For the Soul is a homerun and is the perfect choice if you've spent the week feasting on Edinburgh's delicious vegan junk food.
Price Range: $$
Setting: N/A Ordered for Delivery
Food Quality: 10/10
Service Quality: N/A Ordered for Delivery
Address: 167 Bruntsfield Pl, Edinburgh EH10 4DG
---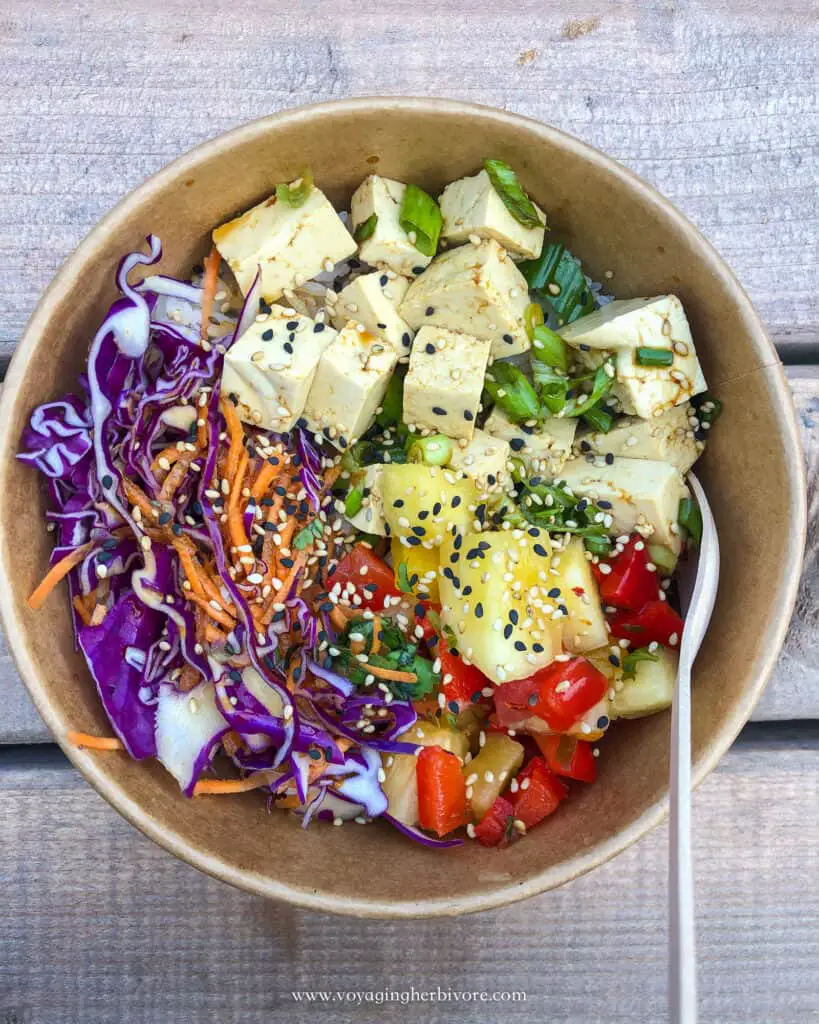 Mana Poke
If you're looking for some takeout that's both healthy and delicious, Mana Poke is the way to go. While they don't have a sit-in restaurant, you can order for delivery or pickup, and you can sometimes find them at street food events. Mana Poke is not fully vegan, but they do have a dedicated vegan bowl and with the build your own option it makes it easy to get your favorite vegan ingredients into one bowl.
Price Range: $$
Setting: Delivery or Pickup Only (find them on Deliveroo)
Food Quality: 8/10 (slightly oversalted – as for light sauce)
Service Quality: N/A
---
The Real Greek
Price Range: ££
Setting: Casual
Food Quality: 9/10
The Real Greek invited us down to try out their Edinburgh opening menu and Veganuary menu. The food is served tapas style and although not fully vegan or vegetarian, there are a wide variety of cool and hot dishes, in addition to vegan gyros. The Greek head chef is one of the world's youngest Michelin-star chefs, and it's not hard to see why!
Located in the St. James Center, The Real Greek is a great place for a casual dinner in Edinburgh where people of all diets can find something they'll like.
---
Mama's American Pizza
Price Range: $$
Setting: Sit down restaurant/bar
Food Quality: 5/10
Address: 28 – 30 Grassmarket, Edinburgh EH1 2JU
Located in Grassmarket, a very touristy area, I was happy to see that Mama's had a few vegan options. I opted for the vegan chicken sandwich and was pleased with the variety of sauces that came with it, however at 11 pounds for a bun, lettuce, fries, and a chicken patty, I know they made a killing off of me! I would love to see some tomatoes, mayo, onions, etc. on this burger. With the incredible variety of vegan options in Edinburgh, there's definitely room for improvement in order to beat the competition but if you are in a pinch and out with friends, Mama's is a place that most people will find something to like.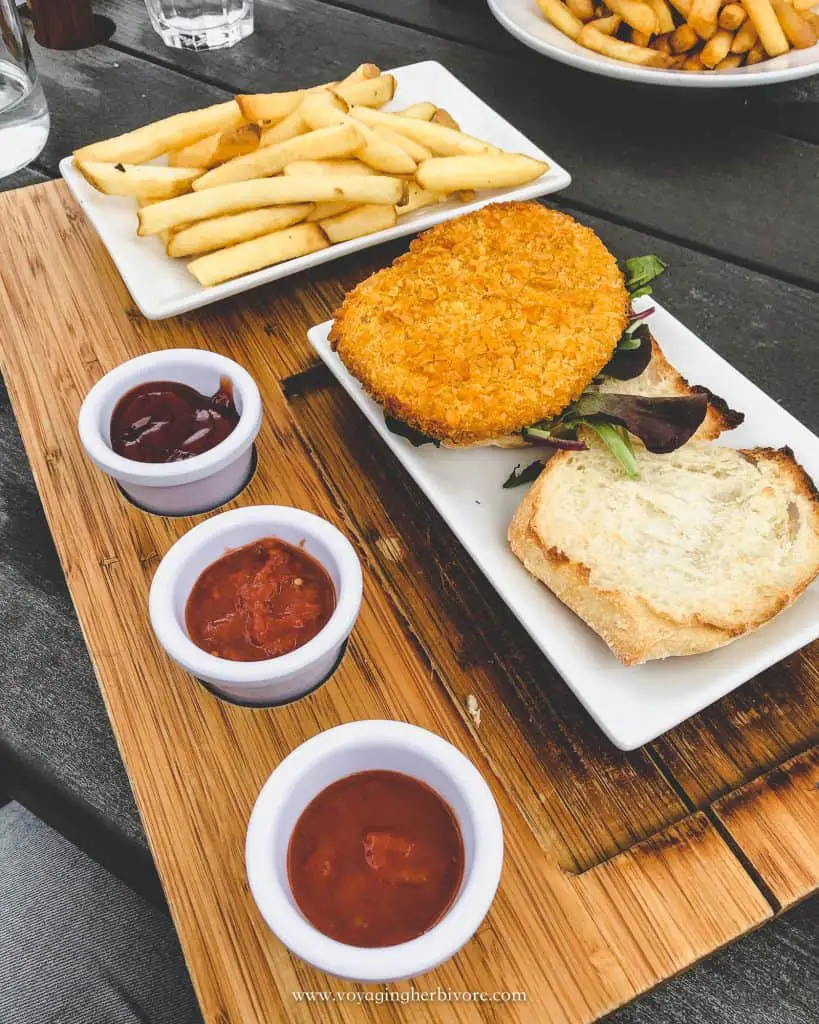 ---
Discover More of Edinburgh
Vegan travel in Scotland is easy when you know where to look! Check out more vegan city guides here and to plan your full Scotland trip check out the posts below. Thinking of cooking yourself? Be sure to use a MyVegan voucher code to save your pennies on some great vegan and plant-based goodies.
---
Pin Vegan Restaurants in Edinburgh and Beyond and Follow Us on Pinterest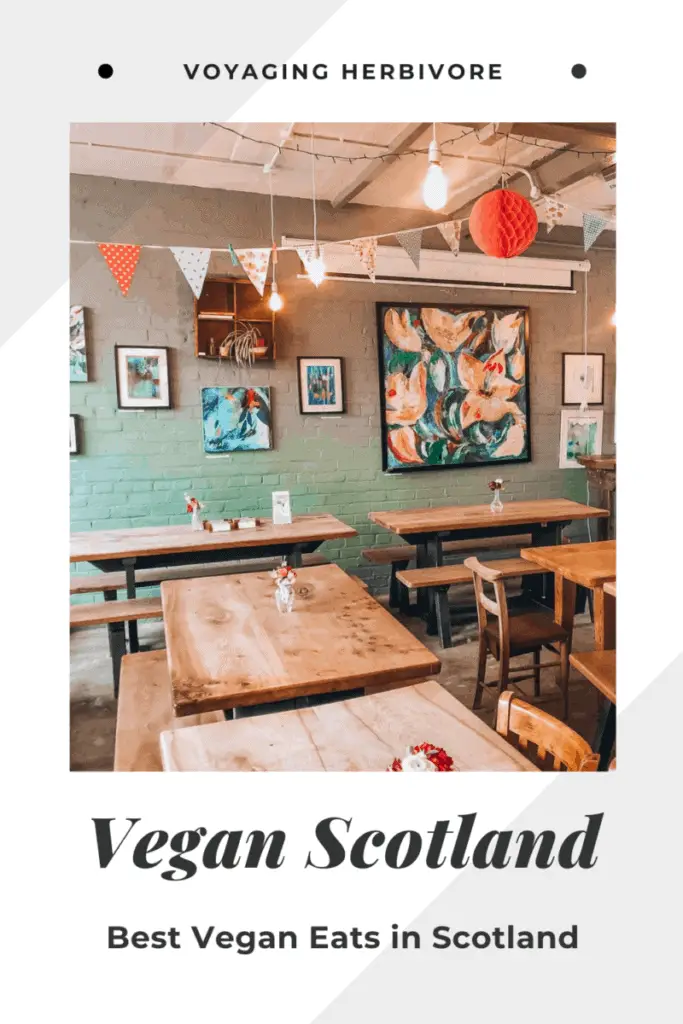 ---
Free Resources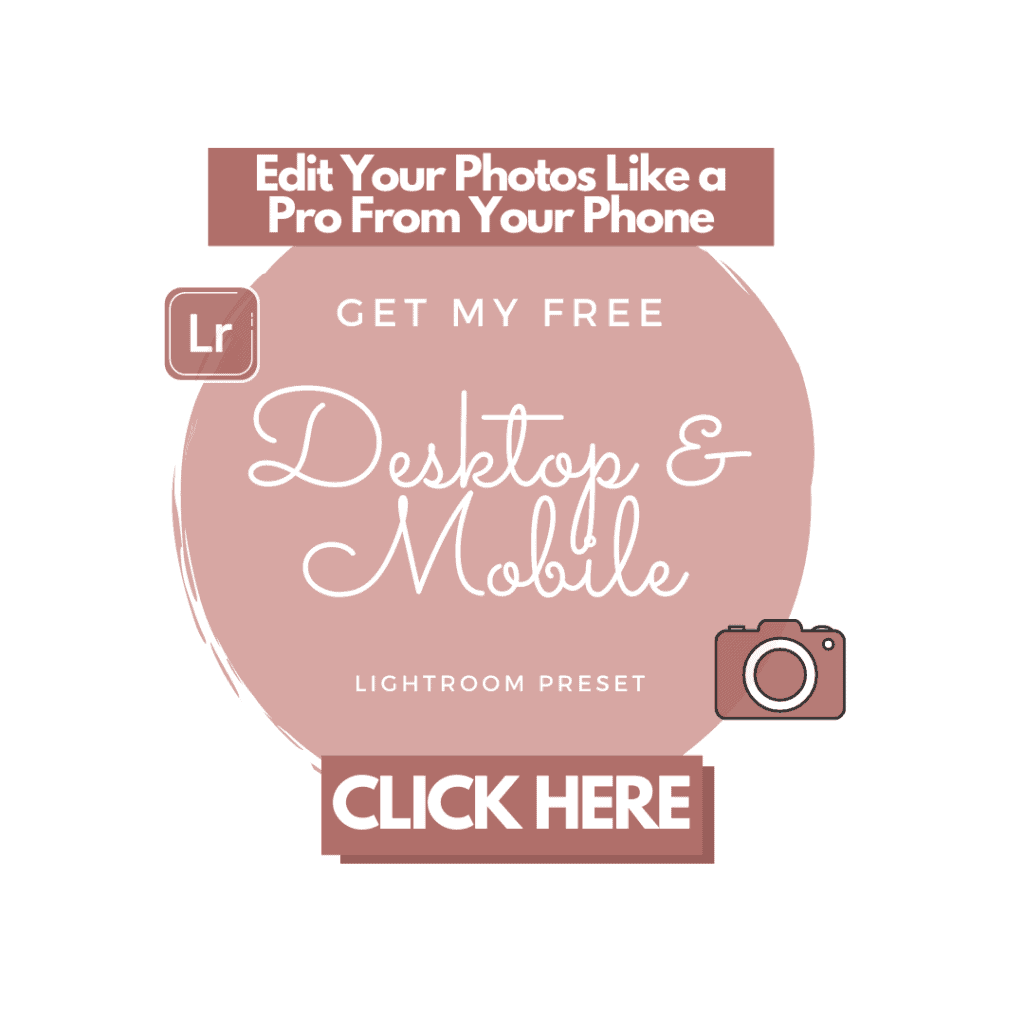 ---
And as always, you can find more sustainable travel content on Instagram @VoyagingHerbivore, Youtube, and TikTok and to get updates straight to your inbox, enter your email below in the footer, or to the right on the sidebar.

If you found this guide helpful and want to help us keep these resources free,
please consider making your next Amazon, Expedia, Hostel World, Etsy, and Booking.com purchase through our links (just click right on those words – you can do it right now and unless you clear your cookies before your next purchase, it will remember). It costs you no extra and gives us a small commission. Thank you!
i