The festive season in Edinburgh is world-renowned and this year it will last from the 19th of November to the 3rd of January. There are numerous events and festivities you can enjoy in the city with the highlights being Edinburgh Christmas markets and Edinburgh's Hogmanay.
In December, there are many activities to do in Edinburgh, including shopping at Christmas markets, ice skating, watching the holiday lights, taking the Star Flyer, and going to concerts. 
The breathtaking Christmas Market at East Princes Street Gardens has something for everyone, including vegan pigs in blankets, and handmade souvenirs and Christmas ornaments. Visiting Edinburgh at this time of the year is perfect for making memories.
Read More: 12 Things to do in Edinburgh in December [Holiday Vibes!]
Here is everything you can do during winter in Edinburgh:
---
---
1. Watch Christmas decorations from the rooftop
Seeing Edinburgh at Christmas is a magical experience, and if you can observe all the Christmas lights from a rooftop it gets even better. Enjoy Edinburgh's Christmas lights with a view from above at one of these incredible rooftop bars.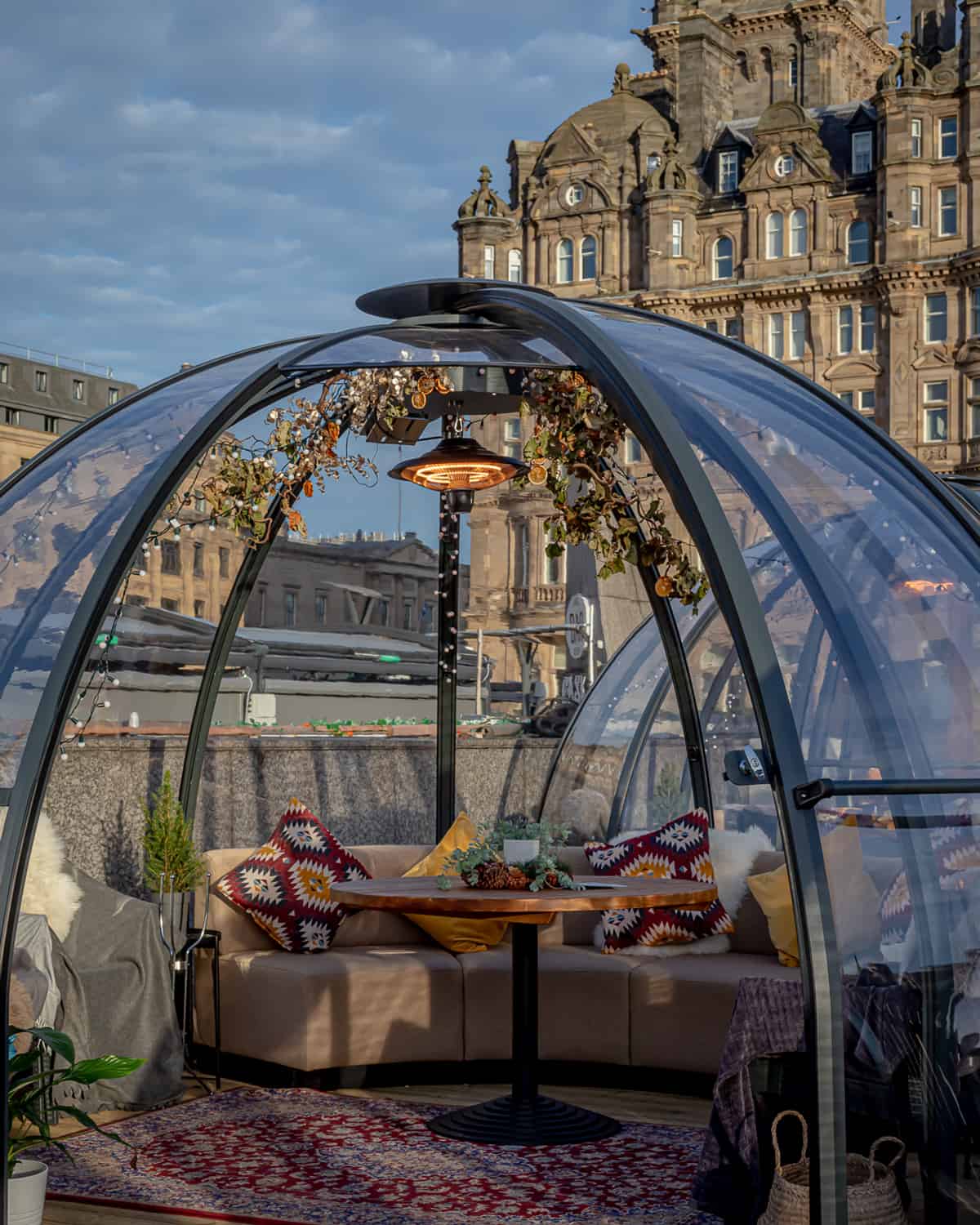 ---
2. Visit Edinburgh Christmas markets in East Princes Street Gardens
Being the primary Christmas market in Edinburgh this is the most iconic and picturesque location during winter in the city. Its stunning background includes well-known locations including Calton Hill, Edinburgh Castle, the Balmoral Hotel, and the Scott Monument, which are all located in the city's centre. 
This is a European-style Christmas market with food and drinks and souvenirs sold on stalls. Although this market is often referred to as "German Christmas Market", except for German and European food and drinks it features a variety of originally Scottish dishes and beverages.
Expect crowds since this is a large event that keeps growing. However, you can also anticipate a lively scene and a variety of vendors offering anything from locally produced whiskey to painted nutcrackers, hot chocolate, and vegan food.
In addition, this market has a ton of attractions, such as Santa Land, the Star Flyer, and the Christmas Wheel, making it ideal for families with young children. The ice rink is also just around the corner, on George Street.
Read More: 10 Edinburgh Markets You CAN'T Miss
---
3. Immerse yourself in Edinburgh's winter wonderland at Hopetoun House Christmas Shopping Fair
This magnificent 6,500 acres estate is located in breathtaking natural scenery just outside of Edinburgh. It features a farm that works year-round, but at Christmas time it transforms into fairytale-like land perfect for families.
This market is definitely worth the little drive outside of town since it features holiday entertainment and more than 60 vendors selling presents that are a little more unique than the standard selection.
---
Spend an evening strolling around Edinburgh's famous sights and lesser-known areas that locals like. The Old Town, the Princes Street Gardens, and much more will be visited. A local guide will give you an insider's view of Edinburgh and show you where to discover the greatest holiday decorations. 
Hot chocolate or mulled wine are included, and conveniently, you may tailor your trip to suit your preferences. Select a location and time for your meeting that works for you. A customized tour of the Christmas Experience results in a more individualized day. 
---
5. Shop at Summerhall Christmas Market
The Summerhall area of central Edinburgh is a thriving cultural hub that hosts a variety of intriguing events, such as specialized film festivals and ceilidh clubs. They have a very special and unique Christmas market that distinguishes them from other options.
You can expect to find things like antique booths, independent, local goods, vegan cuisine, and holiday wreath-making classes at this well-attended one-day event, all set to carols performed by Summerhall's community choir. 
---
6. Visit the sculpture garden turned into a Christmas market
Jupiter Artland is a place like no other in wintertime. In this modern sculpture park west of Edinburgh with five exhibition spaces spread across grassland and forest, you can see 35 sculptures. Enjoy the views and Christmas lights while walking among the art.
You may anticipate upscale craft and artisan vendors, live entertainment, and delectable handmade mulled wine. An elf workshop, Santa's grotto, festive donkey rides, and a Christmas tree yard are just a few of the attractions at this Edinburgh Xmas market.
Read More: 11 Edinburgh Parks You Can NOT Miss
---
7. Taste the best delicacies at festive farmers' markets
Every weekend, there are several fantastic farmer's markets in Edinburgh, including locations in Stockbridge, Grassmarket, and Leith. At Christmas, these markets also sell seasonal food, sweets, and gifts you must try. You will have the opportunity to try vegan candy, chocolate, crepes, and so much more here.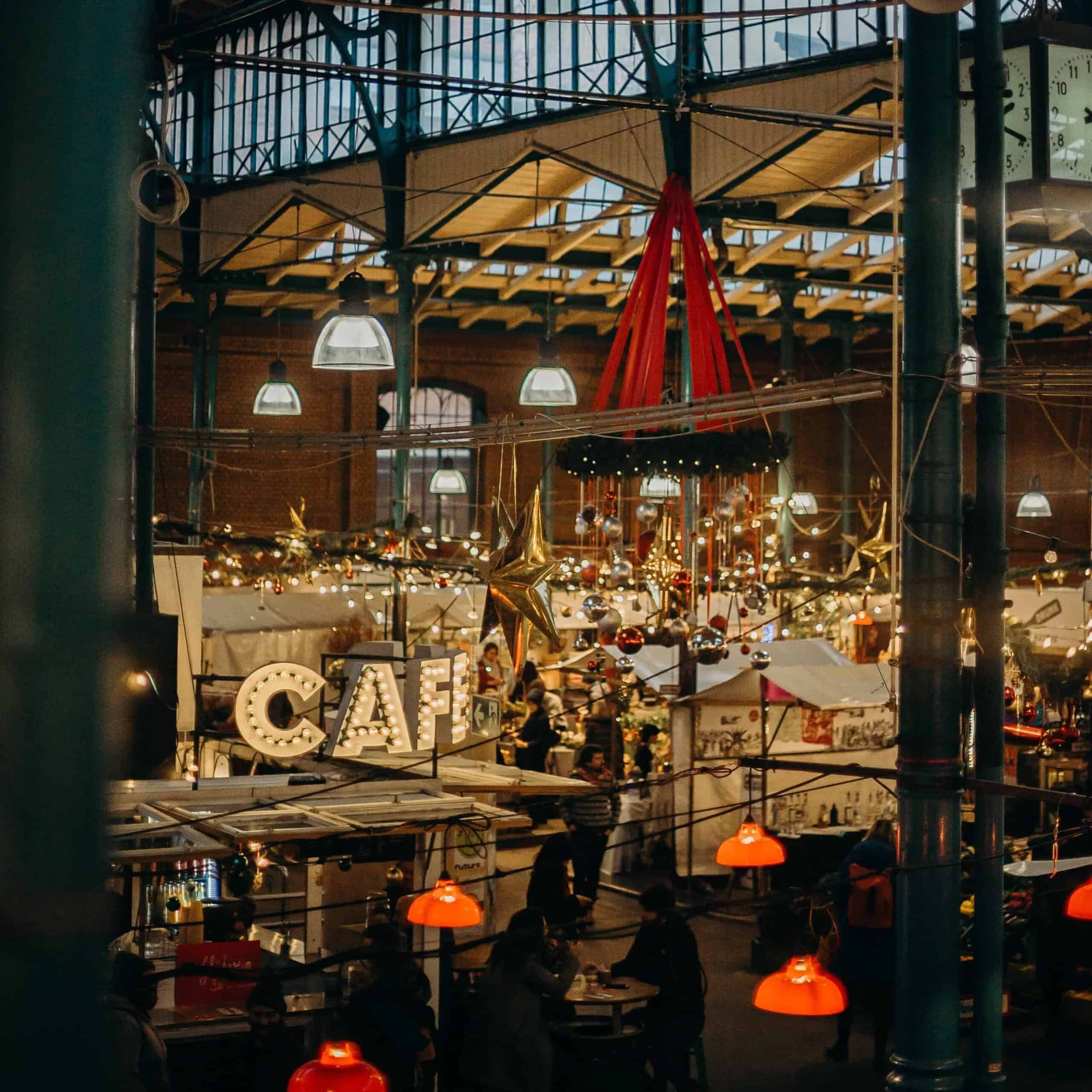 ---
8. Observe the city from Calton Hill
The famous hill has been added to the UNESCO World Heritage List. You will see fantastic city views with beautiful Christmas lights and possibly snow on rooftops. 
There are other further monuments located here, such as the David Hume mausoleum and the observatory that resembles a Greek temple. The city's unaltered volcanic origin, rocky topography, and rough surface give it a unique personality.
---
9. Admire the Christmas decorations at The Dome
In Edinburgh New Town, there is a cocktail bar called The Dome. It has a massive façade made in the style of Greco-Roman architecture. Due to its amazing Christmas decorations, it becomes one of Edinburgh's most popular destinations in the winter.
Read More: Christmas in Edinburgh – Top 10 Things to Do in December
---
10. Take a photo at Waverley Festival Village
To access the Waverley Festival Village's assortment of pop-up bars, ascend the steps on the Princess Street side of the building. There are many festive photo ops here, and it is another Edinburgh Christmas market location. Cute seasonal sponsored food, roaring fireplaces, and all types of alcohol are available.
---
11. Stay in a festive accommodation in Edinburgh
Many incredible accommodations in the city are fairly decorated during Christmas and have their own events and festivities you can enjoy. Choose the room with the best view of the city lights, or a Christmas market. These are some of our favourite hotels and hostels in Edinburgh.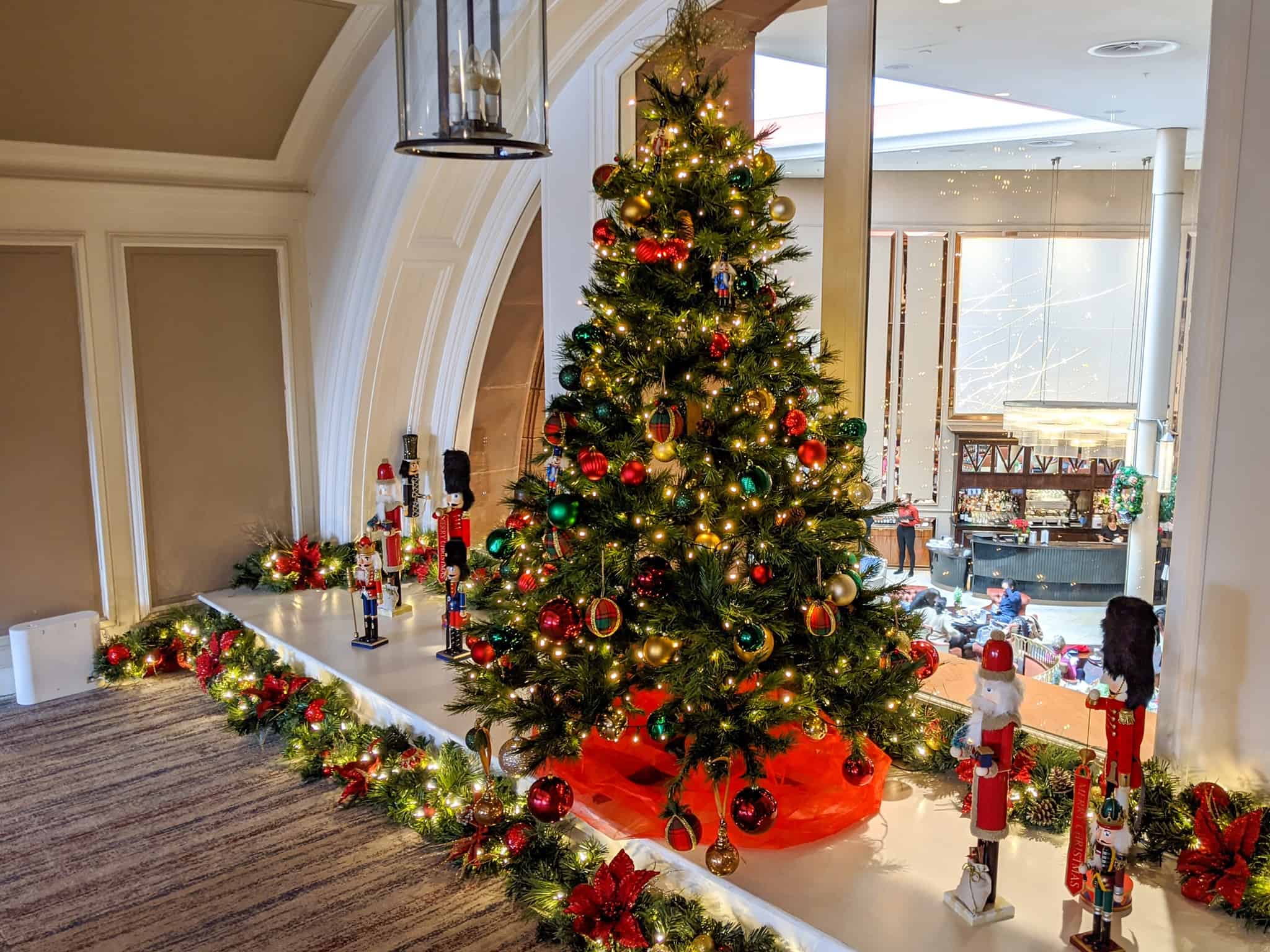 ---
12. Have the most memorable New Years celebration in Edinburgh
No other country in the world welcomes the New Year with as much enthusiasm as Scotland, so it should come as no surprise that the massive Hogmanay festival is renowned across the world.
The most important night for the Hogmanay celebrations is on December 31. Its beginnings can be traced to the Vikings' wild festivities held in late December to celebrate the winter solstice. Edinburgh Hogmanay provides a warm welcome and more new friends than you ever knew you needed! 
Whether it's the charming torchlight parade, the well-known Edinburgh Hogmanay street celebration, and stunning firework display, or a foot-tapping ceilidh and music in Princes Street Gardens, Edinburgh nye is a stunning show that all the tourists and locals enjoy. The celebrations last for three days and it is important to book your tickets in advance as these are very popular.
Read More: Edinburgh Hogmanay: What You Need to Know
Torchlight Procession (30th of December)
When thousands of torchbearers join Up Helly Aa's Vikings, pipes, and drums, the New Year's revelry in Scotland begins. Together, they form a river of light down the storied Royal Mile to Holyrood Park for the show's climax and closing festivities. They march through the centre of Edinburgh carrying burning torches.
Hogmanay Street Party (31st of December)
Party at the Bells, one of the world's best events is welcomed by revellers on Princes Street. Dance the night away with Street Access or in the Gardens Concert, which has amazing live music, entertainment, DJs, huge screens, and outdoor bars, all against the magnificent background of Edinburgh Castle where at midnight you will see incredible fireworks.
The Loony Dook (1st of January)
Start the year with the yearly splash in the River Forth at South Queensferry. Participate in the Dookers Parade down the High Street before jumping into the chilly Forth against the backdrop of the famous Forth Bridges.
---
13. Watch the fireballs parade in Stonehaven
This Aberdeenshire fireballs procession, one of several winter fire celebrations exclusive to Scotland, is a striking sight to witness. Free Hogmanay festivities have been held there for almost a century, and they consistently draw sizable crowds. 
It was customarily a cleaning ceremony to extinguish any evil spirits from the previous year so that the New Year may start fresh and pure. In the ultimate display of daring for the ultimate Stonehaven Hogmanay, watch in astonishment as the piper leads the procession as they march down the street shortly before midnight while swinging fireballs above their heads.
---
14. Celebrate St Andrew's Day in Edinburgh
St. Andrew's Day is one of Scotland's favourite holidays. The 30th of November marks this significant Scottish holiday, which celebrates the patron saint of the nation. You will witness many live events, music, dances, cultural and other performances all around the city. 
---
15. Walk through the Edinburgh Botanical Gardens Light Trail
In winter, the Royal Botanic Garden transforms with music, lasers, water reflections, and the tunnel of light. This well-liked activity in Edinburgh fills up quickly in December, it is important to get your tickets in advance and secure your spot for this impressive walk. 
---
More about Edinburgh
---
Free Resources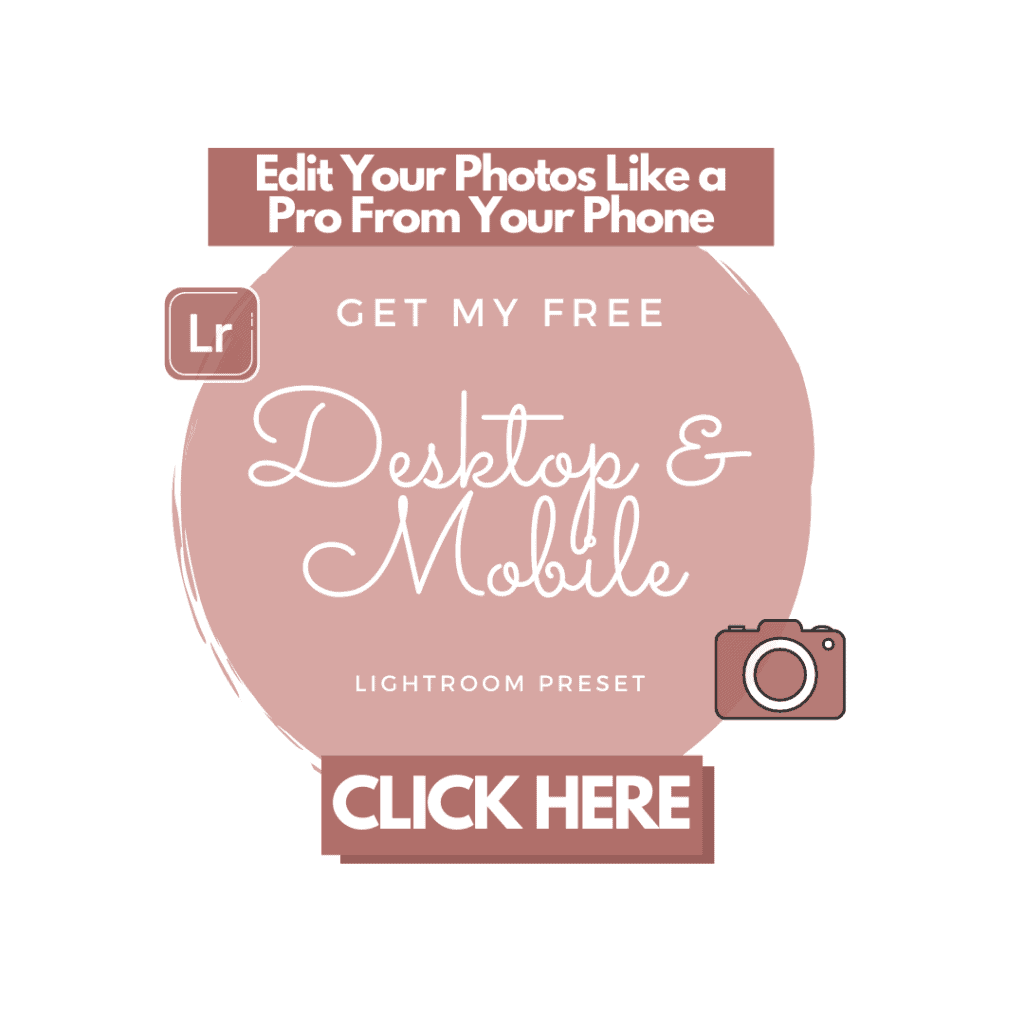 ---
And as always, you can find more sustainable travel content on Instagram @VoyagingHerbivore, Youtube, and TikTok and to get updates straight to your inbox, enter your email below.

If you found this guide helpful and want to help us keep these resources free,
please consider making your next Amazon, Expedia, Hostel World, Etsy, Trivago, and Booking.com purchase through our links (just click right on those words – you can do it right now and unless you clear your cookies before your next purchase, it will remember). It costs you no extra and gives us a small commission. Thank you!
---
Pin Edinburgh Christmas Markets