Jaw-dropping mountains covered by a slow fog rolling in. Black beaches so windy you can imagine sailing across the sea away from it. Craters with water so blue it can't be real. All this and more in our Iceland itinerary.
Keep reading to discover what there is to know about Iceland car rental and some of the most amazing major sites that Iceland has to offer in 3 days.
---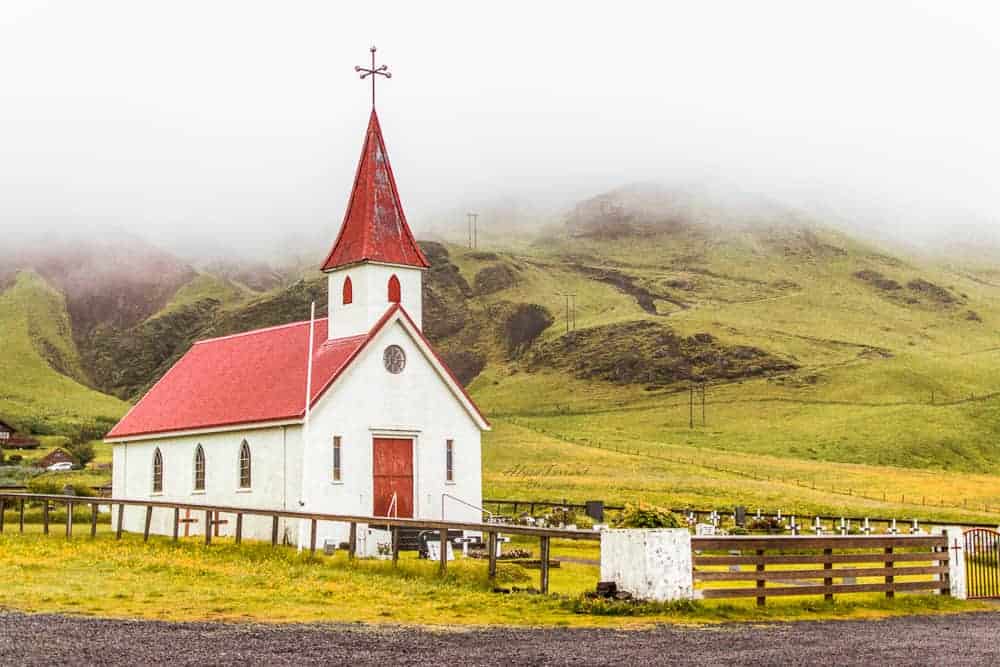 ---
Currency: Icelandic Krona but we always paid with a credit card
Language: Icelandic but everyone speaks English
Price Range: $$$
Best Way to Get Around: Car Rental
Timeline: Plan to spend at the very least 3 full days to see the Golden Circle. If you want a longer Iceland itinerary plan for at least 1 to 2 weeks.
---
Note: These driving directions are what Google Maps suggests. Be sure to check for updated directions before beginning your journey.
---
Tips for Iceland Travel
Budget more than expected for food. It's expensive in Iceland! There are plenty of vegan options at grocery stores, like Linda McCartney's vegan sausages. Yet, few restaurants in Iceland offer vegan options. We didn't eat out in Iceland (not student budget-friendly!) so we stuck to peanut butter and jelly sandwiches when we were driving around.
Pack warm clothes and bug spray. Even visiting in late June, we still found ourselves bundling up in the mornings. It was chilly! Between the low (for summer) temperatures and the extensive wind, I wished I had a thicker jacket! Although there aren't any mosquitos in Iceland, there are gnat-like bugs that like to swarm. If you have any plans to be around horses or other animals, pack some bug spray.
---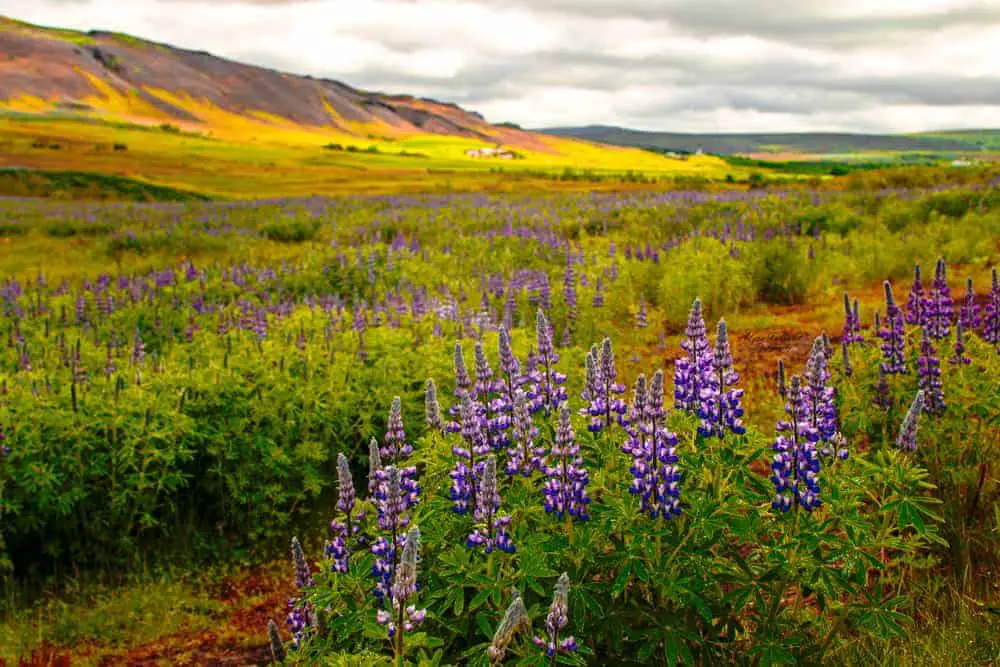 ---
Read More: Photos to Inspire You to Book Your Trip to Iceland
---
How to Get Around Iceland
Book a car! After extensive research on Iceland car rental, we chose Blue Car Rental. Here are their driver requirements:
Must present a full driver's license (and it has to have been held for at least 12 months)
At least 20 years old
At least 23 years old to rent a large SUV or passenger car
You can pick up and drop your car off at the airport which makes car rental in Iceland a breeze. Unless you want a tour guide (which I am all for in some cases!) a car is, without a doubt, the way to go.
---
Where to Stay in Iceland
Our AirBnb was quite pricy for a small bed and a shared bathroom. Lodging in Iceland is expensive… you'll have to do your research.
If your Iceland itinerary focuses on the Golden Circle, stay just outside Reykjavik. You'll have easy access to groceries and gas but will be on the road when you need to be.
Having said that, Iceland is expensive, at least for two students on a budget. You could also give camping a try to make the most of your money and be more in touch with nature. If you do decide to camp, keep in mind that Iceland car rental terms may be larger for bigger cars.
Grettir Guesthouse: An affordable option based in Reykjavik with free Wifi. You'll have to share a bathroom but you'll be in a great location for the rest of your travels. There's even parking available. Check price here.
Kvosin Downtown Hotel: More expensive but you'll get all the comforts associated with fancier hotels. You'll also get a great view of Reykjavik to help relax after your fun but full days of exploring. Check price here.
---
Where to Eat in Iceland
Due to the lack of vegan options in restaurants and the lack of money in our bank accounts by the end of this Europe trip, we didn't eat out.
Instead, we opted for the standard grocery store haul. Pulling into the first grocery store, we stocked up on Linda McCarthy vegan sausages (I should just buy stock). Fruits and vegetables are expensive so we lived off of peanut butter and jelly.
Gas stations are also great for premade vegan food, but again, so expensive! We're talking $10 for a salad and $6 for a chia seed pudding pot. So in short, as a vegan, you won't go hungry but prepare yourself for a big price tag.
If you've spotted vegan options in Iceland, please do let us know so that we can add it to our Global Eats Map.
---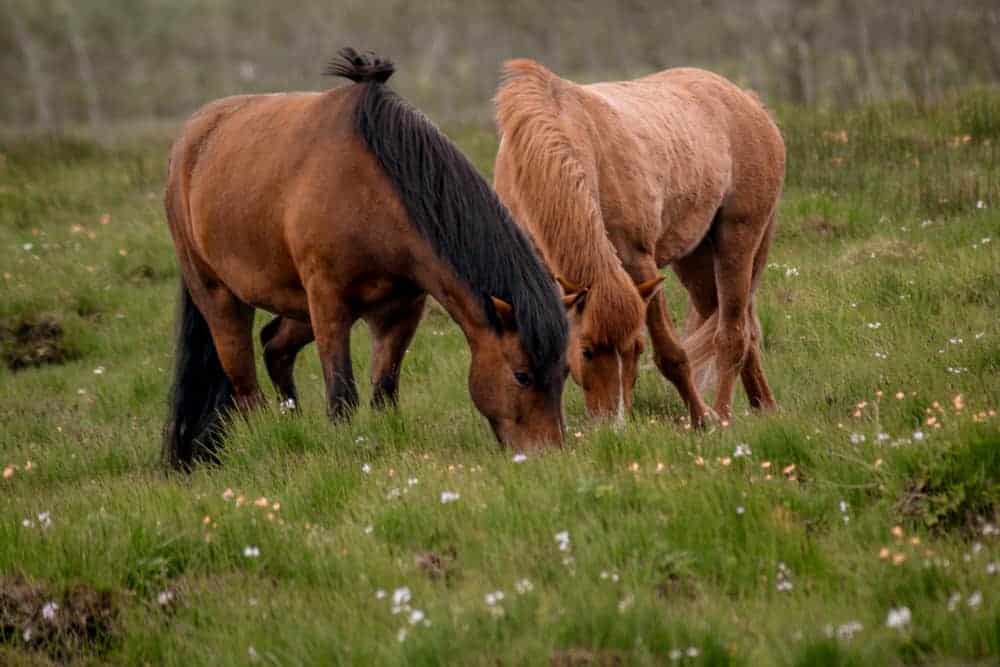 ---
Day 1 – Driving the Golden Circle
Today is Golden Circle day! Every Iceland itinerary will have different must-see spots. You'll definitely drive past others, so if they look interesting, be sure to stop and explore.
Öxarárfoss Waterfall
Bruarfoss Waterfall
Geysir
Gullfoss Falls
Kerid Crater
Öxarárfoss Waterfall is a must-see. It's not the waterfall itself that is so stunning, but the walk down and the scenery from above is worth taking a moment to marvel.
I'll be honest, we didn't get to see Bruarfoss Waterfall. We couldn't find it! It looks gorgeous but we weren't prepared and couldn't find it within a short amount of time. It will be at the top of my list the next time I'm in Iceland.
The next stop is Geysir. You can't miss this one since it's a major tourist attraction. If you've never seen a geyser before, it's worth waiting around. If you've seen one before, don't spend too much time here. There are more stops on today's itinerary! For some reason, the bugs loved me here. I will be bringing bug spray on the next trip!
Gullfoss waterfalls (think Niagara Falls but in Iceland) is up next. It is awe-inspiring, if not frightening, to see such massive amounts of rushing water. If you park you can take a quick peek to see the size, or you can choose to walk down.
The final stop of the day is Kerid Crater. I wasn't able to find the entrance fee on their website, but it's less than $10 per person if I remember correctly. If you know, please do leave a comment! It was so so, so windy in this area so we took a quick peek at the unique site, and called it a day, ending back in Reykjavik.
---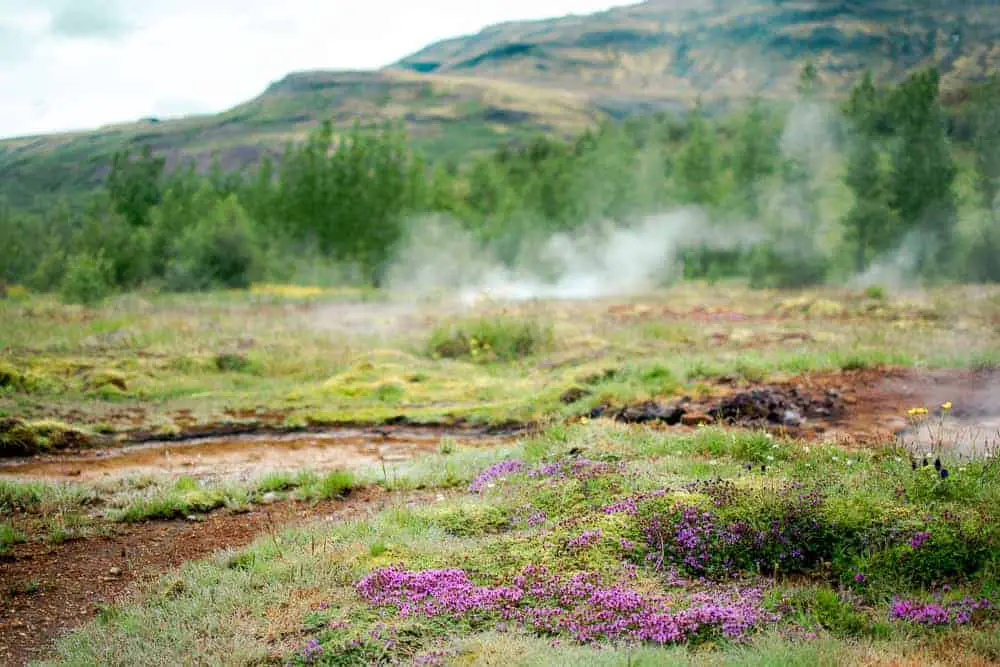 ---
Curious about where else our European summer took us? Check this out!
---
Day 2 – Heading to Southern Iceland
Day 2 is here of the Iceland road trip is here! You'll likely be tired after yesterday's Golden Circle in Iceland adventure. But keep pushing through! Iceland is well worth it.
Seljalandsfoss Waterfall
Solheimasandur Plane Crash
Reynisfjara Beach
The first stop is Seljalandsfoss Waterfall. I guess I should have mentioned: if you don't like waterfalls, Iceland may not be the best trip for you.
We stumbled upon Seljalandsfoss unexpectedly. You can actually walk behind it but at this point, we were both tired, cold, and it was raining. Although you're destined to get soaked, pack some rain boots with a good grip and a waterproof jacket. You'll also want a change of trousers if you don't plan on going straight home!
Next is what Iceland is probably most famous for, the iconic plane crash. You can no longer drive to it and instead have to park and walk about a mile. We didn't have the proper warm clothes or shoes so we decided to skip it. This is also on the list for the next visit to Iceland!
Finally, a black sand beach – Reynisfjara Beach. This is a stunning location, but don't expect to go for a swim. You can see in the photo below how windy it was. Check out my hair!
If you have the time, I highly recommend a 7 day Iceland itinerary.
---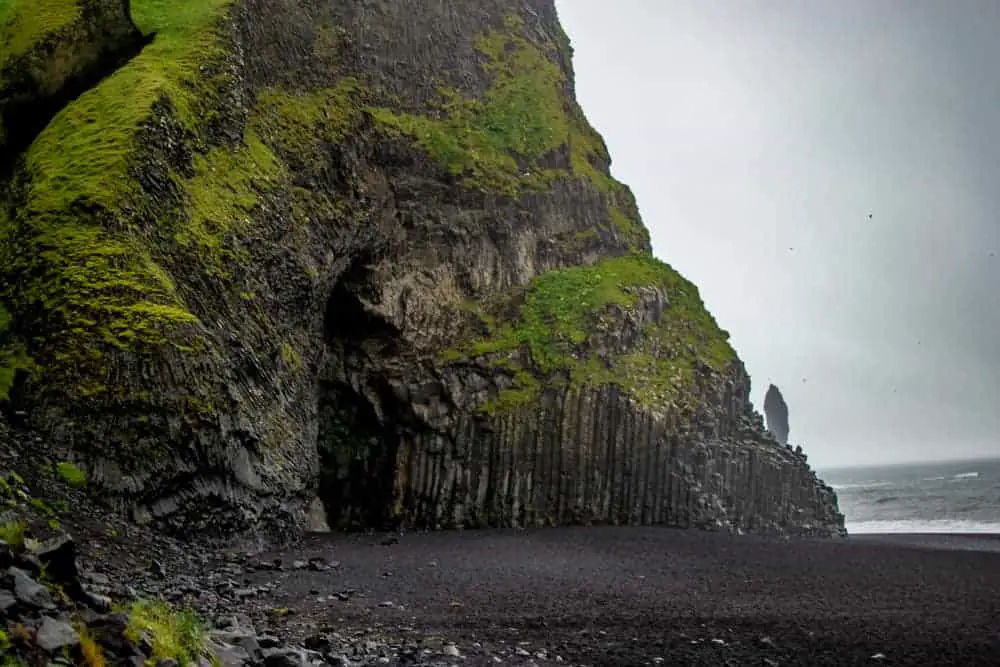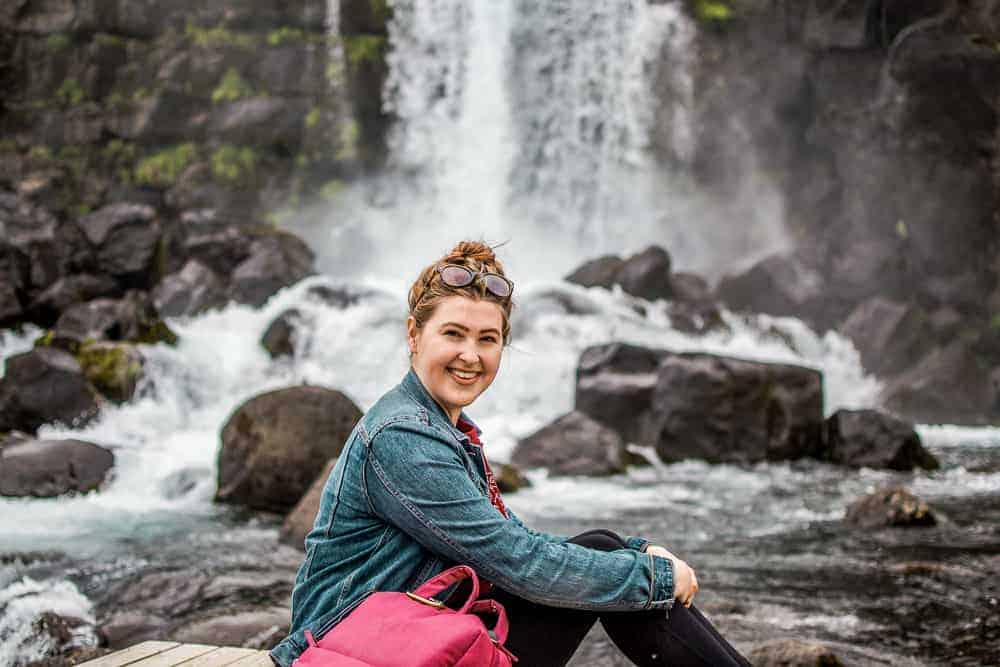 ---
Day 3 – Heading West
For this last day of the Iceland itinerary, you've got a few choices depending on when your flight leaves.
Hallgrimskirkja (Famous church)
Grótta Island Lighthouse
Blue Lagoon
If you have an evening flight on this day, explore Reykjavik in which you'll find the famous church Hallgrimskirkja. Unless you're super into architecture, you won't need much time here. Pop in, grab a quick photo and then head to Grótta Island Lighthouse.
You won't be able to go up or even near Grótta Island Lighthouse, but, the views near are stunning. However, it's situated on a beautiful little peninsula that features great views of the sea.
If you still have some time left, discover some free and cheap things to do in Reykjavik.
Next, head to the Blue Lagoon before dropping your car off at the airport.
If you're here for a full day and night left in Iceland, spend more time exploring Reykjavik and head to the Blue Lagoon in the evening. You can also check out the section below which features additional sites to add to your Iceland road trip.
Read More: How to Track and Offset Your Carbon Footprint
---
Is Iceland's Blue Lagoon Worth It?
In all honesty, I have mixed feelings about the Blue Lagoon. It may be more of an experience if you buy more than just the standard package, which is $55. Included in this package are a face mask and a free drink of choice. However, you are basically in a large hot tub with other people.
To determine if you should go, consider these two things: Are you a germaphobe and how much do you like baths? If you're a 6 or over on the germaphobe scale, and you can't stay in a bath for more than 30 minutes, I honestly wouldn't waste your money on the general package.
Either don't go or upgrade to a more private area, which doesn't come cheap! I'm glad to have had the experience but it was just so touristy. There are other hot spring alternatives that we'll be checking out next time.
---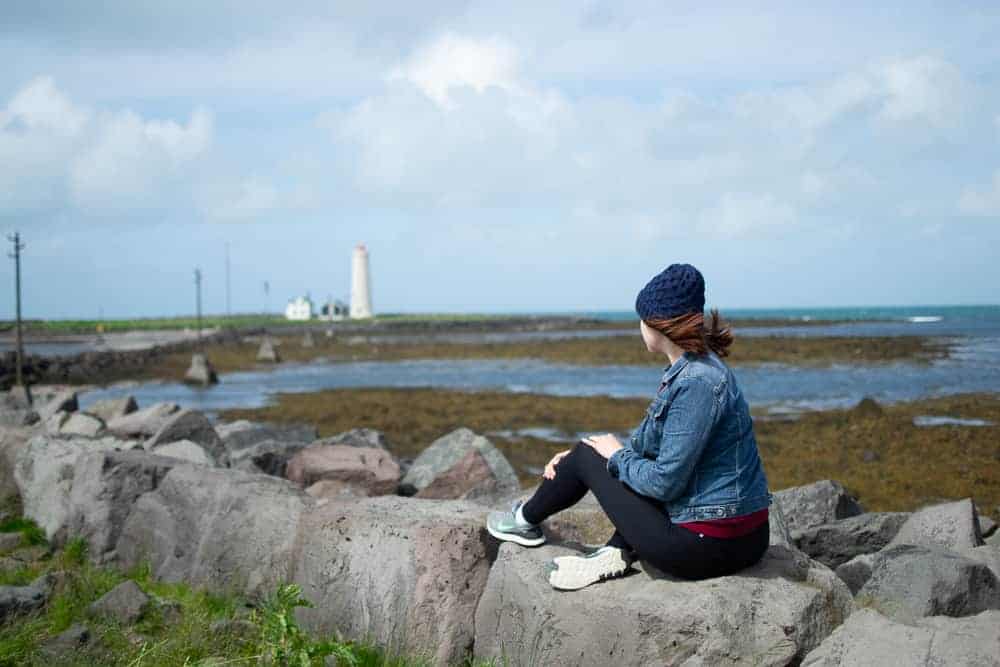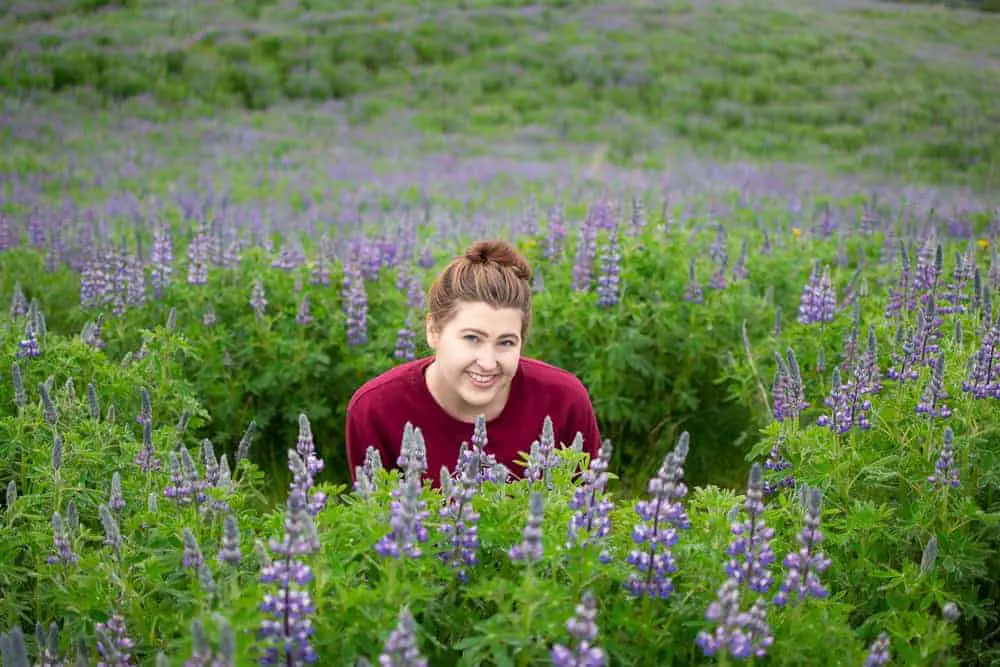 ---
Extra time? Check out these other Iceland attractions!
If (when!) I go back to Iceland, I will be checking out some less touristy geothermal hot springs and some of the other best waterfalls in Iceland. Here is a list of ones I will be seeking out:
Landbrotalaug Hot Spring
Reykjadalur Hot Spring Hike
Gamla Laugin
Hrunalaug Natural Hot Spring
Seljavallalaug Hot Spring
Grjótagjá: Made famous by Game of Thrones. You cannot bathe here.
---
Iceland Travel Essentials
---
What Camera Gear Do We Use?
If you want the full list of things we keep in our camera bag, check out the complete guide or browse our photography guides.
---
Free Resources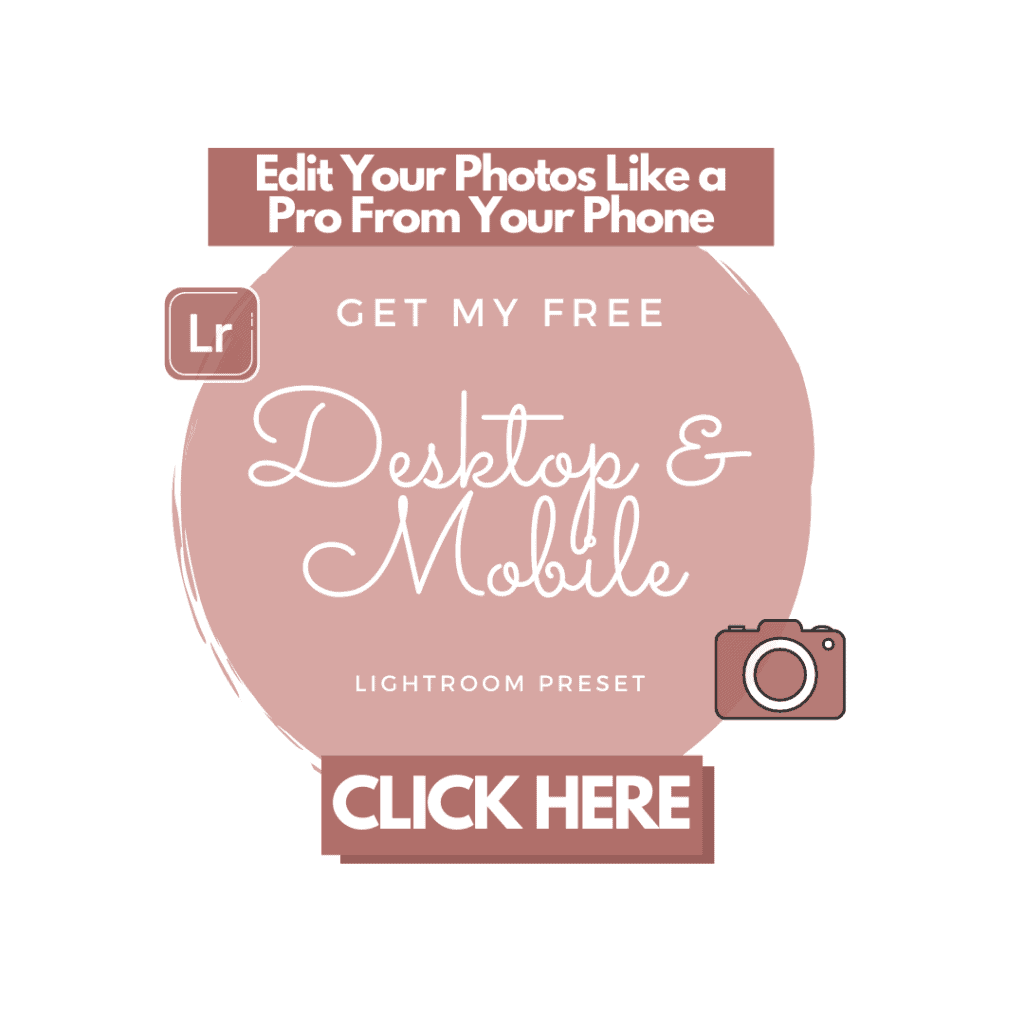 ---
More Iceland Guides
Now that you've explored our Iceland itinerary and learned about Iceland car rental, check out the other country guides below! Or, if you have a question, give us a shout in the comments below.
We're always more than happy to chat about our experiences and we would love to hear about your Iceland road trip.
---
And as always, you can find more sustainable travel content on Instagram @VoyagingHerbivore, Youtube, and TikTok and to get updates straight to your inbox, enter your email below in the footer, or to the right on the sidebar.

If you found this guide helpful and want to help us keep these resources free,
please consider making your next Amazon, Expedia, Hostel World, Etsy, and Booking.com purchase through our links (just click right on those words – you can do it right now and unless you clear your cookies before your next purchase, it will remember). It costs you no extra and gives us a small commission. Thank you!
---