A city with history, character, and beauty, all easily walkable and with so many amazing activities. Welcome to Edinburgh, Scotland!
I honestly don't know how Scotland isn't the new Bali. Granted, the beaches aren't really meant for lounging on the sun, but the mountains are unparalleled beauties. Perhaps that's one of the reasons I love Scotland, it's underappreciated. As all the Europeans head to Ibiza or Malta for the summer holidays, I would rather head to Scotland to capture its magnificent beauty!
Although this Instagram guide to Edinburgh and Scotland does have specific locations, most of my favorite stops in Scotland were random places discovered on my Scotland road trip along the road. I highly recommend roadtripping around Scotland or taking some small group bus tours to get out of Edinburgh and explore more of beautiful Scotland.
Read More: 15 STUNNING Rooftop Bars in Edinburgh With Gorgeous Views
Looking for a wedding photographer in Scotland to capture shots just like this? You're in luck – I'm also a professional photographer and my goal is to create an elopement or micro-wedding experience that is unique to you and your love story. Whether you want ten people celebrating your love in Edinburgh, or an elopement with just you and your partner on the Scottish isles, I'm here to make it happen. Head to Wildling Weddings and let's chat!
---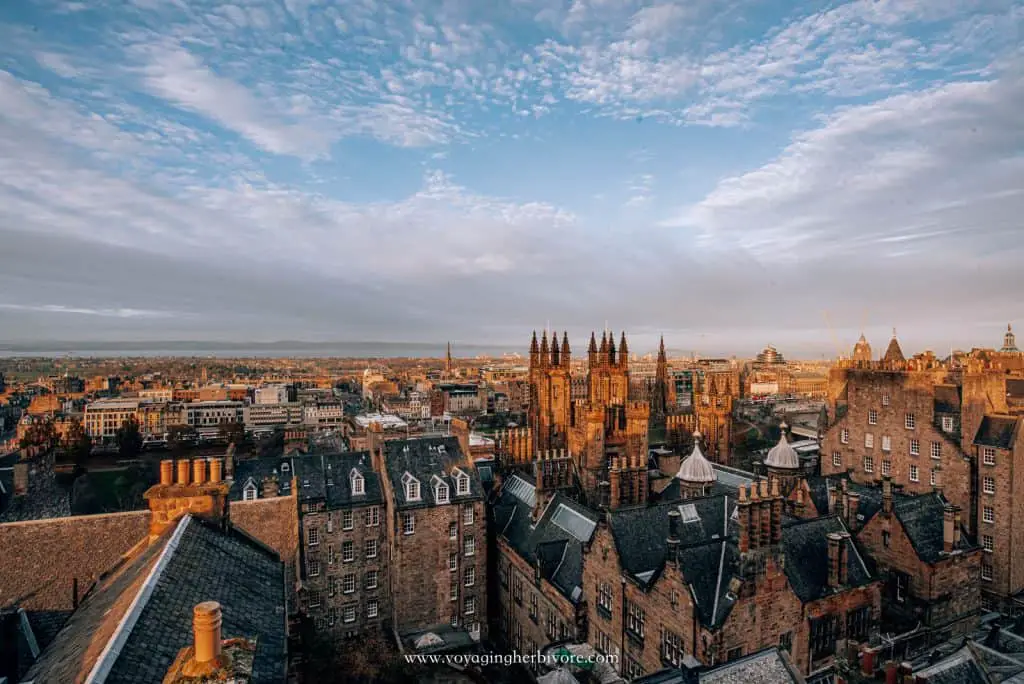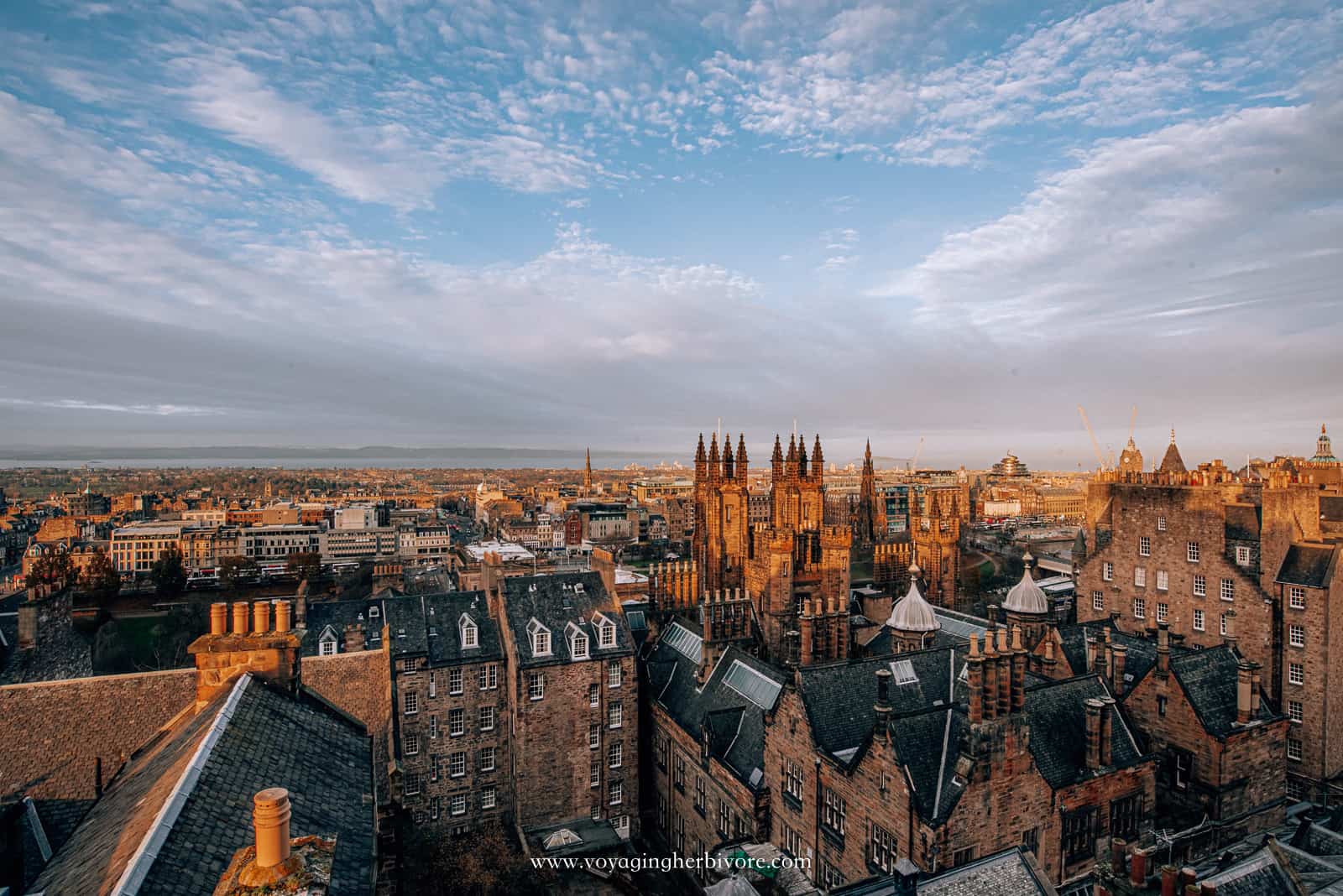 ---
This site is user-supported and that's why we use affiliate links. At no extra cost to you, we get a little bit of money when you purchase something through one of our links. Thank you for helping support ethical, sustainable, and plant-based travel! You can read more about our affiliate disclosure policy here.
---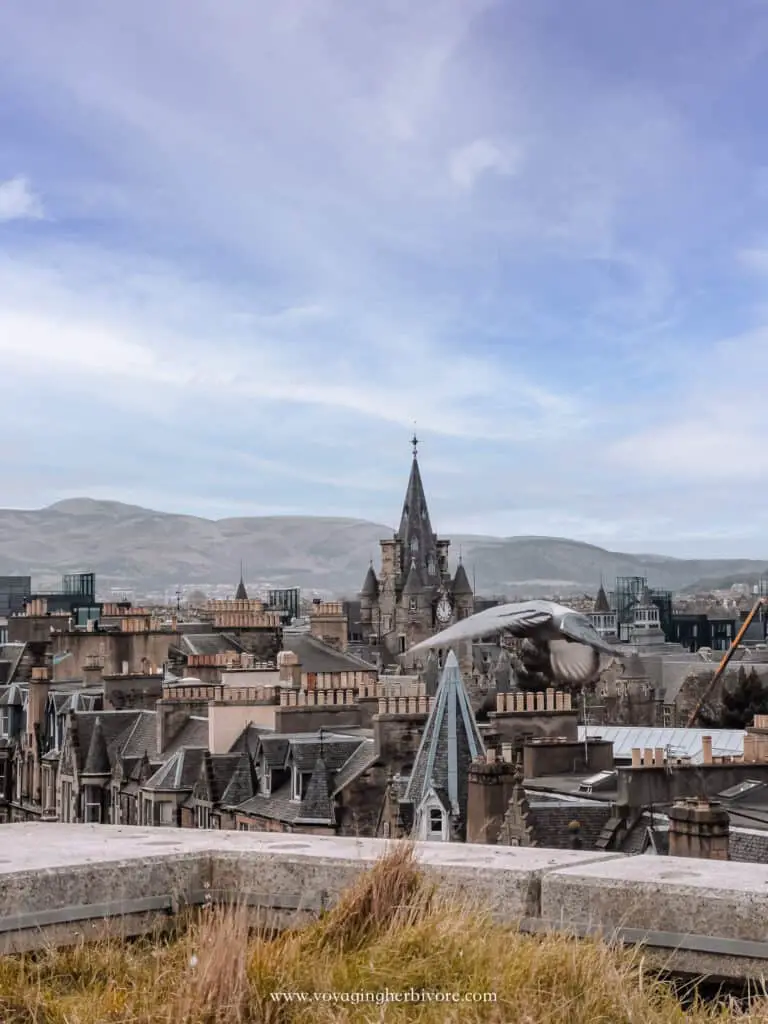 National Museum of Scotland Rooftop Terrace
Best Time to Visit: Sunrise or sunset on a weekday
Cost: Free
Address: Chambers St, Edinburgh EH1 1JF
Like many museums in Scotland, the National Museum of Scotland is free to visit, but one thing that many visitors miss is the incredible rooftop terrace offering views of the Royal Mile, Edinburgh Castle, Arthur's Seat, and the Pentlands. Be sure to ask the friendly staff for directions, and don't forget to explore the rest of this Edinburgh museum on the way down.
---
Edinburgh Botanical Gardens
Best Time to Visit: Middle of the week
Cost: Free but book your slot ahead of time
Address: Arboretum Pl, Edinburgh EH3 5NZ
The Edinburgh Botanical Gardens are not only one of the best photography spots in Edinburgh, but it's also a fantastic free activity in Edinburgh – just make sure you book your tickets online in advance.
It's easy to spend hours wandering around the beautiful grounds. Spring is a fantastic time to visit, but during Christmas you can pay a fee to visit when all of the lights are up.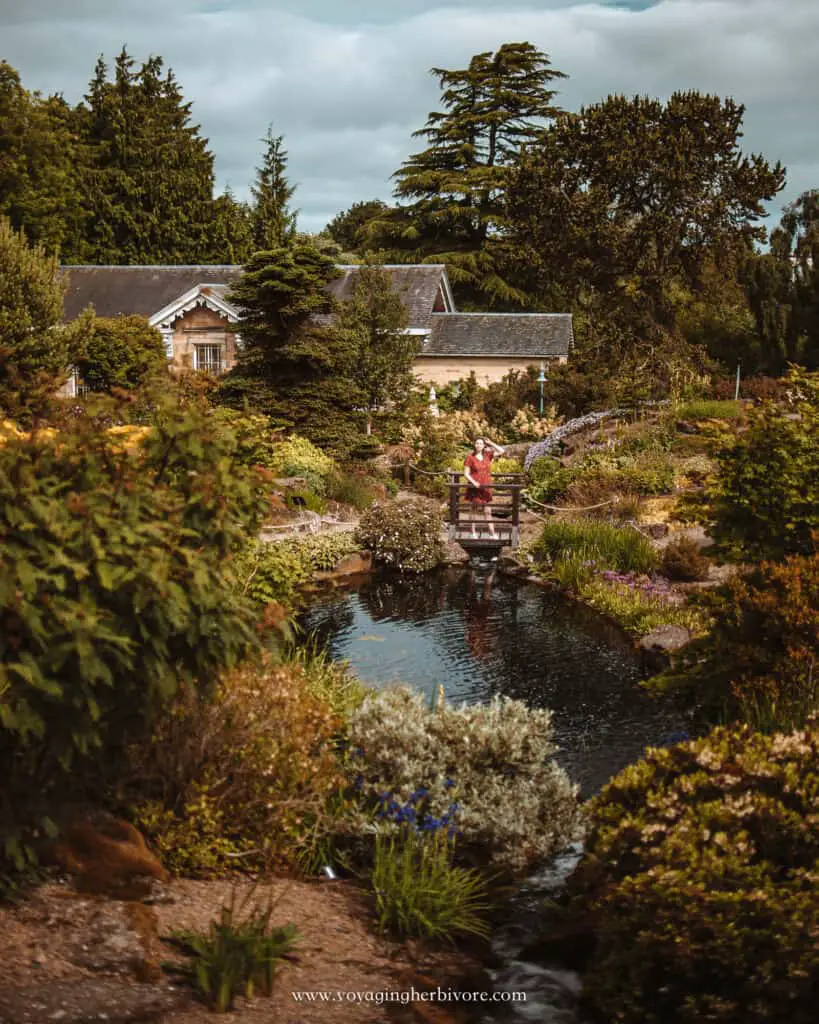 ---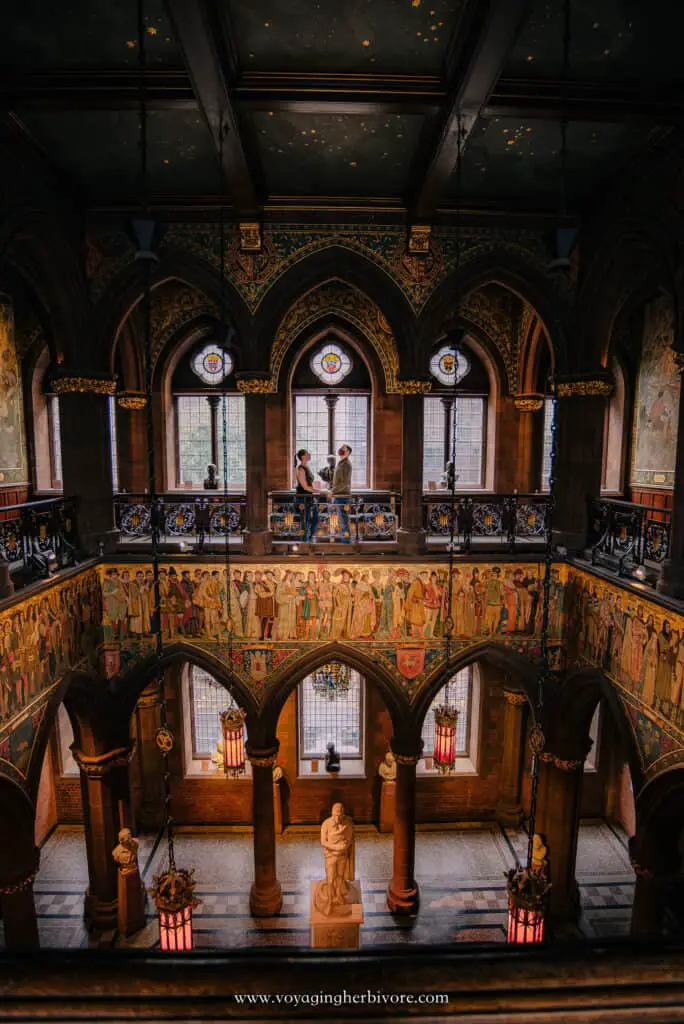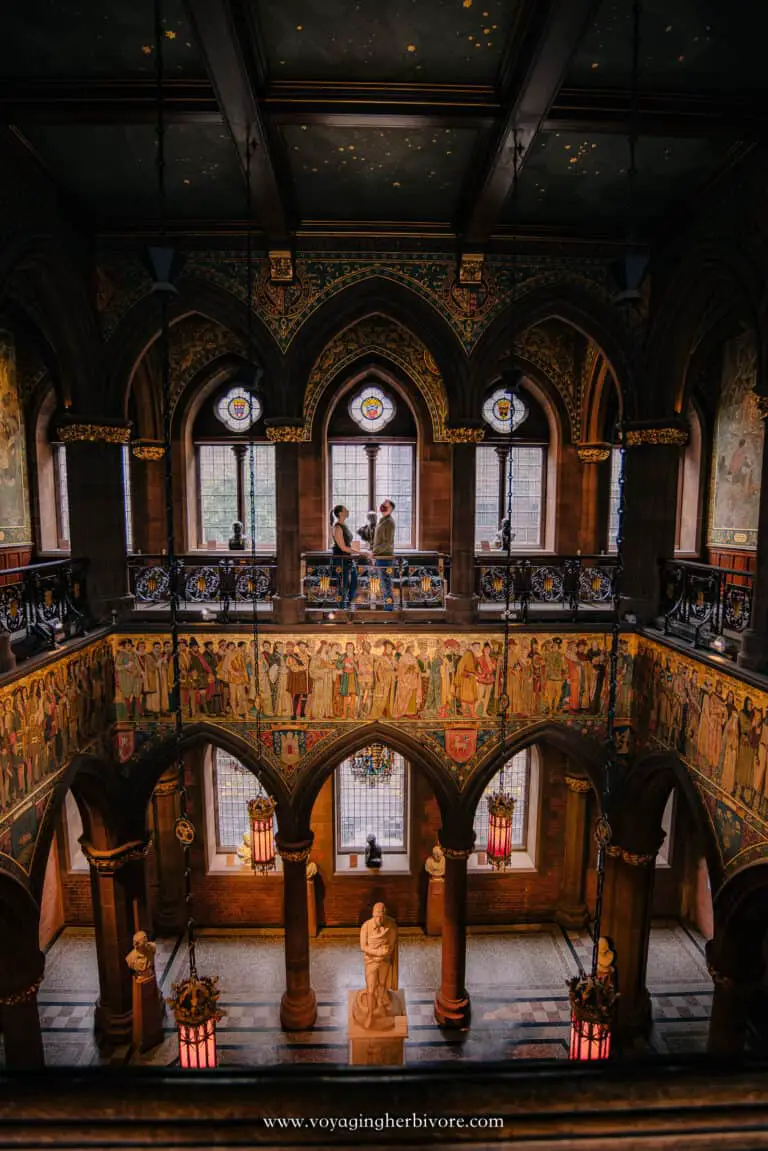 National Portrait Gallery
Best Time to Visit: When they open
Cost: Free but book in advance
Address: 1 Queen St, Edinburgh EH2 1JD
Often overlooked is Edinburgh's magnificent National Portrait Gallery. The museum is free to enter but you do need to book ahead. The photo to the left is a composite (we each took a photo of the other while standing in the same spot and merged the photos) as tripods often aren't allowed in museums.
Be sure to book on an off day (early in the week) and get there early to have the space to yourself.
Read More: 7 Fantastic FREE Museums in Edinburgh
---
Calton Hill
Best Time to Visit: Morning
Cost: Free
Address: Calton Hill, Edinburgh EH7 5AA
Calton Hill is loved among photographers, and for good reason! With views over all of Edinburgh and of Arthur's Seat, it's hard to beat this location. The hill is relatively easy to access and quite large with different interesting buildings and landscapes, allowing for a wide variety of interesting shots. If you come at sunset, be aware that you may need to fight for the shot (it does get crowded!) but if you can catch golden hour in the morning, you may just have the place all to yourself.
Read More: 11 Edinburgh Parks You Can NOT Miss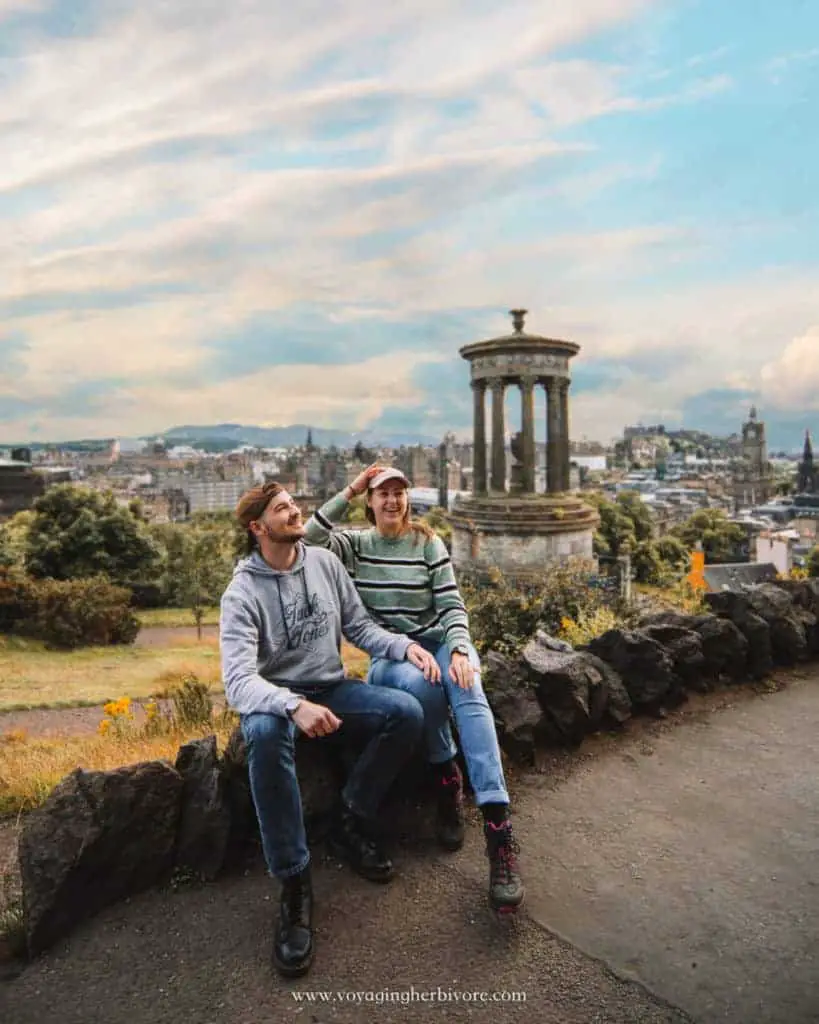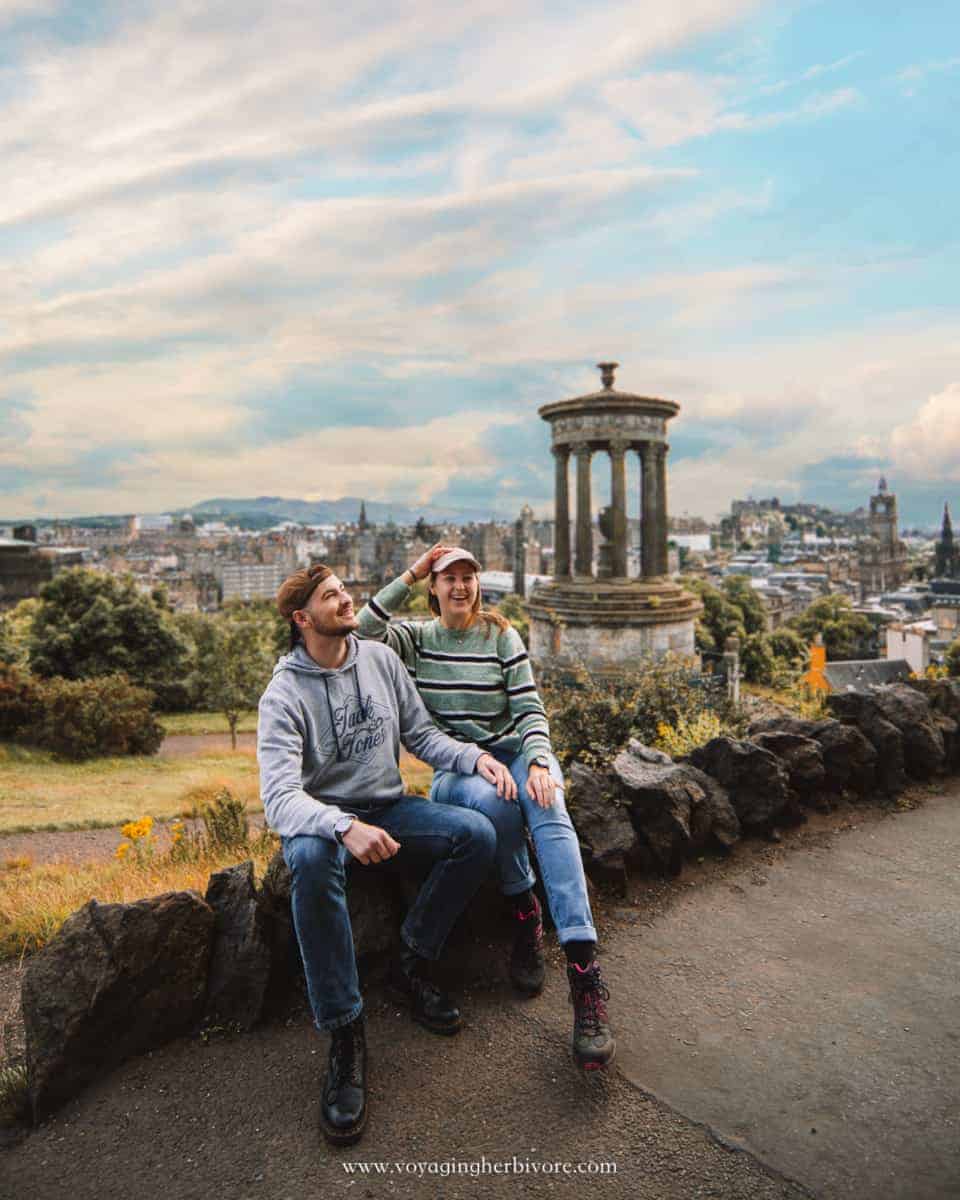 ---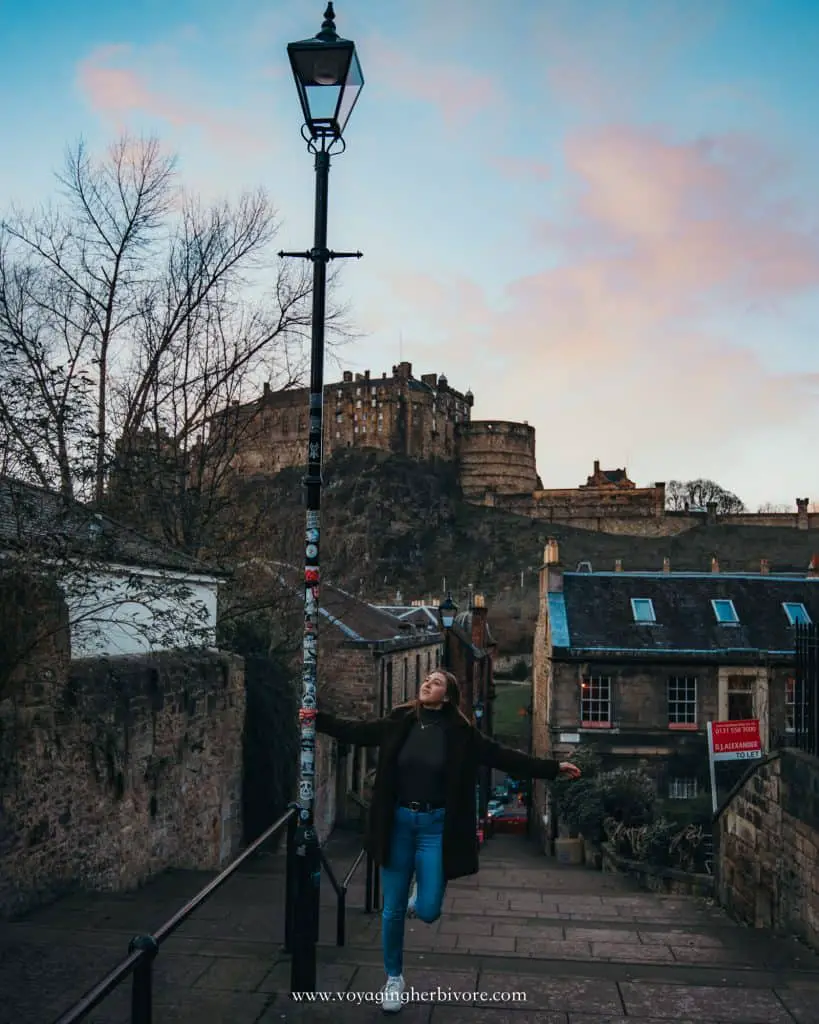 The Vennel
Best Time to Visit: Any time
Cost: Free
Address: Vennel (It's a street)
With stunning views of Edinburgh Castle and located just off of Grassmarket, this spot provides an iconic view of Edinburgh. It is a residential street with a school located along side, but it's rarely very busy as locals use it to pass through and tourists stop for a quick photo.
Read More: Where to Stay in Edinburgh, Scotland
---
Dean Village
Best Time to Visit: Early afternoon
Cost: Free
Address: Dean Path, Edinburgh EH4 3AY
Dean Village is a little gem in Edinburgh that will have you feeling like you just stepped into a different country. It's charming views and river make it the perfect place for Edinburgh photography and it's only a 20 minute walk from Circus Lane, so a great place to start your photo walk before heading into the more central areas.
Read More: Practical Tips for Taking Pictures of Scotland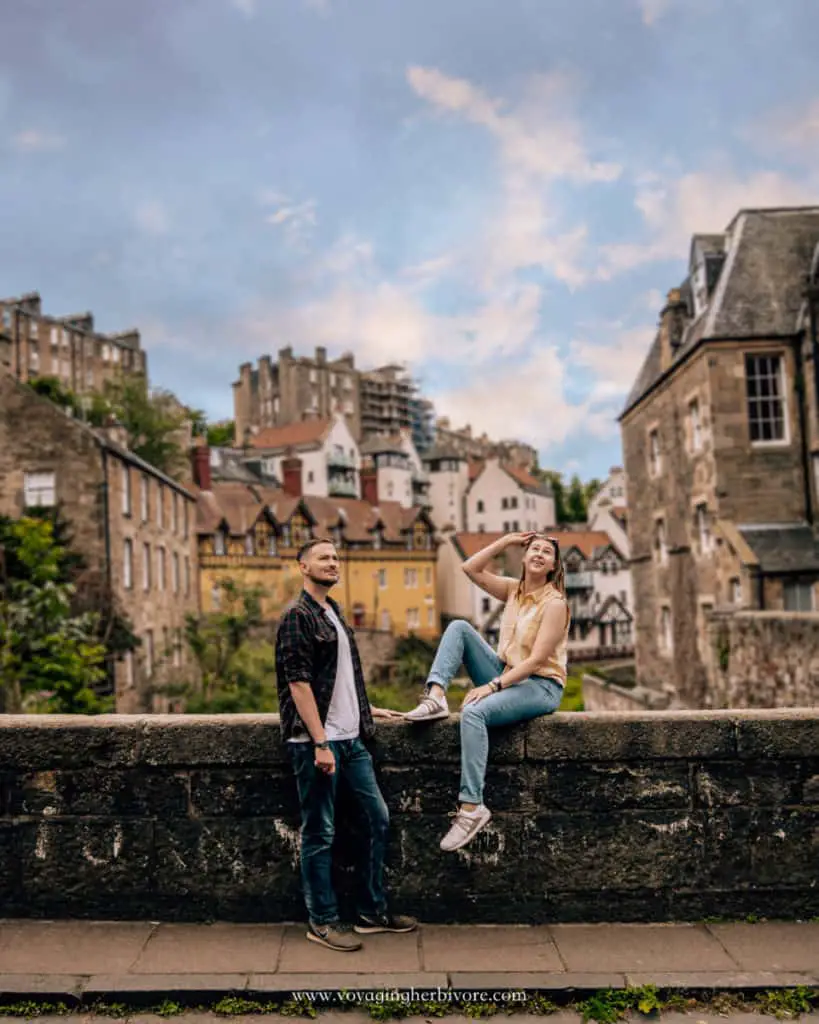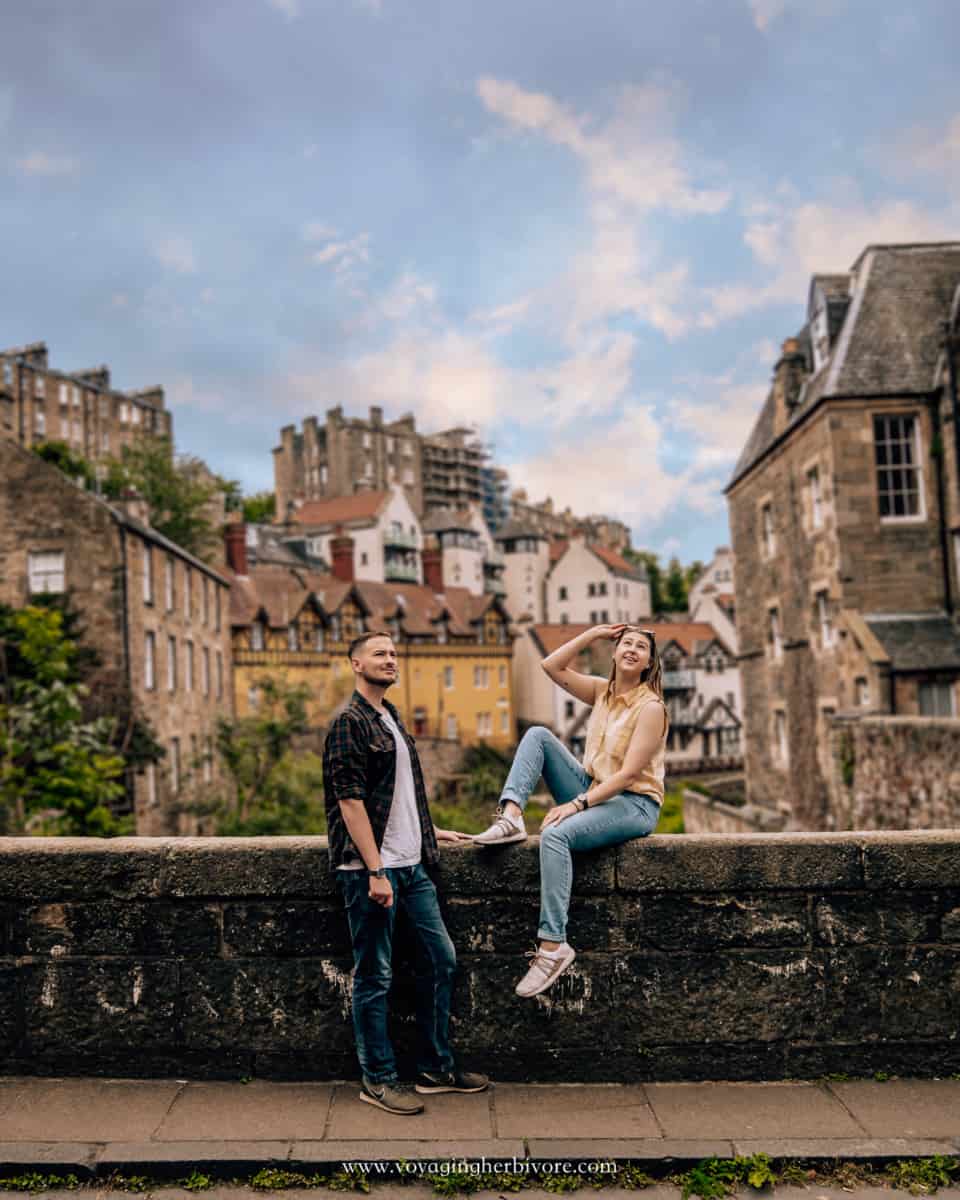 ---
Things to do in Edinburgh
---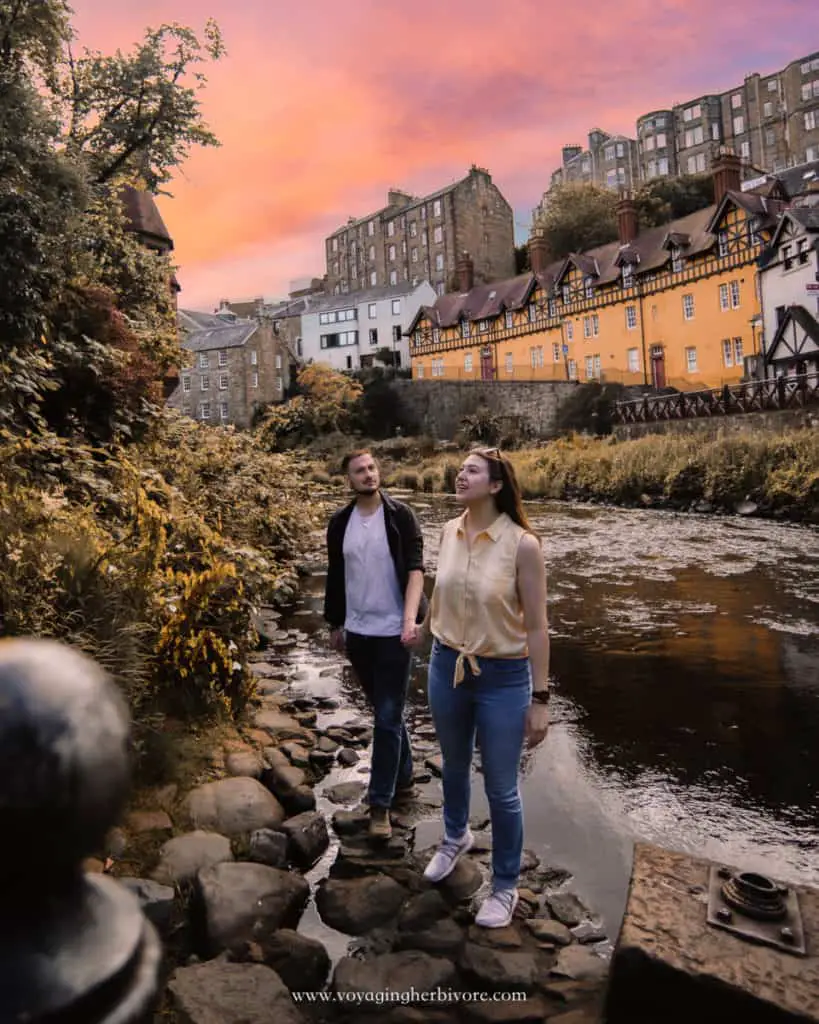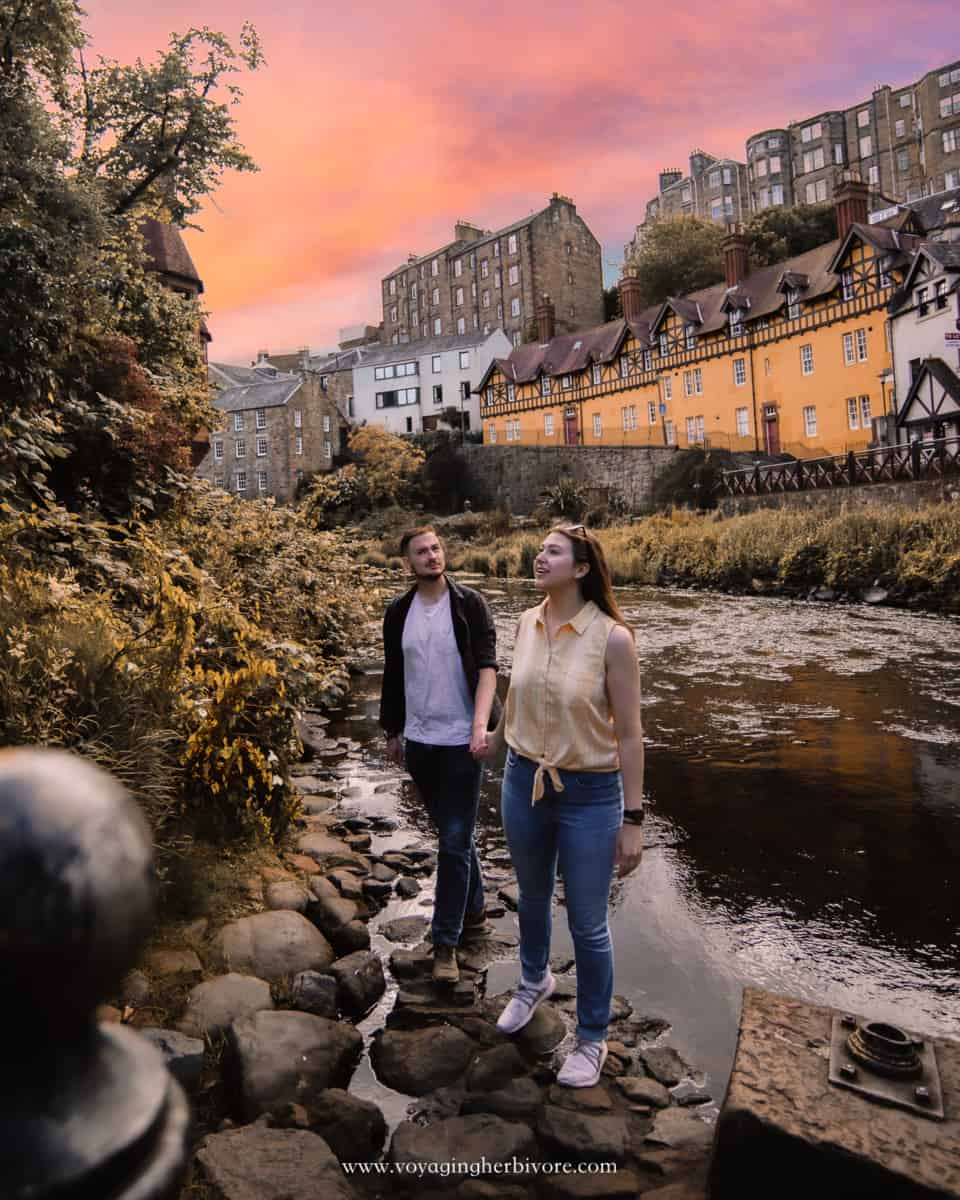 Water of Leith Walkway
Best Time to Visit: Sunset
Cost: Free
Address: Dean Path, Edinburgh EH4 3AY
The Water of Leith Walkway is accessible through Dean Village, simply head down towards the river via one of the many paths. This is a gorgeous spot that's very accessible and is easy to shoot.
To continue with your Edinburgh photography walk, follow the stream up to loop back around into Dean Village.
Read More: Heart of Scotland Tour Review – 3 Day Edinburgh to Isle of Skye Bus Tour
---
Circus Lane
Best Time to Visit: Mid morning
Cost: Free
Address: Circus Lane, Edinburgh
Circus Lane is a gorgeous photo spot in Edinburgh but it is very well known. You can see in the photo that we shot the typical direction, but if you turn around it's just as gorgeous and looks a bit different.
Circus Lane is a residential street so don't be noisy and be quick or you may get some looks.
Read More: Top 10 Things To Do in Edinburgh, Scotland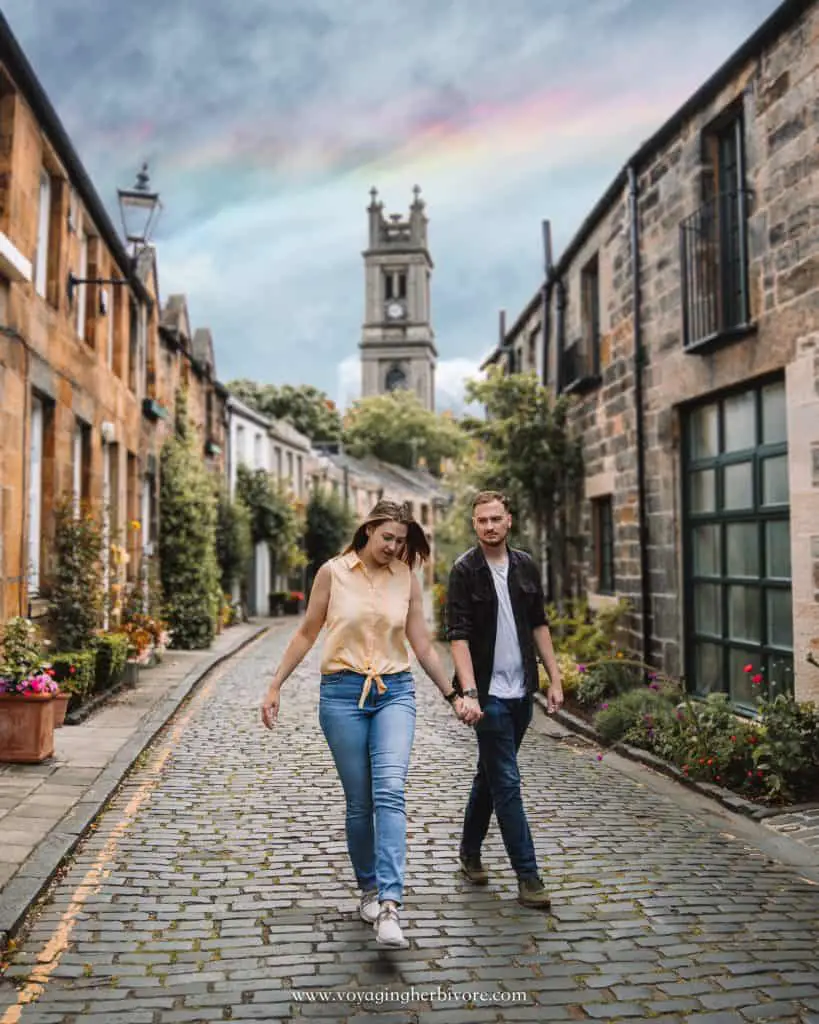 ---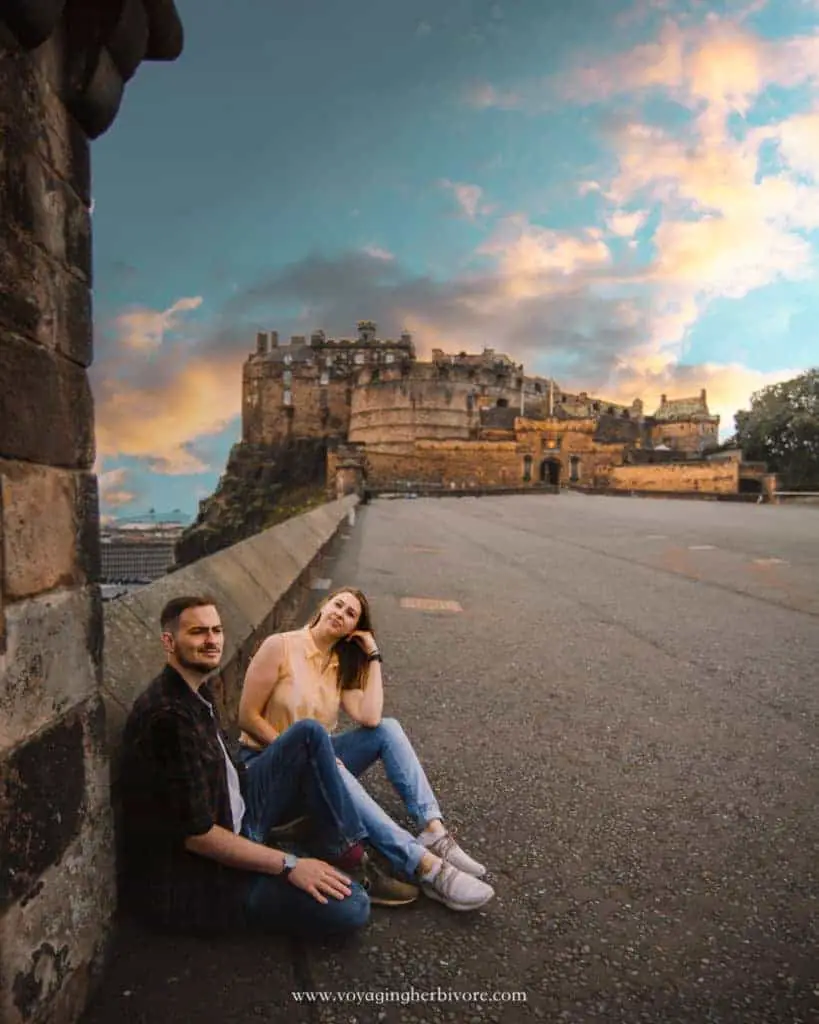 Edinburgh Castle
Best Time to Visit: Be there for the 1pm gun firings (except Sundays)
Cost: £17.50 standard adult ticket
Address: Castlehill, Edinburgh EH1 2NG
Edinburgh Castle is likely one of the first stops on your Scotland itinerary. Although it boasts a pricey entrance fee, the castle is an absolutely iconic site of Edinburgh and is worth the visit if you enjoy history. However, if that's not your thing and you're just looking to take a few photos you're probably better off exploring other amazing parts of Edinburgh. If you want to try whisky at the castle, you'll need to bring your passport if you're not a British resident.
Read More: Rabbies Scotland Tour Review – Black Isle
---
Arthur's Seat From Below
Best Time to Visit: Morning
Cost: Free
Address: Arthur's Seat (It's hard to miss)
With the main goal being the summit of Arthur's Seat, most people don't bother stopping at the small ruins off the left of the main path a short way up. However, especially when the flowers are in bloom, it's absolutely worth a look. Not only do you still get a great view over the city, but you've got a pretty cool shot of Arthur's Seat as well.
Want to be a photographer? You need to check this out.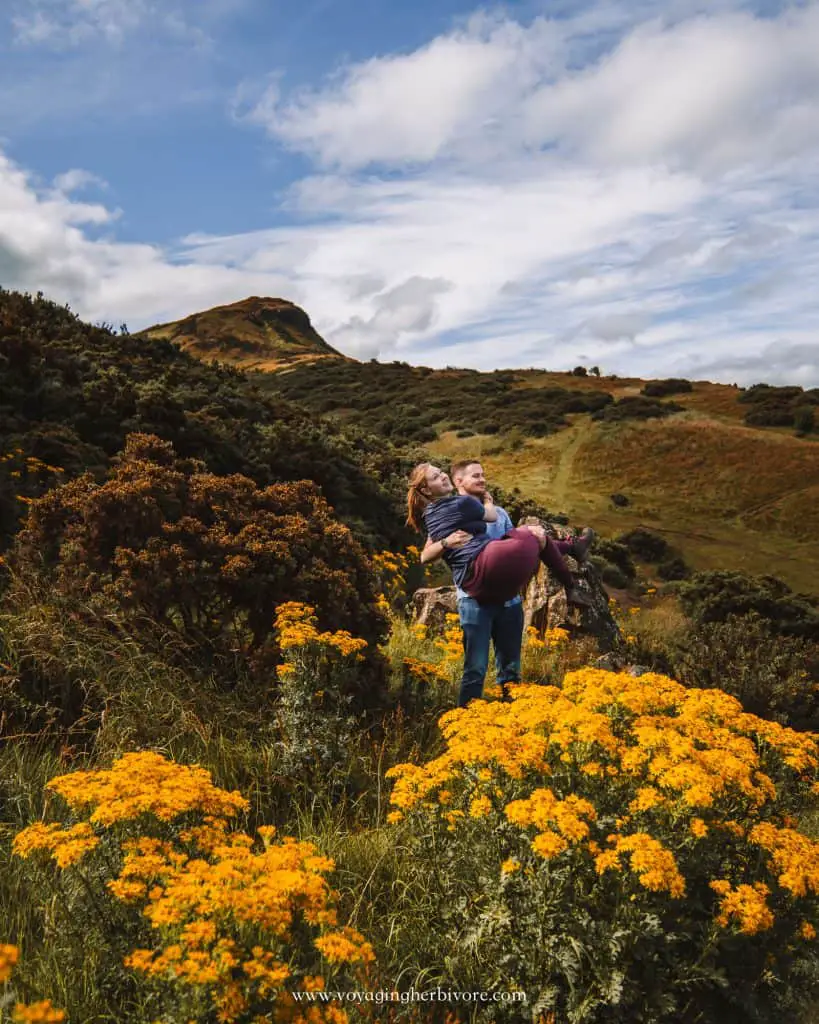 ---
And as always, you can find more sustainable travel content on Instagram @VoyagingHerbivore, Youtube, and TikTok and to get updates straight to your inbox, enter your email below in the footer, or to the right on the sidebar.

If you found this guide helpful and want to help us keep these resources free,
please consider making your next Amazon, Expedia, Hostel World, Etsy, and Booking.com purchase through our links (just click right on those words – you can do it right now and unless you clear your cookies before your next purchase, it will remember). It costs you no extra and gives us a small commission. Thank you!
---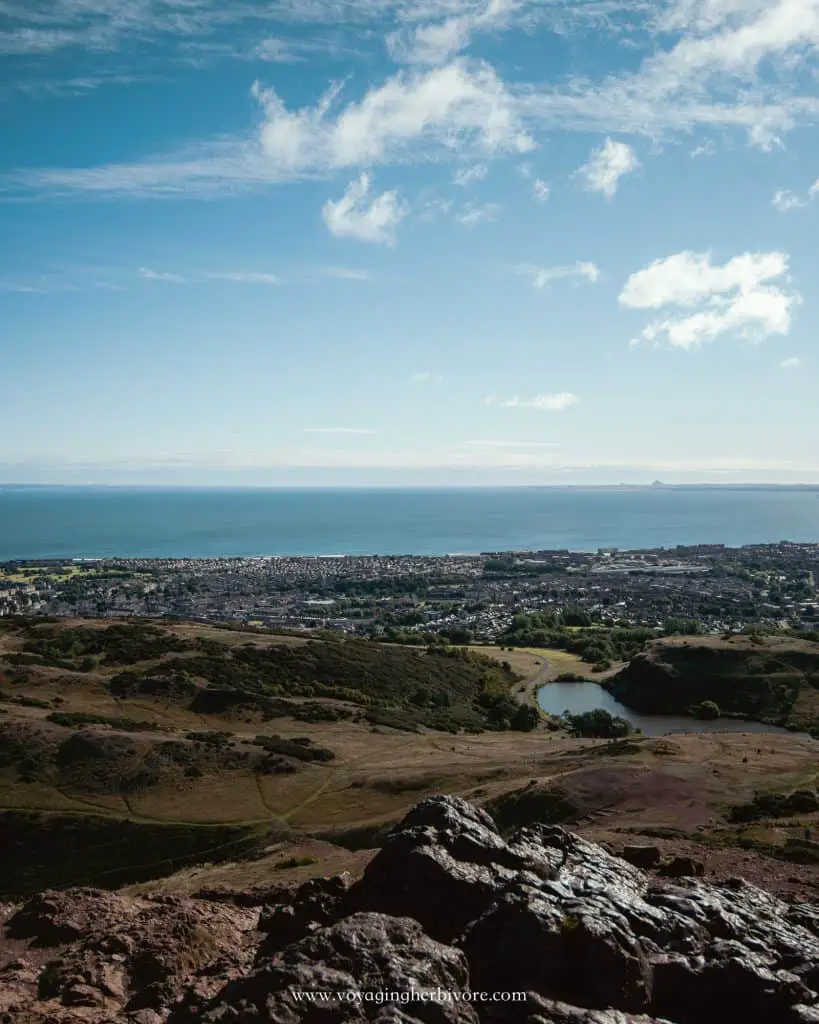 View From Arthur's Seat
Best Time to Visit: Morning
Cost: Free
Address: Arthur's Seat (It's hard to miss)
Of course, if you've made it a little ways up Arthur's seat already to grab some shots, you may as well finish the trek. The view from the top is pretty spectacular, although it does get incredibly windy (don't even think about a drone). Arthur's Seat can get busy on warm and clear days so head up relatively early to avoid the crowds.
Read More: The Ultimate Photography Gear Guide for the Beginning Photographer and Traveler
---
Victoria Street
Best Time to Visit: Mid morning
Cost: Free
Address: Victoria Street
Another classic Edinburgh photography spot is Victoria Street. Located just a few minutes from the Vennel and just off of Grassmarket, this colorful street is a must visit. Make sure you don't stop there though! You'll want to head up the stairs (found right next to this blue building in the photo) to get a view over the street as well. Be careful as Victoria Street is not pedestrians only.
Read More: Give Stories, Not Stuff | Tinggly Experience Gift Cards Review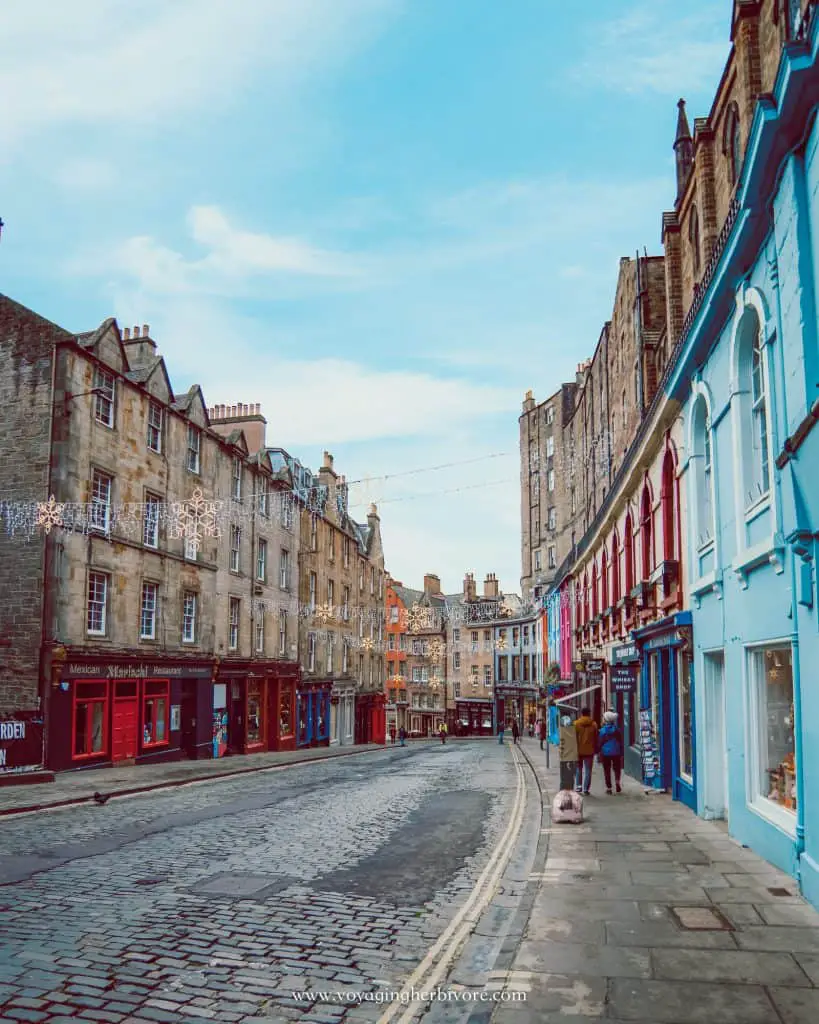 ---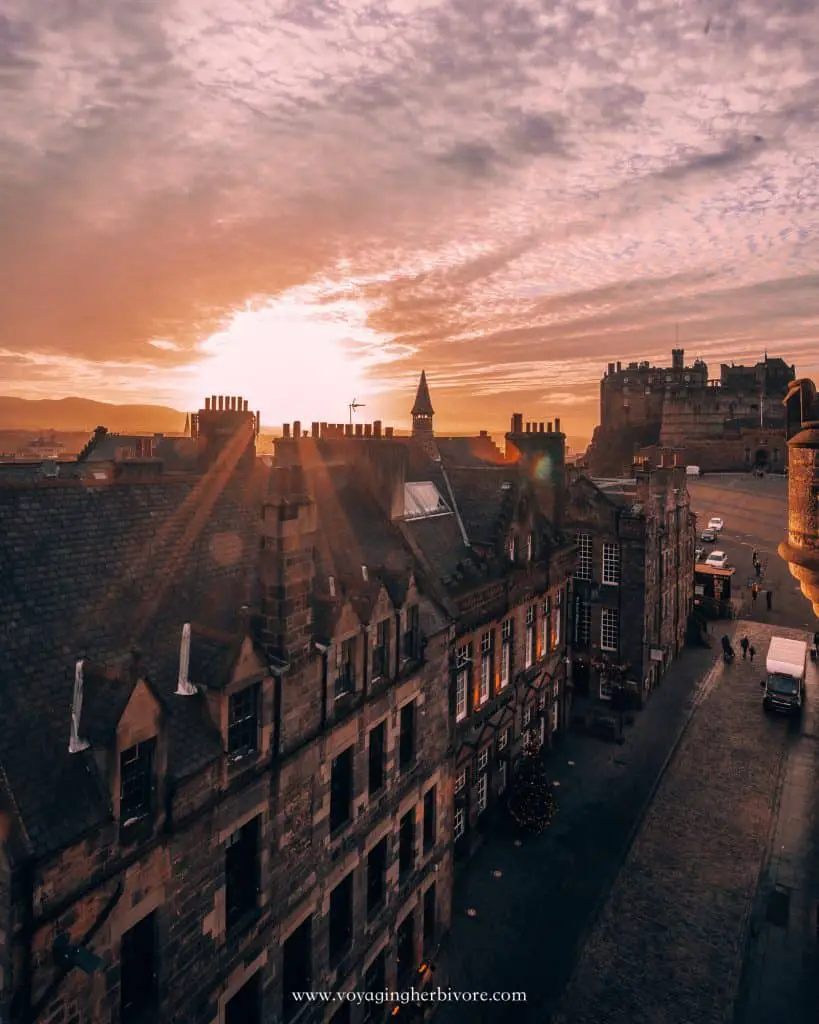 Camera Obscura Rooftop View
Best Time to Visit: Sunset on a weekday (not a bank holiday)
Cost: £15/person
Address: Castlehill, Royal Mile, Edinburgh EH1 2ND
Yes, Camera Obscura is a fantastic place for a sunset photoshoot in Edinburgh, but it's also an amazing activity in Edinburgh that you absolutely need to do!
The rooftop at sunset is almost guaranteed to be busy on a beautiful weekend, so book your tickets for a Monday (not a bank holiday) and get ready for some incredible views (also featured in the first image in this post!).
Read More: 12 Eco-Friendly Travel Products You Need to Invest In
---
Where to Stay in Edinburgh
---
More Scotland Posts
---
What Camera Gear Do We Use?
If you want the full list of things we keep in our camera bag, check out the complete guide or browse our photography guides.
---
Free Resources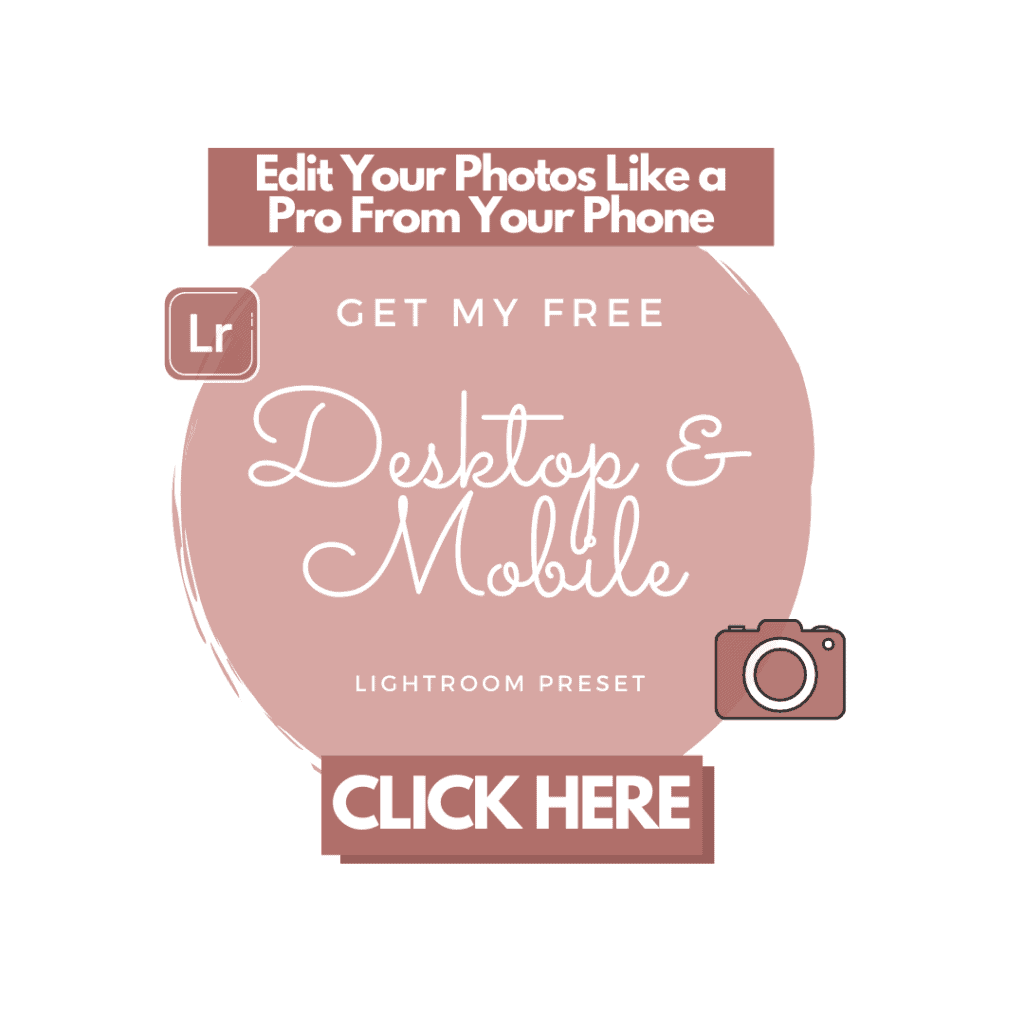 ---