The incredible country of Scotland has more to offer lovers of adventure than we could possibly cram into one article. 
But for those looking to forsake the typical city stays in the likes of Edinburgh or Glasgow, and instead would like to explore the stunning Scottish islands, we aim to pique your interest more than ever!
If you wish to indulge in an island getaway on the Scottish North Sea, you need to make a quick detour to the folklore-strong and myth-rich Isle of Staffa. Here's why.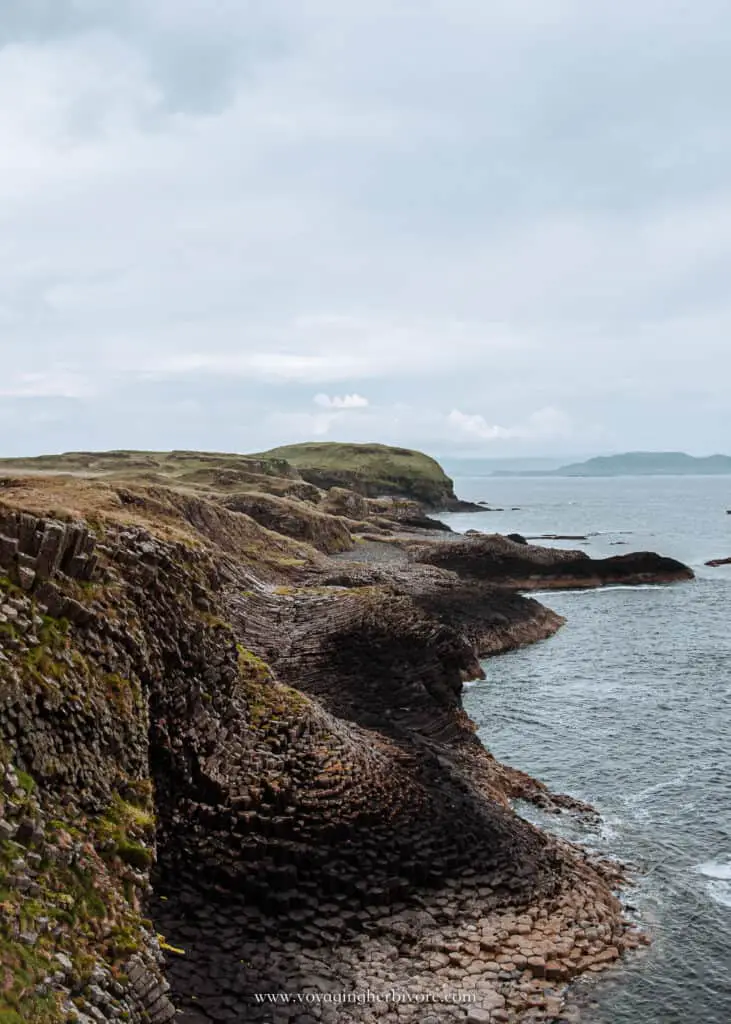 ---
This site is user-supported and that's why we use affiliate links. At no extra cost to you, we get a little bit of money when you purchase something through one of our links. Thank you for helping support ethical, sustainable, and plant-based travel! You can read more about our affiliate disclosure policy here.
---
Where is the Isle of Staffa?
The Isle of Staffa is located amongst the historical and ancient Inner Hebrides of Argyll and Bute in Scotland, which can be found dappling the North Sea, and is part of the Mull island group.
Read More: 8 Things to Do on the Isle of Mull
The island is roughly 3.8 kilometres in circumference, with its highest elevation point being 42 feet.
---
What is the History of the Isle of Staffa?
As history goes, the Isle of Staffa's heritage is pretty vast! This is largely owing to the island being somewhat on the elderly side – the volcanic formation that makes up the island is said to be around 60 million years old!
The island was discovered in 1772 by the famous naturalist and botanist, Sir Joseph Banks, who was en route to Iceland at the time. Staffa has since been a popular haunt for explorers and lovers of geology and wildlife alike. 
The Isle of Staffa has been a sought-after destination for centuries, owing to its incredible formation. The island is made of hexagonal basalt columns, which are conjoined hardened flowing lava, which gives the rock a waterfall-like look; therefore, is an excellent example of a peninsula entirely of volcanic origin. 
Owing to the incredible rock formation of the island's cliffs, the Vikings dubbed the piece of land "Staffa", which is Old Norse for "pillar island", as the hexagonal basalt columns reminded them of their native houses, which were made out of vertical tree logs.
Despite the age of the island, little is actually known of its history after its discovery in the eighteenth century. Though, given the origins of its name, it is likely to have been inhabited by Vikings for a while.
Fast forward a few centuries, the island was mostly uninhabited when Banks discovered it (save for one family, who later left, owing to the harsh weather conditions and unsustainability of the island's resources) – and remains so today.
At present, the Isle of Staffa is owned and cared for by the National Trust and is maintained as a national nature reserve. It can be visited by the general public (only during the months between April and October), but only by way of licensed tours, and by boat.
---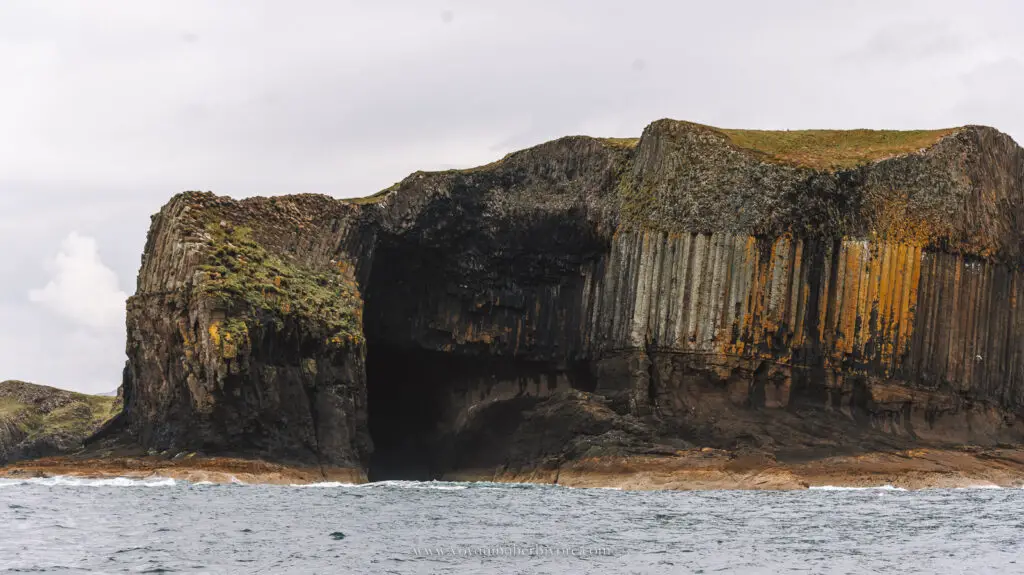 ---
Why Visit the Isle of Staffa?
For an uninhabited island that barely exceeds a mile in length or width, the Isle of Staffa has plenty to offer.
Owing to weather-related reasons, it's only possible to visit the island in the spring and summer months. Here's what you can enjoy if you stop by this incredible Scottish island:
---
Staffa Puffin Watching
One of the most prominent features of the Scottish islands that draws visitors in droves every summer is one of their most well-known residents: puffins!
Staffa puffins nest on the island's cliff tops throughout the summer months, making them easy to spot for both island visitors and passing boats. Puffins are one of Scotland's most loved national treasures, and you're almost certain to see these incredible birds if you visit Staffa.
The colourfully beaked seabirds are native to the North Sea and dock on land every year from April to August to mate and to raise their babies – the adorably named "pufflings"!
Despite being seabirds, puffins are relatively unbothered by human presence and will let visitors get fairly close. However, they should never be bothered or be approached for the purpose of physical contact (or selfies), and dogs should be kept on a lead at all times.
The best way to enjoy Staffa puffin watching is via a puffin tour.
Read More: Puffins in Scotland: Where, When & How to See Them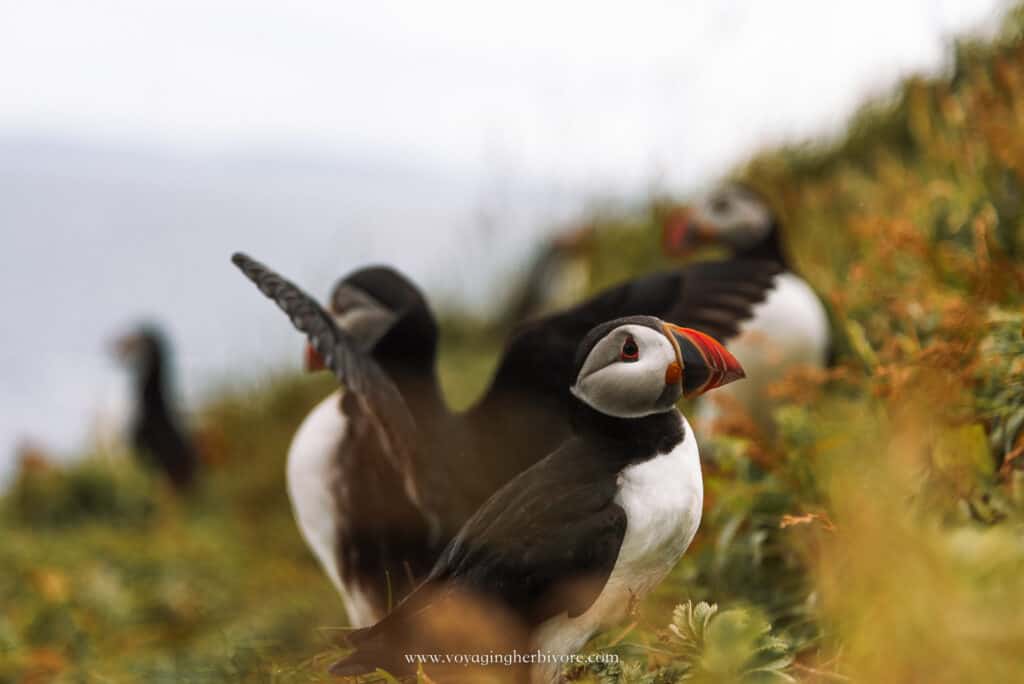 ---
Other Wildlife
The Scottish islands are as rich in their native wildlife as they are their heritage and folklore.
Some of the wildlife you may spot on or around the Isle of Staffa includes:
Sea otters
Dolphins
Whales
Basking sharks
Common shags
Grey seals
Minke
Numerous types of seabirds, such as guillemots and gannets.
Fingal's Cave
Perhaps the biggest seller of the Isle of Staffa is Fingal's Cave. The mysterious grotto is a sea cave that was named after an eighteenth century poem by James MacPherson. 
Legend has it that the cavern is magically connected to a similar hexagonal basalt column formation in Northern Ireland called Giant's Causeway. According to Gaelic mythology, the two volcanic locations are connected by an invisible bridge, which was built by a friendly giant named Fionn Mac Cumhaill.
The cave welcomes an influx of Staffa tours every year between the months of April and October, in which visitors can explore the cave when the tide is out. From inside the cavern, the isle of Iona can be seen perfectly framed.
Over the years upon its discovery, Fingal's Cave has welcomed a variety of famous faces visiting the mysterious island, including Queen Victoria, Sir Walter Scott, John Keats, and Robert Louis Stevenson – to name but a few.
Read More: 5 Fingal's Cave Tours You for EPIC Landscapes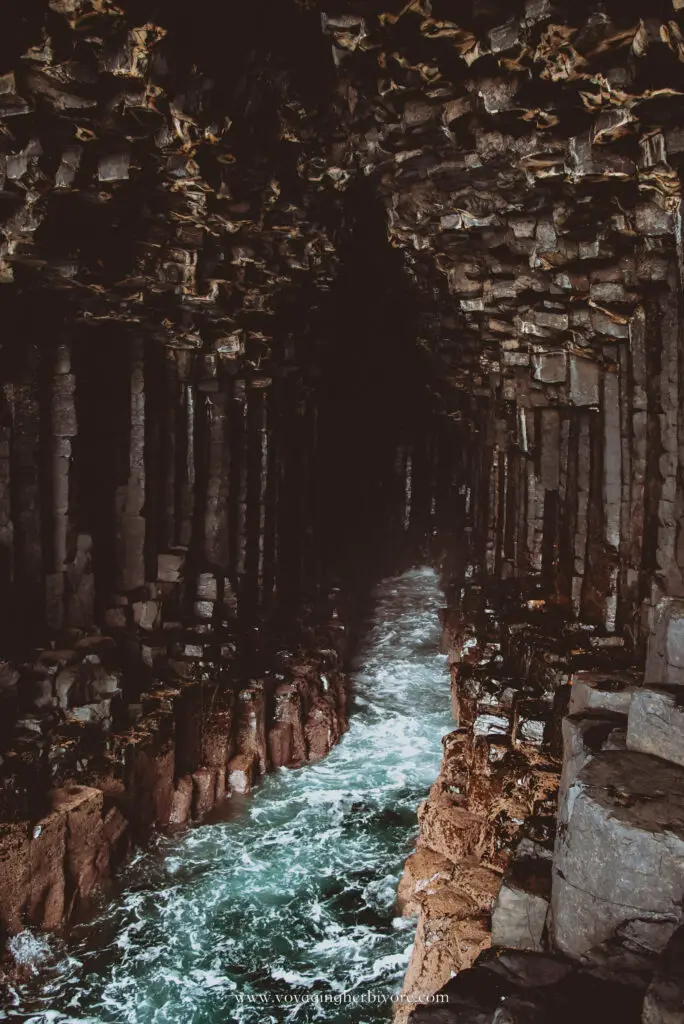 ---
Staffa Tours
As the island is owned by the National Trust, it is open only to visitors with a permit. 
Those intrigued by this magical place can indulge in an Isle of Staffa organised tour, which will ensure you're ferried to and from the island safely, and often have tour guides who provide fanciful and in-depth details and stories of the mysteries and heritage of the island.
There are many Staffa tour options, including:
There are a few things to consider before booking a tour to the Isle of Staffa:
The island is completely uninhabited, therefore there are no restrooms, restaurants, gift shops, etc. This can mean a Staffa tour isn't ideal for those with young children.
Scottish weather is unpredictable – even in the height of summer – and dressing for this is important. Also, the rocks on the island can be slippery, so appropriate footwear is a necessity.
Staffa is only accessible by boat.
Tours to the island are subject to daily weather and sea conditions, so please don't be disheartened if your booked tour needs to be rearranged at the last minute.
Read the full guide to Staffa and Fingal's Cave Tours.
---
More things to do in Scotland
---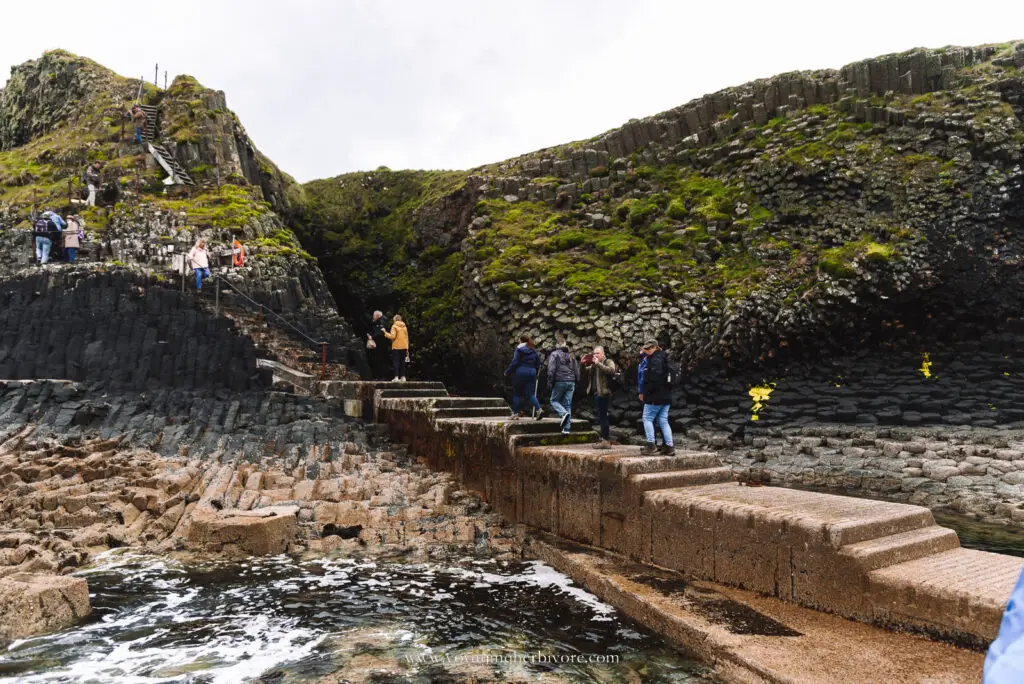 ---
Isle of Staffa FAQs
Why is Fingal's Cave famous?
Aside from its incredible volcanic structure, the cave earned itself a permanent place on the map in 1829, when the composer Felix Mendellsohn visited the island and was bowled over by the incredible natural acoustics from inside the cave.

So much so that upon returning, the composer penned the opening piano melody from his overture inspired by his trip to Scotland, The Hebrides. This would go on to be his most famous piece of music, and subsequently, the cave's biggest claim to fame.
Can you go inside Fingal's Cave?
It is possible to visit the cave when travelling to the island during the months of April to October. And on low tide, it is possible to walk all the way inside Fingal's Cave via its natural walkway.

Even at low tide, Fingal's Cave is still a sea cave, therefore there will be water inside. The rocks are somewhat uneven owing to the hexagonal basalt column structure, so caution and appropriate footwear is imperative.
What is the story of Fingal's Cave?
The Scottish Gaelic mythology that surrounds the cave is perhaps better known as The Legend of Fingal.

Known in traditional folklore as "Uamh-Binn", which means "The Cave of Melody", Fingal's Cave is supposedly magically linked to Giant's Causeway in Northern Island. The causeway between the two locations is said to have been built by a kindly giant known as Fionn (or sometimes, Finn), to enable him to duel with his Scottish rival, Fingal, who lived – you guessed it – in Fingal's Cave!
Where in Scotland is Fingal's Cave
Fingal's Cave is situated on the ancient island of Staffa, which is a colony of Scottish islands known as the Inner Hebrides of Argyll.

The island is roughly 7.4 miles north of Iona, and is less than a mile in both length and width. Getting to the cave is only doable via boat from either the port of Fionnphort or Mull.
How long is a boat trip to Staffa from the mainland?
The boat journey from various local ports, such as Fionnphort, is roughly one hour, which gives you plenty of time to spot some local sea life!
---
Final Thoughts
Considering this island is so small – and is completely void of civilization – it holds a great deal of history, mystery, beauty, and culture just waiting to be explored.
The Isle of Staffa is a must-see for lovers of geology and wildlife alike, so get it booked and ticked off that bucket list in 2023!
---
More Scotland Posts
---
What Camera Gear Do We Use?
If you want the full list of things we keep in our camera bag, check out the complete guide or browse our photography guides.
---
Free Resources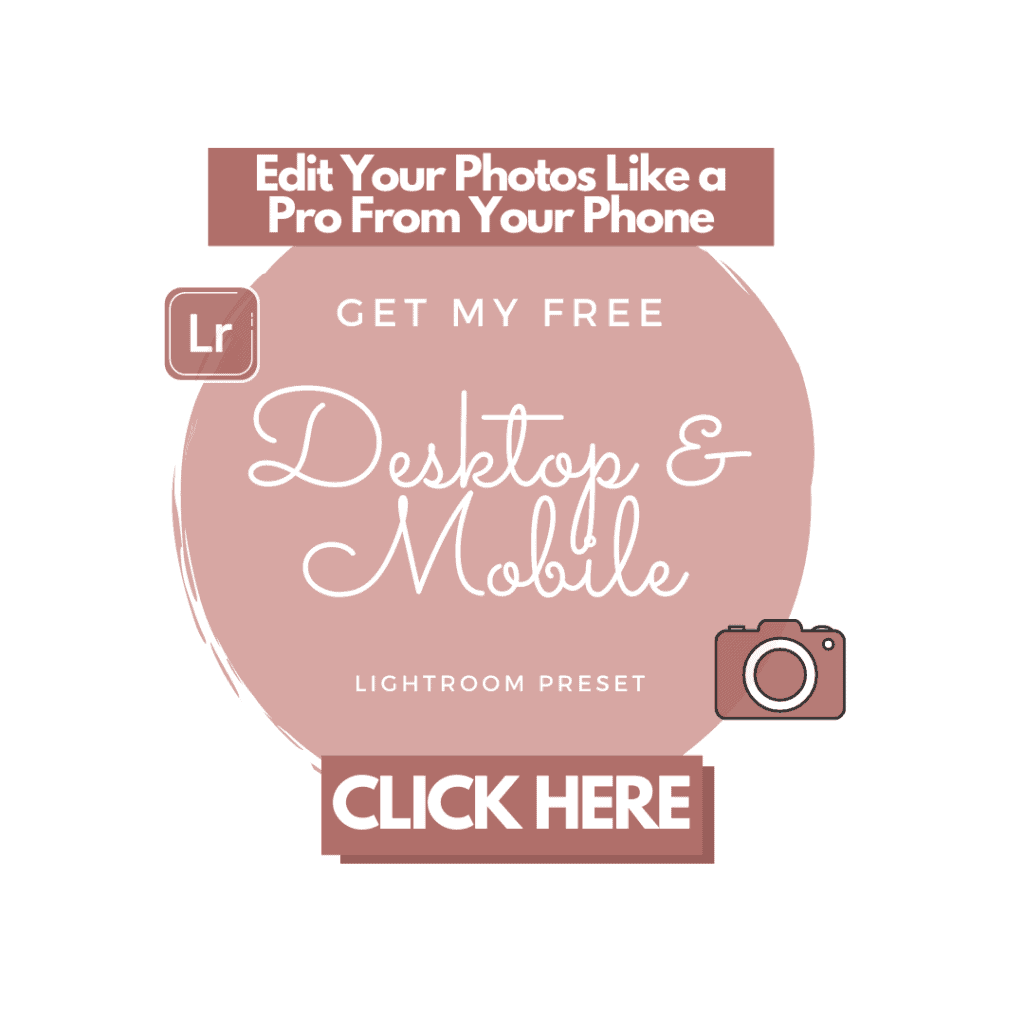 ---
And as always, you can find more sustainable travel content on Instagram @VoyagingHerbivore, Youtube, and TikTok and to get updates straight to your inbox, enter your email below in the footer, or to the right on the sidebar.

If you found this guide helpful and want to help us keep these resources free,
please consider making your next Amazon, Expedia, Hostel World, Etsy, and Booking.com purchase through our links (just click right on those words – you can do it right now and unless you clear your cookies before your next purchase, it will remember). It costs you no extra and gives us a small commission. Thank you!
---
Pin Guide to Isle of Staffa