Whether you're on the hunt for something as unhealthy as deep-fried pickles or you're looking for a light muffin in an art gallery, Manchester's vegan scene has it all!
This vegan guide to Manchester will help you navigate the many amazing restaurants to find some of your new favorite vegan eats.
In this Vegan Guide to Manchester we'll feature these restaurants:
---
---
Ginger's Comfort Emporium
Ginger's Comfort Emporium is a lovely little hidden gem in Manchester with some fabulous vegan icecream options. It's a cozy little spot hidden in Affleck's Arcade – a spot you won't want to miss wandering through. Comfy booths offer a great place to rest after strolling through the many shops and booths that Affleck's Arcade has to offer. Forgive the plastic straw in the photo. We never use plastic straws now and we avoid paper as well. In fact, we always bring our own reusable straws. You can check out the full debrief on the environmental impact of straws here.

Address: 1St Floor, Afflecks Arcade, 52 Church Street, Manchester M4 1PW
Price Range: $-$$
All Vegan: Nope, but there's always a few icecream options at usually a vegan baked good
Must Try: Whatever vegan icecream they have at the time

---
---
Pancho's Burritos
I love a good burrito and if you're looking for something quick and filling, you're in luck! Pancho's is a lovely little place (part of a chain) with plenty of great vegan options. They also have student discounts so if you've got that card be sure to pop it out!

Address: 49 High Street, Arndale Market, Manchester M4 3AH
Price Range: $
All Vegan: No
Must Try: If they have a specialty vegan option, try that!

---
---
V Rev Vegan Diner
If you're vegan or veggie you've likely heard of V Rev (Vegan Revolution) when researching Manchester. It really is a must try but you're best off making a reservation. Don't plan on sticking to a diet while you're here because you'll be feasting on some phenomenal fast food. I recommend the fried pickles and the donut burger. You can't go wrong with two donuts as buns! Forgive our poor photo, we've since upped our indoor food photo game!

Address: 20-26 Edge Street, Manchester Central, Manchester M4 1HN
Price Range: $$
All Vegan: Yes!
Must Try: Donut burger, Fried Pickles

---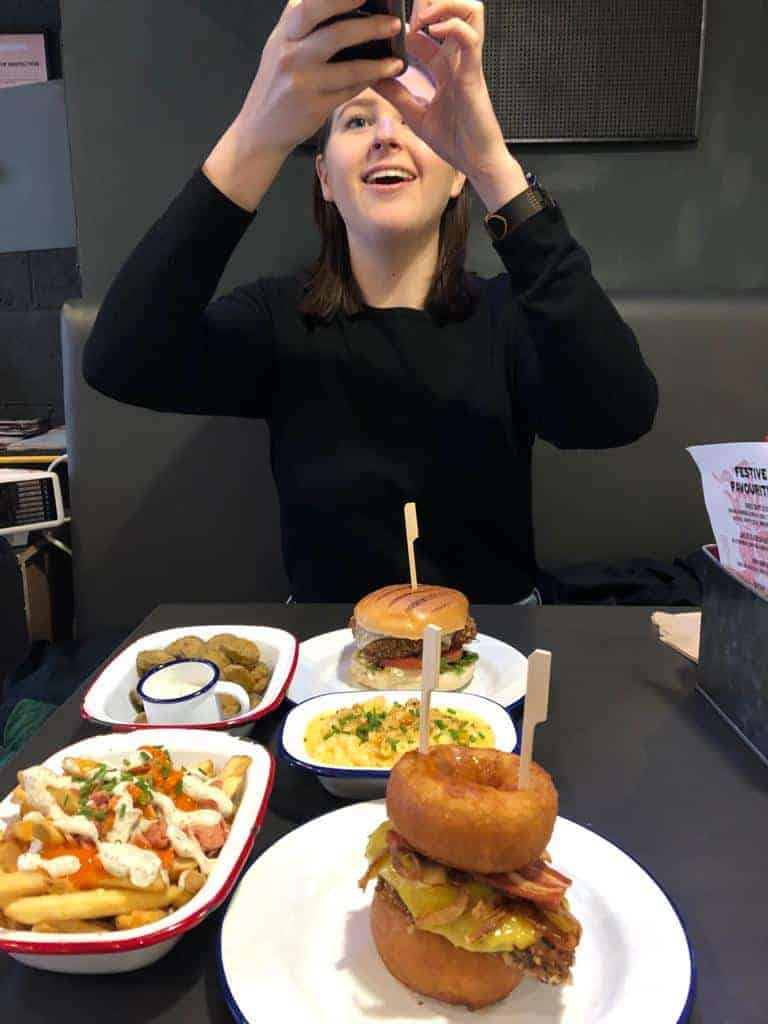 ---
The Eighth Day Cafe
This little co-op is a great place to find vegan groceries that you likely won't find at the standard corner shop. I found some great vegan gnocchi here! They also have a little veggie and vegan café which I have not personally been to, but you can find their menu here.

Address: 111 Oxford Road, Manchester M1 7DU
Price Range: $
All Vegan: No, vegetarian
Must Try: Vegan gnocchi in the shop

---
The Courtyard
Myself and a friend discovered this great place when looking for a cheap night out! It really is a university student's dream. It is a sports bar and as such as beer and food, but head over during happy hour to get some great deals on drinks and pizza. It's not the place to go if you want to dance, but a great way to start a lively night with drinks and food. As of August 2019, I was having trouble viewing their menu on their website, but when I visited in the spring of 2018, they did have vegan pizza. If you have any updates on this please let me know! Although not completely vegan or even vegetarian, convenience and affordability make this one of the best vegan restaurants in Manchester.

Address: Chester Street, University District, Oxford Road, Manchester M1 5SH
Price Range: $
All Vegan: No but there are 1 or 2 options
Must Try: Vegan happy hour deals!
---
The Whitworth Cafe
The Whitworth Gallery houses a lovely café full of glass windows that's wonderful to sit in whether it's sunny or rainy. You can bring your laptop and sip on a coffee and eat a vegan muffin if it's not busy, or if you're looking to have a sit down brunch after browsing the gallery (free to get into), you can head here.

Address: Whitworth Art Gallery Oxford Road, Manchester M15 6ER
Price Range: $$
All Vegan: No
Must Try: A vegan muffin

---
---
Nudo Sushi Box
Nudo is a great place to stop if you need a quick grab and go. While not the cheapest of fast food type places, it's a great for a healthyish vegan bite. I chose this tofu noodle with dumplings type dish. Quite filling but I wish it had more protein.

Address: 1 Spinningfields Square, Manchester M3 3AP
Price Range: $$
All Vegan: No
Must Try: Vegan dumplings!
---
---
GRUB
GRUB is a lovely food fest put on every Friday, Saturday, and Sunday. I attended the Sunday fair which is completely vegan. You can find some amazing vegan options here in Manchester and it really is a must try. I tried a vegan Cubano, several sweets, nachos, and more! Forgive my awkward little pose here, I like to think I've improved my food posing shots since 2018! Note that this runs 12-6 on Sundays and you can read more here.

Address: Mayfield Gatehouse, Baring St, M1 2AD
Price Range: $-$$
All Vegan: On Sundays yes!
Must Try: Vegan Cubano

---
Go Falafel
If you're a vegan who doesn't love a falafel wrap, I honestly don't know how you've survived this long in the world. Do tell us your secrets because when we travel, we thrive on falafel and hummus! Go Falafel is a great spot for a healthy and vegan meal that will surely satisfy any falafel cravings you have.

Address: 99 Denesgate, Manchester M3 2BQ
Price Range: $
All Vegan: Yes!
Must Try: The falafel wrap
---
Discover More Vegan Eats in the United Kingdom
---
Vegan Restaurants in Manchester Interactive Map
Use the map below to discover Manchester's best vegan restaurants!
---