The quiet humming of the tracks, the gentle rocking of the carriage, the snotty children touching the shared table.
For the most part, train travel is easily one of the most enjoyable, and sustainable ways to travel and to see the United Kingdom.
Keep reading to discover the seven best places to visit in England by train.
---
Looking for something else?
---
---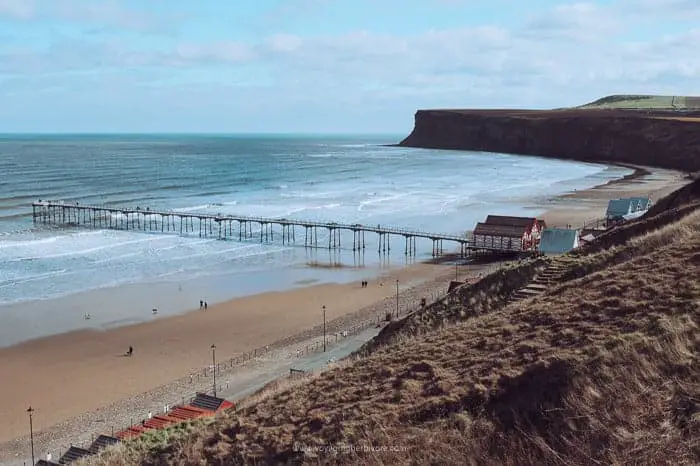 ---
This site is user-supported and that's why we use affiliate links. At no extra cost to you, we get a little bit of money when you purchase something through one of our links. Thank you for helping support ethical, sustainable, and plant-based travel! You can read more about our affiliate disclosure policy here.
---
How to Book Affordable Train Travel in the UK
Although the rail network with the UK is vast and well connected, it's not as cheap as that of the general European continent.
That being said, there are some tips and tricks to get cheap train tickets.
---
Book With Individual Carriers
More often than not, individual carriers like Virgin, LNER, or Scot Rail will offer guarantees that they'll always give the lowest price when you book through them. I've found this to be true.
But, it's a pain to look through every individual rail operator's website to find the perfect time and price.
Instead, use Trainline to search for a train, and when you find the best option, go to the carrier's website and see how their price compares there.
This is also a good option because trains in the UK are frequently changed, canceled, or they just change destinations and stop early and they put you on a bus instead (I know, I don't know who runs the system either).
Thankfully, when you book direct it's a bit easier to get a replacement ticket or a refund than if you book with Trainline.
---
Get a Rail Card
If you're going to be doing at least two train journeys in the span of a year, it's worth investing in a railcard.
If you're going to be in the UK for more than a month or two, just go ahead and get one because I almost guarantee that you'll decide to take a train journey and it will have been worth the money (speaking from experience).
There are loads of different types of railcards and almost everyone is eligible.
Railcards are about £30 for one year and they allow you to get 1/3 off of the price of a regular ticket.
For example, if you are purchasing a ticket that is £120 and you have a railcard, you'll only be paying £80 pounds for your ticket. That price, plus the £30 that you paid for your railcard means that in total, you've paid £110 pounds, still cheaper than the original ticket!
Long story short, get a railcard even if you only think that you'll use it once!
---
For Organization
Staying organized while you travel can be tricky. The older generations often believe that if you have everything printed out you're better off, and while it is good practice to have tickets printed off, you can find a charging station just about anywhere now.
Instead, to stay organize I use TripIt. It's free (although you can upgrade to the pro version which I highly recommend) and will help you:
Organize plans automatically, simply forward them from your email
Keep your contacts updated about your trip status
Track your carbon emissions
Notify you when you need to leave to get to the airport or train station on time (Pro version)
Update gates
Update arrival times
Find alternate flights
Help you get refunds if a lower price ticket occurs
Monitor for better seat options
Really, it's just a fantastic tool that all travelers should have. It's essential if you're going the cheap route with rail tickets and booking from individual carriers.
If you're willing to spend a bit more money to have all of your tickets in one app (TripIt won't hold the tickets just the plans), download and purchase your tickets through Trainline. It's a bit more expensive (although from time to time you'll find a great deal from London to Paris or on last minute weekend trips around the UK), but it's good to stay organized.
Read More: 18 Must Download Apps for Travellers
---
Best Places to Visit in England by Train
Now that you know how to make the journey more affordable, let's dive into the seven best places to visit in England by train!
---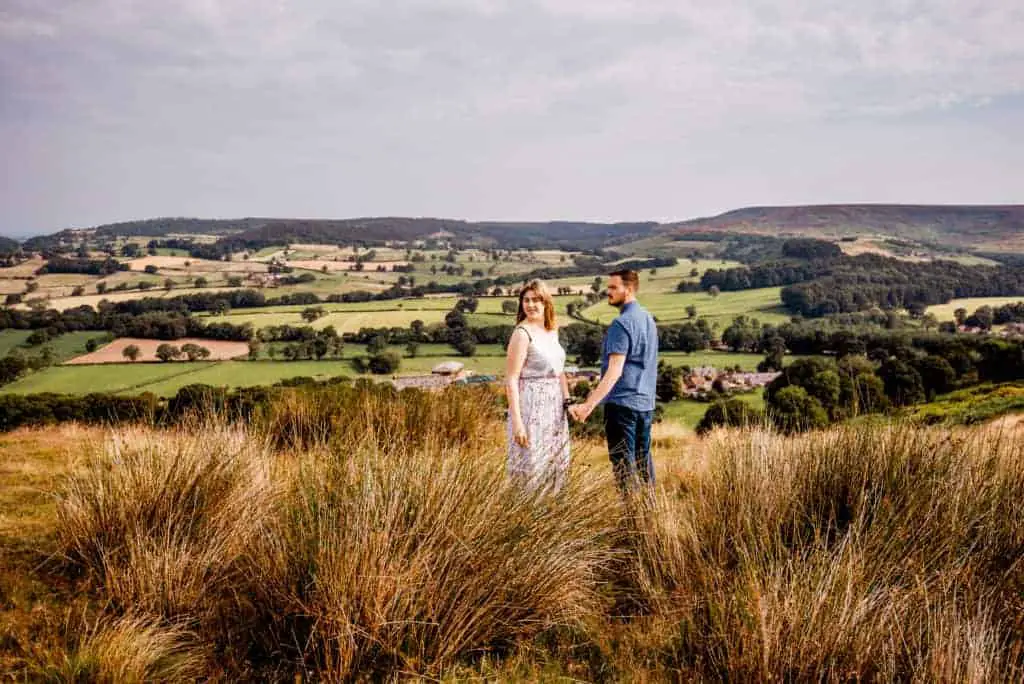 ---
1. Thirsk, North Yorkshire
Size: Small
Activities: Hiking and camping
Time on Train From London: 2h 30m
Thirsk is an adorable little town with cute coffee shops and a great square to wander. It's not a place to go if you want a night out, but if you're looking for incredible hikes, stunning sunsets, and adorable cafes, Thirsk is the place to be.
Where to Stay in Thirsk
Stay in central Thirsk for easy access to shops. You'll be just around the corner from The World of James Harriet. Does it get any better? Free parking is also available if you decide to rent a car and venture out to the North Yorkshire Dales.
OYO White Horse Lodge: A very affordable hotel with great reviews and it's very close to the Thirsk train station. All rooms have private bathrooms as well as free wifi. Check price here.
Duck Cottage: A bit more expensive then a hotel but the up side is you'll get a whole cute cottage to yourself! This would be a much more personal why to enjoy Thirsk while still having all the cozy home amenities. Check price here.
What to Do in Thirsk
Thirsk is a great place to enjoy nature and take some hikes. You can explore for days, just like Bill Bryson (amazing books to inspire your England travels)!
Thirsk and North Yorkshire is also a great place to try geocaching. If you've not done it before, essentially there's a little box with trinkets hidden somewhere in the woods. It's basically a treasure hunt. There are lots of different apps so just search in your app store and see what pops up!
Be sure to spend some time wandering around the town square in Thirsk. From cute coffee shops and boutiques to your standard Gregg's (complete with vegan sausage rolls), it's easy to spend hours exploring.
Read More: 16 EPIC Glamping Spots (with Hot Tubs!) in Yorkshire to Book TODAY
---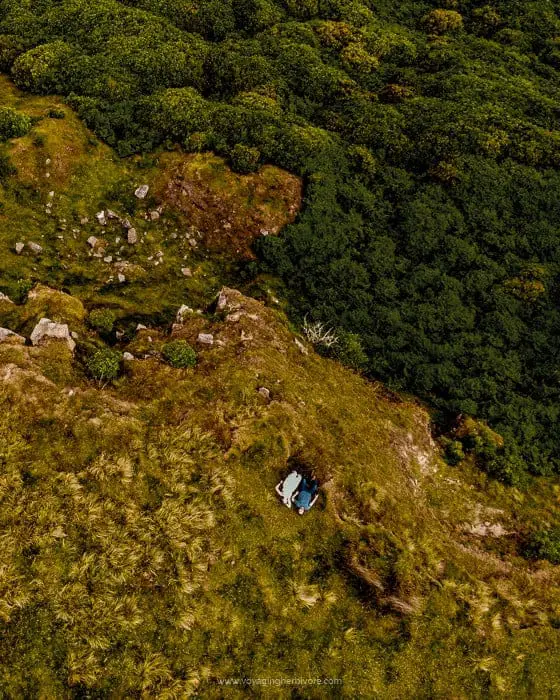 ---
Want to stay in UK homes for free in exchange for watching people's pets?
We use Trusted House Sitters and House Sitters UK to stay in the UK without paying for hotels.
---
2. The Lake District National Park
Size: Spans large area, towns are small
Activities: Hiking, water sports, coffee drinking, pubs, lounging
Time on Train From London: 4 hours
Adorable cottages, amazing food, lots to drink, and endless places to explore, and landscapes to photograph. The Lake District is easily one of the best places to visit in England by train.
It's best to rent a car in the Lake District because although there is public transportation, it sticks mainly to the towns and doesn't run very frequently.
Where to Stay in the Lake District National Park
Where you stay in the Lake District will completely depend on what you're looking for. If you want easy access to water sports, stay near Lake Windemere. If you want an adorable town, Cartmel or Grasmere is the place to be.
The Pheasant Inn: This freindly pub has a few rooms avalible and is actually very close to where we stay when we find ourselfs in the Lakes. They even serve a few vegan dishes and are happy to accommodate other meals when sold out of their main options. Check price here.
Windermere Manor Hotel: Windermere is one of the main attractions of the Lakes so it's lovely to have an option so close by. This hotel has all the standard offerings plus a pool and beautiful courtyard to catch the last glimpses of sun. Check price here.
---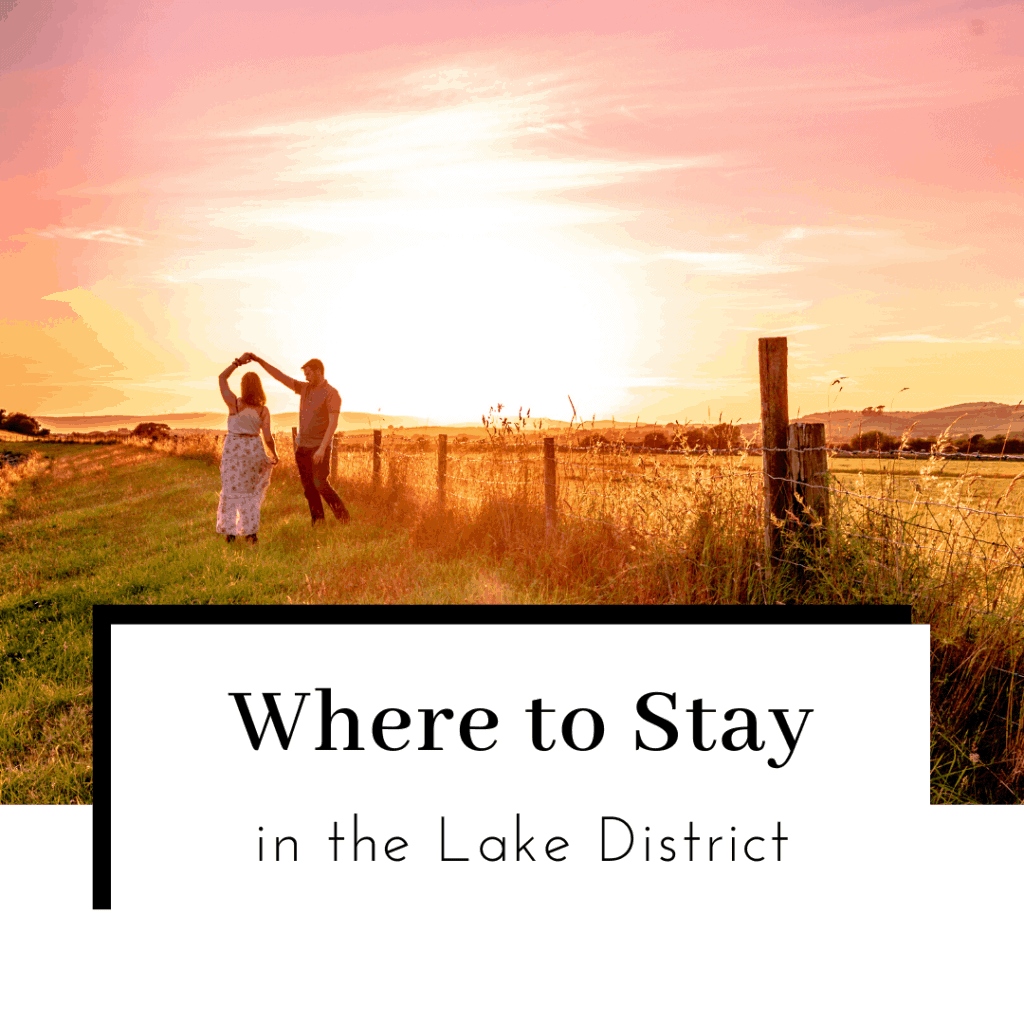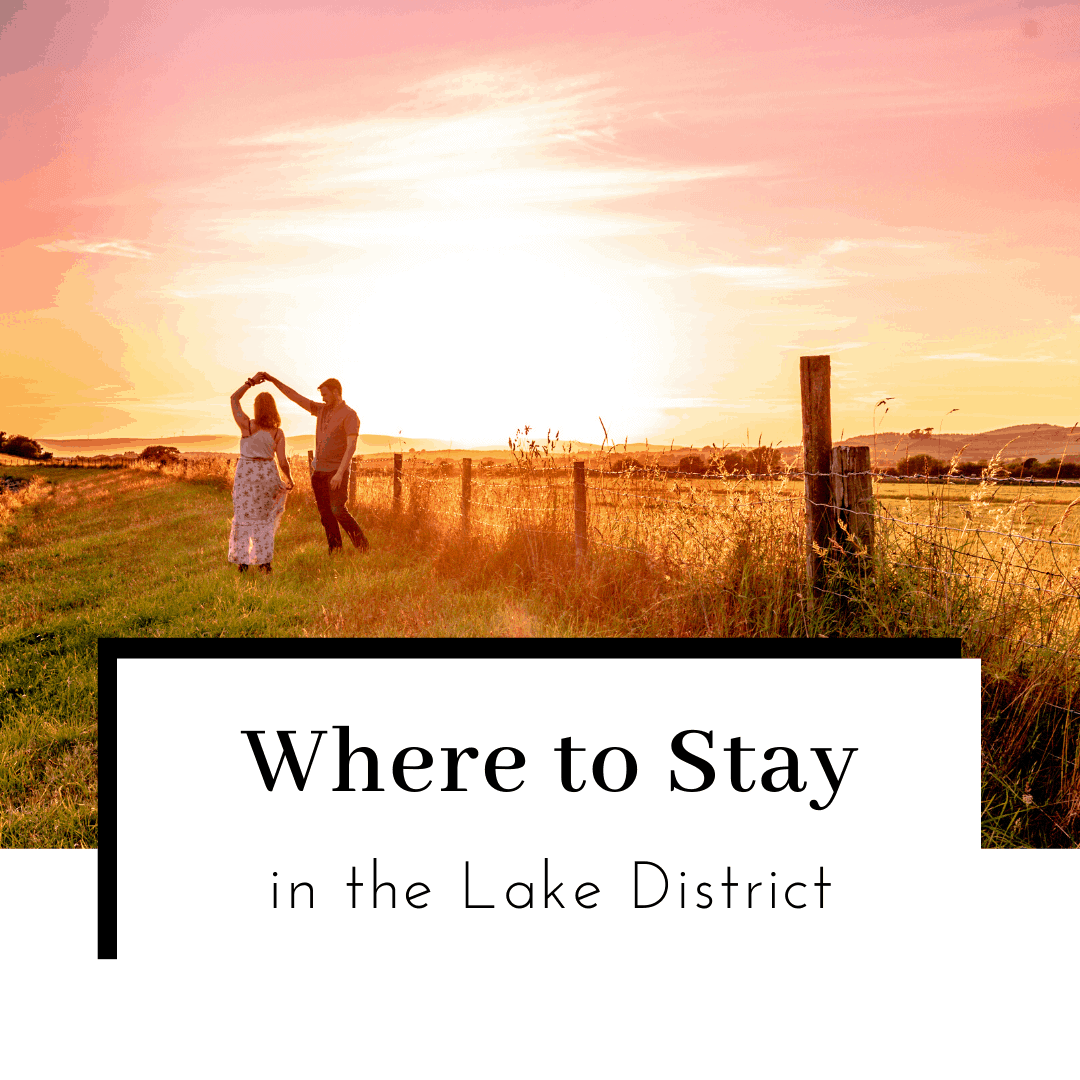 ---
What to Do in the Lake District National Park
You've got so many options of things to do in the Lake District. Here are a few stops we always try to make when in the Lake District:
Cartmel: Beautiful little town that's easy to spend the afternoon wandering through, eating, and drinking
Water Sports: We like Low Wood Bay Water Sports on Lake Windermere for kayaking and boat rental
Chester's By the River: for a beautiful café to grab a healthy vegan lunch, or to grab a coffee and get some work done
The World of Beatrix Potter – a great way to connect books with the physical world and fun for kids and adults alike!
Rydal Cave – One of the Easiest caves to access in the Lake District, but don't make this mistak
Cathedral Quarry – An incredible quarry like you've never seen before. But don't go the wrong way!
If you are looking for the full experience, take a guided tour through the exciting landscapes of the Lake District! This tour gives you a full day to explore the Lake District National Park: admire the stunning landscapes, listen to local stories and tales, and get to see England's tallest mountains!
---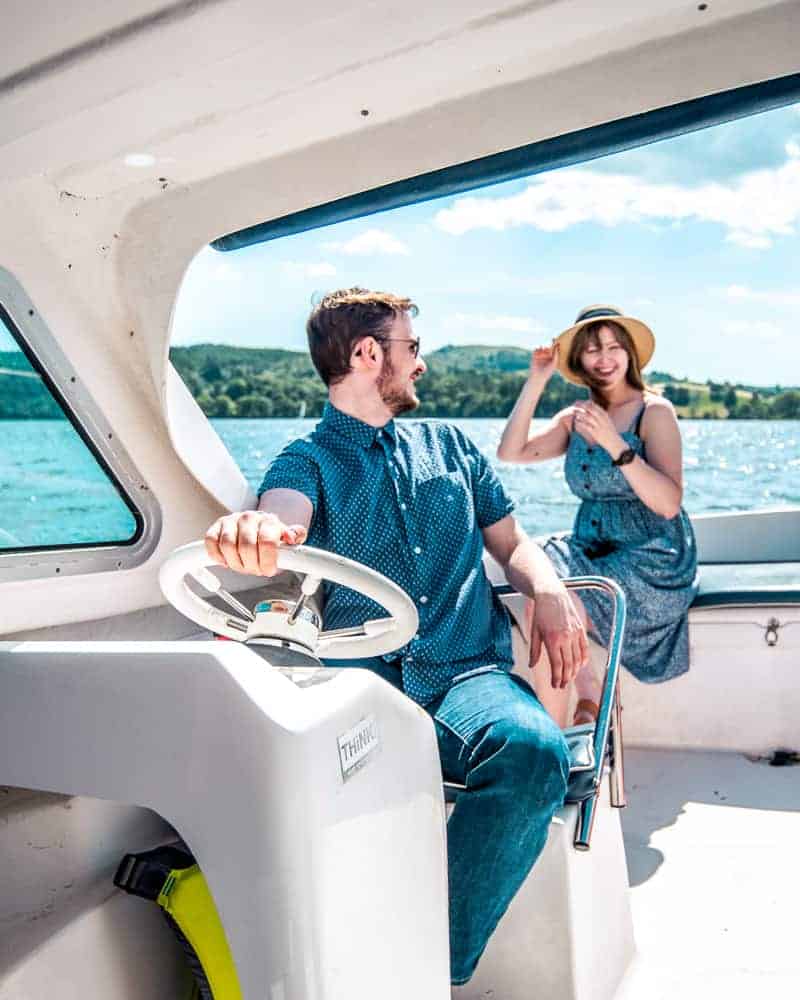 ---
Free Resources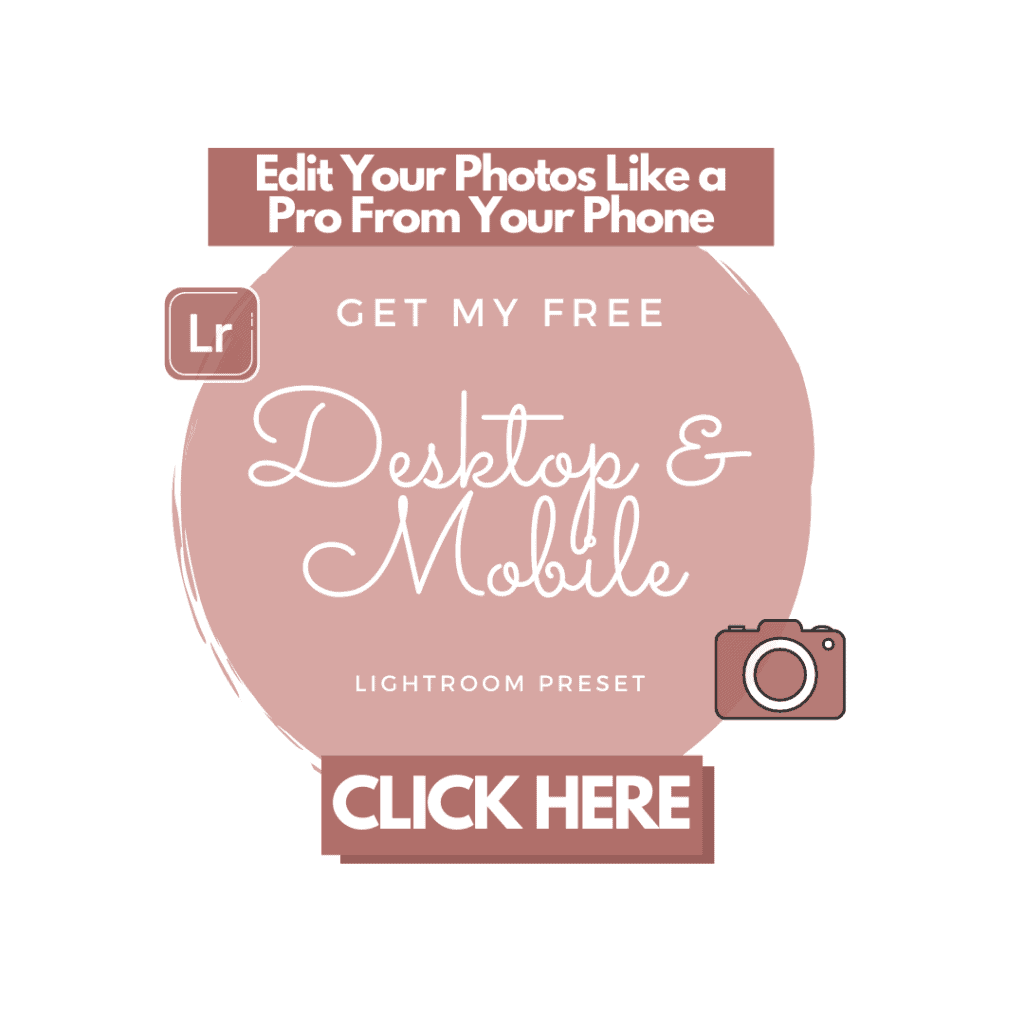 ---
3. Manchester
Size: Large city
Activities: Drinking, Clubbing, Foodie
Time on Train From London: 2 hr 30 min
Manchester is definitely a hopping city, so if you're looking for a night out and some epic eats without the craziness or tourists of London, check out Manchester. It's also easily accessible by train and it has an international airport. The city is easy to walk if you're in comfy travel shoes and public transportation in Manchester is phenomenal.
Where to Stay in Manchester
The Northern Quarter is easily of the best places to stay in Manchester for those who are looking for the hub of the city. It's very hipstery with plenty of vegan eats, record shops, and places to drink and dance.
Boutique Apartment: Being a major city there is lots of hotels to choose from, so it's nice to have your own clean and tidy space. This apartment has a very New Yorky style by feeling very modern and centrally located. Check price here.
The Midland: If you are feeling a bit flush for cash and just a tad boujie, then the Midland is the place for you. It's lobby/ hotel bar is pretty darn swanky and the rooms aren't too bad either. There's even a fine dinning experiance for all you would-be Gatsbys. Check price here.
What to Do in Manchester
Manchester is a place to wander, browse, eat and drink, and the best possible way to explore this city is by joining a Guided Bus Tour! Hop-on hop-off a sightseeing bus to learn more about Manchester's history and enjoy a bus route that has been carefully designed to take you to Manchester's key landmarks! We recommend this bus tour.
Manchester also a great night scene and some cool hidden bars (I love a treasure hunt!). One hidden bar in Manchester that has been on my list forever is called the Washhouse. It looks like a standard laundromat, but you have to call ahead to book your "wash". If anyone has been, please do let me go, because it's the first thing I'm booking when I next head to Manchester.
Besides this one secret bar, Manchester is full of great food! I highly recommend V Rev for some great vegan junk food.
Read More: Vegan Guide to Manchester
---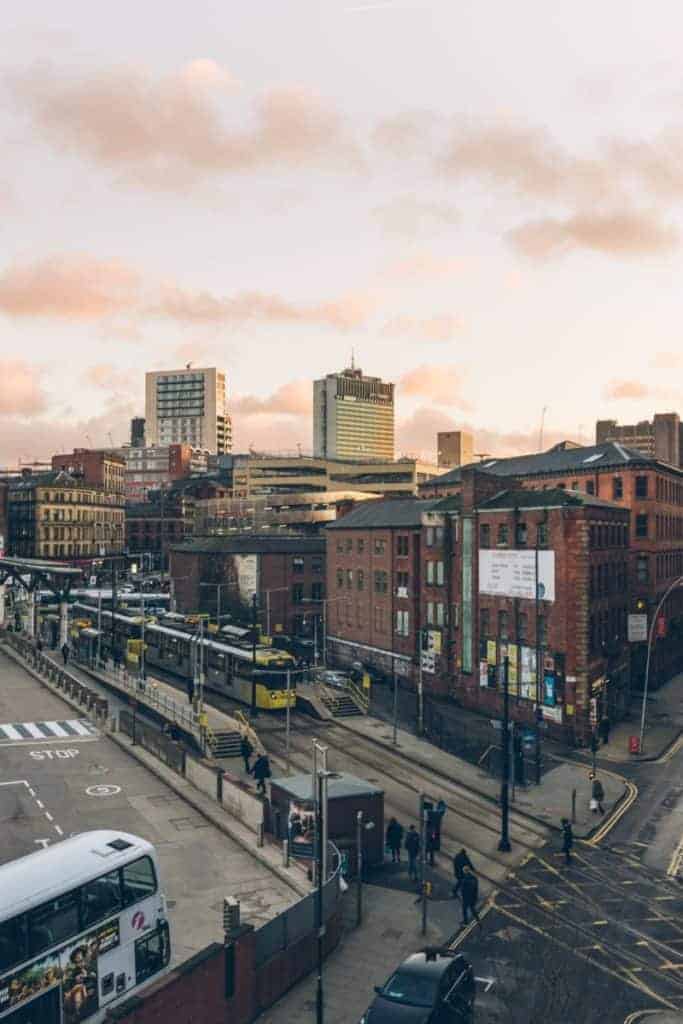 ---
What Camera Gear Do We Use?
If you want the full list of things we keep in our camera bag, check out the complete guide or browse our photography guides.
---
4. York
Size: Large but feels cozy
Activities: Browsing unique shops, get lost and feel like you're on Diagon Alley
Time on Train From London: 2 hours
Said to have inspired Diagon Alley in the Harry Potter Series, this gorgeous town is easily one of the best places to visit in England by train and there are so many things to do in York! Its close proximity to London makes it a perfect day trip (although my English partner would say otherwise).
The city is incredibly pedestrian-friendly and once you get to the center you won't find any cars or bikes.
Where to Stay in York
Although pricier, best to stay in the city center if you want the full feel of York. It's ideal if you want to be exploring before the mass amounts of tourists arrive because you'll simply step out of your accommodation and onto the old streets.
Hilton York: Jack had the priviledge of staying here recently and found it a very pleasent sleep. Addtionally, the hotel bar was well stocked which doesn't hurt, however, the vegan food options did leave a lot to be desired. Check price here.
Gillygate Holiday Apartment: This beautiful 18th centry apartment is very central located and also has a outdoor balcony which would be great for any morning coffe routine. Check price here.
What to Do in York
You could easily spend a few days wandering around York eating and shopping. Here are a few of our top recommendations.
Book a Cruise and spend a relaxing hour sailing along the River Ouse learning about York's history and listening to the Captain's entertaining stories about the sights you pass while enjoying a drink onboard.
York Minster – Make your way to this gorgeous old church and you'll be in the perfect place to begin your wanders. Streets around this church will remind you of Harry Potter and you're sure to find plenty of gorgeous photo-worthy spots.
Shambles – This street has some absolutely ancient buildings dating all the way back to the 1300s!
Source – This restaurant is vegetarian and vegan and has some really delicious options with great portion sizes. I recommend the vegan paella – sooooo good!
---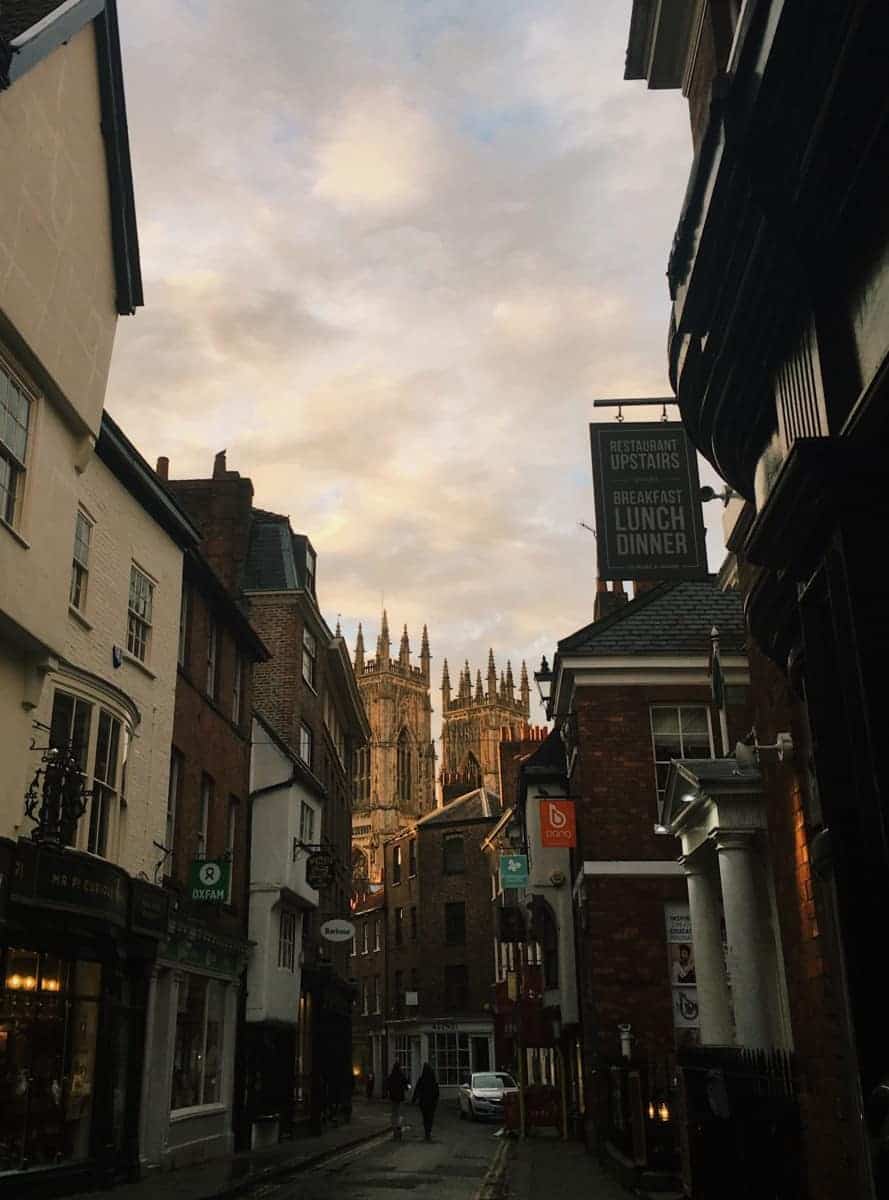 ---
5. Saltburn-by-the-Sea
Size: Small/Medium (it does get busy during the warm months)
Activities: Beach lounging, drinking, hiking
Time on Train From London: 5 hours
Saltburn by the Sea is a picturesque paradise from years gone by. It's one of the best maintained Victorian towns in the UK attracting tourists from all over. From the lemon top ice creams (sadly not vegan) to the engineering marvel of its gravity elevator.
From great pubs lining the beach to gin bars, you'll spend a happy evening at, Saltburn really is a must-visit and one of the best places to visit in England by train.
Where to Stay in Saltburn-by-the-Sea
I could spend hours happily browsing for accommodation options in Saltburn. Check out our full guide for Saltburn accommodation and itinerary or see the place that we stayed in here.
What to Do in Saltburn-by-the-Sea
Take the Saltburn Cliff tramway down to the beach. Pictured above on the right is the tramway with its unique downward angle.
Head to Saltburn Beach, although you may need a wet suit to stay warm! Unless you're here in the heat of summer it's unlikely that you'll be able to bear the water temperature and even then you may want to bring/rent a wetsuit
Walk to the end of Saltburn Pier for beautiful ocean views and a look back at the quaint little town
Shop around for some water sport activities
Read More: How to Spend 3 INCREDIBLE Days in Saltburn
---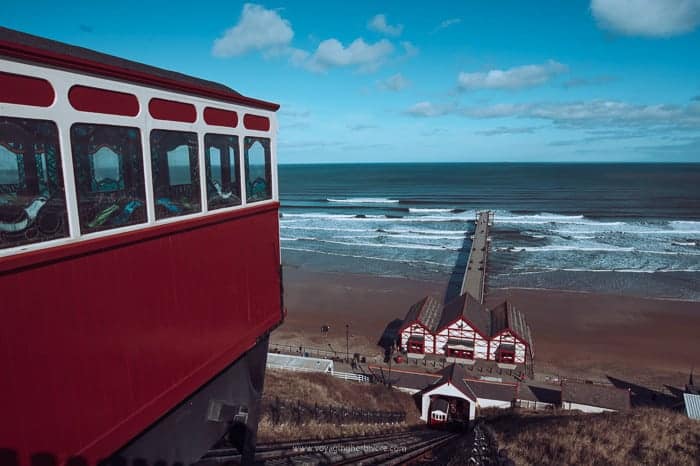 ---

---
6. Harrogate
Size: Medium
Activities: Shopping, eating
Time on Train From London: 4 hours
Harrogate is a lovely posh little town that with it's slightly hilly roads and older architecture is reminiscent of Edinburgh. You'll definitely want to wander these streets!
Plan your visit when you have some cash to splash on lovely eats and boutique shopping. Harrogate is a great place to stop and spend a night on your way up to the Scottish Highlands or before popping over to Northern Highland after a jaunt in Edinburgh.
Where to Stay in Harrogate
Harrogate has plenty of adorable boutique hotels to choose from. If you want something self-catered, this lovely little flat or this one are perfect options.
Try and stay in central Harrogate for the best experience. Although there are places to wander on the outskirts, you'll enjoy your time far more if you stick to the central area. Aim for somewhere near Betty's and you'll be in the perfect spot.
What to Do in Harrogate
Wander, wander, wander! This is a town full of hidden gems so you're definitely best off taking the chance to explore. Here are a few stops I definitely recommend stopping by:
Betty's Tea Rooms – This is often the reason that people come to Harrogate – this famous tea room. If not booking in advance and wanting to sit down, be prepared to wait in line. There are limited vegan options but what they do have is absolutely phenomenal! The vegan carrot cake is a must.
Bean and Bud – I love this little coffee shop for a reasonably priced sandwich, some very generous toast slices, or a delicious coffee. Vegan options are available!
Shop: The best way to explore Harrogate is simply by foot. Wander into buildings and up stairways to stumble across some truly fantastic antique shops.
---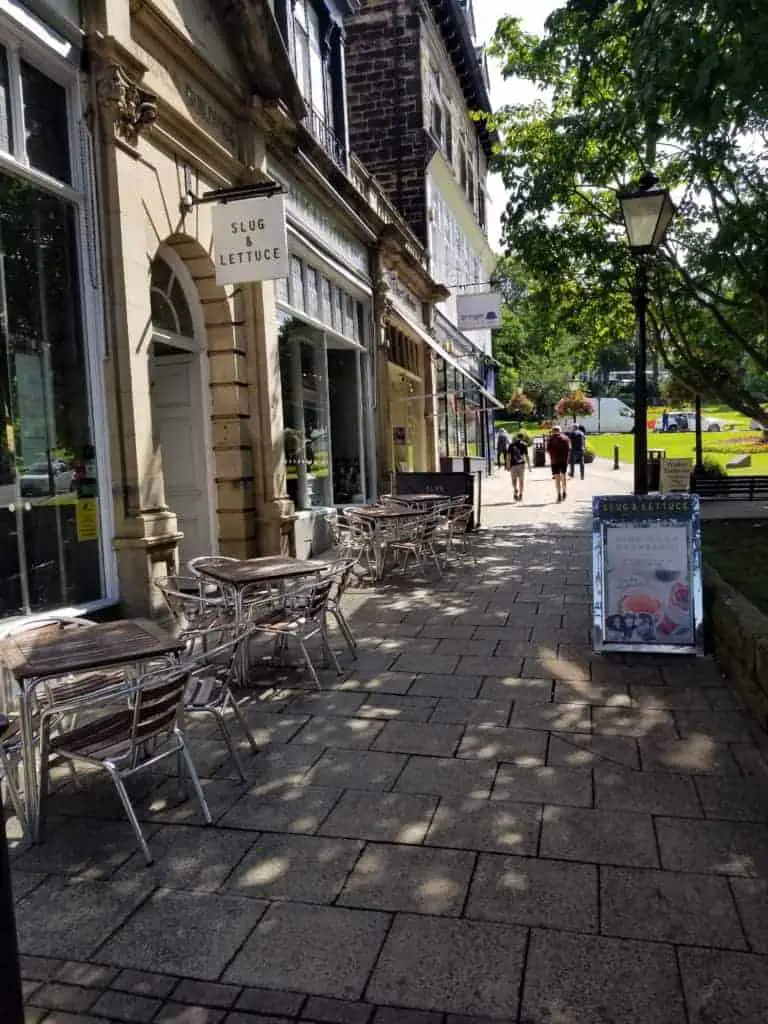 ---
7. The Peak District
Size: Spans large area
Activities: Hiking, water sports
Time on Train From London: 3 hours
The Peak District is for mountain addicts and adventurers, for lovers of sunshine and rain, for everyone seeking fresh air and jaw dropping views.
The Peak District has some public transport, but if you want to target specific areas for hiking, you'll want to rent a car.
Where to Stay in The Peak District
The Peak District is full of nothing but amazing views, lakes, and places to stay. You'll find hundreds of accommodation options across the national park, so which you choose will depend on where to you want to stay.
If you're planning on renting a car, staying near Buxton is a good option because you'll be in a town with available car rentals and you'll be almost completely surrounded by the Peaks.
If you've explored Buxton before and you have a car, staying on the southeast side of the peaks will offer some amazing hikes and you can always venture into Sheffield if you'd rather do some city hiking.
What To Do in The Peak District
The Peak District has hundreds of different walks that you can do. Some are easier routes while some are not for the faint of heart.
Here are a few options to get you started:
Hathersage to Stanage Edge Walking Route (9 miles)
The Limestone Way (46 miles – go you)
By the Heights of Abraham to Matlock (shorter but steep)
Castleton – Mam Tor – The Great Ridge – Walking Route (6.5 or 8 miles)
Mam Tor – Shivering Mountain (517 meter high peak)
Bakewell – Edensor – Chatsworth Walking Route (6 or 8 miles)
And that's just to name a few! Do your research to find a few walks near where you'll be staying. Keep in mind that depending on the weather, it might be wise to avoid certain heights.
Read More: 15 INCREDIBLE Food Markets in Europe You NEED to Visit
---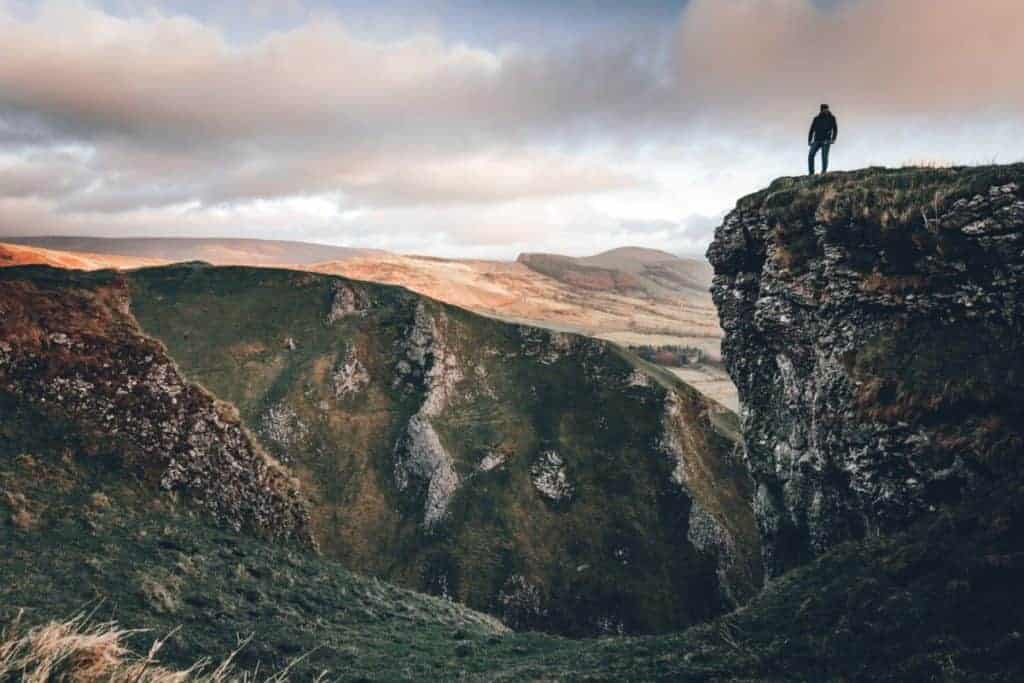 ---
On the Map
Map courtesy of
Wanderlog
, a trip planner app
---
Keep Exploring England by Train
Want to head down to the south of England? Consider train travel to Lulworth Cove and Durdle Door, the roman baths, or Stonehenge for a more southern exploration of Britain.
Check out the posts below to learn more about places to visit in England by train!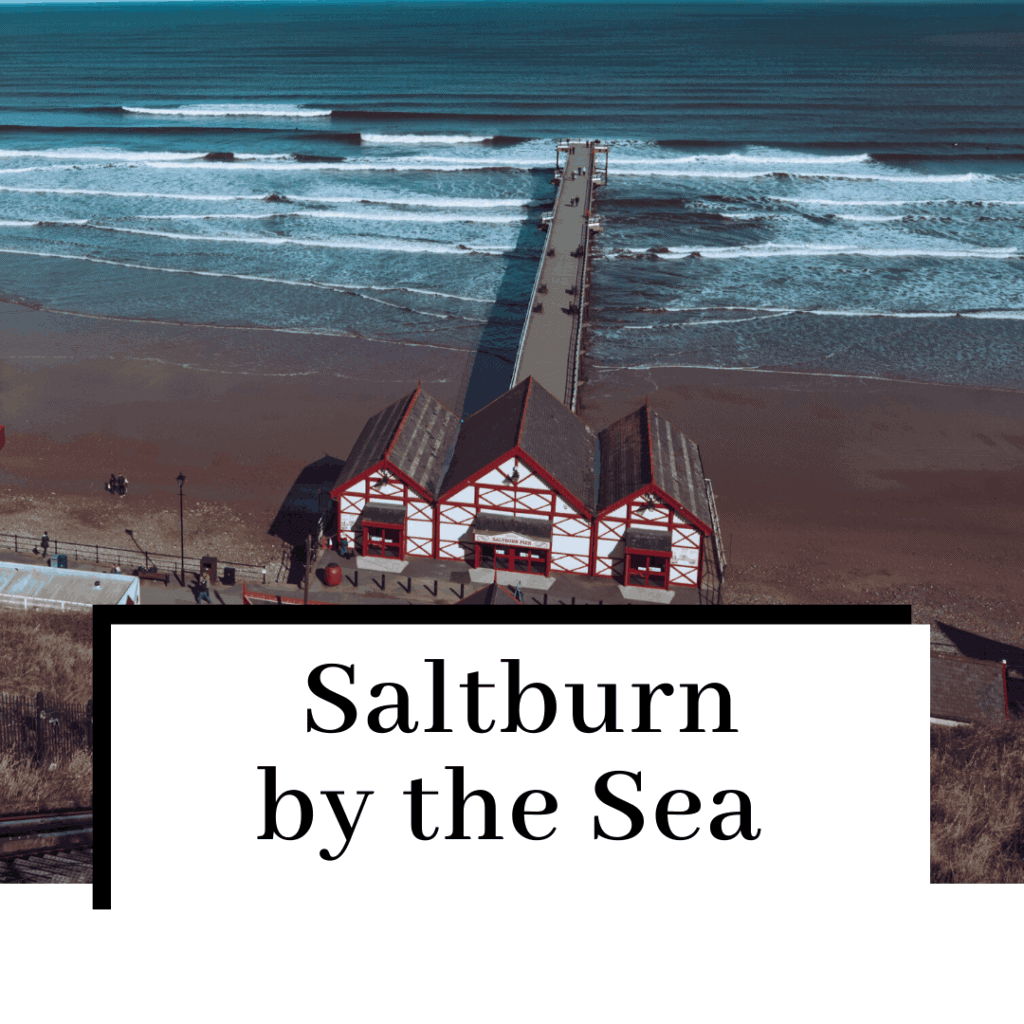 ---
What Camera Gear Do We Use?
If you want the full list of things we keep in our camera bag, check out the complete guide or browse our photography guides.
---
Free Resources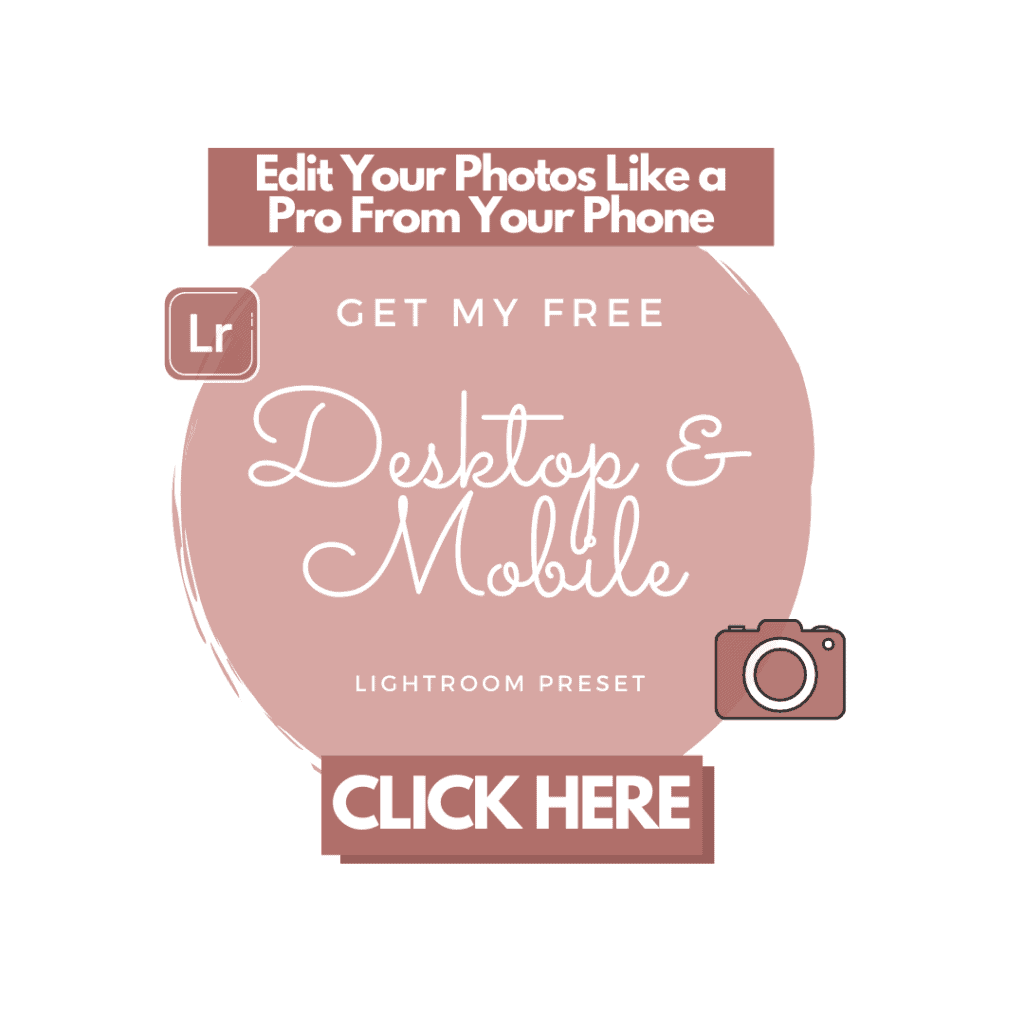 ---
Pin "7 Best Place to Visit in England by Train" & Follow Us on Pinterest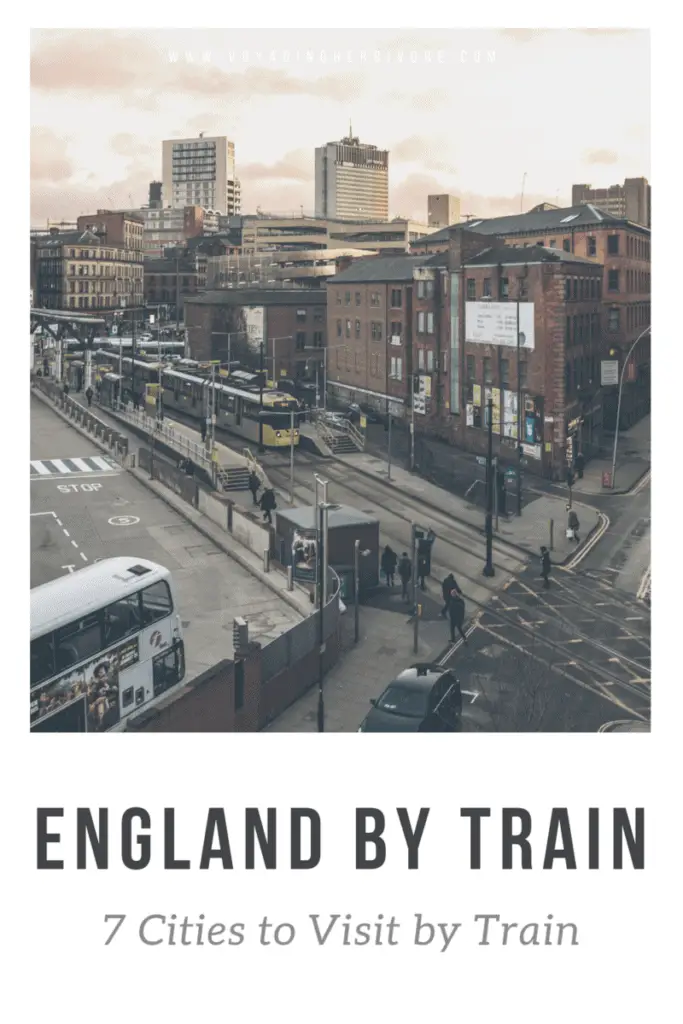 ---
And as always, you can find more sustainable travel content on Instagram @VoyagingHerbivore, Youtube, and TikTok and to get updates straight to your inbox, enter your email below in the footer, or to the right on the sidebar.

If you found this guide helpful and want to help us keep these resources free,
please consider making your next Amazon, Expedia, Hostel World, Etsy, and Booking.com purchase through our links (just click right on those words – you can do it right now and unless you clear your cookies before your next purchase, it will remember). It costs you no extra and gives us a small commission. Thank you!