Fish and chips, sausage rolls, pie and mash – and that's just the first course!
In the past couple of years, London has become one of the best cities in the world for vegetarians and vegans alike. There are so many vegan London restaurants that it can be overwhelming to try and narrow down all of the options.
Not to worry! We've narrowed down the best vegan London restaurants that you NEED to try. Keep reading to start planning your EPIC food adventures around London.
---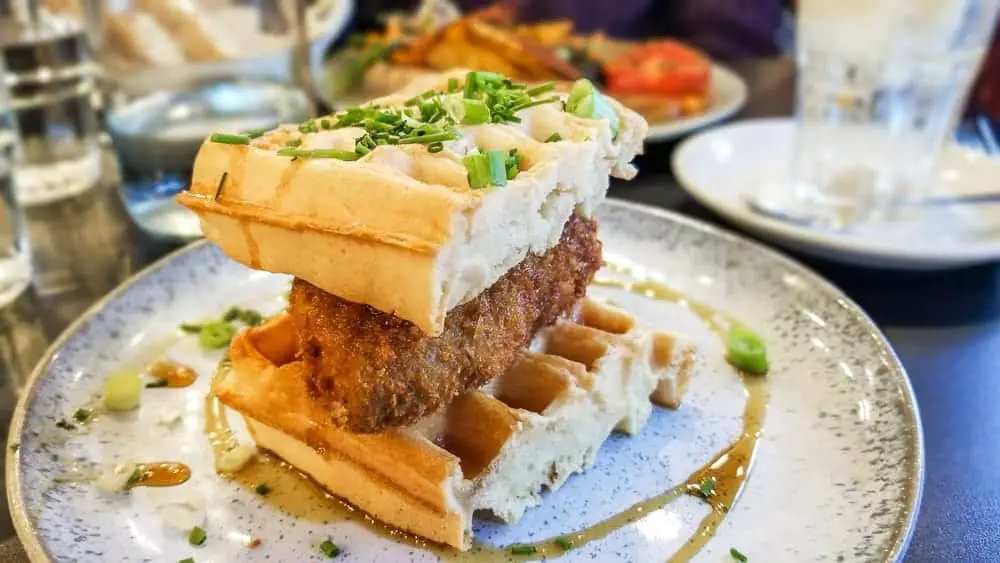 ---
This site is user-supported and that's why we use affiliate links. At no extra cost to you, we get a little bit of money when you purchase something through one of our links. Thank you for helping support ethical, sustainable, and plant-based travel! You can read more about our affiliate disclosure policy here.
---
Best Vegan Street Food in London
Whether you live in London or are just there to visit, it's a great city to spend some time wandering around and exploring. With all of the delicious and vegan street food options that you're sure to stumble upon, you won't have to take a break from any adventuring.
---
Price Range: £
Type of Food: British pub food street style
Location: Usually at Broadway Market or Victoria Park Market (confirm on FB)
Must-Try: Tofuish and Shakey Shakey Chips with extra tartar sauce
Completely Vegan?: Yes!
Now there is no need to feel left out about not experiencing the standard fish and chips that are so iconic in England. And if you ask nicely, they'll give you extra tartar sauce!
---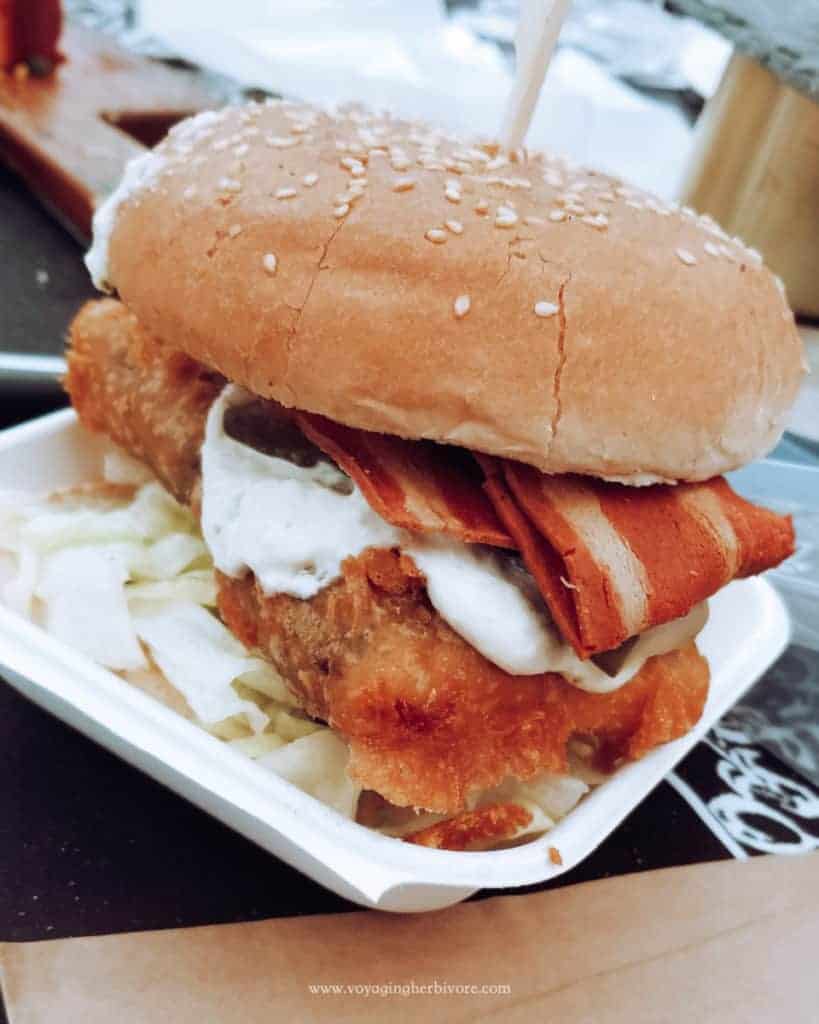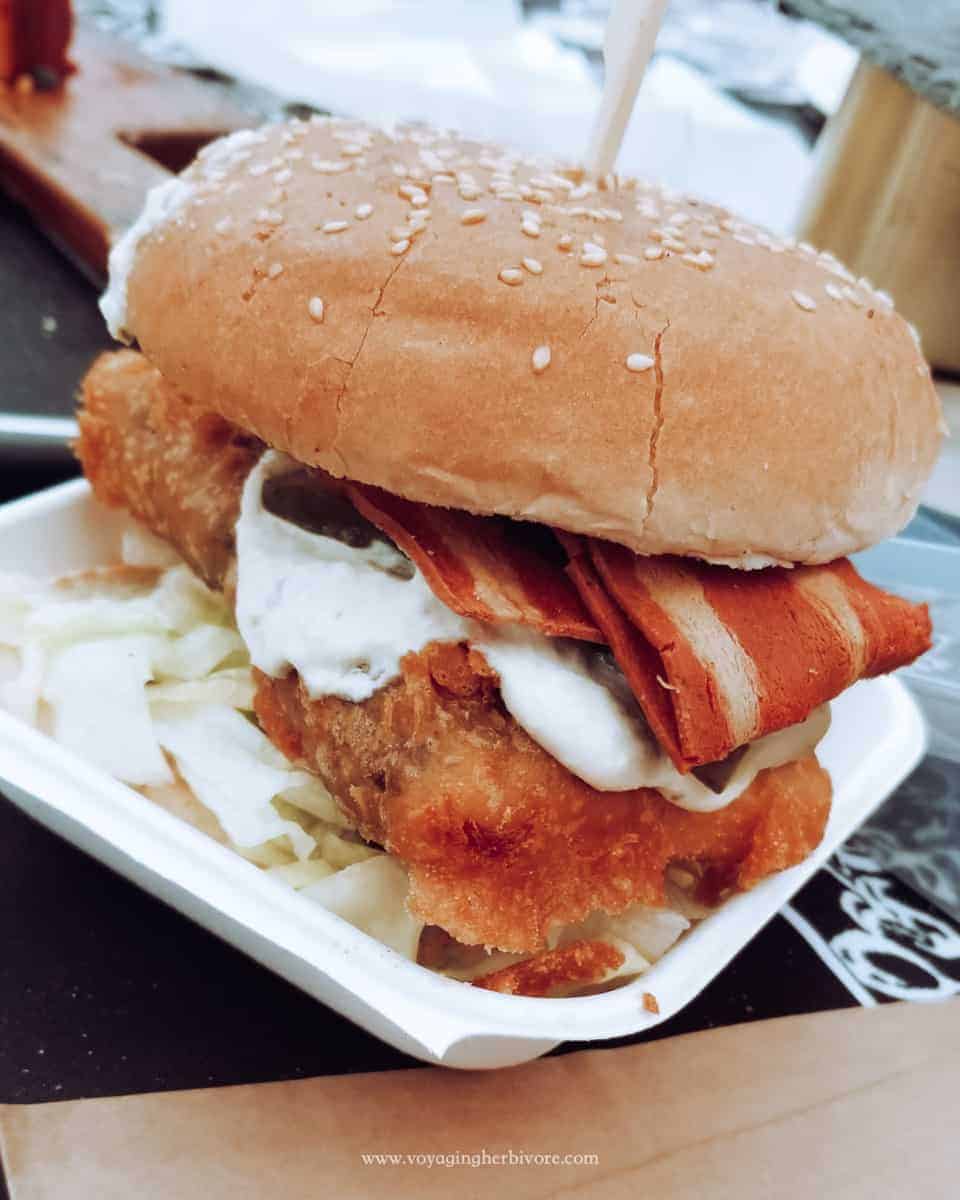 ---
Price Range: ££
Type of Food: Icecream
Location: Check their website
Must-Try: Charcoal cone with popcorn topping
Completely Vegan?: Yes!
If you're on the hunt for some of the creamiest vegan icecream in the London vegan game, look no further. While not cheap the about 6 pounds a cone, it's definitely worth the splurge.
---

---
Price Range: ££
Type of Food: Mexican food street style
Location: Seven Dials Market, Dinerama, The Spread Eagle (confirm times on their website)
Must-Try: Loaded Nachos
Completely Vegan?: Yes!
If you're a vegan who's tired of just ordering tortillas and veggies at a Mexican restaurant, fear no more. Club Mexicana can be a bit tricky to find, so check their website for updated market and restaurant locations!
---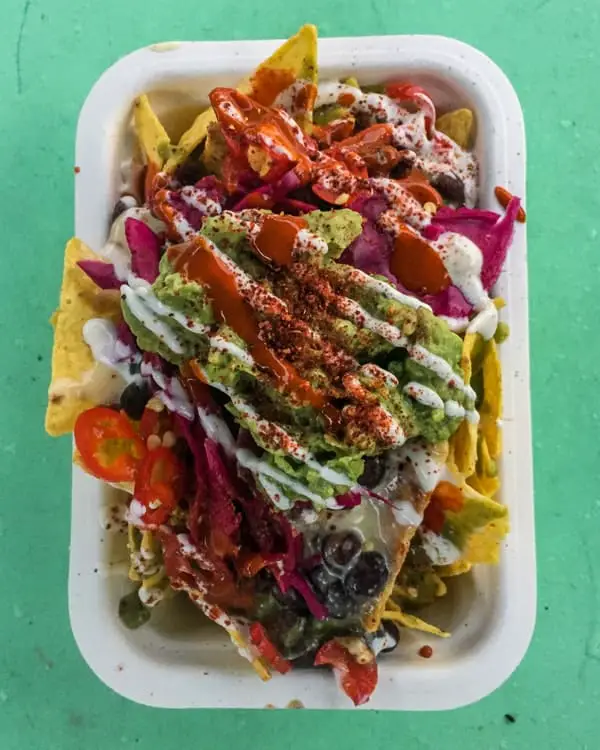 ---
Read more:Best Vegan Apps [2022 Edition]
---
Price Range: ££
Type of Food: Icecream
Location: Check their website – you can also order online and pick up at their kitchen
Must-Try: Honeycomb and Pinenut (Vegan Honey)
Completely Vegan?: Yes!
Black Milq is an adventurous vegan ice cream brand that's a little harder to track down, but well worth it. You'll get more bang for your buck here with pints running about 6.50 pounds. You won't find the flavors that they serve up anywhere else on the market. Message them on Facebook to find out where they'll be making their next appearance.
---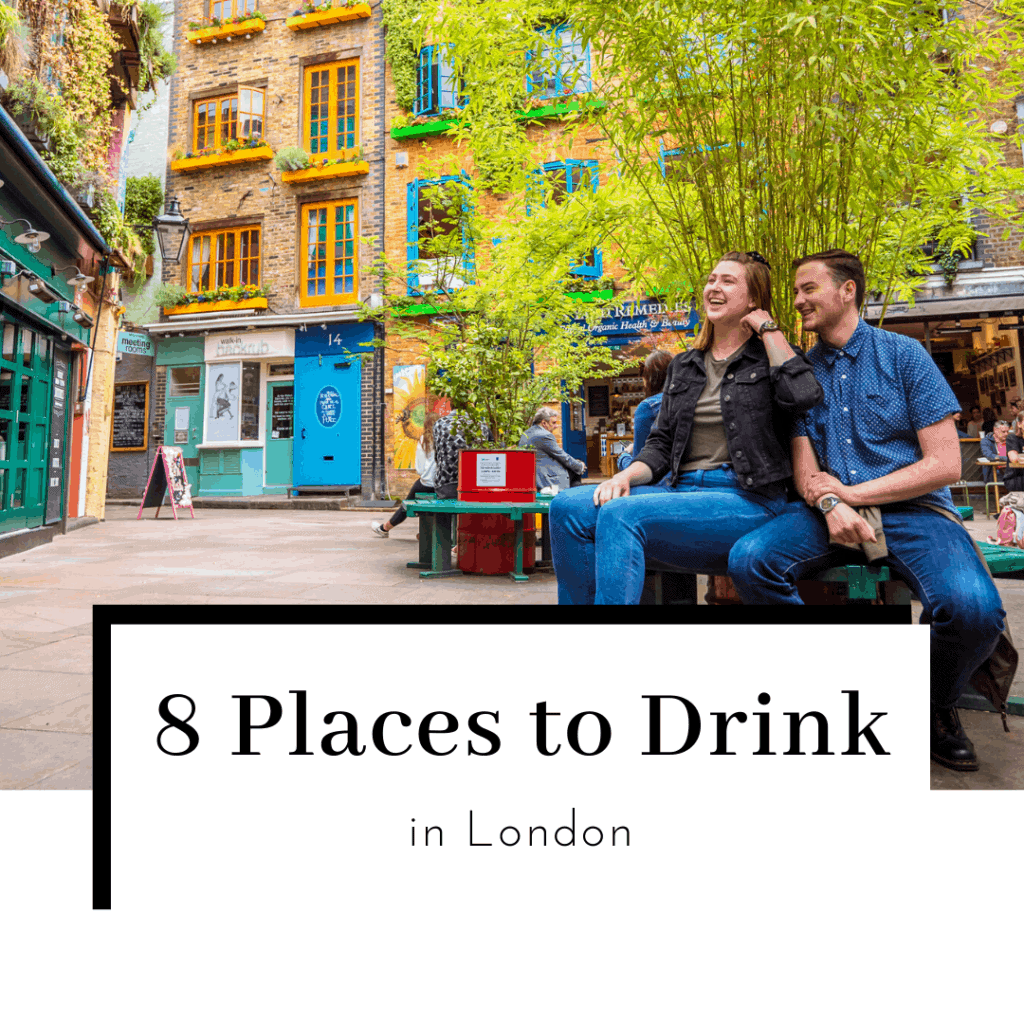 ---
Best Sit Down Vegan Restaurants in London
Sometimes it's nice to splurge a little more and have a nice sit-down dinner where the food comes to you. After months of eating my way around London, these are the restaurants I would easily go back to.
---
---
Price Range: £££
Type of Food: Afternoon Tea
Location: Knightsbridge, London
Must-Try: Vegan afternoon tea and a flowering tea
Completely Vegan?: No – will need to request a vegan afternoon tea
The Egerton House Hotel is a stunning location for afternoon tea, although it seems like they may have enlarged the space and made it less intimate since I was there. That being said, the vegan afternoon tea is the best one I have had, and the cocktails are strong! Check out our Afternoon Tea Guide to London for more affordable options.
Read More: 14 GORGEOUS London Instagram Spots You Need to Visit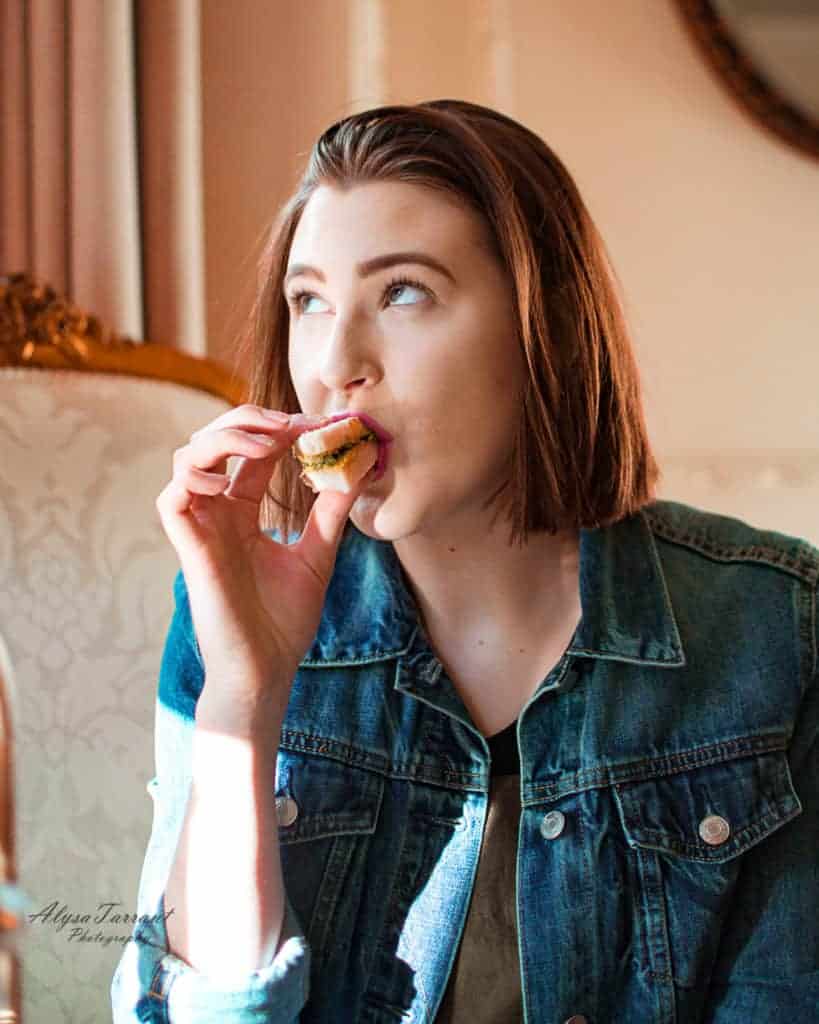 ---
Stay Connected: If you want mobile data while you're in the UK or Europe, I recommend ordering an EE pay as you go sim card. Have it sent to your accommodation for an easy and affordable way to stay connected.
---
Price Range: ££
Type of Food: Comfort diner food
Location: Shoreditch, London
Must-Try: Full English breakfast
Completely Vegan?: Yes, and completely nonprofit
Vegan and a nonprofit, does it get any better!? The food here is absolutely phenomenal but be sure to book in advance or it's unlikely that you'll get a table. This is easily one of the best vegan London restaurants!
Read More: Top Three Vegan Afternoon Teas in London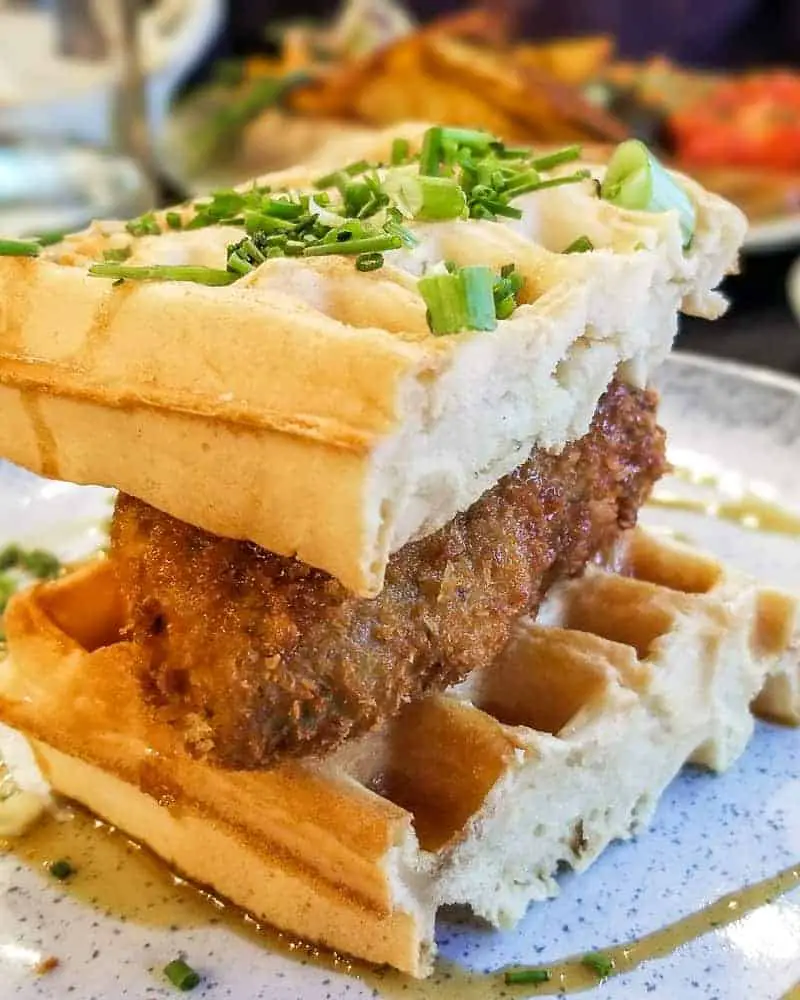 ---
Price Range: ££
Type of Food: Healthy
Location: Hackney, London (check their website for up to date locations)
Must-Try: Any of the salad bowls
Completely Vegan?: Yes
If you're looking for something healthy after splurging on deep-fried tofu, head to the pop-up, Palm Greens. This little rooftop restaurant is a pop-up that shares its space so you will need to head there before 4 pm to feast on their delicious, but nontraditional, salads. This is a must-try on our Vegan Guide to London!
Read More: Discover a Historic Day-trip From London to Chislehurst Caves
---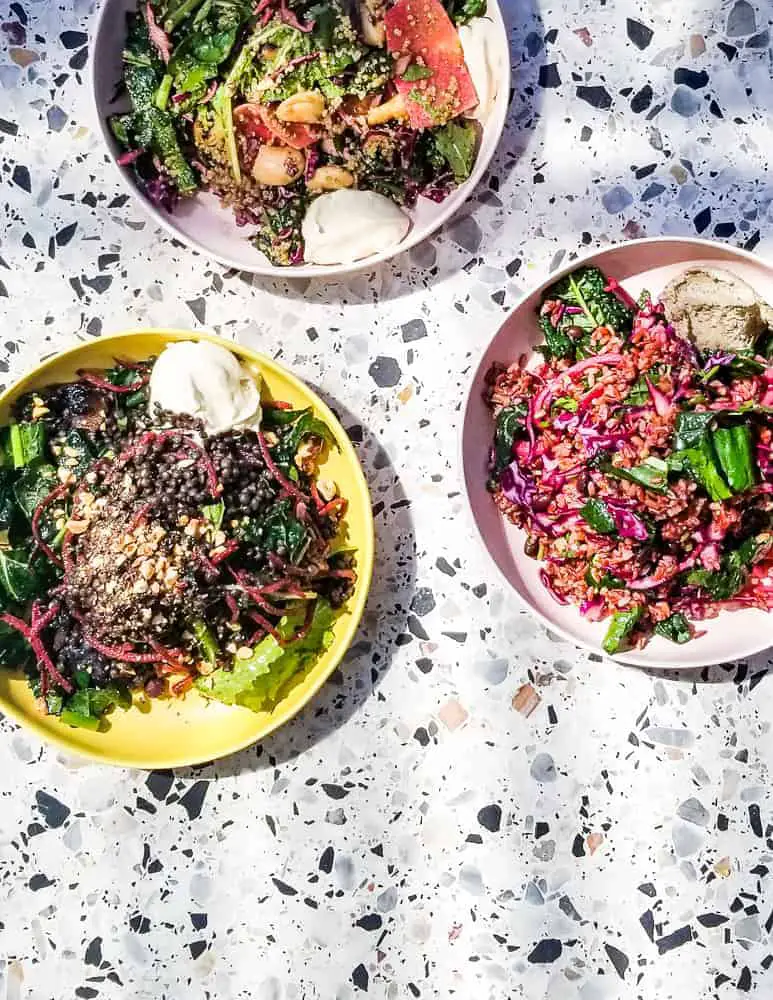 ---
Price Range: ££ (maybe another half pound)
Type of Food: Tapas
Location: Stoke Newington, London
Must-Try: Vegan churros with chocolate dipping sauce
Completely Vegan?: No, but vegan menu available
The Black Pig with White Pearls is a Spanish restaurant that specializes in tapas. While this restaurant, located in Stoke Newington, isn't completely vegan, they do have a vegan menu. Now, as someone who has been to Spain, I can say that the vegan tapas options in Madrid leave a little something to be desired. At the London-based restaurant, you'll find vegan tapas beyond roasted veggies. Give their orange juice martini a try too!
Read More: 18 Secret Gardens to Visit in London
---
Price Range: ££
Type of Food: Healthy
Location: Hackney, London
Must-Try: Anything with charcoal focaccia
Completely Vegan?: Yes and gluten-free
Another Hackney-based restaurant, but this Plant Hub is vegan and gluten-free. You'll find some absolutely delicious meals here as well as cooking classes. This is a great place to head if you're vegan or if you're with someone with dietary restrictions, and it's delicious to boot!
---
Price Range: £
Type of Food: Indian
Location: Stoke Newington, London
Must-Try: Any dosa
Completely Vegan?: No, but completely vegetarian with over 20 vegan options
Rasa is a fantastic vegan and vegetarian Indian restaurant located in Stoke Newington. The menu is massive with at least 20 to 30 marked vegan options. The staff is friendly and overall Rasa is very affordable with most dishes between £5-£7. If you're looking for vegan Indian food in London, Rasa is a great choice!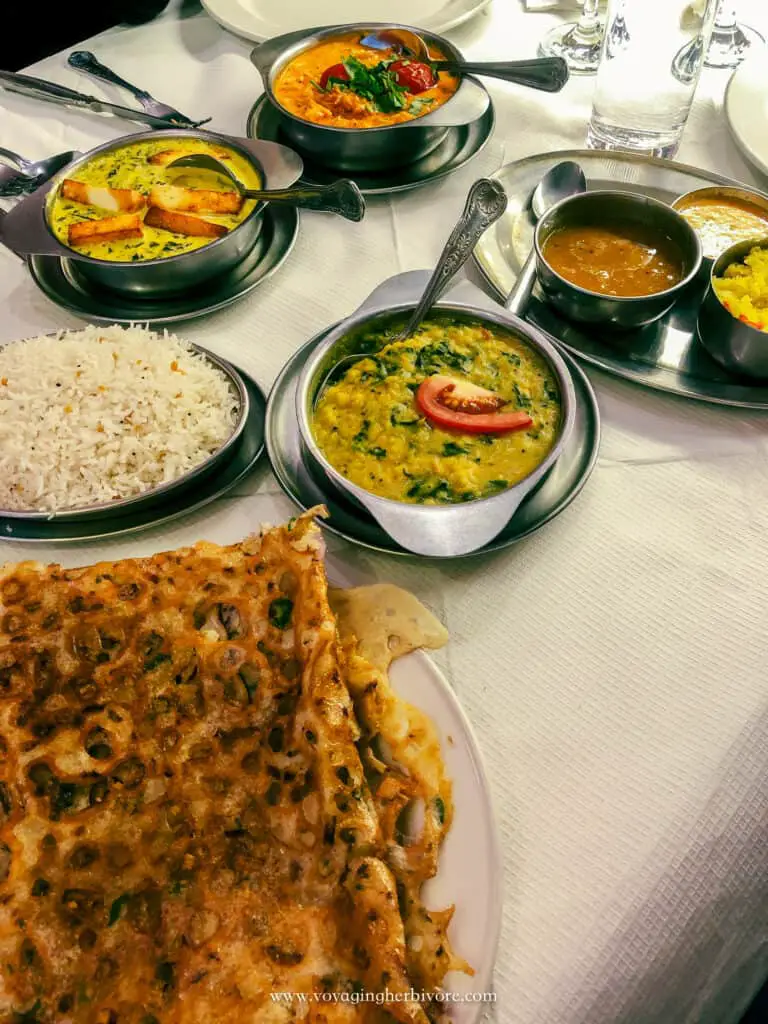 ---
Best Vegan Fast Food in London
After a late-night (or early afternoon out, because it is England) out exploring London's drinking scene, the markets are closed but all you want is something fried.
Price Range: £
Type of Food: Quick and unhealthy
Location: Everywhere
Must-Try: Vegan sausage roll
Completely Vegan?: No
This fast food joint is known for its sausage rolls but they've now added a vegan version! And they're absolutely delicious. Gregg's can be found all over London, so if you're in the need for a quick snack, pop into the nearest Gregg's and grab a vegan sausage roll for 1 pound. Rumor has it that they're adding quite a few more vegan options to the menu in 2022. This is an absolute winner and a must-try on the Vegan Guide to London.
Read More: How to Get From London to Stonehenge
---
Want to stay in UK homes for free in exchange for watching people's pets?
We use Trusted House Sitters and House Sitters UK to stay in the UK without paying for hotels.
---
Price Range: ££
Type of Food: Unhealthy American diner
Location: In the process of moving so check their FB
Must-Try: Mozzarella sticks and mac and cheese
Completely Vegan?: Yes
If you want some vegan junk food head to Rudy's Dirty Vegan Diner. It's not the cheapest junk food but it definitely satisfies the junk food craving and the portions are decent. I highly recommend the mozzarella sticks, which couldn't be tastier!
Read More: Must-Try Vegan Cheese in London
---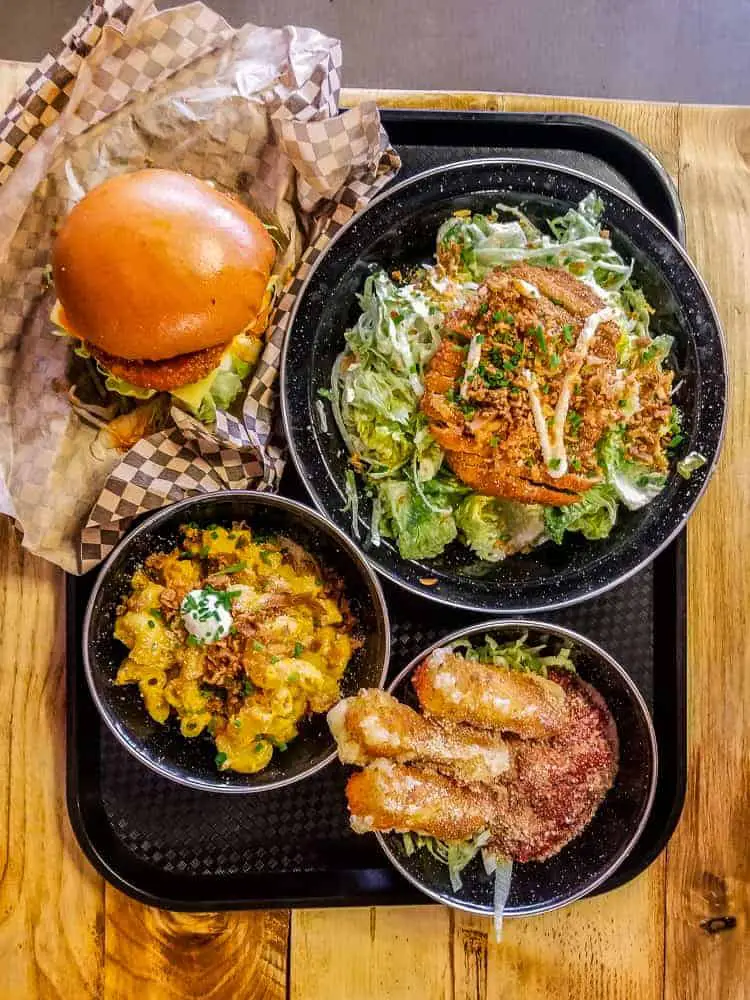 ---
Price Range: £
Type of Food: Pie and Mash
Location: Camden and Hackney
Must-Try: Vegan Steak and Ale Pie
Completely Vegan?: Yes
This vegan pie and mash shop makes a classic British meal with a vegan twist, and it's everything you've ever dreamed of. They have several different fillings and paired with mash you'll have a phenomenal meal on your hands!
Read More: 9 Essential Tips for Visiting London
---
Price Range: £ (and another half pound – not the cheapest fast food)
Type of Food: Think KFC but vegan
Location: Camden and Hackney
Must-Try: Mac and Cheese (literally best mac and cheese ever)
Completely Vegan?: Yes
The temple is an all-time favorite to vegans in London. Think McDonald's or KFC in terms of fried, unhealthy goodness. Almost everything is seitan based and served up in bites, sandwiches, and wraps. I highly recommend the mac and cheese, popcorn bites, and the Spicy Temple Sandwich. Photos from Temple of Seitan website.
Read More: Where to Stay in London for Central Attractions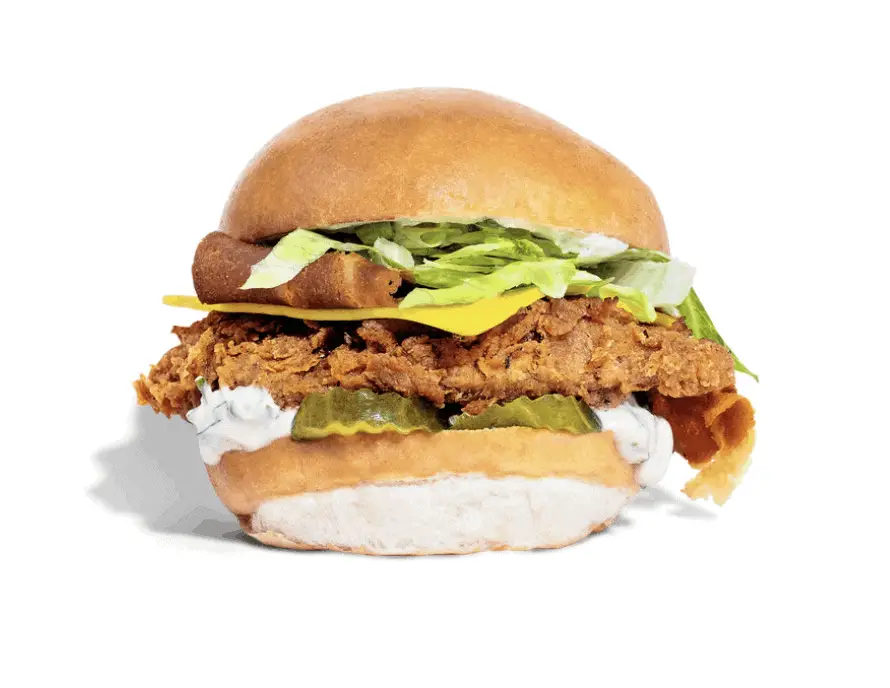 ---
Price Range: £
Type of Food: Fish and Chips
Location: Stoke Newington
Must-Try: Banana blossom fish and curry sauce with fries (chips)
Completely Vegan?: Yes (make sure you're in the fully vegan shop)
Sutton and Sons is not a completely vegan fish and chip shop, but they do have a special location that is exclusively vegan. Keep in mind that it is right down the street from the non-vegan location, so be sure to check that you're in the right place. At the vegan location, you can find traditional fish and chips but made from a banana blossom, which gives the "fish" a realistic flaky texture.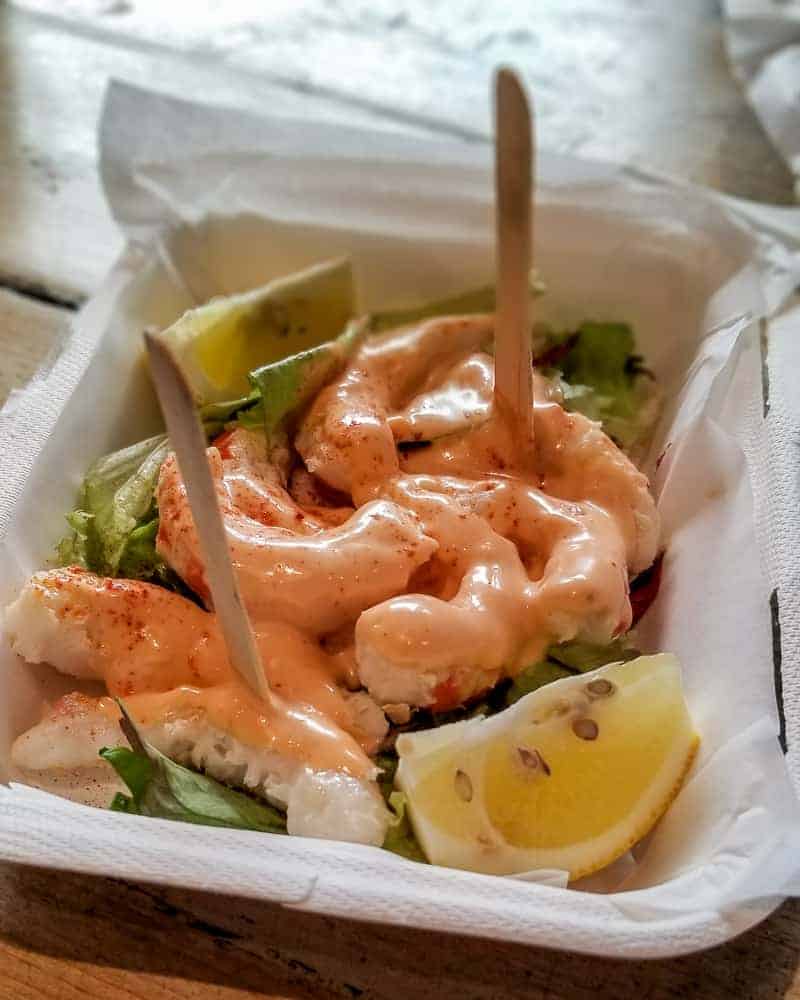 ---
Price Range: £ (and another half pound – not the cheapest fast food)
Type of Food: Doner Kebab
Location: Shoreditch Box Park
Must-Try: Mezze Box (more bang for your buck)
Completely Vegan?: Yes
What the Pitta is, without a doubt, one of our favorite vegan London restaurants. The food itself is absolutely phenomenal. They create the most amazing vegan doner in wraps, mezze boxes, or just donner and fries (chips for our British friends). I really can't recommend this place enough and I make a point to go back every time I'm in London!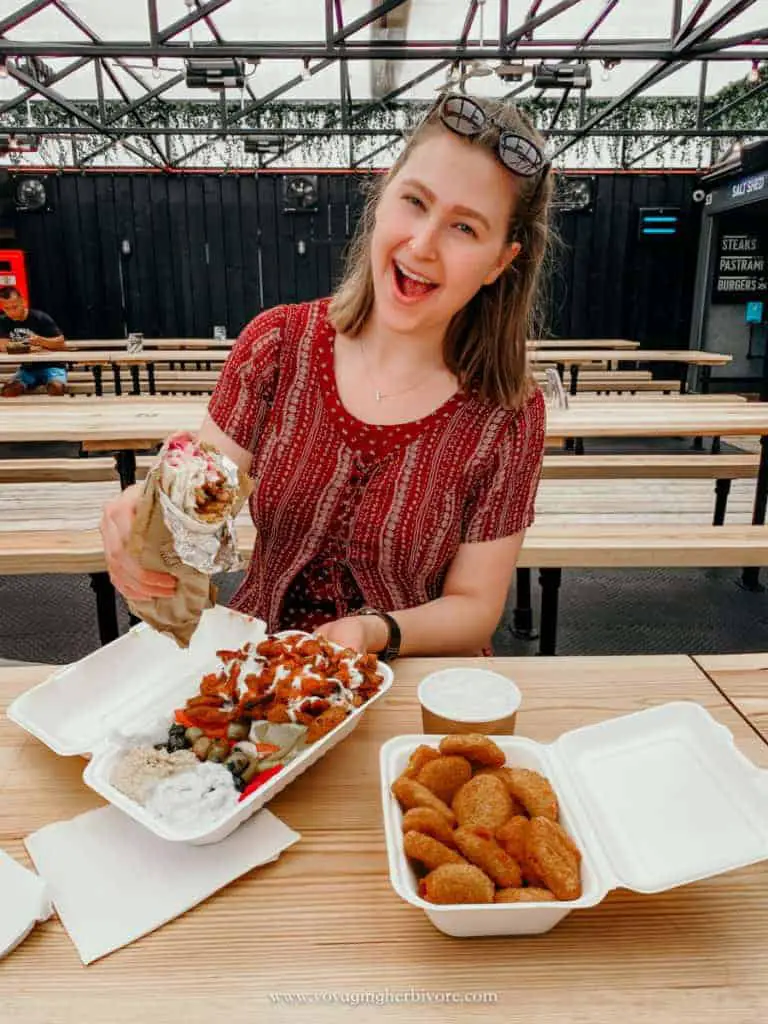 ---
Places to Browse for Vegan/Vegetarian Food
As you've gathered by now, London is one of the best spots for vegans and vegetarians. If you're not interested in any one particular restaurant as a destination, think about giving some of these markets a try as you're sure to find loads of vegan and vegetarian street food options, without having to commit to one specific restaurant. Many of these markets are famous tourist destinations and may already be on your must-see list!
---
Borough Market
Borough Market has long been one of my favorite places to wander and to taste. From truffle oil to Ethiopian food, Borough Market really does have it all and as London's oldest food market it's definitely something you should see. You'll easily find many vegetarian, vegan, and gluten-free options in addition to fresh produce, spices, and specialty items. Keep in mind that it does get quite busy with tourists, particularly at the weekend. Try and stop by during the week before the lunch rush hits to get the best experience.
---
Old Spitalfields Market
Another of my favorite markets in London that is better known by locals. Here you'll find all sorts of food vendors that offer a wonderful variety of vegan options. Additionally, you'll find vendors selling wares such as clothing and jewelry, so it's easy to spend hours browsing. Near Old Spitalfields Market you'll find La Fauxmagerie, a vegan cheese shop. It's definitely worth stopping by as this is the best place in London to try vegan cheese from different local, artisan vendors. Unity Diner is also not too far of a walk, so if you're not full yet, head there!
---
Camden Market
Camden Market is unique in its setup. Some parts are outside while others are located in old stables. Here you'll be able to eat and explore to your heart's content. There is vegan food galore, tourist shops, artisan vendors, and drinks to boot. It's really something to experience and it's so easy to spend hours wandering, eating, and drinking. Here you'll find Young Vegans Pie and Mash and other of the best vegetarian restaurants in London!
---
Victoria Park Market
This market runs on Saturdays from 10-5 and is more well known by locals. You'll find vegan cheese, fresh bread, some of the best fruit and veg in London, as well as different handmade wares by locals. It's located just down the street from Plant Hub and Palm Greens. It's well worth stopping by to grab some of London's best vegan street food!
---
Netil Market
Located just around the corner from Victoria Park Market, Netil Market is a tiny space that houses Get Dappa and Club Mexicana. Here you can wander through vendors selling their wares and £5 mojitos, a steal for London!
---
Another Must Try
Pea Shoot Feasts
On one of our last days in London, we decided it was finally time to try something that had caught our eye for a while. Pea Shoot Feasts is an absolutely delicious homemade vegan picnic delivered to your local London park! You can also rent blankets, games, and decorations. Everything is vegan, freshly made, in biodegradable containers, and can even be customized. We opted for no raw tomatoes (cough cough Jack). It's also an incredibly reasonable price of 10 pounds per person. A must try!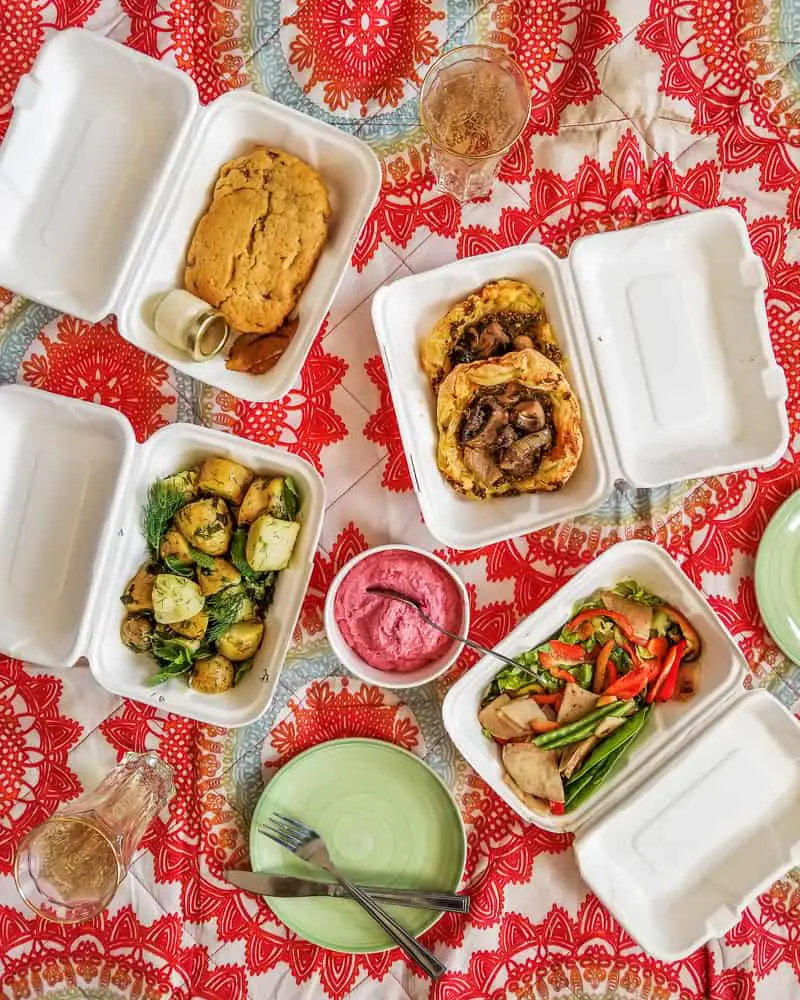 ---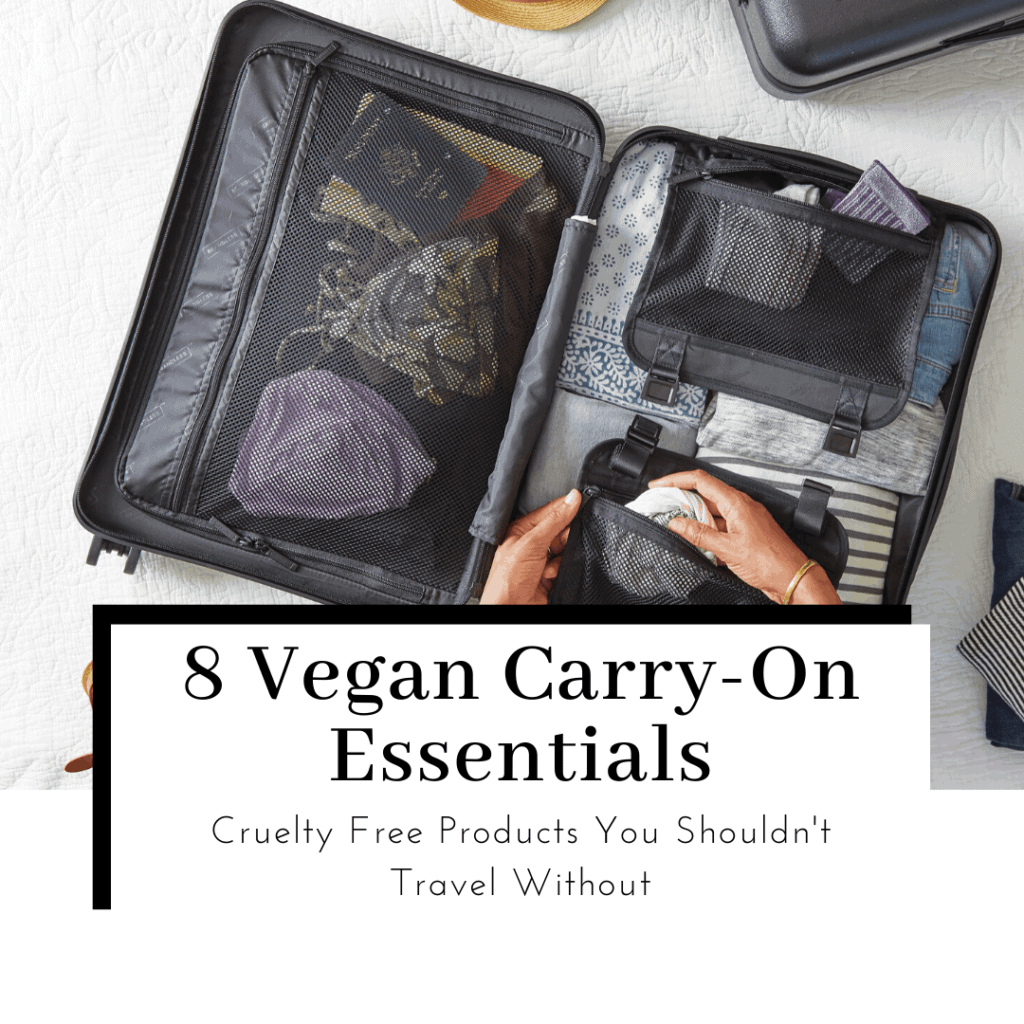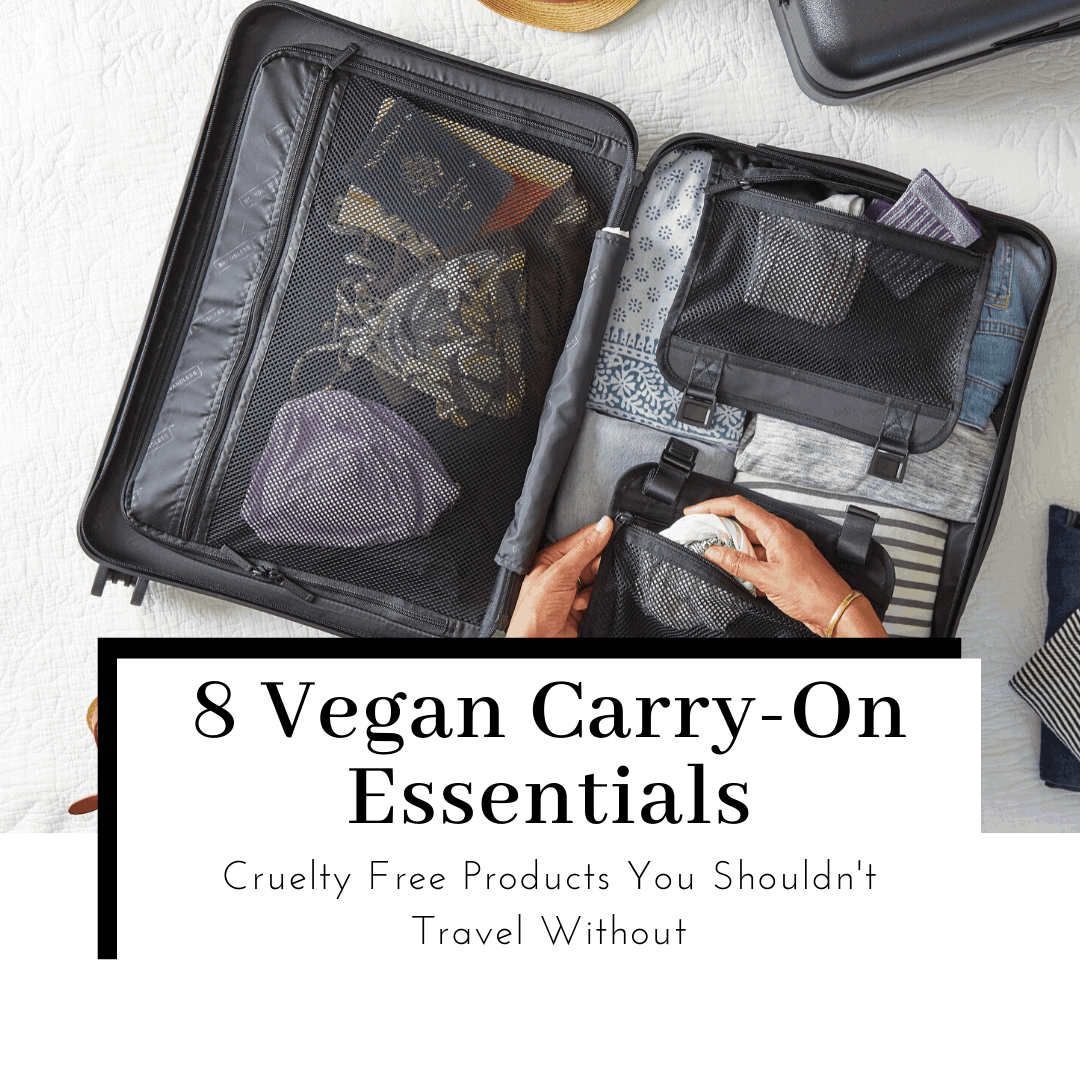 ---
And as always, you can find more sustainable travel content on Instagram @VoyagingHerbivore, Youtube, and TikTok and to get updates straight to your inbox, enter your email below in the footer, or to the right on the sidebar.

If you found this guide helpful and want to help us keep these resources free,
please consider making your next Amazon, Expedia, Hostel World, Etsy, and Booking.com purchase through our links (just click right on those words – you can do it right now and unless you clear your cookies before your next purchase, it will remember). It costs you no extra and gives us a small commission. Thank you!
---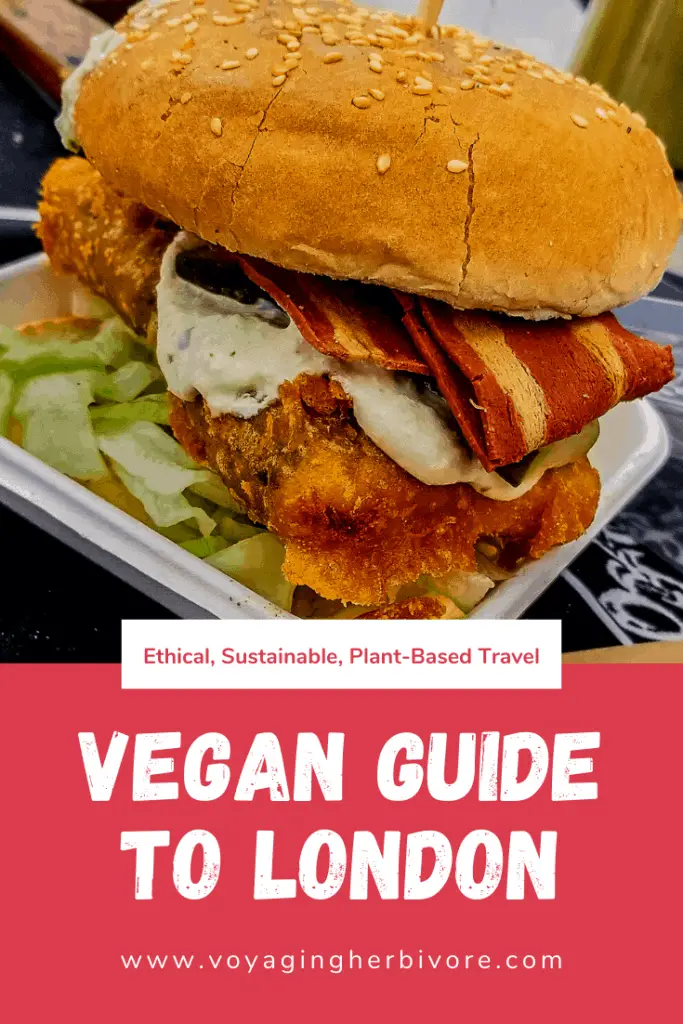 ---
---