Amsterdam is known for a lot of things and I know you're not thinking of vegan restaurants. Well, I'm here to tell you that it's incredibly easy to eat vegan in Amsterdam, and in fact, you're bound to find some unique venues and delicious food that will leave you wanting to come back to check out more vegan-friendly restaurants in Amsterdam.
Let's dive in!
Vegan Restaurants in Amsterdam Table of Contents
---
---
Eating Vegan in Amsterdam
As a vegan, it can be intimidating to head away from your familiar supermarkets and explore a new area, especially if they don't speak your native language. But fear not fellow vegans and vegetarians because Amsterdam is a fantastic place to find plant-based restaurants. 
A few quick details to get you started:
Currency: Euros
How to Pay: Many places prefer a specific Dutch credit card or bank, so it's good practice to have cash money on hand
Communication: Dutch is the most common language but English is also widely spoken
With that out of the way, let's dive into some of the best vegan restaurants in Amsterdam!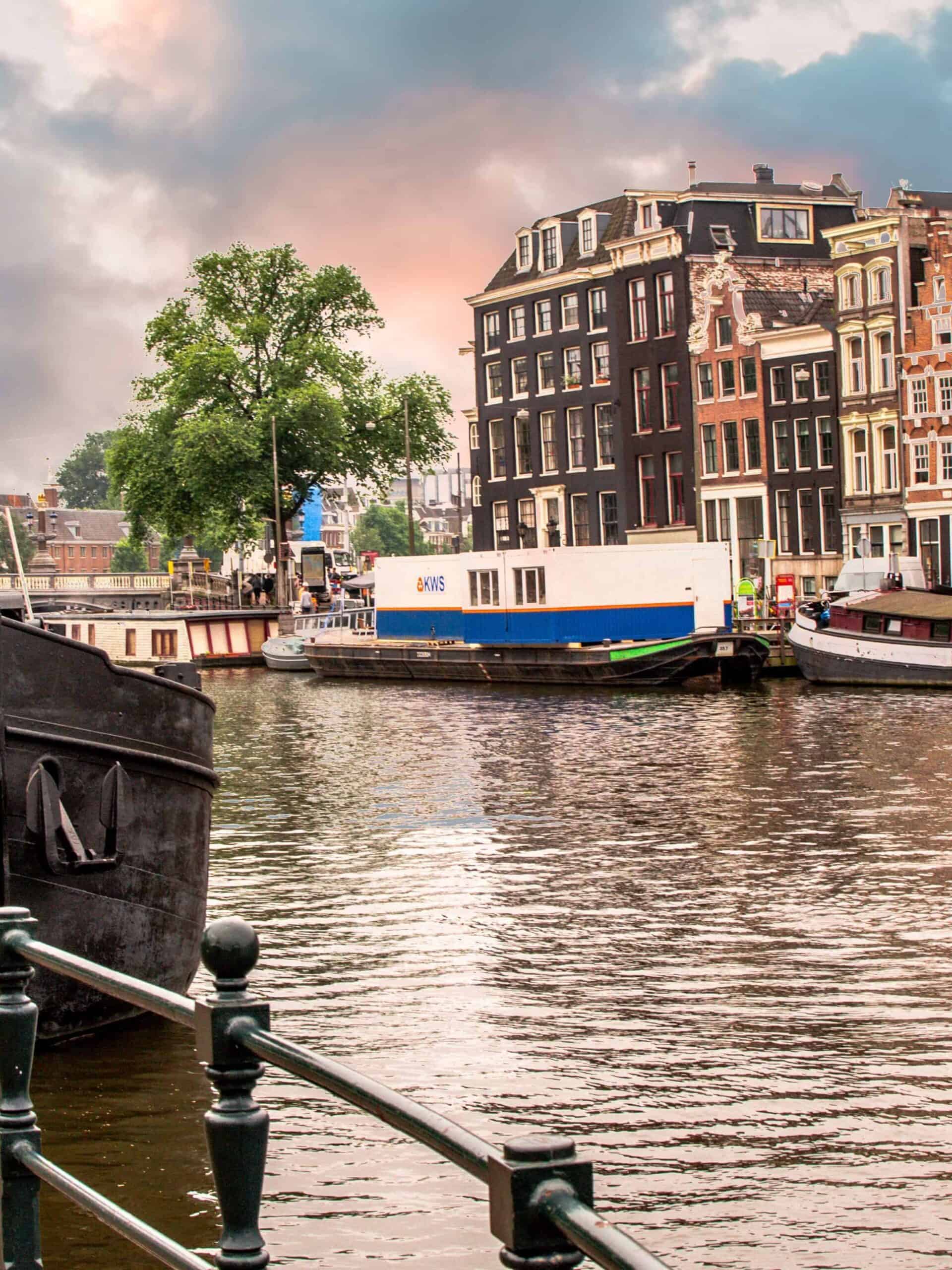 ---
Robinfood Kollektief
Robinfood Address: Frederik Hendrikstraat 111, 1052 HH Amsterdam The Netherlands
Robinfood Hours: Monday, Tuesday, Thursday – 6 PM to 10 PM
Is Robinfood All Vegan: Yes
Robinfood Price Range: Cheap – 12 euros for 3 courses
Payment Methods: Cash or bank transfer
If you only take one recommendation from this vegan Amsterdam guide let it be this: visit Robinfood! 
This delicious restaurant is fully vegan, cheap, and is run by some truly amazing people. Robinfood really is a hidden gem and you'll have to explore an old school for women (I was told women were taught how to be good wives here – thank goodness it's now used for other things!) and follow paper signs before entering the small restaurant.
The menu at Robinfood is set and you'll pay about 12 euros for 3 courses (an absolute steal in central Amsterdam).
The restaurant is open Monday, Tuesday, and Thursday. On Wednesdays, the small team volunteers their time to create food packages and works catering on other days.
Small places like this are fantastic because it's often the owner themselves that brings you food which means a chance to talk and learn more about the history of the restaurant.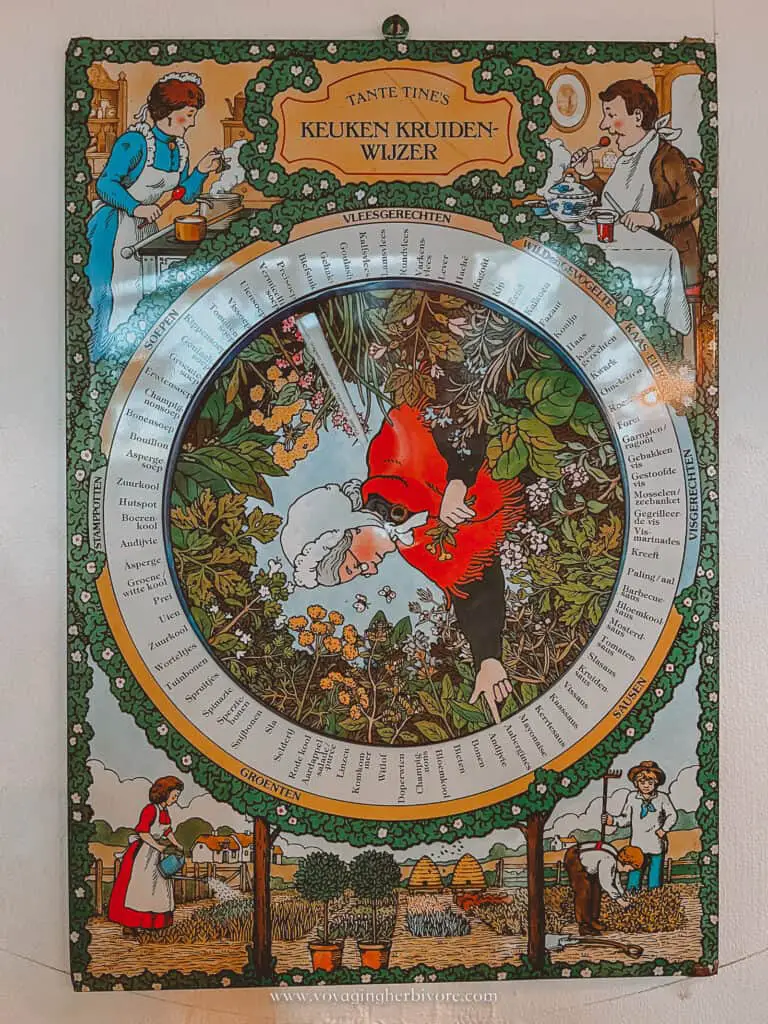 ---
Tony's Chocolate
Tony's Chocolate Address: Oudebrugsteeg 15, 1012 JN Amsterdam, Netherlands
Tony's Chocolate Hours: 11am to 7pm
Is Tony's Chocolate All Vegan: No
Tony's Chocolate Price Range: Expensive for chocolate
Payment Methods: Card or cash
While not specifically a vegan Amsterdam restaurant, Tony's Chocolate is world-famous for being ethical, sustainable, and delicious. I say this with a slight hint of sarcasm because they only have three vegan chocolate options, so it should probably be rephrased to "ethical for people involved" since dairy cows are treated anything but ethically. In regards to sustainability, I don't think Tony's can actually claim to be all that sustainable when they use dairy – more info on why dairy is far less sustainable than plant-based milk alternatives here. 
So why have I included Tony's Chocolate in this guide?
I think that it's important to support brands that are making strides towards including vegan products. Brands like Tony's are also a lot more likely to include more vegan products the more they learn about the sustainability and ethicality of the meat and dairy industry. So go buy the three vegan chocolate bar options (they are delicious) and/or make your own! The dark chocolate is vegan so you can add options to this (I opted for pretzel and coffee – it could have used more salt) for your own custom vegan Tony's chocolate bar.
You can also visit Tony's Chocolate Bar (located next door but with slightly different hours) where you can try a variety of different chocolate dishes. See it pictured below!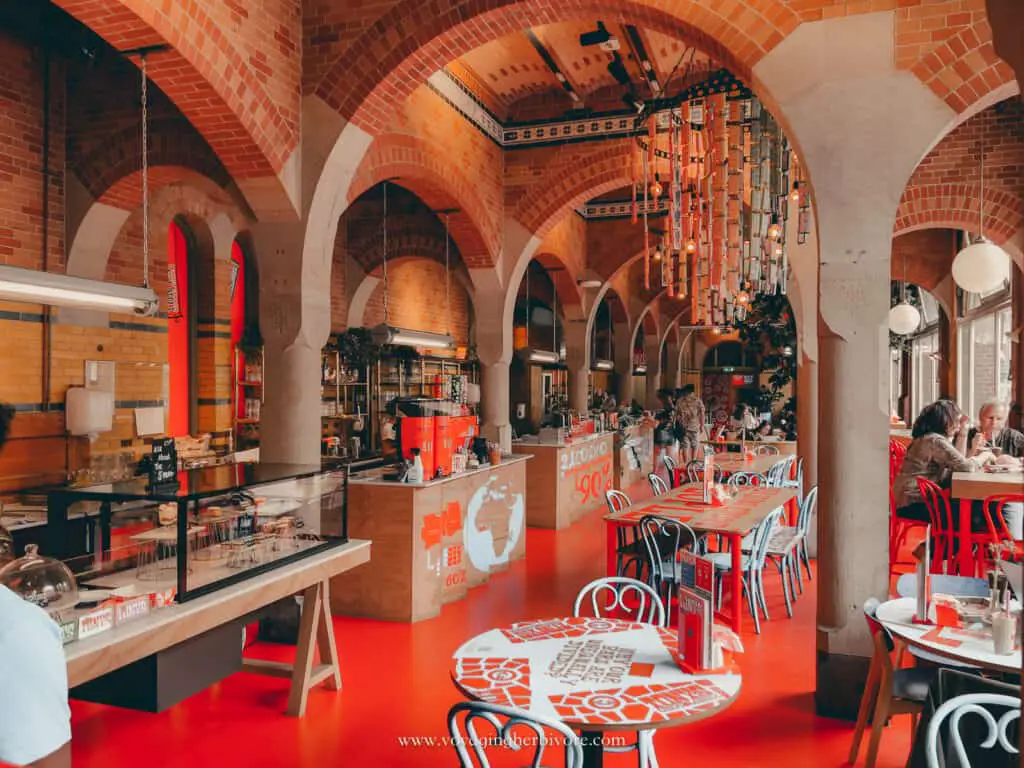 ---
Pllek
Pllek Address: T.T. Neveritaweg 59, 1033 WB Amsterdam, Netherlands
Pllek Hours: 9:30am – 12am
Is Pllek All Vegan: No
Pllek Price Range: Higher end Typical bar prices
Pllek Payment Methods: Card or cash
If you're looking for an unusual experience and a place to grab a vegan bite, head to Pllek in Amsterdam Noord.
Amsterdam Noord is accessible by a long walk or free 10-minute ferry from central Amsterdam. The area has a very Berlin vibe, with lots of graffiti and an industrial feel. There are many restaurants in the area and although Pllek itself only has a curry vegan option, there are plenty of drinks, a beach, and unique experiences there throughout the year. I visited during Summer Soltice when performers were singing and dancing and a fire festival was happening!  
There aren't a ton of vegan options to be completely honest, but the few they do have are worth trying to check out the venue. The inside (pictured below) has a converted warehouse feel and it faces out to a large sandy beach area.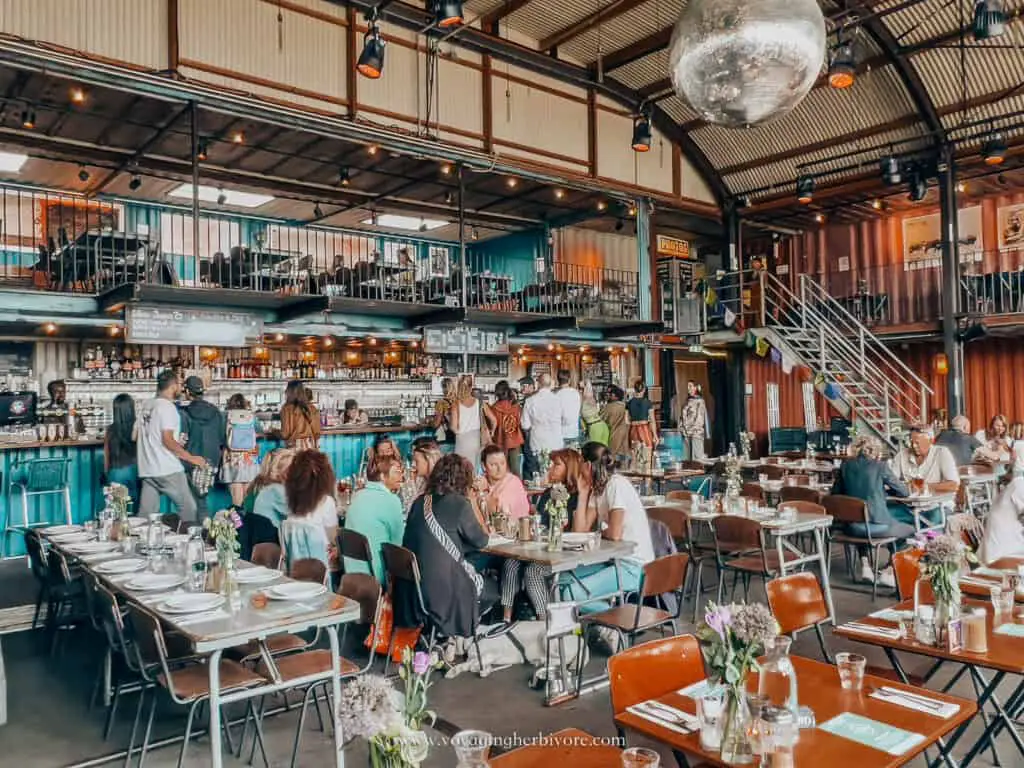 ---
Heineken Experience
Heineken Experience Address: Stadhouderskade 78, 1072 AE Amsterdam, Netherlands
Heineken Experience Hours: 10:30am to 9pm
Is the Heineken Experience All Vegan: Heineken lager is vegan, check on their other beers
Heineken Experience Price Range: Moderately priced for experience + drinks
Heineken Experience Payment Methods: Cash or card
Beer lovers will be pleased to know that Heineken is vegan which means you can do Amsterdam's Heineken Experience tour! Heineken was born in Amsterdam in 1841 and is traditionally a very tasty lager although there are a wide range of other drink options to choose between if you're not a beer person.
The tour includes:
Entrance ticket
Self-guided tour
Presentation
2 drinks
Tasting
The tour gets great reviews, except of course from the couple of people who leave a 1 star review and don't say why!
---
Maoz Vegan
Maoz Address: Various locations around Amsterdam
Maoz Hours: 11am to 1:30am
Is Maoz All Vegan: Yes
Maoz Price Range: Cheap and a great place to end a night out
Maoz Payment Methods: Cash or cards
Nothing says a classic vegan night out like pitta, falafel, and fries. Maoz Vegan has four locations in central Amsterdam and offers a build-your-own pitta bar. It's nothing fancy but it's all vegan, tasty, and relatively affordable. Plus, they stay open until 1:30am so you can grab a bite after a few drinks.
---
Flower Burger
Flower Burger Address: Hartenstraat 29H, 1016 CA Amsterdam, Netherlands
Flower Burger Hours: 12pm – 9:30pm
Is Flower Burger All Vegan: Yes
Flower Burger Price Range: Relatively affordable
Flower Burger Payment Methods: Card or Cash
Flower Burger was an unexpected gem of a vegan restaurant in Amsterdam for two reasons: delicious and unique burgers and super friendly staff! Flower Burger is actually a chain that originated in Italy but has made its way all over Europe (although sadly not yet Edinburgh!).
The menu is straightforward meal deal options with about seven burgers to choose from, sides, and drink options. A meal deal is about 13 or 14 Euros and these burgers are anything but boring! Loaded with a healthy amount of sauce (there's no such thing as too much sauce or too many condiments in my opinion) and other goodies, Amsterdam's vegan restaurant Flower Burger does not disappoint!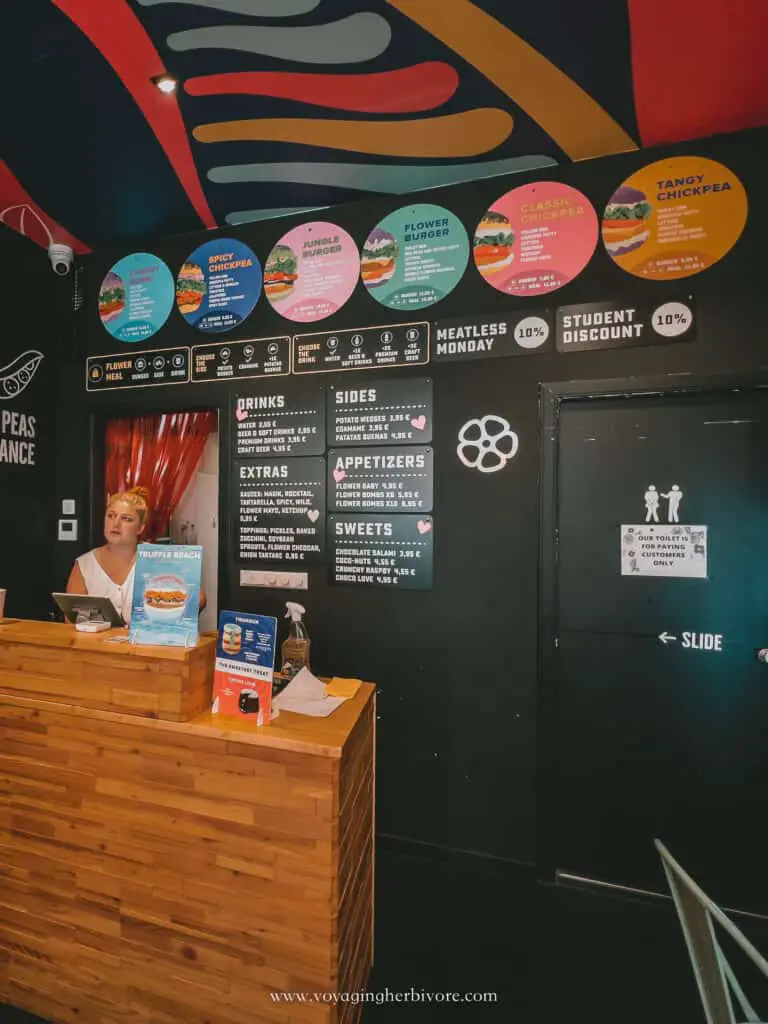 ---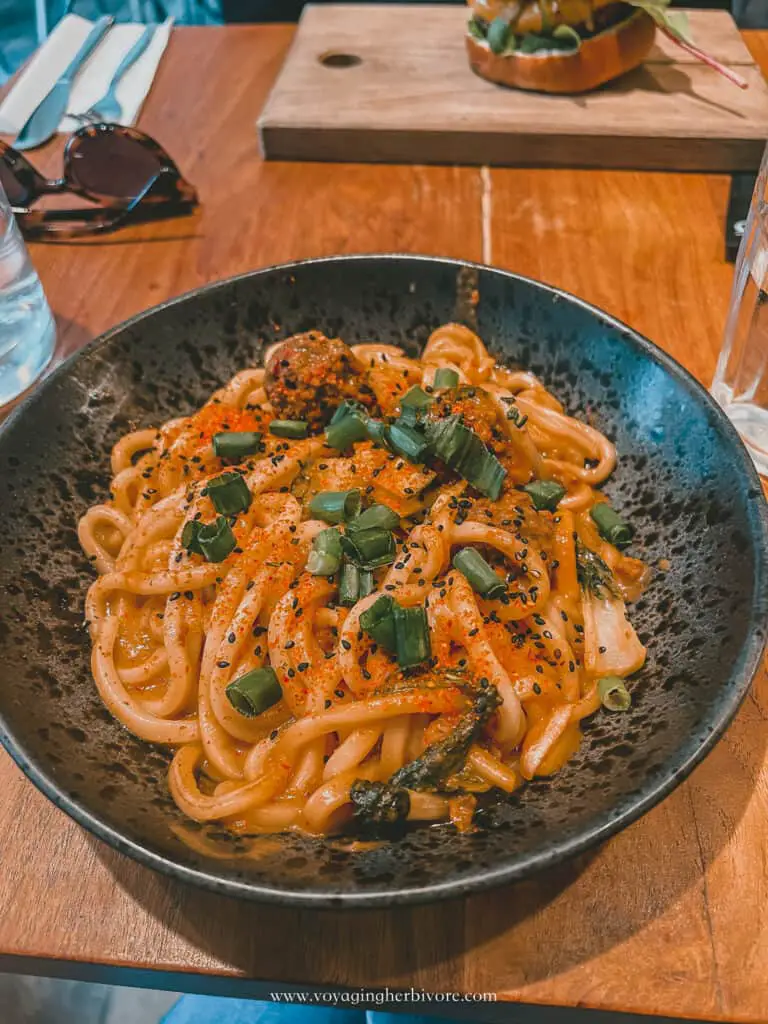 SOIL Vegan Cafe
SOIL Address: Bilderdijkstraat 141, 1053 KN Amsterdam, Netherlands
SOIL Hours: 12pm – 10pm
Is SOIL All Vegan?: Yes
SOIL Price Range: Pricey
SOIL Payment Methods: Card or Cash
Another great vegan Amsterdam find is SOIL Vegan Cafe. This restaurant offers fully vegan comfort food, beers, and wines. Overall, the food is tasty but a bit pricey although it is located in a somewhat posh area to walk around – hence the prices!
---
De Ceuvel
De Ceuvel Address: Korte Papaverweg 2, 1032 KB Amsterdam, Netherlands
De Ceuvel Hours: 12pm to 10pm
Is De Ceuvel all vegan?: Yes
De Ceuvel Price Range: Relatively pricey
De Ceuvel Payment Methods: Card or Cash
If you're looking for a truly unique vegan restaurant in Amsterdam head to de Ceuvel. This space was previously an old shipyard which was converted into a restaurant and area for startup offices. The whole facility is unique, beautiful with waterfront views, and actually cleans the ground it's on. The restaurant in the area is fully vegan and is a bit pricey, but if you're looking for a truly unique experience and a delicious meal, De Ceuvel is the place to be!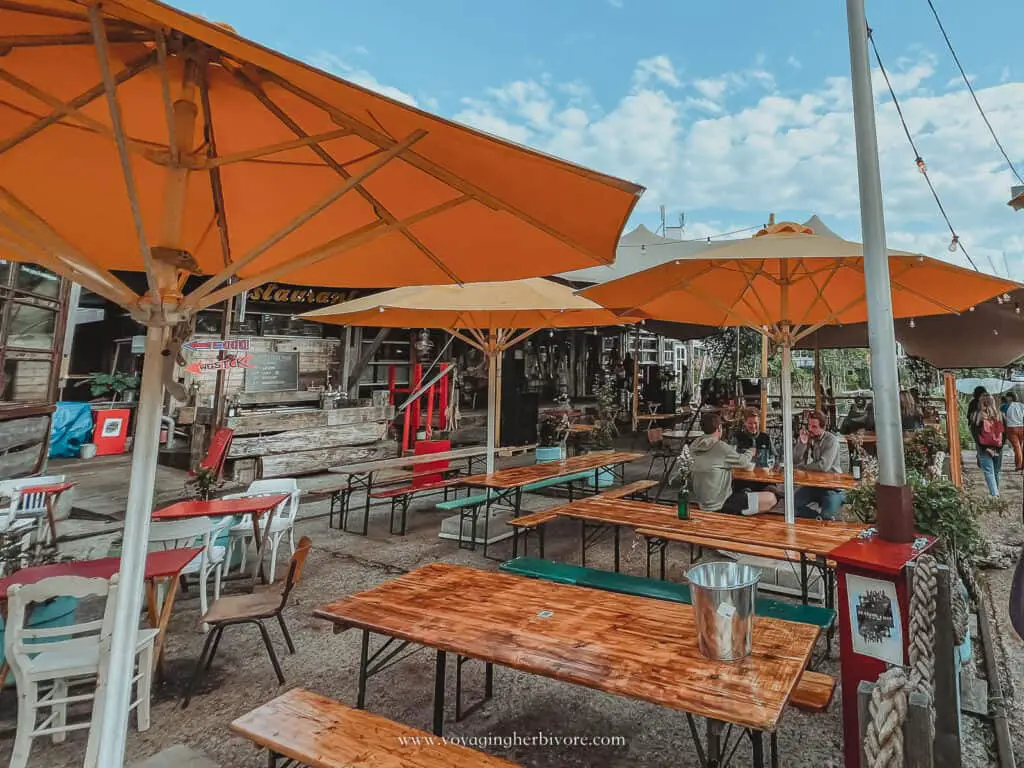 ---
Keep Reading
---
And as always, you can find more sustainable travel content on Instagram @VoyagingHerbivore, Youtube, and TikTok and to get updates straight to your inbox, enter your email below.

If you found this guide helpful and want to help us keep these resources free,
please consider making your next Amazon, Expedia, Hostel World, Etsy, Trivago, and Booking.com purchase through our links (just click right on those words – you can do it right now and unless you clear your cookies before your next purchase, it will remember). It costs you no extra and gives us a small commission. Thank you!
---
Pin Vegan Restaurants in Amsterdam