Amsterdam is well known for, well, you know what, but it's also absolutely beautiful! This guide to photographing Amsterdam will help you not only to improve your travel photography but get some epic shots #Amsterdam Instagram shots as well.
In this guide, we'll talk about what camera and lenses to bring, some general photography tips, and what it means to be a sustainable travel photographer.
---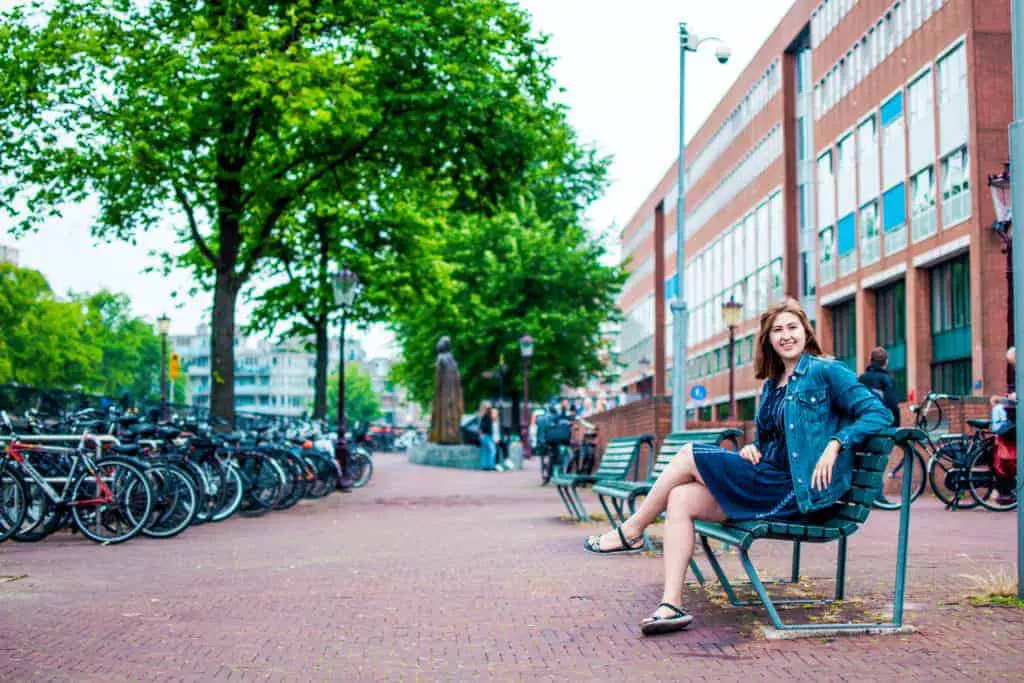 ---
---
---
General Photography Tips
Be aware of the colors surrounding you. Most of the time, lots of natural browns and greens will be the dominant colors but pay attention to the bikes found everywhere and that come in a wide variety of colors. In the photo above, I blend into the bench. I should have worn a color that popped more, like a yellow or orange which would have contrasted nicely with the browns and blueish grays. Keep in mind that these colors will change with the night, so be sure to plan things to do at night in Amsterdam to have an idea of what you'll shoot before you adventure out.
Safety first with Amsterdam photography. Normally, I would hope that safety is a given, but let me tell you that bikers in Amsterdam mean business, and no street seems to be off-limits. Normally, we love to find a little pedestrian-only street to wander around and take photos, but with bikers on your left, right and cutting between you and your travel buddy it really does mean an extra call to be aware of your surroundings during your 2 days in Amsterdam, and your precious camera gear, is in order.
Read More: 32 Beautiful Sunrises to See in Your Lifetime
---
---
If you need affordable luggage storage or shipping for your next trip to the Netherlands, we recommend Eelway
---
Take more photos than you think you'll ever need. This tip is on all of our photography guides but it still stands strong! The worst possible thing is coming back to your room after a long day of shooting and uploading your photos, only to find that "The Shot" was slightly out of focus. Nooo! It's better to have extras to delete or merge together for the perfect photo. Or, if you're like me, hoard them on an external hard drive forever.
Be conscious of where canal rails and bikes cut through your subject. Try not to let something cut through parts of your subject in an awkward place. So what's an awkward place? Basically, if it doesn't bend on a standard human body, don't have a rail or bike cut through it in the background. For example, it will look more pleasing to the eye if a canal rail cuts through your subject's hips (because they bend in real life) than if it cuts through the middle of their head or chest. With all the amazing things to do in Amsterdam and things to see, don't let rails ruin your photos.
Read More: The Ultimate Gear Guide for the Beginning Photographer and Traveler
---
---
Camera Body Guide
Beginner Body: If you're just starting out and you don't want to spend too much money, the Nikon d3100 is a great choice. It's a great first timer's DSLR because it still has automatic settings, but you can also learn to shoot in manual modes. Fun fact: all of the photos in this article were shot using my Nikon d3100.
Nikon d3100 | Nikon d3400 | Nikon d5600
Advanced Body: If you're looking to upgrade and want to up your Amsterdam photography game, we use the Nikon d750. Any FX (full-frame) camera is ideal for travel because it allows you to shoot in a range of conditions. You could also consider investing in a mirrorless camera, which I haven't personally tried, but they're all the rage! Check out our Photography Guide to Paris to see photos shot with the d750. Keep in mind that there's also an added two years of travel photography experience between these photos.
Nikon FX d750 | Nikon Z 50 DX Mirrorless
---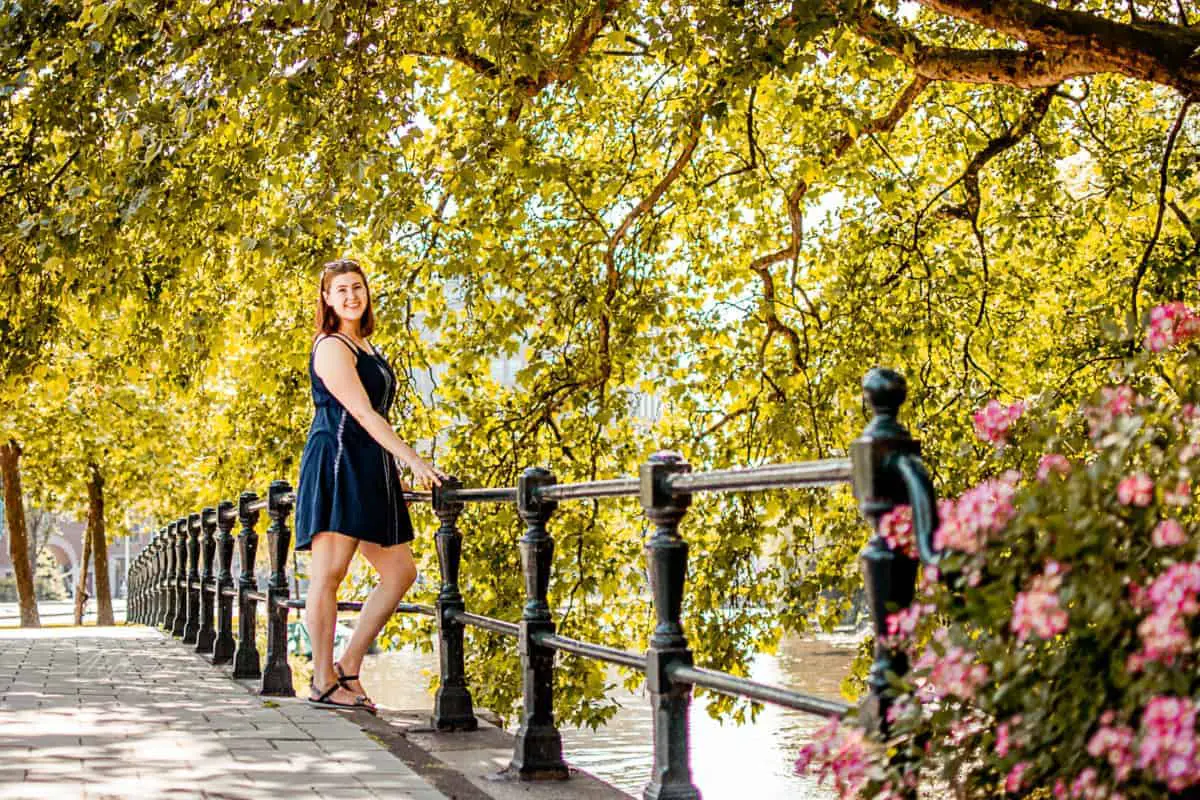 ---
Lens Guide
Portrait Lens: A prime lens really is a must-have for any photographer and anyone striving to improve their Amsterdam photography. Many phones have this feature. However, if you plan on editing your photos in a professional program printing them in a large size, invest in quality equipment.
$ 35mm | $$ 35mm | $ 50mm | $$ 50mm
Wide-Angle Lens: Ever since I got my hands on my first wide-angle lens, I've been in love. This lens is ideal for photographing Amsterdam because it allows you to capture the beauty of the buildings and canals. If you were to use a prime lens, you would need to be further away from the subject. Almost all of our London photos were shot with a wide-angle lens.
$ Wide Angle | $$ Wide Angle | $$$ Wide Angle
Phone Lenses: With the quality of cameras these days, you don't always need a fancy DSLR or mirrorless to get great shots. However, unless you've got the newest phone with a wide-angle lens, it could be worth investing in a few clip-on lenses to make the most of your travels.
Wide Angle Clip-On | Portrait Clip-On | Lens Clip-On Collection
---
---
Invest in Editing Software
Do yourself a favor and invest in Adobe's $10/month photography plan. You'll have access to Lightroom and Photoshop which are probably the most widely used photo editing software used. Give the free trial a shot to see how you like it.
Taking a photo but not editing it is like making cake batter but not baking it! It's still good but it could definitely be better and is the perfect way to improve your Amsterdam photography skills.
---
Sustainability
One of the greatest things that you can do for your wallet is purchasing second-hand technology. Electronic waste doesn't harm the environment nearly as much as animal farming or transportation does, but it still contributes to the ever-growing landfills and we need to do our part.
Of the $206 billion spent on consumer electronics in the U.S. in 2012, only 29 percent of the resulting e-waste generated was recycled. The rest were simply trashed. Who even remembers what they did with their first (or third, or fifth) iPhone?

The Atlantic
Buying refurbished camera gear and electronics means that we can do a small part in making a more sustainable world. Not to mention that it's better for your wallet! Granted, sometimes we can't repair electronics, but they can be sold or recycled at special electronic waste sites. Google "Where can I recycle electronics?" to find a center in your area.
Read More: Travel Bloggers Recommend Their Best Sustainable Travel Hacks
Find used camera gear on:
Amazon | Swappa | Adorama | Facebook Marketplace | Facebook Groups
---
What Camera Gear Do We Use?
If you want the full list of things we keep in our camera bag, check out the complete guide or browse our photography guides.
---
Free Resources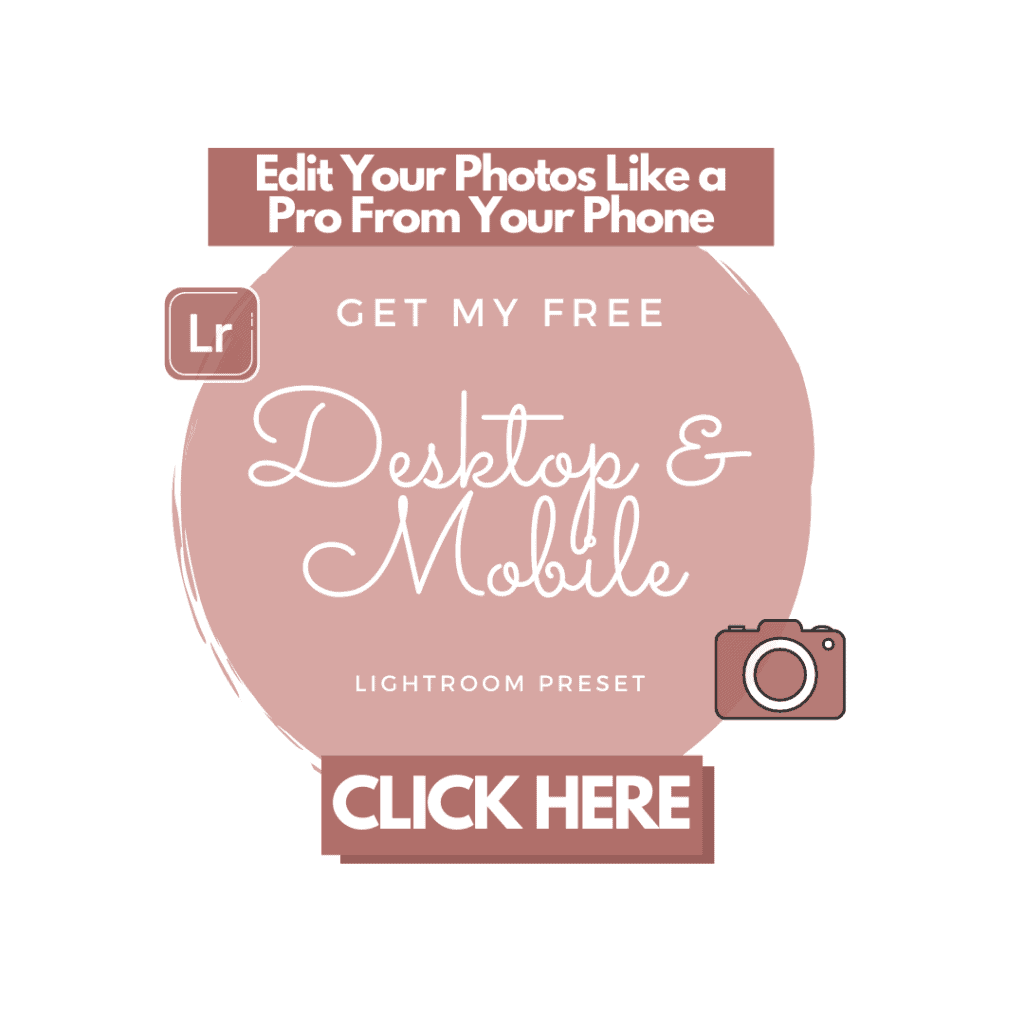 ---
Keep Exploring
---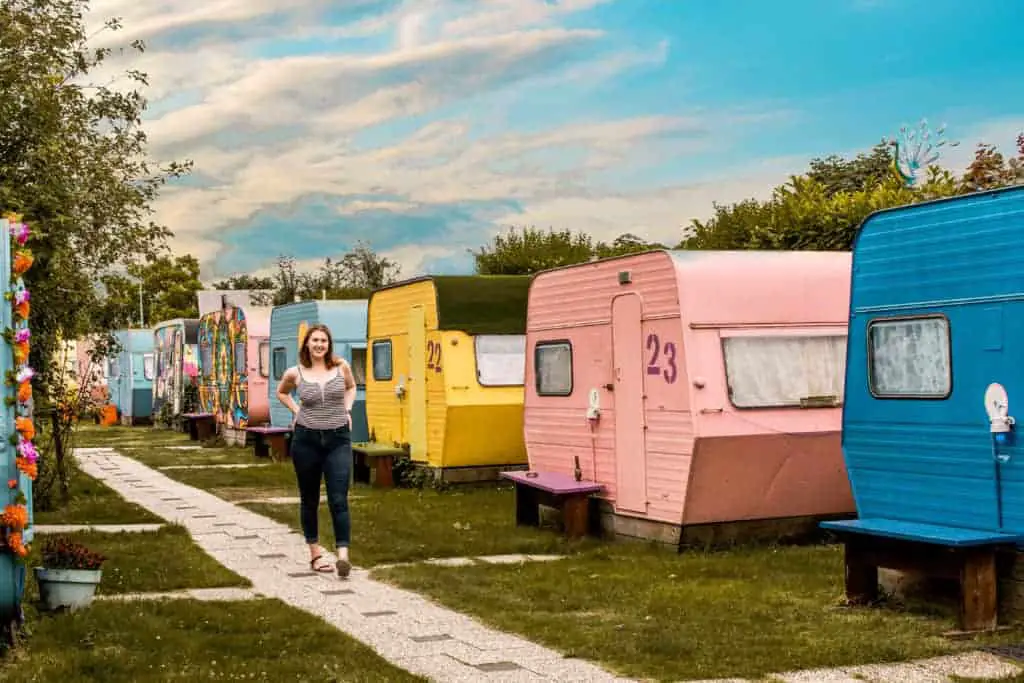 ---
And as always, you can find more sustainable travel content on Instagram @VoyagingHerbivore, Youtube, and TikTok and to get updates straight to your inbox, enter your email below.

If you found this guide helpful and want to help us keep these resources free,
please consider making your next Amazon, Expedia, Hostel World, Etsy, Trivago, and Booking.com purchase through our links (just click right on those words – you can do it right now and unless you clear your cookies before your next purchase, it will remember). It costs you no extra and gives us a small commission. Thank you!
---