If you follow the news, you may have seen that the massive travel organization, Thomas Cook liquidized. This over 150,000 travelers stranded around the world who now have to purchase new tickets. That's no way to save money for travel.
The year before the same thing happened with Wow Air, and surely these two airlines won't be the last.
Read More: Flight Delay Compensation: Here's What To Do In 6 Steps
So how do you avoid getting stranded on your holiday?
Keep reading to discover 7 ways to save money for travel!
---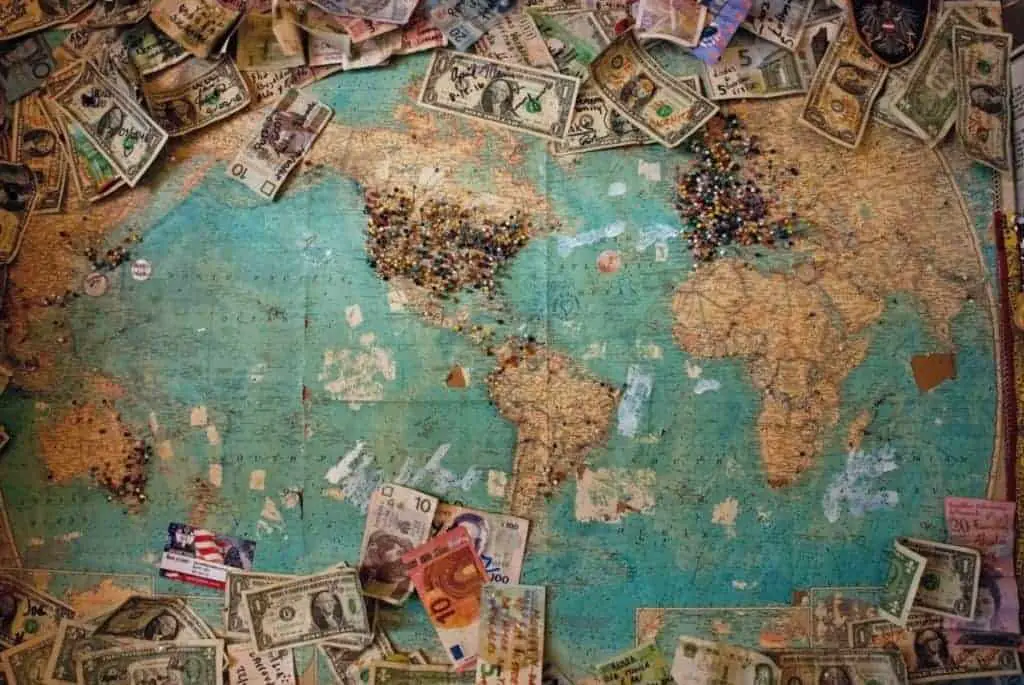 ---
This site is user-supported and that's why we use affiliate links. At no extra cost to you, we get a little bit of money when you purchase something through one of our links. Thank you for helping support ethical, sustainable, and plant-based travel! You can read more about our affiliate disclosure policy here.
---
1. Book Travel With a Credit Card
You should never book a plane ticket with a debit card.
If you purchase your flight ticket with a debit card, the money comes straight out of your account. If your airline cancels your flight, or on the off chance that it goes out of business, it's at the discretion of your bank to refund you.
And who among us has ever met a bank that wants to give us money back?
If you purchase your ticket through a credit card but you never get the item you purchase (the flight), you can argue it with the credit card company and you stand a better chance of getting a refund.
So how does this help you save money? Well you won't be out several hundred dollars should something happen with your flight.
---
For UK Citizens
In the UK there is an act called Section 75 meaning all spending over a £100.00 (not just travel) can be reclaimed. The US has similar rules in place so regardless of where you are from when it comes to holiday's it's always best to book with a credit card.
If you are from the UK and want to learn more about your rights on this topic then please follow this link. And for goodness sakes, if you're traveling somewhere with a different currency get a credit card without foreign transaction fees.
Read More: Travel the UK
---
Travel Credit Cards
Tandem: Ideal for UK citizens who are new to credit cards. If you are looking to build credit without any history, Tandem is a great option. No foreign transaction fees or annual fees.
Deserve: Another great option for those looking to build credit. Deserve is ideal for those new to credit cards. There is no foreign transaction fee and no annual fee.
TIP: Do NOT use Discover as your "travel credit card". They are only widely accepted in the United States despite what Discover says on their website.
---
2. ATOL Certificates (UK Citizens Only)
When you book a packaged holiday in the UK it may come with an ATOL certificate. This effectively means that if your holiday provider goes bust when you are on holiday, ATOL will get you home without disrupting your holiday. ATOL will also work to refund you in full should your holiday be canceled as a result of your provider going bust.
One thing to be aware of is fake certificates or no certificate at all. So it's always best again to pay using a credit card.
Please read more about how ATOL can protect you via their site.
---
3. Get Travel Insurance
Sometimes things go wrong while traveling.
Scratch that.
Often things go wrong while traveling. That's just the nature of the adventure.
Whether your finger is cut by a drone and you need medical assistance (yes, this has happened), your airline goes bust, or something gets stolen, having travel insurance means that you won't be spending the night in your hostel with a throbbing thumb!
Read More: 15 Sustainable Travel Products You Must Have
---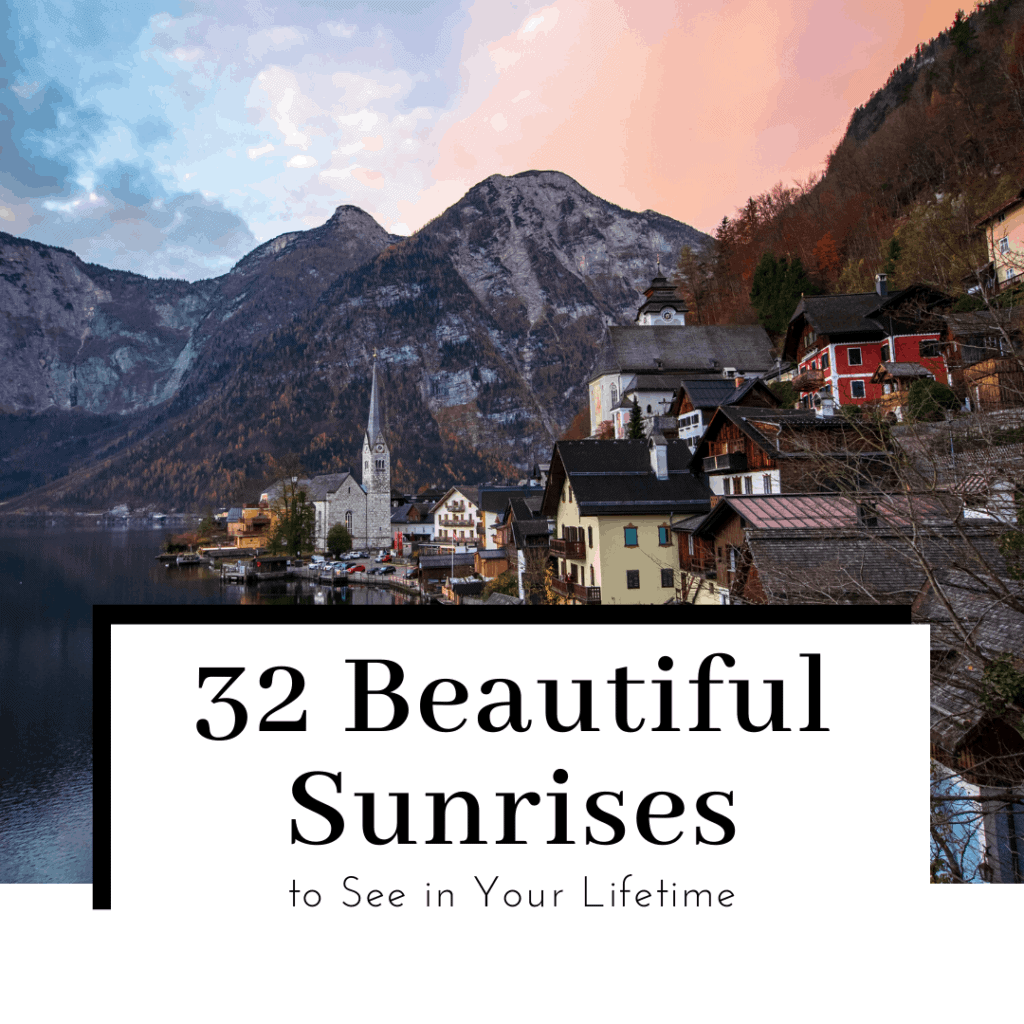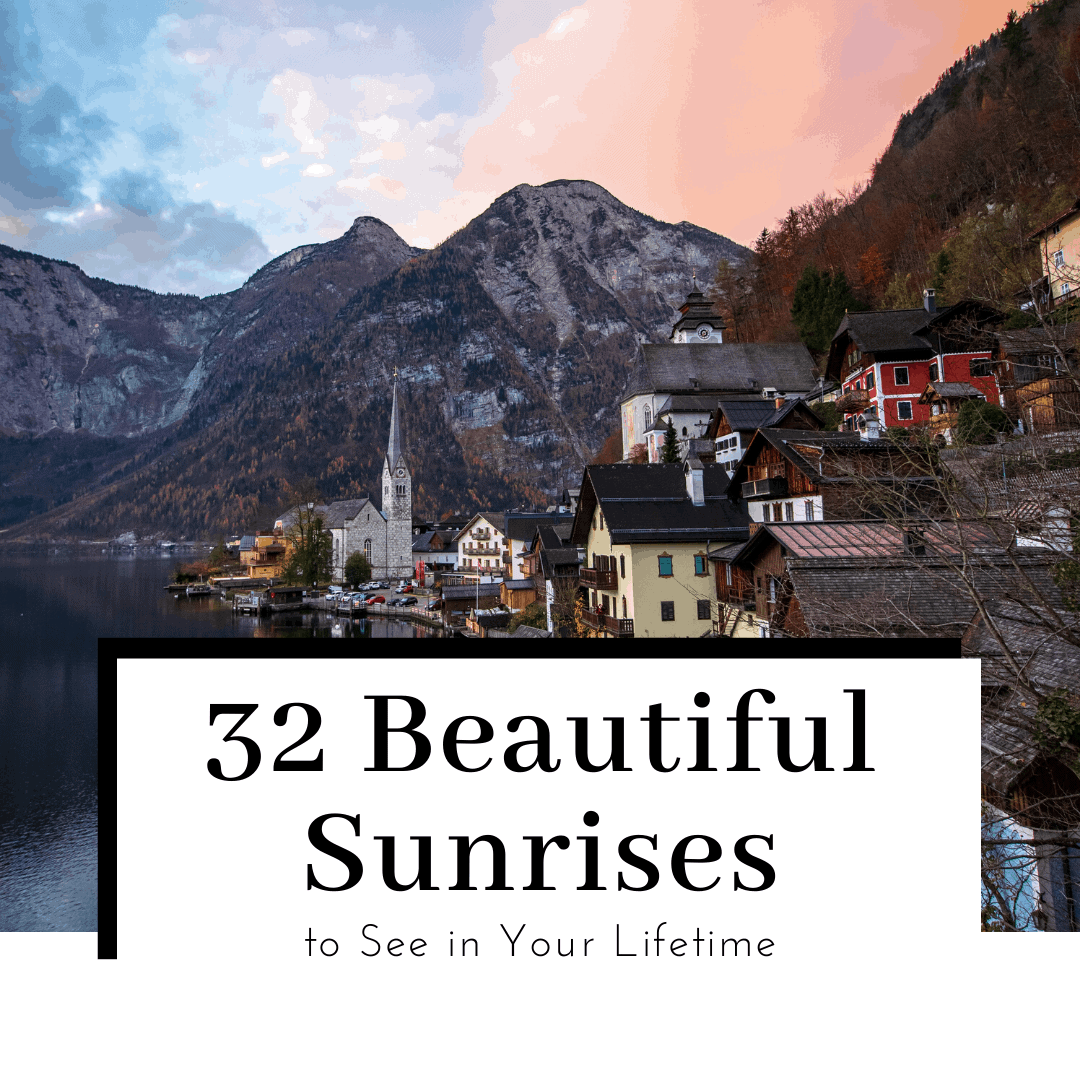 ---
4. Find Free ATM Withdrawals
Some countries are card countries while others are cash. Most of us know that you should always avoid currency exchange centers, but ATMs can be just as bad due to fees and exchange rates.
The best thing that you can do for yourself is to get a checking account with a bank that reimburses these fees.
I highly recommend Charles Schwab Bank. It's an investment bank so the interest is amazing. They're entirely online and the customer service is incredible.
Open an online account and you'll be sent a debit card that can be used at ATMs around the world. You'll also get reimbursed for those ATM fees.
If you're trying to save money for travel, opening an account and setting up automatic monthly transfers is a great way to save until you have enough for that adventure.
---
5. Know the Exchange Rate
Having quick and offline access to the exchange rate can save you a lot of trouble, time, and money while traveling!
I recommend the app Currency (Playstore).
The screenshots below show that you can pin your preferred currencies. I've picked to see USD, IDR, MYR, etc. My preferred currency is USD, so I see the exchange rate for USD to each currency next to the flag.
When I tap on any of the currencies I can type in a price, hit enter, and immediately so how much it is in all other currencies.
Read More: Essential Travel Apps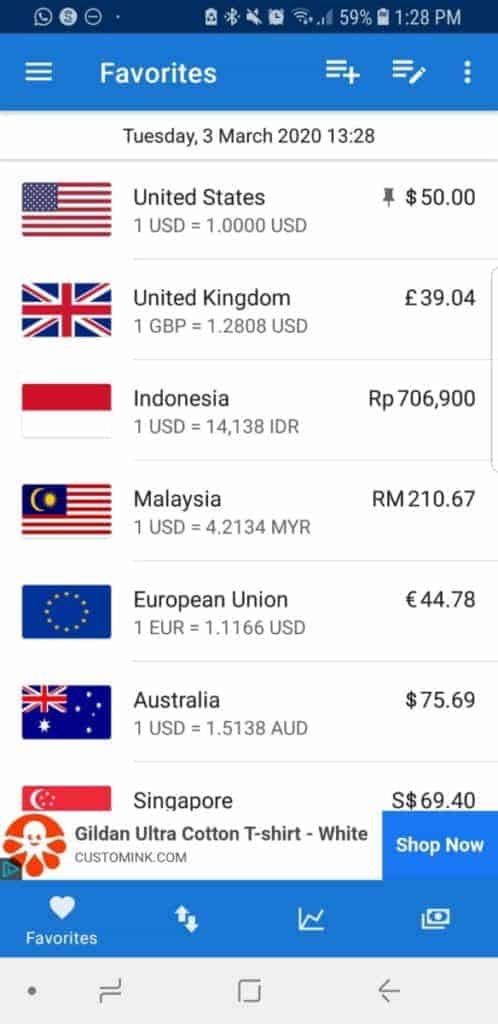 ---
6. Research Standard Prices Ahead of Time
One of the best ways to save money for travel is to research standard prices ahead of time. This is especially vital if you're going somewhere that bartering is a common practice.
If you don't speak the native language and/or you don't look like most of the people around, you'll be targeted as easy to rip off. Knowing how much staples like fruit should cost can help you get a reasonable price.
You'll need to know the prices in the native currency. Using the app mentioned in Tip 5, you can select currencies that you want to see ahead of time and it will quickly convert. Be ready to show the phone to the vendor to indicate how much you're willing to pay.
---
7. Research Data and Sim Card Options
It's scary to be in a new place without data to help you communicate and navigate. A large expense that people often encounter while traveling is the cost of a phone plan, which they gladly pay.
However, depending on where you're going, it might be cheaper to purchase a sim card there.
The United States has a huge monopoly on data, and companies charge an arm and a leg for so much as a text sent from a different country. If you're heading to Asia, it's worth purchasing a cheap sim card when you arrive.
If you're headed to Europe, I recommend using EE. Their pay as you go plans mean that you can show up at any corner shop with an unlocked phone and pay about $20 for several GB of data an unlimited texts/calls all over Europe and the UK. You can even save the sim card for later and just add more money online if you need it for another month later on.
---
Google's Phone Plan
This phone plan is definitely made for those who are frequent travelers as it is a bit pricy for just occasional use.
For $50/month you get unlimited everything and your phone will automatically connect to networks all over the world.
Depending on your situation, it might actually be the perfect solution.
---
Do You Even Need Data?
It's also worth asking yourself if you actually need data.
If you're headed to a huge city like London, you'll easily find free wifi almost everywhere. You can always download Google Translate offline and Google Maps for offline use.
If you do plan on relying on unsecured Wifi, consider investing in a VPN. They're a couple of dollars a month and help keep your data safe. We recommend NordVPN or ExpressVPN.
---
8. When Renting Cars, Do Your Research
Renting a car on your trip abroad is a great way explore at your own pace, but it can be pricey. One of the best ways to save money is to use a VPN and to try from different countries to see which gives you the best price. Be sure to try searching car websites from both the country you're traveling from and the country you're traveling to. You can even try from some other random places just to see what you get (you should also do this with flights!).
Another great way to save money on car rentals is to use a car rental comparison site like Discover Cars. The website gets great reviews on Trust Pilot (a hard feat to achieve!) and has free cancellation which is always a major win! It searches rentals from over 500 websites so you know you're seeing all of the rental options available and getting the best price. 
---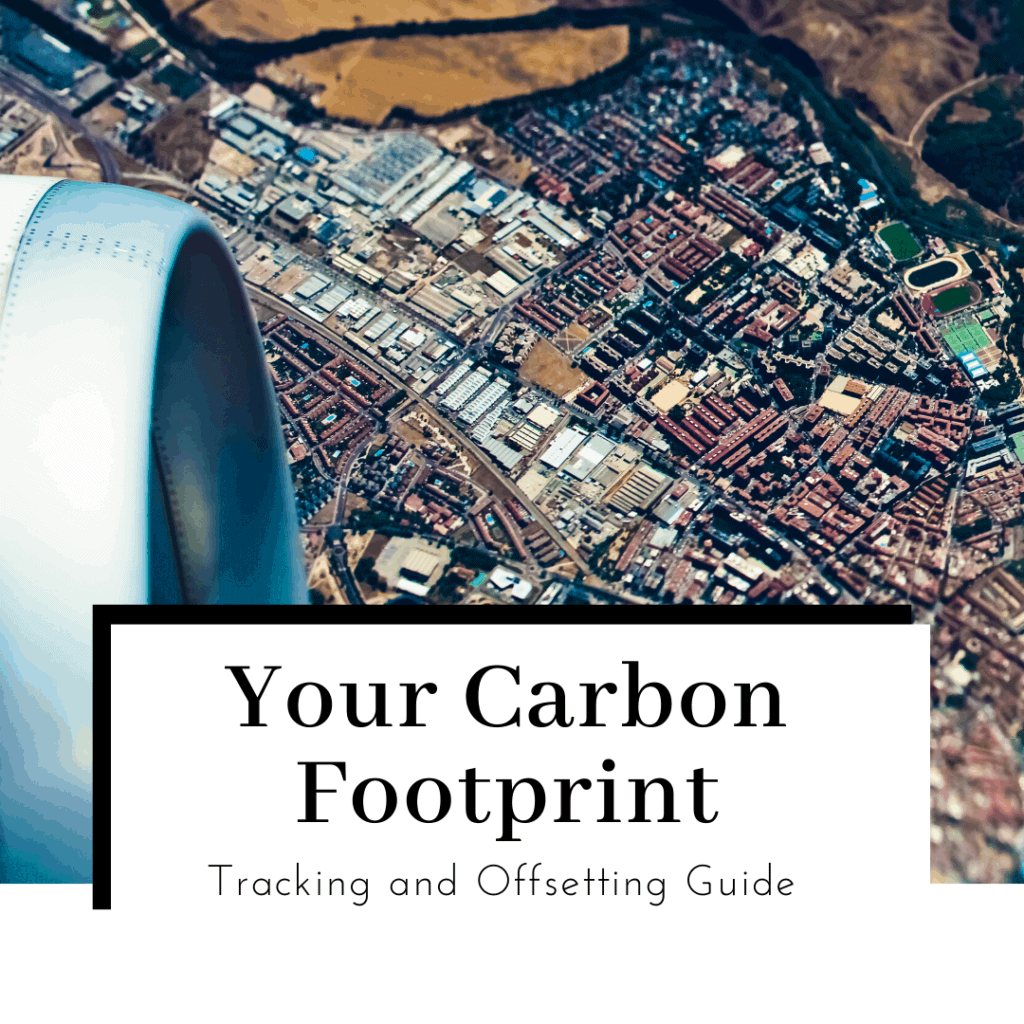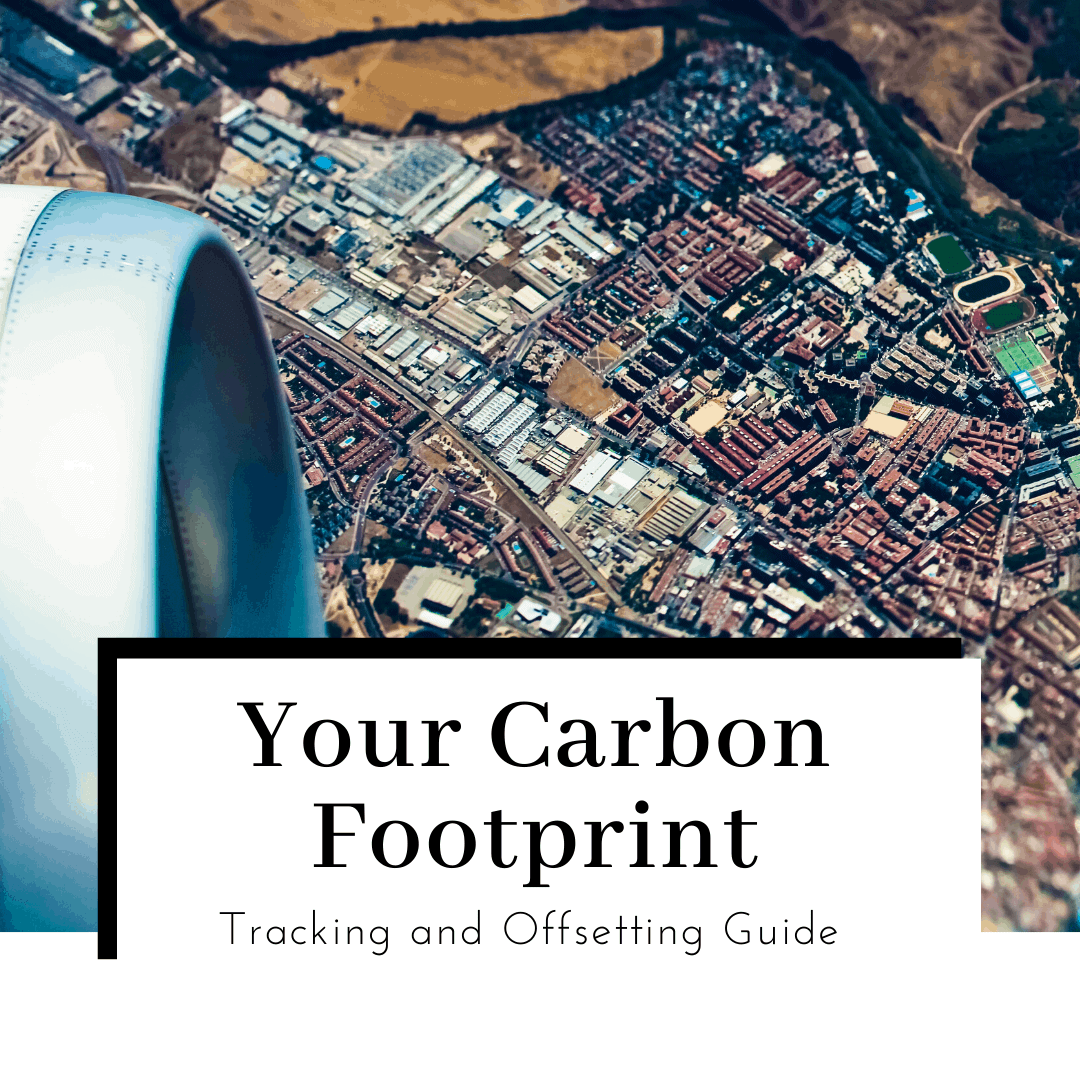 ---
Bonus! Cheap Accommodation Isn't What You Think & Exercise
I do not like hostels where I sleep in a room with 8 other strangers.
But I like money in my bank account more, so I will do it if necessary.
However, hostels often aren't the cheapest places to stay in!
Hear me out. Sometimes hostels are the best option. If you need to be right in the city center, hostels might be your best budget option. Hostels are also great for solo travelers who want to get out and meet people.
Hostelworld is a great resource for finding reliable hostels worldwide.
But if you're willing to take public transit around the city, choosing an Airbnb or house sitting can actually save you money.
---
How to Save Money with Airbnb
Since I was first introduced to Airbnb, I fell in love.
Some Airbnbs offer discounts if you stay for longer periods of time. It's often cheaper to say that you're staying for a month and leave after 3 weeks. Some places will discount as much as 50% for longer stays.
The same goes for week-long stays. It's often cheaper to book for a full week and leave after five days.
Read More: Airbnb Guide to Paris
---
How to Save Money by House Sitting
House sitting is a fantastic but seemingly underexplored travel money tip to save you loads. Accommodation and transportation are generally the biggest expenses while traveling and finding ways to house sit can save you hundreds every month.
Most house sitting sites require a yearly fee ($20 to $50) to start house sitting, but considering this is probably less than you pay for a night at a hotel, it's definitely worth it.
We recommend setting up a killer profile on one site and building reviews there. The more good review you have, the easier it is to find opportunities.
Read More: Truthful Review: Best House Sitting Websites for Travellers & Homeowners
Here are some sites to get started on:
Be sure to check out Work Away and WWOOF as well for opportunities to work for your lodging.
Read More: Where to Stay in London for Major Attractions
---
Exercise
Trying to stay fit while on the road is not easy! Although you might be getting thousands of steps in during the day, if you want to keep up strength exercises, don't try and fit gyms along the road.
Invest in some exercise bands and learn some at home workout routines to keep you fit anywhere!
---
Save Money for Travel and Start Exploring Today!
Now that you know how to save money for travel, it's time to start exploring.
Start exploring your next destination or learn how to start your own successful travel blog below!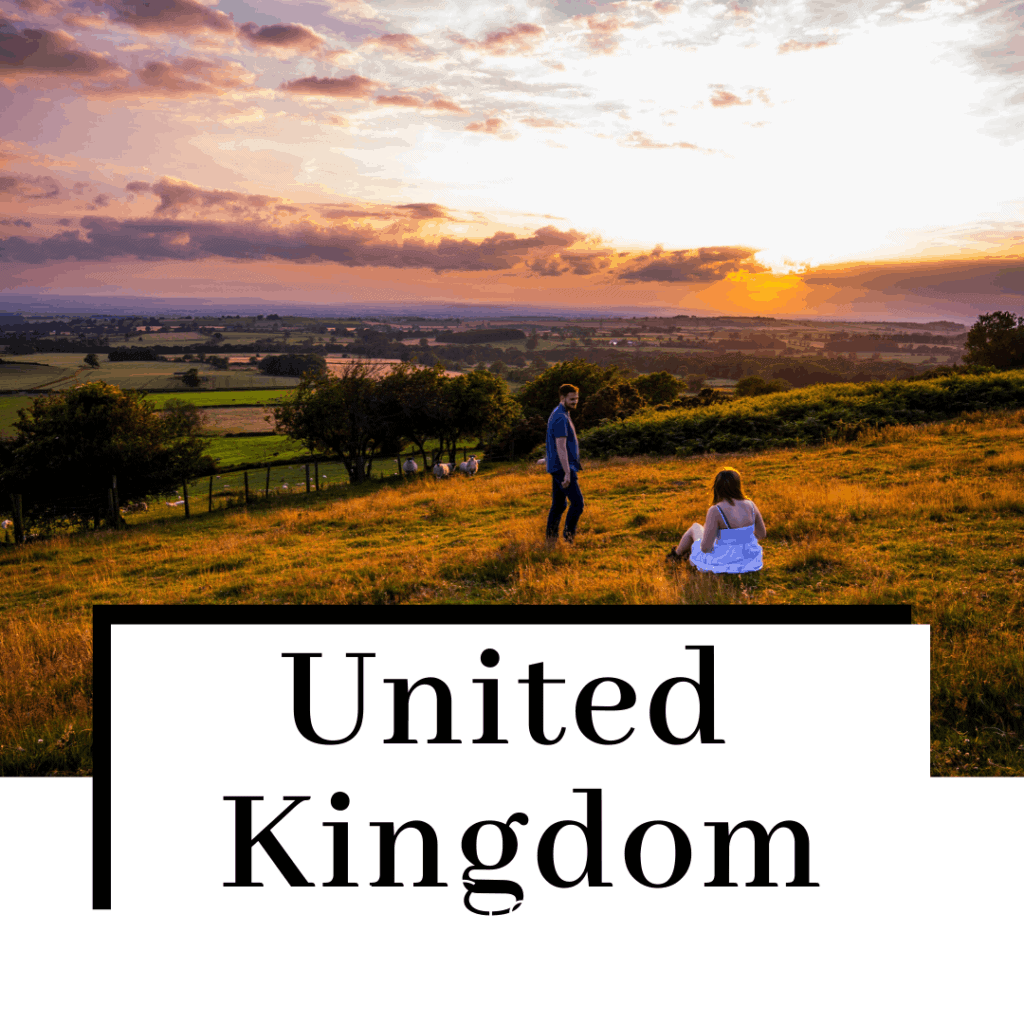 ---
---
Pin "7 Travel Money Tips for Dummies"
---
And as always, you can find more sustainable travel content on Instagram @VoyagingHerbivore, Youtube, and TikTok and to get updates straight to your inbox, enter your email below in the footer, or to the right on the sidebar.

If you found this guide helpful and want to help us keep these resources free,
please consider making your next Amazon, Expedia, Hostel World, Etsy, and Booking.com purchase through our links (just click right on those words – you can do it right now and unless you clear your cookies before your next purchase, it will remember). It costs you no extra and gives us a small commission. Thank you!
---