A trip to Edinburgh can turn into an ideal romantic getaway with the right planning. From charming hotels to amazing trips to the countryside, couples can relax and show their love. Edinburgh's romantic restaurants will give you a break from a whole day of exploring, and with a candlelight dinner, you will summarize your amazing day in the beautiful city of Edinburgh. Doesn't matter if you are vegan or not, Edinburgh has something to offer everyone.
Read More: Best Places To Visit In Scotland For Couples: A Guide
---
How to Choose the Best Date Night Restaurants in Edinburgh?
Choosing the best of Edinburgh's romantic restaurants is not hard since there are so many, but here are some ideas on how to do it if you do not have time to try all of them:
---
Consider Your Preferences
Consider the types of foods that you and your partner like to eat. Edinburgh provides a variety of dining options, including fine dining, cosmopolitan flavours, and traditional Scottish fare. Take into account your nutritional requirements, such as vegetarian or vegan dishes.
---
Check the Ambience
A romantic and cosy atmosphere is essential for a restaurant on a date night. Look for locations with a romantic ambience, cosy lighting, and inviting seating options. Think about whether you would rather be in a traditional or charming place vs something trendy and current.
---
Check the Menu
Make sure the restaurant's menu has a selection of foods that you and your companion would like by looking at it. Take into account any dietary preferences or requirements you may have. For a more distinctive experience, it's a good idea to inquire if the restaurant provides a tasting menu or any other special options.
---
Consider Location and Accessibility
Consider the restaurant's location and your partner's and your accessibility to it. Think about things like transportation, parking accessibility, and proximity to other things to do or places to go before or after your date.
---
Budget
Set a spending limit for your date night and determine whether the restaurant's costs are reasonable. Given that some restaurants in Edinburgh can be fairly pricey, it's crucial to think about how much you're willing to spend.
If you're ready to discover the most romantic restaurants for date nights in Edinburgh, follow our list for recommendations:
---
1. The Witchery
This is unquestionably along the most popular Edinburgh romantic restaurants, tucked away close to Edinburgh Castle. The Witchery, which is dripping with history, gives you an option between two chambers based on the mood you want.
The Witchery room, which has a different ambience, is located in a merchant's home from the 16th century. You will be seated on red seats with wood-panelled walls in this area. You are surrounded by Edinburgh artefacts while having the most romantic date.
You can also spend the night at The Witchery hotel for a truly unique experience.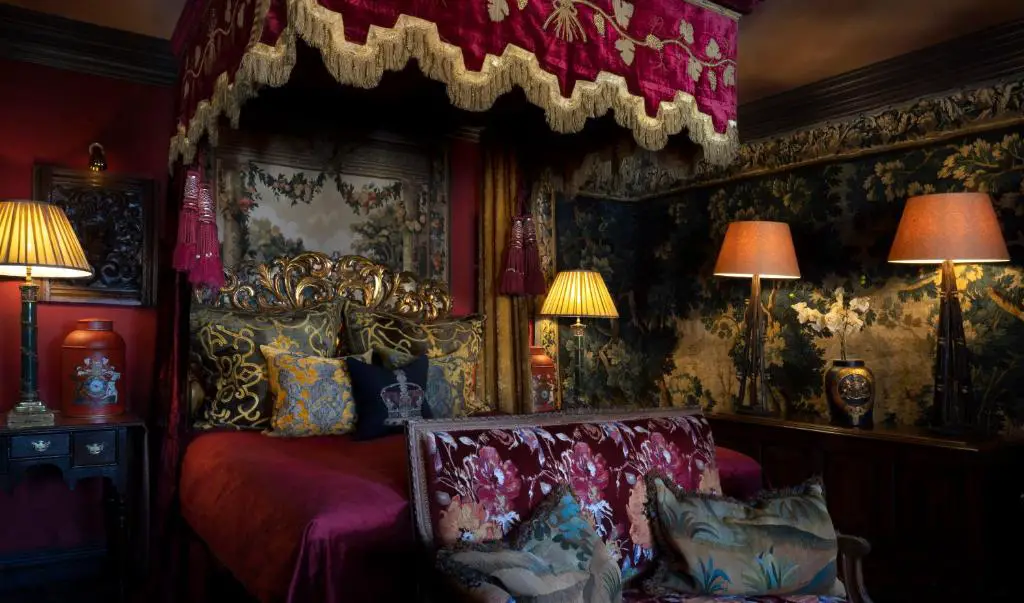 ---
2. Angels With Bagpipes
The Dining Room at Angels with Bagpipes is a bustling, welcoming area where you can savour some of the best Scottish cuisines in Edinburgh. The room is lit with striking, winged angel candlesticks. Private dining is available for bigger groups in the Chanters dining room, which is ideal for small weddings and family gatherings.
Read More: Fun Things To Do In Scotland For Couples: A Full 2023 Guide
The stunning Halo room is perfect for more intimate gatherings because it nearly seems to hover above Roxburgh's Close. It feels discretely isolated from the rest of the diners and is a pleasant, mystical environment that is subtly ornamented with Scottish symbols. It can accommodate four people but is best for two, and because of its romantic intimacy, it has hosted countless marriage proposals.
---
3. Rhubarb at Prestonfield House
You can feel the romance this place offers the moment you go through the doors of the hotel to be taken to the restaurant. The warm and welcoming tones of red, black, and gold. Your gaze wanders as you sit in the chair, taking in the mood-setting chandeliers, the candles on the table, and the numerous diverse photographs on the walls. You are in Scotland to sample the best of the country's cuisine.
Opt for the set lunch menu if you're on a tight budget. A la Carte and supper menus are also available. Although a designated driver is required (parking is free), the trip from the Old Town is worthwhile.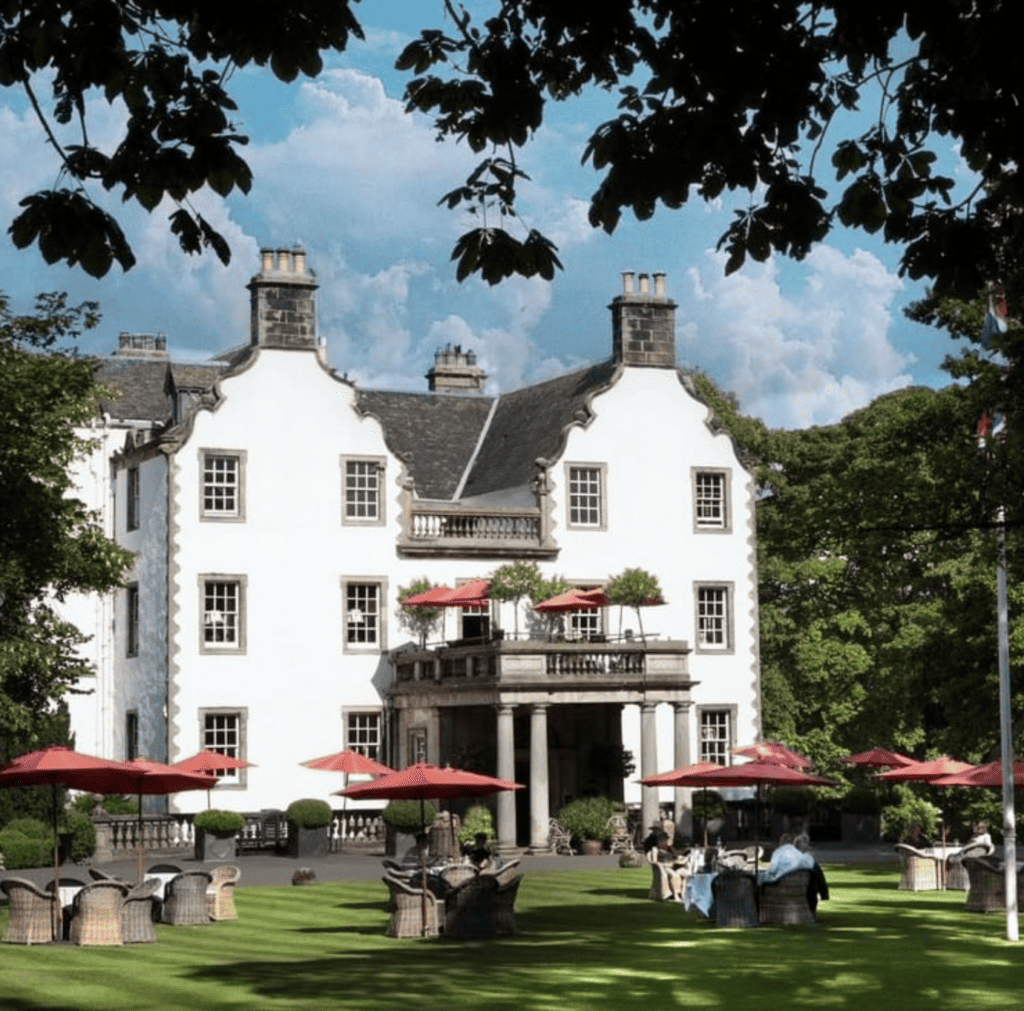 ---
4. Six by Nico
This subterranean restaurant is the hub for romantic souls and is gloomy, perfect for dates wishing to blend in with the background. Using themes like Willy Wonka, The Chippie, or the inventive restaurant provides a tasting menu that includes six courses.
After six weeks the restaurant gets a new menu, so there's a good reason to come back to this restaurant every month and check out what is new. The menu is set, still, you can let the staff know in advance if you have any food allergies or intolerances.
---

---
5. Chez Jules
The French bistro Chez Jules is ideal for that first date at Edinburgh romantic restaurants. Your senses are overwhelmed with the scents, sights, and noise of this restaurant as you snake your way to the table, so there is enough distraction if you need a little help with relaxing and starting a casual conversation. The bustling yet inviting ambience lures you in.
You get a basket with bread, water, pickles, charcuterie, and olives on the table. As you go over the menu, please take pleasure in this. The wine is poured into tiny glass tumblers and is delivered in jugs. This Scottish city contains a small amount of authentic France.
---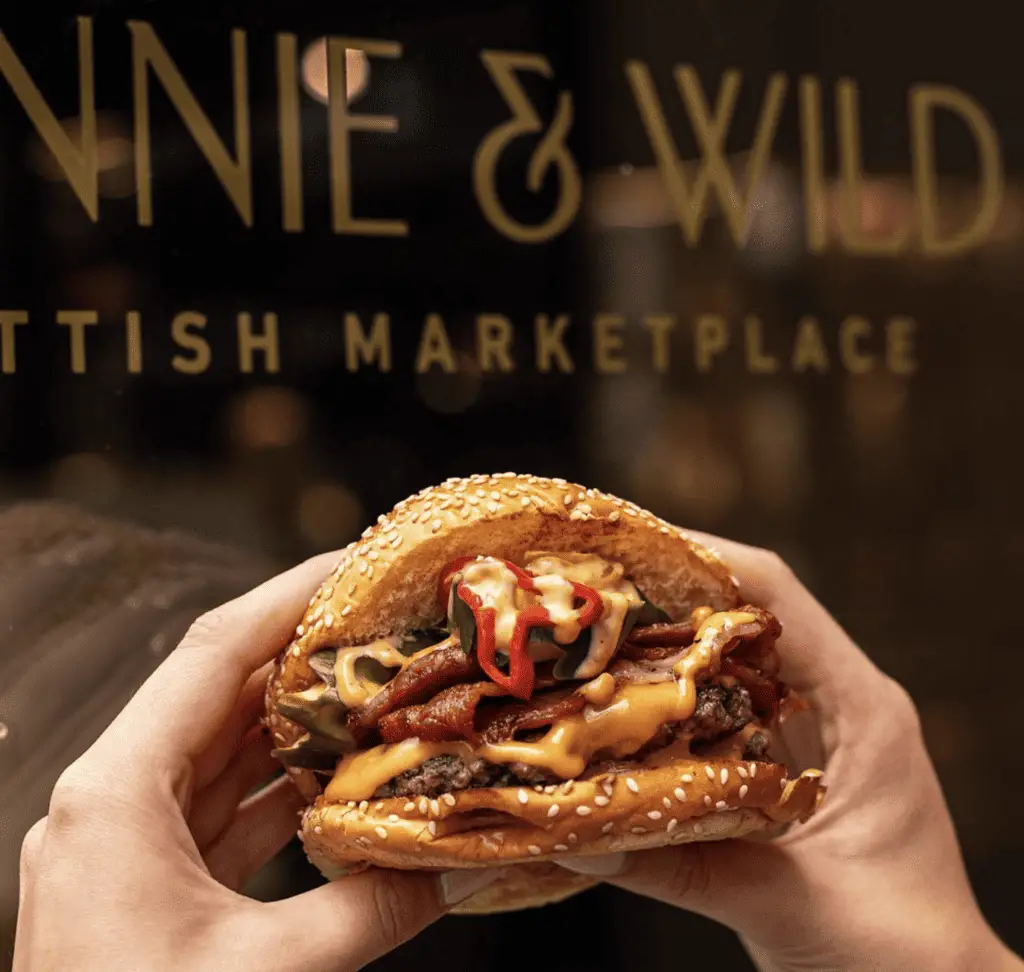 6. Bonnie and Wild
For a laid-back date night restaurant in Edinburgh, go to this fantastic marketplace. You can have some Asian food while your date orders classical street food because the area is divided into parts with various food stalls displaying different kinds of food.
After placing your order and making payment you get a buzzer which will let you know when your food is ready, so you do not need to sit close to your selected food vendor. The app is used to order both non-alcoholic and alcoholic beverages. A laid-back dining option that encourages conversation on the setup.
---
7. Howies
This popular restaurant has several different locations throughout the city with its main location being Waterloo Place. At the East End of Princes Street, the dining room is housed in an incredible Georgian hall. This setting is ideal for Edinburgh's romantic restaurants.
The huge windows let the light in, which enhances the straightforward decor. It's a great relaxing space to eat in. The restaurant is welcoming, the staff is friendly, and the food on the menu offers enough variety to suit any date.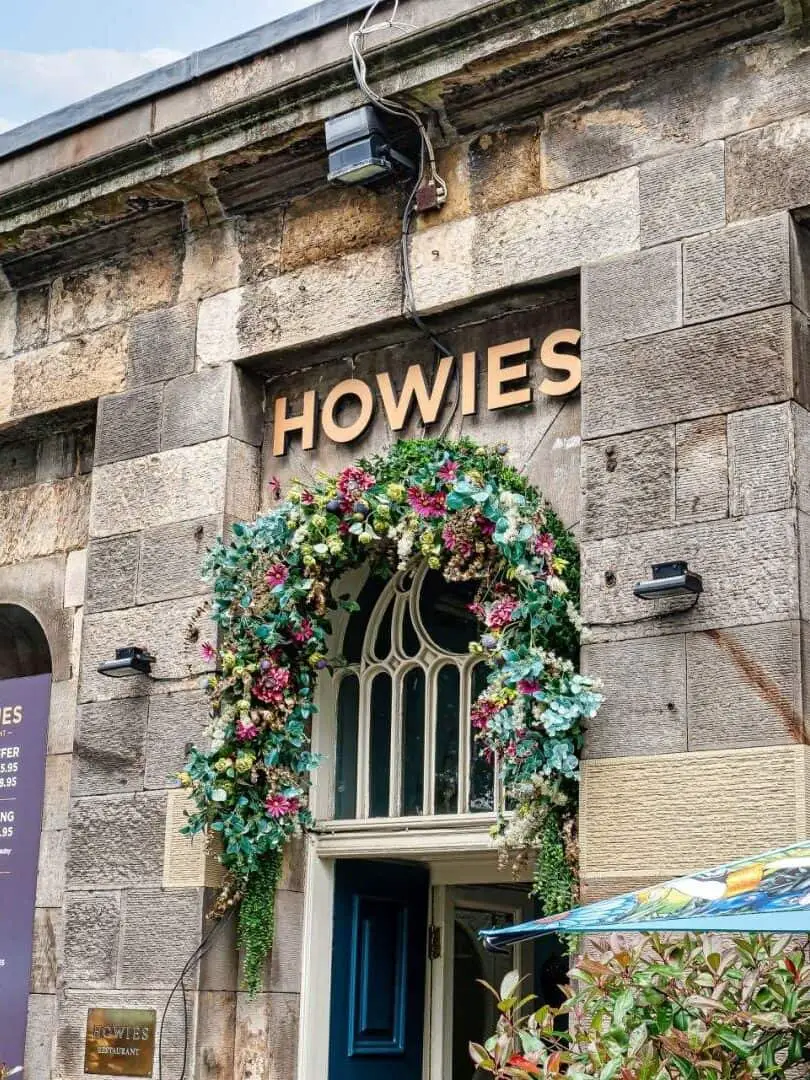 ---
---
8. Chaophraya
Due to its fourth-floor views of Edinburgh Castle, this incredible restaurant that serves Thai food is a favourite among romantic souls of Edinburgh looking for great food paired with the best views. This is a perfect spot to see the Castle lights light up in the evening while also overlooking Princes Street Gardens.
The menu of Chaophraya offers traditional Thai cuisine, but also you will have the opportunity to try some menu items that have a modern twist. This is a perfect place for those who like to experiment with their food choices and try something new.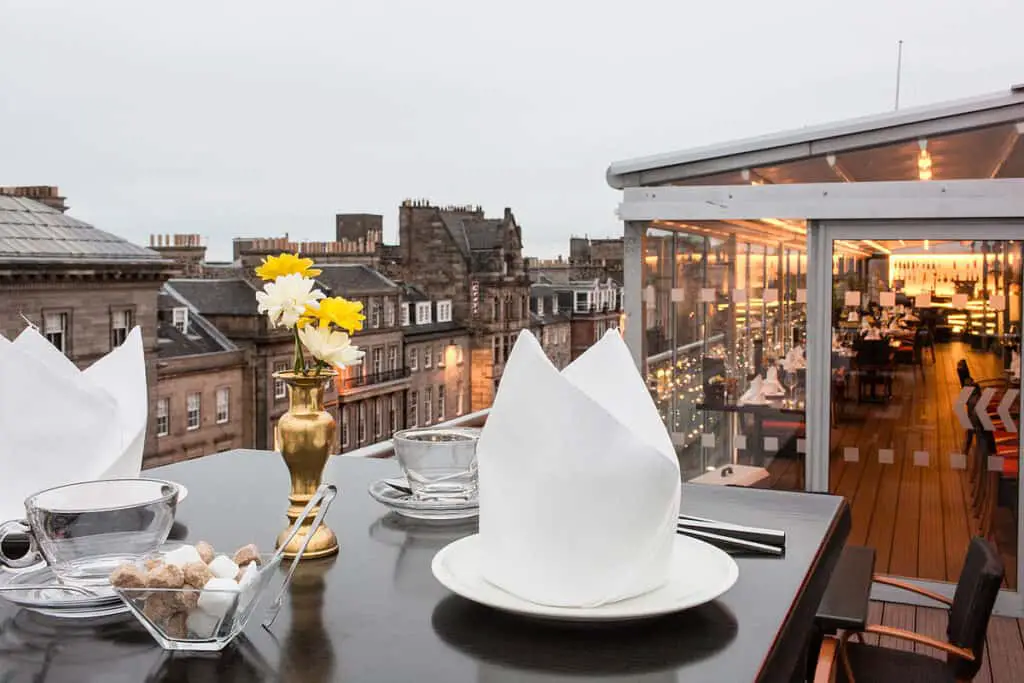 ---
9. Cafe Andaluz
Cafe Andaluz is a well-known Spanish tapas restaurant chain that can be found in other Scottish cities too. Spain-inspired tiling and furnishings can be found throughout, and the George Street site offers a sizable outdoor seating area.
The menu offers larger servings of paella or tiny plates of popular tapas including croquettes, tortillas, and patatas bravas. Cafe Andaluz is the best location for a more laid-back romantic date night if you want to just relax and eat good food together.
---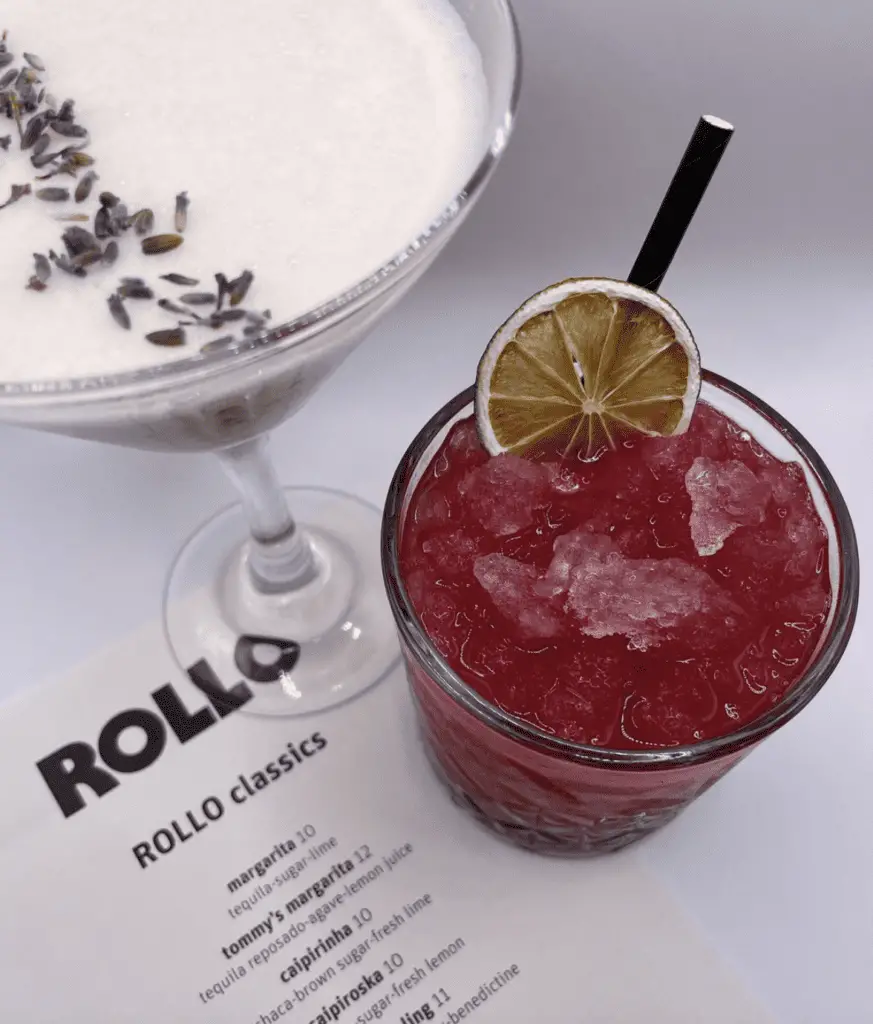 10. Rollo
This upscale wine bar is among the most popular Edinburgh romantic restaurants. The staff is very friendly and you will get great guidance on what to order even if you don't know much about wines. The food menu consists of snacks, side dishes, plates, and bowls. Here you can have a light dinner and a glass of wine while on a romantic evening stroll.
---

---
Romantic Restaurants in Edinburgh FAQs
Is Edinburgh a Good City for a Romantic Getaway?
With a perfect combination of cosy cafes, historic sites, and great architecture, Edinburgh is on the list of the most romantic cities in the UK. You can start planning your romantic trip by choosing a perfect romantic hotel for your stay. You can also plan food-tasting tours, or whiskey and gin tours in Edinburgh, which will make this trip even more interesting for both of you.
What Can You Do as a Couple in Edinburgh?
As a couple in Edinburgh, you can go on private walking tours, you can visit different romantic attractions like Royal Botanical Gardens or Edinburgh Castle or can have a date night at one of Edinburgh's romantic restaurants. You could also have a couples photoshoot in Edinburgh to commemorate the special occasion. 
What Are the Best Food Festivals in Edinburgh?
Edinburgh is an amazing place for foodies and has several great food festivals. Some of the festivals you must not miss are Edinburgh Food Festival, Royal Highland Show, Edinburgh Juniper Festival, Edinburgh Craft Beer Revolution, and especially Edinburgh Vegan Festival.
---
More Scotland Posts
---
Free Resources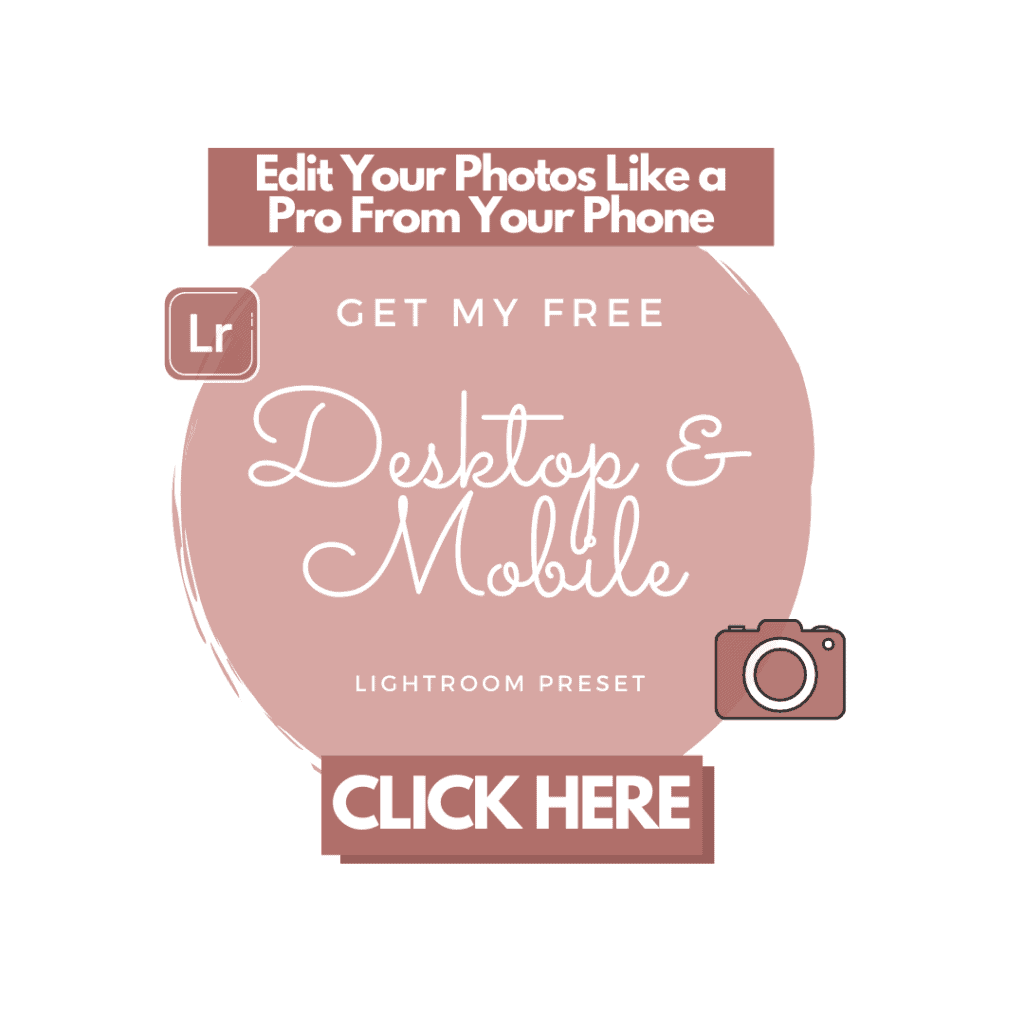 ---
And as always, you can find more sustainable travel content on Instagram @VoyagingHerbivore, Youtube, and TikTok and to get updates straight to your inbox, enter your email below in the footer, or to the right on the sidebar.

If you found this guide helpful and want to help us keep these resources free,
please consider making your next Amazon, Expedia, Hostel World, Etsy, and Booking.com purchase through our links (just click right on those words – you can do it right now and unless you clear your cookies before your next purchase, it will remember). It costs you no extra and gives us a small commission. Thank you!
---
Pin Edinburgh Romantic Restaurants