Few cities in the world are more beautiful and idyllic for celebrating love (and anything else, for that matter) than that of the glamorous and culture-rife city of Edinburgh.
If you're planning a charming and lovey-dovey getaway with your special someone in this fabulous Scottish city, and are scouring the web for romantic hotels in Edinburgh (bonus points if they come with a hot tub in the room…), you're certainly not short of options.
Whether you want to be in the heart of the city's Old Town, where you're a stone's throw away from the best eateries and cocktail bars Edinburgh has to offer, or require a castle view room to gape at every morning, we've got you covered.
Read More: 10 Cute Date Ideas in Edinburgh for a Romantic Night
---
This site is user-supported and that's why we use affiliate links. At no extra cost to you, we get a little bit of money when you purchase something through one of our links. Thank you for helping support ethical, sustainable, and plant-based travel! You can read more about our affiliate disclosure policy here.
---
Why Edinburgh?
Whatever tickles your pickle in terms of travelling and adventure – Edinburgh has something for everyone.
Bubbling with culture, you can explore Edinburgh and the surrounding areas at ease, either through a guided tour, or at your own pace. 
You can take advantage of the innumerable restaurants, artisan coffee shops, indie gin joints, ghost tours, whisky-tasting tours, museums, art galleries, nightlife, Harry Potter-themed activities, and much more.
Read More: 30 FREE Things To Do In Edinburgh (Local Secrets)
But where should you and your partner stay during all these activities?!
Whether you're looking for honeymoon suites in Edinburgh after the Big Day, or just a couples getaway – behold – the 6 most romantic hotels in Edinburgh for you and your sweetheart to enjoy during your stay in the Auld Reekie, as it's affectionately known….
If you are looking for other romantic locations in Scotland, check out this post instead: 10 Best Destinations for Romantic Couples Breaks in Scotland
---
---
Top 6 Romantic Hotels in Edinburgh (with a Hot Tub in the Room!)
---
1. Waldorf Astoria Edinburgh – The Caledonian
Address: Princes Street, EH1 2AB
Romantic bonuses*: Spa facilities, fluffy bathrobes, couples massage, wine/champagne outdoor picnic area.
Sustainability features: Vegan breakfast options, a Travel Sustainable property.
*Additional charges may apply.
In terms of luxury, it doesn't get much more glam than the Waldorf Astoria – and yes, this hotel has a hot tub/jacuzzi.
Ideal for a couples' retreat, the Waldorf Astoria is located on Edinburgh's famous Princes Street, and is oozing with star quality. 
You have ample options when it comes to what type of room you require, and you can even treat yourself to an unobstructed castle view room, if you like to wake up every day feeling like you're in a fairytale!
This hotel has so much to offer its guests, it'll be hard for you and your partner to want to leave the premises! For example, you can indulge in the serene indoor swimming pool, sauna, whirlpool, gym, as well as the three on-site restaurants (including Grazing by Mark Greenaway).
Oh, and you can even bring your pet to stay!
Read More: 6 Dog-Friendly Hotels in Edinburgh Your Pooch Will Love!
Other facilities at the Waldorf Astoria includes:
Valet parking
Flat-screen TV in every room
Beauty services
Free WiFi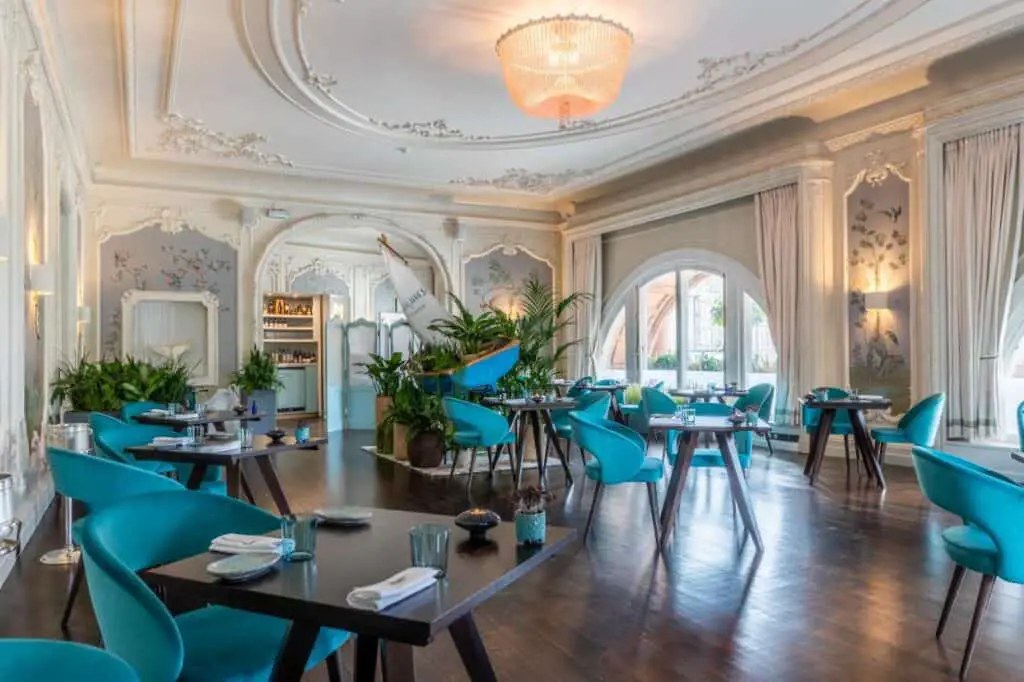 ---
2. JustB Edinburgh
Address: 472 Lanark Road West, EH14 5AE
Romantic bonuses: N/A
Sustainability features: vegan dining options
Tucked away from the hustle and bustle of city life, JustB is a delightful, quaint terraced romantic hotel in Edinburgh, that has a modern rural cottage feel to it. But despite appearances, it is situated in the city centre, meaning you're right on the cusp of all the action, as and when you require it!
Each room has a garden view and a patio to enjoy a delicious fresh breakfast every morning. Speaking of breakfast, this hotel boasts a wide range of options (including vegetarian and vegan), all of which is made using locally-sourced ingredients.
Read More: 10 Edinburgh Romantic Restaurants You Must Try
For those outdoorsy couples who love hiking and skiing – this is the place for you. 
Please note – if access to a hot tub is a must, you will need to book the Superior Room (which requires a minimum of two night's boarding).
Other features the JustB includes:
Free WiFi
Pets allowed
Free on-site parking
Outdoor fireplace
---
3. Sheraton Grand Hotel & Spa
Address: Festival Square, EH3 9SR
Romantic bonuses*: Wine/champagne
Sustainability features: A Travel Sustainable property, vegan breakfast options
*Additional costs may apply.
If a castle view room is a must – you're in luck!
The Sheraton Grand Hotel & Spa is ideal for those looking for modern luxury that offers everything from a hydro pool experience, to taking advantage of the 24-hour room service option. 
Located in the city's Financial District, you will be mere minutes away from all of Edinburgh's most beautiful haunts, such as Old Town, Princes Street, and Edinburgh Castle. However, if you don't fancy leaving the hotel (Scottish weather is nothing if not unpredictable…), you can enjoy a host of on-site activities, including a gin-tasting experience in the hotel's bar and brasserie, a swim in the pool, an array of spa and beauty treatments, and a gym.
Please note: some of these facilities may cost extra and may require pre-booking.
Other features the Sheraton Grand Hotel & Spa includes:
Sauna
Massage options
Personal trainer
Sun terrace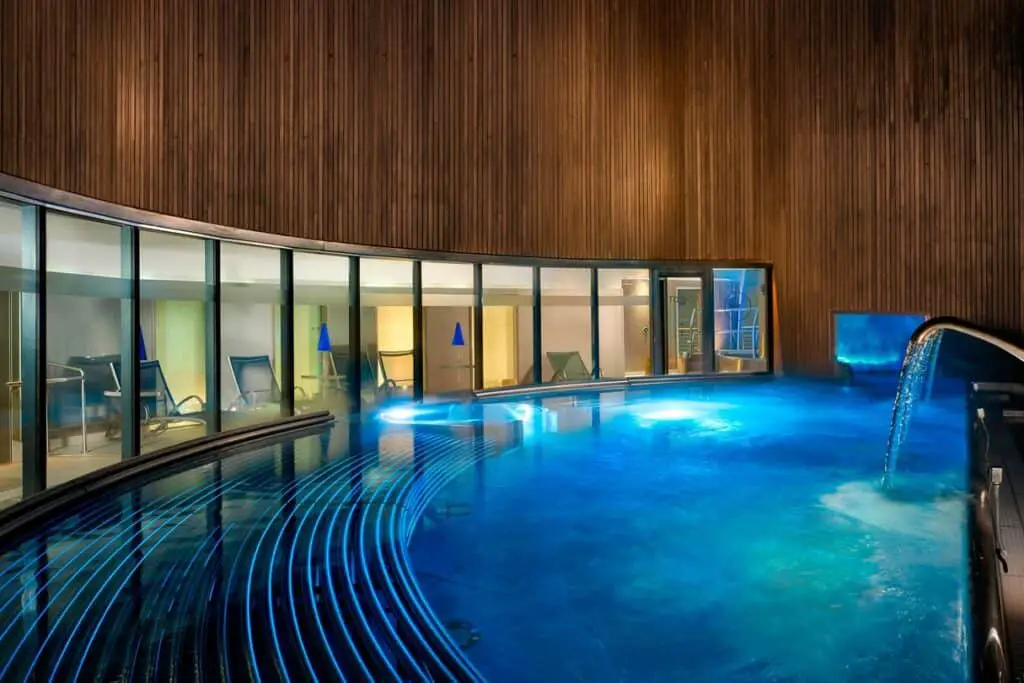 ---
4. Luxury Georgian City Retreat With Hot Tub & Patio
Address: Bernard Street, EH6 6SH
Romantic bonuses: N/A
Sustainability features: A Travel Sustainable property
It quite possibly doesn't get more glamorous than the Georgian City Retreat!
Read More: 10 Most Romantic Hotels in Edinburgh for Newlyweds
Located in the Leith District of the city, this romantic three-room suite is beautifully decadent and lavish, with stunning cosy furniture and even a chandelier or two! 
You and your sweetheart can enjoy the on-site patio and hot tub, all the while being close to the vibrant buzzing city. The suite is self-catering, which gives you all the more reason to go out and enjoy the local eateries. 
After your long days out exploring the beautiful city, why not draw a long, hot, luxurious bath and open a bottle of wine?!
Other features the Georgian City Retreat includes:
Free parking
Concierge service
Free WiFi
Flatscreen TV & streaming services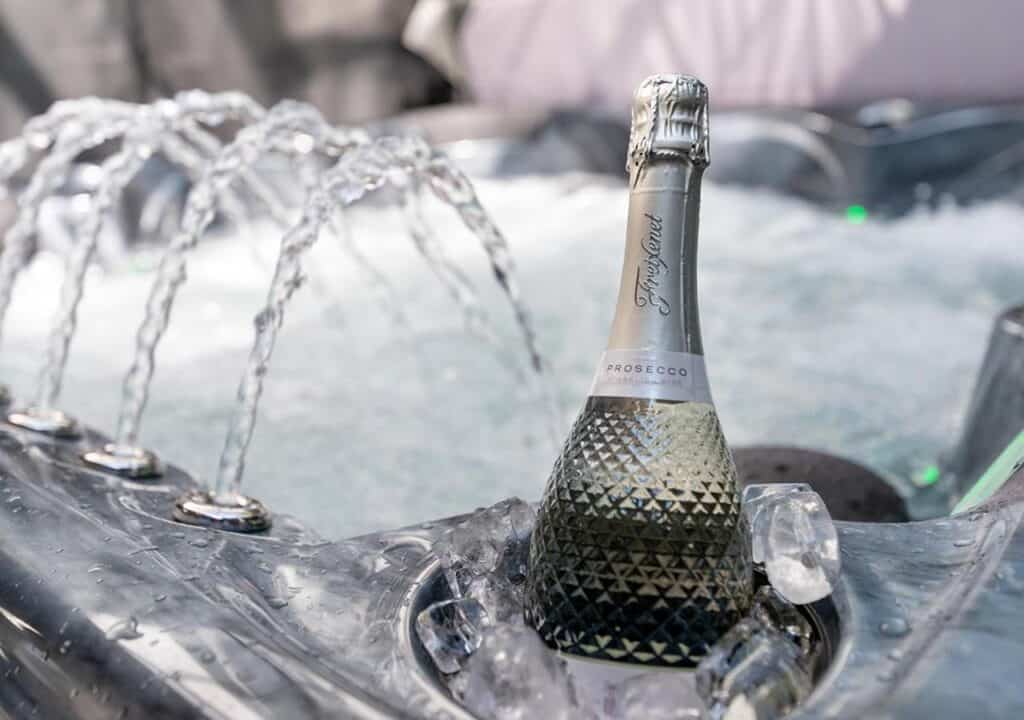 ---
5. Britannia Penthouse
Address: Portland Gardens, EH6 6NQ
Romantic bonuses: N/A
Sustainability features: A Travel Sustainable property
Name us something more romantic than a penthouse suite… we'll wait….
You get to enjoy a whole apartment (all of which are pet-friendly) that boasts some of the most jaw-dropping city views for romantic evenings on the balcony; that includes sea views too. 
When you're not taking in the breathtaking views over a nice tipple, why not have a dip in the hot tub?!
This cosmopolitan hotel got its name from the nearby Royal Yacht Britannia in the lovely Leith District, and boasts light, airy, and spacious rooms for you to enjoy during your stay in the beautiful city of Edinburgh.
Other features the Britannia Penthouse offers:
Free parking
Fully-equipped kitchen
Grocery deliveries (additional charges apply)
Terrace
---

---
6. Nira Caledonia Jacuzzi Suite
Address: Gloucester Pl, EH3 6EF
Romantic bonuses*: Champagne, chocolates, rose petals.
Sustainability features: Restaurant uses fresh, local ingredients.
The epitome of indulgence, the Jacuzzi Suite at the Nira Caledonia is quintessential luxury of the highest degree, and was designed specifically for romantic grandeur, which allows for relaxation and extravagance after a long day perusing the city.
Each room is kitted out beautifully and has a host of candles to set the mood – and the jacuzzi is something to behold!
Each room comes with complimentary Wi-Fi, a coffee machine, PMD tea, minibar, a safe, flat screen television, and L'Occitane toiletries.
Other features the Nira Caledonia includes:
Walk-in shower
High-quality on-site restaurant
Blackwood's restaurant
Read More: 10 Dreamy Scotland Romantic Getaways for Couples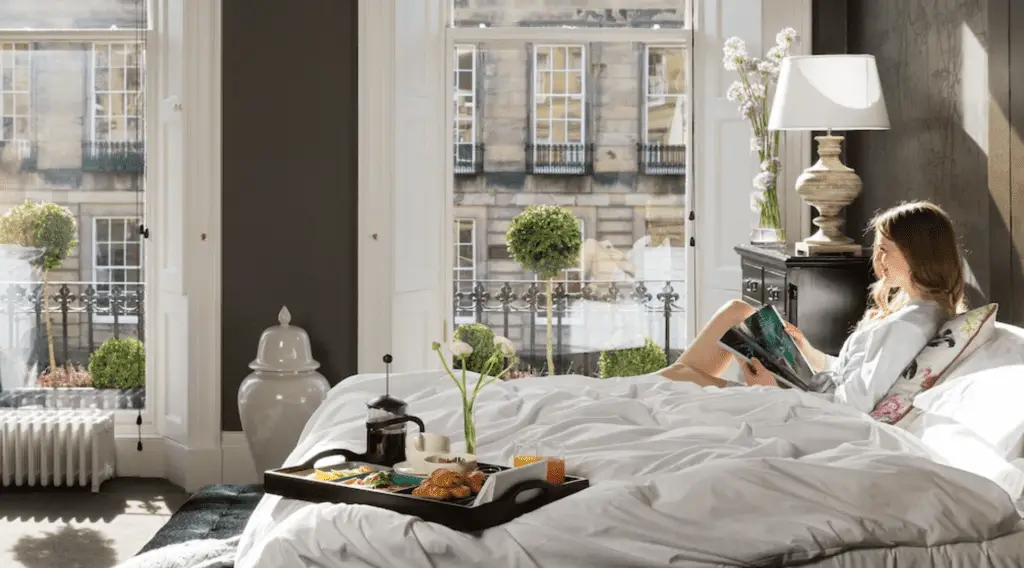 ---
Romantic Hotels in Edinburgh FAQs
Is Edinburgh a good place for a honeymoon?
Absolutely. There's so much to do in Edinburgh that it's impossible not to have a great time, and you can stay there on any budget. 

While Edinburgh is coastal, it isn't, however, the best spot for those who are looking for a beach holiday.

Where are the most romantic places to go in Edinburgh?
Regardless of what you and your spouse like, there's something for everyone to enjoy in Edinburgh, and that includes romantic places to go. Some of the best spots include:

• Edinburgh Castle
• Arthur's Seat (great for a romantic walk or picnic)
• The Witchery by the Castle restaurant
• A whisky or gin-tasting tour at one of the city's distilleries 
• Chocolate Connoisseur Evening at Coco Chocolate
Where is the best place to propose in Edinburgh?
There are many beautiful locations to choose from, depending on yours and your partner's tastes and preferences. Some of the most scenic options include:

• Carlton Hill

If picturesque is what you're after, Carlton Hill won't disappoint!
As one of Edinburgh's main hills, you can enjoy a small hike to the top, where you can oversee the whole of the city. Guaranteed for some stunning engagement photos too – especially during sunset!

• Portobello Beach

Speaking of sunsets, Portobello Beach boasts some of the best in the country.
While the beach is incredibly scenic and breathtaking, you're right on the cusp of the North Sea, so be sure to bundle up – even in the warmer months! 

• Dunbar's Close Gardens

If windy hills and sharp sea air don't appeal, why not stay closer to the main city with this dazzling green secret garden that is tucked away in the heart of the city?
Known to be as quiet and non-touristy as it is beautiful, this hidden gem can be the perfect location to get down on one knee.

Can I have a romantic photoshoot in Edinburgh?
Yes! If you're interested in a photoshoot around Edinburgh with you and your partner, or if you're planning a proposal, you won't find a better city! You can book me as your photographer here.
---
Explore More of Edinburgh
---
Free Resources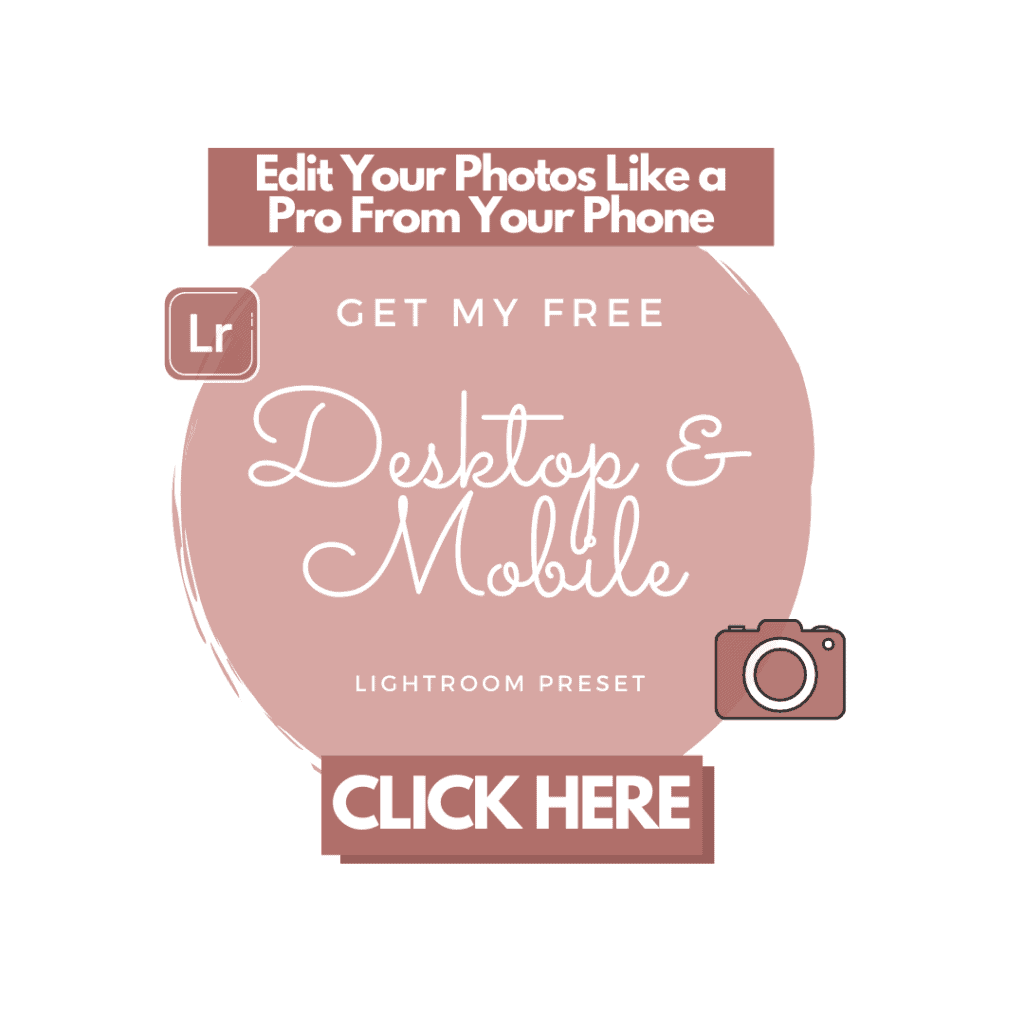 ---
And as always, you can find more sustainable travel content on Instagram @VoyagingHerbivore, Youtube, and TikTok and to get updates straight to your inbox, enter your email below in the footer, or to the right on the sidebar.

If you found this guide helpful and want to help us keep these resources free,
please consider making your next Amazon, Expedia, Hostel World, Etsy, and Booking.com purchase through our links (just click right on those words – you can do it right now and unless you clear your cookies before your next purchase, it will remember). It costs you no extra and gives us a small commission. Thank you!
---
Pin Romantic Hotels in Edinburgh