Can you really justify £800 on a Jackery solar generator?
Keep reading to find out everything you need to know about the Jackery 500 UK and US! Let's dive into the Jackery solar generator review!
Looking for other recommendations? Read our BLUETTI Generator Review
The Jackery Explorer 500, Jackery 100W Solar Panel, and Jackery Carrying Case were gifted products. All opinions expressed in this post are our own. We never recommend products that we don't believe in.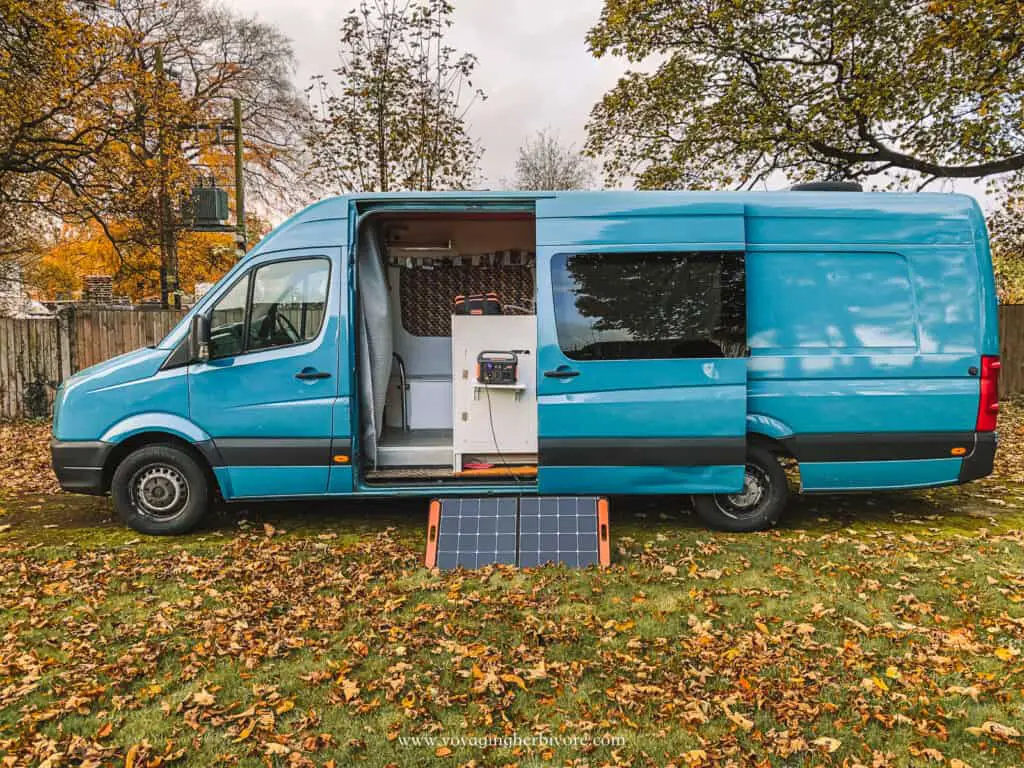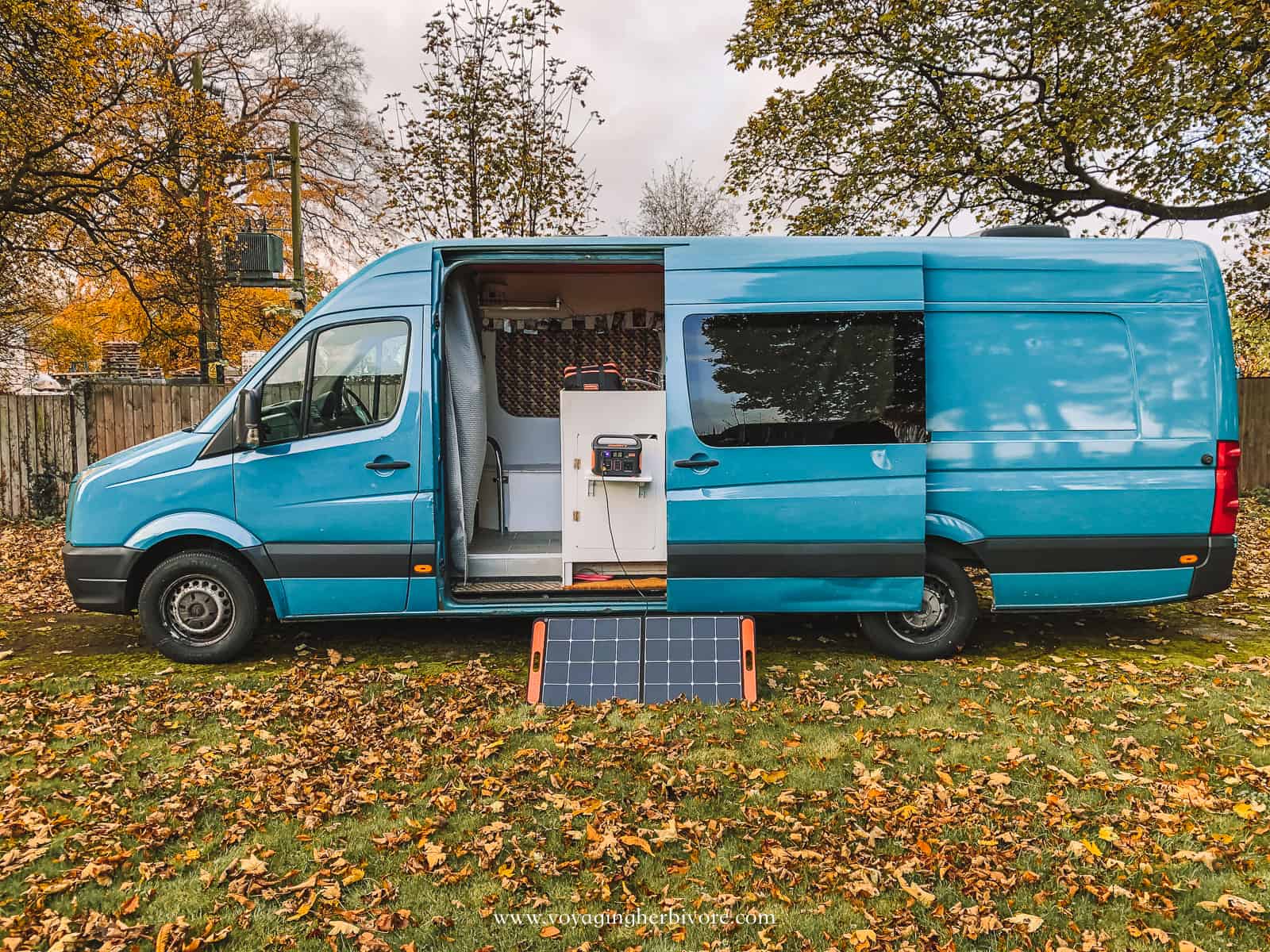 ---
This site is user-supported and that's why we use affiliate links. At no extra cost to you, we get a little bit of money when you purchase something through one of our links. Thank you for helping support ethical, sustainable, and plant-based travel! You can read more about our affiliate disclosure policy here.
Please note, we are not electricians. We think that all of the electrical insights in this article are correct, but we could be wrong! Always consult a certified electrician before you go playing with electrical things.
---
What Camera Gear Do We Use?
If you want the full list of things we keep in our camera bag, check out the complete guide or browse our photography guides.
---
What is Jackery?
Jackery was founded in California in 2012 by a group of engineers with the goal of making portable solar energy accessible to all.
Now, if you were anything like me, you might be thinking, "surely solar panels are already accessible to all." Well, let me tell you after a painful weekend of trying to do a DIY solar panel installation onto our van and failing miserably, they are not accessible to all. Which is where Jackery comes in!
Shortly after Jackery's founding in 2012, it launched the Jackery Explorer series in 2015. This series consists of portable power stations ranging from 160W to 2000W so there really is a size for everyone.
In 2018, the Jackery SolarSaga series was released which consists of solar panels ranging from 60W to 200W, all of which are compatible with the Jackery portable power stations.
In 2020, the Jackery Solar Generator was unveiled – because who doesn't love a package deal? The Solar Generator series features a portable power station and accompanying solar panel. In this post, we'll be reviewing the Jackery Solar Generator 500W with a 100W solar panel.
Finally, in 2021 Jackery entered the European Market (hence the Jackery 500 UK review) and celebrated its 9th anniversary!
---
What is a Solar Generator and How Does It Work?
If you head to the Jackery site, you'll find that there are three different kinds of products:
The Jackery Solar Generator is simply a package of the Jackery Explorer Portable Power Station and the Jackery SolarSaga Solar Panel.
A solar generator can technically refer to a solar solution that combines a portable power station with solar panels. It converts sun energy captured by solar panels into electrical power and then stores it in a portable power station for later use. A solar generator is a reliable and clean power source for campers, RVs, or as an emergency backup if your power goes out.
Besides portability, the best part about the Jackery Explorer 500 Solar Generator package is the ease of use. As we're currently in the process of installing solar panels onto our van, we can attest to just how tricky it is to try and become an electrician overnight! With a Jackery Solar Generator system in place, the only thing you need to find is some sun.
Please note that the Jackery UK and US ranges are slightly different. In the UK, there are three models of portable power station available: Explorer 240/500/1000, while in the US you have more options(160-2000). As for the solar panel, you can only find SolarSaga 100W in the UK, but it works with all three Explorers well. 
---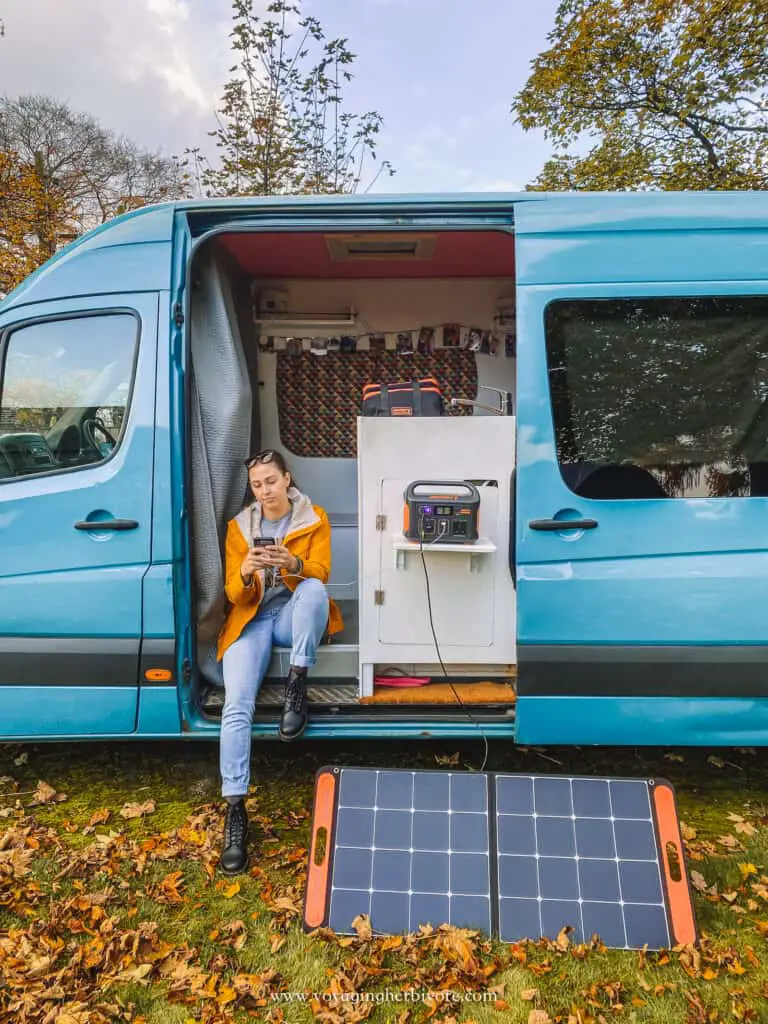 ---
Jackery Solar Generator 500 Unboxing: What's in the Box
Our Jackery Solar Generator 500 arrived in two separate boxes. One held the Jackery 500 portable power station and another contained the Jackery SolarSaga 100W.
Inside the Jackery Explorer 500, you'll find:
Jackery Explorer 500 Portable Power Station
24V wall charging cord and adapter
12V car charter
Black cord carrying case
Instruction manual
The Jackery Explorer 500 weighs 13.3lb and although heavy, is easy to carry with the carrying case. The dimensions are 11.84in x 7.59in x 9.20in. In the photos below you can see the display of the Jackery which shows how much power is going in and how much is being used by devices that are plugged in. This way, you know if you're on track to lose or gain energy.
In terms of device sharing, the Jackery 500 UK features:
2 DC outlets
1 car (cigarette lighter) outlet
3 USB ports
1 AC outlet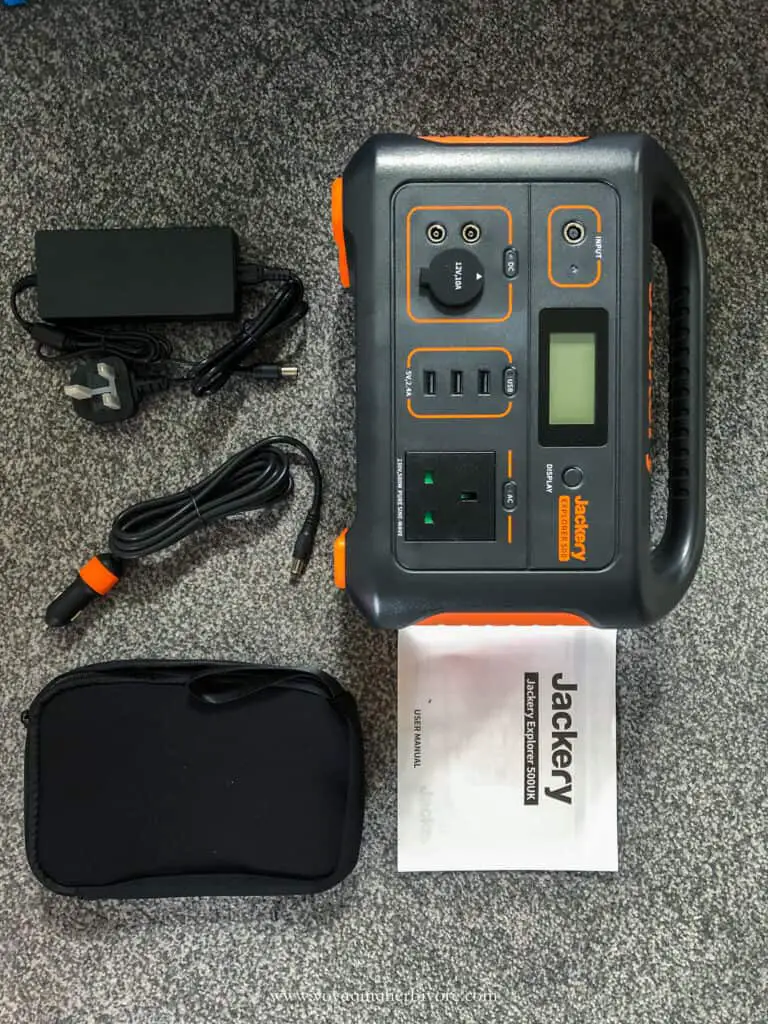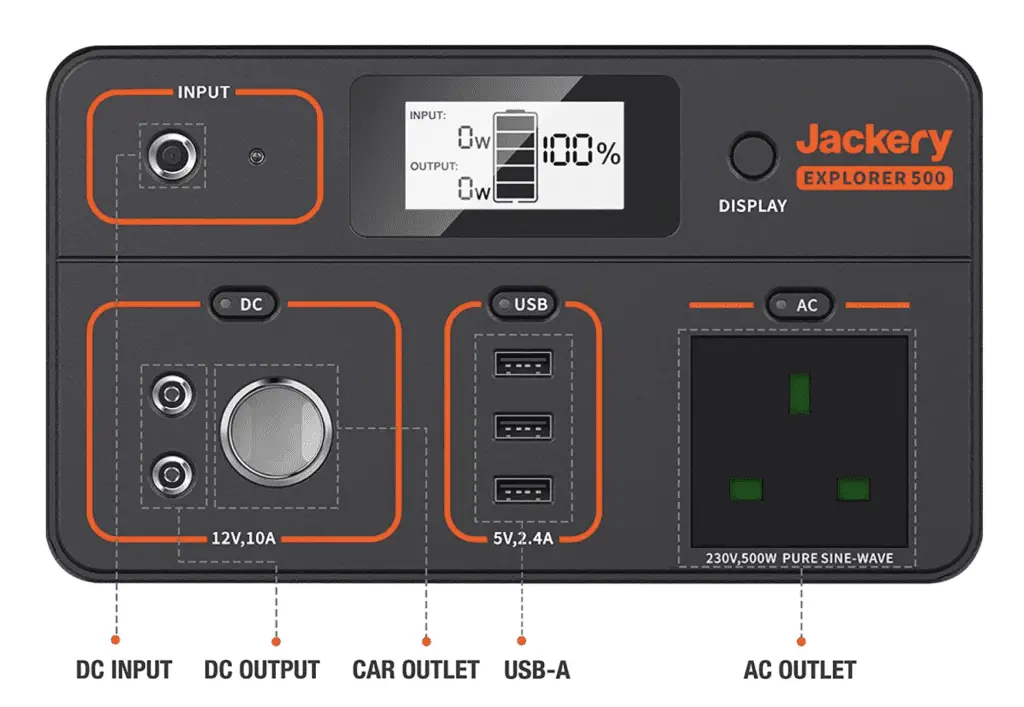 Inside the SolarSaga 100W, you'll find:
100W foldable solar panel
Cord in zippered pouch attached to the back of the panel
The solar panels couldn't be easier to set up. The panel arrives and is stored folded in half with strong magnets holding it together. The convenient carrying handle makes it easy to move around as necessary.
Once unfolded, the legs of the solar panel (velcro hold them in place so they don't flop about) are used to position the panels towards the sun. To attach the SolarSaga to the Jackery Portable Power Station, simply unzip the pouch on the back of the solar panel, take the cord, and plug it into the "Input" section. If the sun is out you'll see the display counting up as the sun charges the power station.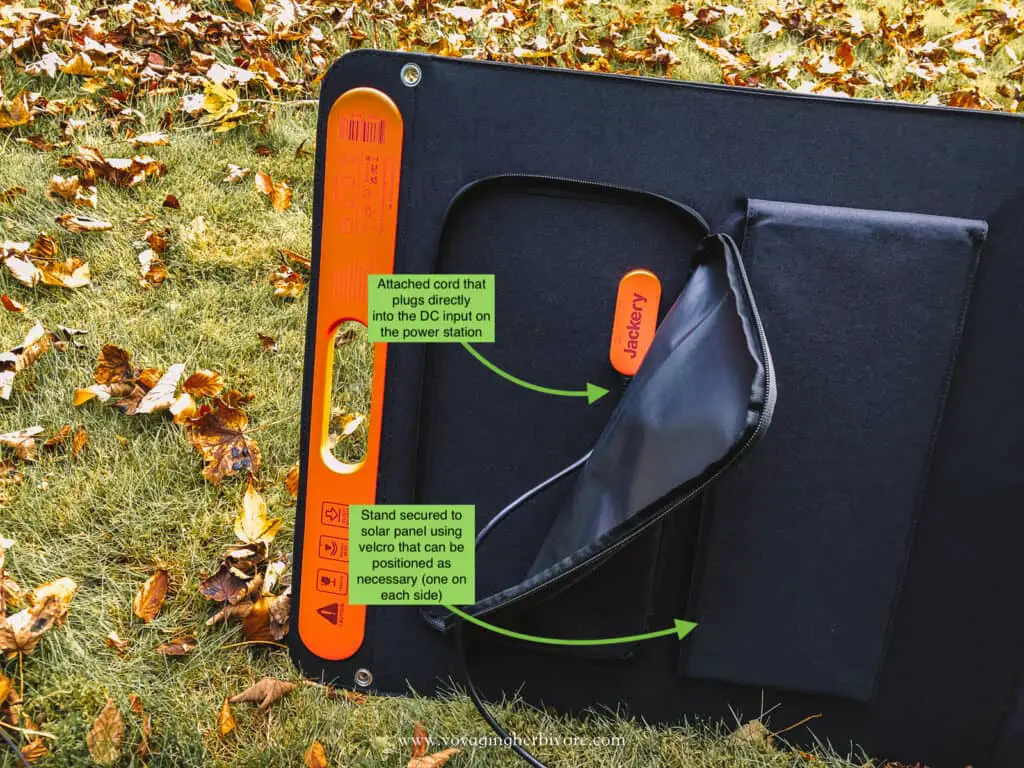 ---
AC, DC, and USB Oh My!
No Jackery Explorer 500 Review would be complete without an overview of what you can charge with this portable power station. If you want to get really in-depth on AC and DC currents, check out this guide, but for now we'll give you the basic overview of how this all works with the Jackery Solar Generator.
DC: Direct current (DC) is a type of current that flows only in one direction. Cigarette lighters in cars are DC current and many applianced built specifically for motorhomes and caravans are in DC. You can find fridges, coffee makers, kettles, and even dishwashers. When solar panels generate electricity, it's created in DC. Most standard household appliances use AC (the standard household three-pronged socket) so the current needs to be converted with a pure sine wave inverter. Thankfully, the Jackery has all of this inside, so all you need to do is plug your device into the correct space, and go from there.
AC: Alternating current (AC), is a more complex type of electrical current that is constantly reversing direction. AC is used by most standard household appliances.
USB: Universal Serial Bus (USB) is one that you're probably familiar with. All USB ports are 5V DC, so you don't need to worry about frying your devices with USB charging.
---
Jackery Explorer 500 UK Review: Basics of the Solar Generator
How Long Does the Jackery Explorer 500 Portable Power Ban Take to Charge
The Jackery 500 charge time is dependent on the charging source. Here's what you can expect:
From a wall socket – 7.5 hours
From the SolarSaga 100W – 9.5 hours
From a car port – 16 hours
The Jackery 500 UK arrived charged at about 85% (always nice when you can turn a tool on as soon as it arrives!) and it only took us an hour or two to reach full capacity.
---
What Can NOT Be Charged with the Jackery Explorer 500
The Jackery Explorer 500 runs at a maximum of 500 watts. That means that you need to check your appliances and see what voltage or wattage they run at. If it's over 500w, the Jackery can't power the device, and attempting to make it work could result in the Jackery breaking, your device breaking, or a fuse blowing.
Items such as your phone, laptop, and drone chargers shouldn't cause a problem, but items that use a lot of power might. For example, a Bosch electric kettle uses 2500-3000W while a Macbook pro uses about 61w to charge. You should be able to find this info on every device (usually on the safety sticker on the bottom of a product).
---
What CAN The Jackery Solar Generator Power
Get excited because the Jackery 500 UK really can do a lot! Here's what we've used it to charge so far:
Pump up a double air mattress – only used a few percents of the battery
Phone charging – iPhone 11 takes about 40 minutes to reach full charge from dead
Drone charging
Laptop charging – Macbook pro 2018 16inch takes about 1.5 hours to fully charge and uses about 20% of Jackery power
Camera charging
Heated mattress topper – powers it on the low setting for over 12 hours
Really, you're going to be able to charge most if not all of your essential items with the Jackery portable power bank.
---
Jackery Explorer 500 SolarSaga Pros
No Jackery 500 solar generator review would be complete without a look at the pros and cons of the portable power station and solar panels.
Ease of use. First and foremost, the Jackery 500 portable power station is incredibly easy to set up, connect with a charging source, and use. You won't have any problems figuring out what goes where.
Quick to put up and takedown. Particularly when living or traveling in a van or camping, it's always good to be able to pack up at a moment's notice. You can easily set up and pack away the Jackery and Solara Saga in less than a minute.
Strong light: The first time that we spent the night in our van, Swanson, our lights didn't work because we didn't have our solar panels hooked up yet. Thankfully, we had the Jackery 500 which also has a very bright light on the side. We cooked dinner in the warm glow of the Jackery and barely lost a percent of battery during the whole ordeal!
Solar panel is protected when folded. Because the SolarSaga panel folds in half and stays folded via magnets, the panel is somewhat protected when stored away.
The battery lasts for ages dependent on use. At the very least you'll be able to charge all of your daily electronics (phone, camera, laptop) for up to a week.
Multiple ways of charging. Another pro of the Jackery Explorer is that there are multiple ways of charging it. You can use a solar panel, wall charger, or car charger. We found that for vanlife, charging him with the cigarette lighter while driving kept us in energy, even on grey days in England.
Fantastic backup. Overall, the Jackery Explorer 500 UK is a fantastic power backup option! With so many ways of charging and a reliable battery, you can trust in your Jackery to keep your devices powered on.
---
Jackery Explorer 500 SolarSaga Cons
Weighing in at just over 13 pounds, the Jackery is a beast. That being said, how often are you actually going to carry this around? The Jackery carrying case makes it much easier to transport with two different handle length options so if you do plan on transporting it with you it's definitely worth getting.
Jackery 500 UK only has one standard three-pronged socket, but I can't really complain because if you want additional sockets you can upgrade to the Jackery 1000 or above. If you're relying only on the Jackery to power your life in a van or RV, it might be worth getting a larger version, especially if there are two of you, but when used as a backup system or outdoor charging system there's no better choice.
---
Jackery Discount Code and Sales: Give the Gift of Power
Jackery does typically have discounts all year around. Click here to see current Jackery sales and discounts or sign up to receive these discounts straight to your email!
---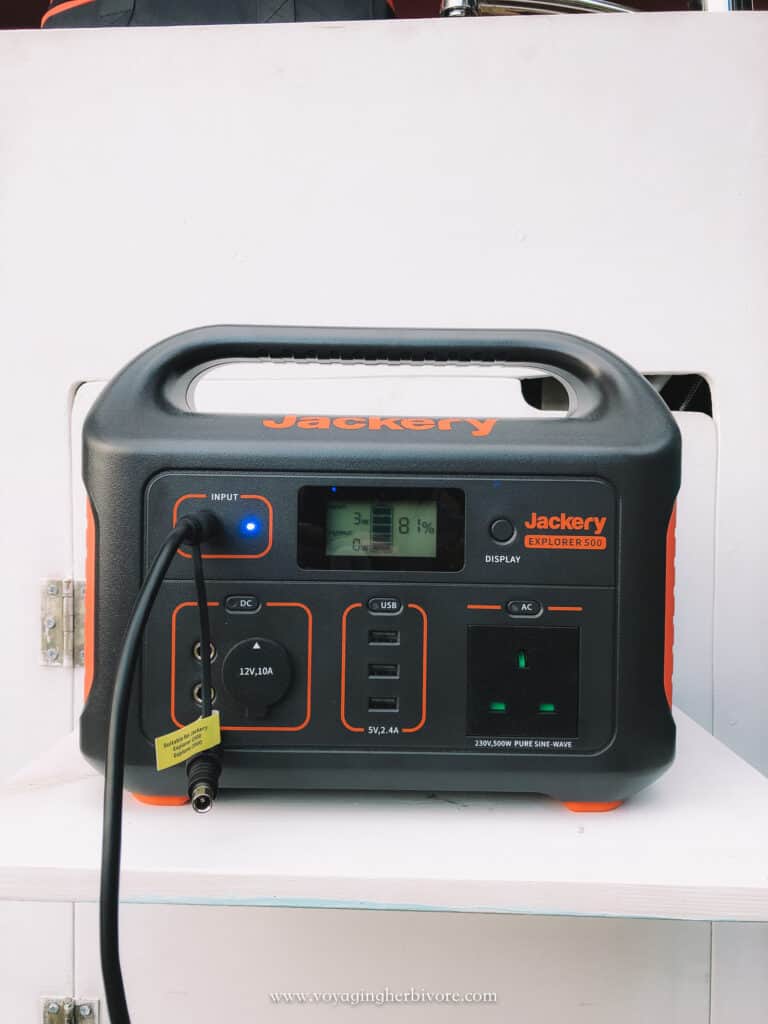 ---
Vanlife and Portable Power Banks: Do You Need One If You Have a Leisure Battery?
You've already spent so much money buying and converting your van, and if you already have a solar setup, you might be wondering if it's really worth spending an extra £800 on the Jackery 500 UK.
The short answer: yes, it's a good investment.
The longer answer: The Jackery Solar Generator is a good investment, no matter what kind of electrical setup you have. If like us, you rely only on solar power and don't have an external hookup, the Jackery is a fantastic backup system because if need be, you can simply charge it by plugging it into a wall. That being said, you will need to head to a coffee shop, friend's house, hotel, or a house sit to give it some juice, but it charges relatively quickly (more on this later) and holds its charge for weeks when you're not using it.
If perhaps you do have solar power and an electrical hookup system, the Jackery 500 UK is still a good backup system. Because vanlife is so popular right now, campsites are full during open season, and if you're in your van or RV in the winter, many sites are closed leaving you with only solar to rely on for energy.
---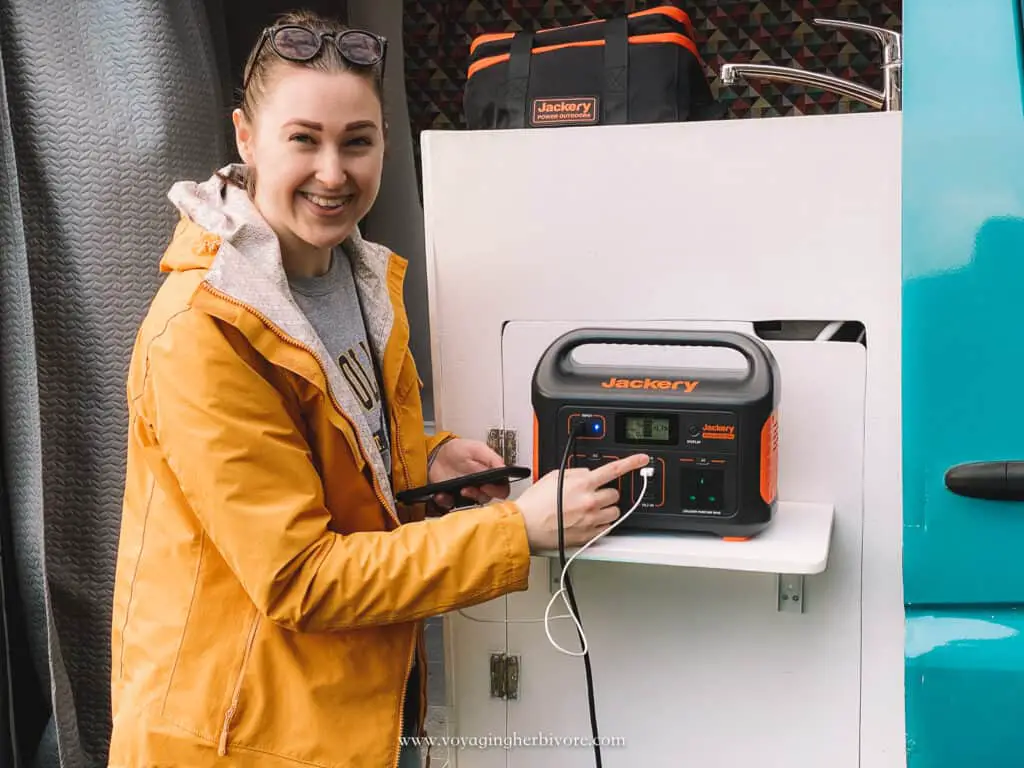 ---
Jackery 500 UK: Frequently Asked Questions
Is the Jackery carrying case worth buying?
The Jackery carrying case resembles a cooler. It's a good investment if you plan on moving the Jackery around instead of just leaving it in one place all of the time. While you probably couldn't get away with charging your Jackery 500 in a coffee shop, when it's in the carrying case you might get by unnoticed.
Where to buy the Jackery 500 UK?
If you're looking to purchase Jackery products in the UK, you'll need to buy them here.
US consumers can find the best prices here.
Where to buy the Jackery SolaraSaga US?
The Jackery SolaraSaga for US consumers can be purchased here.
The Jackery UK SolaraSaga can be found here.
What type of battery is the Jackery 500?
Lithium battery
How long does the Jackery portable power bank take to charge?
The Jackery portable power bank charge time is dependent on what charging source is being used. A wall socket will take about 7.5 hours, the SolarSaga 100W will take about 9.5 hours, and a car port about 16 hours.
Jackery 500 Specs
The Jackery Explorer 500 weighs 13.3lb. The dimensions are 11.84in x 7.59in x 9.20in. Ports include 2 DC outlets, 1 car outlet, 3 USB ports, and 1 AC outlet
---
Jackery 500 UK Review: Final Thoughts
To finish out this Jackery solar generator review, it's safe to say that the Jackery has quickly become one of our vanlife essentials and we'll definitely be relying on it as we travel around the UK and Europe for the next several years. Follow us on Instagram and TikTok for more content!
Be sure to follow Jackery UK on Instagram to stay up to date on new releases and Jackery sales!
---
Free Resources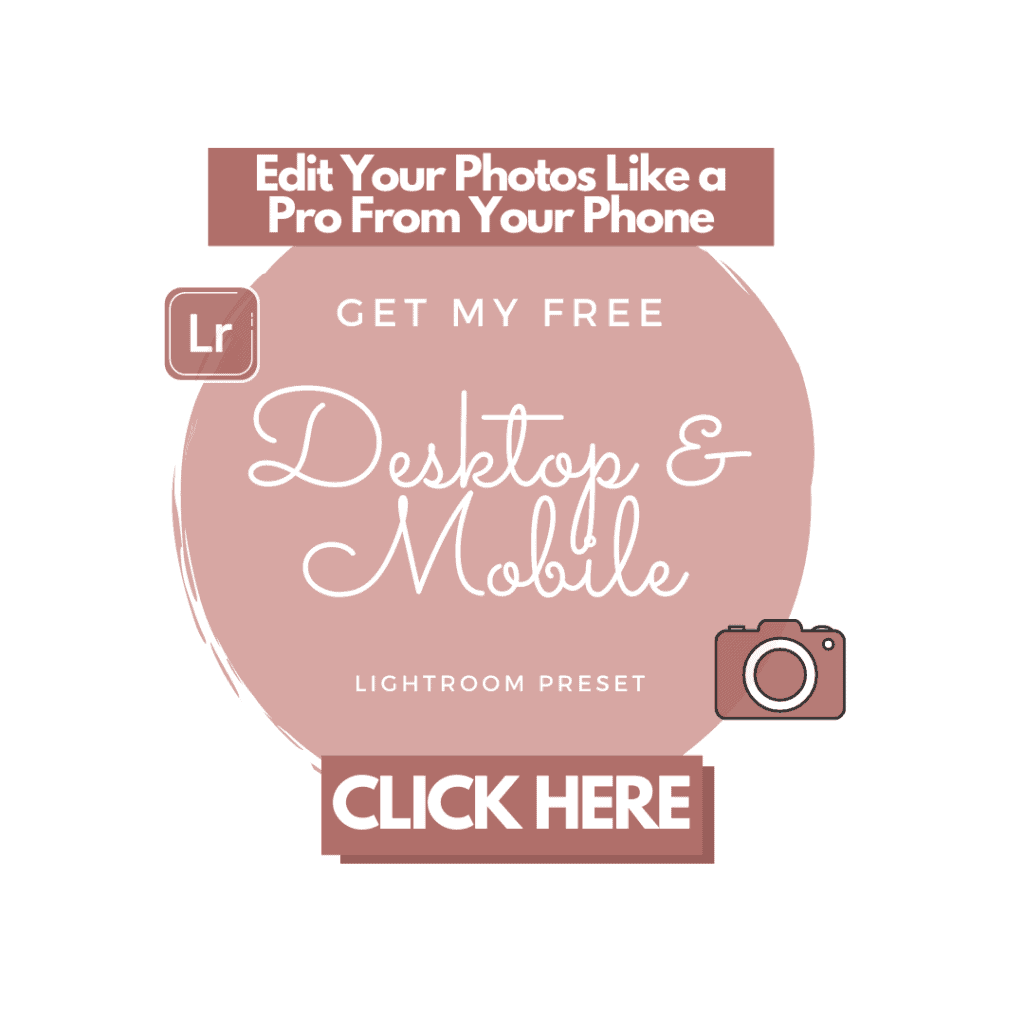 ---
What Camera Gear Do We Use?
If you want the full list of things we keep in our camera bag, check out the complete guide or browse our photography guides.
---
Keep Reading Beyond the Jackery Solar Generator
---
---
Pin Jackery Solar Generator Reviews for Later