Glamping, camping, and vanlife are all great until you run out of ways to charge your devices and can't send that email, upload that Reel, or get directions up.
As an ex-vanlifer, I can attest to just how tricky solar panel installation, and how even a full roof (400W+) of panels isn't a match for multiple computers, cameras, phones, and drones.
So what's the solution?
Portable solar generators are the way forward and are something you need to invest in if you want to get out and explore, without having to worry about being near a charging point. In this BLUETTI generator review, we'll cover everything you need to know about the EB70 and PV200 so you can make an informed decision before purchasing.
Let's dive in!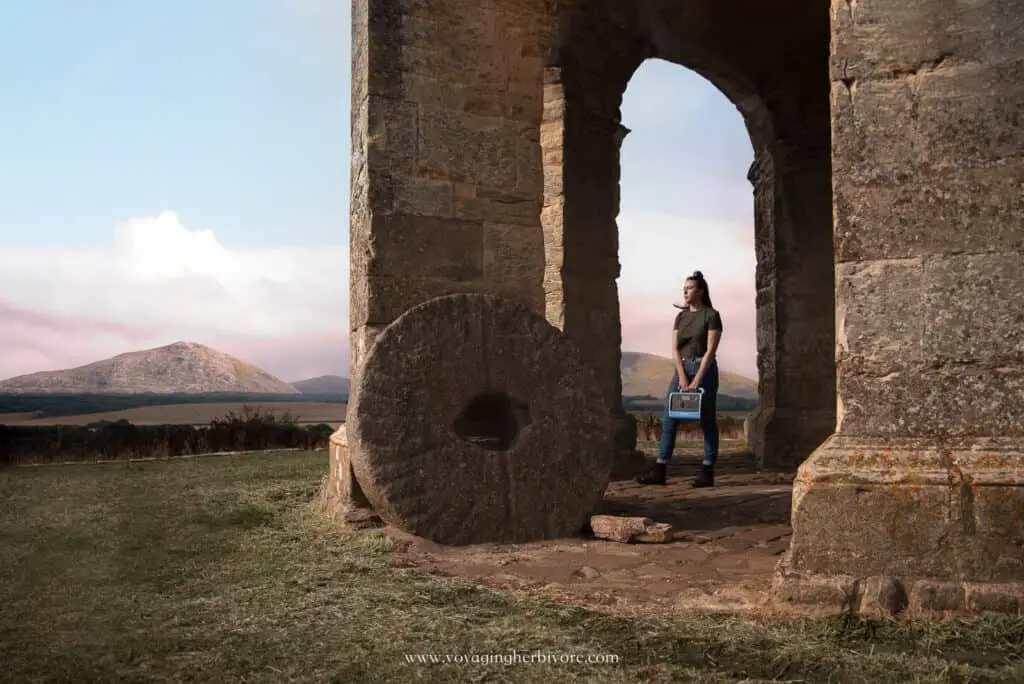 This post is sponsored by BLUETTI UK. The BLUETTI EB70 + PV200 Solar Generator Kit was sent to me to trial and photograph and was then returned. All opinions expressed in this post are my own. I never recommend products that I don't believe in.
---
This site is user-supported and that's why we use affiliate links. At no extra cost to you, we get a little bit of money when you purchase something through one of our links. Thank you for helping support ethical, sustainable, and plant-based travel! You can read more about our affiliate disclosure policy here.
Please note, we are not electricians. We think that all of the electrical insights in this article are correct, but we could be wrong! Always consult a certified electrician before you go playing with electrical things.
---
What Camera Gear Do We Use?
If you want the full list of things we keep in our camera bag, check out the complete guide or browse our photography guides.
---
What is BLUETTI?
BLUETTI self describes as more than a name. It's "a way of life, a design philosophy, our hope for a better earth, a blue sky" and more! Their goal is to provide electronics that are a "portable, powerful source of electricity" for a community that pursues adventure so they can have power whenever and wherever they need it.
The company was founded in California in 2019 and released the EB240, on the crowdfunding site Indiegogo and in only two months raised 7 million dollars. In just a few years BLUETTI has expanded internationally and to include a wide range of products, including:
Portable Power Station
Home Battery Backup
Expansion Battery
Solar Panels
Solar Generator Kit
Various Accessories
They offer several varieties of solar generator packs, with options for everything from home backups to smaller kits ideal for camping trips or outdoor adventures. Prices range anywhere from £800 to £3600+.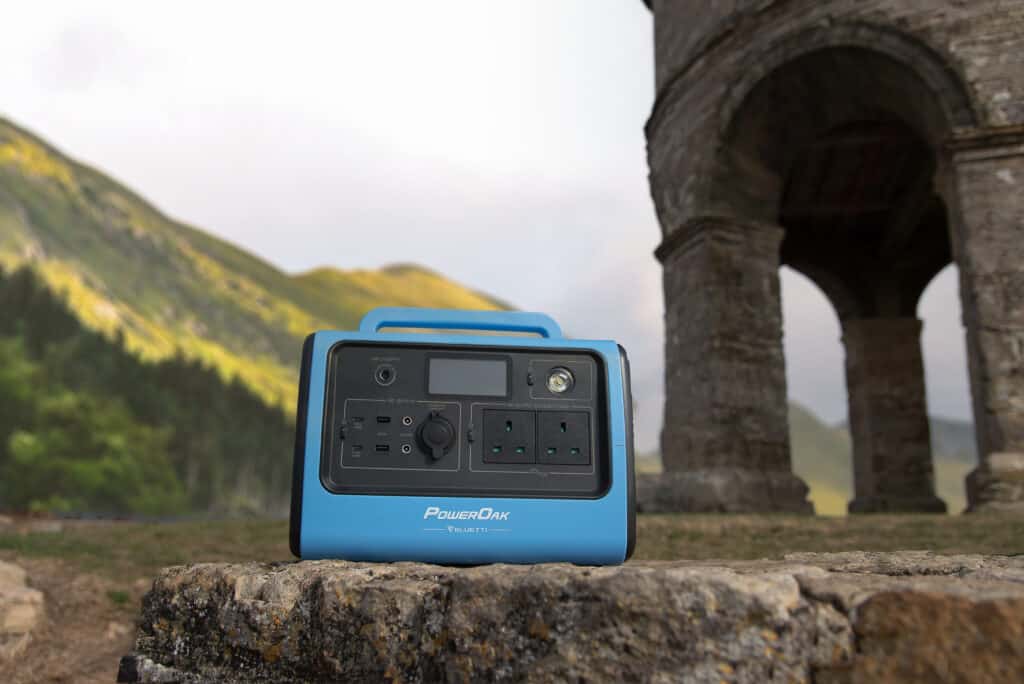 ---
What is a Solar Generator and How Does it Work?
Let's get down to the basics – what is a solar generator and how does it work?
A solar generator is a device that uses solar panels to take energy from sunlight and convert it into usable current – all with just one device (and the solar panels that you plug into it). Perhaps the best part of a solar generator is its simplicity. Here's how it works:
Prop up the solar panels so they face into the sun
Connect the solar panels and solar generator with the provided cord
Plug your devices directly into the solar generator (a variety of USB types, AC, and DC) and charge
If you don't need to charge your devices but it's sunny out, the solar generator will continue charging via solar power (so long as the solar panels are connected) until it has reached capacity. Then, when you do need to charge something (even if it's the middle of the night), you can plug your device in and be on your way.
---
BLUETTI Generator Kit (PV200 & EB70) Review
It's worth checking out these video reviews of the PV200 and EB70 to get a better sense of how to use the solar generator, but for now, let's take a closer look at what's in the box.
---
What's In the Box?
The BLUETTI PV200 and EB70 arrive in two separate boxes – one with the solar generator, cords, and small battery expansion pack, and a separate one with the solar panel itself. You can find the official list of what's in the box from BLUETTI here.
---
EB70 Solar Generator
The EB70 Solar Generator is packaged incredibly well, with several layers of boxes and cushioning materials to get through before reaching the device itself. Upon opening the box, you'll find a smaller box in which there is:
Electrical safety certification
Wall plug charger (AC)
Car plug charger (DC)
Solar panel connectors (connect the solar panel to the solar generator)
Backup battery expansion pack
Finally, you reach the solar generator itself. This is packaged in a separate bag and between two foam blocks, so it's completely secure.
---
PV200 Solar Generator
In the PV200 solar panel box, you'll find the folded solar panel. It's packaged in bubble wrap with foam cushioning the sides as well. There's no risk of anything getting damaged in transit, the packaging is clearly very well thought through.
On the solar panel, you'll find a zippered pouch that holds additional cords that are attached to the panels.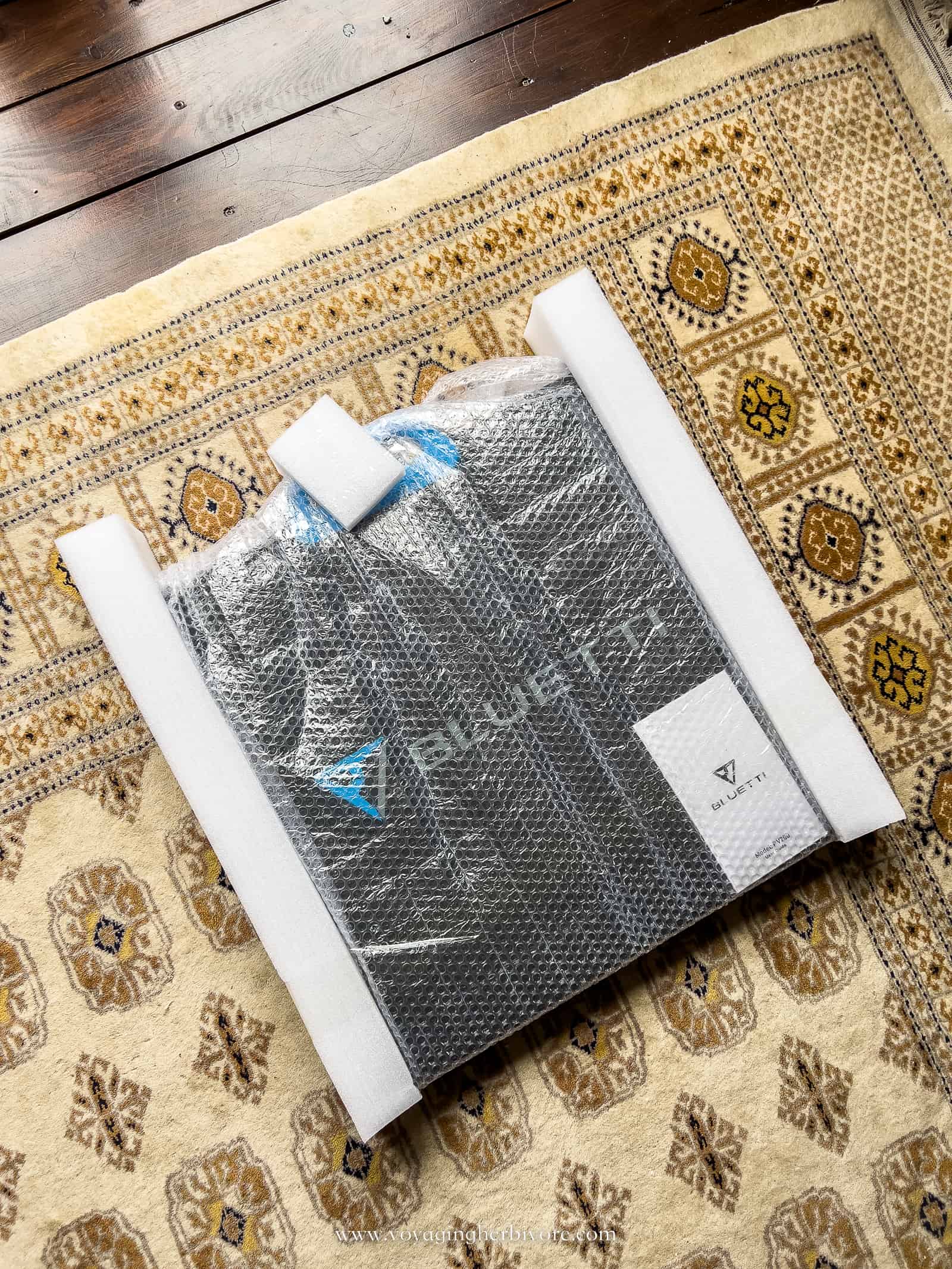 ---
BLUETTI EB70 Key Features
The EB70 is a fantastic piece of kit and it really essential to have just as a home backup or as a standalone power supply for car or van camping. Even for long road trips, having a way to charge phones, computers, or e-readers is incredibly beneficial. The EB70 has 10 different ports and a wireless charging pad. It's never been so easy to work on the road.
There is also a torch (flashlight) on it which is quite bright. The only slight downside of this is the positioning is on the front with the rest of the ports, making it awkward to walk with the EB70 and use the torch forwards at the same time.
| | |
| --- | --- |
| Type of Port | Quantity |
| Input (12-28V/200W Max) | 1 |
| 230V AC outlets | 2 |
| 100W PD ports | 2 |
| 5V/3A USB-A ports | 2 |
| Regulated 12V/10A DC outputs | 2 |
| 12V/10A car port | 1 |
| 5W wireless charging pad | 1 |
When it comes to charging the BLUETTI, there are 3 ways in which this can be done. In the chart below, you can see the variety of options and how long it takes to be fully charged.
As a tip, you can put the panels on the dashboard and charge the BLUETTI generator in this way. You can also pop the EB70 into a large tote bag and charge it in a coffee shop discretely if necessary. We had to do this once or twice when living in the van full time in order to be able to use our computers. We also charged our solar generator to full power before leaving our housesits – another great thing to try out if you're looking for free accommodation on your travels.
| | |
| --- | --- |
| Charging Method | Time Until Fully Charged |
| PV200 Solar Panels | 3-4 hours with full sun |
| AC Wall Outlet | 3-4 hours |
| 12V Car Port | 7-8 hours |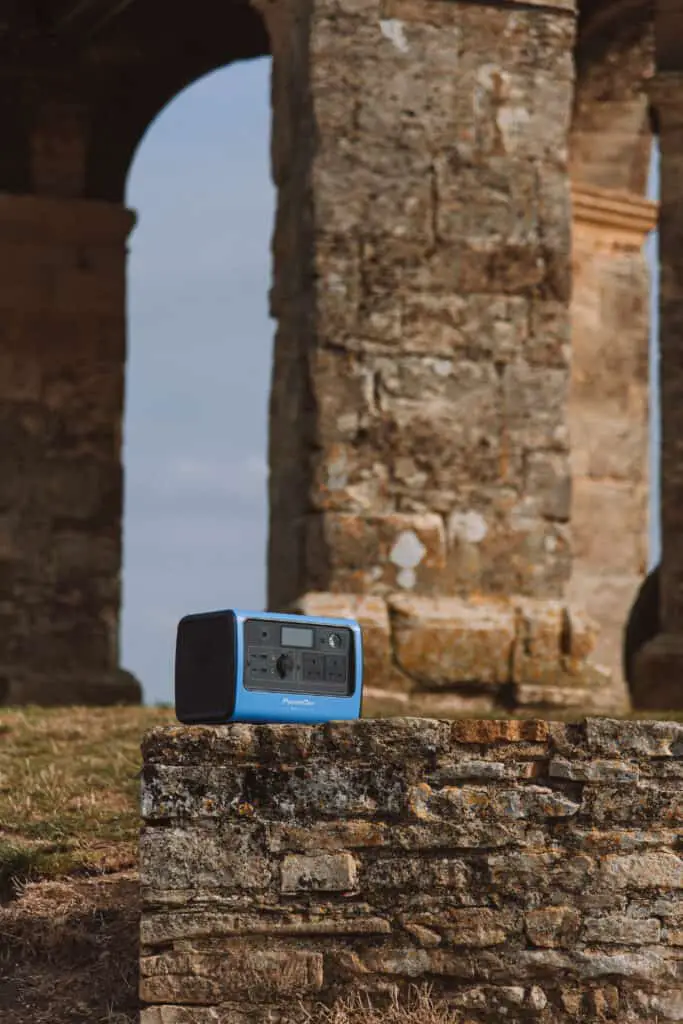 ---
BLUETTI PV200 Key Features
As portable solar panels go, the BLUETTI PV200 panels are top notch.
Adjustable Props: One of the best features of the PV200, when compared with other solar generator brands, are the adjustable snap straps and props that are attached to the back of the panels. The unique design allows the user to change the panel angle quite easily as the sun angle changes.
Sturdy Handle: Perhaps a negative of the panels is that they are quite heavy at 16.1lbs (7.3kg). For this reason, a sturdy and comfortable handle is essential and BLUETTI provides this. Don't be put off by the weight. It's unlikely that you'll be carrying this set too far! It's the perfect addition to your campervan, RV, or multi-day camping trip with a car but it's not something you would need for one night in the woods. For that, get a small portable solar charger to keep your phone alive.
Zipper Pouch: Another pro of the PV200 is that the cords which are built into the solar panel are contained in a zippered pouch attached to the back of the panel. You can also store additional cords in here to keep things organized.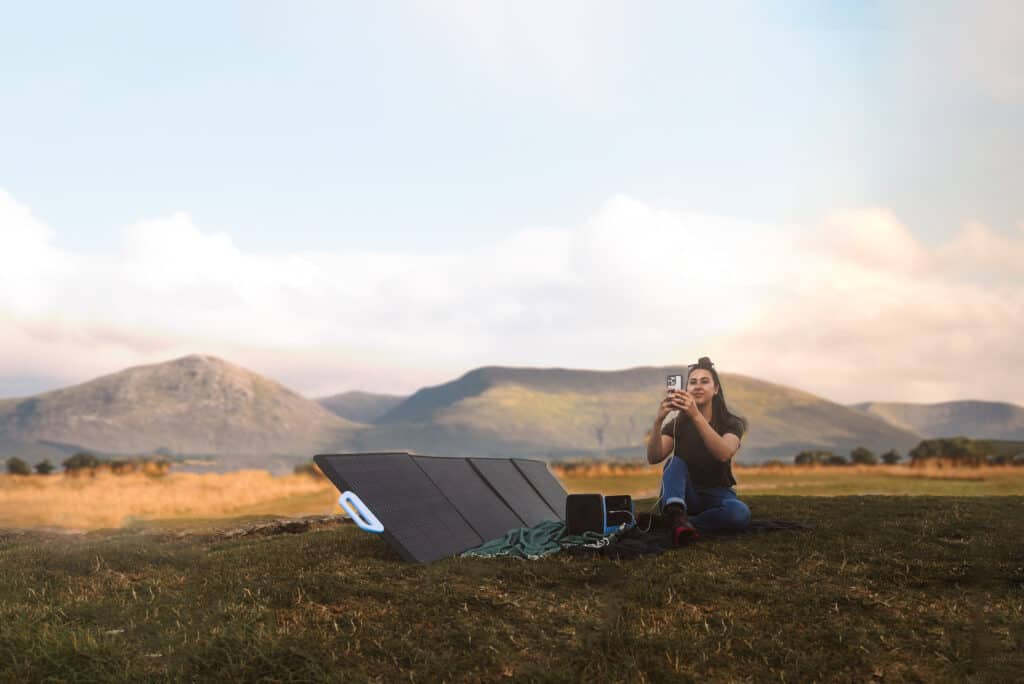 ---
BLUETTI Discount Code and Sales
It's no secret that BLUETTI products aren't cheap. You can click here to check for any current sales, but I also recommend signing up for the email list below and when we hear about any sales or discount codes, we'll shoot you an email!
---
BLUETTI Generator Review: Final Thoughts
So when it comes to choosing a solar generator, how do the BLUETTI EB70 and PV200 set stack up?
In my opinion, BLUETTI is a top-notch choice, especially when compared to competitor Jackery. The wireless charging pad and variety of ports really help BLUETTI stand out and make it a great brand with which to start your solar generator journey.
---
Keep Reading
---
And as always, you can find more sustainable travel content on Instagram @VoyagingHerbivore, Youtube, and TikTok and to get updates straight to your inbox, enter your email below in the footer, or to the right on the sidebar.

If you found this guide helpful and want to help us keep these resources free,
please consider making your next Amazon, Expedia, Hostel World, Etsy, and Booking.com purchase through our links (just click right on those words – you can do it right now and unless you clear your cookies before your next purchase, it will remember). It costs you no extra and gives us a small commission. Thank you!
---
BLUETTI Generator Review – Pin It For Later