Veganism is thriving.
So much so, that a country whose cuisine of cheese and meats is a UNESCO intangible world heritage site, now offers a wide variety of vegan options.
But which ones are worth trying? From vegan fromageries to traditional creperies, we've narrowed it down to several must-try vegan restaurants, cafes, and shops in Paris.
Keep reading to start planning your vegan adventures in Paris!
---
---
This site is user-supported and that's why we use affiliate links. At no extra cost to you, we get a little bit of money when you purchase something through one of our links. Thank you for helping support ethical, sustainable, and plant-based travel! You can read more about our affiliate disclosure policy here.
---
Looking for more vegan options near you?
Check out the abillion app and use the referral code VOYAGINGHERBIVORE

Every review you write contributes to a donation to an animal rights organization!
---
Vegan and Vegetarian Guide to Paris Map
Below is the map of a few of our must-visit vegan spots across Paris. Let us know how many you get to see and try!
---
Restaurants
Unless you're like us, you probably don't plan your trips around the restaurants near you.
No worries! We did it for you.
Paris, a top contender for vegan-friendly cities in Europe, has some absolutely amazing and truly unique vegan restaurants that are must-visits. Be sure to check out the map above for more recommendations that aren't listed below.
---
Jah Jah by le Tricycle
Jah Jah by le Tricycle is great place to start any vegan Paris adventure.
It's a Jamaican theme restaurant but in reality its a complete clash of cultures. From hots dogs to sushi, Jah Jah By The Tricycle will satisfy all appetites.
It's quite a cramped space (traditional Paris style) so this might be difficult if you have a group bigger than four but this will be the case for you in most restaurants in Paris.
Another thing to note is that the menu changes regularly so you may have to be a bit flexible with your preference.

Location – 11 Rue des Petites Écuries, 75010
Recommendation – The Portobello mushroom burger is a must!
Price Range – About 30 Euros for two people not including wine
Read More: Where to Stay in Paris

---
---
L'As du Fallafel
Easily one of my favorite places we ate at during our time in Paris together, although not completely vegan or vegetarian.
However, iff you're vegan then there's a good chance you like falafel and humous, whether for taste or out of necessity. Either way, L'As du Fallafel should be right up your alley.

You can get so much food for not much money at all. Plus many of the dishes are straight out of Israeli cookbooks.
One thing to note however is that L'As du Fallafel can get very busy so there will be a small wait but it's definitely worth it. You can also just purchase your meal from the takeaway window for a quick bite.

Location – 32-34 Rue des Rosiers, 75004
Recommendation – Israeli plate – One of the best starters I've ever had
Price Range – You can eat very well for 20 Euros but we pigged out and our meal cost 36 Euros. Totally worth it!
Follow Us: Check out our vegan foodie account @VoyagingVeg for more food inspo.
---
---
Crêpe de la Joie
Crêpe de la Joie is a vegetarian restaurant but they do have a few quality vegan choices. From Farmhouse specials (vegan ham and potatoes) to sweet chocolate and coconut.
You won't be swimming in choices but unfortunately, as there aren't too many vegan crêperies in Paris. So you are stuck either way.
That being said Crêpe de la Joie is still a high recommendation on our list. If you are visiting Paris then you have to try some of the local cuisines, veganized of course!

Location – 4 Rue du Fer à Moulin, 75005
Recommendation – Exotic Dryad – Bananas, melted dark chocolate, grated coconut… WOW!
Price Range – About 35 euros for two people – That two savory crêpes and a sweet one as well as nonalcoholic drinks
Read More: 5 Unique Date Ideas in Paris
---
---
Abattoir Vegetal
You may be thinking the name abattoir (slaughterhouse) vegetal is an oxymoron and normally you would be right, but there's a story here.
The Abattoir Vegetal is actually an entirely vegan restaurant based in an old butcher slaughterhouse. This is the face of veganism winning and we for one are so happy to see this.
Sadly we didn't get a chance to go to Abattoir Vegetal but it's our top priority when we next get the chance to go to Paris.

Location – 61 Rue Ramey, 75018
Recommendation – We don't have one yet but we will be sure to let you know when we do!
Price Range – From what we have read it is on the pricier side at 15+ euros per dish
Read More: Tips We Wish We Had Known Before Visiting the Paris Catacombs
---
Cafés and Patisseries
Your trip to Paris isn't complete without an espresso and a croissant in a cafe! As luck would have it, Paris has several adorable vegan patisseries and cafes.
Be sure to stop by early in the morning when they open to get the freshest croissants and pastries. They sell out quickly!
---
VG Patisserie
There were many things on my list for our trip to Paris but the top two were, one, see the Eiffel Tower, and two, eat a vegan croissant.
VG Patisserie more than delivered this dream for me. Their skill as a patisserie is amazing.
From delectable pain au chocolats to mouth-watering eclairs you won't want to miss this stop. Any self-respecting vegan who finds themselves in Paris should definitely make their way to VG Patisserie.

Location – 123 Boulevard Voltaire, 75011
Recommendation – At least one croissant each
Price Range – 3 euro 55 cents for an espresso and a croissant. Bargain…
Read More: Instagram Guide to Paris
---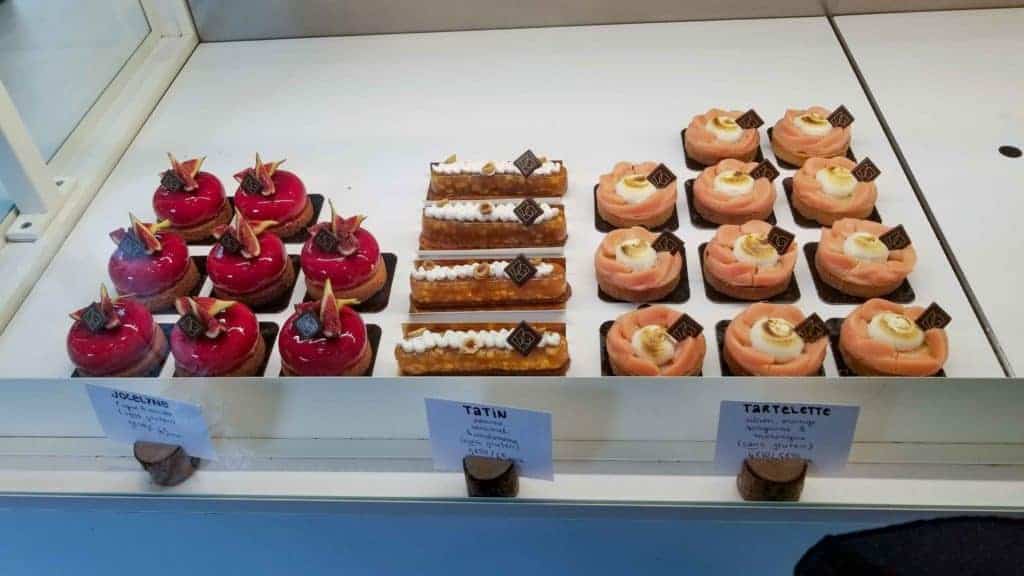 ---
Cloud Cakes
Cloud Cakes feels like it is a mixture of a café and an American diner.
This means you can get pancakes but you can also get espressos and croissants. Best of both worlds! There is so much choice in this entirely vegan café.
We felt spoiled for choice which is not a feeling we vegans get to experience often.

Location – 6 Rue Mandar, 75002
Recommendation – They make a very interesting whole wheat croissant that's delicious!
Price Range – 3 Euro 80 cents for an espresso and a croissant
---
---
Shops
Rather than eating out, you might want to stock up on some staples for your time in Paris. The vegan Paris scene has plenty to offer, but these two are absolute must-visits!
---
Un Monde Vegan
A fully vegan shop and it's just as good as it sounds!
From buying 2.5 kilograms of Violife cheese to loads of different meat replaces, Un Monde Vegan should be at the top of your list. We were so excited when we first went in as it is so rare to find so many vegan options in one place. It was beautiful!
It would be best to head here on your first day in Paris as you can really stock up for your week ahead.

Location – 64 Rue Notre Dame of Nazareth, 75003
Recommendation – We think strongly think that you need 2.5 KG of Violife, but they have smaller options if you can't handle that.
Price Range – That block of Violife will set you back 30 Euros… worth it though.
Read More: How to Get Around Paris by Metro

---
---
Jay and Joy
Last but certainly not least, Jay and Joy.
Possibly some of the best vegan cheese we've ever had and that's saying something. There is just so much choice. Blue cheese to camembert and even a vegan foie gras (ironic, we know). Each cheese has a very individual flavor that can more than stand up on its own but could definitely be used for cooking.

We were lucky enough to try almost every flavor when we went into the store. They were very kind and super generous with samples. It made it very hard when it came down to picking a few.
We splashed out like cheese ballers. In fact, it was all so delicious we forgot to take photos!

Where to Purchase: Online or check out their sales outlets around France which includes their own storefront in Paris.
Recommendation – 100% the Jean Poivrons which is a soft cheese with a very fresh pepper taste. Absolutely delicious and so so fresh.
Price Range – About 5+ Euros per cheese
Read More: The Ultimate Guide to Best Vegan Cheese in London
---
---
Honorable Mentions and Recommendations
Eating out for every meal can be very expensive in Paris so you may want to do some home cooking if you've booked an Airbnb with a kitchen.
Luckily, Paris has markets all over selling fresh fruit and vegetables. We spent 20 Euros at our local market and that made enough ratatouille for 4 meals. While still expensive, it was much cheaper than just one full meal out. Plus you'll be able to pick up a fresh baguette to enjoy.

The other side of not eating out is ordering in with Uber Eats or Deliveroo. We would strongly NOT recommend this for several reasons. It's not cheap and the portion sizes are small. Also, they tend to use a lot of nonrecyclable and single-use plastics. Plus the food we got often arrived cold! We tried this twice during our stay and regretted it both times. So if I was you then I was would definitely stick to the places we have recommended.
---
Liked Learning About Vegan Paris? Keep Reading!
After exploring all of the great vegan options that Paris has to offer, you're probably ready for some adventure in the city of love.
Check out the posts below for more ideas of things to do in Paris.
---
Pin It for Later!
---
And as always, you can find more photos of our adventures on Instagram @VoyagingHerbivore and to get updates straight to your inbox, enter your email below.