Day or night, summer or winter, London is a magical city.
"When a man is tired of London, he is tired of life."
The city is addicting, and anyone who has lived there for any period of time is likely to agree. As much as the smoke and early closing times of bars aren't for everyone, the city offers everything from incredible vegan eats to amazing photography spots!
Keep reading to discover the best Instagram spots in London and be sure to follow us on Instagram.
---
---
This site is user-supported and that's why we use affiliate links. At no extra cost to you, we get a little bit of money when you purchase something through one of our links. Thank you for helping support ethical, sustainable, and plant-based travel! You can read more about our affiliate disclosure policy here.
---
1. Neal's Yard
Neal's Yard is a beautiful little spot hidden in Covent Garden that's one of the best Instagram spots in London. There are some lovely little shops, but the main draw is the colorful courtyard! Be sure to get there before the shops open or at least early onto avoid crowds.

Best time to visit: Morning before lunchtime
Cost: Free to visit
Address: 15 Neal's Yard, Covent Garden WC2H 9DP
---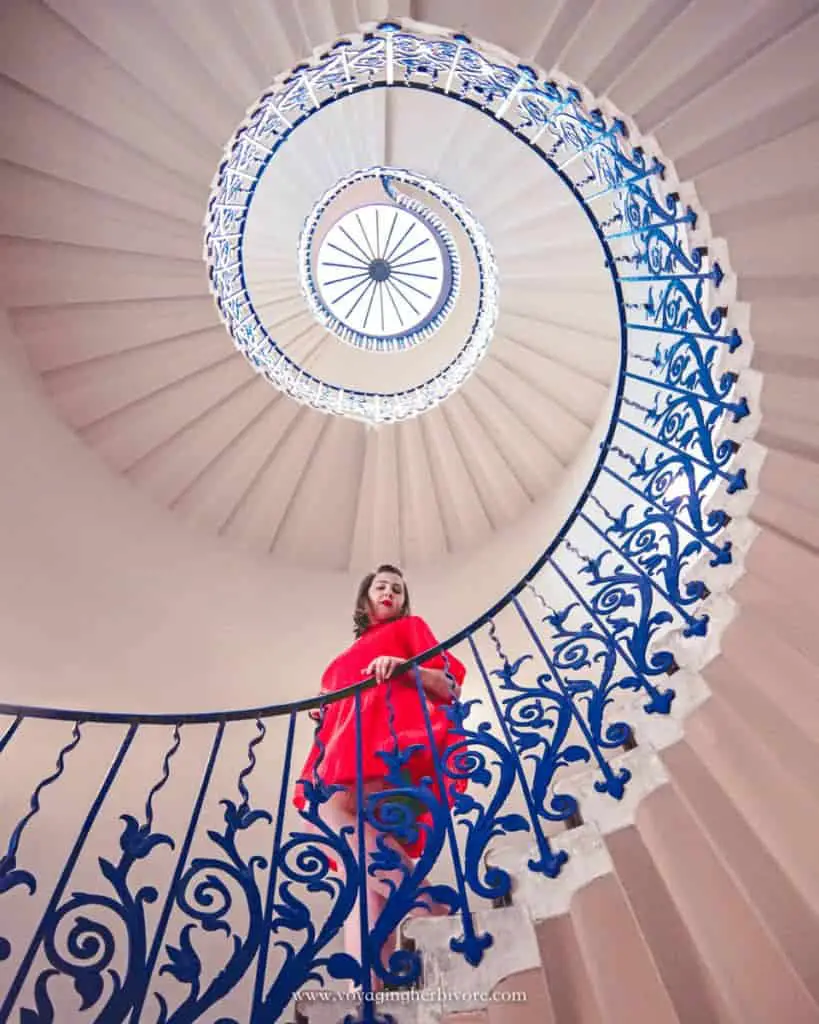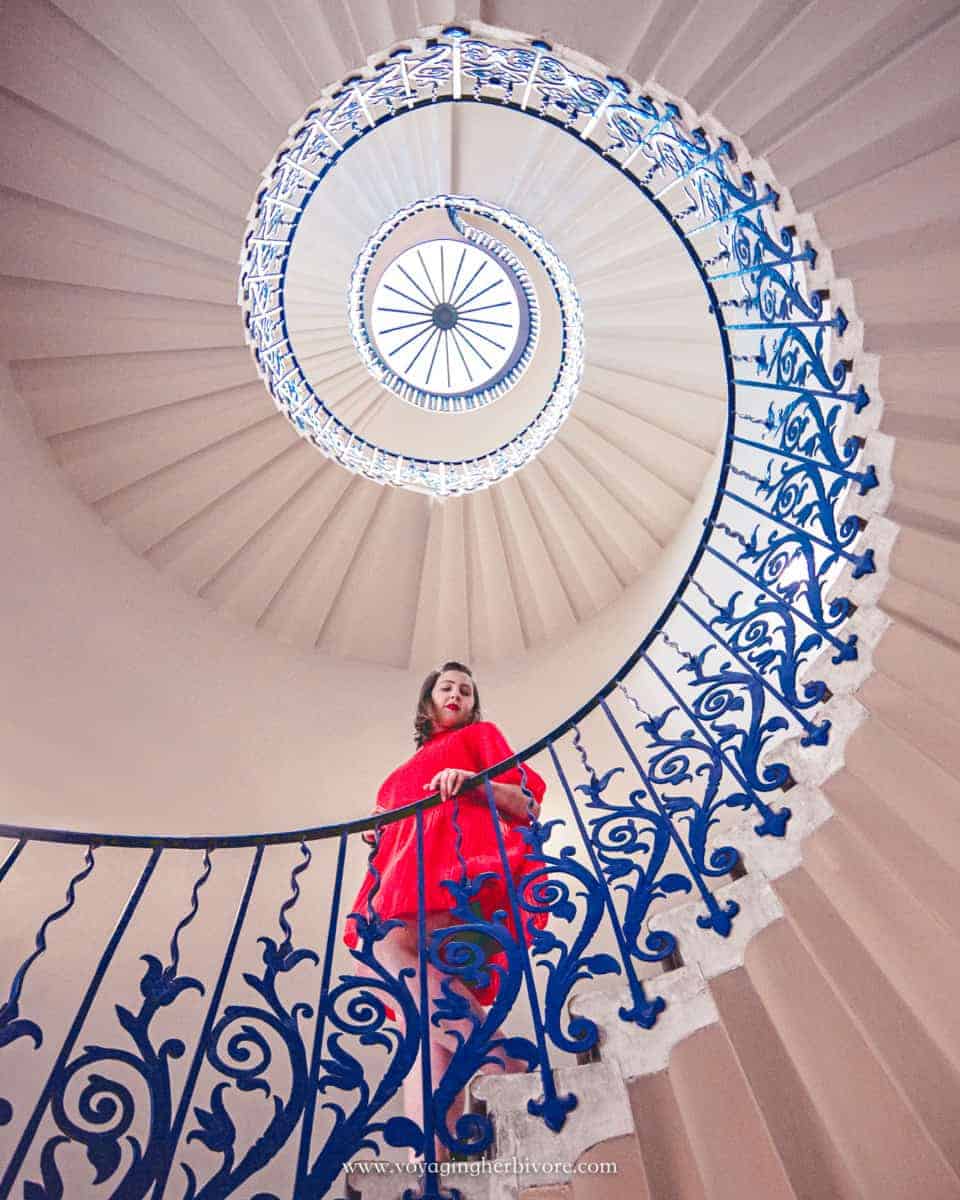 ---
2. The Tulip Stairs
The Tulip Stairs are quite famous but seemingly rarely photographed on Instagram. The beautiful symmetry is not to be missed! They are house in The Queen's House in Greenwich. Entry is free and it's well worth the stop in for a quick photo. Taking the riverboat is a great way to get to Greenwich, but it is more pricy than the standard London transportation options.

Best time to visit: During the week to avoid crowds
Cost: Free
Address: Romney Road, Greenwich SE10 9NF
---
Stay Connected: If you want mobile data while you're in the UK or Europe, I recommend ordering an EE pay as you go sim card. Have it sent to your accommodation for an easy and affordable way to stay connected.
---
---
3. Sexby Gardens
Sexby Gardens is a beautiful place to see the famous wisteria (the purple flowers). It's a fairly quiet garden that I'm surprised hasn't blown up Instagram more. Sexby is a small part of the larger Peckham Rye Park, bring a few outfits and you'll have photos ready for days!

Best time to visit: Golden hour (when the sun is setting or rising)
Cost: Free
Address: Peckham Rye Park, London S E22
Read More: 18 Must Visit Secret Gardens in London
---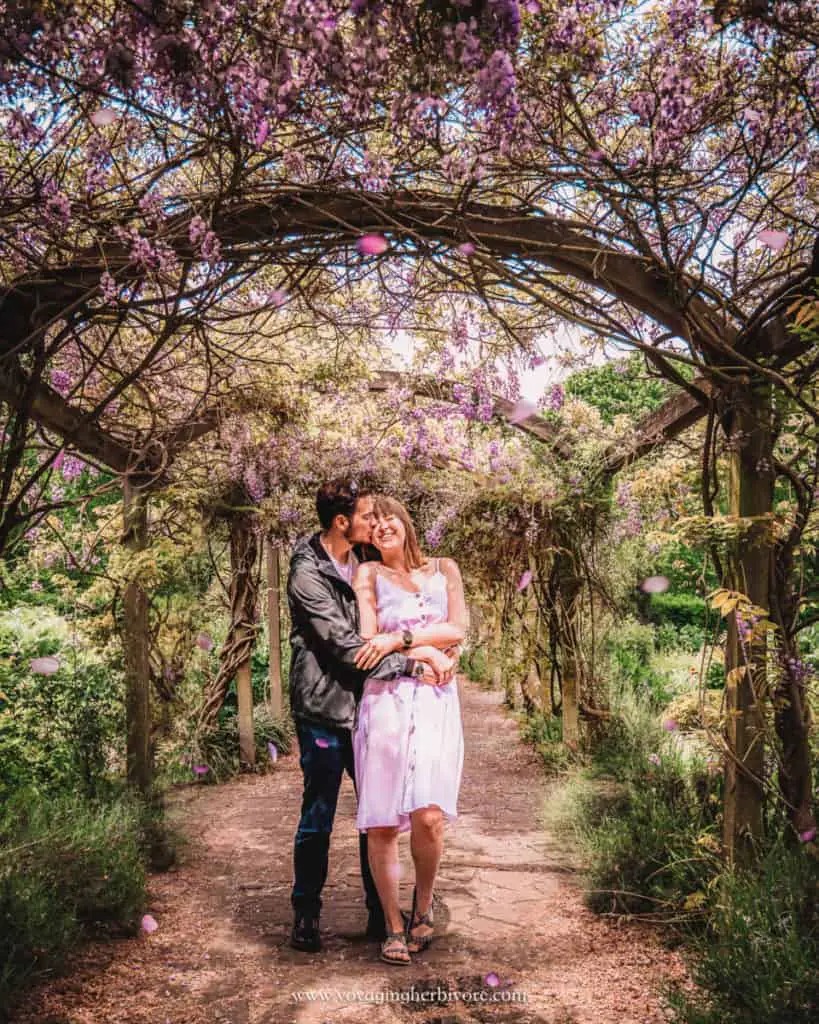 ---
4. Hampstead Heath
Hampstead Heath is easily one of the best gardens in London. It is a crazy massive place that is great to spend the day wandering and photographing. Keep in mind that you're technically not allowed to do professional photography in certain areas, and there are absolutely no drones allowed. We recommend a handheld camera and definitely don't shoot here with paying clients without written permission.

Best time to visit: During the week, shoot during golden hour
Price: Free
Address: Hampstead Heath, London NW3 7JP
---
5. Primrose Hill
You've definitely heard of Primrose Hill. It has an iconic skyline of London and it really is a beautiful sight. You can find it near Notting Hill in the posh area of London. A great place to bring a picnic!

Best time to visit: Sunrise (if you go during sunset it will be crowded)
Price: Free
Address: 126 Regent's Park Rd, London
---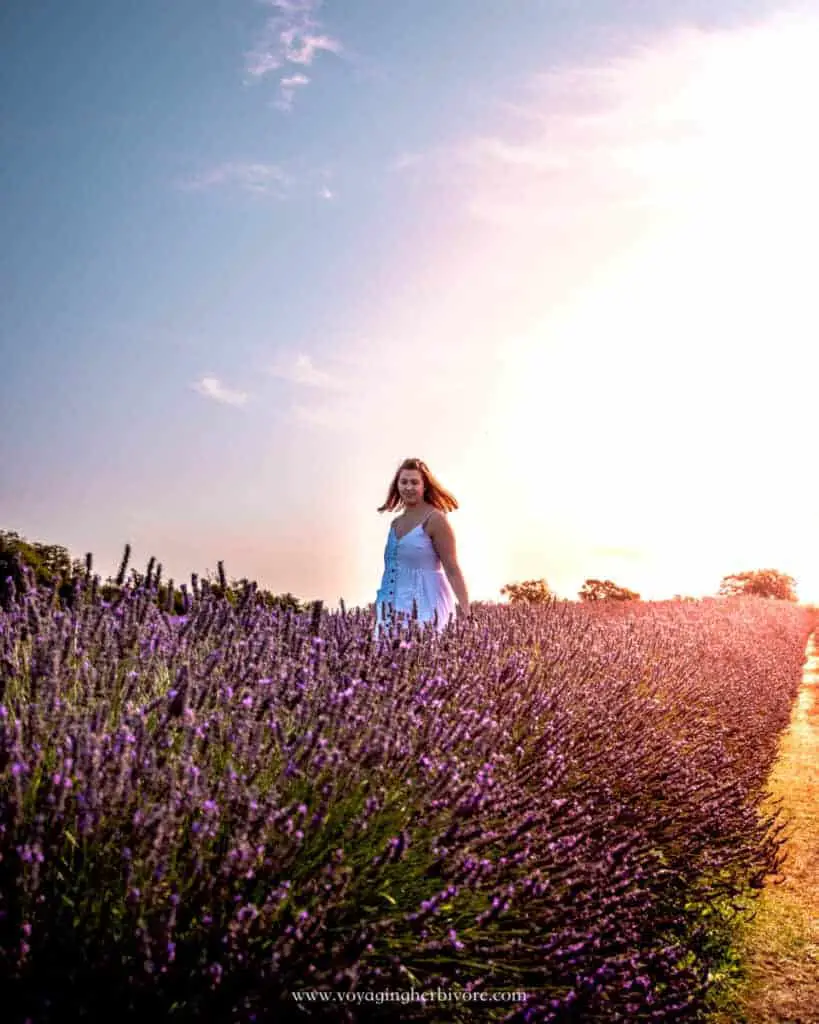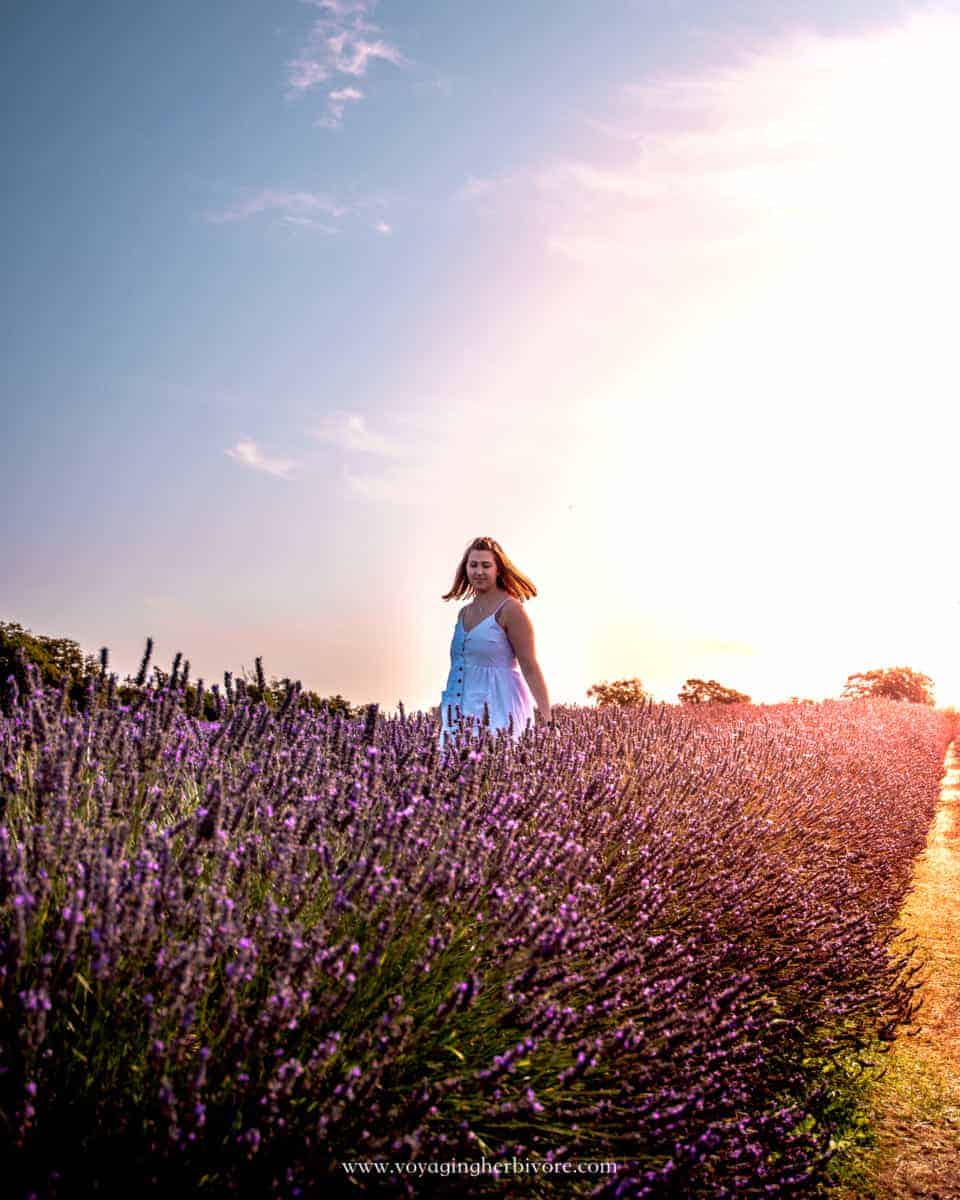 ---
6. Mayfield Lavender Farm
Mayfield Lavender Farm is situated outside London, about an hour by train. It really is worth the journey especially to get out of London and to get some fresh air. You'll want to take the train to Croydon and then take a bus. Google Maps will give you the fine print but while in Croydon be sure to stop by Coughlan's Bakery which has tons of traditional British baked goods in vegan form! Keep in mind that professional photographers (which is determined by the farm as photographers with tripods oddly enough) do need to pay a fee, and if you want to shoot at sunset you'll also have to pay a significant account. Absolutely no drones allowed without prior permission.
There are more lavender fields in England than you might think! Be sure to check them out during your travels.

Best time to visit: Arrive just before opening at 9am and be ready to shoot! Lavender is in bloom in the summer and they begin harvest in August. Check their website for further details.
Price: 2.50 pounds per person (not including special photography permit)
Address: 1 Carshalton Road, Banstead SM7 3JA

---
---
7. Natural History Museum
The Natural History Museum is likely already on your list of places to visit in London. It can also be a great place to take photographs and is surely one of the most underrated Instagram spots in London.

Best time to visit: Get there 15 minutes before opening to wait in line
Price: Free
Address: Cromwell Road, London SW7 5BD
---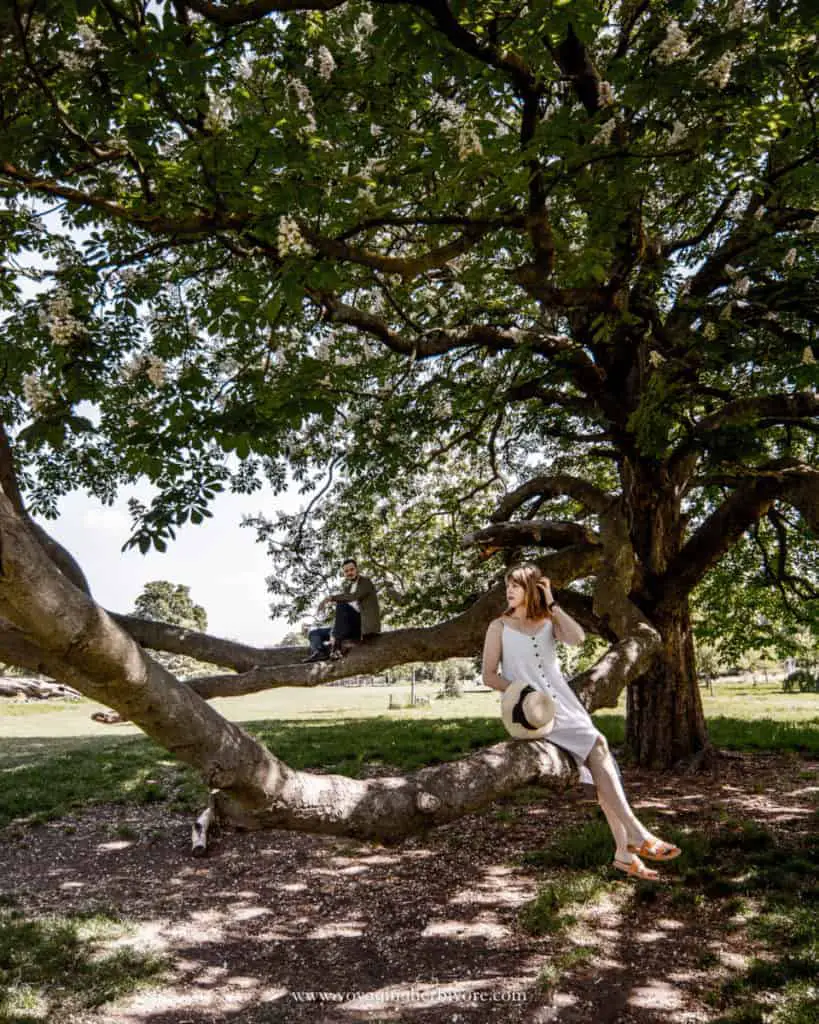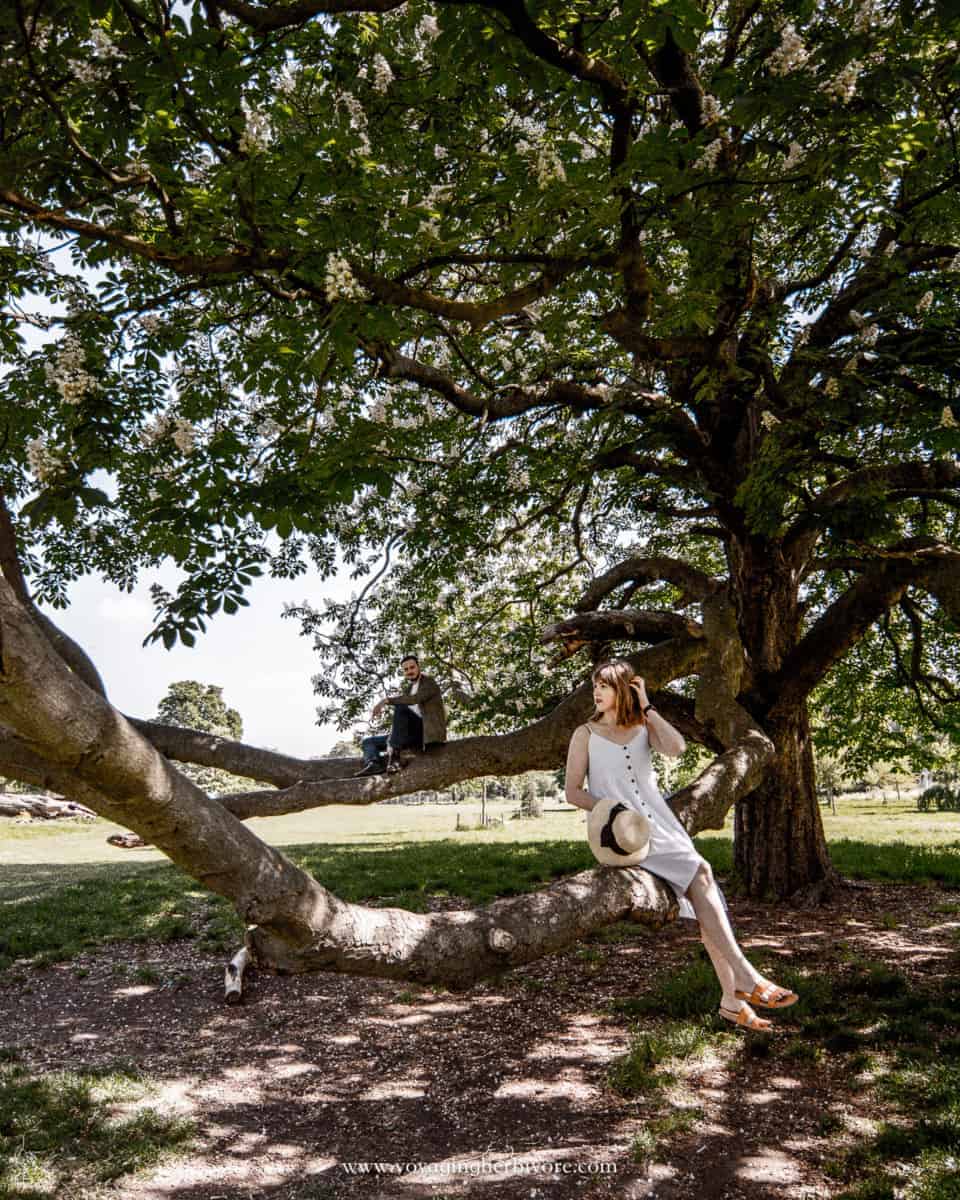 ---
8. Clissold Park
Really any London park near you will likely be beautiful, but one of our personal favorites to walk through and go for photos is Clissold Park. It's also a great place if you have kids as there are plenty of places to run around, play structures, and even a little water play area.

Best time to visit: Anytime
Price: Free
Address: Clissold House, Off Church Street/ Green Lanes, London N16 9HJ
---
9. National Maritime Museum
If architecture is your thing, the magnificent buildings of the National Maritime Museum are a must-visit as an Instagram spot in London. This photo was edited to get rid of tourists, but with a little patience and some good Photoshop skills, you can easily get a photo as if no one were there! This is easily one of the best London Instaram spots!

Best time to visit: As soon as they open
Price: Free
Address: Romney Road, Greenwich SE10 9NF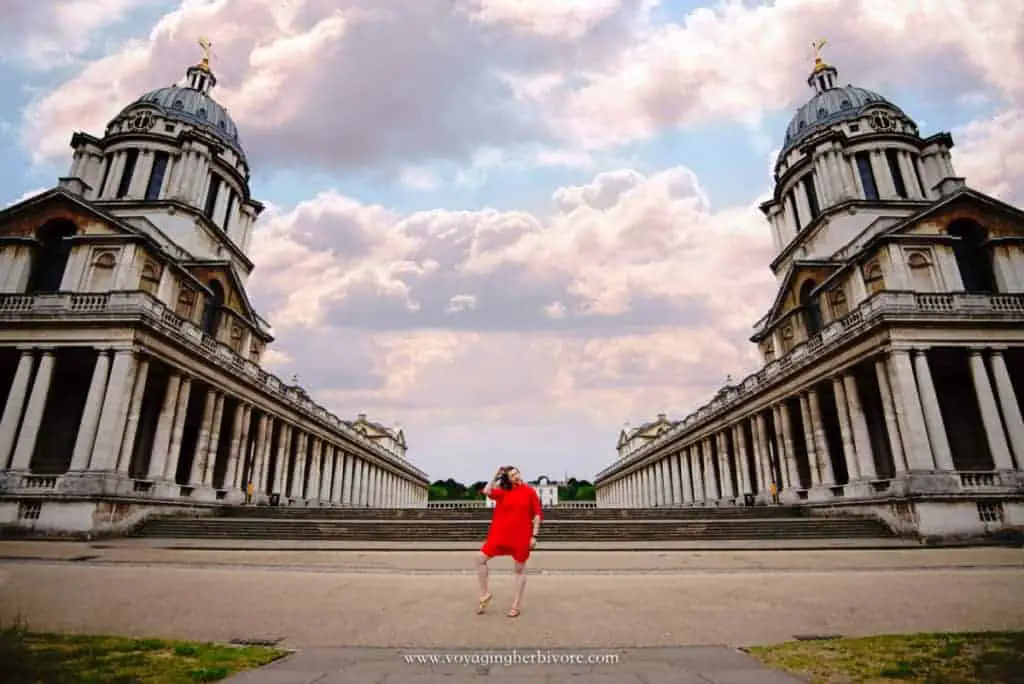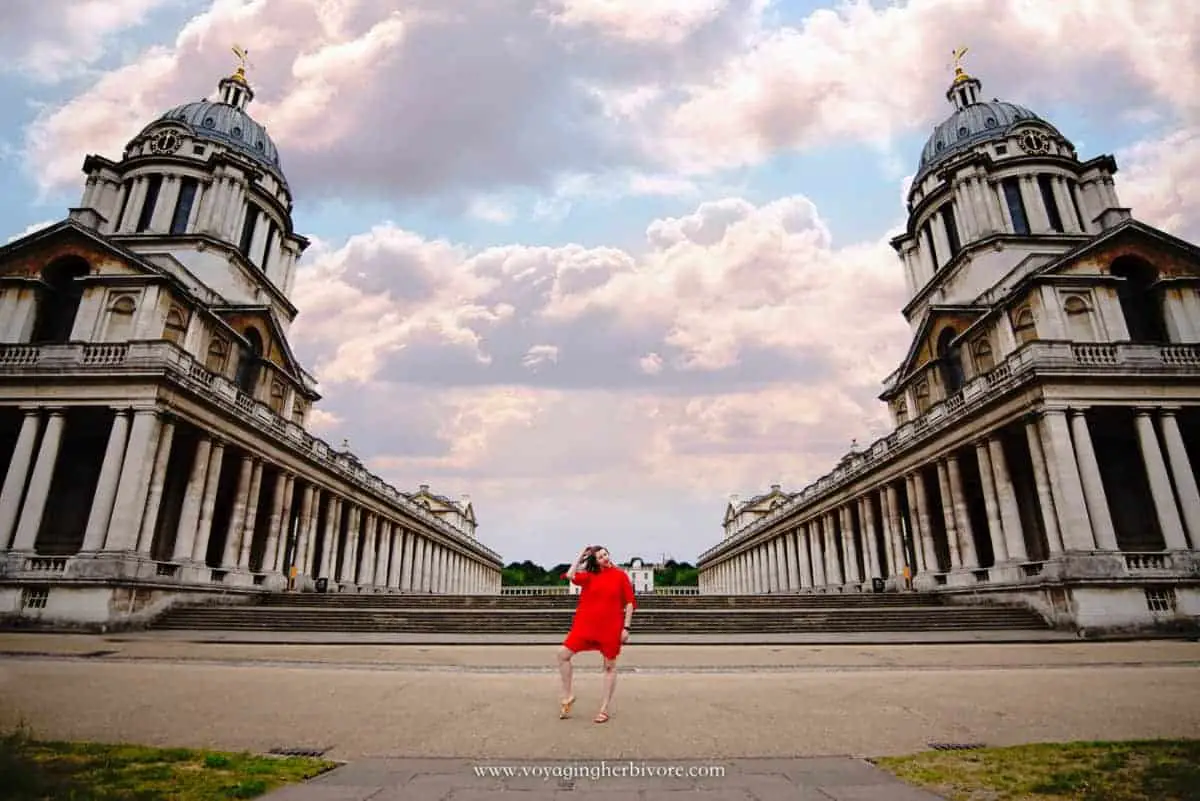 ---
10. Kynance Mews
Kynance Mews is located near the Natural History Museum and is really just a beautiful little street with arches and colorful houses. If you're there in May and June you may even be able to see wisteria growing. It is a residential area so be respectful and if you're getting dirty looks know that it's time to leave!

Best time to visit: Sunrise (if that's before people are awake) or around 9am when people have left for work
Price: Free
Address: On the road called Kynance Mews, Kensington

---
---
11. Tower Bridge
If you're in London, stopping by Tower Bridge is a must-visit London Instagram spot! Not to be confused with London Bridge, Tower Bridge is one of the most iconic spots in London. You can choose to go up, but if you're on a budget stick to outside shots that are even more iconic than the city views you'll see from above! This London photo spot is a must-visit!
Best time to visit: Sunrise or sunset – you'll have two completely different views!
Price: Free to walk the bridge
Address: Tower Bridge Rd, London SE1 2UP
---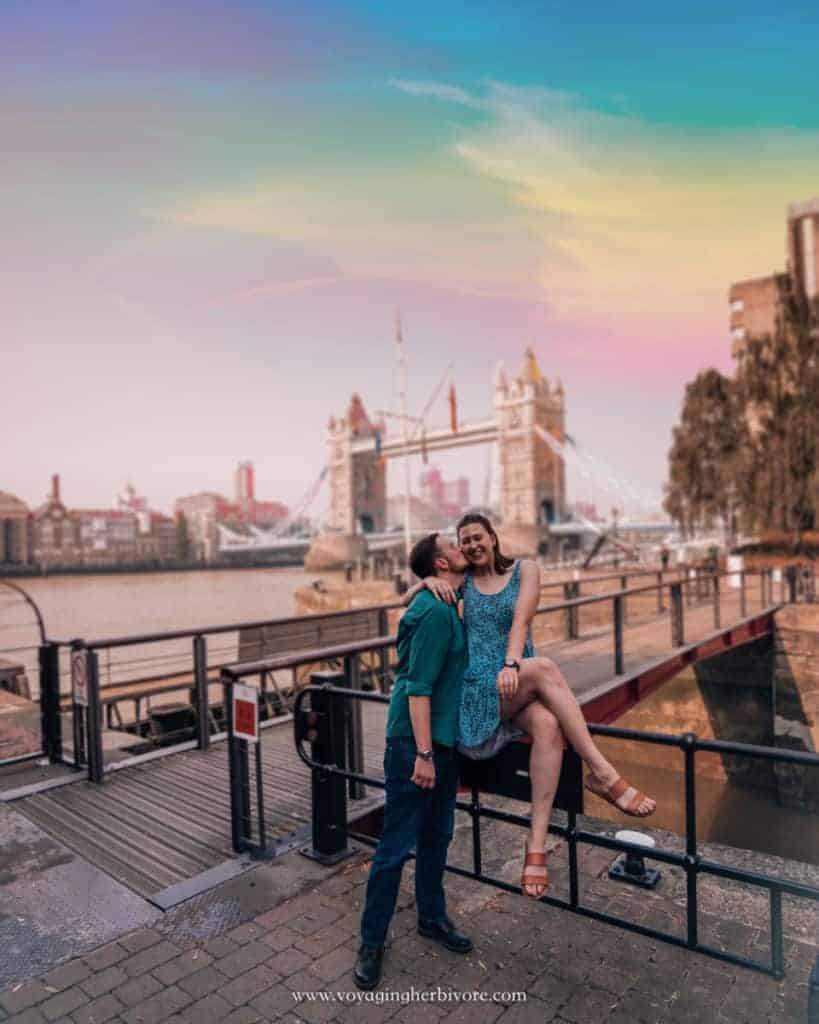 12. St. Katharine Dock
The photo above and on the left features a less well known look at Tower Bridge, which means that you can get incredible views without the crowds. Be sure to wander around the dock area and imagine what it would be like to live there!
Best Time to Visit: Morning golden hour
Price: Free
Address: 50 St Katharine's Way, St Katharine's & Wapping, London E1W 1LA
13. St. Dunstan in the East
To add a little greenery to your Instagram feed, head to St. Dunstan in the East. This spot is a little gem in central London where you'll find local workers gathering for lunch on warm days and bikers and runners stopping to take a break.
Best Time to Visit: Mid morning when the sun is shining through the trees
Price: Free
Address: St, Dunstan's Hill, London EC3R 5DD
---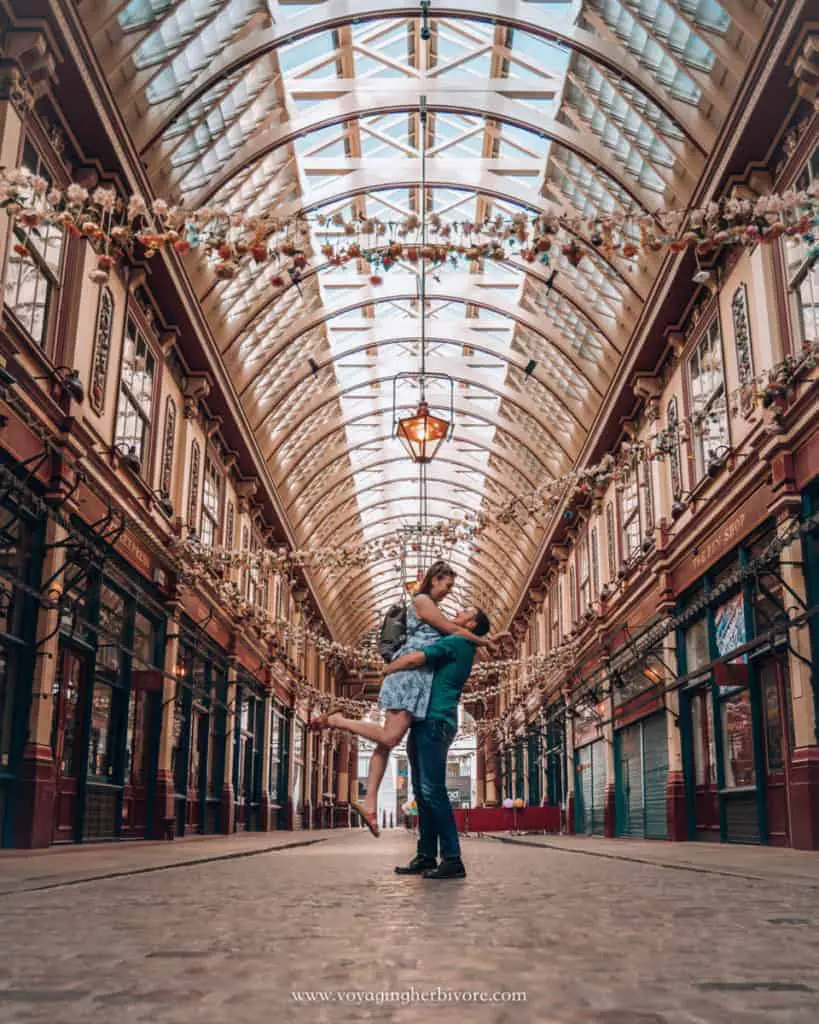 ---
14. Leadenhall Market
This indoor market space features stunning lights, decorated storefronts, and architecture that the Queen would surely approve of! You'll want to visit before the shops open or days when the market is closed or you risk crowds galore. Leadenhall Market has been featured in films like Harry Potter, The Imaginarium of Doctor Parnassus, and Laura Croft: Tomb Raider, making it a must-visit London photography spot!
Best Time to Visit: Before shops open
Price: Free
Address: Gracechurch St, Langbourn, London EC3V 1LT
---
Improve Your Photography Skills
Now that you know about the best Instagram spots in London, why not improve your photo editing skills?
I highly recommend investing in Adobe's Photography Plan which is $10 per month and gives you access to Photoshop and Lightroom. This is less than you pay for Netflix! You can also try the free Lightroom mobile app.
Download our free Lightroom preset here and head to our online shop to check out more preset options.
If you're looking to improve your photography skills, check out our photography guides below. Even if you're not going to these locations, they still offer valuable insights and tips and recommendations for travel photography gear.
---
---
London Photography Spots on the Map
---
What Camera Gear Do We Use?
If you want the full list of things we keep in our camera bag, check out the complete guide or browse our photography guides.
---
Free Resources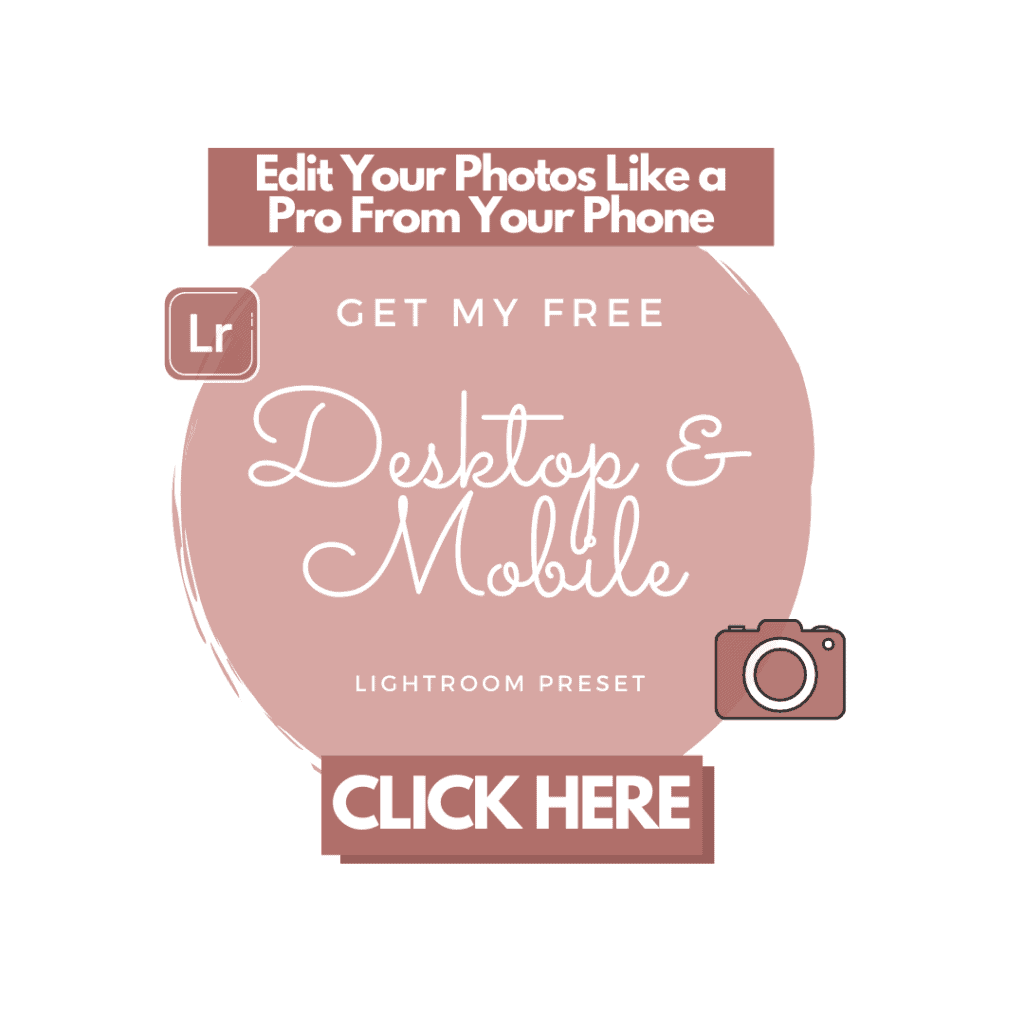 ---
Where to Stay in London
Be sure to check out our full guide to accommodation in London or quickly find somewhere with the map below!
---
More London Guides
---
Pin Instagram Spots in London
---
And as always, you can find more sustainable travel content on Instagram @VoyagingHerbivore, Youtube, and TikTok and to get updates straight to your inbox, enter your email below in the footer, or to the right on the sidebar.

If you found this guide helpful and want to help us keep these resources free,
please consider making your next Amazon, Expedia, Hostel World, Etsy, and Booking.com purchase through our links (just click right on those words – you can do it right now and unless you clear your cookies before your next purchase, it will remember). It costs you no extra and gives us a small commission. Thank you!