Cacti stretching in the heat, wind ruffling exotic grasses, peacocks strutting across paths.
No, you haven't stumbled into Lewis Carol's Alice in Wonderland, but welcome to some of the most amazing gardens in the United States.
Keep reading to discover, in no particular order, an amazing garden near you or a few to add to your United States road trip!
---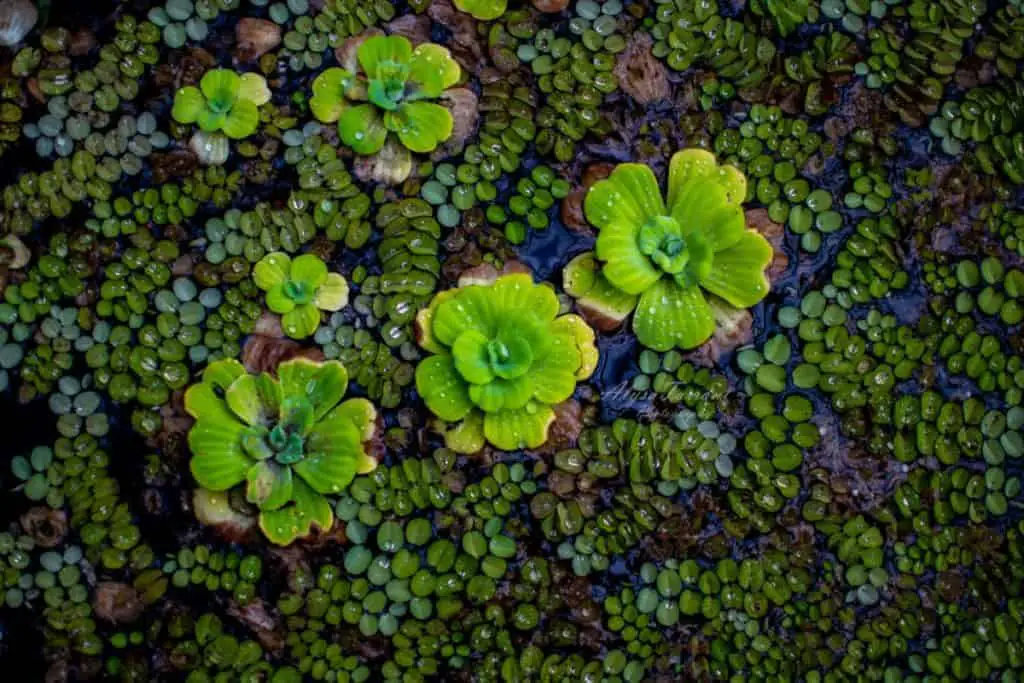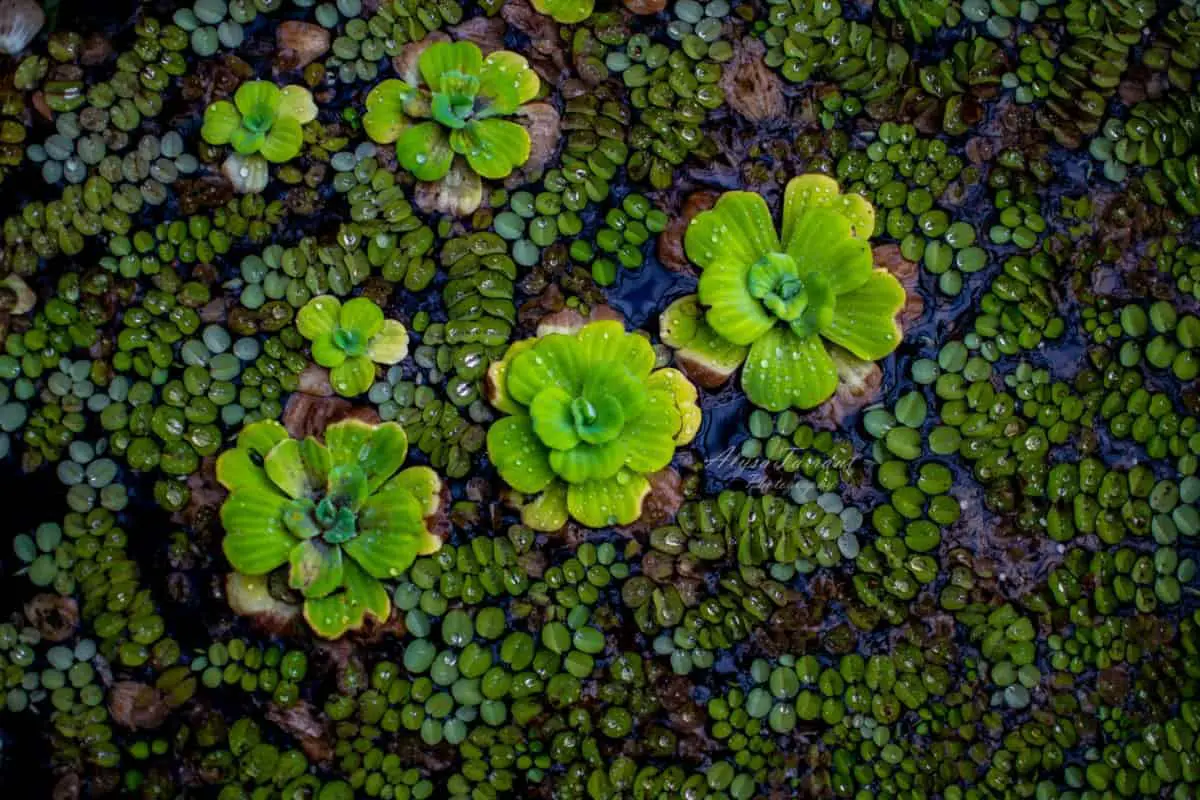 ---
This site is user-supported and that's why we use affiliate links. At no extra cost to you, we get a little bit of money when you purchase something through one of our links. Thank you for helping support ethical, sustainable, and plant-based travel! You can read more about our affiliate disclosure policy here.
---
1. Texas – Dallas Arboretum and Botanical Garden
Submitted by Tori of Tori-Leigh. Find Tori on Instagram.
Address: 8525 Garland Rd, Dallas, TX 75218
Entrance Fee: $17 per adult, $12 per child
Best Time to Visit: Early spring or during the holidays
Website: https://www.dallasarboretum.org/
The Dallas Arboretum and Botanical Garden is a beautiful escape from the city! Visitors will love wandering through the many flower exhibits, discovering various water features, or participating in one of the garden's many special events. Children will also delight in the Rory Meyers Children's Adventure Garden, featuring hands on nature exhibits and a dedicated area for toddlers.
The best times to visit The Dallas Arboretum is early spring during the Dallas Blooms, featuring over one million tulips, or for the holidays, where the garden transforms into a Christmas Village and remains open late. Lines can get long during special events unless you arrive early or have a membership. Visitors can take photos at the amazing garden.
Read More: 7 Best Women's Shoes for Travel
---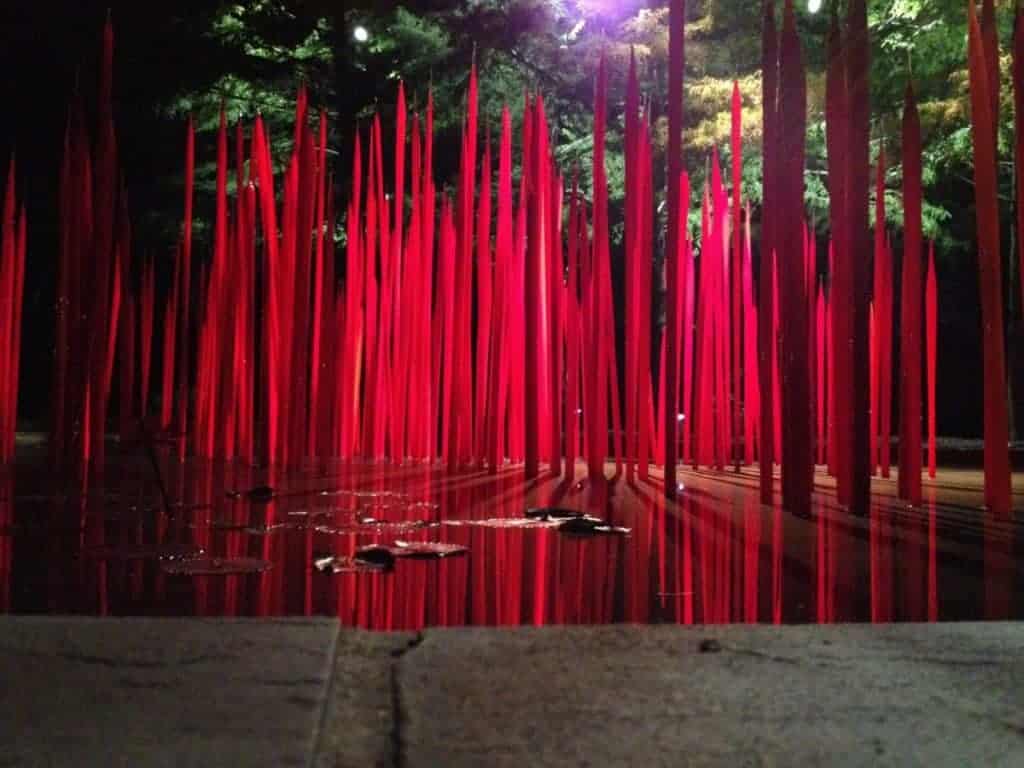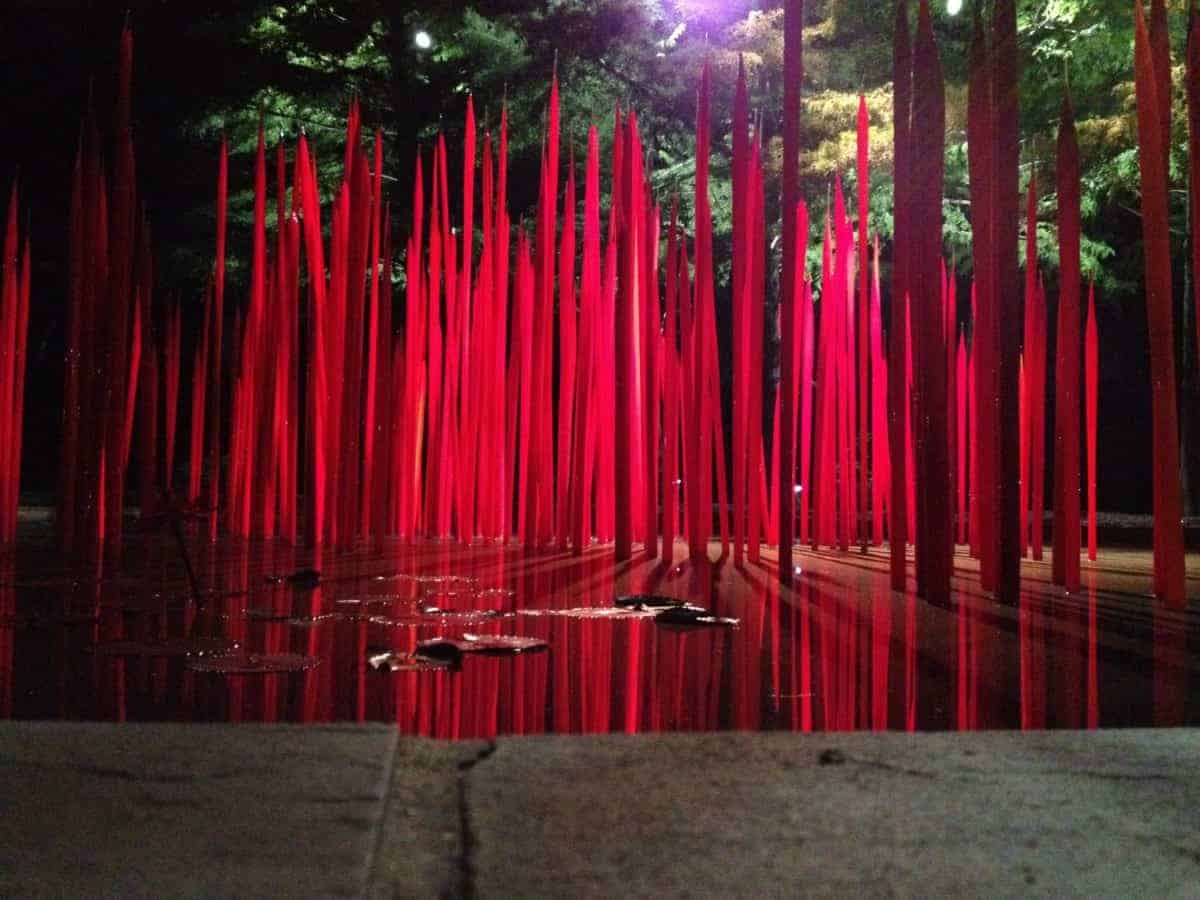 ---
2. Colorado – Betty Ford Alpine Gardens
Submitted by Priya Vin of Outside Suburbia
Address: 522 S Frontage Rd E, Vail, CO 81657
Entrance Fee: Free
Best Time to Visit: Summer
Website: www.bettyfordalpinegardens.org
Betty Ford Alpine Gardens sits pretty at an elevation of 8,250 feet above sea level in Vail, Colorado. It is the highest botanical garden in the United States and possibly the world. With views of the Colorado Rocky Mountains, manicured flowerbeds, colorful flowers and water features, it is a beautiful garden to spend a couple of hours if you are visiting Vail in summer.
The gardens are free to visit but donations are welcome. President Gerald Ford and his wife, Betty loved vacationing in Vail and Mrs. Ford became known as the "First Lady of the Vail Valley". The Vail Alpine Garden Foundation created the beautiful Betty Ford Alpine Garden in Vail in her name.
Read More: 16 Sustainable Travel Hacks
---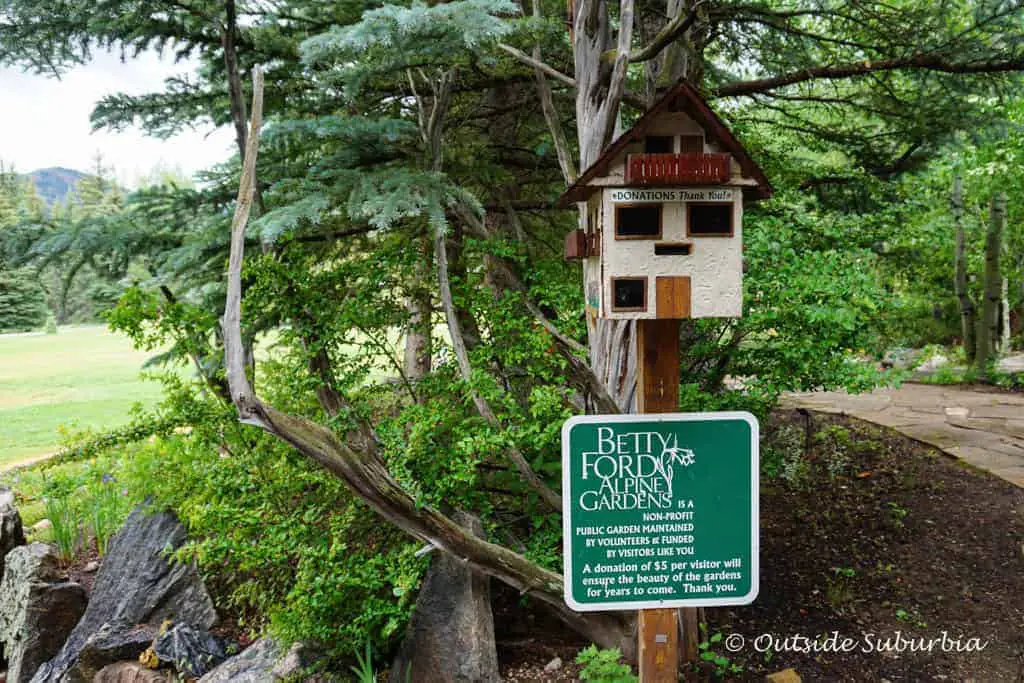 ---
3. Hawaii – Ho'omaluhia Botanical Garden
Submitted by Corritta of It's a Family Thing. Find Corritta on Pinterest.
Address: 45-680 Luluku Rd. Kāneʻohe, Hawaiʻi 96744
Entrance Fee: Free
Best Time to Visit: Any time of year
Website: https://www.honolulu.gov/parks/hbg/honolulu-botanical-gardens
If you are in Oahu with kids, the journey to Ho'omaluhia will look like a scene from Moana. If you aren't familiar with Moana, the journey to Ho'omaluhia Botanical Garden will look like you just stepped into the twilight zone, with beautiful lush green mountains and scenery. When you enter the garden you will want to spot, but stopping for pictures is not allowed.
There is no admission fee to enjoy this gorgeous place. If you want to enjoy the views from your car you can continue driving up the trail until you hit the dead-end and turn around. To get an up-close view of the flowers you can take the one-mile walk through the trail, which leads to a pond full of coy fish. Beware, you will need a lot of bug spray because the mosquitoes here are vicious. I had at least 12 bites by the end of the day.
Read More: Plane or Train: Sustainable Travel
---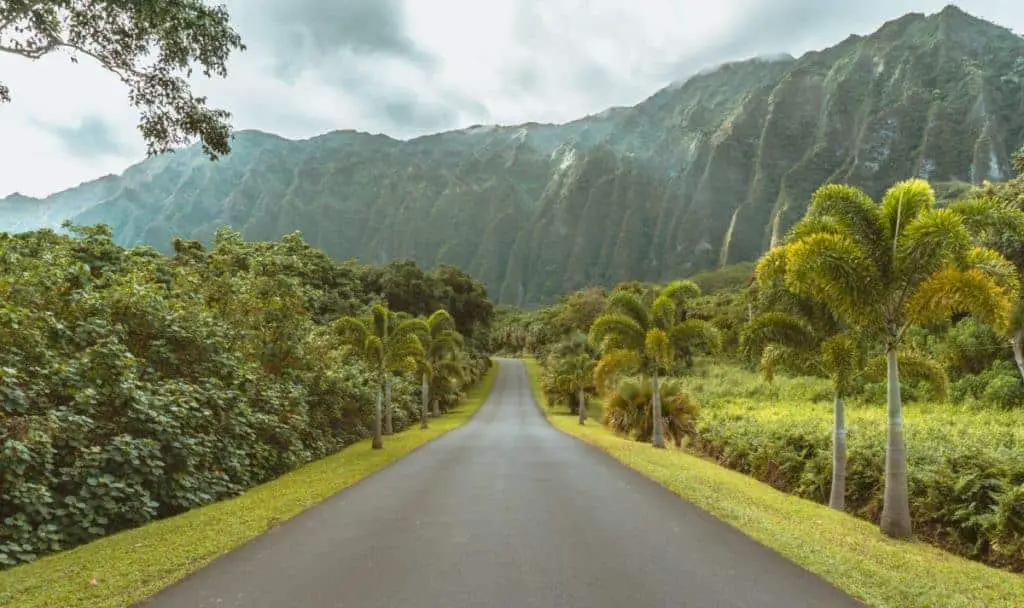 ---
4. Oregon – Portland Japanese Gardens
Submitted by Chrysoula of Travel Passionate
Address: 611 SW Kingston Ave. Portland, Oregon 97205
Entrance Fee: Adult: $18.95, Senior (65+): $16.25, Youth (6-17): $13.50, Child (5 and under): Free
Best Time to Visit: Spring
Website: https://www.japanesegarden.org
The Japanese Gardens in Washington Park are a peaceful place to spend an afternoon while visiting the city of Portland, with 8 different gardens spread over the 12-acre park.
The gardens comprise of a collection of permanent installments as well as some 'exhibits' which change with the seasons, so you can visit time and time again, admiring the ephemeral essence of nature and the ever-changing blooms. The gardens can also be a place of serenity away from the hustle and bustle of the city, so whether you want to sit, read, write or explore the vegetation, there will be part of the Portland Japanese Gardens that speaks to you.
As you would expect, the gardens boast a range of traditional Japanese designs such as a Tea Garden, a Bonsai Terrace, and a number of water features including the Strolling Pond Garden and the waterfalls and streams of the Natural Garden.
Want to be featured on Voyaging Herbivore? Submit a guest post today!
---
---
5. New York – Brooklyn Botanic Garden
Submitted by Brittany Baron of FIvePax Family Travel. Find Brittany on Instagram.
Address: 1000 Washington Avenue, Brooklyn NY 11238
Entrance Fee: $18.00 for adults
Best Time to Visit: Spring when the cherry blossoms are blooming!
Website: www.bbg.org
The Brooklyn Botanic Garden is a gorgeous urban escape for New Yorkers and tourists alike. With over 53 acres of land and over 12,000 species of plants to explore, the gardens provide a full day of enjoyment, and after a dozen visits, we still always find a new space to explore. The cherry blossoms in the spring are truly magical and indoor greenhouses are great for a burst of color and life during a cold and grey New York winter afternoon.
Families visiting with young children must check out the children's Discovery Garden to enjoy a memorable touch and taste experience. The on-site cafes provide a healthy snack or full-meal with several delicious plant-based menu items, expensive, but delicious. Admission $18 for adults with free admission offered on Friday mornings and free weekday hours during the winter months.
Read More: How to Get Serious About Travel Blogging
---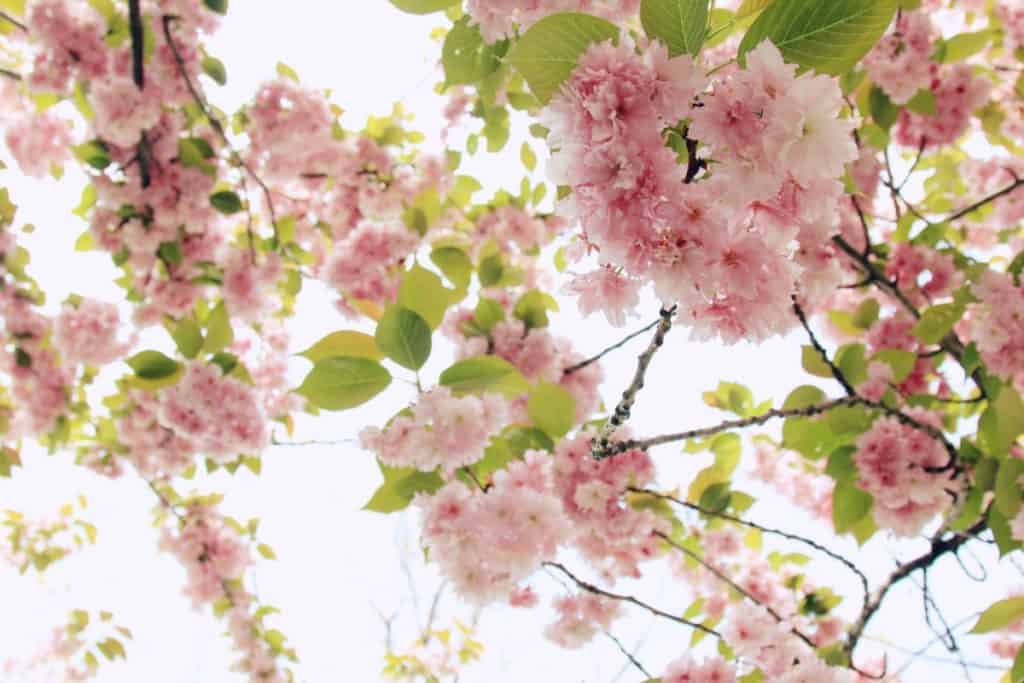 ---
6. Pennsylvania – Phipps Conservatory and Botanical Gardens
Submitted by Kathrine and Pam of Everywhere Forward. Find them on Instagram.
Address: 1 Schenley Drive, Pittsburgh, PA 15213
Entrance Fee: Adults $19.95, Seniors (62+), & Students over 18 $17.95, Children 2 – 18 $11.95
Best Time to Visit: Spring
Website: www.phipps.conservatory.org
Phipps Conservatory and Botanical Gardens located in the heart of Pittsburgh Pennsylvania is one of the top things to do in the city! Phipps draws in visitors for its stunning plant collection from all over the globe. Here, you can see curated rooms of bonsais, orchids, desert plants, ferns, tropical foliage, and much more! Phipps will curate its displays for the seasons and various themes.
During Christmastime, you can be dazzled by Christmas lights and poinsettias, while during the spring you'll be surrounded by tulips and bright colors! Phipps goes the extra mile to make each seasonal display unique and exciting, so visitors have a new experience with every visit. We personally love the spring flower show for its colors and beautiful blossoms!
In addition to the flower and plant displays, this amazing garden has an excellent gift shop and cafe, which is perfect for a full day of fun. If you're looking to get lost among plants and flowers and Pittsburgh, definitely visit Phipps Conservatory and Botanical Gardens!
Read More: 7 Money-Saving Tips for Travelers
---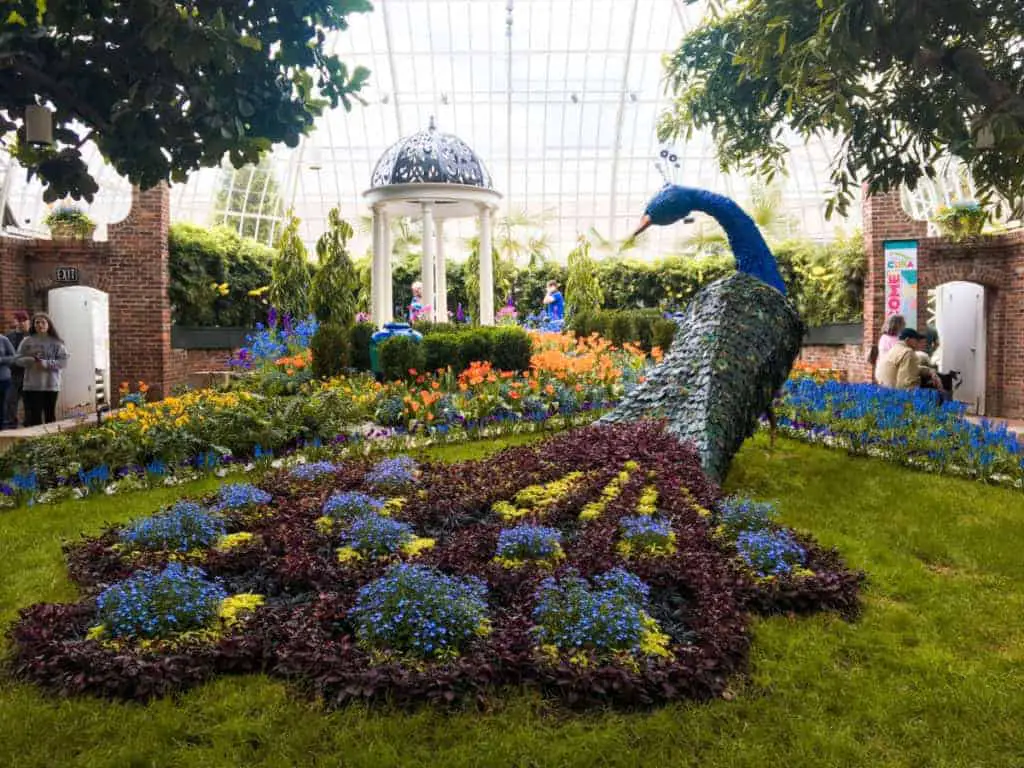 ---
7. California – The San Francisco Botanical Gardens
Submitted by Mayuri of ToSomePlaceNew. Find Mayuri on Instagram.
Address: 1199 9th Ave, San Francisco, CA 94122, United States
Entrance Fee: $9 USD
Best Time to Visit: March to May
Website: www.sfbg.org
The San Francisco Botanical Gardens is an amazing garden located in the iconic Golden Gate Park area. The garden is home to about 9000 varieties of plants from all over the world.
It is an amazing area (of 55 acres) to stroll through the landscaped gardens in the midst of pretty plants. Allot at least 2-3 hours for the visit.
If you are an early morning riser, head there between 07:30 to 09:00 am to access the gardens for free. For non-residents, it is $9 USD per adult entry after the free hours. You can also opt for membership passes as well.
The amazing garden can be accessed via the hop-on and hop-off sightseeing tour in San Francisco.
Read More: How to Start a Website for Less Than $3 per Month
---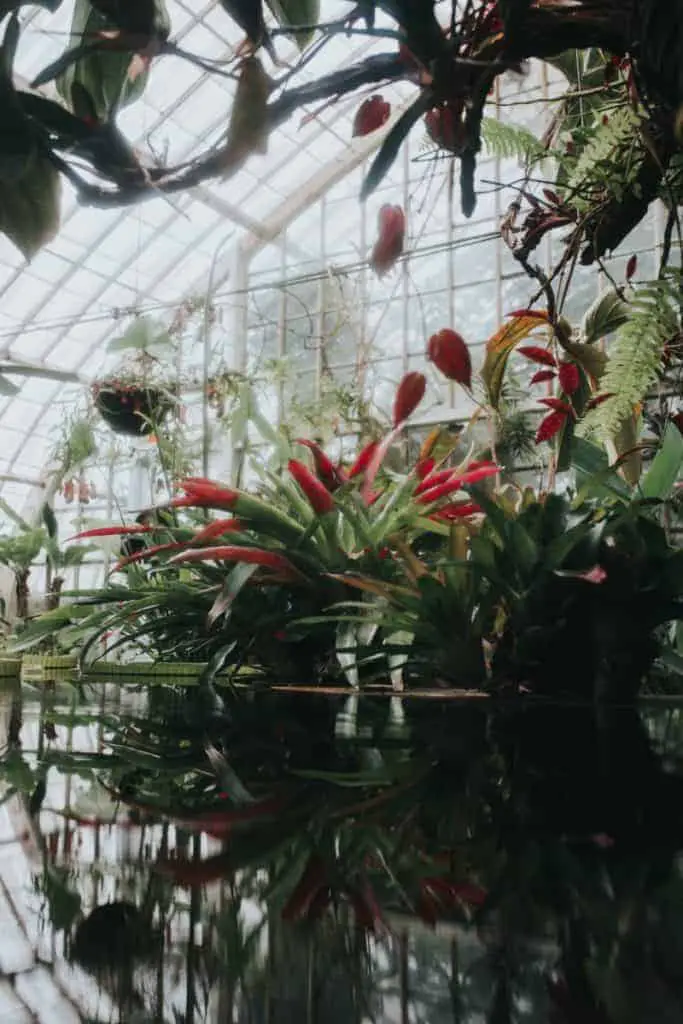 ---
8. California – The Los Angeles County Arboretum and Botanic Garden
Submitted by Ruth of Tanama Tales. Find Ruth on Pinterest.
Address: 301 N Baldwin Ave, Arcadia, CA 91007
Entrance Fee: $15 Adults, $5 Kids
Best Time to Visit: Spring
Website: www.arboretum.org
Arcadia, a city located near the foothills of the San Gabriel Mountains (13 miles from Downtown Los Angeles), is home to The Los Angeles County Arboretum and Botanic Garden. This amazing garden has been serving the community since the late 1940s and nowadays, it displays plant collections from all over the world.
During my visit, I was able to walk around Baldwin Lake, the Tule Pond, the Prehistoric Forest, the Meadowbrook, and the Historic Circle. My favorite displays can be found at Tallac Knoll, an area showcasing ficus trees, aquatic gardens, and a waterfall. The orchids inside the Tropical Greenhouse were impressive too.
At the Arboretum, there are plants in bloom all year-round. Some prefer to visit during spring when plants such as jacaranda, bougainvillea, and wisteria are exhibiting their colorful flowers.
An admission fee of $15 is charged for adults. Kids pay $5 to enter. Discounts are offered for senior citizens and students. The entrance is free on the third Thursday of each month.
Read More: Free Lightroom Preset (Photo Filter) Download
---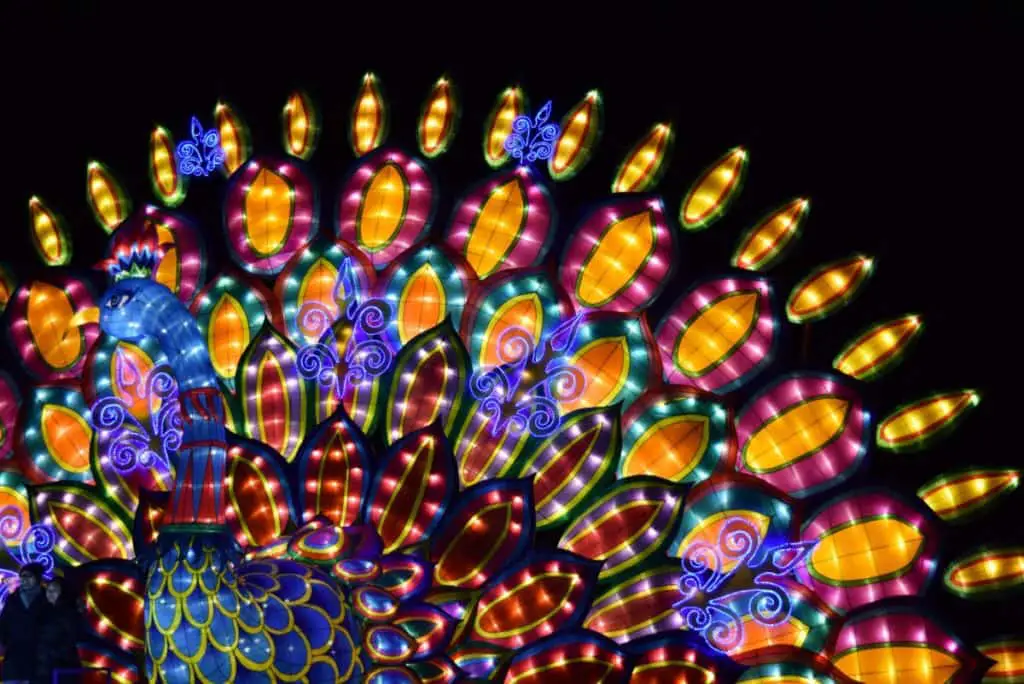 ---
9. Virginia – Norfolk Botanical Gardens
Submitted by Nancy Hann of Traveling With Purpose. Find Nancy on Instagram.
Address: 6700 Azalea Garden Rd, Norfolk, VA 23518
Entrance Fee: $12 USD
Best Time to Visit: All Year – Something is happening year-round
Website: www.norfolkbotanicalgarden.org
The mild climate of coastal Virginia means there's always something happening at the Norfolk Botanical Gardens, near Virginia Beach in the southeastern corner of the state. The project began in 1938 and today the Garden attracts visitors from around the world. 175 lush acres bordering Lake Whitehurst are covered with thousands of azaleas and rhododendrons, more than 60 themed gardens, trails, fountains, statuary, and waterways.
Norfolk Botanical Gardens is an amazing garden that offers activities for young and old like sunset kayaking, tram & boat tours, classes in oil painting, T'ai Chi, science for homeschoolers, floral design, and intro to edible weeds. In addition to other annual festivals and events, every year the gardens are decked out in a winter wonderland of holiday lights. Guests can stroll the "Million Bulb Walk" in November and the "Garden of Lights Drive" in December. Photography and social sharing are welcome.
Read More: 9 Sustainable Gifts For Travel Lovers
---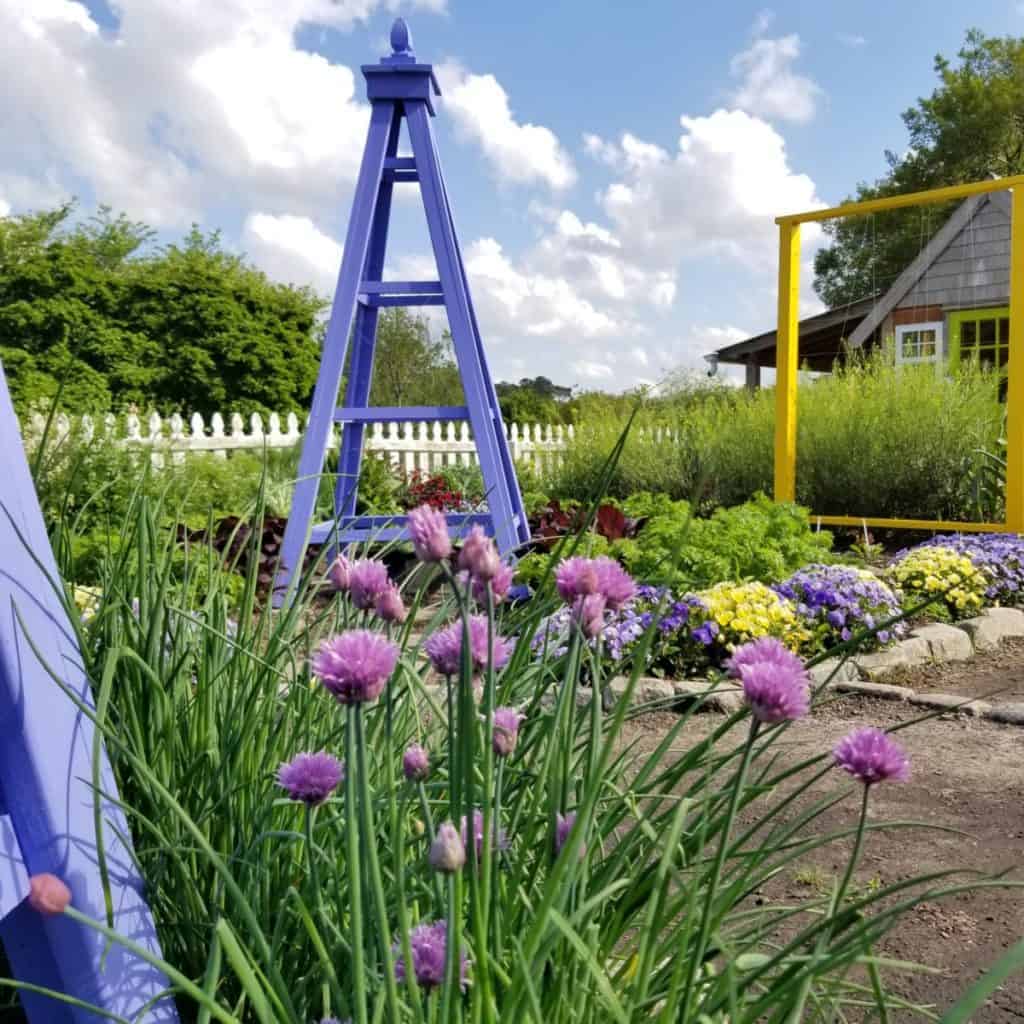 ---
10. Georgia – Atlanta Botanical Garden
Submitted by Jordan of The Solo Life blog. Find Jordan on Instagram.
Address: 1345 Piedmont Avenue, Atlanta, GA 30309
Entrance Fee: $21.95
Best Time to Visit: During the holidays
Website: www.atlantabg.org
For garden and nature lovers, Atlanta, Georgia may not first come to mind. However, with tons of great hiking and outdoor activities nearby, and the 189-acre Piedmont Park and the Atlanta Botanical Garden both in the middle of the city, Atlanta is perfect for nature enthusiasts. The Atlanta Botanical Garden in particular, with a rose garden, children's garden, orchid center, and floral sculptures throughout, is worth a visit. Along with its signature gardens, the rotating exhibitions, including Alice's Wonderland and Chihuly in the Garden, allow for new and innovative ways to enjoy the grounds.
Although the Atlanta Botanical Garden is an amazing garden that is enjoyable all year long, it especially shines during the holidays, when the annual Garden Lights, Holidays Nights begin. During this time, the gardens are transformed by millions of synchronized dancing lights, an Ice Goddess, Tunnel of Light, and more into a winter wonderland. No matter when you visit, the Atlanta Botanical Garden is worth a visit.
Read More: 22 Black-Owned Businesses to Support Today
---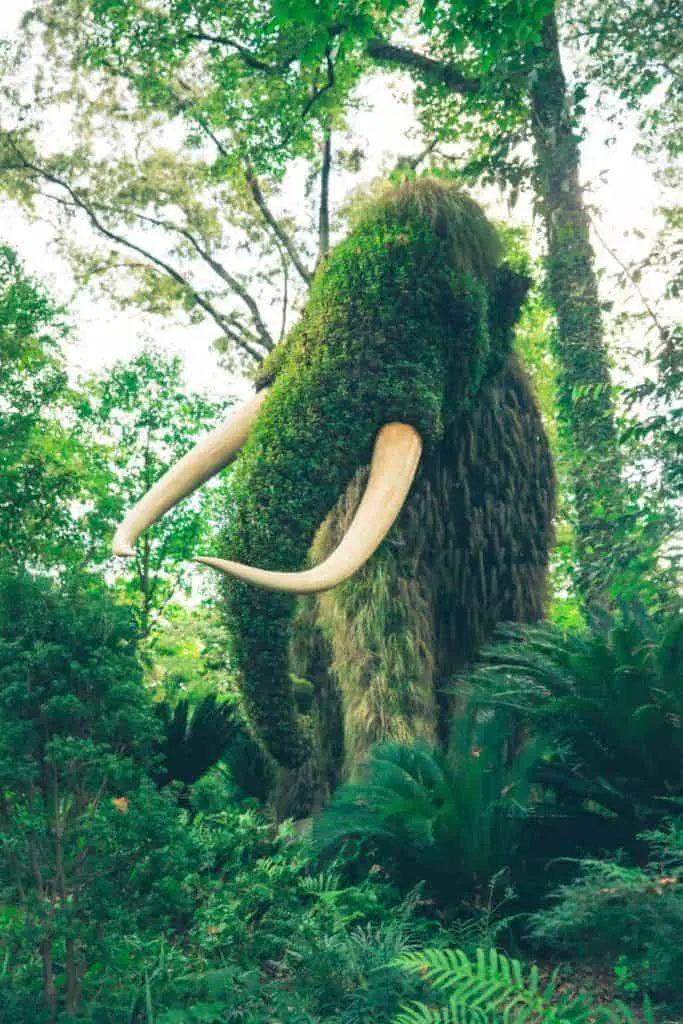 ---
Explore an Amazing Garden Today
These 10 amazing gardens are hard to beat, but even so, there are hundreds more across the United States and the world. Start planning your ultimate road trip today take to see all of the incredible sites and to find an amazing garden near you.
Check out the posts below to discover more blogger-recommended tips and spots!
Hello Seeds | UK Plant Subscription Box | Discount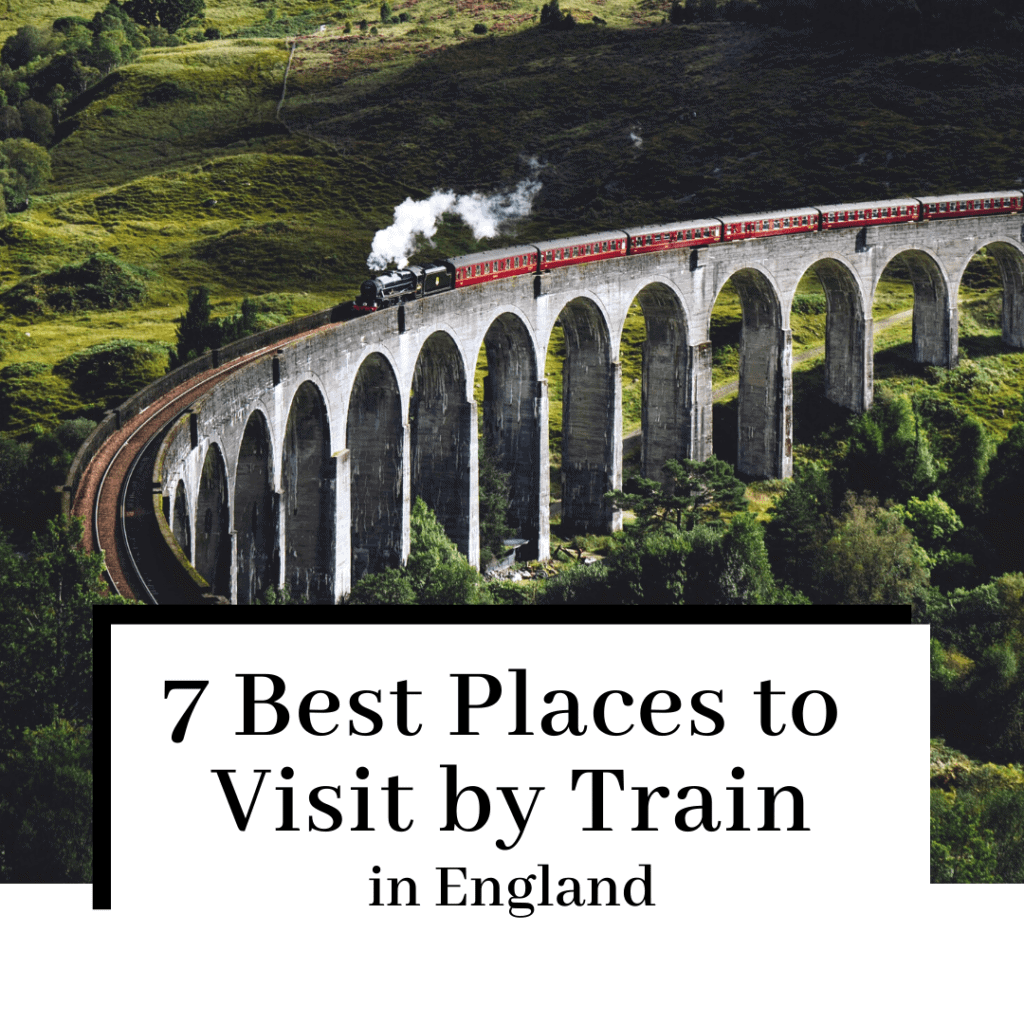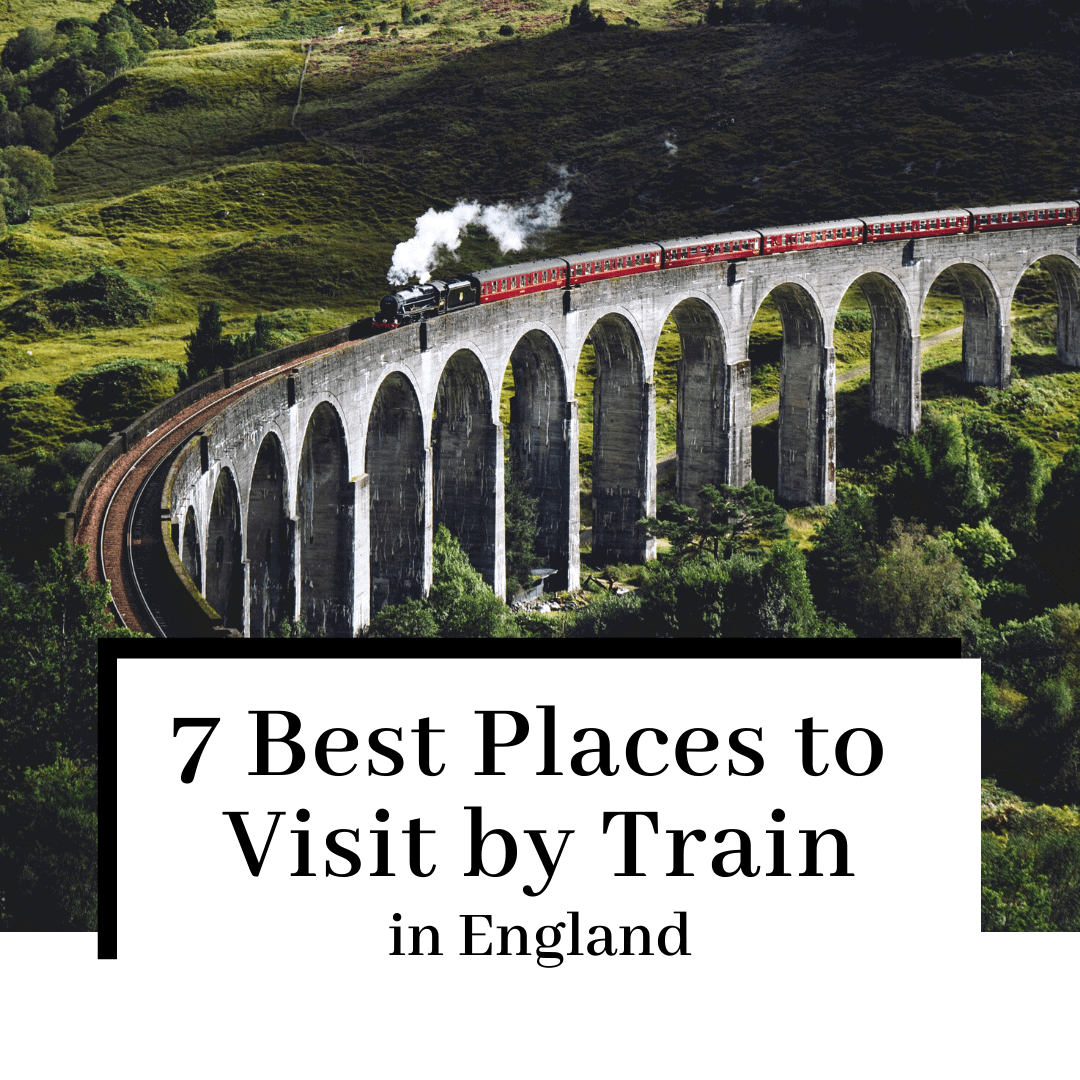 ---
Free Resources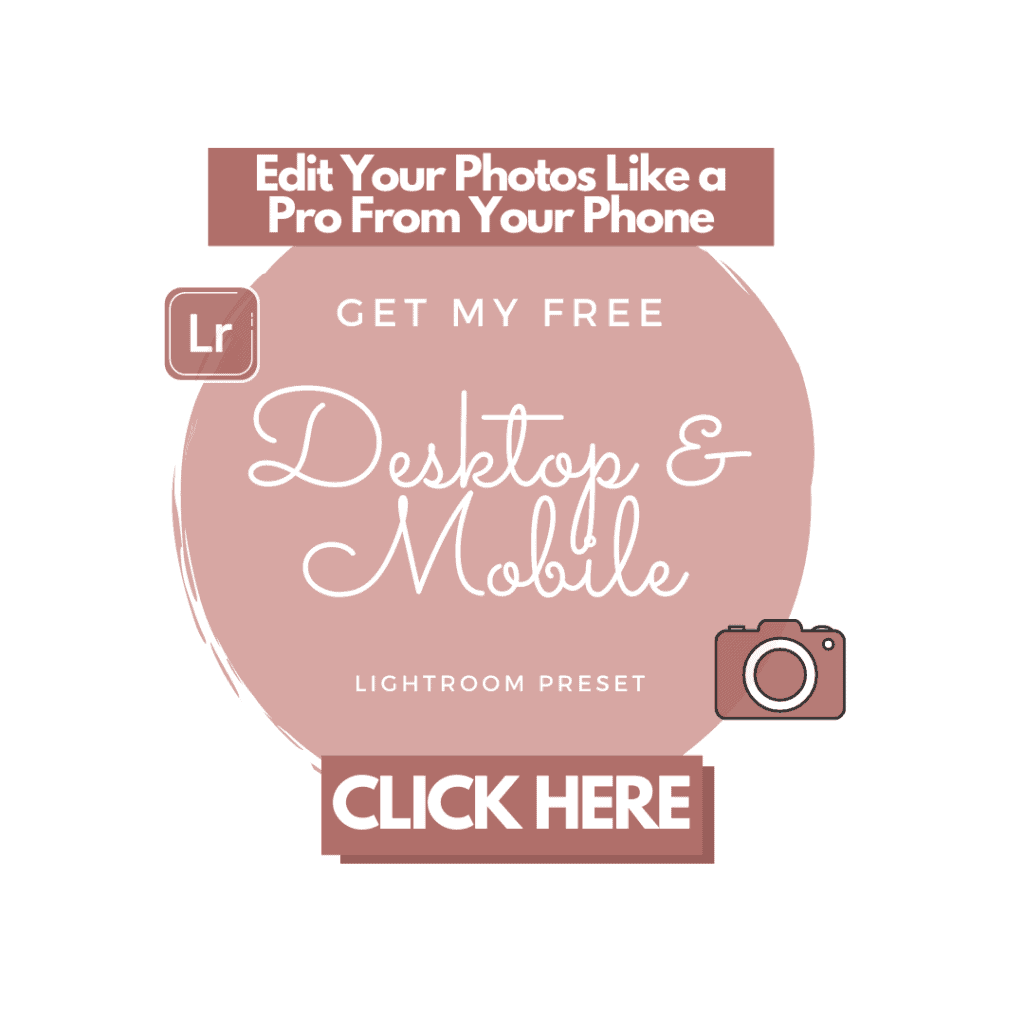 ---
What Camera Gear Do We Use?
If you want the full list of things we keep in our camera bag, check out the complete guide or browse our photography guides.
---
Pin Amazing Botanical Gardens USA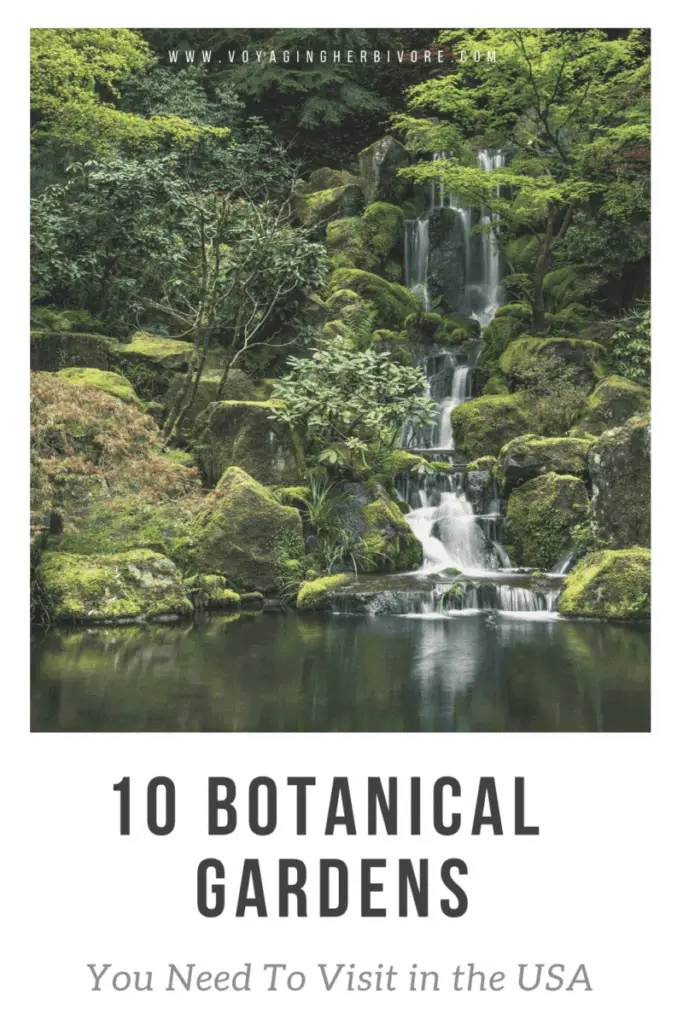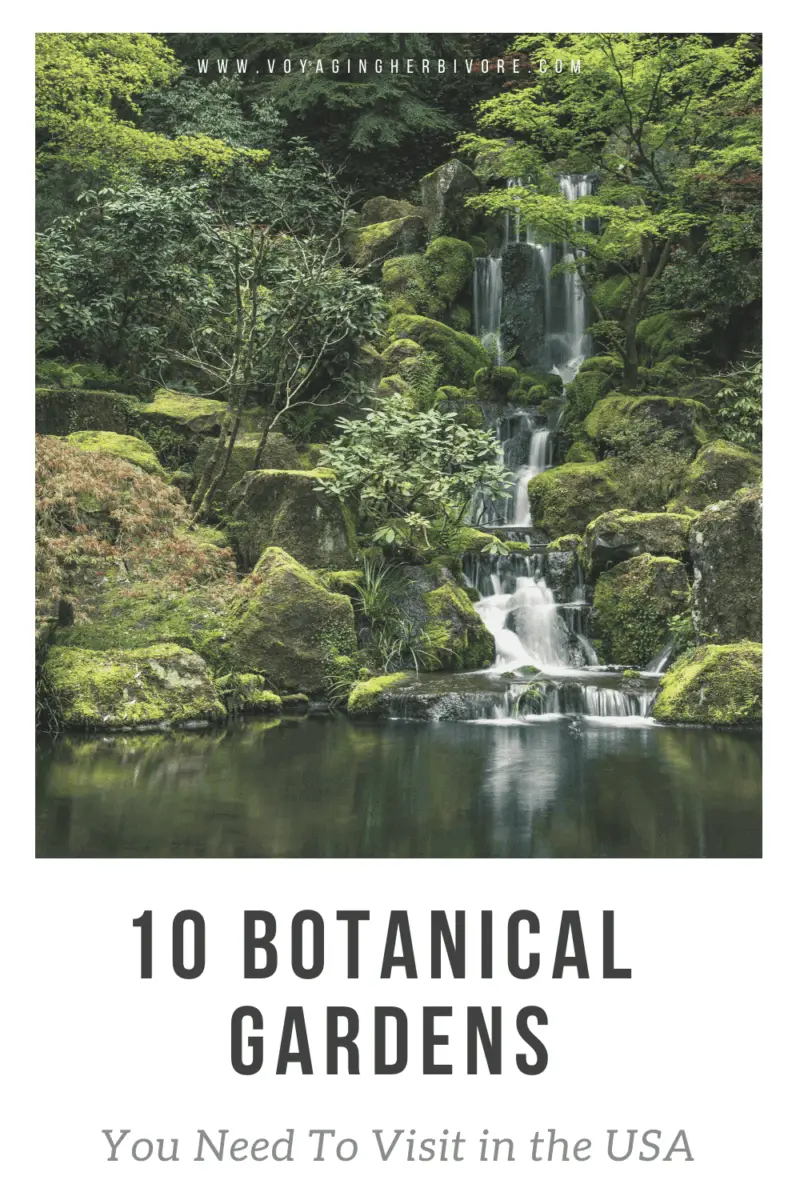 ---
And as always, you can find more sustainable travel content on Instagram @VoyagingHerbivore, Youtube, and TikTok and to get updates straight to your inbox, enter your email below in the footer, or to the right on the sidebar.

If you found this guide helpful and want to help us keep these resources free,
please consider making your next Amazon, Expedia, Hostel World, Etsy, and Booking.com purchase through our links (just click right on those words – you can do it right now and unless you clear your cookies before your next purchase, it will remember). It costs you no extra and gives us a small commission. Thank you!