Peacocks, swans, and Vogue shoots, oh my!
London is filled with incredible sights, but nothing beats a dose of fresh air and a walk when you've had a bit too much tasty vegan street food or a bit of a nightlife experience that's left you with a fuzzy head.
Thankfully, alongside fantastic afternoon tea experiences, the English are also phenomenal at parks, and the gardens in London are no exception!
Keep reading to discover the best secret and not so secret gardens in London.
---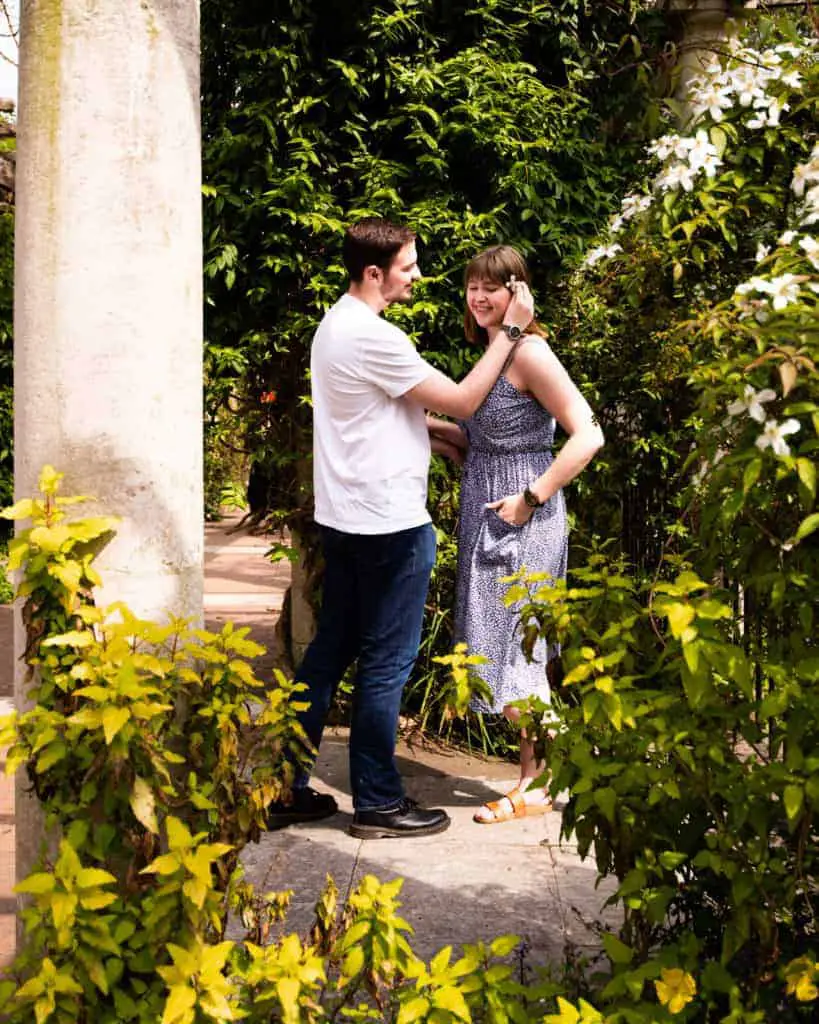 ---
Hampstead Heath
Without a doubt, Hampstead Heath is one of the most gorgeous London gardens and places that I've ever visited. That being said, it is a wedding facility, so it is with good reason that it's so well maintained.
The park is absolutely massive but you will find gorgeous grounds and stone structures in the pergola area. One thing to keep in mind is that you're not supposed to shoot professional photos there without a permit. We were spotted with a tripod and immediately asked to put that and our DSLR away.
---
Sexby Gardens
Sexby Gardens is one that is off the beaten track, but it's easy one of the best gardens in London. It's an Instagrammer's paradise, especially with the wisteria that you'll find flowering in late spring and early summer.
While Sexby Gardens is a small part of the main park, you'll find many paths to wander outside of the flower-covered arches. You might even see a dog run through the overly-blue dyed fountain (as we did) and come out looking a little green!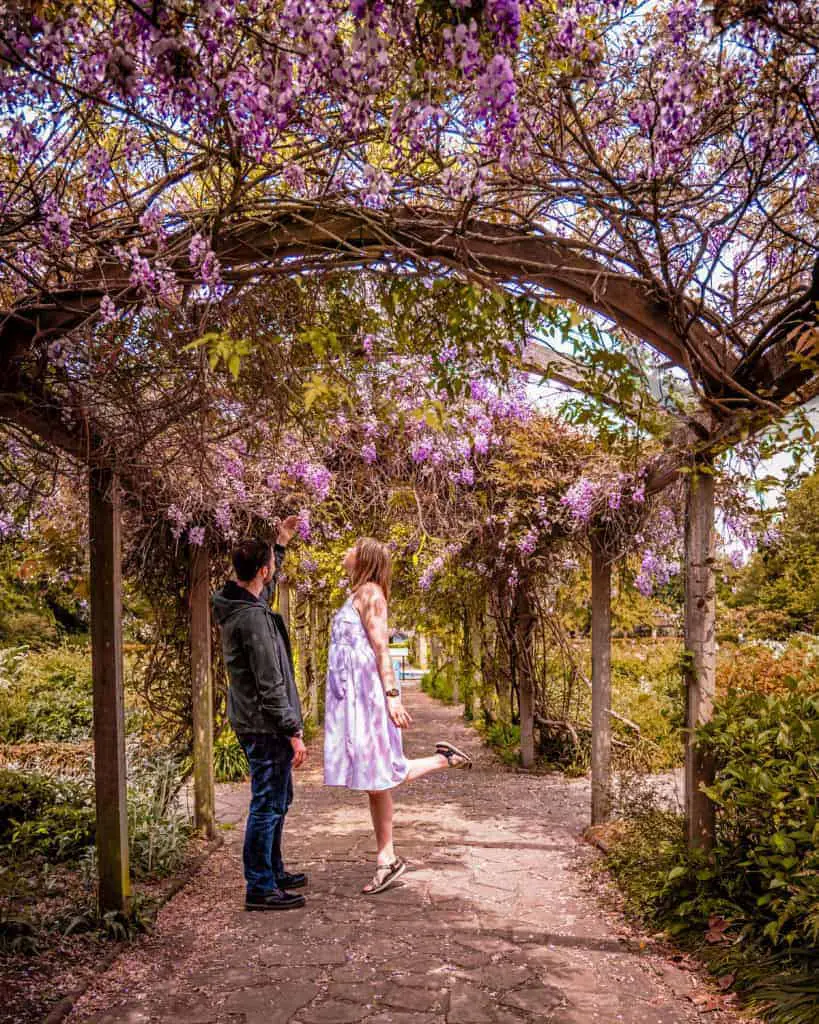 ---
Clissold Park
Clissold Park is the perfect place to go for a picnic, a run with your dog, or to let your kids explore. With animal enclosures from deer to birds, and little kid play and waterpark areas, you won't be short of things to do.
You can also head to the tea house to look out towards the church spire while sipping on a cup of Earl Gray. Not to mention the fairs, beer festivals, and all the dogs you'll find here!
Read More: Vegan Picnic Delivered to the London Park of Your Choice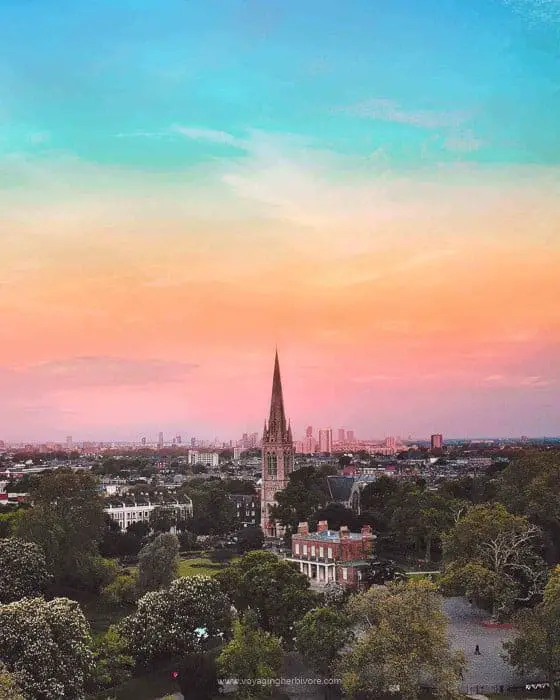 ---
St. James's Park
Near Buckingham Palace, this London garden is likely already on your list, and for good reason! If visiting in the spring and summer, expect more birds and baby birds than you can count! While it is a touristy spot, take some time to wander. Enjoy the views of Buckingham Palace and the guard.
Read More: How to Take a Daytrip from London to Stonehenge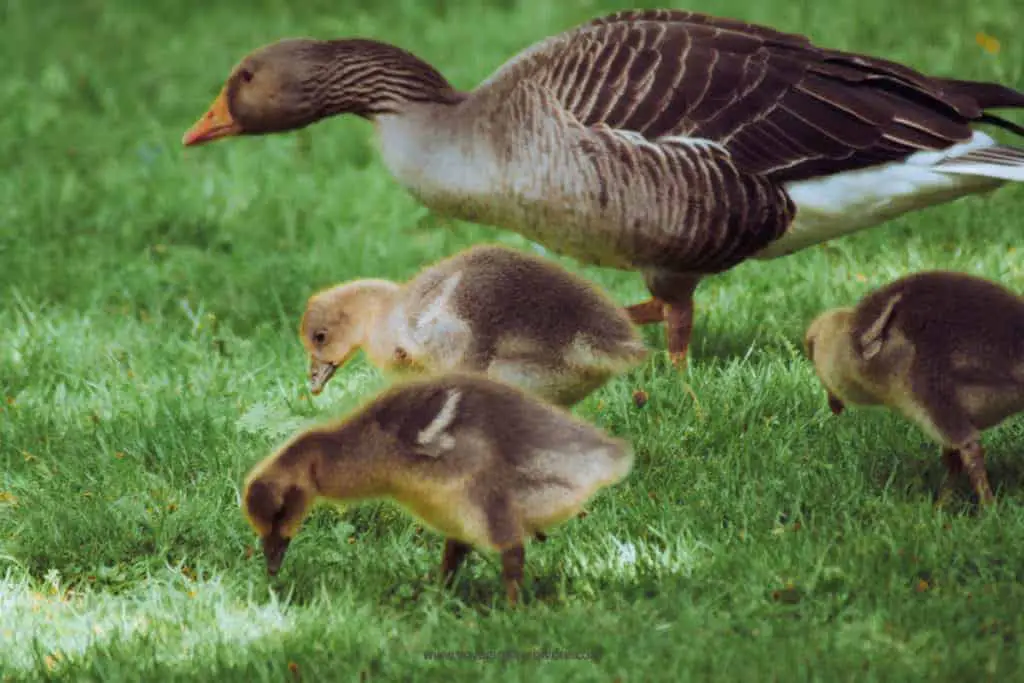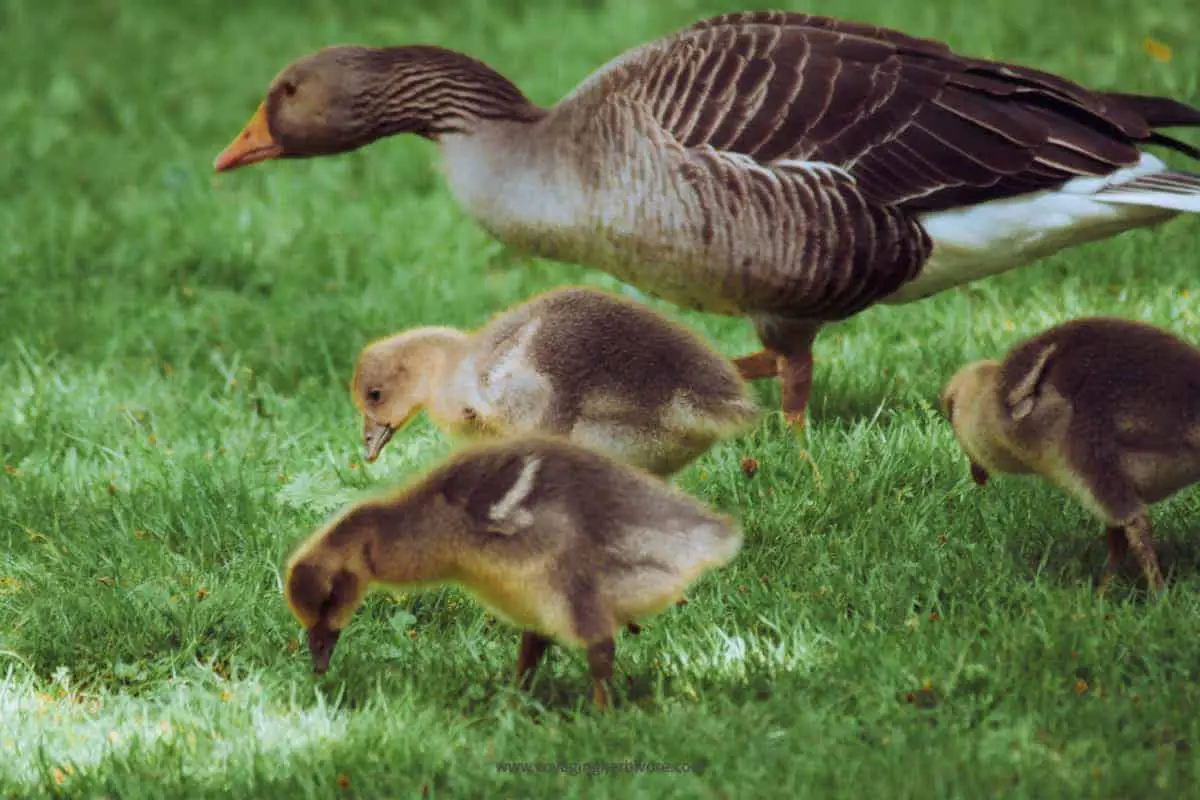 ---
Sky Garden
Another not so secret garden of London is the Sky Garden. The Sky Garden is free to visit, but you will need to reserve a ticket well in advance, and they go quickly in the warmer months so be ready to book when new slots come online.
To get into the garden, you'll need to go through security and then ride an elevator up. The views are exquisite and the drinks out of price range, but it's a great place to spend an hour or two lounging.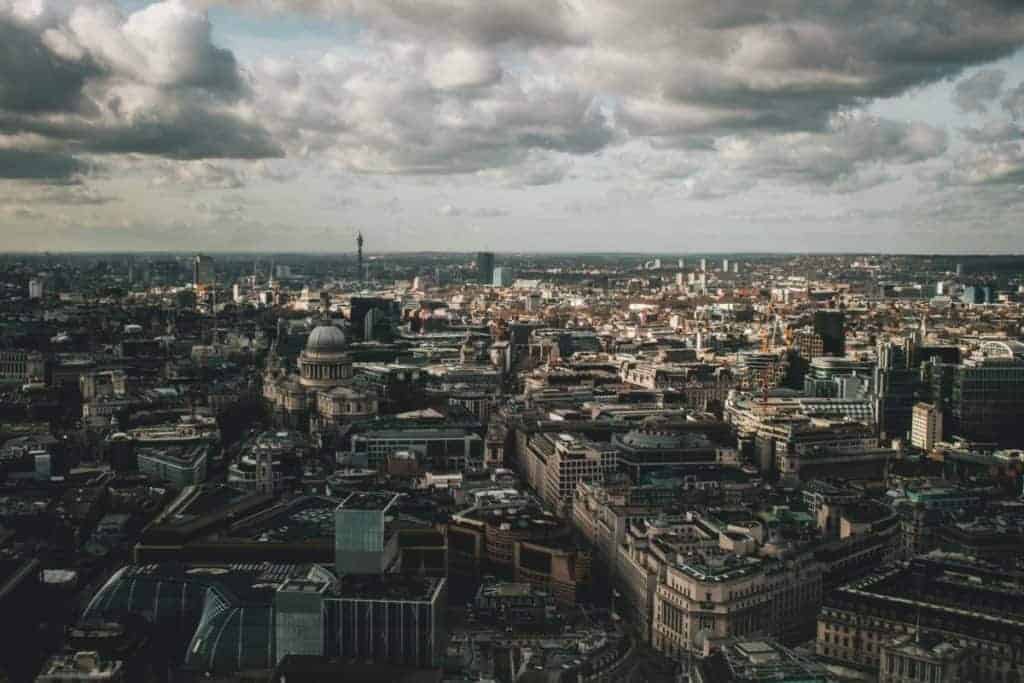 ---
Kyoto Gardens
The Kyoto Gardens, located in Holland Park, are stunning Japanese Gardens where you'll find koi carp, peacocks, and tiered waterfalls. The best part, it's free to enter! The park is open from dawn to dusk but the best time to visit is as early as possible to avoid crowds.
If you're dying to splash some cash, you can always stay for the Holland Park opera which will set you back less than 20 pounds.
---
---
Kensington Gardens
The Kensington Palace Gardens are one of the Royal Parks of London. This park, along with Hyde Park, St. James's Park, and Green Park form the "green lung" of central London.
Because these were once private royal gardens, they're incredibly well maintained and during the summer you'll see every color on the wheel! If you don't want to tour the house, the gardens are free and well worth the visit as one of the best free gardens in London.
Read More: Where to Stay in London for Major Attractions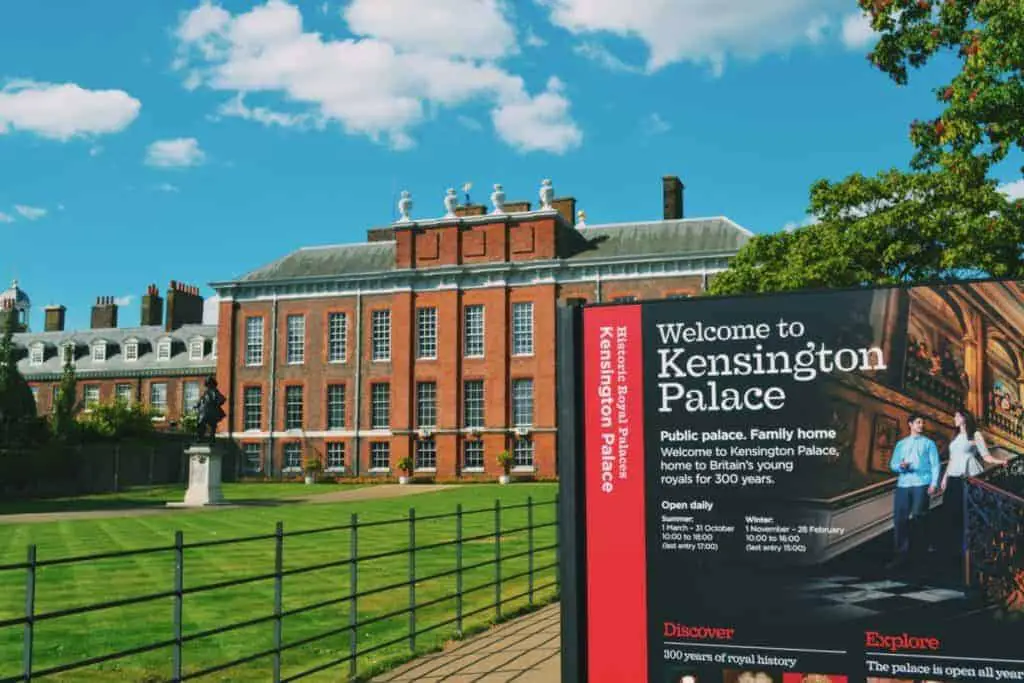 ---
Kensington Roof Gardens
If you're looking for the elusive Kensington Roof Gardens, also known as Derry and Tom's Roof Garden, you might have to wait a bit longer. Although this London garden was open to the public until 2018, it's currently being restored.
The 1.5 acre space features three different gardens: the Spanish Garden, the English Woodland Garden (complete with resident flamingos), and the Tudor Garden with traditional architecture. As soon as the Kensington Roof Gardens reopen, they should be first on your list.
---
Eltham Palace Gardens
These incredible green spaces feature 19 acres of award-winning greenery. In the house gardens, you'll find unique bridges and even a boat in what is an odd combination between a medieval and Tudor palace and a 30's millionaire's mansion.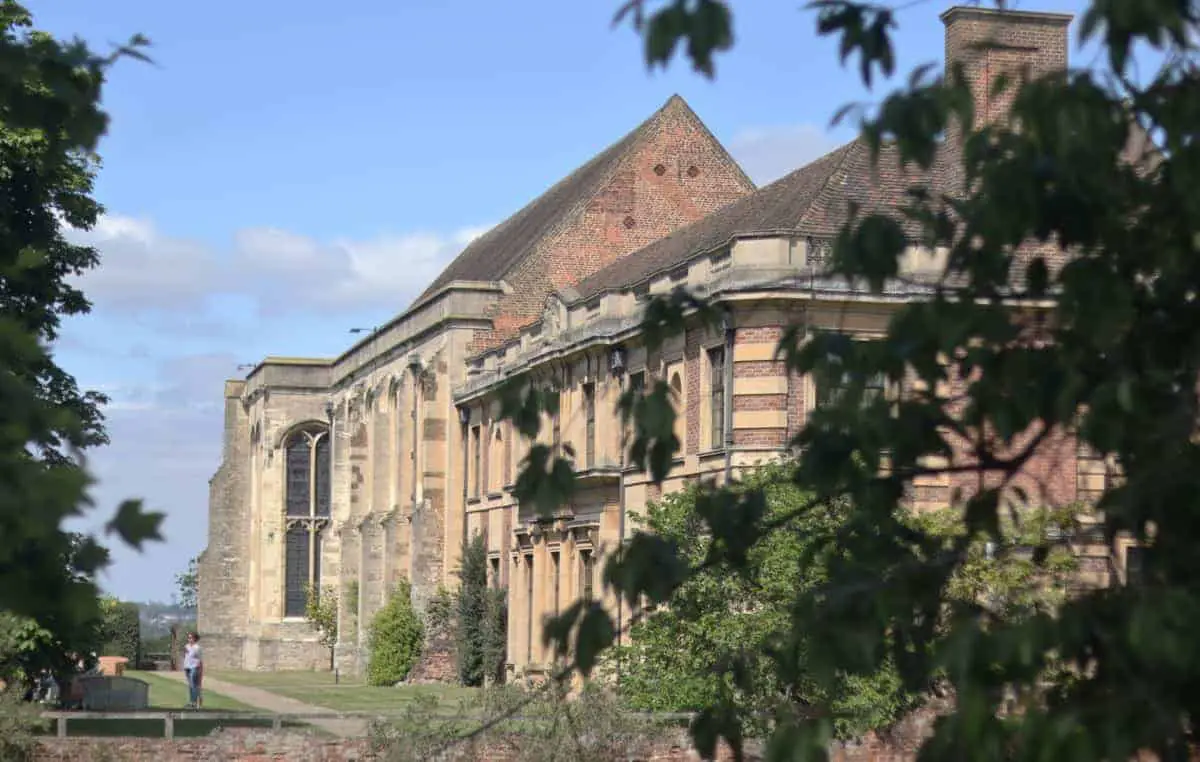 ---
Fulham Palace Gardens
The country home of bishops starting in the 11th century, Fulham Palace Gardens is a historical site with beautiful botanic gardens. It's still owned by the Chuch of England and you can visit the palace and gardens for free.
---
Hampton Court Palace Gardens
While not located in central London, the journey is well worth the size of the gardens. The palace itself features both Tudor and Baroque style architecture. The gardens are nothing short of a masterpiece with enough colors and styling to make the kings at Versailles jealous. If you're in London in June, be sure to head to Hampton Court Palace for the annual festival which features world-renowned singers and performers.
---
Royal Botanic Gardens – Kew Gardens
Look no further for the most famous flower patch in England! With over 300 acres and over 30,000 place species, the Royal Botanic Gardens (Kew Gardens) absolutely need to be on your list of gardens in London.
There is an entrance fee to the Kew Gardens, but if you have the London Pass the entrance is included.
Read More: How to Get Around London by Bus, Tube, and Train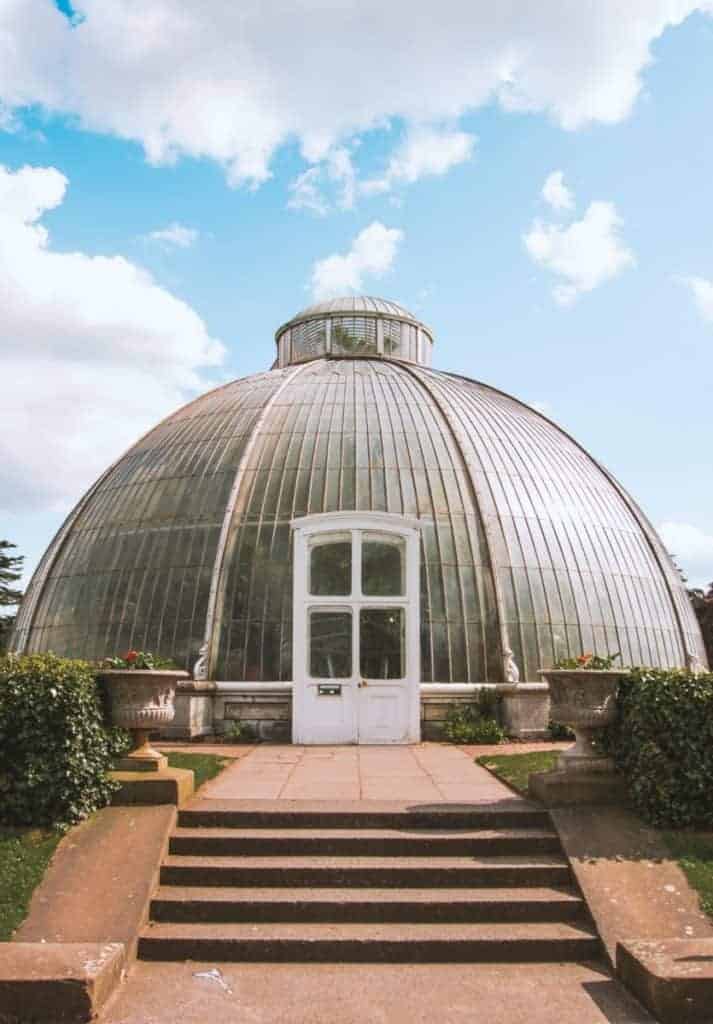 ---
Chelsea Physic Garden
This secret garden, founded in 1673 by the Worshipful Society of Apothecaries (how do I join?), is home to over 5,000 species of plants. While it's the perfect place for an afternoon stroll, there's a focus on understanding the scientific nature of plants for medicinal uses.
---
Isabella Plantation
Situated in Richmond Park, there's no shortage of color during spring and summer on Isabella Plantation. You'll find ponds, and colors so saturated you'd think they must be Photoshopped.
Whether you're looking for place to walk in London or for an Instagrammable spot in London, look no further than these amazing gardens.
---
Barbican Conservatory
The Barbican Conservatory is the second largest conservatory in London (after the Kew Gardens). However, because it only opens on some Sundays you're still likely to see a bit of a crowd.
That doesn't make this London garden any less special though and it's wroth visiting if you can squeeze in into your itinerary.
Read More: Chislehurst Caves Day Trip from London (WW2 Experience)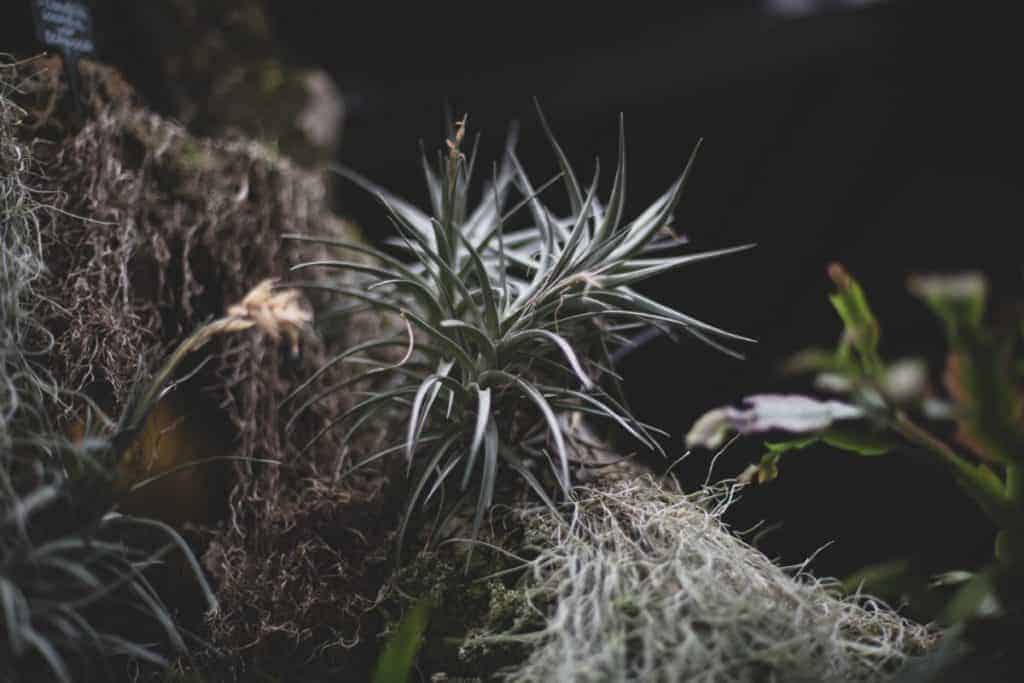 ---
Saint Dunstan in the East
Not so much a garden but the perfect place to film a movie or take some photos is St. Dunstan in the East.
Once an old church but destroyed in the Blitz, today it's home to crumbling architecture, creeping vines, and locals on their lunch breaks. If you're new to the Instagram game and are a bit shy taking photos with others around (and who isn't!?) this is a great place to start beacuse you'll find it fairly quiet in the mornings.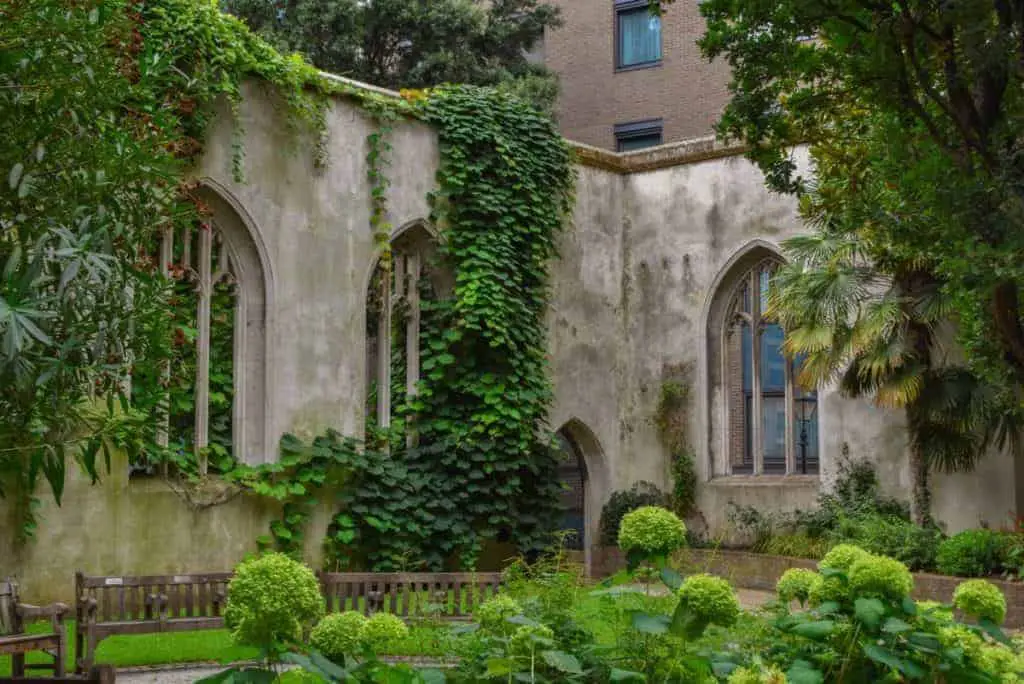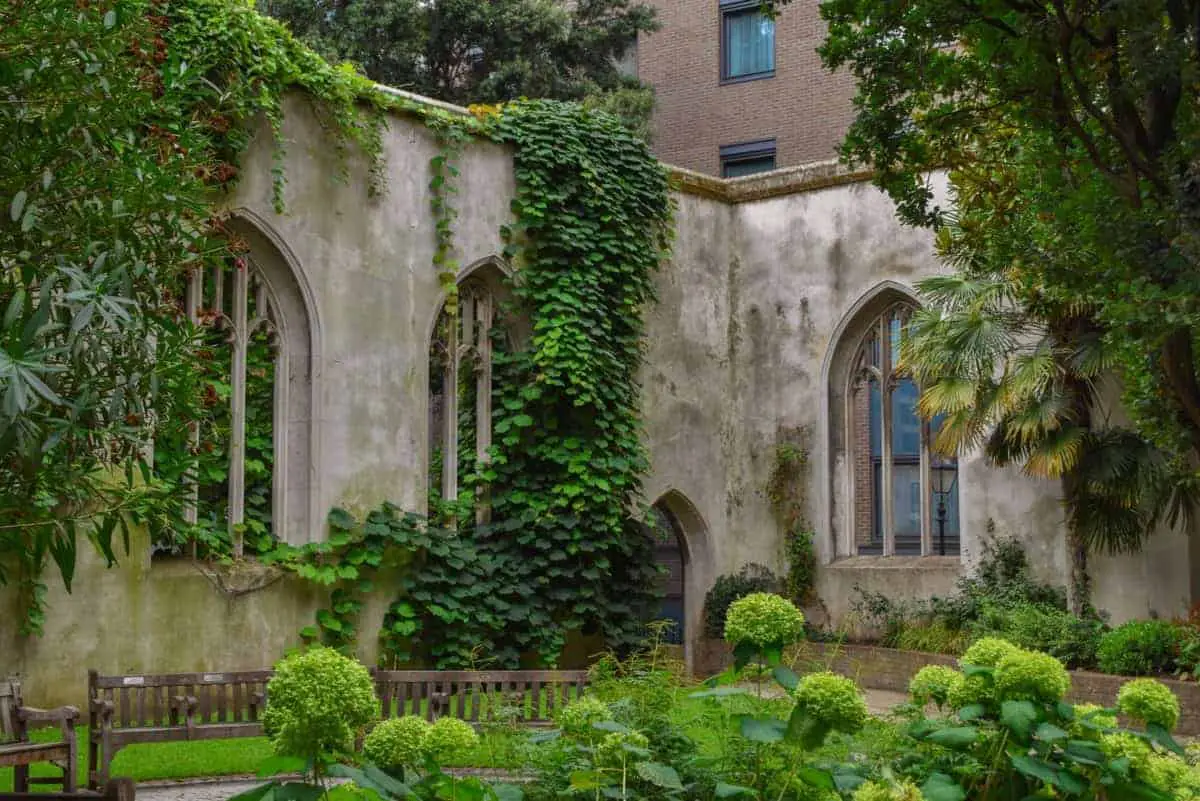 ---
Primrose Hill
As gardens in London go, this isn't really that special. However, the view is spectacular! Any London city guide you find will tell you to visit and with good reason. You'll have a phenomenal skyline view and if you arrive for sunrise you'll probably find yourself the only one around.
Read More: 3 Afternoon Tea Experiences for All Diets and Budgets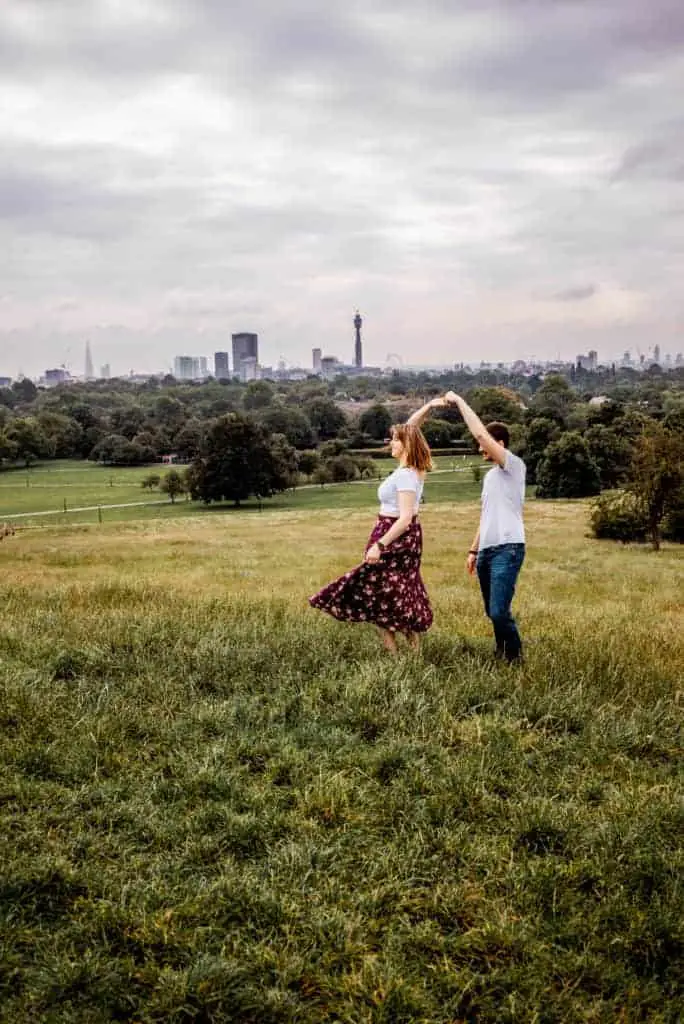 ---
Mayfield Lavender Farms
Last but certainly not least, is Mayfield Lavender Farms. It's not technically a London garden. But since you've made it this far in the post I'll assume that you're a nature and flower lover and would be willing to make the trip to a field of lavender.
If you want to shoot at sunset you'll need to pay a whopping 100 pounds. Instead, I recommend arriving as soon as they open and cranking out some shots before other tourists get there.
---
More London Guides
---
Best Secret Gardens in London Map
---
Pin Gardens in London for Later
---
And as always, you can find more sustainable travel content on Instagram @VoyagingHerbivore, Youtube, and TikTok and to get updates straight to your inbox, enter your email below in the footer, or to the right on the sidebar.

If you found this guide helpful and want to help us keep these resources free,
please consider making your next Amazon, Expedia, Hostel World, Etsy, and Booking.com purchase through our links (just click right on those words – you can do it right now and unless you clear your cookies before your next purchase, it will remember). It costs you no extra and gives us a small commission. Thank you!