Nothing says adventure quite like the open road!
In this guide, you'll learn everything you need to plan a Europe road trip and make it as sustainable as possible.
Read More: 4 Sustainable Items To Pack For Your Next Outdoor Holiday in Scotland
---
Looking For Something Else?
---
This post is sponsored by Moon Travel Guides, the publisher behind Wanderlust Road Trips. We only work with brands that we truly believe in and whose values align with ours so although this post is sponsored, all opinions expressed are our own. Sponsored posts help keep this website free and alive, so thank you for your support!
---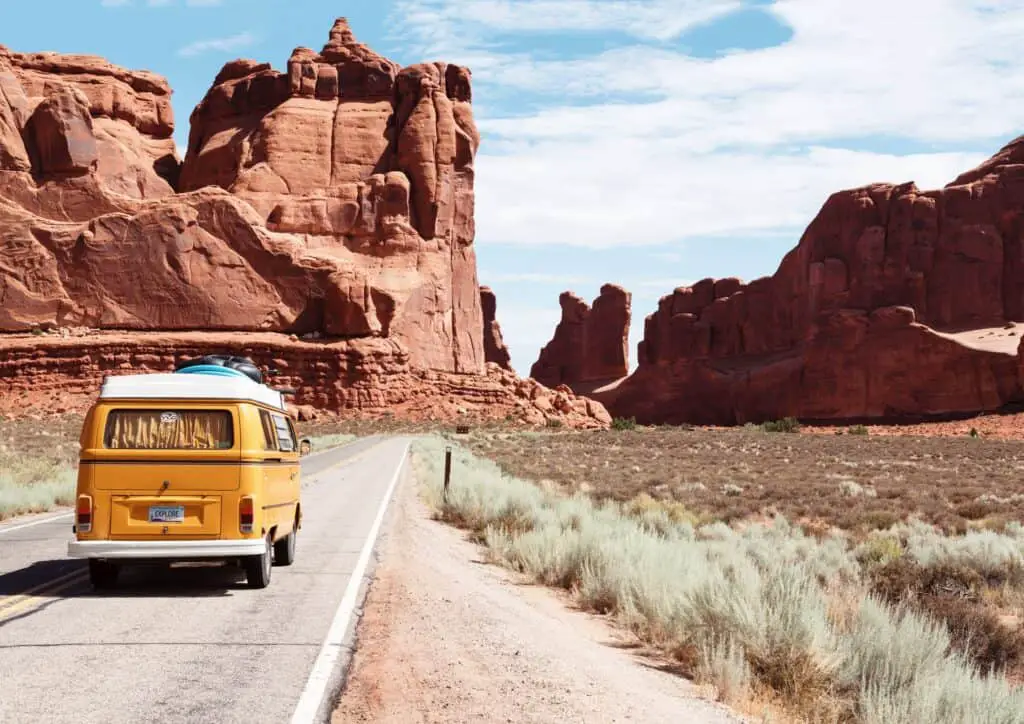 ---
This site is user-supported and that's why we use affiliate links. At no extra cost to you, we get a little bit of money when you purchase something through one of our links. Thank you for helping support ethical, sustainable, and plant-based travel! You can read more about our affiliate disclosure policy here.
---
What Camera Gear Do We Use?
If you want the full list of things we keep in our camera bag, check out the complete guide or browse our photography guides.
---
Free Resources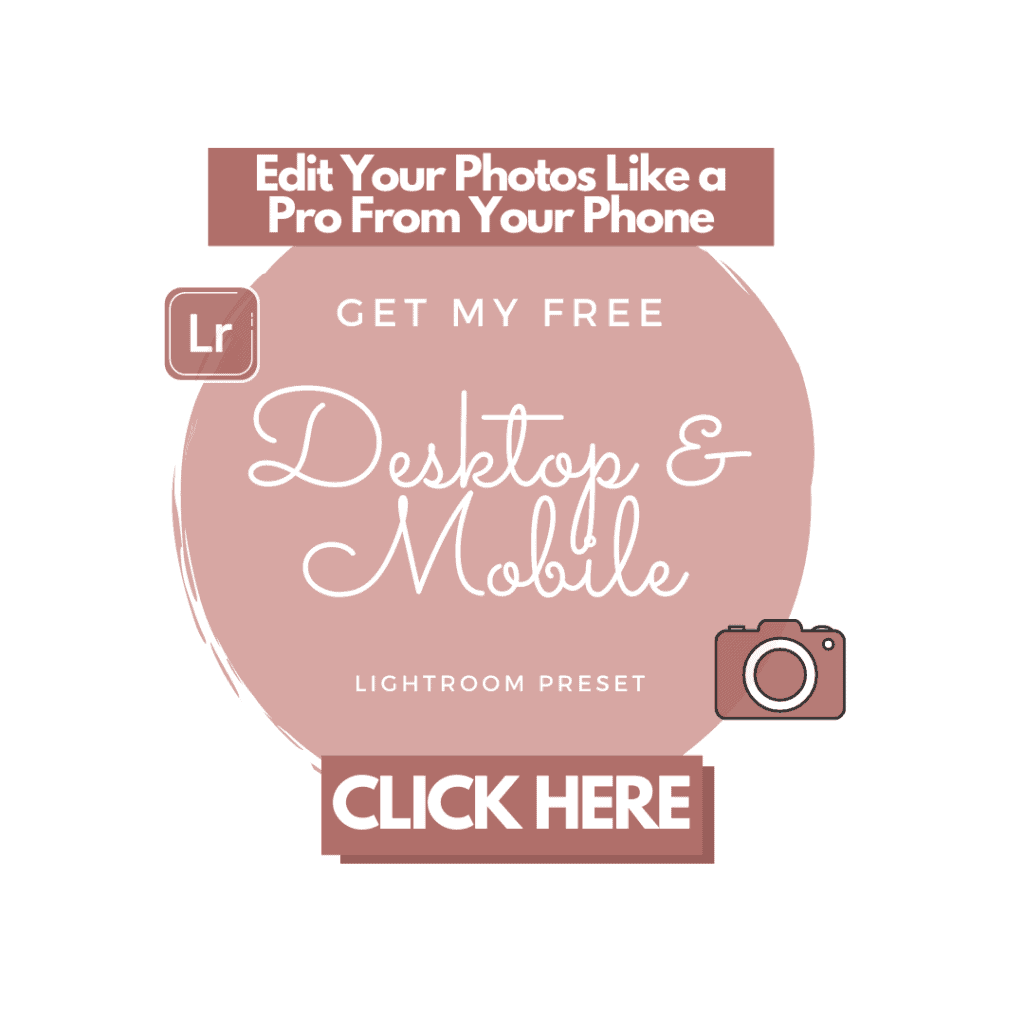 ---
Get Inspired
Europe is an absolutely massive landmass that's the ideal location to slowly explore by car or van/RV. Every road trip planning session should start with excitement – otherwise, why are you doing it?
Grab your road trip planning journal and polaroid camera and let's dive in!
One of the best ways to get inspired is to browse through some of your favorite travel books, like the Wanderlust Road Trips book. While looking online is great, it's so easy to get distracted and fall down a rabbit hole of tabs and eventually you find that you've booked a hotel in Austria when originally you had intended on camping in France. Start by flipping through some books to see what sparks the most joy and excitement. Grab those sticky markers and colorful pens to keep track of your favorite itineraries.
---
Determine How Long You Can Stay on Your Visa
Before getting into the nitty-gritty of planning your Europe road trip destinations, it's vital to look and see how long you're allowed to stay in Europe. Remember that although certain countries may be part of the European Union, they may not be part of the Schengen visa countries.
For example, Croatia is part of the EU, but it's not part of the Schengen visa. So that means you could spend 90 days (the length of time the Schengen visa allows you to stay) driving through Italy and Slovenia and end your trip by staying however long Croatia allows your passport to stay (90 days for most countries). This means that instead of spending only 90 days, you could spend 180 days in the EU. Whatever you choose, it's vital that you keep track of your entry and exits from the EU and Schengen zone via stamps on your passport so you can prove that you haven't overstayed your visa.
You can check and see if you need a prearranged visa or if you can get one on arrival and find out how long you can stay in certain countries here.
---
Determine How You Want to Travel
Once you have a better idea of how long you can stay in Europe, the next step to plan a Europe road trip is to think about how you're traveling. Ideally, for a road trip, you'll need some sort of vehicle but travel around Europe by train or bus is also possible if you don't mind limiting your itinerary to where public transport will take you.
Read More: Scotland Driving: What You Need To Know
---
Europe Road Trip by Car
Pros of a Car
Cons of a Car
Easy to park
Better gas mileage and fuel prices than a van
Easier to drive in cities and towns
Snow chains may not be needed
Electric cars get perks
Need to book accommodation ahead of time
Allows for less flexibility
A car is a fantastic option for your European road trip. Using a smaller car allows you to easily explore and park in major cities like Paris, London, Frankfurt, Prague, Rome, and more. However, unless you want to sleep in your car you will need to pay not just for a car rental and fuel, but for a hotel or hostel as well. It's also worth keeping in mind that parking in major cities is often very expensive and driving can be difficult so even if you do choose to use a car, you may want to park further outside of a city and take public transport into the city.
If you need to rent a car or want to rent an electric car and take advantage of perks (more on this below) you can find electric and low emissions cars on AutoEurope, Green Motion, Europcar (student discounts), and Rhino Car Hire.
In some countries in Europe, electric cars get certain perks. For example, in Norway, electric vehicles have free parking areas and can use bus lanes during rush hour. In the UK, some cities are introducing clean air zones where cars that don't meet the qualifications need to pay per day based on their emissions. If you're going the electric car route, just be sure to check ahead to see how accessible charging ports are in the area.
Read More: 10 Best Caravan Parks in Scotland
---
Europe Road Trip by Campervan or RV
Pros of a Campervan
Cons of a Campervan
Generally free parkups
No hotel reservations to meet
Bring your comforts with you (pillow, mattress, etc.)
More difficult to drive in cities
Some roads may be off limits or require snow chains
Expensive fuel
Vanlife is all the rage in Europe, and for good reason!
Europe is a fantastic place for those traveling and/or living in their vans because it's so easy to drive around and finding places to park up for the night is easy with apps like Park4Night, SearchForSites, Campercontact, and Caravanya. Wild camping is also legal in many places, meaning that as long as it's a safe area to park (not along a highway or interstate) and you're not on private land, you're generally okay to park up and stay overnight. You can use Caravanya to learn more about the different wild camping rules for countries in Europe.
Other perks of vanlife in Europe include bringing your own comforts along with you. You can have your own pillows, mattress, blankets, dishes, spices, and more with you along the way. You don't have to worry about squeezing everything into a suitcase again and again.
If you don't have your own van, you can find campervans and RVs to rent in Europe on Spaceship Rentals, Outdoorsy, or Worldwide Campers.
---
---
Where Do You Want to Stay?
Whether you're in a car, van, or city hopping by bus or train with the Eurail, figuring out where to stay is essential.
If you're in a van and plan on wild camping the entire time, keep in mind that if your trip is more than a weeklong, you'll need to find somewhere to fill up and empty your water tanks, wash your clothes, and shower. While there are plenty of service stations in Europe, it can be nice to spend a night in a temperature-controlled space where you can walk without shoes from the shower to the bed.
---
House Sitting in Europe
One of our best hacks for road trip in Europe planning is house sitting. You get the chance to stay in a house and usually watch pets while the owners are out of town. This means that you can give your van or car a deep clean, do laundry, shower, and get a good night's sleep. House sitting is also free for the most part. All you need to do is pay a membership fee ($100 on Trusted Housesitters) which includes identity verification and unlimited messaging and applications. Considering many hotels, especially in big cities, are well over $100 per night, $100 per year is a game-changer for traveling.
We use the site Trusted House Sitters which has house sits all over the world, including Europe. It's $100 for an annual subscription but everything else is unlimited including applying for house sits and messaging hosts. You can also browse house sits before paying for a membership (just sign up for an account) to see if there are any that peak your interest.
If you're specifically thinking about doing a road trip in the UK, check out House Sitters UK as well.
Read More: Truthful Review: Best House Sitting Websites for Travellers & Homeowners
---
Hotels & Apartments
Sometimes road trips take unexpected turns and the last thing you want to do is get stuck having to pay a hotel cancellation fee because you decided to stick around another day in an incredible place.
If you do some digging on Booking.com you can often find hotels or rentals that require payment only upon arrival. Small bed and breakfasts are particularly good for this as are accommodations at pubs. That way, you can book in advance without having to worry about paying a cancellation fee.
---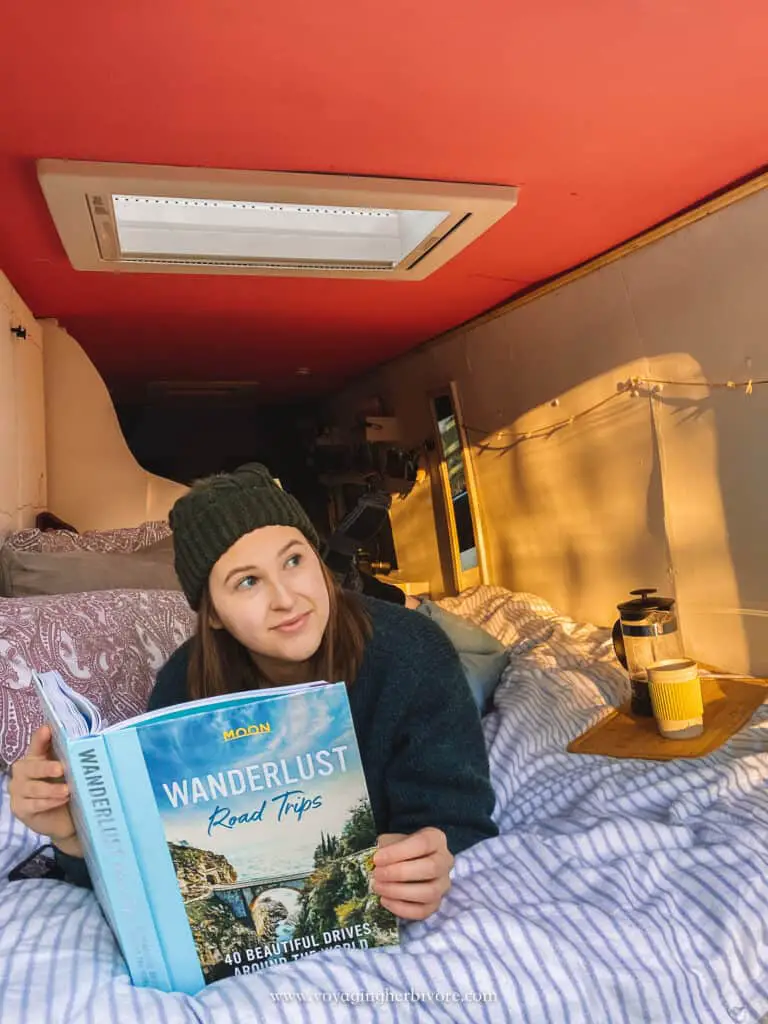 ---
There's so much that goes into planning a European road trip, some of the least of which is the actual route you make and the stops you take. As you've seen so far, worrying about everything from visas and car rentals is stressful enough so the route planning part needs to be fun.
I recommend starting with preplanned routes in places that pique your interest and modifying or extending to fit your schedule and trip goals.
My favorite book to plan a Europe road trip is easily Wanderlust Road Trips. There are 40 incredible road trips around the world and the book is beautifully designed. It makes for a great coffee table travel book! Wanderlust Road Trips includes inspiration for road trips around the world. Moon also offers destination-specific travel guides that can help with more in-depth planning.
In the Europe section of Wanderlust Road Trips by Moon Travel Guides, you'll find 15 different European road trips in the following countries:
Germany
Austria
Scotland
Spain
France
Ireland
Iceland
Italy
Norway
Each road trip has details on:
Start and end points of the trip
Length in mi and km
Best time of year for the route
A "You'll love" section with trip highlights
Brief intro to the area
Map with start and end points, stops, the route you'll follow
Details on each stop with beautiful photos
Attractions you can't miss, hidden gems, history
Tips for getting to the start of the trip
Driving tips specific to itineraries
Best time to go
Book recommendation (Grab a free month of Audible to listen while you drive)
Playlist recommendations (Grab three free months of Amazon Music)
As an added bonus, the Wanderlust Road Trips index makes it easy to locate a road trip that already includes a certain stop that you're looking for.
I find that so many travel books can be overwhelming, providing hundreds of road trip routes but then little to no information on the actual destinations, the best time of year to go, and who the road trip is ideal for. Wanderlust Road Trips has clearly put so much effort into creating unique and exciting road trips that include popular sites that you have to see, as well as hidden gems around the world that you'd struggle to find in other guides.
---
Use Google Maps to Plan a Road Trip
One of my favorite hacks to plan a Europe road trip is to use Google Maps.
I'm not talking about standard Google Maps but instead My Maps by Google. Using the same Google Maps data, you can add different stops, color code items, make different sections, and plan routes. It's a great way to build personal maps that can also be shared and viewed.
---
How To Make Your Road Trip More Sustainable?
Slow travel is not just an amazing way to soak up the culture and save money, but it's also much more sustainable. Traveling slowly and staying in places for longer as opposed to trying to hit as many cities as possible means that you use less fuel and get the chance to experience a place more deeply.
We already talked about using an electric car where possible, but other easy ways to make your road trip sustainable include eating a vegan diet and trying to be zero waste and/or plastic-free. A vegan diet can reduce your carbon footprint by up to 30%. A small change can make a massive difference!
You can also make your Europe road trip more eco-friendly with carbon offsetting. We love Wren to easily calculate our emissions (both from driving and from general life) and offset them. Take their free quiz to calculate your current carbon footprint and learn more about offsetting.
---
 FAQ for How to Plan a Europe Road Trip
What's the best unlimited data sim for Europe?
If you're starting your trip from the UK, Superdrug Mobile has unlimited data and roaming in Europe for £20/month. If you're starting in Europe, Orange is your best bet although options are not unlimited. Your phone may also be virtual sim compatible which means you can purchase a virtual sim card to be activated before you land.
Do I need an international driving license to drive in Europe?
In most cases, you do not need an international driving license to rent a car or van in Europe. Generally, a valid license from your own country will suffice. Be sure to check with the car rental company for individual policies.
How to plan a cheap road trip?
House sitting is one of the best ways to make a road trip affordable. You'll save hundreds if not thousands by house-sitting instead of staying in hotels. We use Trusted House Sitters to find our house sits.
How to plan a road trip with your dog?
Road tripping with your dog, while fun, does require more planning. You may need to look into pet visas and be sure to look for accommodation and vehicle rentals that allow for pets.
How to plan a long road trip?
Start with a preplanned route. We love Wanderlust Road Trips book as a jumping-off point. Once you find a route you like, you can add extra stops to extend your road trip or spend longer in each of the destinations. You'll often meet locals or other travelers who can recommend different stops, so giving yourself flexibility makes for a fantastic road trip.
When should you fill up with gas on a road trip?
This really depends on where you are and how well you know your vehicle. If you're traveling in the middle of nowhere, it's best to avoid playing petrol roulette and instead fill up when the option is there. If you know the vehicle and can tell how many miles it has left before needing a refuel, you can research gas stations and wait.
---
Europe Road Trip Essentials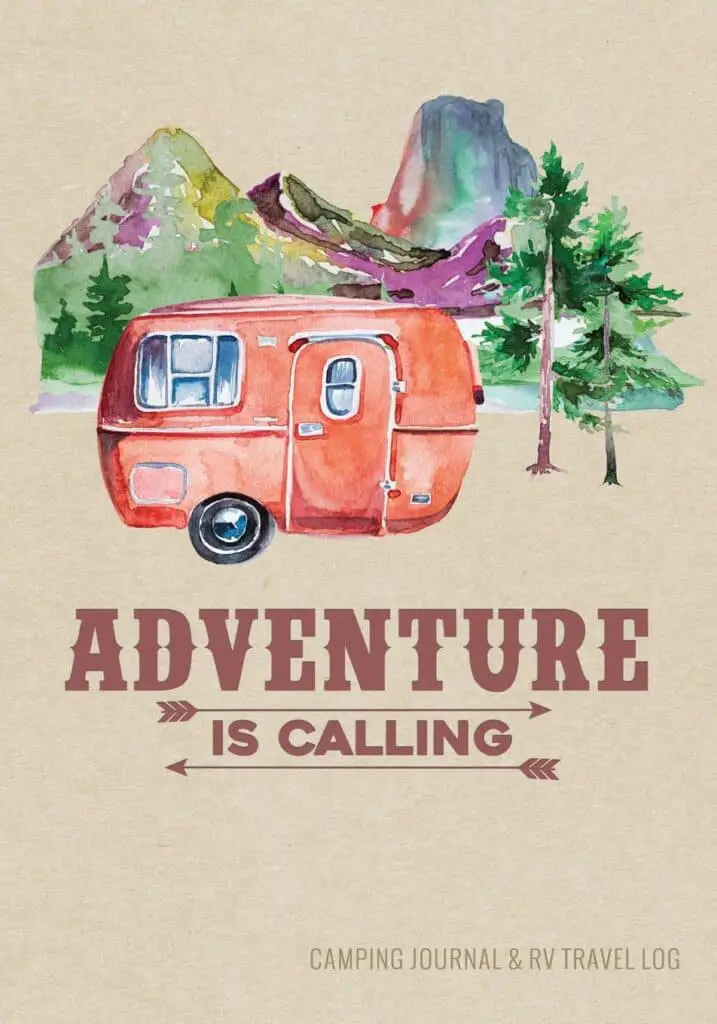 ---
Keep Reading
---
And as always, you can find more sustainable travel content on Instagram @VoyagingHerbivore, Youtube, and TikTok and to get updates straight to your inbox, enter your email below in the footer, or to the right on the sidebar.

If you found this guide helpful and want to help us keep these resources free,
please consider making your next Amazon, Expedia, Hostel World, Etsy, and Booking.com purchase through our links (just click right on those words – you can do it right now and unless you clear your cookies before your next purchase, it will remember). It costs you no extra and gives us a small commission. Thank you!
---
Pin This Road Trip in Europe Planning Guide for Later