Made famous by Captain Cook, Dracula, and a smuggling history, there is no shortage of incredible things to do in Whitby, a gorgeous coastal town in North Yorkshire.
Keep reading to discover eleven must-see attractions in Whitby!
Looking For Something Else?
---
This site is user-supported and that's why we use affiliate links. At no extra cost to you, we get a little bit of money when you purchase something through one of our links. Thank you for helping support ethical, sustainable, and plant-based travel! You can read more about our affiliate disclosure policy here.
---
Where to Stay in Whitby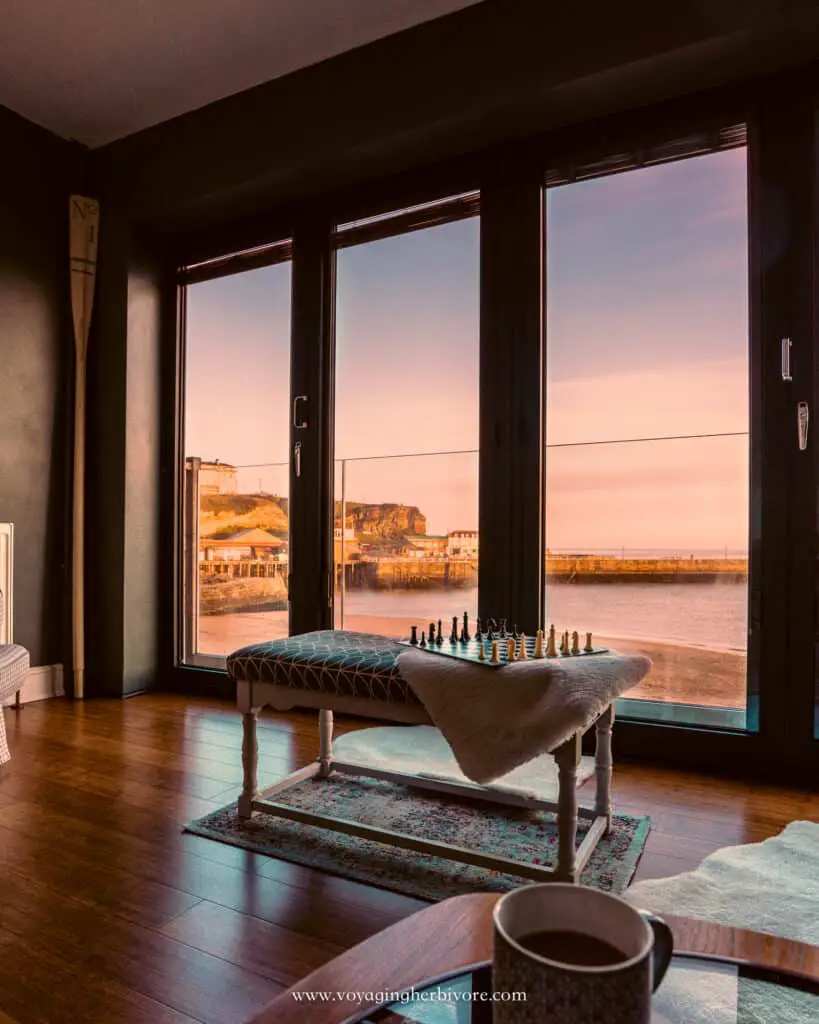 Because Whitby is a relatively small and very walkable town, it's easy to find a place to stay that is both within your budget and in a great location.
We stayed in a self-catering flat* that was suitable for two adults and two children and had the most amazing view of the beach. The lounge is second to none, with a gorgeous view out over the beach and doors that fully open. You can see why our TikTok of this went viral! Located directly at the bottom of the famous 199 Steps and a few minutes' walk from the main Whitby harbor, we couldn't have asked for a better location. The only downside is that parking is in a separate space across town (about 15 minutes walk), but for the views, we can't complain!
*Please note that our stay was in exchange for photography services, but all opinions are our own.
Sleeps: 2 adults, 2 children
Location: Bottom of 199 steps
Self-Catering: Yes, full kitchen
If you don't need quite as much space or are looking for something more budget-friendly, you can always check out the Angel Hotel (it has air conditioning!) which has everything you need for a quick stay if you don't mind eating out as there is no kitchen. Alternatively, if you want to stay somewhere in Whitby that is more midrange, try Lobster Hall or the Royal Hotel Whitby.
---
Where to Find Vegan Food in Whitby
As lovely a coastal town as Whitby is, it's not known for its vegan food options. When we visited just after the lockdown in 2021 was over, not many places were open due to seating restrictions. However, there are still a few restaurants that offer vegan options and even vegan fish in chips in Whitby!
Robertson's Fish and Chips: Dedicated vegan menu. Note that the sausages are battered and fried rice and veg which although tasted delicious, we did find humorous as a sausage alternative. This seemst o be the only place to find vegan chips (fried in vegetable oil) in Whitby
Cranberry Swamp: Vegan options available including vegan tapas on specific nights
Kamthai Thai: Thai restaurant with labeled vegan options
Abbey House Cafe & Bar and Tea Rooms: Several labeled vegan options available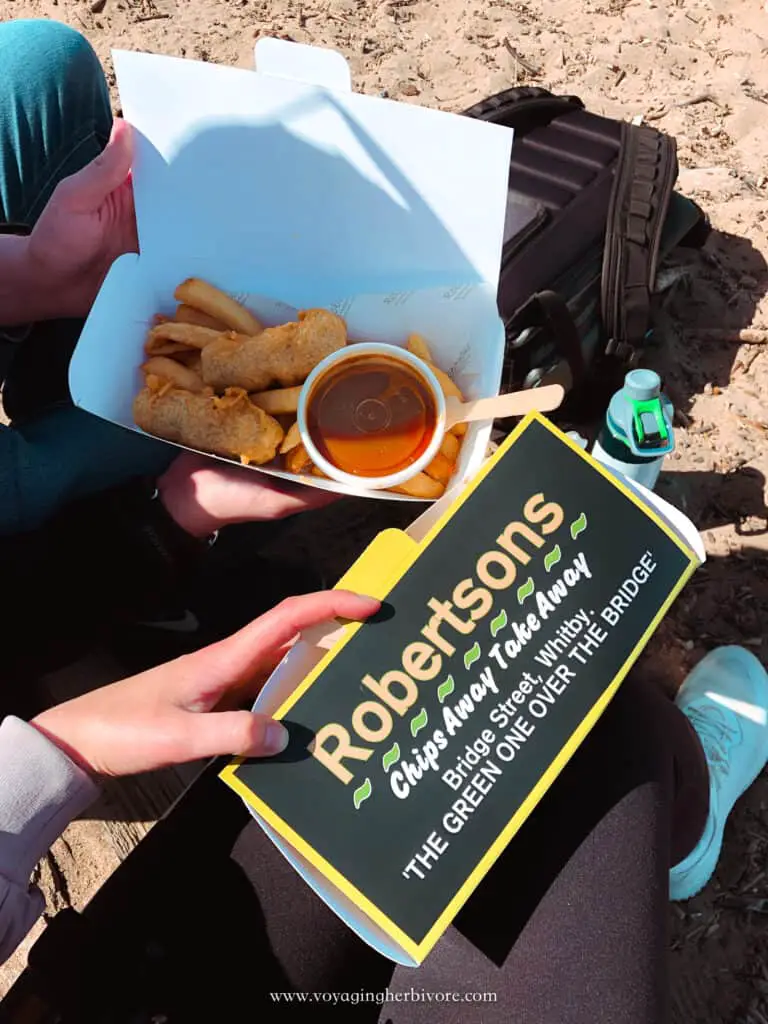 Looking for more vegan options near you? Check out the abillion app and use the referral code VOYAGINGHERBIVORE

Every review you write contributes to a donation to an animal rights organization!
---
---
Whitby Boat Trips & Whale Watching
Although you may be hesitant to take a dip in the cold ocean water, the Yorkshire coast is home to a great deal of marine life. In fact, Whitby has a history of whaling which can be seen through the Whitby whalebone arch. Whale-watching trips can last for 4+ hours, so it can be a full-day excursion if you want it to be. There aren't any guarantees that you'll see any marine wildlife, but the positive of this type of animal encounter is that free from harm or imprisonment, unlike zoos. If you're looking for more wildlife encounters, be sure to check out our 10 Day Scotland Road Trip Itinerary.
You can book a tour through Whitby Whale Watching.
---
A Pint With a View at Whitby Abbey
On every guide for things to do in Whitby, you'll find Whitby Abbey. While this English Heritage site is impressive, it's not free to visit. If you're on a budget or would rather spend your money elsewhere, walk around the abbey and you'll find yourself at the Whitby Brewery. This microbrewery has an incredible view of the abbey and lovely pints. Check with the staff to see which brews are vegan.
You can also camp nearby at the Abbey Farm Showfield if you're living the van life!
If you are planning on visiting Whitby Abbey and other English Heritage sites in the Yorkshire (or UK) area, it's worth investing in an English Heritage membership. With the membership, you'll get free access to the sites across the UK so if you go to a lot of them, it pays for itself. Keep in mind English Heritage is different than the National Trust, another useful membership, especially if you're visiting the Lake District.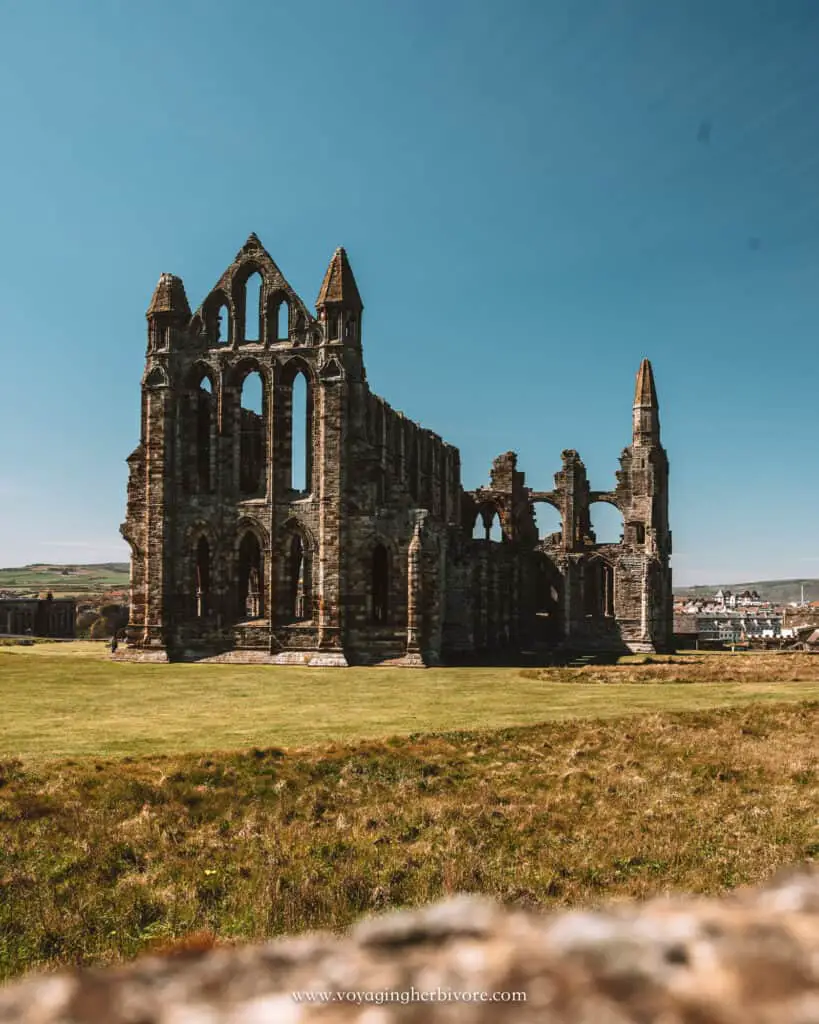 ---
Whitby Whale Bone Arch
A remnant of Whitby's less than glamourous past is the whalebone arch that frames the Yorkshire town. Standing at 20 feet tall, these jawbones were a sign of success because whaling was and is incredibly dangerous – although not as dangerous as it is for the whale. The bones are not the original but are in fact the third set, killed in 2003 (yep whaling still happens) by Alaskan Inuits. We do not support whaling (or murder of any kind!) but do believe that it is important to know the history of places.
---
Explore Whitby Harbor
One of the best attractions in Whitby is the gorgeous Whitby harbor. The harbor is the heart and soul of Whitby and has been used since the 1300s when sailors came to trade at the wealthy Whitby Abbey. The harbor itself is a gorgeous area along which you'll find boutique shops, pubs, restaurants, street food carts, and more. From time to time when a sailboat comes into the harbor you're able to stop and watch the drawbridge open to let the boat through. The harbor is best explored in the morning to avoid the crowds and appreciate the beauty of the area.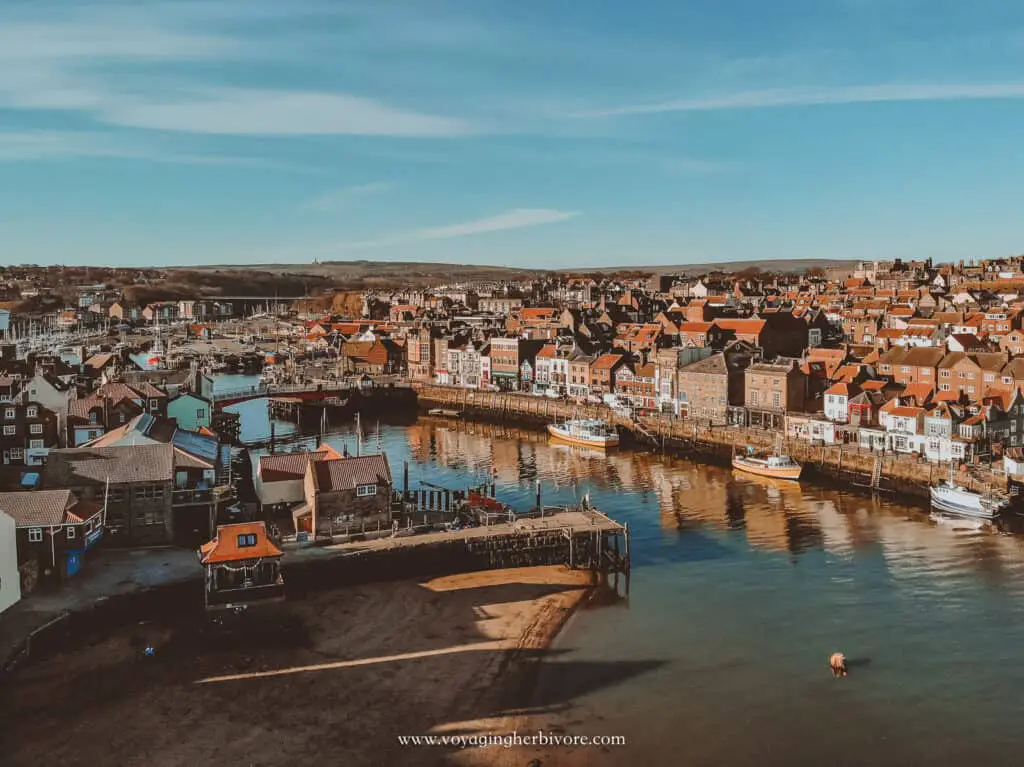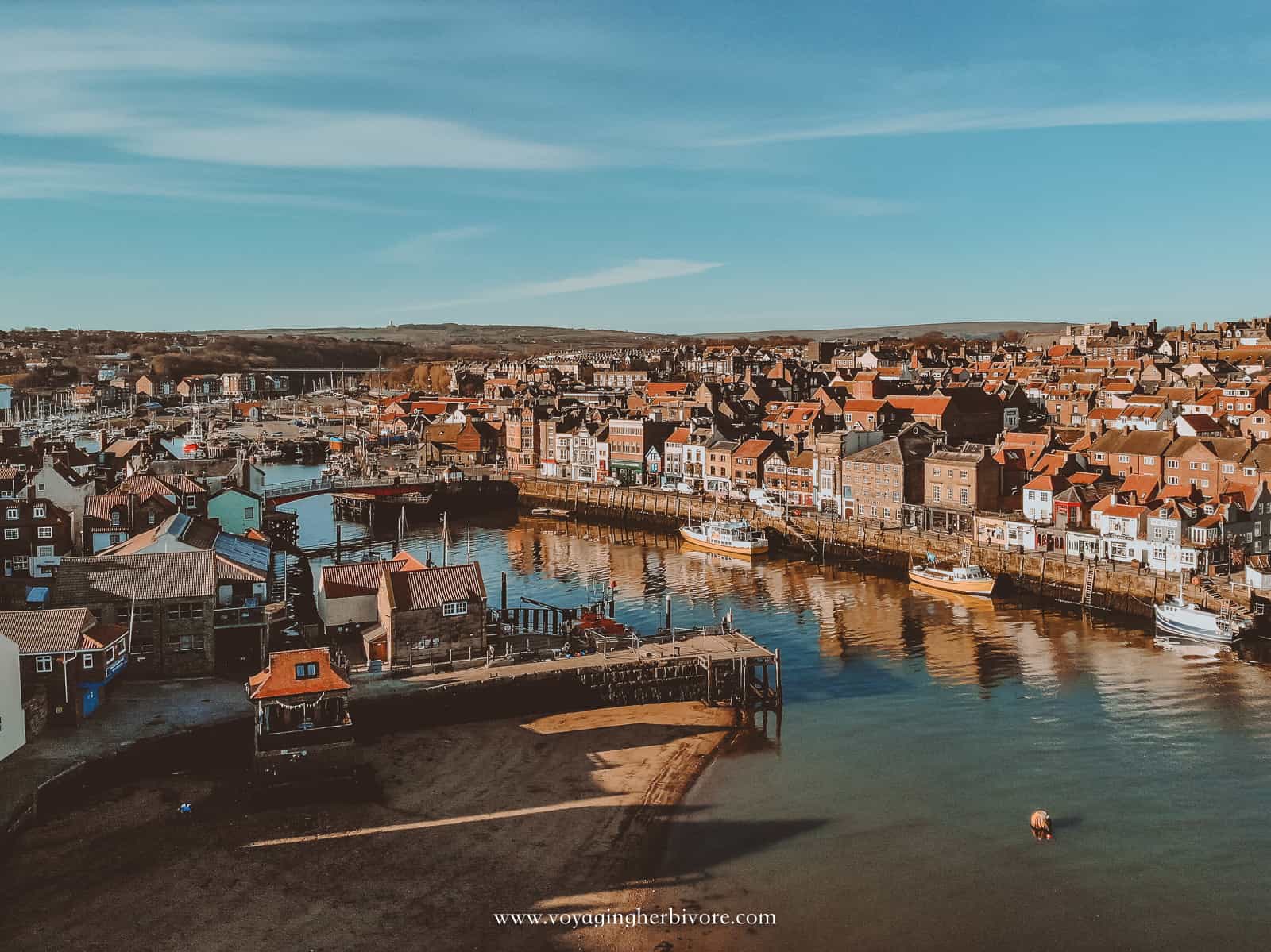 ---
Take a Long Walk
If you're a fan of nature walks, one of the best things to do in and around Whitby is enjoy the landscape. Here are a few walks of different lengths that you can take near Whitby.
Cleveland way
Under 5 Mile Walks Near and From Whitby
These shorter walks are a perfect way to spend a morning or afternoon. You could easily spend the entire day doing one of these walks and stopping along the way to enjoy the sites, food, and drink.
Over 5 Mile Walks Near and From Whitby
These are longer walks located from and near Whitby. Keep in mind that unless the walk is labeled as a circular one, it doesn't start and end in the same place. You may need to plan to take a bus back to where you're staying unless you want to double the length.
Read More: How to Spend 3 Days in Saltburn by the Sea (Near Whitby)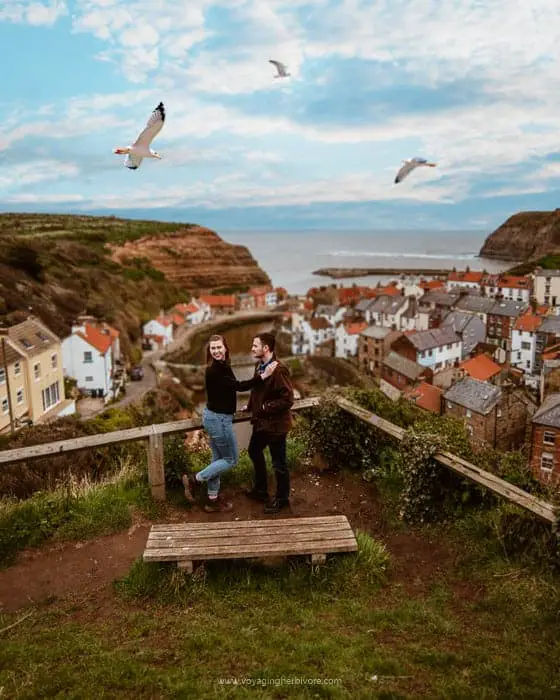 ---
Take a Bike Ride
If you would prefer to see the attractions in Whitby and the beautiful coastline in a slightly faster (than walking) but still environmentally friendly way, hire a bike! Whitby has plenty of bike-friendly trails with incredible views. Perhaps the most popular biking trail near Whitby is the Scarborough Cindertrack. This route can be as short as 15 miles (I also do not consider this short but it can be made longer) if you go from Whitby to Robinhood's Bay or it can be extended to 21 miles if you end at Safe Ways Park in Scarborough. Keep in mind that you'll still need to get back to Whitby and if you're not up for a 30 to 40-mile bike ride, you can always take the bus.
Other popular bike routes include:
Alderstone Cycle Trail (8 or 12 miles)
Ellerburn Trail (less than 2 miles and specifically for disabled cyclists and walkers)
Red Route / Riggs and Dales / New Close Rigg / Jerry Noddle Trail (only for experienced mountain bikers!)
To rent a bike in Whitby, Trailways is the go-to. They have bikes for all ages including carriage attachments for those too young to bike by themselves. Additionally, you can rent electric bikes and tandem bikes. I know what I would pick! Prices range from £10 – £65 per day dependent on the bike.
---
Dip Your Toes in the Water at Lesser-Known Beaches
Whitby is a popular tourist destination which means that the beaches can get quite crowded. Thankfully, there are a few hidden gems around Whitby that can give you a more relaxed beach experience. The first tip to avoid crowded beaches in Whitby is to visit in the morning. Most people head to the beach in the afternoon with their fish and chips, so if you visit before noon you'll have more space and fewer seagulls!
The first little gem isn't actually marked on a map. To access it, you'll need to get to the pier without the lighthouse. You can access it by following the path to the left of the 199 Steps (when you're facing it at the bottom) and on the side furthest from the main harbor, you'll find a quiet little beach (see the map below).
Other beaches that are typically a bit less crowded include:
Sandsend
Runswick Bay
Cayton Bay
Gadding's Dam
Bempton Cliffs And Flamborough
Hunmanby Gap
Be sure to be aware of the tide times or you might find yourself wading through water to get back. Be careful if you go with non swimmers as there may not be safety measures in place at these beaches.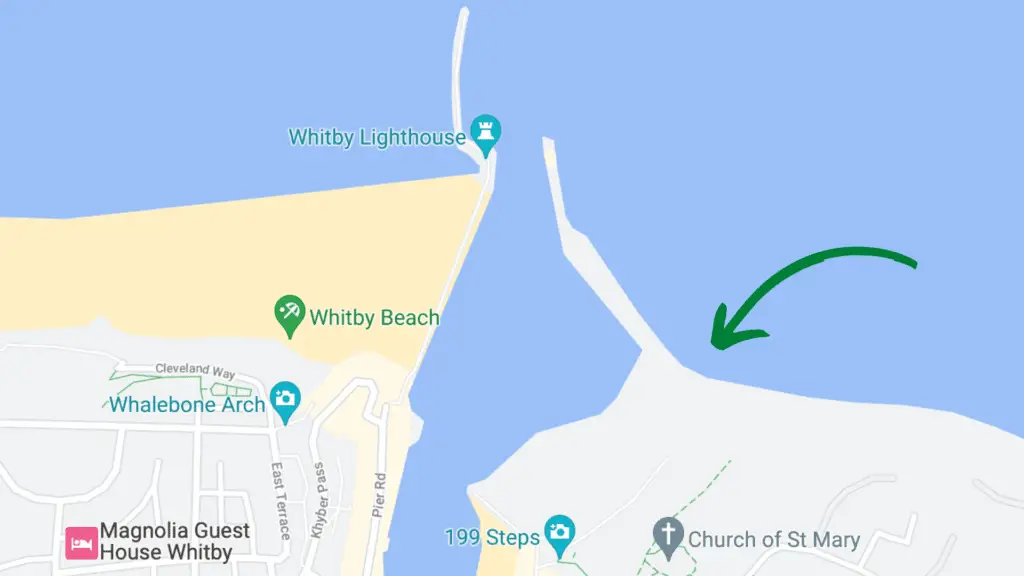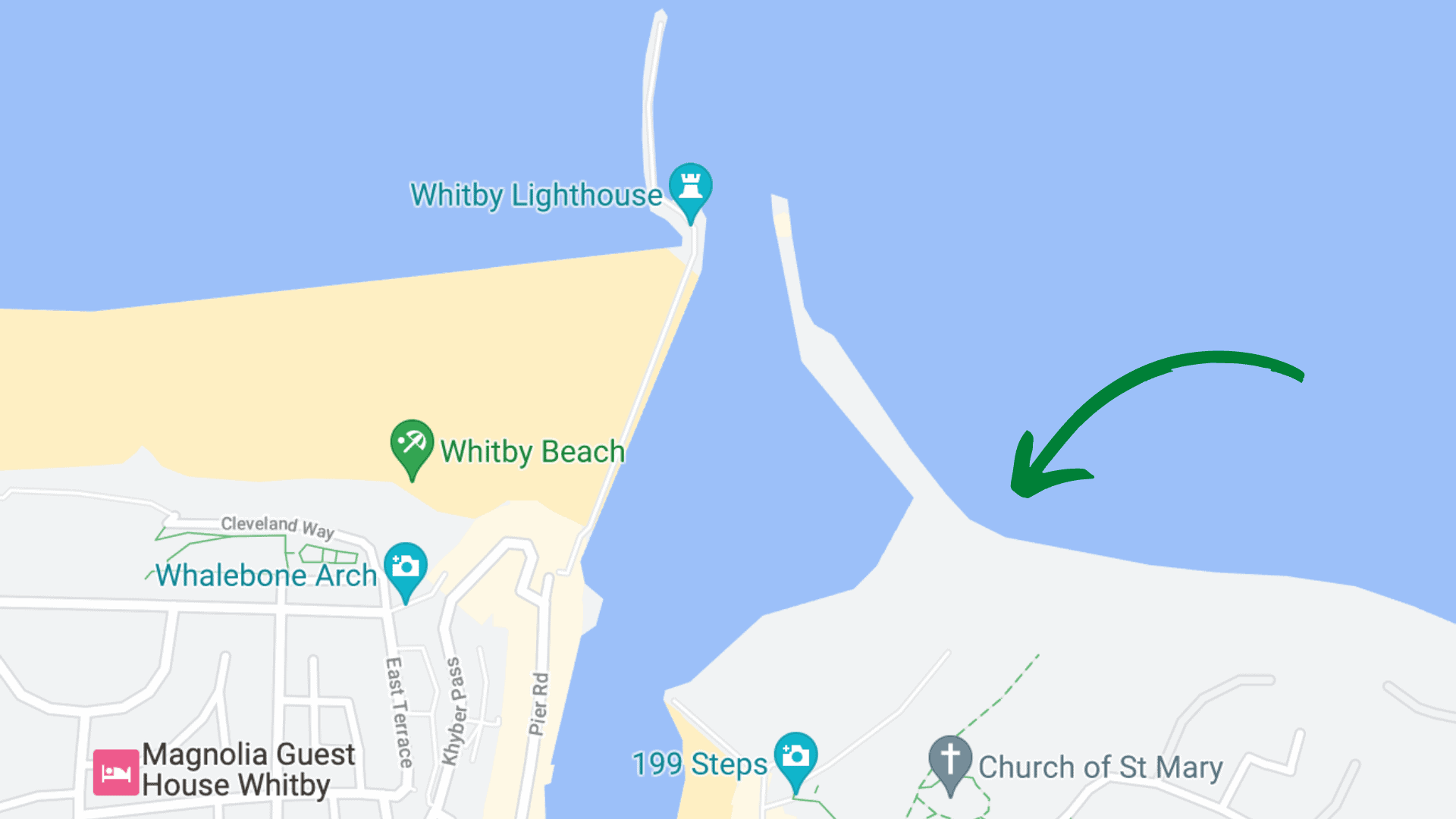 ---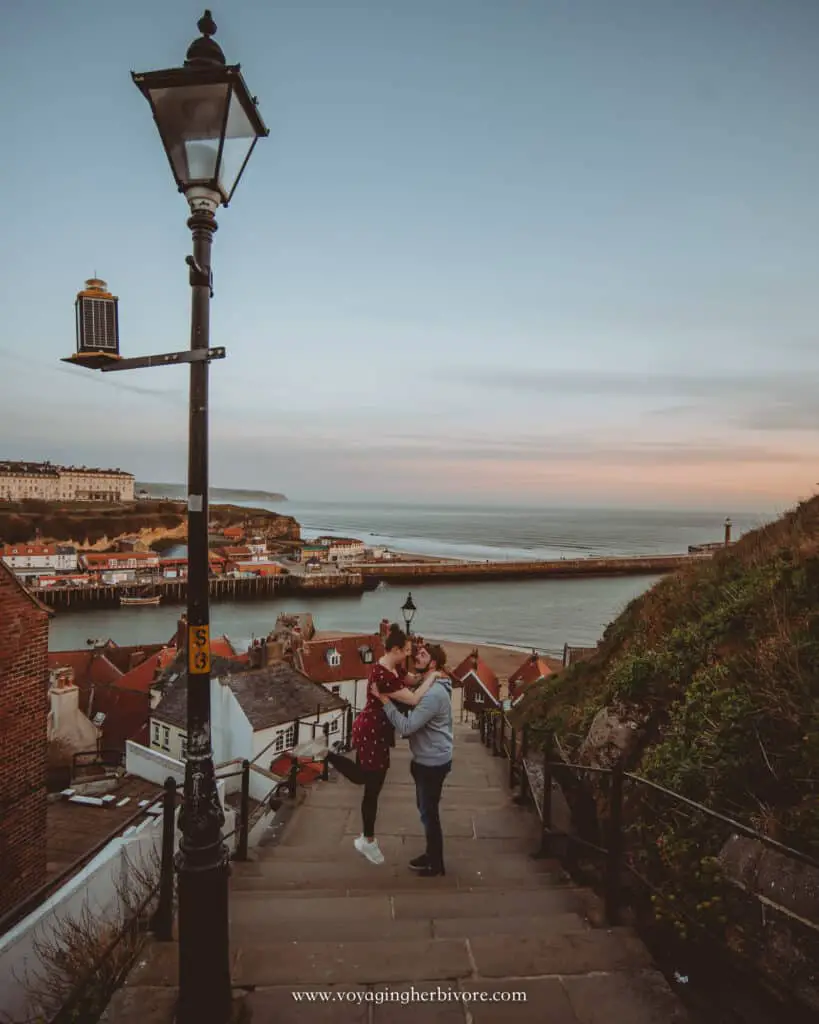 199 Steps & Coffin Benches
We can't have a complete list of things to do at Whitby without the famous 199 steps! Originally, the steps were made from wood and were originally thought to prove the faith of Christina's who could climb them. They were made famous by Bram Stoker who mentioned them in Dracula. According to the famous book, the black dog (Dracula) lept from the shipwreck onto Whitby soil and ran up these steps before disappearing into the night.
These steps are well worth a visit and are easy to access on foot. Visit early in the morning to have the steps to yourself and to catch a great view of sunrise. On the way up, stop and take a rest on one of the benches. These benches were installed so that pallbearers (those carrying coffins) up to the Abbey could stop and rest the heavy coffin.
---
Want to stay in UK homes for free in exchange for watching people's pets?
We use Trusted House Sitters and House Sitters UK to stay in the UK without paying for hotels.
---
Take a Day Trip From Whitby Center
While Whitby is a beautiful little town, it is quite small and the attractions in Whitby can easily be seen in a day or two. If you're not inclined to spend the rest of your time lounging or walking, there are plenty of day trips from Whitby that you can do with a car.
Saltburn by the Sea: Spend a day exploring Saltburn by the Sea and its gravity lift. Saltburn is a gorgeous town with beautiful views and amazing walks. You can park for free in the area above the pier.
Staithes: Staithes is located between Saltburn and Whitby and offers one of the most picturesque viewpoints. in Yorkshire.
Robinhood's Bay: Technically located in Whitby but a little ways away from the main city is Robinhood's Bay. The town is great to spend a few hours exploring but beyond that, there isn't a lot to do.
---
Free Resources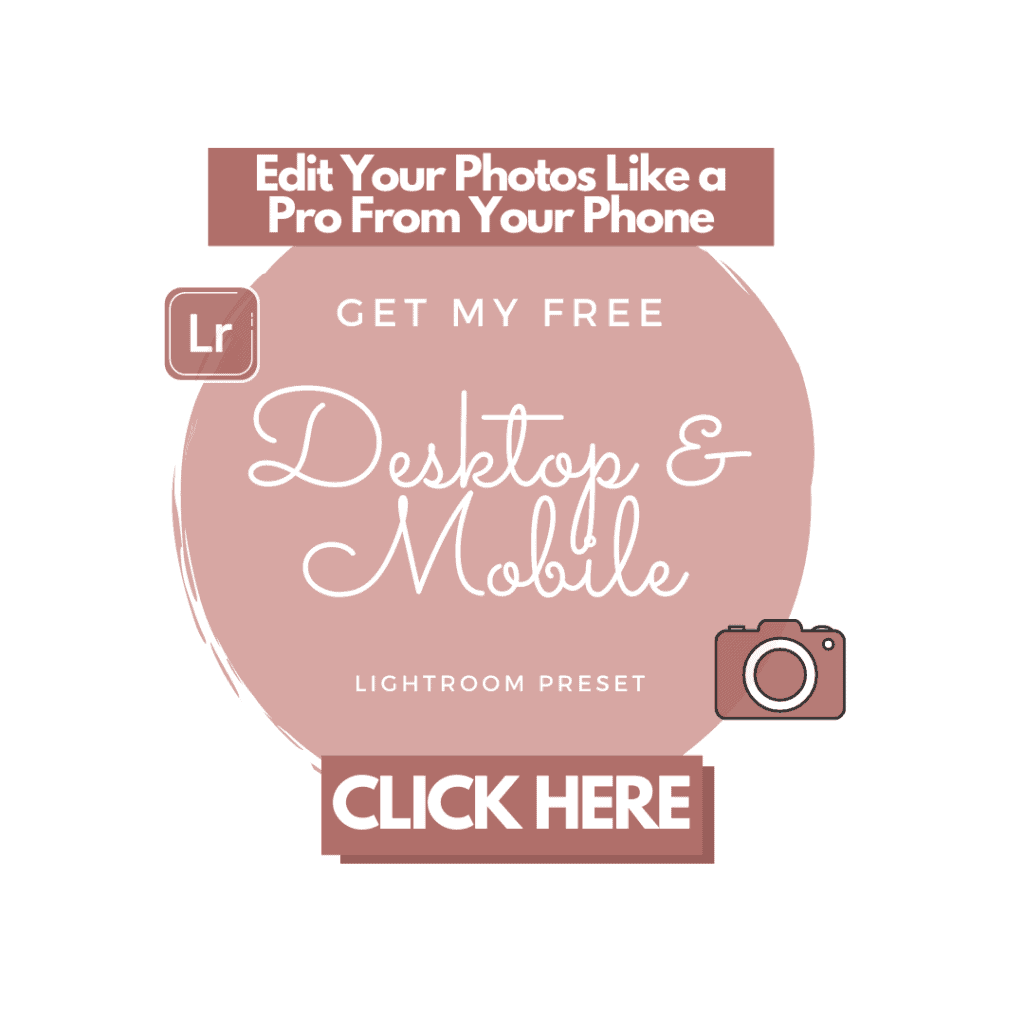 ---
Discover the History of Bram Stoker's Dracula
One of the best things to do at Whitby is to learn about its unusual history with Bram Stoker's Dracula. Whitby is famed as the location that Dracula entered the UK. You could read about the history online, but it's a lot more fun to do a nighttime tour to learn the chilling tale.
Here are a few Dracula-inspired walks that will have you looking over your back and wishing you had garlic for dinner!
---
Go Antiquing & Explore Charity Shops
With antique shops and charity shops galore, there's no shortage of places to spend money in Whitby. Thankfully, with so many charity shops and antique shops to choose between you can often find hidden gems at reasonable prices. The best way to explore all of these shops is simply to wander. Once you feel satisfied that you've seen the attractions in Whitby, start your shopping journey at Whitby harbor and make your way up little side streets, popping into any shop that looks interesting.
If you have limited time to explore the attractions in Whitby, here are a few shops that are worth adding to your itinerary (click to find on Google maps):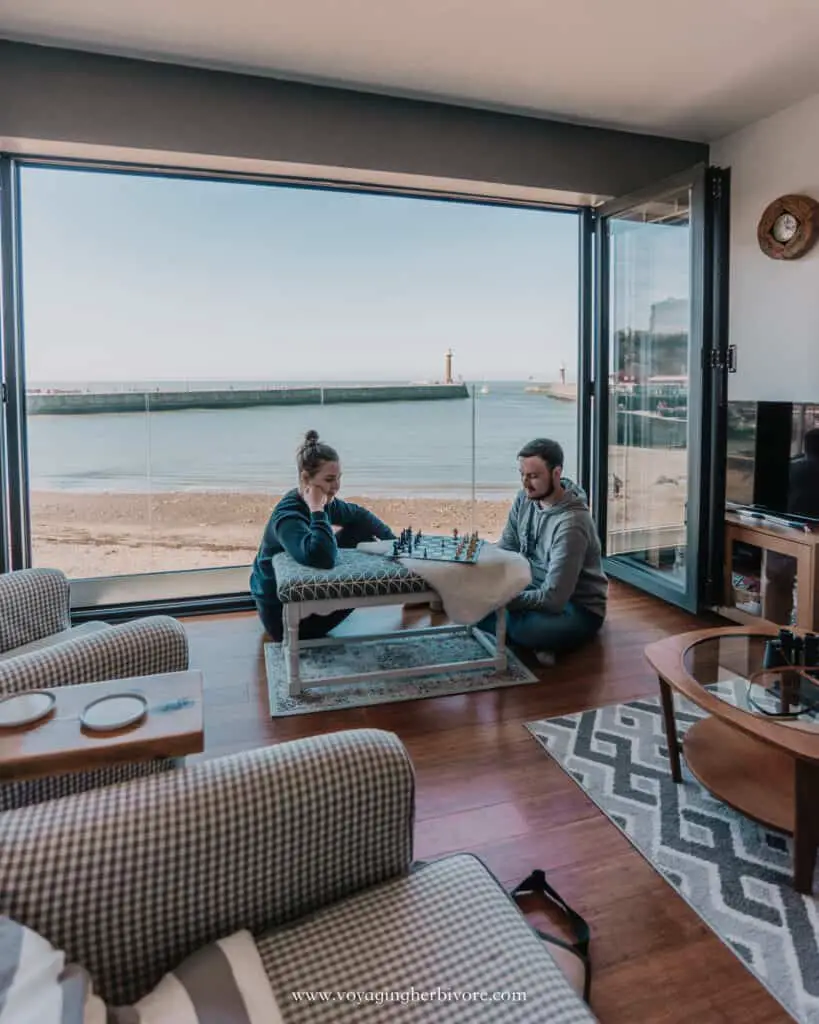 ---
What Camera Gear Do We Use?
If you want the full list of things we keep in our camera bag, check out the complete guide or browse our photography guides.
---
Free Resources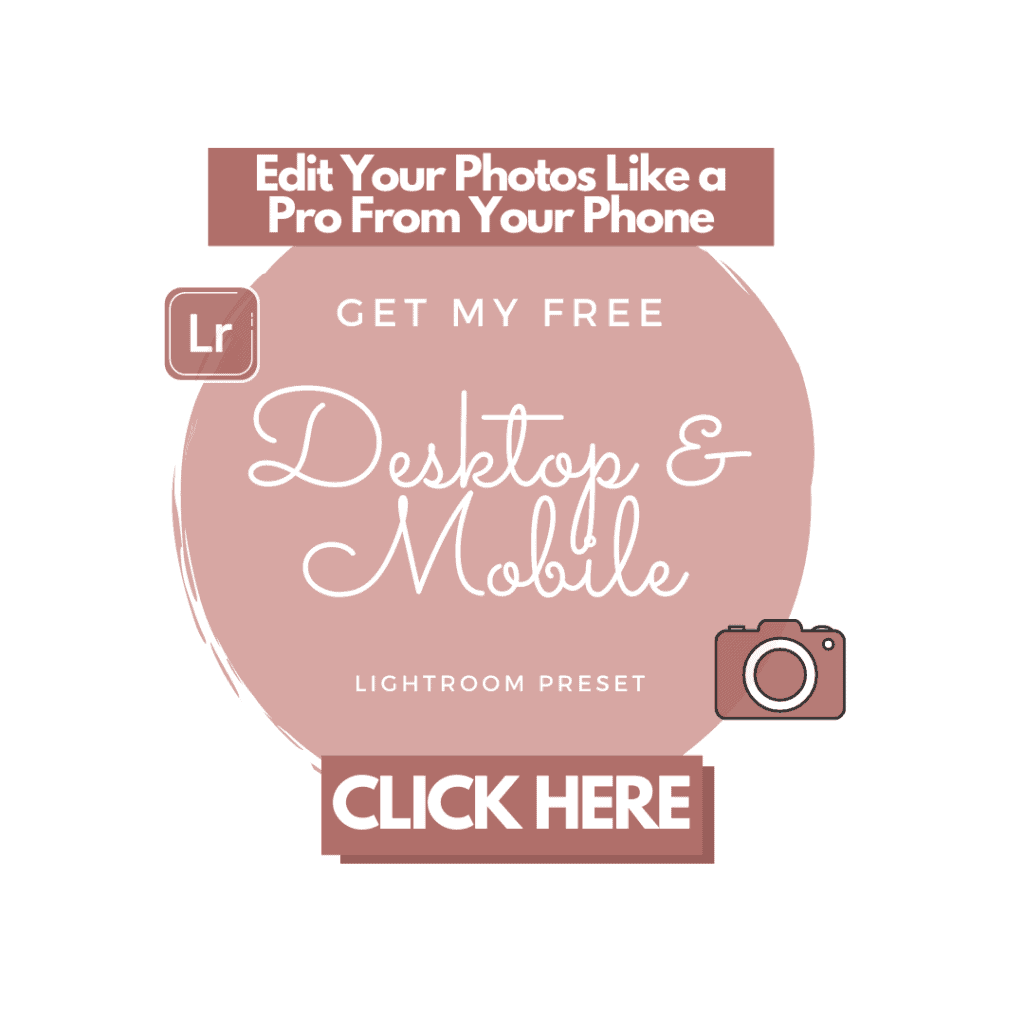 ---
Keep Exploring the UK
---
And as always, you can find more sustainable travel content on Instagram @VoyagingHerbivore, Youtube, and TikTok and to get updates straight to your inbox, enter your email below in the footer, or to the right on the sidebar.

If you found this guide helpful and want to help us keep these resources free,
please consider making your next Amazon, Expedia, Hostel World, Etsy, and Booking.com purchase through our links (just click right on those words – you can do it right now and unless you clear your cookies before your next purchase, it will remember). It costs you no extra and gives us a small commission. Thank you!
---
Pin Attractions in Whitby & Follow Us on Pinterest